We're all familiar with the frequency at which Instagram introduces new features and tools to the platform. From Stories to Reels to Paid Partnership labels to Remixes–a lot has happened over the past few years. Many of these features have helped to create a smoother user experience, while others have also enabled brands to ramp up their marketing on the platform. Now Instagram has surprised users with a new Notes feature–offering them a new way to communicate with their audience.
So what are Instagram Notes and what's the purpose behind them? Additionally, why should brands or creators use them? Let's find out in this guide.
---
What Is Instagram Notes Feature:
---
What Are Instagram Notes?
Instagram Notes are virtual post-it notes that you can share in the Messages tab right above your direct messages. Think of them as Stories for your inbox. The Note will only be visible to your friends (people you follow back) or your "Close Friends" list depending on whom you decide to share it with.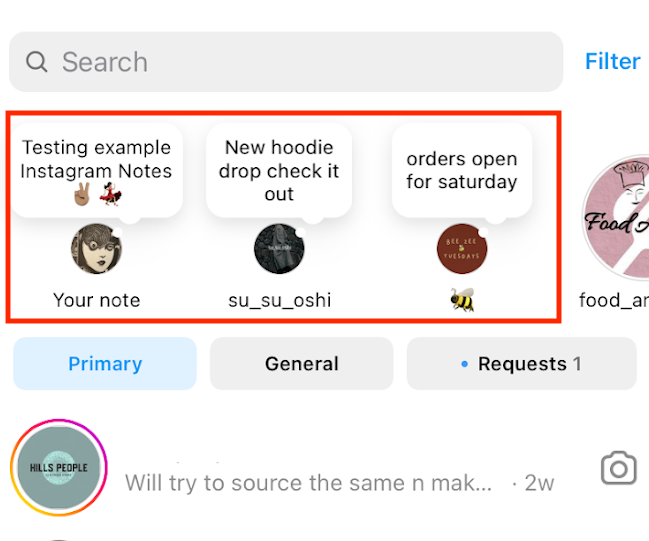 Those who can see the Note can also reply to them and those replies will land in your direct messages. That way, you can instantly start a new conversation related to the topic of your Note.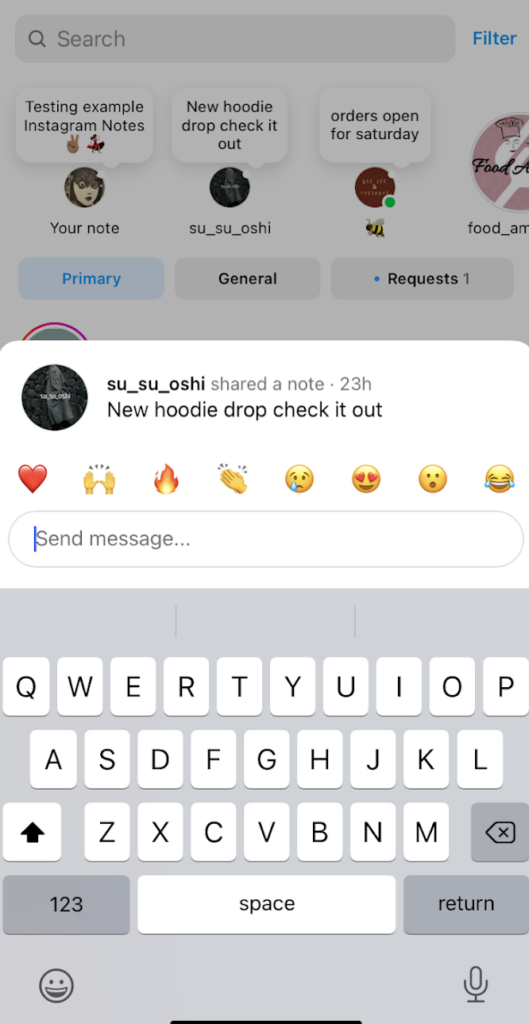 Notes can be up to 60 characters and can be written using text and emojis. Just like Stories, it'll be up for 24 hours after which it'll automatically disappear. The key difference is that you can only post one Note during those 24 hours whereas you can have multiple Stories at one time. If you'd like to post another note, the previous one will be automatically removed.
Another difference is that the Note can only comprise of text and emojis. No media such as images or videos can be included.
Instagram Notes offer a new way for brands and creators alike to engage with a close group of people. It can be an effective way to drive interaction among an exclusive group of fans or followers.
---
Why You Should Use Instagram Notes
Now you may be wondering if Instagram Notes are really all that important. You already have a strong Instagram Stories game and you're getting a ton of engagement, so what's the big fuss over Notes? Especially since you can't even post photos and videos.
The unique nature of Instagram Notes makes them a new and refreshing way to engage with your audience. Here are a few benefits that you can enjoy from leveraging Instagram Notes.
Strengthen Your Relationship with Your Audience
When someone responds to your Note, the conversation is automatically redirected to the DMs. This keeps the conversion direct, personalized, and personal–and these are all factors that are essential for building a solid relationship with your audience. Since your audience will get to interact with you one-on-one, you can provide them with a personalized experience by sending relevant responses and even sharing relevant links when necessary.
For instance, say someone has a question about your return policy on sale items and they respond to your Note promoting a sale. You can answer their question and even share a link to your FAQ page containing additional info on when sale items can be returned.
---
Improve Your Visibility
Notes are positioned prominently in your inbox, above all the direct messages. This makes them much harder to miss than things like regular Feed posts and Reels. Even Stories can be easy to miss when a user follows thousands of people because they may not have the patience to scroll through all those Stories. But they can instantly see your Instagram Note when they go to the messages tab, making it easier for them to notice.
As such, sharing information through Instagram Notes is a great way to guarantee better visibility for your message. Whether it's about an update, a sale, a promotion, or even a reminder–it significantly improves the chances that people will see it.
---
Keep Your Conversations Current
Notes give you the perfect opportunity to start conversations that are current and drive engagement. The prominence of Notes will help you stay top of mind for your audience while the timing and content of the Note can help you gain recognition as a thought leader on the topic.
You could share news about a relevant topic that's currently making waves in your niche. You could also add commentary and talk about your opinions based on that topic. Just make sure the information provides some value to your audience, so they'd want to tune in to what else you have to say.
---
Share Time-Sensitive and Exclusive Offers
With Notes being up only for 24 hours, they're ideal for sharing updates that are time-sensitive in nature. Whether it's a flash sale, a last-minute reminder, or a quick update, you could share information that your audience would want to know right now. Ideally, this would involve opportunities that they wouldn't want to miss out on.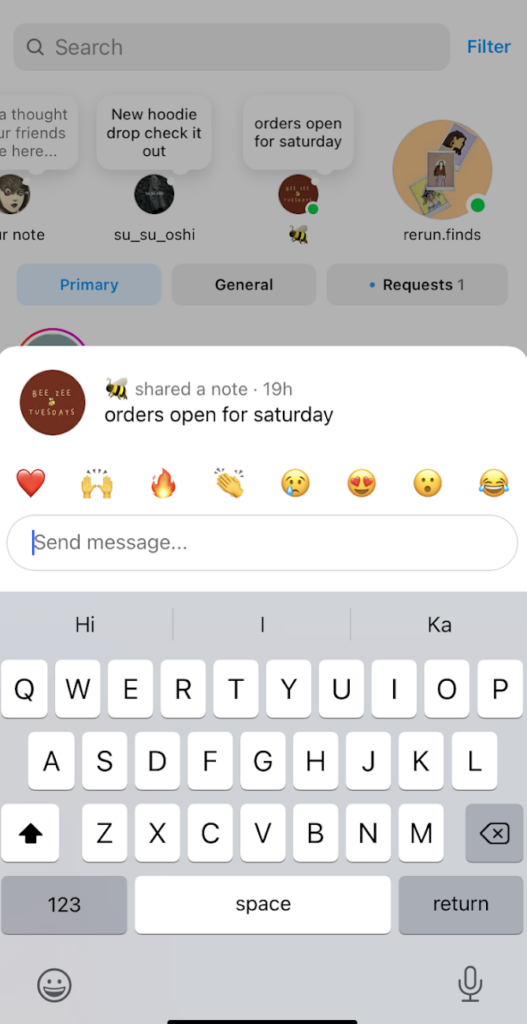 Additionally, since these Notes are only visible to people you follow back, it's the perfect way to share offers that you want to keep exclusive. For example, you might post about an opportunity for influencers you follow who want to participate in an upcoming brand partnership. Those influencers can respond directly to your Note, after which you can discuss the details through DMs.
---
Get Valued Feedback
Every creator and every business needs feedback to thrive, to help them realize what they're doing wrong, and to understand what they need to do better. However, a flood of harsh, unfiltered, and negative comments may not necessarily be the best way to collect this feedback. Moreover, too much feedback can actually do more harm than good as you scramble to accommodate every single concern. For some, it can also have a detrimental impact on mental health.
With the help of Instagram Notes, however, you can instantly filter the feedback to only collect them from people whose opinions you value. It may be long-time clients, major fans, employees, industry leaders, or even brand advocates–as long as you're following them back, you can send out a Note inviting them to share constructive feedback or ideas.
Post a Note asking people to share their thoughts or ideas around a specific topic. For example, it may be feedback about your latest product release or ideas about what content they'd like to see more of on your brand's Instagram. It could also be feedback about how to improve the way you're dealing with customers. Regardless of the specific goal, since the feedback will come from valued followers, you stand a good chance of gaining valuable information that can be put into practice.
---
Create an Exclusive Audience Experience
There's one key difference that Instagram Notes have compared to Stories–they're exclusively shown to people you follow back. For brands, this means your Notes might not necessarily be displayed to every single customer who follows you. Instead, you'll be showing them only to those select few whom you decided to follow back. Usually, this would include industry experts, influencers, brand advocates, and employees.
This means you can leverage the opportunity to create an exclusive experience that would make those followers feel like a part of the inner circle. This is a great way to nurture mutually beneficial relationships and win loyalty from people who matter. You could share broadcasts to thank them for their support, share exclusive news, and promote benefits that only they can enjoy. For example, you could post about an opportunity to beta-test a new feature that's not yet available to everyone.
---
How to Create Instagram Notes
Ready to start posting your first Note on Instagram? It's super easy to create Instagram Notes. Just follow the steps below.
---
Open your Instagram app and head over to your inbox by tapping on the icon at the top right-hand corner of the app. From here, you'll be able to see Notes that your friends have shared with you and their other friends.
---
At the left-hand corner, you'll see your profile picture. Tap on the window right above it that says "Share a thought for your friends to see here…" This will open up the note window.
---
Type in your message. This can be up to 60 characters. You can also include emojis to make the Note stand out.
---
Once you've drafted the message, choose whom you want to share the Note with. You can either share it with your friends (the followers you follow back) or with your "Close Friends" list.
---
Tap on "Share" and that's it. Your friends can now see the Note in their inbox along with Notes from their other friends. To reply or react to the Note, they can simply tap on it and a message window will open up at the bottom of the screen. Their response will then go to your direct messages, through which you can continue a conversation with them.
---
Deleting or Replacing Instagram Notes
Noticed a typo in your Note? Or perhaps the message is no longer relevant because you've received all the responses you wanted. Whatever the situation is, you can easily delete your Instagram Note.
When you want to remove the Note before the end of the 24 hours, tap on the Note and select "Delete note." And voila! Your Note will no longer be visible to your friends. If you want to replace it with a new Note instead, tap on "Leave a new note" and type in your new message.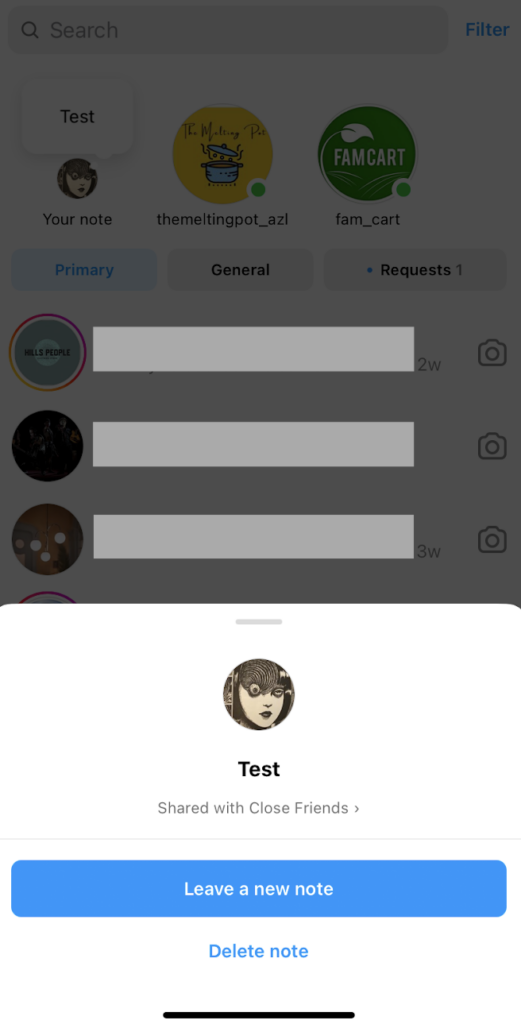 ---
Should Your Business Use Instagram Notes?
You've seen how Instagram Notes work and how brands and creators could possibly benefit from this new feature. Now you're trying to decide if it's something that your business should consider using. Our suggestion? What's the harm in giving it a try?
Brands should always experiment with new ways to communicate and engage with their audience. Instagram Notes offer exactly that opportunity, especially since it doesn't need a lot of time or effort. It only requires 60 characters (or fewer) to create a Note, meaning you could whip up a new Note in seconds. Essentially, this also means that you won't really need to spend time planning what to post.
Moreover, trying out new features early can give you a head start, allowing you to get ahead of the competition. That way, you get to stay competitive and get a better chance of standing out in the market.
After trying it out for a few weeks, you can see for yourself whether it makes a difference for your brand. This will then help you decide if it's something you should continue investing in.
Frequently Asked Questions
Can I see who viewed my Instagram Notes?
One key difference between Instagram Notes and Stories is that, unlike Stories, you can't see who has viewed your Notes.
How can I delete my Instagram Note?
Deleting a Note you've shared on Instagram is simple. Just tap on the Note and then select "Delete note." This will instantly remove the Note and your friends will no longer be able to see it.
Can I leave more than one Note on Instagram?
You can only post one Note at a time. If you'd like to replace the current Note with a new one, tap on the Note and select "Leave a new note." This will remove the previous Note and display the new one.
Why can't I see Notes on Instagram?
Instagram launched Notes globally in September 2022. So if it's still not available to you, it's likely because you're using an older version of the app. Update and reopen the app so you can start viewing and creating Notes on Instagram.
Will Notes affect the Instagram algorithm?
At the time of writing this post, Instagram hasn't made any statements about whether Notes will be considered by the algorithm. Considering the complexity of the algorithm and how it's constantly updated, there's no knowing when or if Notes will affect the Instagram algorithm.