Instagram users create millions of posts per day. So you can bet that it's easy for your posts to get lost in a sea of content. Low visibility means low engagement rates, which further damages your post discoverability–it's a vicious cycle. This is why it's crucial to optimize your Instagram content strategy for better reach and visibility on the platform.
In this post, we help you understand what Instagram SEO is and what ranking factors are considered. You can even get some practical tips on increasing your discoverability on Instagram. Let's dive in.
---
Instagram SEO Guide: 5 Ways to Increase Your Discoverability:
---
What Is Instagram SEO?
Instagram SEO is the process of optimizing your content to make it more visible across the Instagram platform–including search results and Explore pages. It involves having a closer understanding of how the Instagram algorithm works and using that knowledge to strategically publish your Instagram posts so that they're prominently displayed to the right users.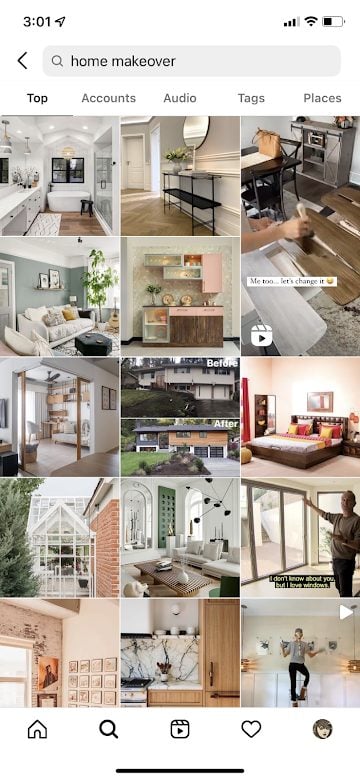 So an Instagram SEO strategy may involve using the right hashtags and posting at the right time. It may also involve finding different ways to drive more interactions to your posts. In other words, Instagram SEO is a combination of steps taken to improve the discoverability and visibility of your Instagram posts.
---
Understanding the Key Ranking Factors for Instagram SEO
As mentioned above, effective Instagram SEO is all about understanding how the algorithm works and using that knowledge to your advantage. The Instagram algorithm considers the following key factors to rank content on the platform:
Search Query Relevance
Instagram first prioritizes the search text used to display relevant content. It looks at the keyword or phrase a user types into the search bar and then finds relevant usernames, bios, hashtags, captions, and locations. Based on this, it displays the top posts, accounts, audio, tags, and places related to the search query with each category sorted under a separate tab.
User Activity
In order to create a highly personalized experience, Instagram also considers the user's previous activity to display results that it thinks they'll be more interested in. This includes the accounts, hashtags, and posts they've viewed or interacted with in the past. So the top search results will be completely different for two users using the same search query.
Popularity Signals
For searches that have too many relevant results, Instagram uses popularity signals to determine which ones to prioritize. It looks at the number of likes, shares, and follows that an account, hashtag, or place has to decide which ones to rank first.
---
Why Is SEO Important on Instagram?
Now you may be wondering, "What's the big deal?" What's so important about Instagram SEO that you should spend time and effort on it?
As briefly mentioned earlier, an effective Instagram SEO strategy helps improve your chances of getting your posts in front of the right audience. More people seeing your content means higher chances of engagement, which further drives up your content discoverability. This means you're more likely to attract new followers and grow your Instagram account.
For starters, optimizing your Instagram posts with the right SEO strategy will allow you to tap into the searches of your target audience. This increases the likelihood that your content or account will show up when people conduct a search using relevant terms and tags.
Additionally, Instagram SEO also plays a crucial role in what shows up on a user's suggested posts. This is the space on a user's main feed where Instagram displays posts from accounts that they don't follow. The suggestions are made based on the accounts that a user follows and the posts that they've interacted with by liking, watching, or saving.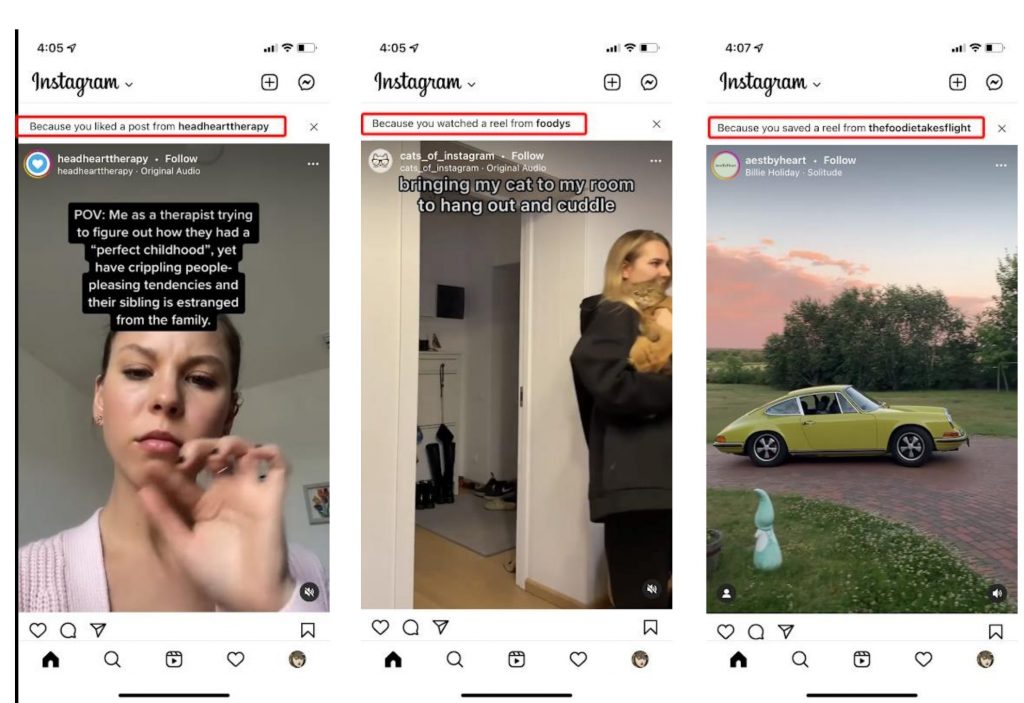 Instagram SEO helps your posts to show up in relevant search results and in the suggested content feeds of your target audience. In other words, it's the ultimate tool for boosting your content and account visibility on the platform.
---
5 Ways to Increase Discoverability on Instagram
You now have a clear idea of the factors that influence search ranking on Instagram and why SEO matters on the platform. Now let's get to the most important part. Here are some practical ways to increase discoverability on Instagram: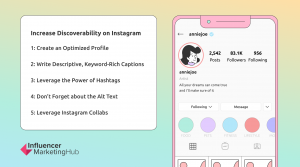 1: Create an Optimized Profile
The first step is to optimize your profile for search if you haven't already. Instagram looks at the terms used in your name, username, and bio to determine what your profile is about. As a result, it may display your account in the results of relevant searches that were made using the key terms you use in your profile.
This is why it counts to include relevant keywords about your niche or industry in your profile. For example, see how a search for the keyword "home makeover" brings up profiles that include the term in their name or username.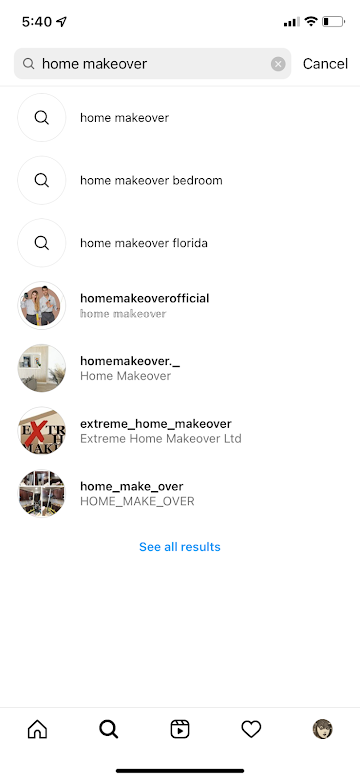 However, if you already have an established brand name, you may experience some limitations about using a keyword in your username because you'll want to maintain branding consistency. That means using your official brand name as your Instagram username. But you might see some opportunities to incorporate a keyword or two in your profile name.
In the following example, you can see how Corner 17, a Chinese restaurant, includes keywords like "noodles" and "bubble tea" in their profile name. While the username only contains the name of the restaurant, adding the two key terms for foods that the place is famous for allows them to show up in search results for noodles or bubble tea.
Even if this isn't a possibility, your bio is one place where you can definitely incorporate some keywords. Use this space to describe what you do as a business or as a content creator. You might even be able to use a few secondary keywords in your description. For example, a nail salon may include secondary keywords like "pedicure," "nail art," "gel nail," and "nail extension in their bio.
---
2: Write Descriptive, Keyword-Rich Captions
For a long time, Instagram didn't factor in keywords in captions to rank content on the platform, but that has changed. Now keywords in the caption play an important role in how Instagram ranks content in relevant search results. That means descriptive captions that are optimized with relevant keywords could work in your favor.
Remember that although the Instagram algorithm is very different from the Google algorithm, you still have to avoid stuffing the caption with keywords. You're still writing your captions for humans to read, which means that nonsensical captions full of keywords will not do a very good job of impressing your audience. So make your captions descriptive and understandable with the right sprinkle of relevant keywords.
That doesn't necessarily mean you have to write several paragraphs' worth of captions. Unless you're sharing a long story, a recipe, or a how-to tip, try to strike the right balance between descriptive and brief by getting straight to the point and describing only the content of the post.
See the caption in the following post from West Elm. In addition to including the name of the furniture, the caption also has a few keywords like "how to style," "Fair Trade," and "sustainably sourced table." The description is brief and to the point, while still incorporating a few important keywords.
---
3: Leverage the Power of Hashtags
Hashtags have always been central to Instagram search. Even before you could use keywords to conduct searches, hashtags were always the go-to solution. This makes them vital for effective Instagram SEO as they can significantly boost your post discoverability. So make sure you're optimizing your captions with hashtags that are relevant to the content.
But that doesn't mean you stuff your caption space with all the hashtags you can use. Not only does this make the post look messy, but it could ruin your chances of getting discovered. To use hashtags effectively on Instagram, make sure you're strategic about the number of hashtags you use.
Instagram specifically recommends that creators use about 3-5 hashtags in their posts. Here's an excellent example from Nat Geo Travel.
Additionally, you should use the right balance of niche hashtags, trending hashtags, and branded hashtags for a better chance of getting discovered. You can use hashtag research tools to find the best hashtags to use for your Instagram posts.
Alternatively, you can also use the free Hashtag Generator Tool from Influencer Marketing Hub. This allows you to generate relevant hashtags based on the content of the image. After you upload your photo, the tool will generate a few keywords relevant to the content.
Select the keywords that you want to include and the tool will automatically find popular hashtags based on those keywords. It also displays the popularity of each hashtag, which makes it super easy to narrow down the best hashtags to use in your posts. Select the hashtags you want to use, then click on the "Copy Selected Hashtags" button and paste it into your caption.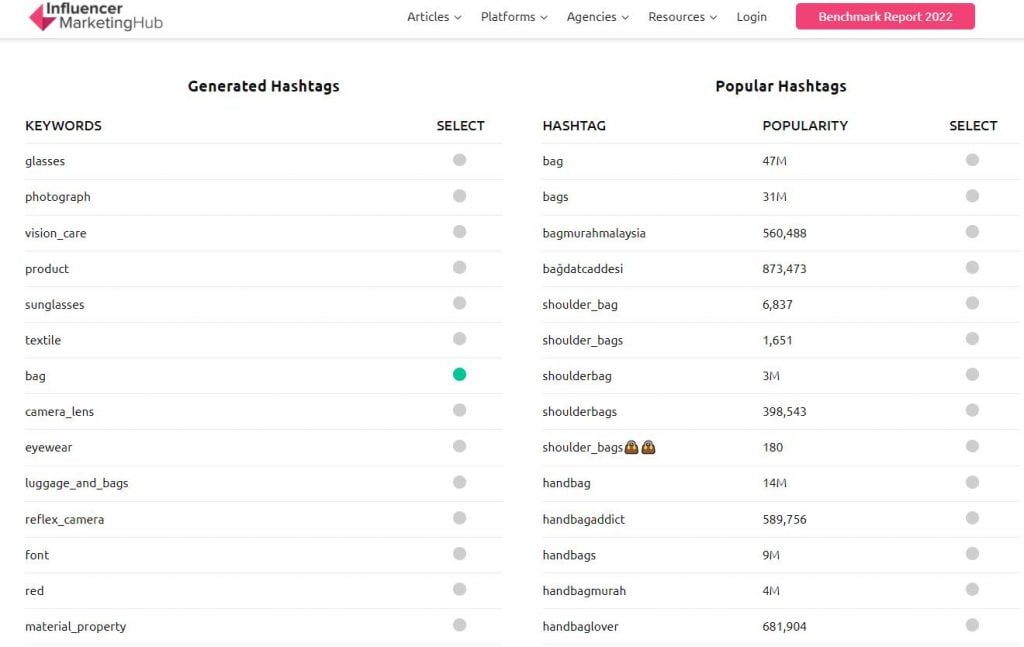 ---
4: Don't Forget about the Alt Text
Alt text allows you to make your content more accessible to users with visual impairments. Additionally, it provides a detailed description of what the image contains so users can understand the content even if the image fails to load.
Another important benefit is that Instagram can use the alt text to gain a better understanding of what your post is all about. As a result, it can more easily determine whether the post is relevant to a certain search result. So you can be extremely descriptive here and incorporate some crucial keywords to improve the discoverability of your content.
Although Instagram automatically generates alt text using its object recognition technology, the automated text is never going to be as descriptive as the one you manually input. Plus, the auto-generated text will generally not include the main keywords you want to use. Make the most of this space to help Instagram understand when to show your content in search results.
---
5: Leverage Instagram Collabs
When you create an Instagram Collab post with another creator, the post is displayed in front of both your audiences. This combined reach enables you to garner tons of engagement, especially since Instagram takes the likes and comments from each of your accounts and counts them collectively.
So not only are you getting your post in front of more people, but you're also driving huge volumes of engagement. This significantly boosts your content visibility and improves your chances of being discovered in relevant search results, provided you're following other Instagram SEO best practices.
Take a look at this Instagram Collab Reel created by London-based food blogger, Liv (@livbyfood) and the London Unknown page. You can see that the combined likes have reached a total of 7,225, which is much higher than the number of likes they get for their other, non-Collab posts.
And the Reel shows up on both of their pages. This means the Reel is being displayed to their collective audience of almost 100,000. So you can imagine the kind of visibility and interactions that this collaboration would provide.
---
Making Instagram SEO Work for You
If your ultimate goal is to grow your Instagram account and build a strong community of followers, then you can't afford to ignore Instagram SEO. It holds the key to boosting your visibility and discoverability on the platform. As such, it could also subsequently help you boost your engagements and grow your following on the platform.
Make the most of the Instagram SEO tips above to start improving your discoverability. Remember, it's all about the strategic use of hashtags and keywords in all the right places. Plus, working with other brands or content creators could give you an instant visibility boost on Instagram.
Frequently Asked Questions
Does SEO matter for Instagram?
SEO matters for Instagram as it determines the discoverability of your posts and subsequently, the visibility of your Instagram account.
How do I optimize Instagram posts?
You can optimize Instagram posts by using relevant keywords and hashtags in your captions and writing descriptive, keyword-rich alt text for your images.
How do you rank higher on Instagram?
You can rank higher on Instagram by optimizing your profile with relevant keywords. Additionally, optimizing your posts with relevant keywords and hashtags is another crucial step.
Do hashtags improve SEO?
Hashtags can improve SEO for Instagram when used strategically. This would involve using highly relevant hashtags and using a combination of popular/trending hashtags along with niche hashtags and branded hashtags. It also involves using just 3-5 hashtags as using too many can harm search visibility.