LinkedIn for content marketing? Absolutely! Like other social media platforms, LinkedIn makes it easy to share quick status updates, engage with others through comments, likes, and shares, and run targeted ads. LinkedIn stands out from other social platforms, though, because 97% of marketers say they use LinkedIn to distribute content, according to LinkedIn.
Never considered LinkedIn for content marketing? In this guide, we'll show you how to do it right.
---
The Ultimate Guide to Using LinkedIn for Content Marketing:
---
What Is LinkedIn?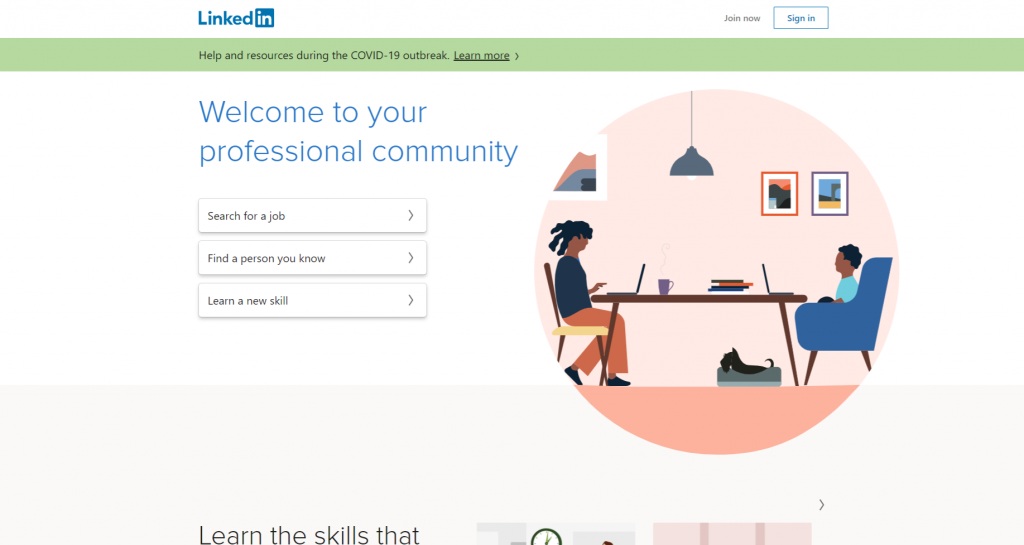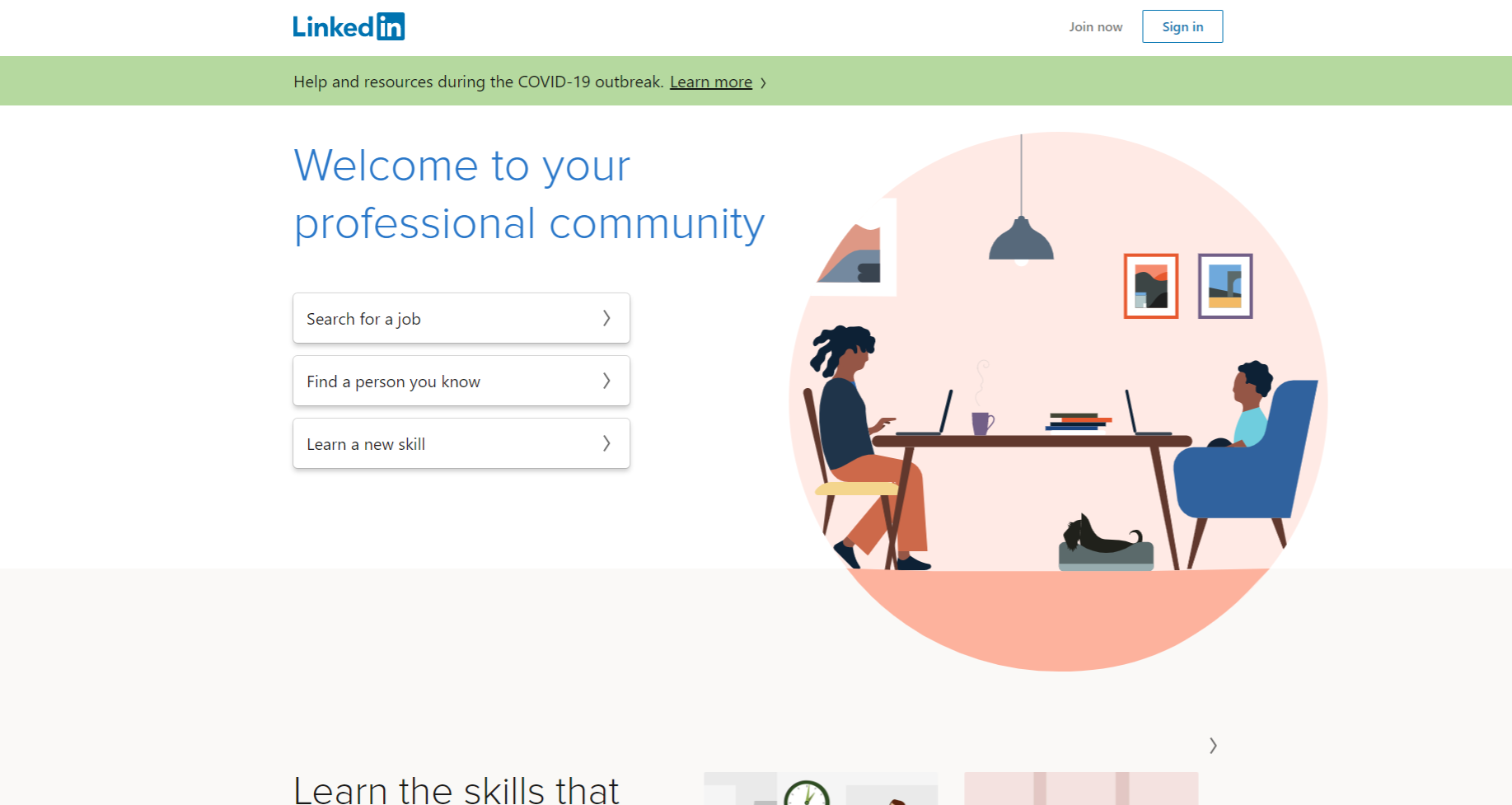 LinkedIn in a social network, just like Facebook, Twitter, and all the rest. The difference between LinkedIn and other social platforms is that LinkedIn is a professional network site. Members of the platform use it to make business connections, find jobs, and engage with others in their industry.
LinkedIn has more than 660 million users in more than 200 countries and territories worldwide (LinkedIn, 2020), making it one of the fastest-growing and most content-focused social media platforms. LinkedIn has more than 9 billion content impressions every week.
---
Why LinkedIn Works for Content Marketing
What about LinkedIn makes it work so well for content marketing?
For starters, 91% of marketers turn to LinkedIn when they want to access high-quality, professionally-relevant content (LinkedIn, 2017). That's an enormous audience!
In addition to its broad reach, LinkedIn makes it easy to connect with a professional audience. You can even search for users based on their job title. This is important for reaching the people who are actually influencing or directly responsible for the purchasing decisions at their companies.
How many decision-makers? In 2019, LinkedIn reported that the platform has 90 million senior-level influencers. Even more exciting is that 55% of decision-makers use LinkedIn content to vet organizations they're considering working with. There's a level of trust that comes from posting content on LinkedIn, as if the very nature of the platform makes your content have more authority.
This kind of trust makes LinkedIn the perfect platform when you want to be seen as a thought leader. You can post your high-quality industry content and other professionals can comment and share, or even add endorsements to you for certain skills. Because LinkedIn has so many users across so many different industries, the platform is a great place to turn when you're looking to find references or content ideas for your own site.
You can take a look at LinkedIn's trending topics to find out what other leaders in your industry are talking about right now, so you can jump into the conversation or create your own content to share.
---
How to Use LinkedIn for Content Marketing
Unlike many other social platforms, LinkedIn focuses on providing information rather than entertainment. This means that users of the platform come to the site with a different mindset than they have when logging into Facebook, for instance. This doesn't mean that people on LinkedIn don't want to be entertained or inspired, but they're really looking for something that will teach them more about their industry or how to get ahead professionally.
To leverage LinkedIn's platform you'll need to create and publish a wide variety of high-quality content that seeks to educate or provide value to other users, instead of just trying to sell them something. But what kind of content, how, and when?
In the next section, we'll share 4 types of content, both short-form and long-form, you need to be sharing on the platform.
---
What Content Should I Share on LinkedIn?
You'll get the most benefit from LinkedIn by posting different types and lengths of content that provide value to other users.
This doesn't mean that you can never share about personal things or push your business.
What it does mean is that most of your content should be high-quality, well thought out, professional, and informational.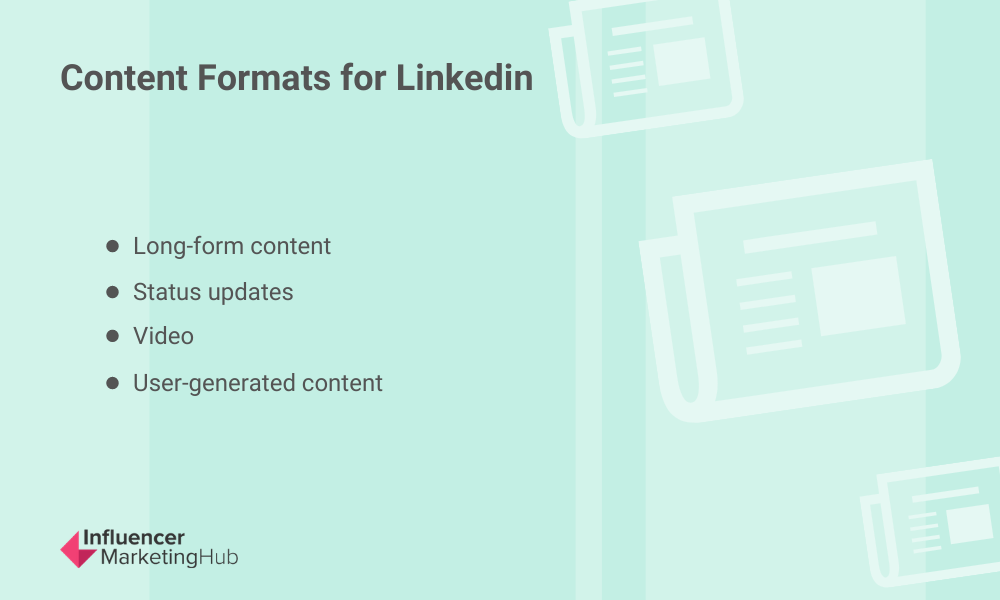 There are 4 content formats that perform well on LinkedIn:
Long-form content

Status updates

Video

User-generated content
But just knowing what content formats work isn't enough. You also need to be creating and sharing content within those formats that resonate with your target audience.
Let's take a closer look at how to use each content format to get the best results.
Long-Form Content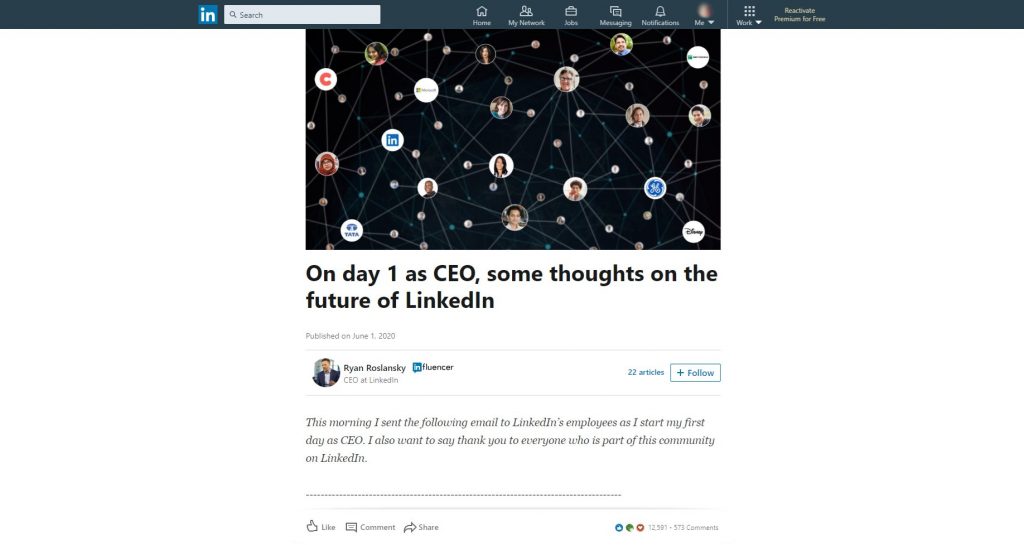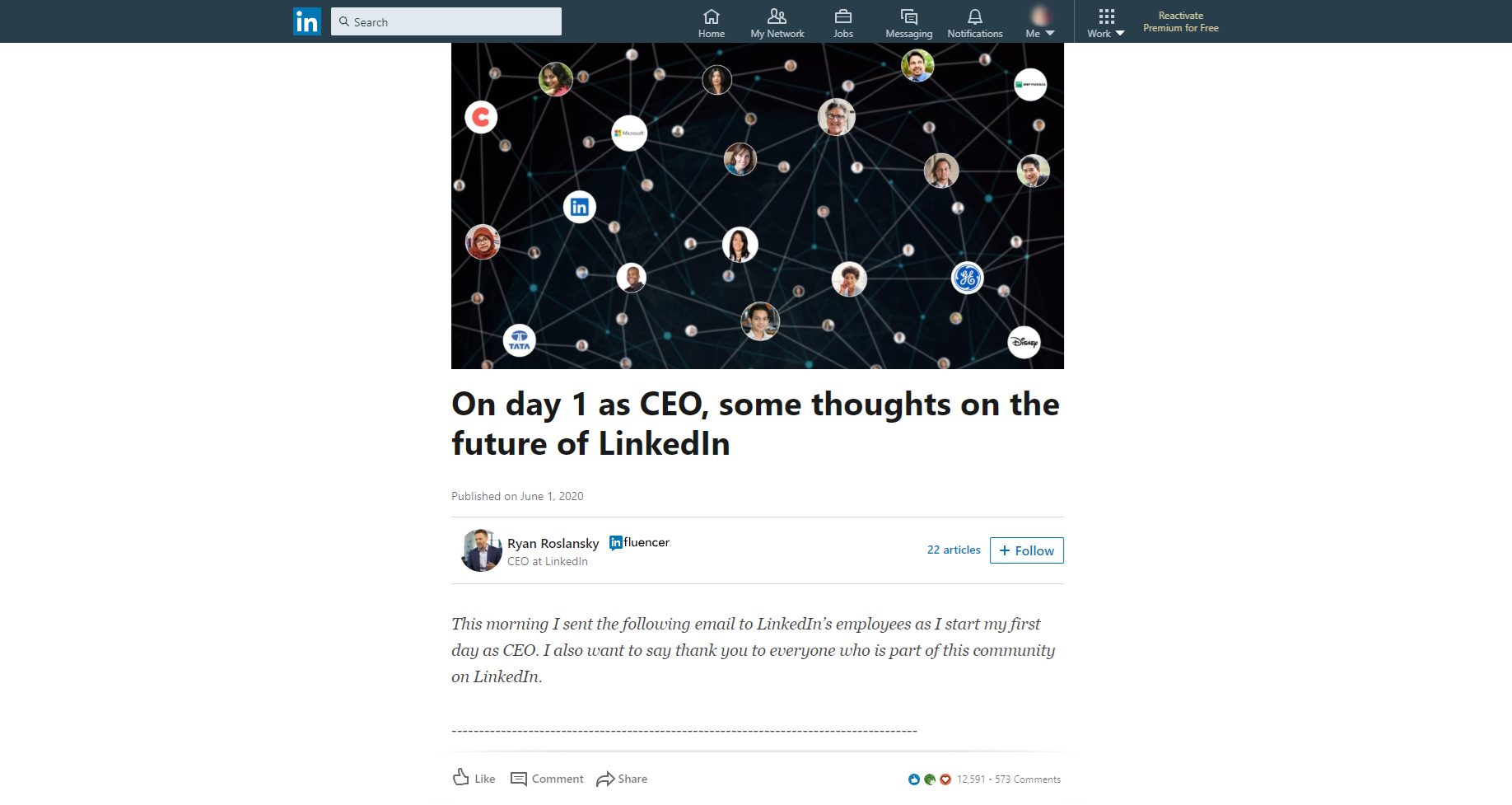 If you ask 20 different marketers what counts as long-form content, you're likely to get 20 different answers. Some believe that "long-form" means anything more than 700 words, while others say content doesn't count as long-form until it hits at least 1,800 words. Regardless of what you believe, distributing your long-form content on LinkedIn is a great way to increase our reach on the platform.
Why Publish Long-Form Content
Publishing long-form content on LinkedIn offers a few benefits:
Reach a targeted audience

Get more exposure for your content

Increase your audience
It's a pretty good bet that most of the people on your LinkedIn Connections list are interested in the same things as you. This gives you the chance to create and share the content that they're going to want to see the most.
The bonus? You get to use that content to engage with your target audience. Your connections even get notifications every time to publish, so you have a better chance of it being read. Long-form content is also more likely to be shared, according to research from BuzzSumo and Backlinko. This gets your content in front of more people who may wish to connect or follow your work.
---
How to Publish Long-Form Content on LinkedIn
If you're ready to start publishing long-form content on LinkedIn, here's some tips to make sure it hits the mark.
Set a Goal
What do you want your content to do? Or, perhaps a better question to ask, what do you want people to do after reading your content? Is your purpose to inform, show readers how to do something? Do you want them to make a decision? Share your content? Sign up for something? The better-defined the purpose and goal of your content, the better you'll be able to create content that has a real impact.
Choose a Topic
Think about who you're writing your content for and why. What do they want to know about? What are their pain points and challenges? Come up with a list of topics you could write about. Then, zero in on one. Pick the topic that matters the most right now and write.
Pick an Image
Your content should include visuals that are engaging and stir a desire to read your content. We recommend publishing long-form content on LinkedIn no more than once a week.
---
Status Updates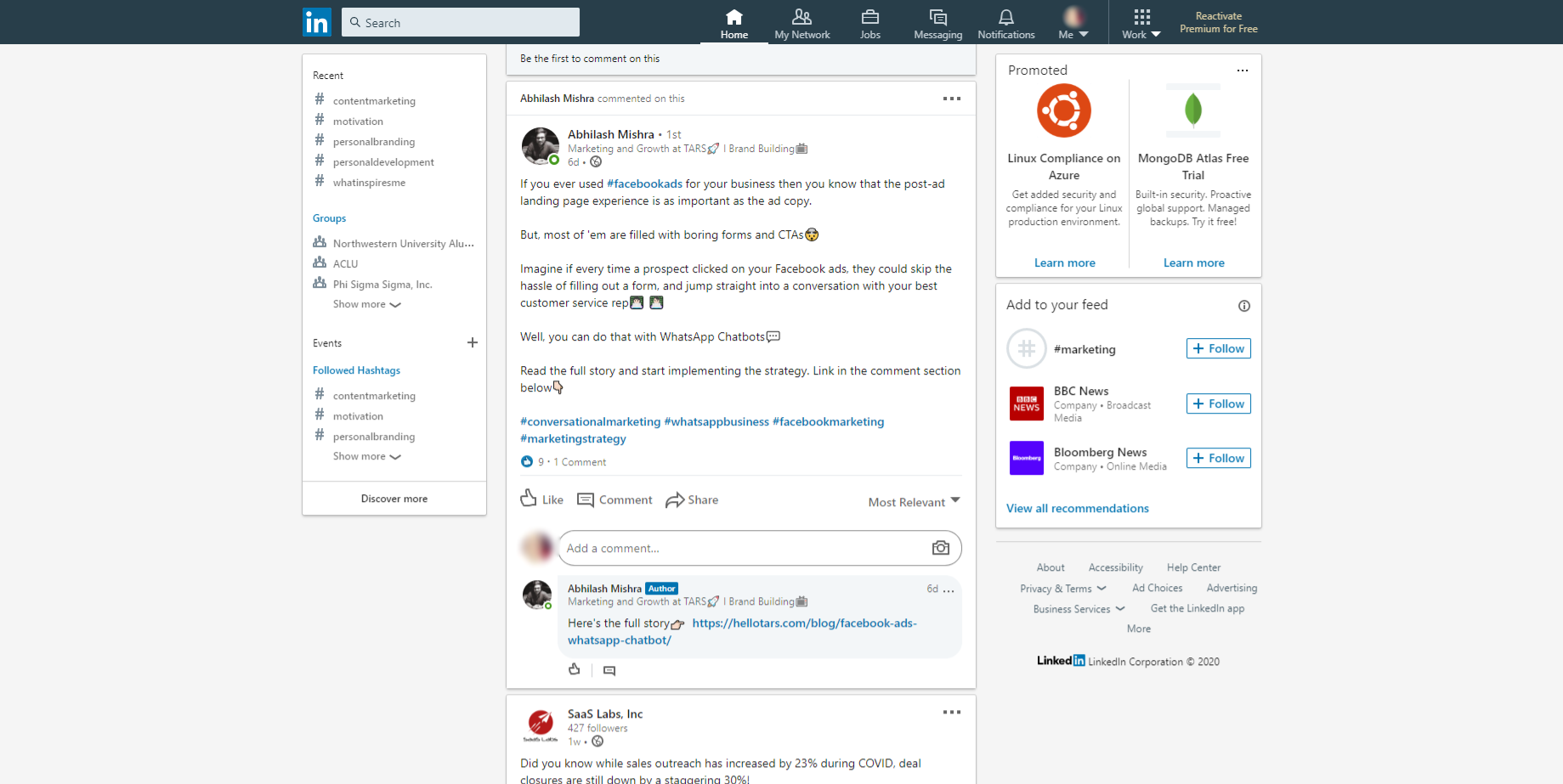 Status updates are an often overlooked feature of LinkedIn, but they're really a great way to get in front of your target audience.
Think of status updates as short-form content that you can use to share everything from hot takes on industry trends to updates from your company. You can also edit each post before you share it out to your network to control who sees your post and who doesn't. LinkedIn lets you share with anyone/everyone, just your own connections, members of a specific group, or with everyone and your Twitter network.
We recommend sharing a status update on LinkedIn no more often than once a day. The rest of your time can be spent engaging with your commenters, network, and other industry professionals.
Tips for Publishing Engaging Status Updates
Here's a quick list of "dos and don'ts" to create better, more engaging status updates that will inspire engagement.
Do Share Links:

Did you find an article interesting? Your followers might, too. Use status updates to encourage your network to read articles, visit websites, or watch videos.

Do Include a Document:

If you have a lead magnet like a white paper or checklist, or have a case study that your audience will find interesting, attach the file to your status update so they can download it.

Do Mention (or Tag) Others:

You can tag individuals or companies in your status updates. This sends them a notification and makes it easier for people interested in them to find your status update (and you!).

Do Promote Events:

Will you be attending an event that you're excited about? Talk about it in a status update. Or, if you've already been to an event and have something to say about it, a status update is the perfect way.

Do Post at the Right Time:

Just like any social platform, if you post when nobody's around, nobody's going to see your content. We recommend posting within business hours for your industry and location.

Don't Talk About Irrelevant Things:

LinkedIn users are professionals who are less interested in pictures of your pets and kids. Be sure to share content that is professional and related to your industry. Just like your long-form content, your status updates should provide value.

Don't Spam Your Connections:

LinkedIn isn't the place to post all day, even if the posts

are

relevant. Limite your status updates to no more than twice a day.

Don't Bring Up Sensitive Subjects:

We'll say it again: LinkedIn is a professional social network. Key word: professional. As such, you're going to want to limit what you talk about and share on the platform.

Don't Just Sell:

People are going to start skipping your status updates, and probably any other content you share, if all you do is try to sell them something. Remember, social media is about engagement.
---
Video Content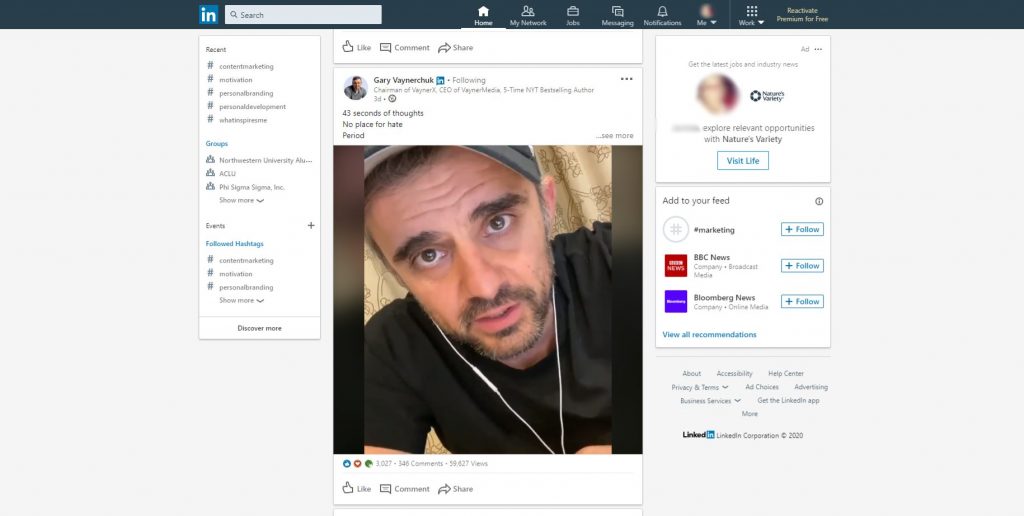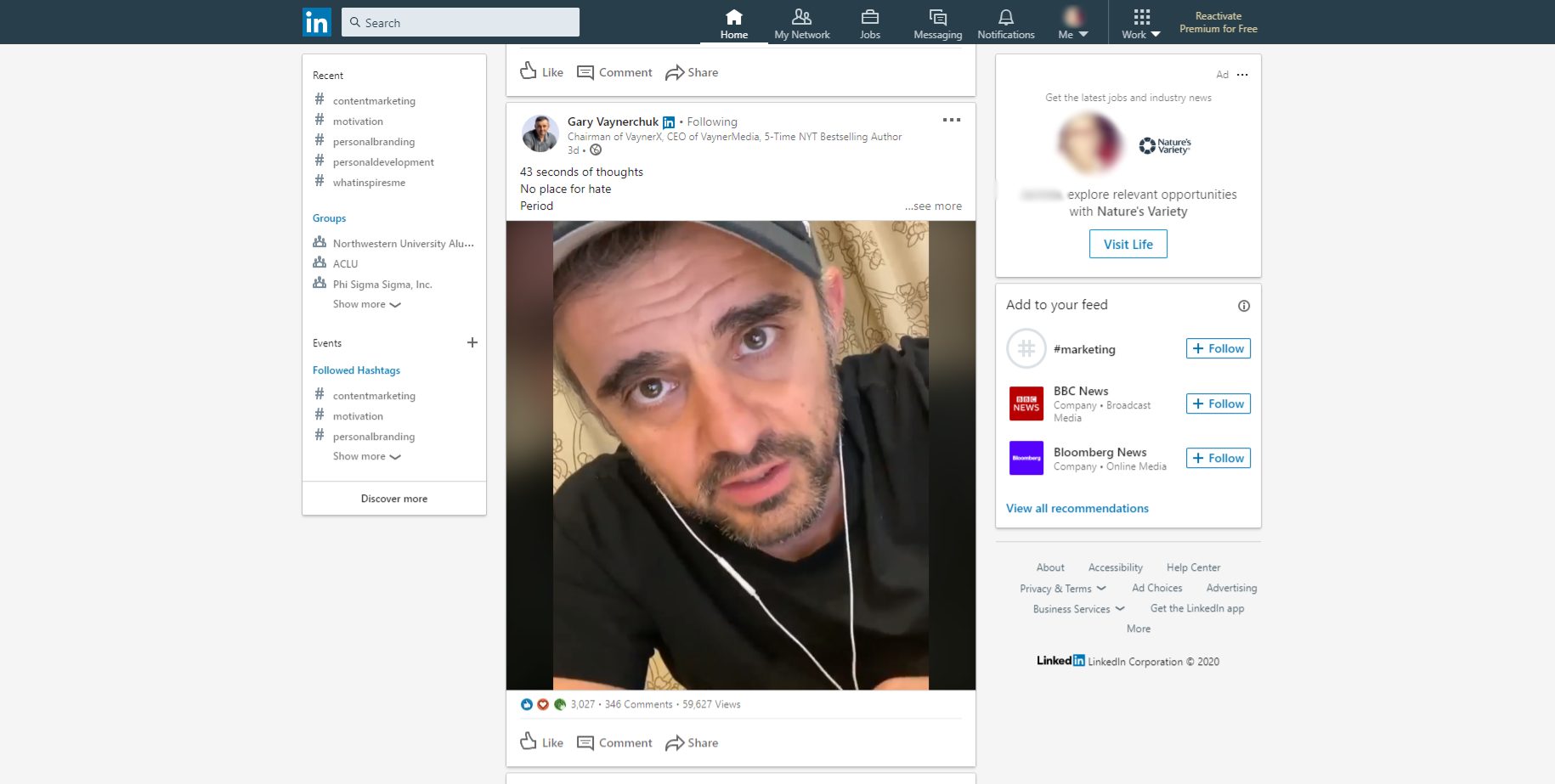 Everybody seems to love video content. And, LinkedIn makes it easy to share pre-recorded and live video content on the platform.
Even if you're not a professional video marketer, there are several great video editing software tools that will have you creating engaging, high-quality video content.
Why Publish Video on LinkedIn
Video content on LinkedIn shares many benefits with status updates and long-form content. For starters, you can edit who you want to share your content with. Videos are also eye-catching, so they're more likely to draw engagement and attention than a text-based status update or long-form content. Plus, LinkedIn's algorithms are geared toward keeping everyone's feeds filled with interesting and different content.
Video is also shared more than any other content which means that the people who watch your videos and enjoy them are more likely to comment and share. This means that your follower's followers will be exposed to your content and might even follow up. Finally, videos are an easy way to join forces with other industry leaders (who aren't in competition with you) to share content that's beneficial to both or all of you.
You could interview an expert, record a Q&A, or join forces on a promotion, among other things. Then, share it to LinkedIn and tag your collaborators. They're liking to share the content from their account too, which means that more people will learn about your brand.
How to Publish Video on LinkedIn
Creating high-quality, relevant videos doesn't need to be complicated. Here's some ways to get the most out of your video content on LinkedIn.
Brainstorm Ideas
As with any content creation, you need to start by brainstorming a list of topic ideas. Choose ideas that are engaging, provide value, and that you can create without spending tons of money.
Create the Right Environment
What do you need to record? Just 3 things:
1. A camera
2. A mic
3. A space
That's it. As long as you have those three things, you can create content that will get noticed. Just ask business and fitness influencer Chalene Johnson. Chalene has been an influencer for a while, but her fanbase lives for her video content on Instagram and other social platforms. Depending on the type of video content you're creating, you'll probably want to invest in decent equipment and add lighting to the list of needs. However, you may even find that videos recorded only using your mobile phone get the engagement you're looking for.
Go Live
LinkedIn lets you both go live and share pre-recorded video to your LinkedIn account. We encourage you to use a mix of both live and pre-recorded content to get the most from your video marketing. Live video tends to get more engagement on LinkedIn than pre-recorded videos. This includes 24X more comments and 7X more reactions than native video, according to a Hootsuite report from 2019.
You need to apply to become a LinkedIn Live broadcaster, but you can create and share pre-recorded videos at any time.
---
User-Generated Content (UGC)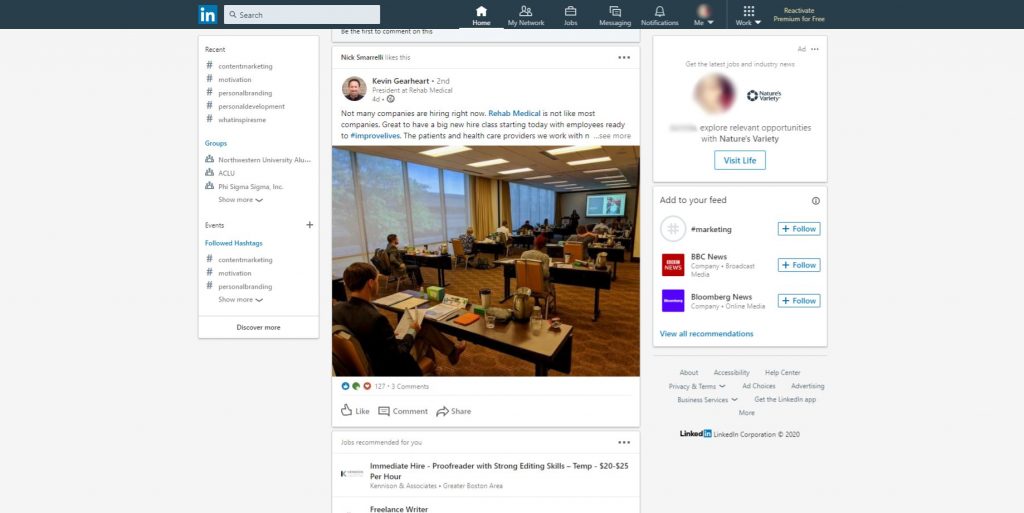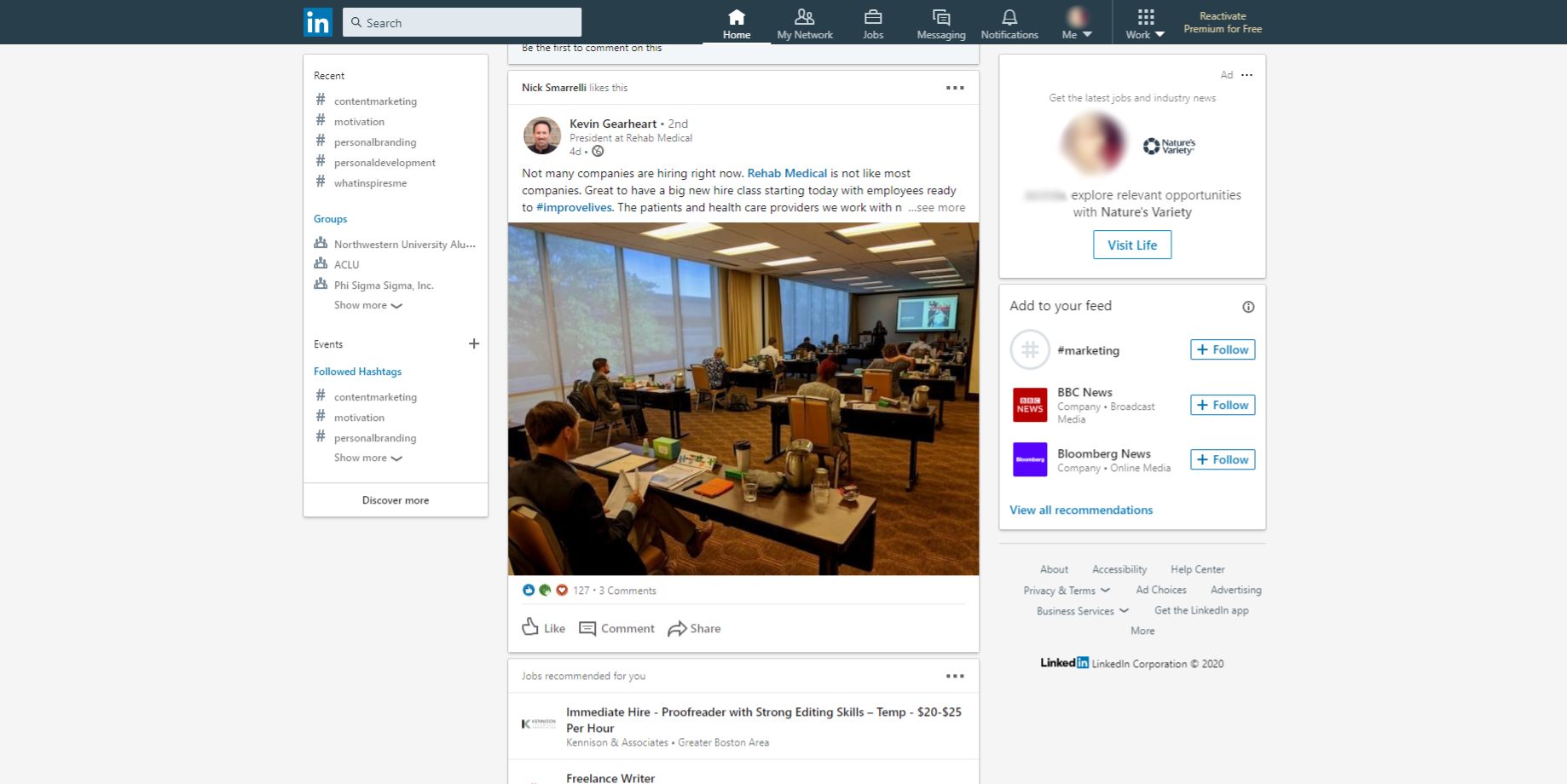 User-generated content is any content created by users. This could be articles, videos, images, posts—anything. It's a brilliant way to drive engagement and get your brand more exposure.
With UGC, you have the chance to show off your users and followers in a way that makes them feel seen and still centers your brand.
Why Publish User-Generator Content?
User-generated content offers several benefits. First, it encourages engagement from your followers since users are twice and likely to share UGC. Second, UGC is also seen as more authentic, honest, and valuable than content created by a brand.
People trust people. And, since UGC is created and shared by the people who follow and use your brand, you can show off how your products and services are represented in the real world without a heavy-handed advertisement. Sharing UGC can also help increase trust and brand loyalty.
The users who are creating and sharing UGC for your brand and acting as brand advocates and by sharing UGC you're showing them that you value their input. You can reach out to users who have already created content related to your brand and ask them if you can use their content on LinkedIn. Or, you can solicit user-generated content yourself.
---
Tips for Publishing User-Generated Content
When you actively encourage users to engage with you in discussing your brand, you'll naturally end up with UGC you can then repurpose. Here are some ways you can find and share user-generated content related to your brand on LinkedIn.
First, ask users to engage with you. Invite users to comment on your posts by asking them what they think.
Next, you can search LinkedIn for mentions of your brand's name. This not only gives you a chance to find UGC, but also to find out what people really think about your brand. You can then decide whether or not to jump into the conversation. One of the very best ways to get more user-generated content is by running a contest. Starbucks is a great example of effectively using a contest to encourage UGC.
In 2014, Starbucks had a #WhiteCupContest in which they asked users to send in images of doodles on Startbucks's white cups with the end result being that Starbucks would choose some of the drawings to be used as limited edition designs for future Starbucks cups. Users only had to take pictures of their drawings on Starbucks cups and share them on Twitter using the hashtag "WhiteCupContest."
Here's an example of the type of content Starbucks got in response:
Tons of beautiful images, prominently featuring the Starbucks logo.
---
Get the Most From Your Content Marketing on LinkedIn
LinkedIn is a vast social network for professionals that you can use to get your content and brand in front of the people responsible for business decisions at their company. While it's definitely more suited for B2B companies, you can still use LinkedIn no matter who your customers or what your industry to find and nurture new relationships to help your business grow.
By using LinkedIn for content marketing, you increase the chances that your brand will not only be discovered on the platform, but that your message will be amplified. With this guide, you have everything you need to make that happen.