LinkedIn has been around for nearly two decades, having been born in May 2003, even before Facebook. Though it didn't come into popularity until closer to 2011 when it finally hit the 100 million user milestone.
Now, LinkedIn has more than 875 million active users and drives 2x more conversions than other social platforms. Many professionals love to share work anecdotes on the platform, either via LinkedIn posts or articles.
LinkedIn also provides its users with a ton of options to fully flesh out their professional experience on their profile—but they've recently created a new mode that offers even more.
LinkedIn creator mode is a great way to boost your LinkedIn marketing strategy and generate even more reach within your target audience. Throughout this article, we're going to talk more about what this means, how to use it, and why you might want to.
---
How to Use LinkedIn Creator Mode: The Ultimate Guide:
---
What is LinkedIn Creator Mode?
According to LinkedIn, creator mode is "a profile setting on your dashboard that can help you grow your reach and influence on LinkedIn." Users can turn this on to gain access to additional tools that can help them create and promote their LinkedIn content.
Some of the additional features available to users with creator mode include:
The ability for users to "Follow" you instead of sending a connection request

An area to display the topics you regularly talk about on LinkedIn

Placement of the "Featured" and "Activity" sections at the top of your profile

The ability to add a link to the "Introduction" section of your profile to drive traffic to your site

Eligibility to be featured as a suggested creator for others to follow

Access to creator tools like LinkedIn Live, LinkedIn Audio Events, LinkedIn Newsletter, and creator analytics
If you're a prominent LinkedIn user, getting access to these additional features can be a massive help when working to reach an even larger audience.
---
How to Turn LinkedIn Creator Mode On
If you're interested in turning LinkedIn creator mode on, the process is extremely simple.
---
Click Me in the top navigation bar.
---
Click View Profile from the dropdown menu.
---
Scroll down to the Resources section and click on "Creator mode Off."
---
Click Next on the popup that appears.
---
Add up to five topics that you regularly post about and click Turn on.
If you want to turn off creator mode at a later date (i.e., if you're not making full use of the available features), you can head back to that same area. This time, you'll click "Creator mode On" then scroll down to click the option to "Turn off creator mode." Click the button then click Turn off.
Because the process is so simple to go back and forth between creator mode and the normal profile mode, it's worth it to give creator mode a try if having a more active LinkedIn presence is one of your goals.
---
Pros & Cons of LinkedIn Creator Mode
But before you decide to turn on LinkedIn creator mode, let's make sure it makes sense for you and your usage. Let's look through some overall pros and cons of this new profile type to see if it'll work for your LinkedIn habits.
Pros
Showcase what you talk about right at the top of your profile, instantly appealing to people in your industry or interested in learning more about your industry. You can add up to five topics. They will appear in the form of hashtags underneath your bio, as we see below:
Switch out the "Connect" button with a "Follow" button to entice people to start following your content before they send a connection request. This can help you grow your follower count, but it also helps decrease the clutter in your own feed while still reaching a larger audience.
Get access to creator analytics that can help you track your follower growth, reach, and more, giving you an even more in-depth look into how your LinkedIn is performing. Pay attention to these, creating a monthly or quarterly report for yourself to track growth and overall performance.

Use LinkedIn Live Video to broadcast livestreams to your audience, connecting with people in real-time. You can now go live on a number of platforms, with LinkedIn adding onto capabilities already available in Facebook, Instagram, and TikTok.

Use LinkedIn Newsletters to add a newsletter feature to your profile that your followers can subscribe to in order to learn even more from you/your brand.

Use LinkedIn Audio Events (similar to Twitter Spaces) to hold online discussions in real-time. These were inspired by audio platform Clubhouse and have now made their way onto a couple other platforms.
Cons
You need to have an active LinkedIn presence to really reap the benefits that creator mode can offer. This means you consistently publish new LinkedIn posts

and

interact with other posts on the platform.

Your "About" section is pushed down to make room for "Activity", so if you're not active, this won't have a positive outcome for your profile. See the example below to get an idea of how far down this could potentially push your profile summary: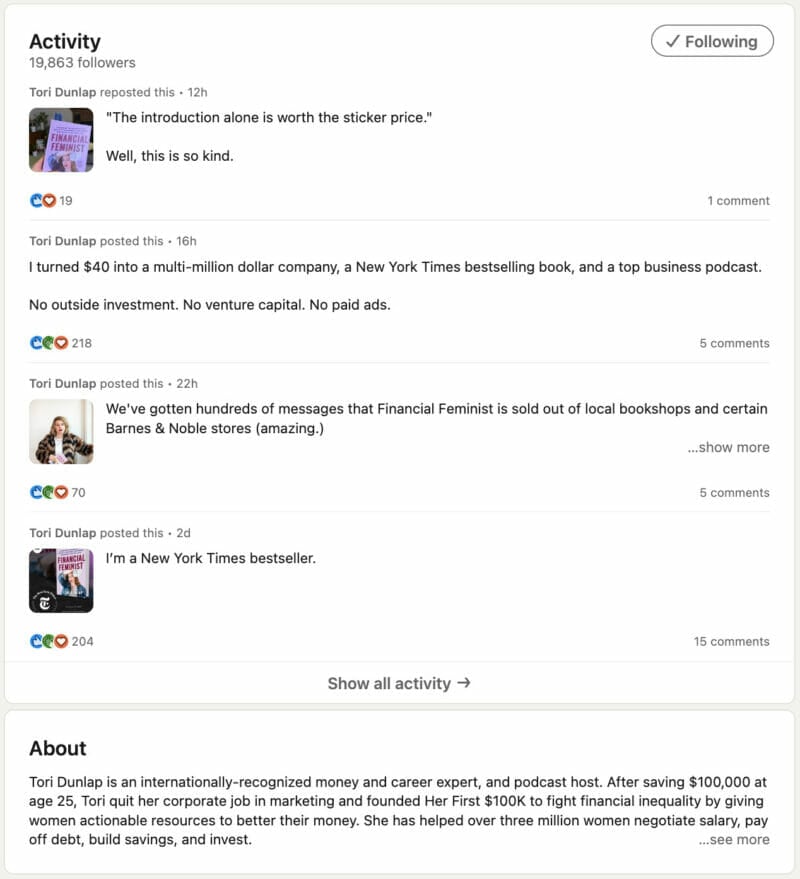 If you don't have a lot of connections, the "Follow" button can hinder your connection growth. You may want to wait until you've reached the 500+ cutoff to start growing your overall following. People will still connect with you, but the frequency will likely fall.

You may need to allocate more time to implement your LinkedIn strategy to make sure you're appealing to your newfound audience. If you're already struggling to make time for LinkedIn, switching to a creator profile may not be worth it.
Our general consensus: If you already have the time and make the effort to publish content consistently on LinkedIn, creator mode is 100% worth it. If you're not utilizing LinkedIn as much as other platforms, you may not want to turn this on yet.
Keep in mind that you can always turn creator mode back off. If you decide it's not right for you, you can put your profile back into normal mode and take a step back from publishing articles and other content on the platform.
---
How to Use LinkedIn Creator Mode
After reading all of the pros and cons, have you decided if LinkedIn creator mode is for you? If you're going to remain active on the platform, we see no reason why you shouldn't give it a try!
We've already walked you through how to turn it on—but let's cover a few tactics you can use to make the most of this new profile mode.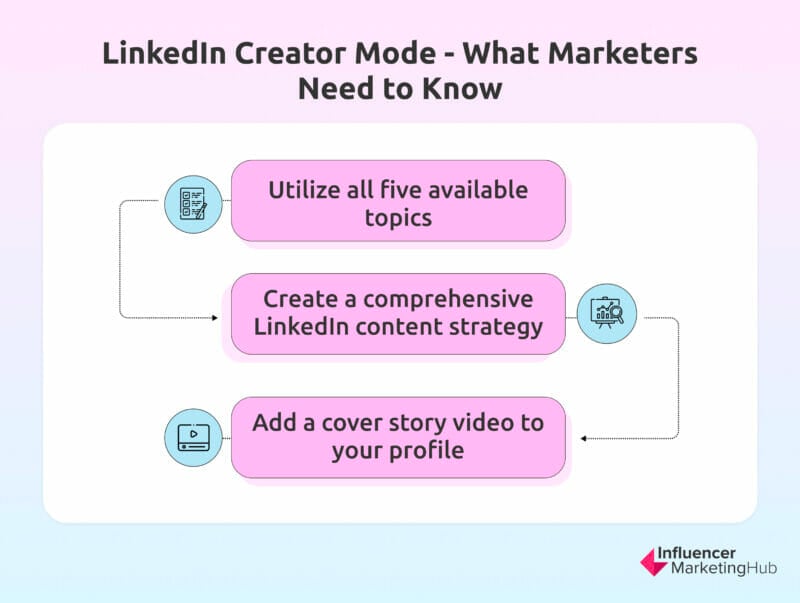 1. Utilize all five available topics.
When you turn on creator mode, you're able to put up to five topics that you talk about on the platform. While this is completely optional, we highly recommend that you take advantage of this.
Those topics appear as hashtags at the very top of your profile, helping people who land on your LinkedIn profile to get an immediate understanding of the types of content you share.
Take a look at this example to see what we mean:
Content marketing agency owner Brooklin Nash has included the topics "#freelancing, #salesenablement, and #contentmarketing" on his own profile. He might attract even more of an audience if he added in two more, as well.
---
2. Create a comprehensive LinkedIn content strategy.
To make the most out of your newfound creator status, you need to create a plan to publish original content to your LinkedIn profile—and a lot of it.
The ideal posting frequency on LinkedIn is two to five times per week. With creator tools, you're going to want to err on the side of the latter, posting closer to five times per week or every business day.
But what on earth should you post two to five times each week? We've put together some content ideas (plus examples!) to help you gain inspiration for your content strategy.
Share industry statistics—but make sure they're recent and properly sourced

Share a success story—but include actionable steps to help your viewers try to replicate your results
Post an anecdote from work

Share a post from your business—it's a win-win, helping both your profile and your company profile get more reach
Conduct a poll—LinkedIn has its own poll feature to make this easy and interactive

Be educational/informational
Share an inspirational quote or passage—either from you, someone influential in your industry, or a famous person

Post business or professional milestones—your audience wants to support and cheer you on
Write and publish LinkedIn Pulse articles

Cross-promote content from other platforms—sharing screenshots of tweets is a pretty commonplace practice on most platforms now
Publish case studies—then share them with quotes, statistics, and other anecdotes on your LinkedIn profile

Create engaging content
Ask questions—this is a great way to engage your audience and get them to leave comments on your posts

Use your creator tools, like Live, Audio Events, Newsletters, and more
You can also take advantage of LinkedIn scheduling tools to help make creating and publishing content even easier. Bulk-creating your content and then scheduling it out over the next week or two can make your life a whole lot easier.
---
3. Add a cover story video to your profile.
With creator mode, you also get access to adding a 30-second video to your profile. Users can click on your profile photo to view your video if you have one.
You'll know if someone has a video that you haven't watched yet because their profile photo will be outlined by this blue-purple gradient circle:
Record a professional, 30-second video where you introduce yourself, share what you do, talk about how people can get in touch with you, and what it would look like to work with you. This can be a great converter, so make sure to put some effort into your profile video.
---
Expand Your Reach With LinkedIn Creator Mode
If you're a heavy LinkedIn user, it's a great idea to get started with creator mode to access even more features. To improve your success rate even more, learn how to completely optimize your profile to appeal to prospects and generate even more sales.
Frequently Asked Questions
Should you turn on LinkedIn creator mode?
If you're a content creator who regularly shares thought-provoking content on LinkedIn, then yes, you should absolutely give this new mode a try. It can help you reach an even wider audience, improving your bottom line.
Is creator mode available to everyone on LinkedIn?
Everyone has access to creator mode; however, not everyone automatically gets access to all creator tools. Tools like LinkedIn Live and LinkedIn Newsletter have additional criteria that users have to meet.
Do LinkedIn creators get paid?
LinkedIn does not have a creator fund that platforms like Instagram and TikTok do. However, becoming a creator can be beneficial in a number of other ways, giving you even more reach so that people interested in your products or services can find you and become a new client or customer.
Do creator accounts get more followers?
One major benefit of creator mode is the ability to reach even more potential followers. While there's not enough data to say for sure that creator accounts get more followers, the purpose of the account makes it seem like this would be a logical conclusion.
Do creator accounts get more engagement?
Yes, creator accounts do tend to see more engagement as long as the creator is consistently posting new content.