Is LinkedIn an important part of your overall marketing plan? If not, it should be. LinkedIn is the best channel for B2B brands to target top decision makers. Using LinkedIn, marketers can reach people in their niche who hold the power to make critical purchase decisions.
That's one of the reasons why LinkedIn is a top grosser for organic marketing. However, LinkedIn also offers paid advertising options that are equally successful.
Surprisingly, LinkedIn advertising is undervalued as a marketing strategy.
If you are unfamiliar with the pros of paid advertising on LinkedIn, check out these compelling facts:
Advertising on LinkedIn is more cost-effective than other channels like Facebook and Instagram
After telephones and emails, LinkedIn is the best way for sales reps to connect with prospects.
Out of all major social media platforms, LinkedIn is the most effective channel for lead generation according to 80.33% of B2B marketers.
In other words, you can generate leads and reach out to prospects using LinkedIn advertising. Plus, you won't have to break the bank for advertising on this great platform.
To make an informed decision about LinkedIn advertising, you need to know more about its pricing and efficacy. In this post, we will elaborate on one of the most sought-after tools in LinkedIn advertising, Message Ads.
Let's get started.
---
How to Use LinkedIn Message Ads to Get Into People's Inboxes:
---
What are LinkedIn Message Ads (Sponsored InMails)?
LinkedIn offers many types of paid ads including:
Sponsored Content:

These look like regular in-feed content posts. The only difference is that you have to pay to have them placed in your targets' feeds.
Sponsored InMails (Message ads):

These are targeted messages sent to your prospects' inboxes.
Text Ads:

These are pay-per-click (PPC) or cost-per-mille (CPM) ads that appear in sidebars.
Dynamic Ads:

These are personalized according to a user's browsing history, industry, role, and shared content.
For the purpose of this post, we will only be talking about message ads on LinkedIn.
LinkedIn message ads are a great marketing tool since they allow you to reach peoples' inboxes without having to procure email lists. There are other benefits of using message ads, including:
Targeted messaging: You can micro-target prospects by tailoring the ad copy and call-to-action (CTA) based on their profiles.
Lead generation: You can include Lead Gen forms in your ads and gather leads directly from your inbox.
High open rates: One in two people open their Sponsored InMails, according to LinkedIn's estimates.
Measurable returns: Apart from regular advertising analytics, you can use demographic reporting to see which recipients are taking action on your ad. Conversion Tracking lets you spy on the conversations of people who clicked on your ad. Using these insights, you can send appropriate follow-up messages and convert prospects faster.
Value for money: Unlike PPC and CPM ads, message ads are based on the cost-per-send (CPS) model, which requires you to pay only for ads that are sent successfully.
Let's take a closer look at LinkedIn message ad pricing and technical specs.
---
LinkedIn Message Ads: Technical Specs and Pricing
Your message ads should adhere to the following technical specs:
Ad name < 50 characters long (optional)

Subject line < 60 characters long

Body copy < 1500 characters (including punctuation and spaces)

Clickable links: maximum of 3

Anchor text in boy < 70 characters

Custom T&C < 2,500 characters

Landing page URL in CTA or hyperlinked to anchor text < 2,000 characters (for destination page)

CTA button copy < 20 characters

Banner specs:

Image: 300 pixels X 250 pixels

File type: GIF or PNG

File size < 2 MB

URL: Click-through
All LinkedIn ads are sold by auction. Essentially, there are three steps involved in the costing of message ads:
1. Decide your target audience and bid for targeting them. You will compete with other advertisers who are trying to reach the same audience.
2. Choose your pricing, which is CPS for message ads
3. Control your costs by setting a budget (total or daily) and maximum limit per bid.
As with all forms of contextual advertising, the cost varies with the size of your target demographics and bid volume.
---
How to Create Compelling LinkedIn Message Ads
LinkedIn message ads are a great way to send targeted messages to people's inboxes where they spend a lot of time. The best thing is that your InMails catch people when they are in a professional mindset, looking for opportunities to buy, sell, connect, or collaborate.
To create engaging LinkedIn message ads, you need to follow these steps:
1. Create your account in the LinkedIn Campaign Manager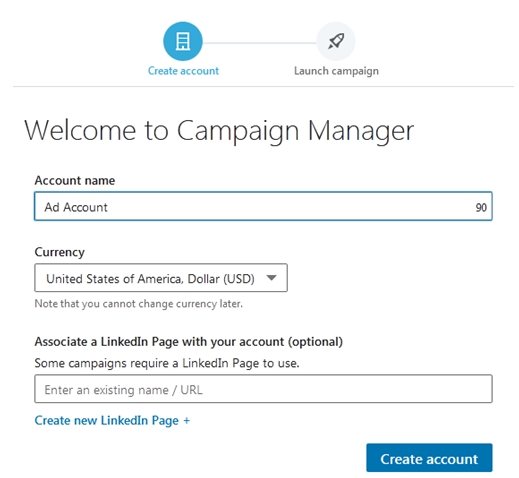 2. Click on the "Create Campaign" button in the top-right corner.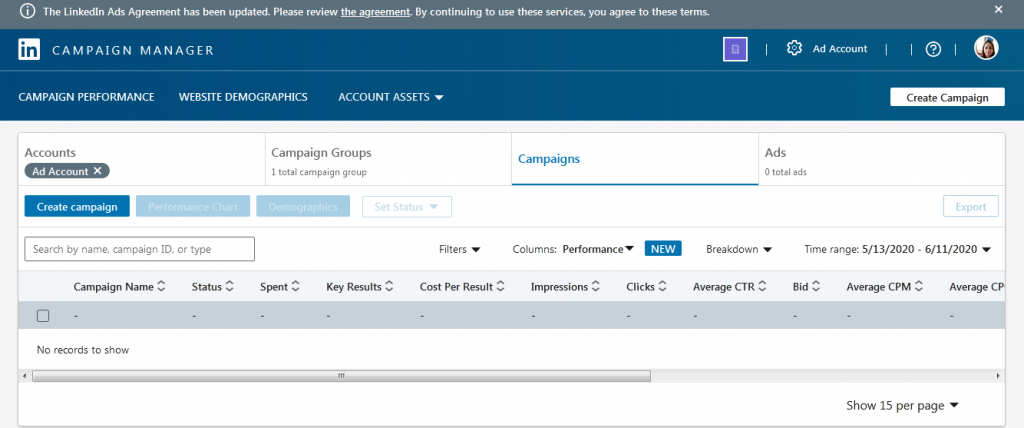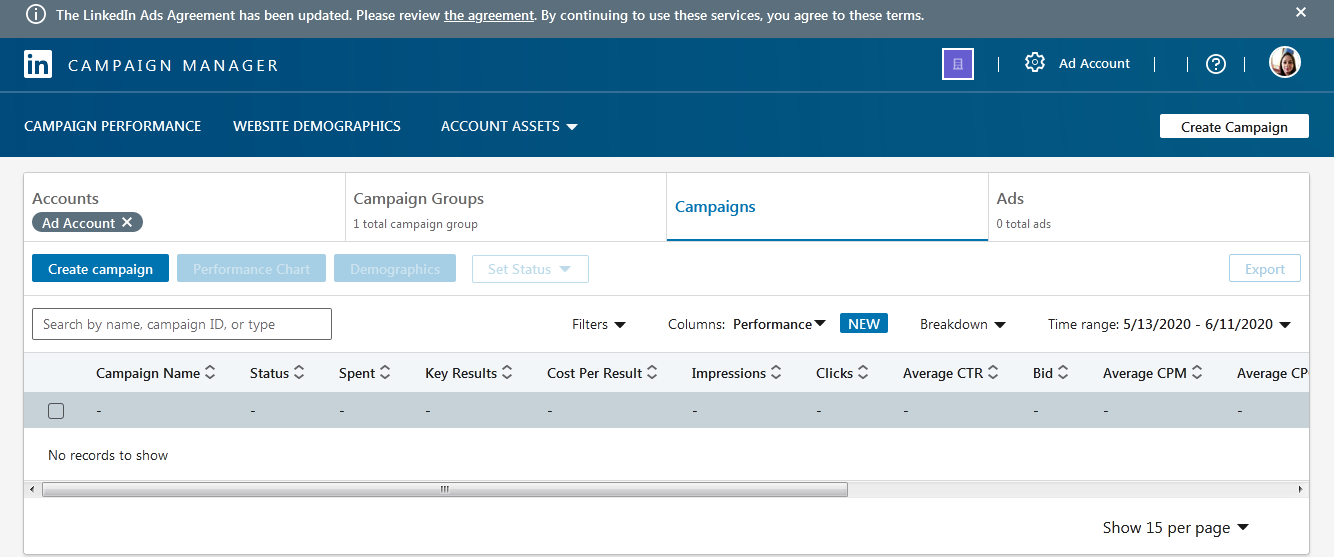 3. Specify your ad's objective. For message ads, select "Website visits" or "Lead generation." Your ad objective will determine the content to include in your ad and the key metrics to measure your campaign's performance. For this demo, we have selected "Website visits."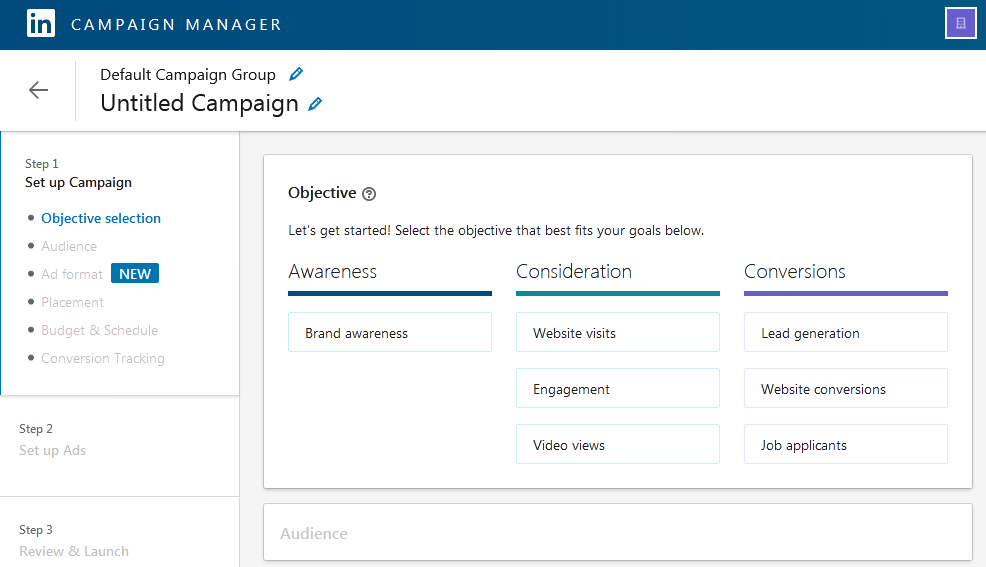 4. The next step is to build your audience or select a saved audience group, if you have one.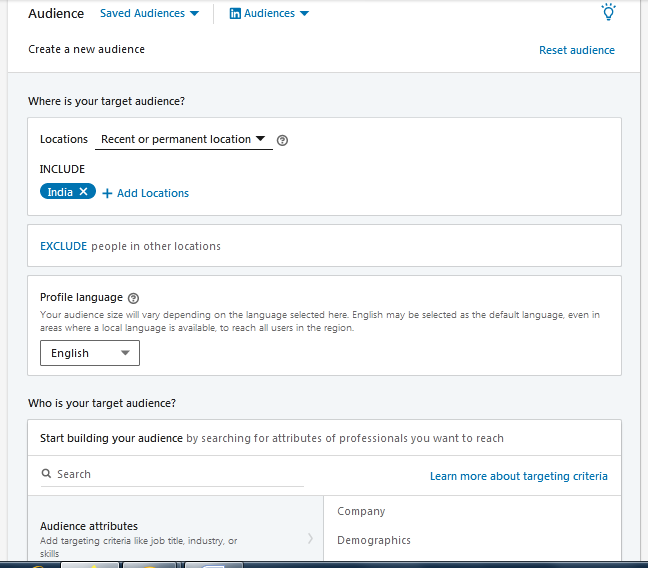 As you select the attributes of your target audience, the forecast pane on the right shows the estimated cost of your campaign, based on your current selections.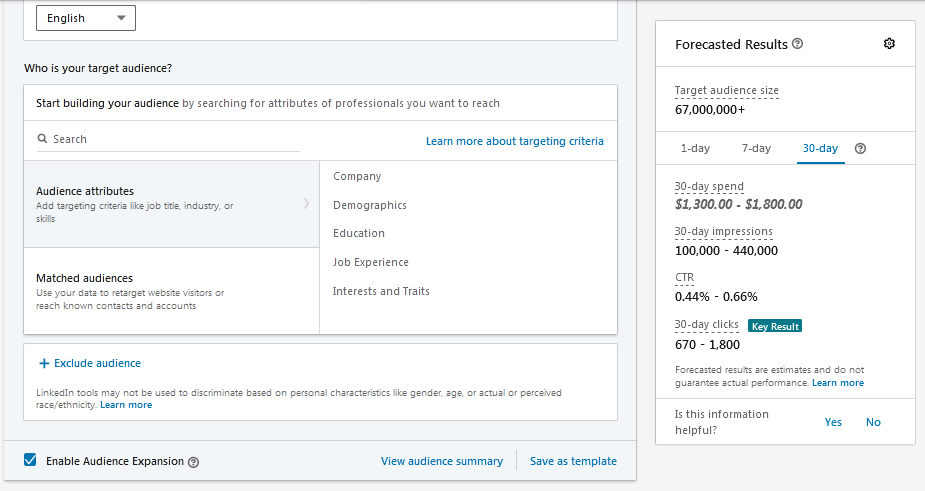 Click on "Audience attributes" to specify targeting criteria, such as company, demographics, education, job experience, and interests and traits.
To add more targeting criteria, click on "Narrow audience further (AND)." You can also specify the accounts to exclude from the current selection. If you plan to reuse this audience for future campaigns, click on "Save as template" at the bottom of this section.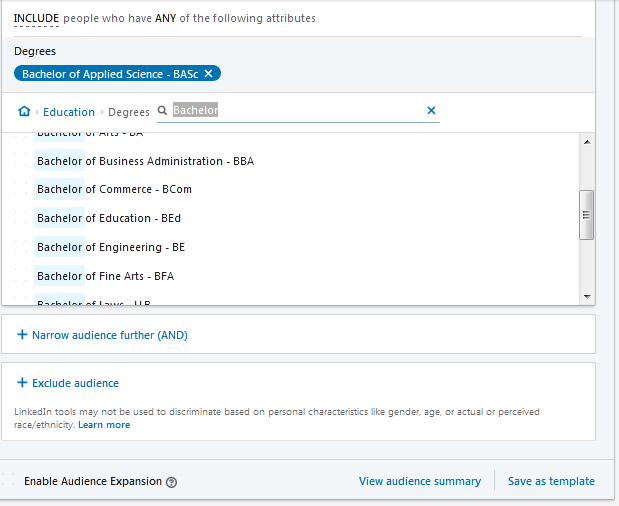 Click on "Matched audiences" to use your data to retarget website visitors. Data sources include Lead gen forms, contact lists, and third-party sources.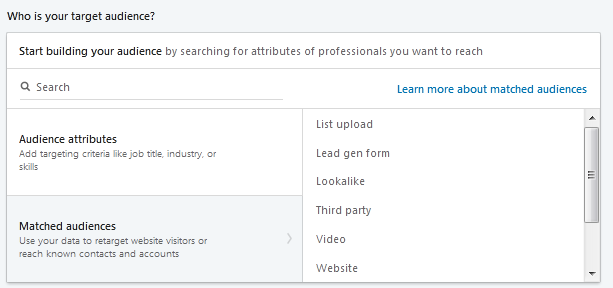 5. Once you have selected your target groups, you reach the "Ad format" section. Select "Message ad" from the given options.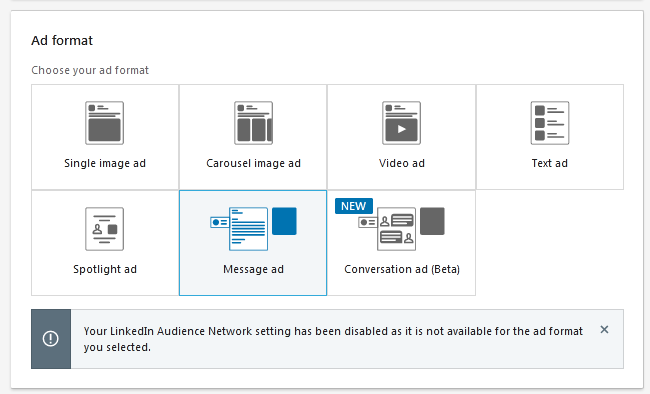 6. Then, you come to the "Budget & Schedule" section, where you can specify the bid amount, schedule, and total/daily budget. While specifying these parameters, keep an eye on the forecast pane so that you know when to cap your bids.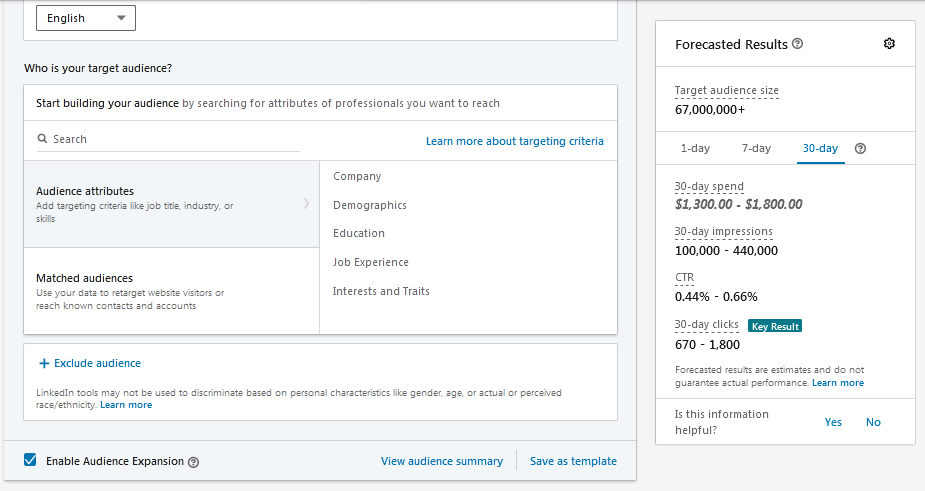 7. The last step is to enable/disable "Conversion Tracking." We recommend that you turn this on so that you can track how many website visits are attributed to your message ads. This will help you evaluate if your campaign is a success or not.

It's a good idea to select the radio option for "Use my site-wide Insight Tag" since it automatically tracks conversions originating from your campaign, without you adding any event-specific pixels.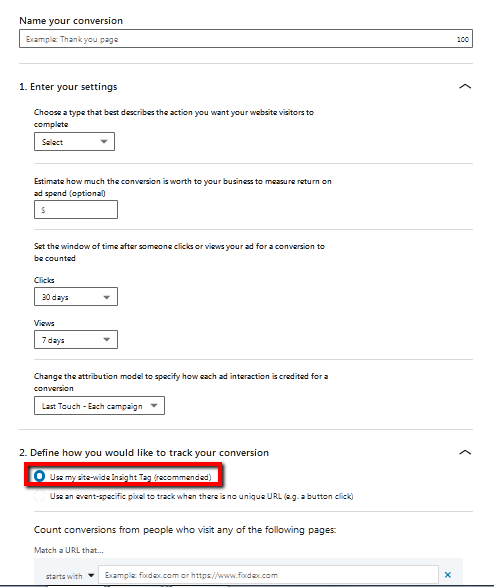 8. After creating your conversion tracker, click on "Save and exit.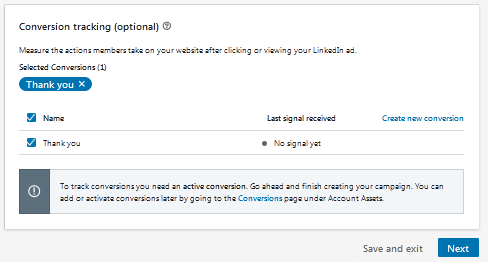 9. Next, click on "Create new ad."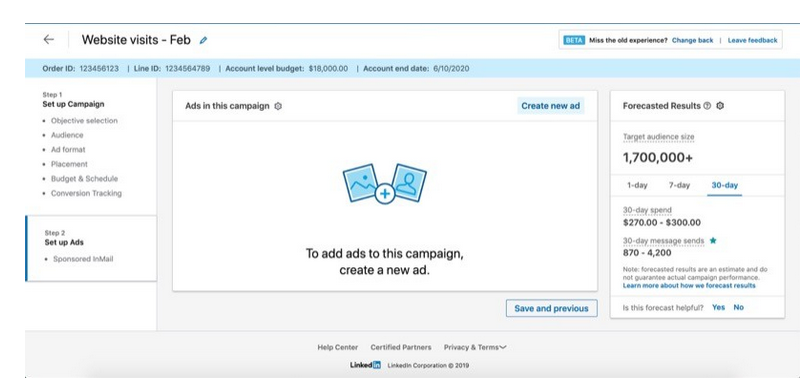 10. You will have to create your ad now. Specify your ad name and sender. If you've approved any senders before, their names will appear on this page. You can select a sender from here or add a new sender.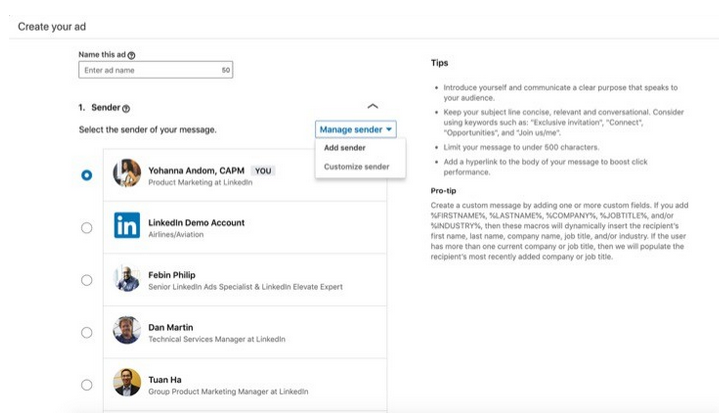 A point to note is that the senders you add should be your first-degree connections on LinkedIn. When you click on "Add sender", a pop-up appears, where you can search for the sender. When you click the "Send request" button, an approval request is sent to their LinkedIn inbox.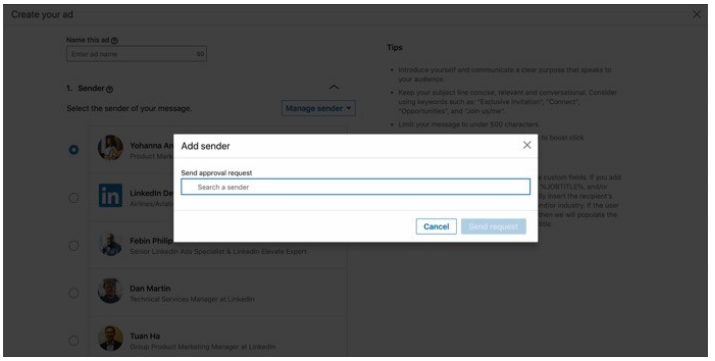 11. The next step is to add the text that will appear in your message ad's body. You can personalize the message by adding macros (for example: %FIRSTNAME%). Keep the message short and crisp. Use bullets and paragraph breaks so that your ad is easy on the eye.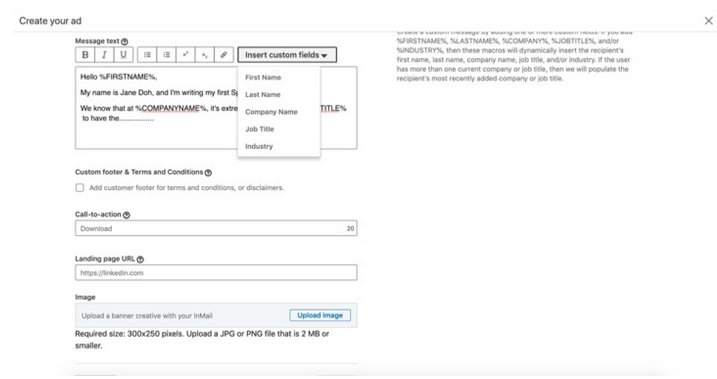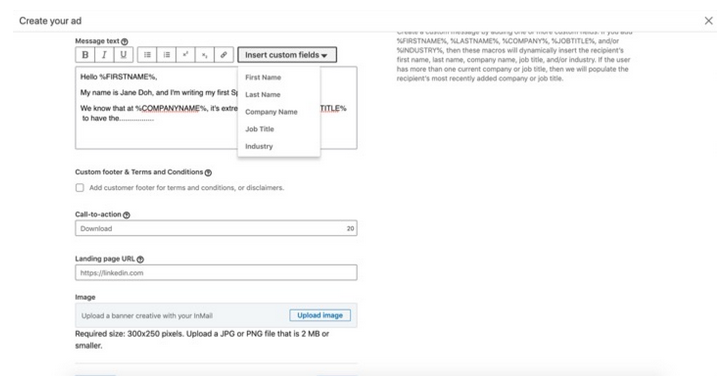 12. You can add a footer and CTA to your ad. But be sure to add a banner image because if you leave the image slot open, another company's banner can show up there. Banners are prime real estate since they help create top of mind effect on audiences.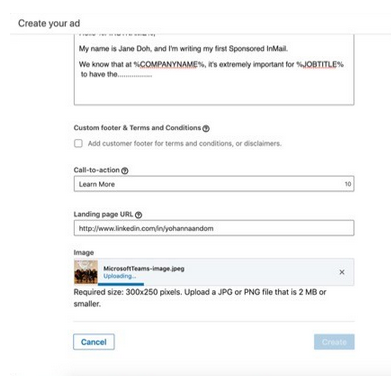 13. Once your ad creative is ready, you are all set to launch your campaign. Don't forget to track your ad performance using LinkedIn analytics.
---
Tips to Optimize Your Message Ad Performance
Keep the body text under 500 characters. On average, it improves your CTR by

46%

.

Add hyperlinks (no more than three) which increase CTR by 21%.

Enable LinkedIn Insight tags, as explained in the previous section.

Be sure to add

Lead Gen forms

in your message ads. These are pre-filled with profile data of the target, letting them send you their professional information quickly. Another benefit is that you can integrate Lead Forms with your CRM or marketing automation tools and get a consolidated leads database to work on.
Are You Ready to Use LinkedIn Message Ads?
Advertising on LinkedIn has many perks. Message ads are an affordable tool to reach the right audience with the right message. Use this post as a guide to building engaging and restful message ads for your brand.