Imagine watching your favorite makeup artist as they create a bold new makeup look live on Facebook. Then imagine being able to check out and buy the products they're using to create that look without ever having to leave Facebook. It's simple, quick, and seamless–which makes Facebook live shopping a powerful tool for brands and creators alike to turn views into actual product sales.
Moreover, with Facebook's Live Shopping Fridays, the popularity of this feature has grown exponentially among brands and consumers alike. Let's find out more about live shopping, what Live Shopping Fridays are, and how you can make the most of them.
---
Live Shopping: What are Live Shopping Fridays and How Does It Work?:
---
What is Live Shopping?
Live shopping is a feature that allows consumers to buy products that they see on a live streaming event. Using this feature, brands and influencers can showcase and list products in their live broadcast so viewers can find out more about the products and buy them without ever leaving the platform. It's essentially a shoppable live broadcast.
In addition to the video stream, it features chat boxes where customers can ask questions about the products. The brand or creator can then answer those questions in real-time. This allows them to clear up any doubts or barriers to purchase before buying the products. It also includes links to the products being featured in the stream, which would allow viewers to buy the items directly.
As such, live shopping combines the convenience of online shopping with the interactivity of an in-person shopping experience. Besides Facebook, this live shopping feature is also available across leading social platforms including Instagram, YouTube, TikTok, and Twitch.
---
What are Live Shopping Fridays?
Live Shopping Fridays are a Facebook-exclusive event that the platform introduced in May 2021 as a way to promote the use of its live shopping feature. It's a weekly event that took place every Friday from May through July 2021 and featured shoppable live videos from major brands in the beauty and fashion industry.
For shoppers, this gave them the opportunity to discover the latest products from top brands. They could ask questions and get answers in real-time–whether it's related to fit, size, and tips. For brands, this meant creating new opportunities to engage with their audience and offering a convenient way to complete checkouts.
Each Friday, Facebook selected three brands to go live around a specific theme–Glow Up, New Fashion Finds, and Self Care Spotlight. The platform saw participation from brands such as:
Abercrombie & Fitch

Alleypop

Bobbi Brown Cosmetics

Clinique

Dermalogica

Dolce Vita

Sephora

ZOX
Some of these brands provided viewers with tips and instructions while others took the opportunity to unveil new collections. Dolce Vita even gave their shoppers a tour of their New York showroom while sharing the styles that kept selling out.
After the initial launch of Live Shopping Fridays, the platform rolled out another live shopping program the following holiday season. This saw participation from major retailers such as Macy's and Walmart as well as brands like Benefit Cosmetics and Cocokind.
---
Benefits of Live Shopping
Now the question is–is live shopping really necessary? Why do you need to create shoppable live videos when you can just list your products on your Facebook Shop? Let's find out some of the top benefits of live shopping and why it's a great addition to your social selling strategy.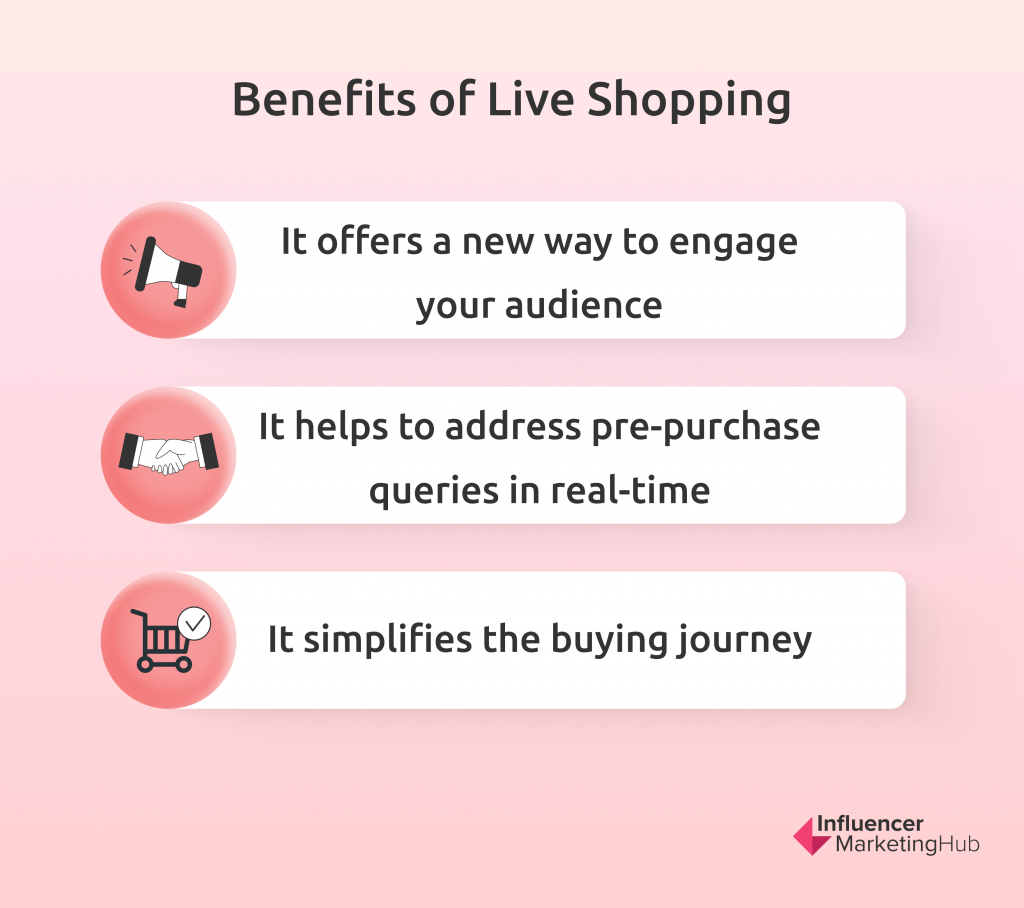 It offers a new way to engage your audience
Live video broadcasts offer a creative way to engage your audience. The addition of a shopping feature to these broadcasts adds another interactive layer to the content format. So, your audience can interact with you while you share valuable information, product demonstrations, brand updates, and more. This is a lot different from Stories or feed posts where the interaction doesn't take place in real-time and therefore, is less engaging.
---
It helps to address pre-purchase queries in real-time
With the option to add comments during your live broadcast, you can use Facebook live shopping to address pre-purchase queries in real-time. Shoppers may have plenty of questions about size, fit, ingredients, material, color options, and many more. By providing instant answers to these questions, you can remove barriers to purchase and convince people to buy the product while it's fresh in their minds.
---
It simplifies the buying journey
Shoppable live videos include buttons to check out the products being featured in the broadcast. When viewers click on these buttons, they're redirected to the coordinating product page within the brand's Facebook Shop. From here, they can find out more about the item and even complete their purchase.
That means they can quickly go from product discovery to conversion without ever having to leave Facebook. The simplified and shortened buyer's journey not only enhances the customer experience but also increases the likelihood of conversions.
---
How to Set Up Facebook Live Shopping
Before launching a shoppable live video on Facebook, you must have your shop set up on Facebook. You also need to set up live shopping in Commerce Manager by creating a product playlist for your video. Once you have all that set up, admins of the Page will be able to broadcast shoppable live videos from desktop or mobile.
Facebook live shopping via desktop
Step 1: From your Facebook Page, tap on the "Live" button in the "Create" section. This will give you access to the Live Producer tool.

Step 2: Under the "Live Shopping" tab, click on the toggle to enable live shopping.

Step 3: Under the "Select a Playlist" tab, click on the button to "Choose My Playlist." Then click on "Save" and this will display the products from your playlist under "Feature Items."
Step 4: Give your video a title and click "Go Live" whenever you're ready.
Step 5: Choose the products you want to feature in your live broadcast by clicking on "Feature." You can also select "Stop Featuring" to display a different product and remove the item you're currently featuring.
---
Facebook live shopping on mobile
Step 1: Get the latest version of the Facebook mobile app if you haven't already.
Step 2: Tap "You can now go live" from the notification section to access the Mobile Broadcaster tool. If you can't find it, go to your Facebook Page and choose "Start Live Video" from the "Create" section.
Step 3: Tap the button to "Choose My Playlist."
Step 4: Choose the playlist you want to use for the broadcast and tap "Done."
Step 5: Tap "Start Live Video" to begin your broadcast.
Step 6: Tap "View Products" to view the products that are available to feature in your video.
Step 7: Under the product you want to feature, tap "Start featuring." You can move on to the next product by tapping on "Next product." Alternatively, you can also manually select the next product you want to feature.
---
Tips and Best Practices for Live Shopping on Facebook
While the Facebook live shopping feature can be a huge asset for your brand, you have to be strategic with it to unlock its full potential. Here are a few tips and best practices to make sure that your customers engage with and convert from your shoppable live videos.
1. Start with a test run
You don't want your first live shopping session to be a disaster. Not only does it reflect badly on your brand, but it could also deflect many viewers from tuning into your future broadcasts. So, do a test run to make sure your first official live shopping broadcast runs seamlessly. This will allow you to test your equipment, camera angles, background noise, and other details.
Change your privacy settings so your live broadcast can be viewed by only a handful of people. That way, your team will be able to see if everything's working fine on the viewers' end. You can also select the option to "Create a test broadcast before going live" under the "Go live" tab.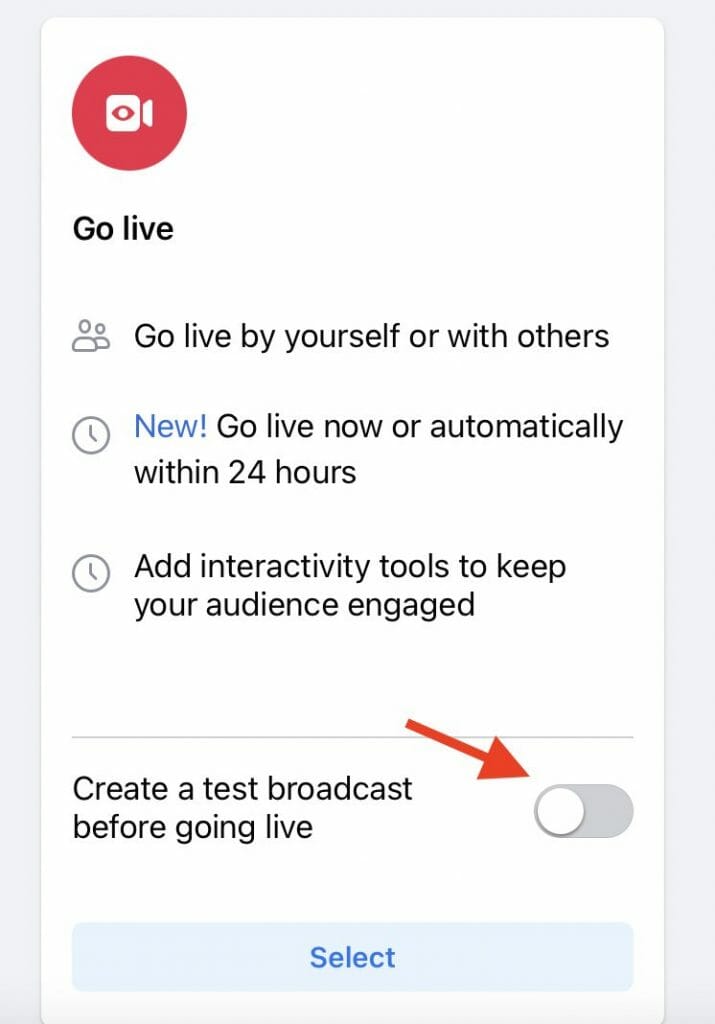 ---
2. Promote the event beforehand
If you want your live shopping event to be a success, there's no doubt that you'd want to attract tons of viewers. For that, you'd need to get the word out and get your event in front of as many people as possible. This means promoting the live shopping event well ahead of time to spread awareness and build anticipation. Plus, make sure to encourage people to follow your page so they can get notified when you go live.
Make an announcement via your Facebook posts and Stories at least a couple of days before the broadcast. You can also leverage other channels such as Instagram and email to spread your message. Here's an example of Green Room Boutique creating a visual Facebook post to promote their live sale.
---
3. Focus on adding value
Although the goal of a Facebook live shopping session is to drive sales, you have to be careful not to be too salesy. No one wants to listen to a 30-minute sales pitch for a skincare product. Instead, make sure your live shopping events add value to the lives of your viewers so they'd want to tune in and stay for the whole thing.
That means providing them with the kind of information, entertainment, or experience that makes a positive difference in their lives. You could provide tutorials, tips, and exclusive updates. You could also use these sessions as an opportunity to reveal new products and collections that people can instantly buy.
For example, Dermalogica hosts live sessions where viewers ask skincare-related questions and an expert answers them in real-time. The expert also provides product recommendations and helps viewers to navigate their skincare concerns more effectively. Incorporating live shopping into this type of session would be a great way to add value while encouraging sales.
---
4. Actively engage and follow up with your viewers
The whole purpose of going live is to connect with your audience, which would involve making your live shopping sessions more interactive to drive more engagement. This means acknowledging and responding to their comments, answering questions, and giving them the opportunity to share feedback or suggestions.
Throughout the session, keep reminding your audience to leave a comment or send a direct message so they're fully engaged with the session. You can even continue this after the session by following up with viewers who commented on the video.
---
5. Consider partnering with influencers
Influential creators can add a relatable, human element to your live shopping sessions. Viewers will be interacting with a face they know and love, which would make the experience that much more engaging and memorable. Moreover, the fact that people respect the opinions of those influencers also helps to drive more conversions.
So, consider partnering with live shopping influencers who can help connect your brand with your audience. You could have influencers host the entire session, where they provide reliable advice, tips, tricks, and instructions that your audience will find valuable. Or you could have them co-host the session and feature them alongside your team members.
---
6. Repurpose your live videos
Instead of letting your live shopping sessions just end there, make sure to save them and even repurpose them for other channels and campaigns. For example, you could simply save it to Facebook so people can go back to it for reference. You could also turn clips from the videos into ads to maximize their impact.
Jealousness, a Taiwanese beauty brand did just that and engaged key opinion leaders to introduce their products through Facebook live shopping. They then repurposed footage from the session and created short, mobile-optimized video ads from it.
---
Drive Sales through Facebook Live Shopping
Whether it's through weekly, Live Shopping Fridays or through your own live shopping events, there are plenty of ways to drive engagement and sales via the live shopping feature. Use the tips and best practices shared above to start out strong and turn Facebook live shopping into a valuable asset.
Frequently Asked Questions
Can I sell things on Facebook Live?
Yes. Facebook gives you the option to feature your products in your live broadcast sessions.
How do you buy live on Facebook?
You can buy products through Facebook live by clicking on the product links featured on the screen.
How do I turn off live shopping on Facebook?
You can turn off live shopping on Facebook by toggling off the "Enable live shopping" button under the "Live Shopping" tab.
How does live shopping work on Facebook?
Live shopping on Facebook allows brands to upload product playlists from their Facebook Shop and feature selected items in their live broadcasts. Viewers can then click on the featured products and buy them right on the platform.
What can I sell on live?
You can use Facebook live shopping to sell any item that you can list in your Facebook Shop.