Services Offered: Influencer Content Amplification
Channels: Facebook, Instagram
There's a basic, four-stage lifecycle that brands go through after they've heard the phrase "influencer marketing" for the first time.:
Curiosity: What is influencer marketing?
Interest: How can I get in on that?
Commitment: Let's do this.
Assessment: Well, that went well. What now?
At stage 2, they may find themselves here, at this website, looking at reviews of IM platforms. Whichever way they go, they'll navigate through their first campaign, and the next, and the next, until after awhile they'll hit stage four. What now?
This is where Lumanu comes in. Founded in 2016 by Paul Johnson and Tony Tran, Lumanu aims to fill a niche that the industry as a whole is only now slowly realizing exists. As influencer marketing began to explode, Johnson and Tran noticed something: while brands were stumbling over one another to get in the game for real, they still hadn't abandoned paid ads on the same social platforms. On the one hand, they had a fully functioning marketing team sourcing images, or paying designers/photographers to create them, while writing fresh copy and targeting unknown audiences. On the other, they were collaborating with influencers, who'd create images and copy at a fraction of the price for broadcast to a loyal group of followers.
Companies started figuring out on their own that they could use influencers as a kind of ad hoc creative department, reusing the content they'd created for their paid social ads, but deploying them without the same level of data intelligence they had on the influencer side. There just wasn't any software out there designed for these Phase 2 campaigns—this was a big hole Johnson and Tran intended to fill.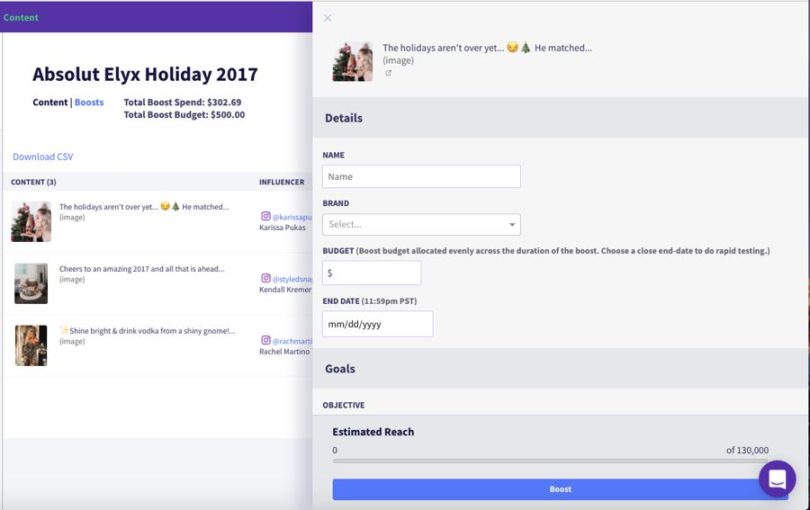 And fill it, they did. To their credit, Lumanu's creators made sure not to create a product that competes with other influencer marketing platforms and then does this one other thing. Instead, it's designed to act as a standalone, purpose-built tool that complements whatever platform brands are currently using. You won't find any influencer discovery tools, and the software isn't going to manage your campaigns. What it will do is act as a dashboard for all your influencers and their content for the purpose of converting your influencer content into Facebook and Instagram ads. And, OK, it doesn't just do one thing, because it acts as frontend for deploying all these ads—you can create the ads, set your budget and push everything through your influencer accounts to Facebook and Instagram directly from within Lumanu.
In designing Lumanu, Johnson and Tran employed the "Do one thing, and do it well" philosophy. Now that you know what it does, the question is: does it do it well?
---
Summary:
---
Pricing
Pricing is relatively straightforward: pay a flat, monthly access fee and start using Lumanu. The rate is customised to each client, with plans starting at $500. Agencies are billed per client along the same lines.
---
The Details
Working with Lumanu is a simple proposition, with just two sections to navigate between. The first section you'll deal with is the influencer manager. This is where you add all the influencers you're working with into the Lumanu database—unlike IRM or Discovery tools, all your influencers stay that way: your influencers. You're not loading them into some collective database to be found by other brands, you're adding them to your dashboard to manage their content.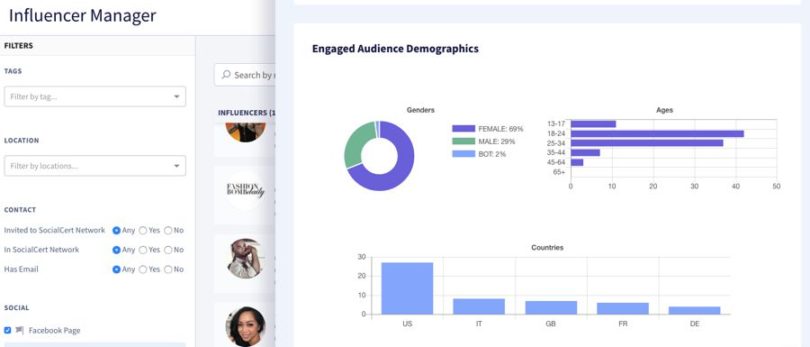 Adding influencers can be done in bulk through a CSV import, or one at a time if you've got an intern you want to punish. An impressive thing about the bulk import is the fact that any errors in your CSV file don't kill the whole process. Instead, when Lumanu encounters an error it just moves on to the next influencer. When all the ones that can be added have been, the operation ends and the software emails you with a spreadsheet of the influencers who didn't make it in. This makes it incredibly easy to spot any errors and fix them. From there, it's simple to export to a new CSV and finish the process off.
From the influencer manager section, you can then get some basic data about the influencers you've just loaded. This is also where you invite your influencers to authorise Lumanu to get at their more advanced data. The way Lumanu does this is also different than your average influencer platform, where they create an account and the platform sucks in all their data and makes it available to everyone. With Lumanu, they're asked to join your "Social Cert" network, which they authorise by signing in through their Facebook and/or Instagram profile. They don't create a Lumanu account, rather they're just creating a one-to-one connection between their account in Facebook/Instagram and yours in Lumanu. Once this is done, Lumanu is able to pull in all their content—from Facebook and Instagram (including Stories!)—along with the stats on each post's performance and engaged audience directly from the Facebook API. Since your influencers have authenticated, this still works with the recent Facebook data restrictions
This data forms the basis for deciding which content is ripe for boosting—which you'll do in Lumanu's other section, Content Manager. Here, you can search through your influencer content based on many different criteria—including keywords, hashtags, mentions, and more. Another cool feature: you can save these searches and any new content that matches will automatically be added to the results.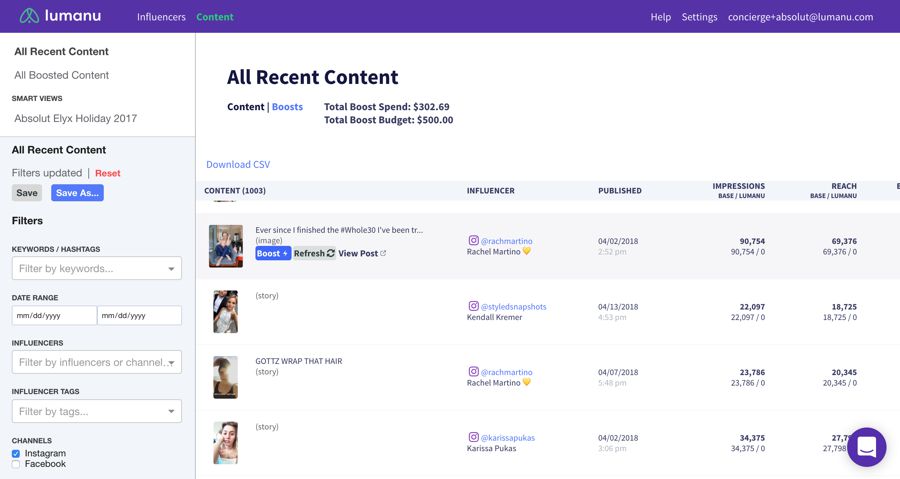 Content Manager is also where the real magic happens with Lumanu: boosting content through paid ads. Once you've found the particular piece of content you want to boost, you can set that up right from the dashboard (i.e. you don't have to interact with Facebook or Instagram directly to start buying up ads). Lumanu gives you multiple ways to find the right audience:
Exact Influencer Audience — This will put the influencer's content into the feeds of your influencer's

engaged

followers.

The cool thing Lumanu does is show the content you amplify to people that follow your influencer across channels (Facebook, Instagram, and blog)

.
Exact IG Audience —

This is the same as above but for

targeting the influencer audience specific to the channel the content was posted on

.

IT is worth noting that you can reach

All people who've engaged with this influencer in the past

9

e

0

days,

will see the content—

not just their followers.

This is the same as above but for Instagram audiences only. All people who've engaged with this influencer in the past 90 days —not just their followers.
Audience Lookalike —

Lumanu

automatically creates lookalike audiences for all of your influencers so that you can amplify their content to people who are likely to respond.
No Audience —

Here you just choose whatever demographic data you want and boost the post to them. Since this is essentially how Facebook ads works, this isn't exactly a particularly useful feature.

The main use case here is wanting to reach people through your influencer's account instead of through your brand account.
Content can be boosted according to a few objectives: Brand Awareness, Reach, Engagement, Link Clicks, and Conversion. Lumanu allows you to add a call to action button (Learn More or Shop Now) to your influencer's Instagram posts along with a URL, biy.ly links and UTM parameters are supported to let you track with your existing approach. Lumanu uses pixel tracking to stay on top of the results, all of which can be tracked and measured right from the dashboard.
Conclusion
Lumanu has no competitors among the many platforms we've reviewed here, which isn't meant as some figure of speech. They literally have no competitors—for now. All good ideas eventually get copied, refined, maybe even improved upon, and it likely won't be long before Lumanu no longer stands alone. But you shouldn't check out Lumanu simply because it's the only platform doing what it does. You should check it out because it's worth it: you can choose to redeploy content you already know resonates with certain audiences, and the software doesn't just ensure that more people get to see it. It ensures that more of the right people see it. It does that one thing, and it does it well. And they get bonus points for coming up with the idea in the first place.

Services Offered: Influencer Content Amplification
Channels: Facebook, Instagram