Advertising Disclosure
Advertising disclosure:
Our partners compensate us. This may influence which products or services we review (also where and how those products appear on the site), this in no way affects our recommendations or the advice we offer. Our reviews are based on years of experience and countless hours of research. Our partners cannot pay us to guarantee favorable reviews of their products or services.
One of the main advantages of being able to work remotely is that it usually means fewer meetings. Instead, you're left alone (quite literally) to get on with what you're supposed to do. However, for bigger teams, it can make project management more challenging. How do you keep track of progress when team members are scattered all across the world?
Thanks to the advances in tech, there are several great collaboration tools that you can use to streamline communication and accurately monitor what's going on behind the screens. Using these types of tools is one of the easiest ways to improve your project management and keep everyone on the same page.
While monday.com is one of the leading names, it's not the only tool that can prevent blue Mondays. We've done the legwork for you and checked out and compared the online reviews to come up with a few other solutions that you can also consider. This list is by no means comprehensive, but will point you in the right direction.
---
Top Monday.com Alternatives:
---
Why Should You Check Out Monday.com Alternatives?
Founded in 2012, monday.com is a work operating system (Work OS). With the help of its open, fully customizable platform, businesses can build work management tools and software apps to match their requirements. Trusted by more than 150,000 customers from hundreds of industries across the globe, it can be used for various use cases including marketing, project management, operations, and sales. It offers a lot of flexibility, helping teams to improve their workflows and overall efficiency.
In short, boards form the foundation. There are three board types:
Main boards that are visible to all team members

Sharable boards that are visible to users who you want to work with but aren't part of your team

Private boards that are useful for sharing info that must stay confidential
Users can create boards that represent their workflows. They're also not restricted to the number of boards that they can build. Plus, if you get stuck, they also offer several, clearly labeled templates. If you're new, this can be a good place to start. Even if you use the templates over building your own boards, you'll still need to have a good idea of what you want to use the platform for, though.
That said, it offers sufficient support to help you along the whole process. There are several help videos that you can refer to and each board also has a couple of tips to help you use the template fully.
A useful feature that deserves special mention is its automations and integrations. Armed with these features, you can set up rules based on specific actions and let your board interact with other popular software platforms like Mailchimp and Facebook Ads.
It's probably best known for its project management features and according to online data it continuously gets great reviews in the project management software category. So, for the purpose of this article, we'll mainly focus on how it can help you with this task and which other tools you can also check out to ensure your projects run smoothly.
Here are some of the main pros and cons of Monday.com:
| | |
| --- | --- |
| | |
| It offers useful collaboration tools for teams, helping to streamline task management. | It offers limited tools for file management. |
| It offers a free plan and affordable plans. | Some users have complained that its user interface is cluttered. |
| | Some might find its list of integrations limited. |
---
What Are the Top Alternatives to Monday.com?
Bitrix24

Trello

Asana

Jira

ClickUp

Basecamp
---
6 Popular Alternatives to Monday.com
Top
monday com alternatives
2024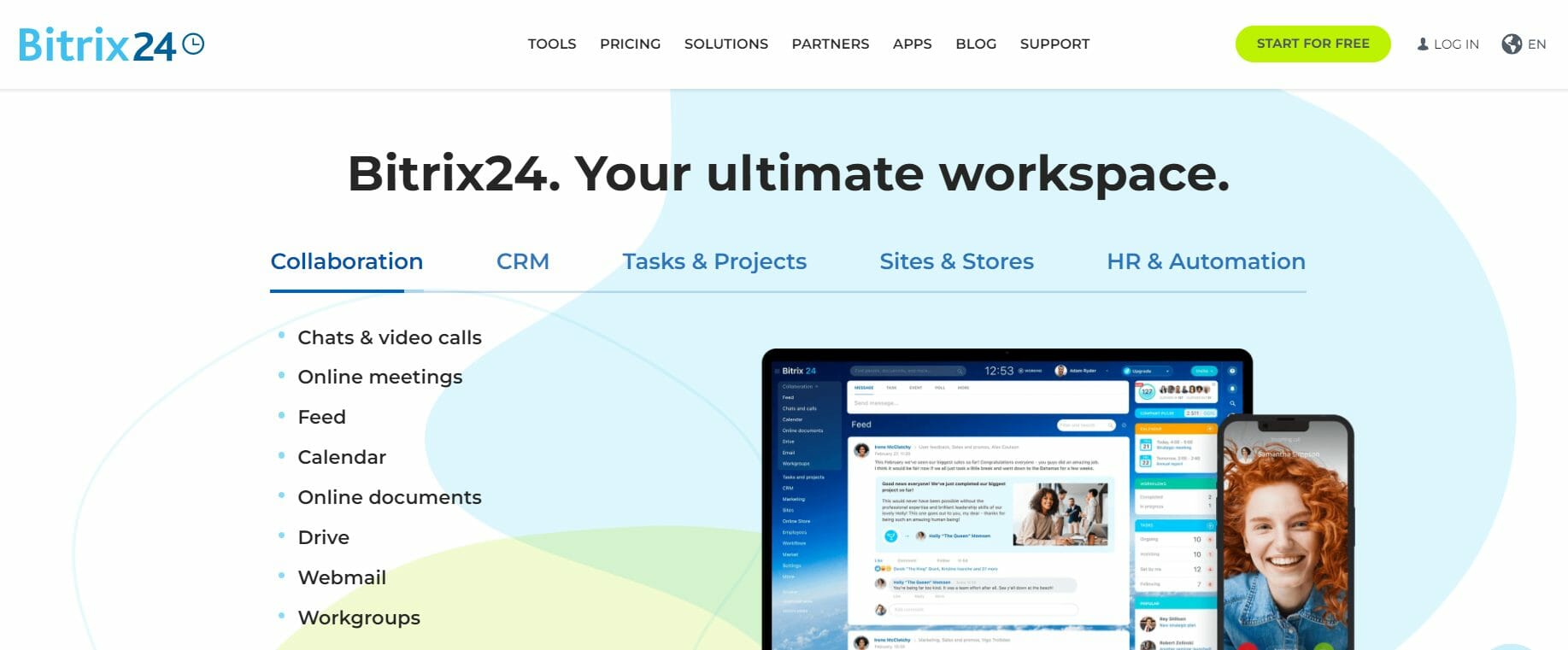 Bitrix24 is trusted by millions of organizations and offers a collection of tools that small businesses can use to manage projects as well as clients and streamline customer support and internal communications. Included in its list of features are file sharing features, sales visualization, time tracking, task and project templates, and task automation. Whether you prefer Kanban boards over Gantt charts or vice versa, it offers both. It's also completely customizable which means that you can also change elements like fonts and colors.
Here are some of Bitrix24's key features:
More than 100 third-party integrations
Templates for setting regular weekly or monthly tasks easily and automatically
Bulk assigning of tasks to another team member
A supervisor view that lets supervisors get an overview of all the assigned tasks in one place
monday.com vs Bitrix24
According to external sources and on-site reviews that SaaSHub collected and compared, most users prefer monday.com for project and task management. That being said, for communication, Bitrix24 is the clear winner and its online tools strike the right balance between efficiency and personalization.
Pricing: Bitrix24 offers a free plan and several subscription options. What's more, it also gives you the option to sign up only for one month or three months. Though, if you decide to sign up for a full year, you can enjoy a 20% discount. When signing up for only a single month, pricing works as follows:
The Basic plan costs $61 per month for five users.
The Standard plan costs $124 per month for up to 50 users.
The Professional plan costs $249 per month for up to 100 users.
The Enterprise plan costs $499 per month for up to 250 users.
---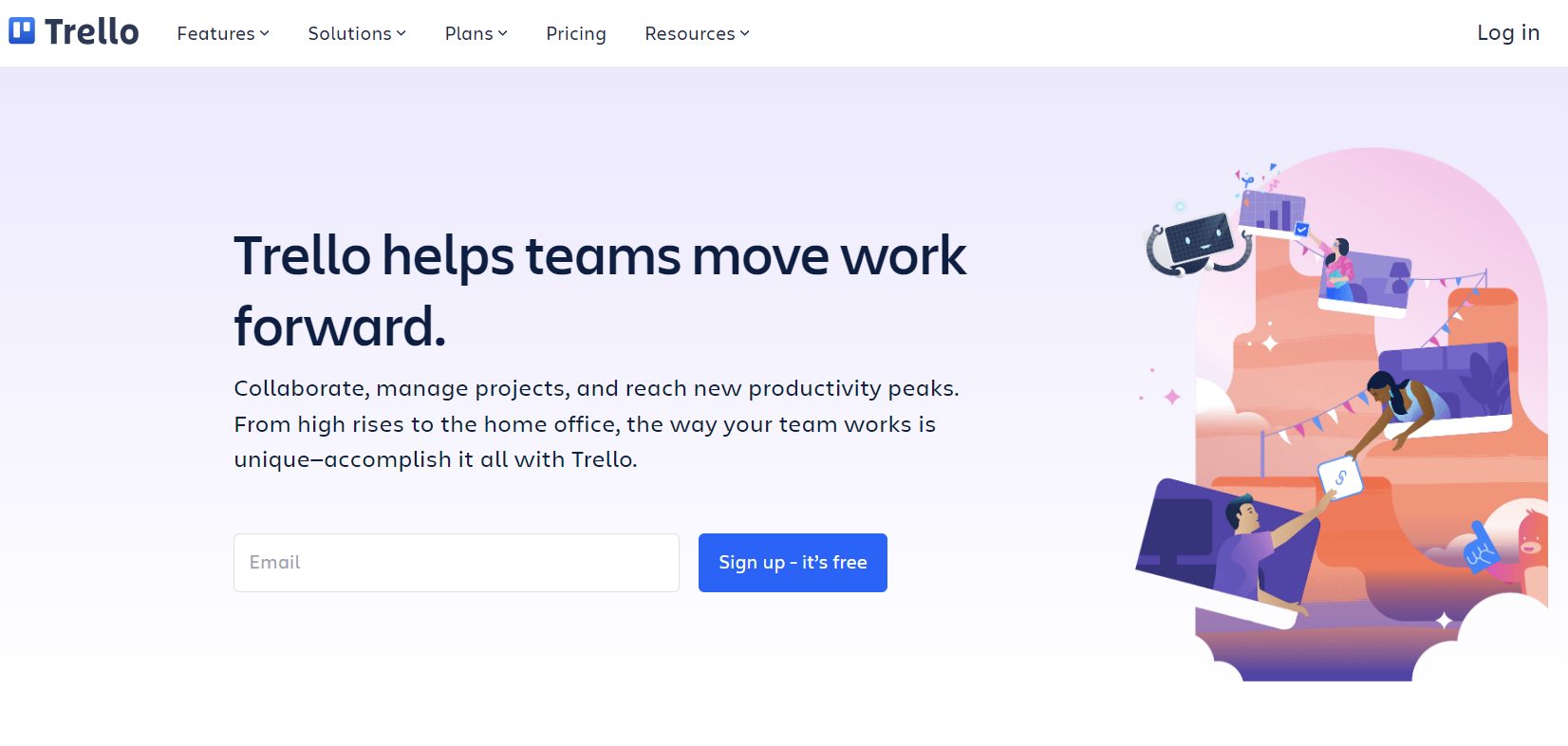 We have to admit that Trello is one of our favorite marketing planning tools, especially for content planning. Not only does it improve efficiency, but it helps to keep us sane. It's a popular, web-based Kanban project management app aimed at smaller marketing teams and individuals. You can use it to create a board for a specific project and then create cards that will define the steps. Similarly to monday.com, it also includes automations for creating rule-based triggers. With the help of its built-in, no-code, workflow automation tool (affectionately dubbed Butler), you can, for example, reorder cards, archive a card, or trigger an action when a due date matches a specified time.
Here are some of Trello's key features:
Built-in automation to reduce manual workload
Tried-and-tested templates created by their community to help you get started
Advanced checklists to help break down big projects into smaller tasks
Integrations with a number of marketing and social media platforms including Twitter, Hootsuite, and Mailchimp
monday.com vs Trello
First things first, as mentioned earlier, monday.com can help with loads more than just managing your projects, but if you want to use it for project management, there are a few things to keep in mind. As Trello is a Kanban-style app, it will impact the views available. While monday.com also offers Kanban boards, it also offers other views like Gantt. If you like Kanban, then Trello will delight you. If not, expand your search.
Integration-wise, they're pretty similar. Here, the list of other tools and platforms that you use will determine which one will make more sense. For example, monday.com integrates with Facebook Ads, while Trello integrates with Twitter.
And, when it comes to pricing, they're comparatively priced. Depending on the number of users that you want to add, monday.com might work out cheaper, though.
Pricing: It offers a free plan and three subscription plans. After a free trial, pricing works as follows when billed monthly:
The Standard Plan costs $6 per user per month
The Premium Plan costs $10 per user per month
The Enterprise Plan costs $17.50 per user per month
---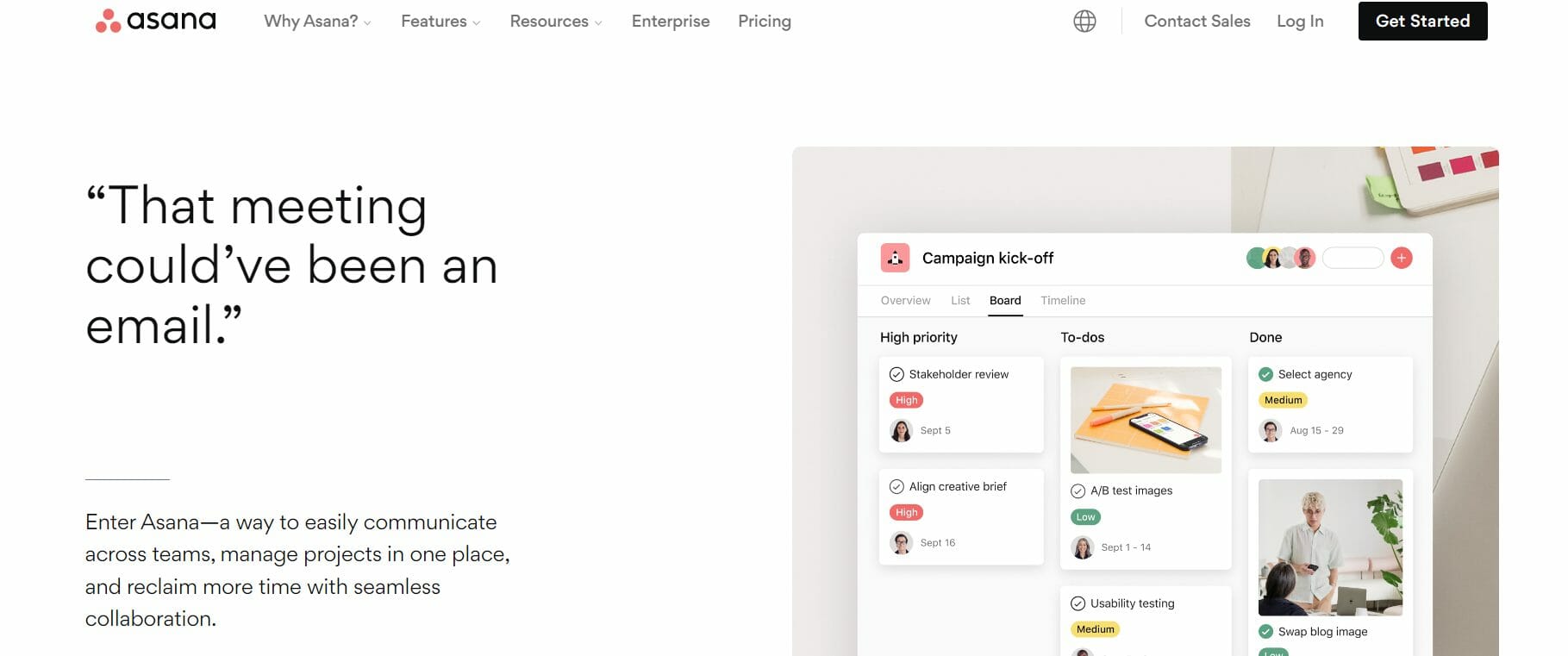 Along with Trello and monday.com, Asana is one of the most well-known digital workplaces and is used by over 100,000 organizations and millions of teams across the globe. It offers a few views, including list views, boards, and timeline, that you can use and hundreds of integrations so that you'll have all the tools you'll need for communication and collaboration. It also offers reporting to warn you of possible issues. Thanks to the visual nature of the reporting, a quick glance will tell you if you and your team are still on track. It also recently introduced a new workflow builder feature that you can use to create processes for different types of key projects.
Here are some of Asana's key features:
Real-time insight to help you see and track your team's work from every angle
Automation to simplify workflows, minimize mistakes and save time
A calendar to help identify gaps and overlaps
Forms to collect ideas, organize requests, and systemize intake
monday.com vs Asana
Truth be told, whenever we've used Asana, we've found it less user-friendly than many other equally capable tools in this category. The interface can quickly become cluttered, leaving you overwhelmed with the different actions you need to take (not even to mention the email notifications that will also clutter your inbox). It's also more expensive than many other powerful alternatives and offers fewer pricing plans which can count against businesses looking to scale steadily. Based on over 3,000 G2 Crowd Reviews, most users also prefer monday.com over Asana and more users feel that it meets their requirements (including usability) than Asana. And, if you should get stuck with Asana, users have complained about a lack of customer service.
While Asana's free plan is more generous and allows you to add up to 15 users compared to monday.com's two, its paid plans are more expensive. Another area where it beats monday.com is in the integrations department.
All in all, both are robust solutions for project management and team collaboration and you can't really go wrong with either.
Pricing: It offers a basic free plan and two subscription options. After a free, 30-day trial, pricing works as follows when billed on a monthly basis:
The Premium plan costs $13.49 per user per month
The Business plan costs $24.99 per user per month
---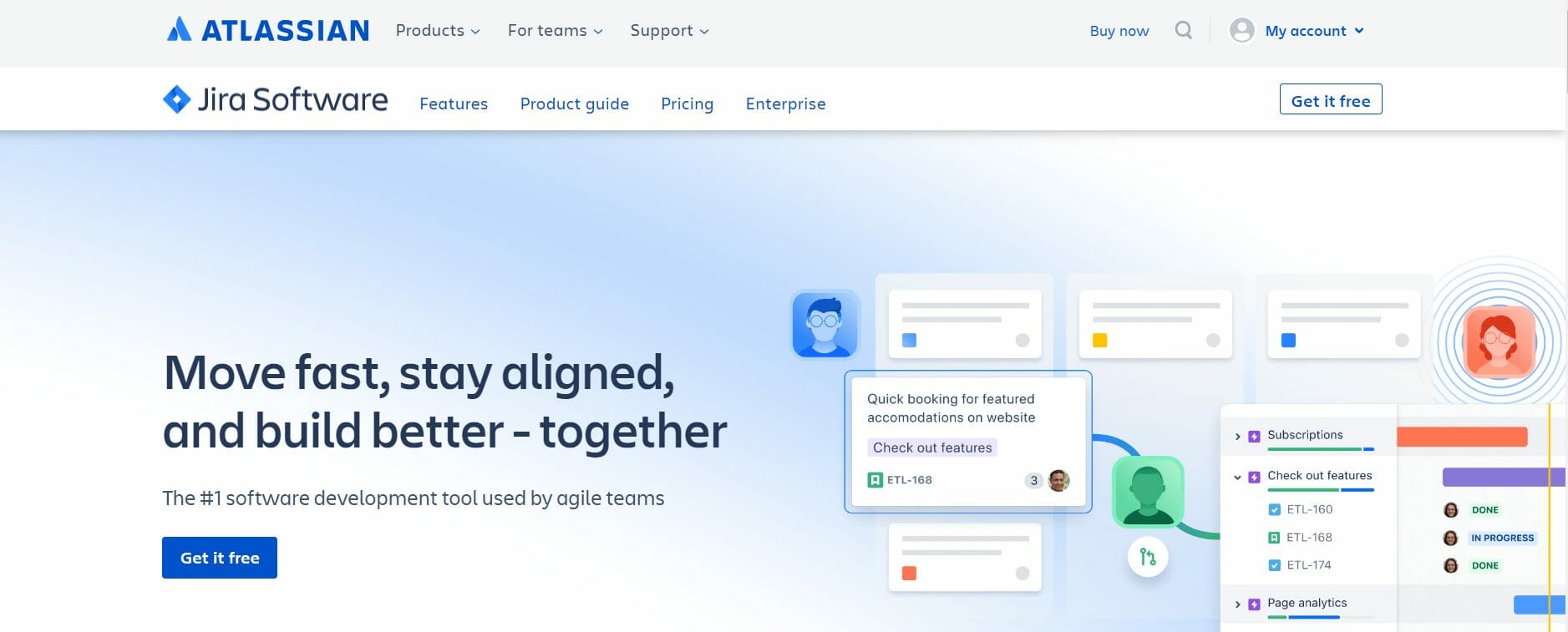 Just like Trello, Jira is part of Atlassian's product range that powers hundreds of thousands of businesses across the globe like eBay, Airbnb, and Toyota. Unlike Trello, though, it offers more than just Kanban and supports scrum frameworks too.
According to their website, Jira is the number one software dev tool used by agile teams and is especially handy if you work in that industry. Whether you need help with planning, tracking, reporting, or automating, Jira can do it all and more. It offers ready-made templates that you can customize when your needs are no longer as simple.
Here are some of Jira's key features:
Roadmaps to give teams full visibility and context to make decisions that will align with their bigger goals quickly
Out-of-the-box reports that share key insights
More than 3,000 apps and integrations with tools like Slack and WhatsApp
Drag-and-drop automation
monday.com vs Jira
Make no mistake, both Jira and Monday.com are regarded as two of the top platforms for project management. Just like monday.com, it offers scrum as well as Kanban board views. Where Jira offers a roadmaps feature for a quick overview, monday.com offers a high-level project plan template. So, there are many similarities between these two top tools.
One of the main differences, however, is the target audience. Jira is better for teams that deal with technical subjects like software development while monday.com is more suitable for everyone else. For this reason, it's also a bit easier to use and more flexible.
Pricing: Jira offers a free plan for up to 10 users, two subscription plans, and enterprise pricing. After a free, 7-day trial, pricing works as follows when billed monthly:
The Standard plan costs $7.50 per user on average and can accommodate up to 35,000 users.
The Premium plan costs $14.50 per user on average and can also accommodate up to 35,000 users.
Make no mistake, both Jira and Monday.com are regarded as two of the top platforms for project management. Just like monday.com, it offers scrum as well as Kanban board views. Where Jira offers a roadmaps feature for a quick overview, monday.com offers a high-level project plan template. So, there are many similarities between these two top tools.
One of the main differences, however, is the target audience. Jira is better for teams that deal with technical subjects like software development while monday.com is more suitable for everyone else. For this reason, it's also a bit easier to use and more flexible.
---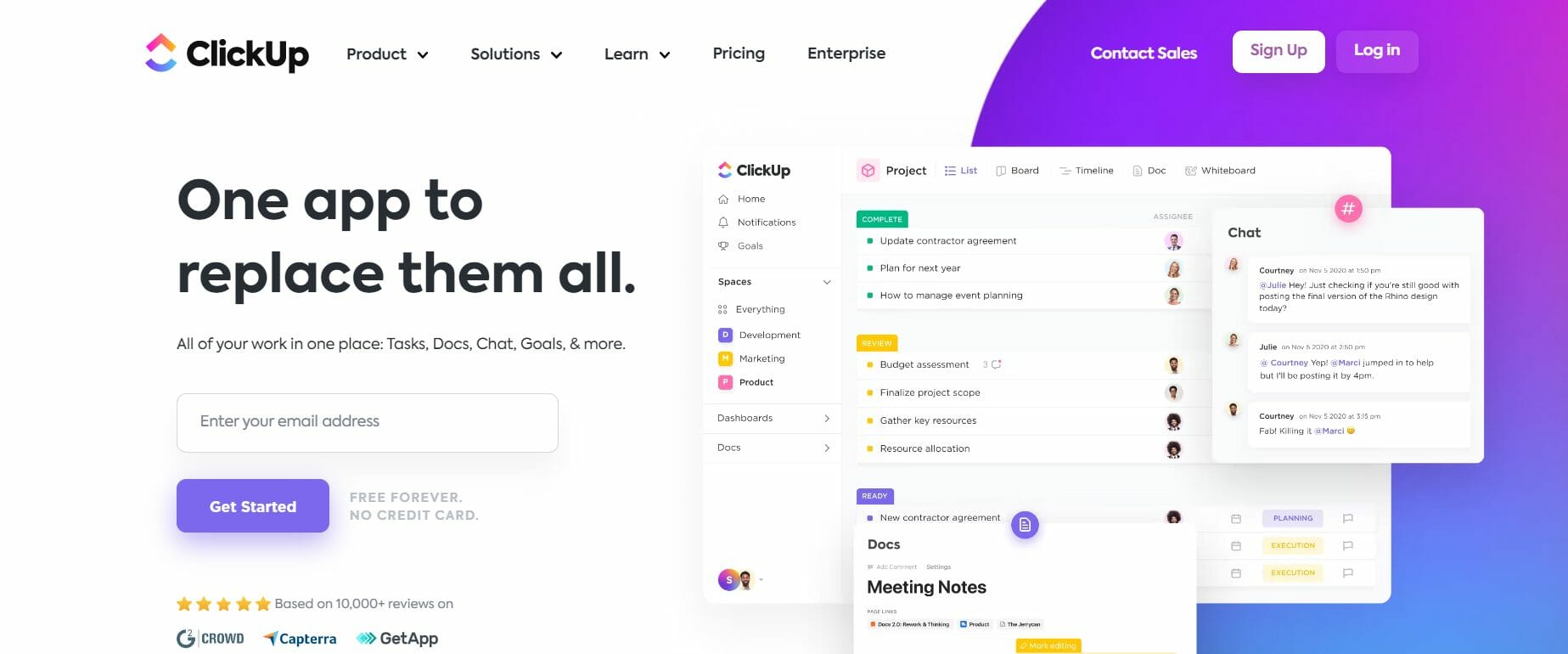 While ClickUp was only founded a few years ago making it one of the newer productivity tools, it's already cemented itself as one of the best project management software tools and is trusted by millions of users that include companies such as Nike, Airbnb, and Google. It's an all-in-one productivity platform and it describes itself as "one app to replace them all". It's completely customizable and can work for various types of teams helping them to plan, track and work together on projects via one place. Whether you prefer a board over a calendar view, it offers you various options and more than 10 views that you can tailor to create your own workflow.
Here are some of ClickUp's key features:
A comments feature that can be used to assign action items, share docs, or chat in real time
A global timer to help set expectations with time estimates
Mindmaps to help you visually plan your ideas, tasks and projects
Simple to-do checklists to explain a bigger project's individual steps
Saved templates for routine tasks eliminating the need to recreate common tasks
monday.com vs ClickUp
Both monday.com and ClickUp are good project management tools to get if you have multiple teams that need to work together. While both offer solutions for various types of industries, monday.com also specifically caters toward eCommerce and IT. When it comes to views, both also offer more views than just Kanban, as is the case with Trello. They also both offer capabilities for time tracking. These are just a few of their similarties.
When it comes to integrations, which can play a deciding factor, you might find that it lacks a few key software solutions. In this case, you'll need to use Zapier. In terms of automations, monday.com is also better, according to online sources.
Price-wise, ClickUp can work out cheaper for smaller teams. While both offer a free forever plan, monday.com's entry-level plan works out to almost double what ClickUp charges.
Pricing: It has a free plan, three subscription plans, and an enterprise plan for big teams. The Unlimited plan, which is best for small teams, costs $9 per member per month. The Business plan, which is better suited for mid-sized teams, costs $19 per member per month. The Business Plus plan, which is aimed at clients with multiple teams, costs $29 per member per month.
---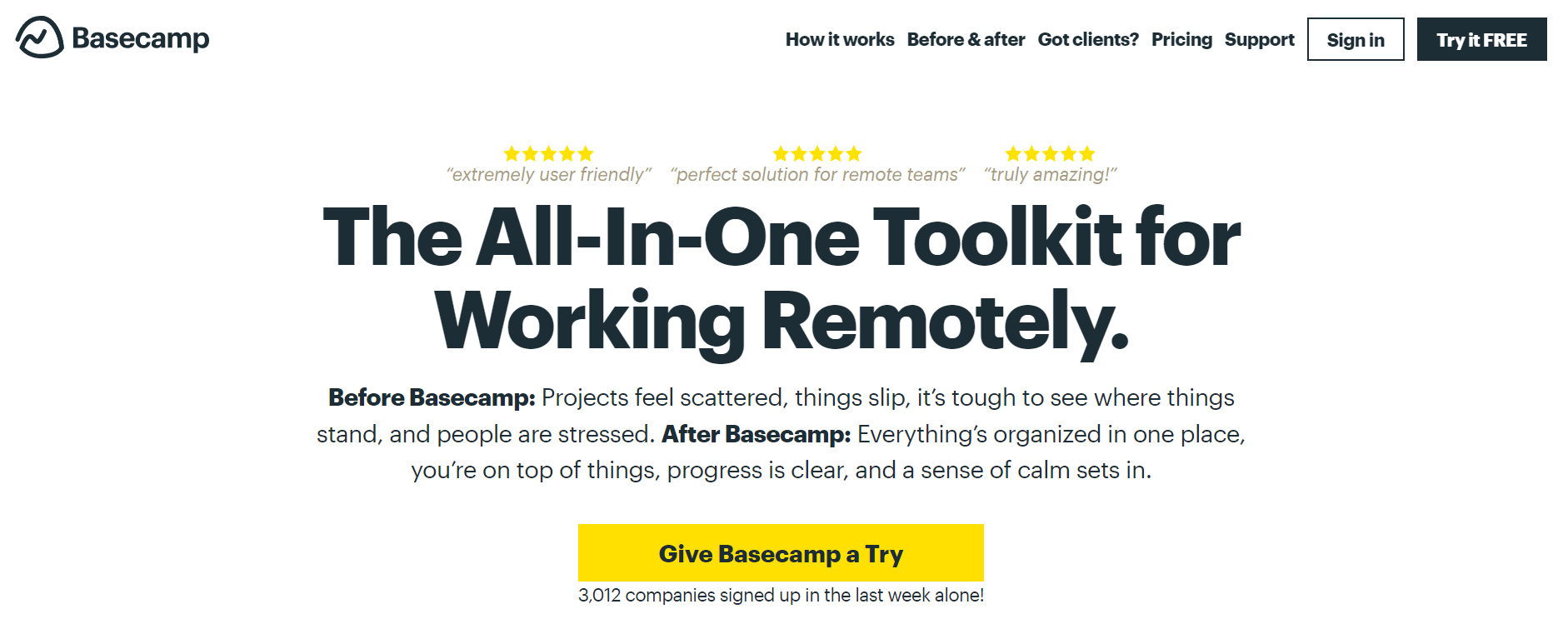 Founded more than 20 years ago, Basecamp offers a number of products and has customers in basically every industry. They're also the brains behind Ruby on Rails, one of the most popular programming frameworks.
Their project management tool lets you split your work into separate projects and add the team members who must be involved. Included in every project are tools like a message board, to-do lists, a shared schedule, file storage, and real-time group chat. Then, if there's a tool that you need that's not included in its tools, like a time tracker, you can use its third-party tools integrations.
Here are some of Basecamp's key features:
Project templates to help you save time
500GB storage space to centralize all your digital assets
Automatic check-in questions for owners and team leaders
Hill Charts to give you insight into where your projects really stand
monday.com vs Basecamp
Basecamp is a great alternative to monday.com for bigger teams or businesses planning to scale quickly. Unlike all the other alternatives mentioned on our list that base the pricing on the number of users, Basecamp charges the same flat monthly fee, whether you have 10 users or 100. That said, the fee is quite steep and will end up being a waste if you don't plan on adding several team members.
While Basecamp can make more financial sense for big teams, there are a few key features that it doesn't offer that you might come to miss. It, for example, doesn't include a built-in time tracking tool. It also offers only Hill Charts, its exclusive way to track progress and to-do lists. On the other hand, monday.com offers users many more ways that they can visualize their projects, one of the reasons why monday.com is more versatile in its features.
Pricing: After a free, 30-day trial, pricing works as follows:
Basecamp Business costs $99 per month for unlimited users
They also offer free accounts for students and teachers and discounts for non-profit organizations.
---
Wrapping Things Up
When researching these different monday.com alternatives, there are a few factors that you'll need to consider. As you'll not be the only one using this tool, ease of use is critical. Try to keep in mind your team members' tech skills and confidence and find a tool that has a clean user interface and sufficient support and/or training.
Integrations can also make your life a whole lot easier, helping you to make the most of your new tool and consolidate more into a unified platform.
Lastly, as this tool will not replace communication (yes, there will still be a need to meet from time to time), try to find a tool that will simplify communication too, ideally one that integrates with messaging tools, like Slack, or the email marketing service that you're using.
Frequently Asked Questions
Does Google have something like Monday?
Google does not have a team management tool like Monday. Monday.com is a cloud-based work OS where teams can create workflows to run processes, projects and everyday work. In contrast, Google has Google Docs, which is an online word processor that lets you format text documents in real time.
Is trello and Monday com the same?
Trello and Monday.com are both task management and team work platforms. However, the biggest difference between Trello and Monday are their different views. Trello has Kanban boards as their big focus, but Monday.com offers different project management methodologies.
Is Monday like Jira?
Monday.com is a simplified task management tool that helps teams organize their tasks into lists. Jira, on the other hand, comes with a powerful toolset that will get your software team to manage their goals.
Is asana similar to Monday?
Asana and Monday.com are both similar work management OS systems. Asana and Monday both offer similar core features, but they look different on their dashboard. Their task management, workflow management and progress visualization tools all differ.