Advertising Disclosure
Advertising disclosure:
Our partners compensate us. This may influence which products or services we review (also where and how those products appear on the site), this in no way affects our recommendations or the advice we offer. Our reviews are based on years of experience and countless hours of research. Our partners cannot pay us to guarantee favorable reviews of their products or services.
Is your business geared to traverse the UK's bustling digital realm? The vastness of the online arena underscores the necessity of adept online marketing agencies for optimizing digital strategies and ensuring tangible returns.
This guide unveils the UK's top 10 online marketing agencies, spotlighting their innovative solutions, client satisfaction, and impactful results in bolstering brand visibility and conversion rates. Through a rigorous review, we provide insights to help you make an informed decision in choosing a digital ally for navigating the complex digital marketing landscape and achieving your business objectives.
---
Top UK Online Marketing Agency Picks
Top
online marketing agencies uk
2024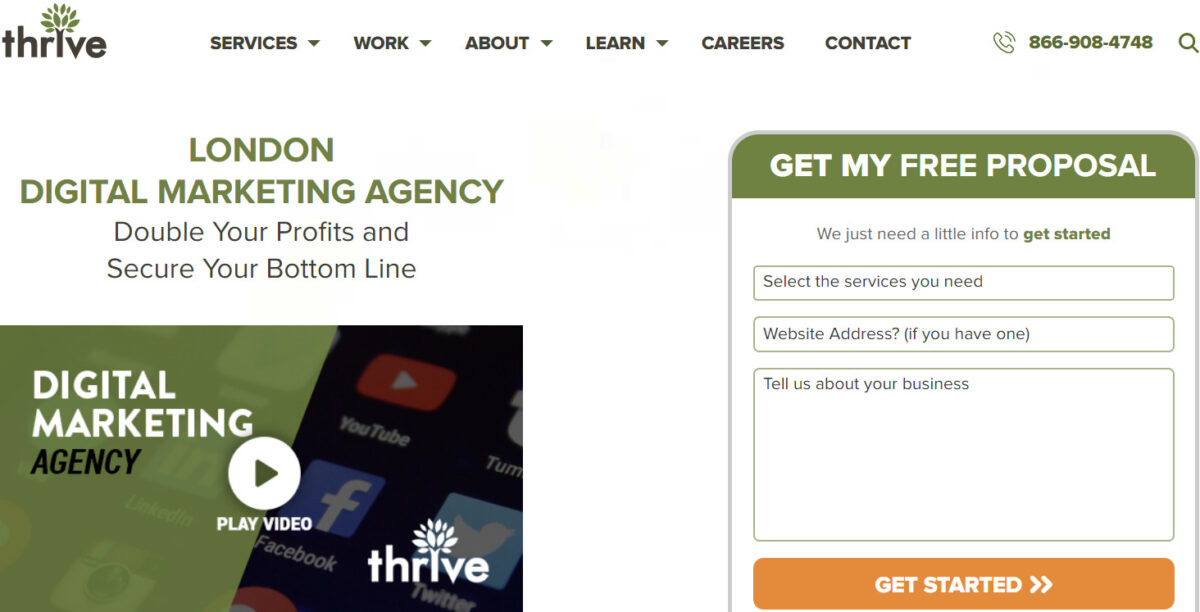 Thrive Internet Marketing Agency emerges as a proficient navigator in the complex realm of social media advertising, addressing the intricacies of developing, implementing, and optimizing paid social campaigns that many businesses find daunting. Since its inception in 2005 in the UK, Thrive has dedicated itself to aiding a broad spectrum of clients, including local enterprises, multi-location companies, and franchises, in elevating their social media advertising endeavors. A notable service is their adept Social Media Marketing, which transcends merely running ads on social platforms; it extends to supporting conversion rate optimization (CRO) efforts through rigorous social media audits, strategic marketing, and sustainable campaign launches. This comprehensive approach manifests Thrive's commitment to not only acquiring new customers and fostering repeat business but also enhancing overall conversion efficacy.
Why You Should Choose Thrive
Thrive also distinguishes itself through a range of specialized services embodying a holistic approach to online marketing. Their Social Media Management encompasses building effective advertising campaigns, monitoring advertisement results, and overseeing multiple social accounts to foster a brand's online growth. This is complemented by meticulous Brand Management aimed at showcasing a unique brand voice across various platforms like Instagram, TikTok, LinkedIn, and Facebook. Furthermore, Thrive's expertise in Website Design and Development ensures harmonized branding across a company's social media pages and its website. These well-rounded offerings underscore Thrive's capability to harness the multifaceted power of social media advertising to fulfill a business's growth aspirations.
Other Services:
SEO
Google Analytics
Reputation Management
eCommerce Design and Development
PPC
Digital Startegy
SEM
---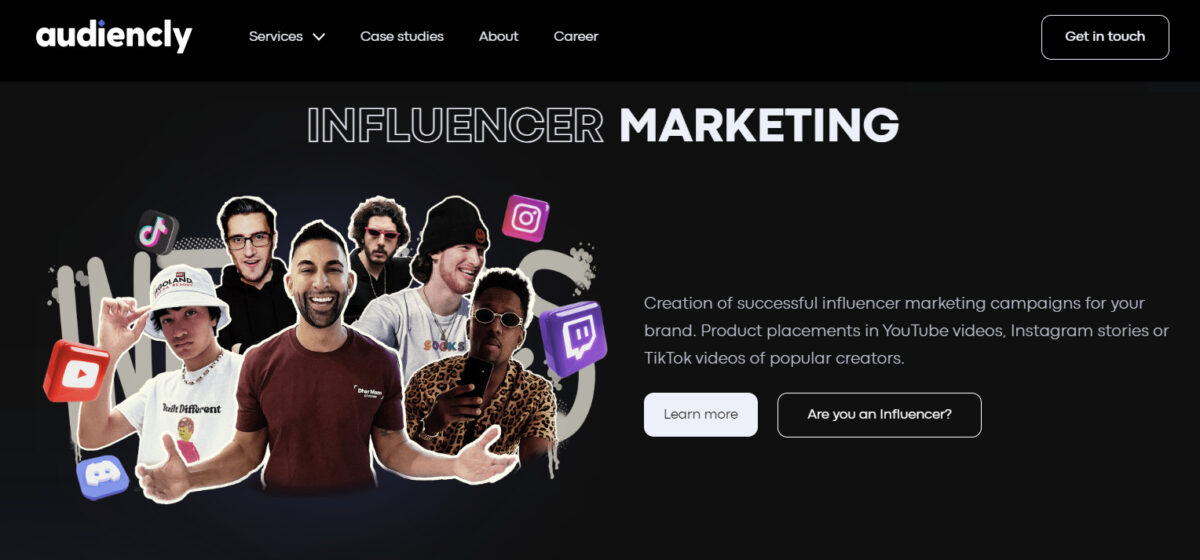 Audiencly stands as a bridge connecting a myriad of businesses with influencers and content creators worldwide, embodying a quest to cultivate impactful and sustainable marketing strategies. The core service pivots around Influencer Marketing, orchestrating successful campaigns through strategic product placements within YouTube, Instagram, and TikTok videos by popular creators. This service is enhanced by their Creators Program, an initiative that fosters seamless collaboration between brands and creators for qualitative sponsored content, ultimately driving brand exposure and engagement through authentic content activations. The program envisages a platform facilitating direct brand-creator interactions, thereby amplifying the influencer marketing campaign's impact.
Why You Should Choose Audiencly
Their expertise extends to melding creativity with strategy, a balance Audiencly perceives as crucial in today's fast-paced marketing domain. The agency's prowess in TikTok Marketing is particularly noteworthy, crafting dynamic campaigns tailored to resonate with target demographics while delivering tangible results. Their global footprint is impressive, with over 2,500 campaigns under their belt, a network of more than 10,000 influencers, and a staggering 1.5 billion+ impressions generated. The numbers speak volumes of their reach and impact, aligning with their recognition as one of the top 10 highest-ranked influencer marketing agencies not just in the UK but worldwide.
Other Services:
Creative and Strategy
Reporting and Analytics
YouTube Marketing
Artwork and Motion
Creative Text
Product Headlining
---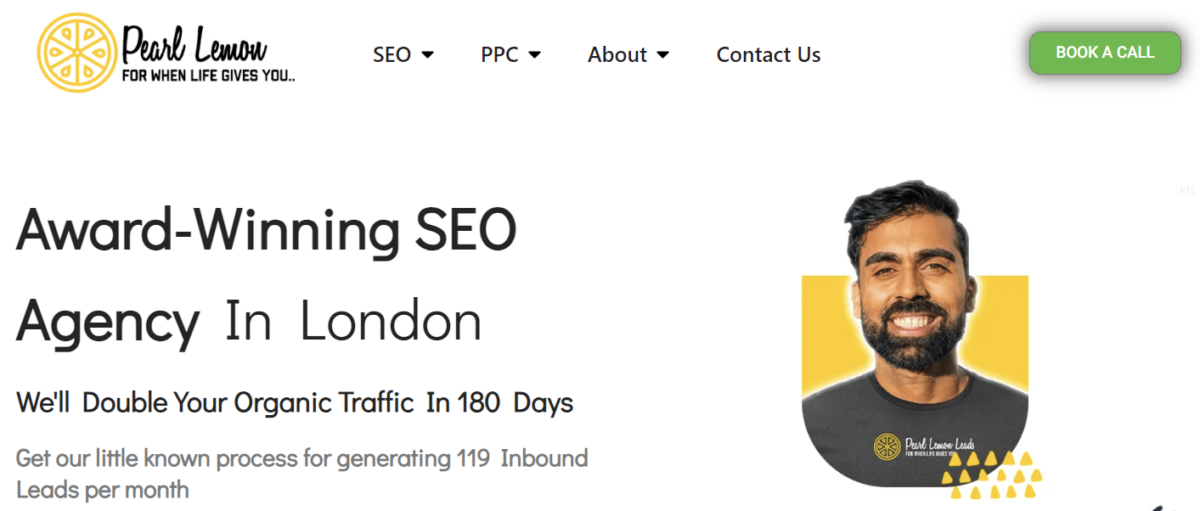 Pear Lemonseo Agency, branded as Pearl Lemon, emerges as a beacon of innovation and efficacy amidst the bustling digital marketing arena in the UK. Predominantly an SEO agency situated in London, Pearl Lemon is lauded for its tailored SEO strategies that span local SEO, e-commerce SEO, technical SEO, on-page and off-page SEO, alongside website speed optimization. Their hallmark lies in the commitment to bolster organic traffic, with strategies meticulously crafted to align with the unique requisites of their clientele. Recent accolades, such as the acknowledgment via a Google Knowledge Panel, underscore their prowess and prominence in the SEO sphere, marking a testament to their adeptness and result-oriented approach to delivering top-tier SEO services.
Why You Should Choose Pearl Lemon
Client testimonials reflect a pattern of satisfaction, attributing their success to the knowledgeable and professional team at Pearl Lemon. The agency's dedication extends beyond mere service delivery to encompass a thorough educational approach, ensuring clients grasp the nuances of SEO, thereby fostering an environment of informed collaboration. The breadth of positive feedback, particularly from startups and new business owners, speaks volumes about Pearl Lemon's capability to navigate the complex digital landscape, making them a commendable choice for businesses seeking to enhance their online visibility and traction in the competitive UK market.
Other Services:
Link Building
Mobile SEO
Google Penalty Checker
Amazon SEO
Magento SEO
PPC
---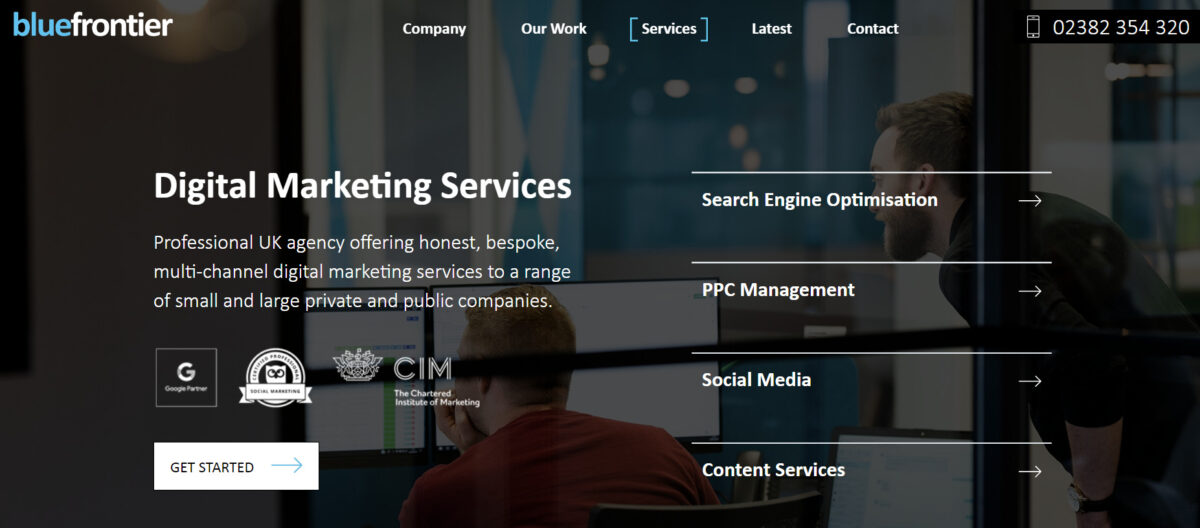 Blue Frontier showcases a multi-faceted digital marketing approach, effectively catering to a broad spectrum of both private and public enterprises in the UK. The agency's core services encapsulate Search Engine Optimisation (SEO), Pay-per-click (PPC) Management, and Conversion Rate Optimisation (CRO), each tailored to meet the distinctive needs of their clientele. Noteworthy is their emphasis on brand awareness and business growth, underpinned by tried-and-tested digital marketing methodologies. Blue Frontier is well-endowed with certifications from reputable bodies, including Google Partner and Chartered Institute of Marketing, reflecting a high level of professionalism and adherence to industry standards.
Why You Should Choose Blue Frontier
The agency's distinctive approach is characterized by an analytical foundation, where a comprehensive competitive audit precedes strategy formulation, ensuring a well-informed and targeted digital marketing campaign. Their results, as evidenced by case studies, exhibit a tangible impact on conversions, organic traffic, and overall business growth, underlining their capability to deliver a high return on investment. With a robust feedback loop in place, Blue Frontier continuously monitors and refines campaigns to optimize performance. Their collaborative ethos and commitment to delivering measurable results position Blue Frontier as a viable partner for businesses seeking to bolster their online presence and achieve digital marketing objectives in the competitive UK market.
Other Services:
Consultancy
Design and Development
Paid Advertising
Social Media
---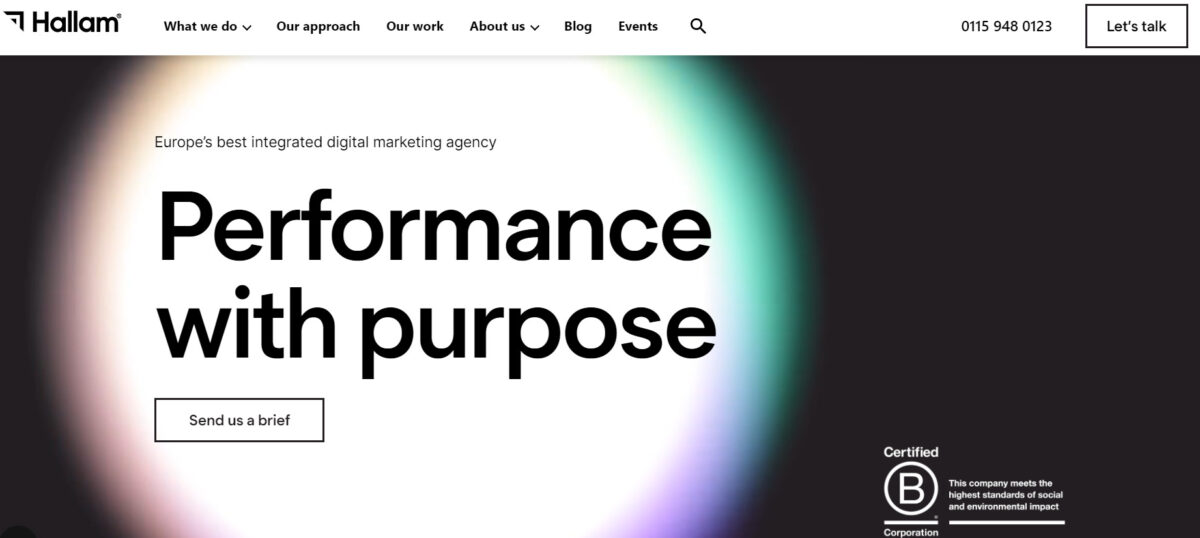 Hallam Internet is a distinguished digital advertising agency in the UK, prominently recognized as a Google Premier Partner for 2023, marking its position within the top 3% of all digital marketing agencies for Paid Media. The agency offers a robust suite of services, including Paid Search, Paid Social, Programmatic Advertising, Marketplaces, and Affiliate Marketing, all honed to accelerate growth and maximize advertising performance. Their competence in creating effective advertising campaigns is substantiated through a series of prestigious accolades, including the Google EMEA Award and European Paid Media Awards. The agency's multifaceted approach integrates precision targeting with compelling creativity, ensuring the campaigns not only reach the intended audience but also evoke the desired engagement.
Why You Should Choose Hallam Internet?
Hallam Internet goes beyond conventional PPC advertising, offering an expansive range of digital services encompassing Brand Strategy, Media Planning, Content & PR, SEO, and Web Design, among others. This holistic approach ensures clients benefit from a well-rounded digital strategy that optimizes across various facets of online marketing. The agency's commitment to balancing long-term brand building with short-term sales activation demonstrates a nuanced understanding of the digital marketing landscape, thereby facilitating sustained business growth. The blend of strategic insight, creative ingenuity, and a data-driven methodology positions Hallam Internet as a notable choice for businesses seeking to enhance their digital footprint in a competitive market.
Other Services:
Digital and Brand Strategy
Media Planning
Market Research
User Experience
Creative
Digital Marketing Training
---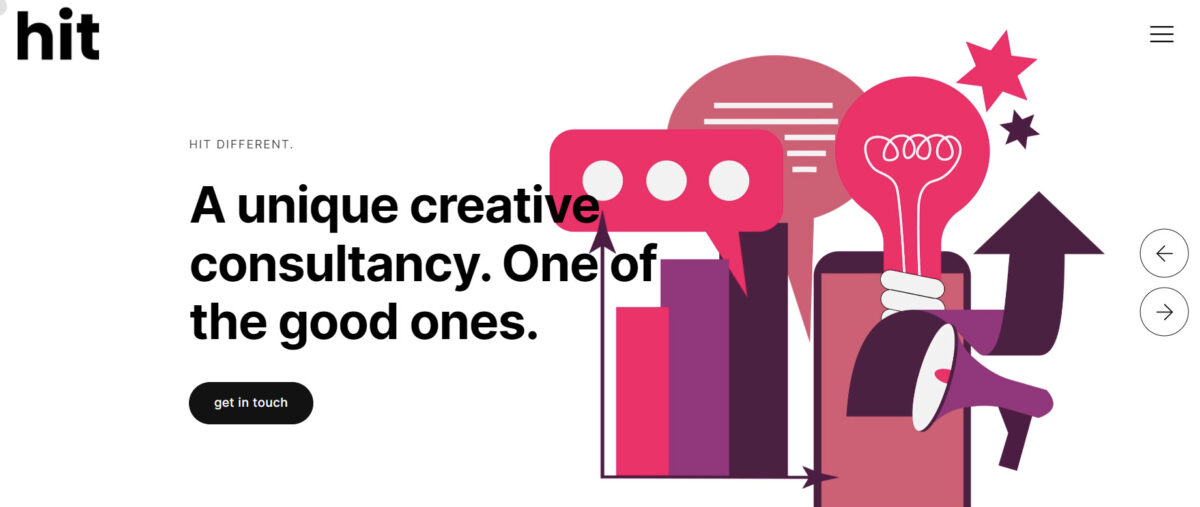 Hit Creative determines itself as a remarkable creative consultancy in the UK's online marketing landscape, offering a blend of imaginative solutions tailored to enhance brand personalities. With the assertion of being a unique creative consultancy, it places a strong emphasis on collaborative efforts to build or expand the client's brand identity. Core services include high-end video production, design encompassing branding and brochures, brand consultancy, drone services for a new dimensional visual appeal, and engaging content creation. Furthermore, they exhibit prowess in SEO, ensuring clients attain a desirable search engine ranking while maintaining content quality, a claim that manifests a balanced approach to digital visibility.
Why You Should Choose Hit Creative
With London, Birmingham, and Dubai offices, Hit Creative extends its creative milieu to an international clientele. Their comprehensive service in website design, coupled with interactive and responsive features, promises a visually stimulating user experience. Moreover, their adeptness in social media management and marketing strategy development reflects a holistic approach to digital marketing aimed at enhancing audience engagement and strategic market positioning. The agency's philosophy, rooted in client success, resonates through its portfolio, exhibiting a rich tapestry of services aimed at not only meeting but exceeding client expectations in the competitive digital marketing domain.
Other Services:
Real Estate Videos
Event Video
UI/UX Design
Website Content
PR and Marketing
---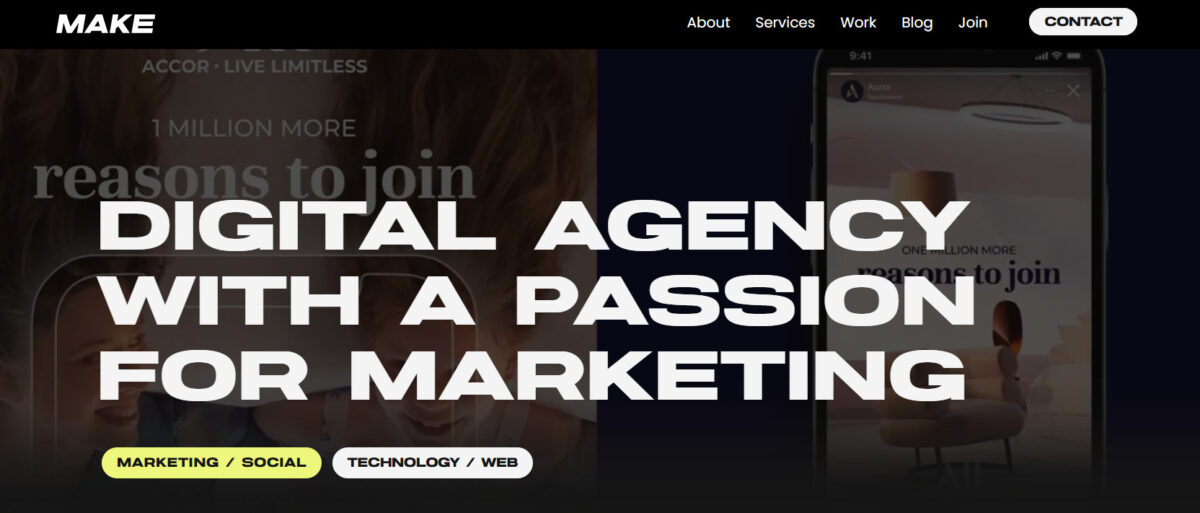 Make Agency, stationed in the heart of London, embodies a fusion of creativity and result-driven strategies in the digital marketing sphere. This agency assures outcomes in three pivotal business facets: web design and development, digital marketing & social media management, and creative content creation. Their philosophy of 'making it happen' reflects a proactive approach towards achieving tangible results. The accolade of "Top 100 Growing Agency 2023," alongside Awwwards and The Times' recognition for future advertising, signifies a progressive trajectory and industry acknowledgment. With a robust digital footprint of over 30,000 customers utilizing a redesigned website and an impressive 271,000 clicks on Cyber Monday, Make Agency showcases a potent ability to drive traffic and engagement.
Why You Should Choose Make Agency?
The agency's expertise extends to pioneering change across technology, marketing, and social realms, with a recent accolade – the Financial Services Standard of Excellence award at the 2023 WebAward Competition, underscoring their proficiency in website development. Additionally, their celebration as one of Clutch's Top-100 Fastest Growing agencies for two consecutive years reflects a consistent upward momentum. Through a blend of technology-driven web solutions, innovative social media strategies, and engaging creative content, Make Agency emerges as a competent player in the UK's digital marketing sector, poised to deliver bespoke solutions tailored to client goals and market challenges.
Other Services:
Full Stack Development
Automation
CRM
Influencer Marketing
Community Management
Creative Studio
---

And Again, a UK-based digital agency, stands as a convergence point where strategy melds with creativity and technology, crafting a myriad of digital products, websites, apps, and campaigns that accentuate the stature of their clients and agency partners. Operating as a digital ally for brands, startups, and fellow agencies across the UK and the USA, its expertise is notably seen in sectors including luxury, fashion, retail, entertainment, and B2B. The collaborative ethos of And Again is seen in its partnership with agencies, creative studios, and freelancers, aiming to deliver cutting-edge digital solutions for global brands.
Why You Should Choose And Again?
The agency boasts an impressive client roster that includes high-caliber names such as Adidas, BBC, Disney, Google, and Valentino, among others, painting a picture of trust and quality service delivery. Its strategic locations in London and Liverpool not only enhance its accessibility to clients but also position it within the vibrant digital marketing ecosystem of the UK. The proficiency in creating tailored digital strategies, coupled with the ability to deliver user-centric digital experiences, underscores And Again's value proposition in a competitive market, making it a notable choice for brands aiming to make a digital imprint.
Other Services:
Digital Strategy
UX/UI Design
Web Development
Mobile App Development
---

Absolute, located in the heart of London, embodies a proactive ethos in the digital marketing realm. Unlike conventional rhetorics, this agency transcends mere talk and delves into action, earning its recognition as a proven digital marketing agency. Their digital prowess spans targeted SEO, PPC, Link Building, and Digital PR campaigns. The agency's pragmatic approach is mirrored in their client case studies, showcasing tangible results such as doubled conversions, significant goal completion increases, and robust traffic and conversion upticks. The depth of their campaigns reflects a keen understanding of the seasonal business cycle and a nimble strategy to maneuver through highly competitive markets, all while maintaining a firm grasp on ethical lending practices and responsible brand promotion.
Why You Should Choose Absolute
Each of Absolute's services is structured to propel businesses into a vanguard position in their respective sectors. Their accolade-laden journey, punctuated by awards like EAA 2023 and UK Digital Excellence Awards, illustrates a forward-thinking narrative in campaign strategizing. The client testimonials echo a narrative of satisfaction and success, underlining the agency's ability to transcend client expectations. With a clientele spanning diverse sectors, Absolute demonstrates an ability to navigate various industry landscapes and a knack for elevating brands in a digital sphere laden with transient trends and stiff competition. The agency's open invitation for prospective clients to join them in a digital transformation journey is not just a call to action but a testament to their ready and able strategy toolkit waiting to be deployed in propelling brands to new digital heights.
Other Services:
Digital PR
Ling Building
Web Design
---

Passion Digital, a distinguished Paid Media Agency based in London, emerges as a conduit through which brands enrich their digital footprint across diversified platforms like Google and Amazon. Specializing in navigating the dynamic realm of paid media, this agency demonstrates an adept understanding of the digital advertising ecosystem. The crux of their service revolves around ensuring that brands resonate with their target audience at pivotal touchpoints within the consumer's journey, leveraging precise messaging on platforms favored by the audience. Unlike traditional media, digital advertising's programmatic nature requires a nuanced approach to bid management, quality score, and myriad other factors. Passion Digital showcases a robust capability in fine-tuning media delivery across these parameters, ensuring an optimized return on investment.
Why You Should Choose Passion Digital?
The agency's prowess extends across a broad spectrum of paid media services, encompassing Paid Search (PPC), Social Media Marketing, Display Advertising, Remarketing, and platform-specific advertising like YouTube, LinkedIn, Facebook, Instagram, and Twitter. Their strategy embodies a holistic, multi-channel approach, reflecting a deep understanding of the varying roles digital channels play in a user's journey from brand discovery to conversion. The testimonials from reputable clients like Science Museum, Biona Organic, and Knight Frank echo a narrative of satisfactory results, encapsulating increased Return on Ad Spend (ROAS), exceeding sales targets, and enhanced technological capabilities. Through a blend of integration, consistency, and flexibility in their strategies, Passion Digital delivers not only a cohesive brand message across channels but also a practical solution to the challenges of media inflation and diminishing returns.
Other Services:
Insight and Strategy
Organic Marketing
Web Performance
Data and Analytics
---
Budgeting Insights for Optimal Online Marketing Investment
Investing in an effective online marketing strategy is imperative for businesses seeking to maintain a competitive edge. Therefore, selecting an online marketing agency that provides a good balance of cost efficiency and high-quality service is crucial. This section delves into budgeting insights to ensure optimal investment when engaging with an Online Marketing Agency UK.
Return on Investment (ROI)
A crucial metric in evaluating the cost-efficiency of an online marketing agency is the Return on Investment (ROI) they can deliver. Assessing the ROI generated from online marketing campaigns helps in understanding the value derived from the investment.
Cost-Per-Lead (CPL) and Cost-Per-Acquisition (CPA)
Understanding the Cost-Per-Lead (CPL) and Cost-Per-Acquisition (CPA) is vital for budgeting and evaluating the performance of online marketing agencies. Lower CPL and CPA values are indicative of cost efficiency.
A comprehensive analysis of how different online marketing agencies allocate the budget across various digital channels and campaigns is essential. It provides insight into whether the budget is being utilized efficiently to achieve the desired marketing objectives.
Transparency in pricing and clear breakdowns of costs involved in the marketing campaigns are signs of a reputable and cost-effective online marketing agency. It allows for better budgeting and avoids unexpected expenses.
Performance metrics such as click-through rates (CTR), conversion rates, and website traffic are other indicators of how effectively the online marketing budget is being utilized.
Customized Budgeting Solutions
Agencies offering tailored budgeting solutions allow businesses to invest in online marketing optimally based on their specific needs and financial capabilities.
---
Conclusion
The meticulous review of top online marketing agencies in the UK reveals a vibrant and highly competitive digital marketing landscape. With a diverse array of services offered, from SEO, PPC, and social media management to influencer marketing and creative content creation, these agencies are well-poised to cater to the evolving needs of businesses. Noteworthy is the tailored approach adopted by these agencies, ensuring digital strategies resonate with the brand's ethos and the target audience. The reviews reflect a strong emphasis on delivering tangible results, evidenced by impressive ROAS, increased traffic, and enhanced brand visibility.
The digital sphere in the UK continues to flourish, with 66.11 million internet users and 57.10 million social media users as of early 2023, painting a promising picture for online marketing endeavors. The accolades and certifications garnered by these agencies, alongside positive client testimonials, underscore their competence and reliability. As digital channels become increasingly pivotal in brand-customer interactions, these online marketing agencies' expertise and innovative solutions are indispensable for businesses aiming to carve a robust digital presence in the competitive UK market.
Frequently Asked Questions
What are the emerging trends in online marketing in the UK?
Understanding the evolving UK digital marketing trends can help businesses stay ahead in the competitive landscape. One of these trends is to outsource online marketing to expert agencies specializing in navigating the digital landscape.
How do Online Marketing Agencies in the UK adapt to the changing algorithms of search engines?
Adaptation to search engine algorithm changes is crucial for maintaining online visibility. UK online marketing agencies follow the latest SEO guidelines to develop strategies and ensure search engine ranking.
What is the importance of local SEO for businesses in the UK, and how do online marketing agencies cater to this?
Local SEO is pivotal for businesses targeting local customers. UK agencies optimize client social profiles and websites to ensure local and global search dominance.
How do the top online marketing agencies in the UK measure campaign success?
Measurement of campaign success is integral for evaluating the ROI. These agencies utilize metrics and analytics tools to measure the effectiveness of digital marketing campaigns.