Personal trainers looking to take their business to the next level can find online tools to help them grow their business. Online personal training tools have many big advantages for personal trainers. In addition to better connecting with clients, these online tools can help you create packages and deliver personal training services. These online platforms can be especially useful, too, when growing your business and better connecting with clients on a remote basis and an in-person basis.
Many personal training platforms exist, though they have a number of differences. Each platform might have varying degrees of usability, varying degrees of cost and varying features on offer. If you find yourself overwhelmed with the options, don't worry. It can be difficult to pick the perfect platform for your business without examining all the pros and cons. That's why we're collecting all your options in one place and breaking down the best options for your personal training business.
---
Best Personal Training Software Tools:
---
What to Consider When Picking a Personal Training Software
Once you've made the step to pick a personal training software, it's important to figure out what exactly you want from the software. The purpose behind adding a personal training software to your repertoire is that technology will make your life simpler and easier. Of course, there will be a learning curve to your new software, but once you figure out the software, you can progress to making it work for you.
All software you pick should provide a number of basic functions, including:
Providing workout templates for your clients with videos

Allowing you to create your own workout plans

Providing custom exercises

Curating a video library with your videos

Managing client programs, including allowing you to copy and paste programs from one client to another

Providing a way for clients to communicate with you, and vice versa

Providing some type of way to track client progress, and adjusting plans depending on their progress

Storage for your documents on the platform, including any waivers, client paperwork, and more.
Certain software platforms will provide even more advanced services, too. But above all else, this software should help you grow your business and provide your service to your clients. Here are the best personal training software tools on the market right now.
---
Personal Training Software Tools
Personal training can be a challenging profession. Use these tools as a way to up your game and improve your business.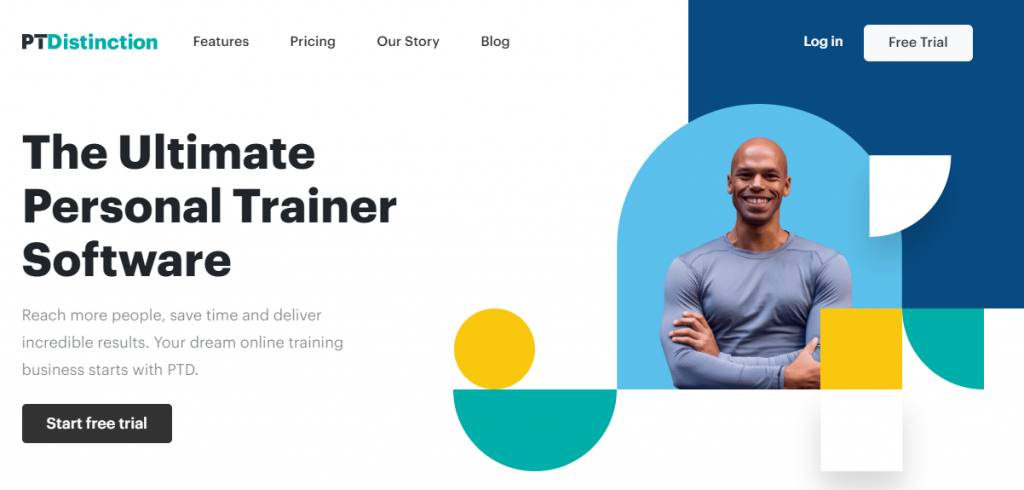 PTDistinction is a popular personal training software for coaches looking to focus on habit tracking and client lifestyle as part of the personal training process. This software program offers a huge variety of features for clients, from nutrition tracking, customisable forms, and assessments. The platform also provides a great degree of control over the training process for the trainer. It also gives more flexibility to the trainer, to let them express what aspects of the personal training process matter most. You can integrate this platform with your website, or use it as a stand-alone product.
The product comes with some big positives: much more customization, a large online community, easy-to-use templates and workouts, and food photo integration with MyFitnessPal. On the downside, trainers who don't use technology as much may not be comfortable with the complex interface and may face a steep learning curve.
Cost: There are tiers of this platform, from $19.90 per month to $89.90 a month.
---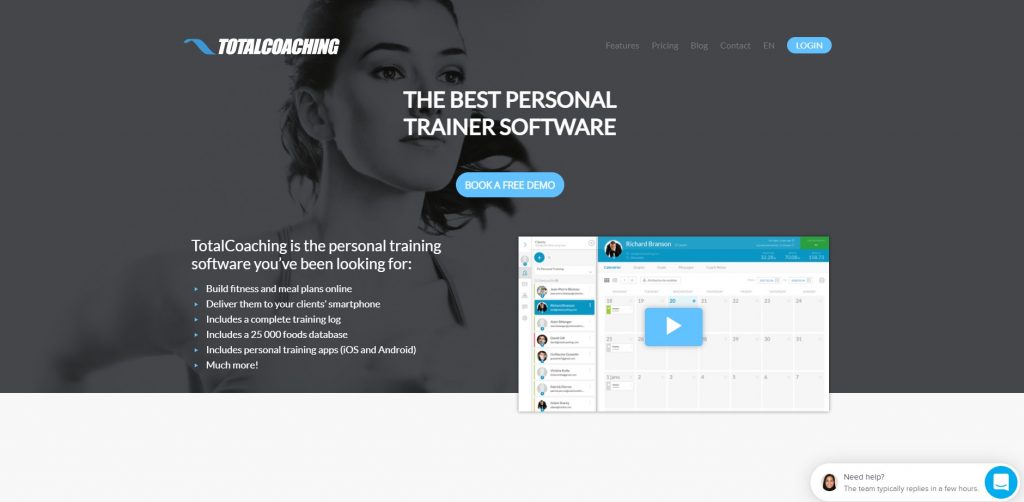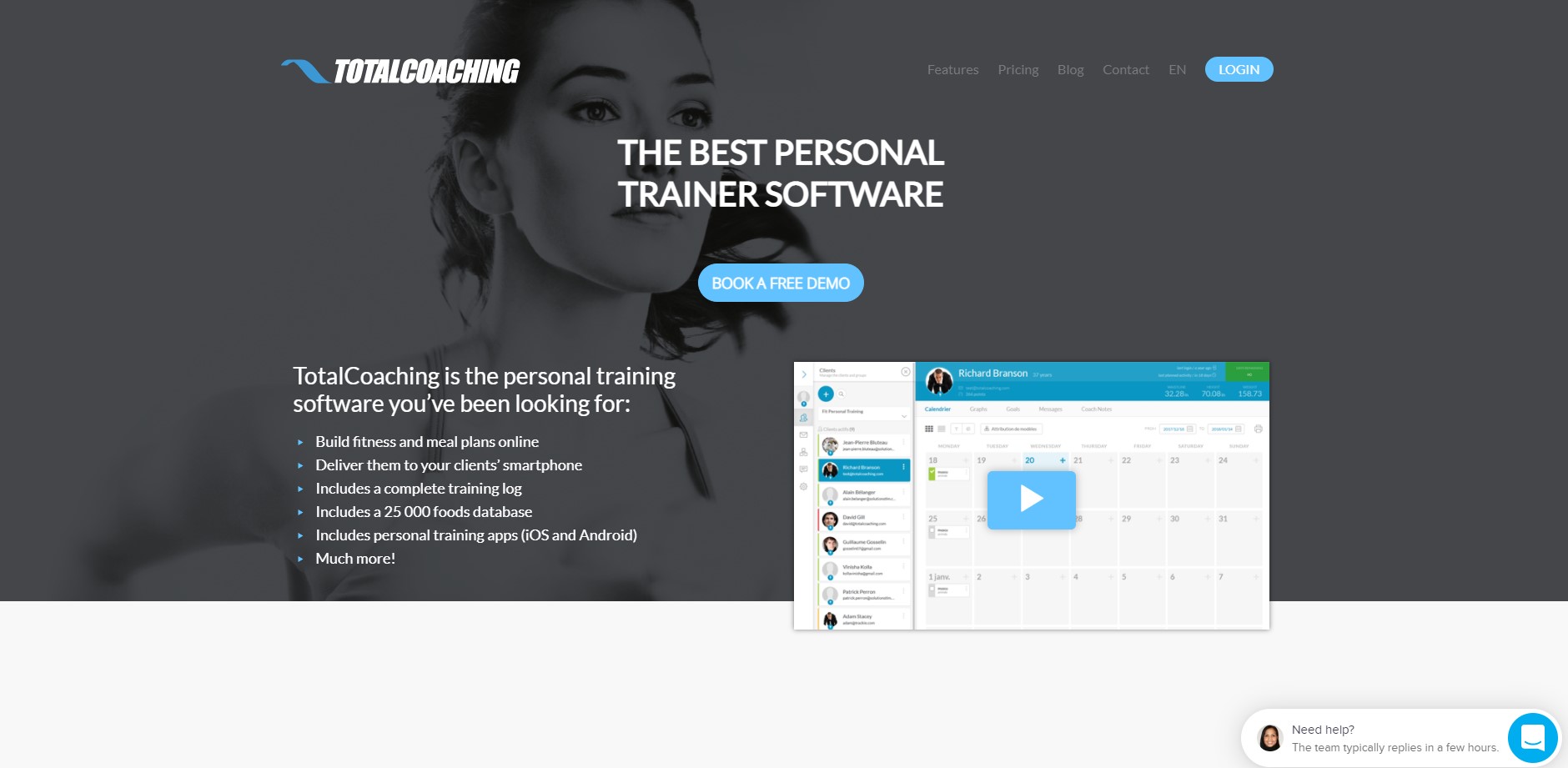 This easy-to-use personal coaching program provides a number of special features, including meal planning options and habit-based training programs. The program offers tracking for your clients, including workout tracking, calorie tracking, and macro tracking - plus, water intake. Plus, the platform lets clients upload photos and videos to track progress and exercises. It can be a useful feature, especially if you never contact your clients in person.
Total Coaching has a lot of resources to help you out, too, with more than 1,000 animated, 3D videos; you can add your own, too, with YouTube or Vimeo options. This program also offers training schedules and lets clients track their own schedule. This feature is especially important if you clients work odd hours. However, without a built-in scheduling software, other programs will need to fill in.
Cost: This platform can cost anywhere from $14 to $219 a month, with a number of options to add extra features.
---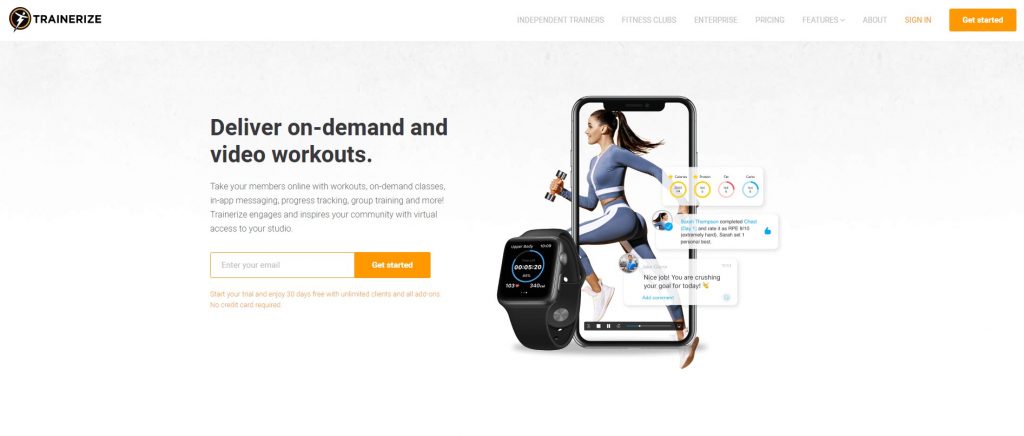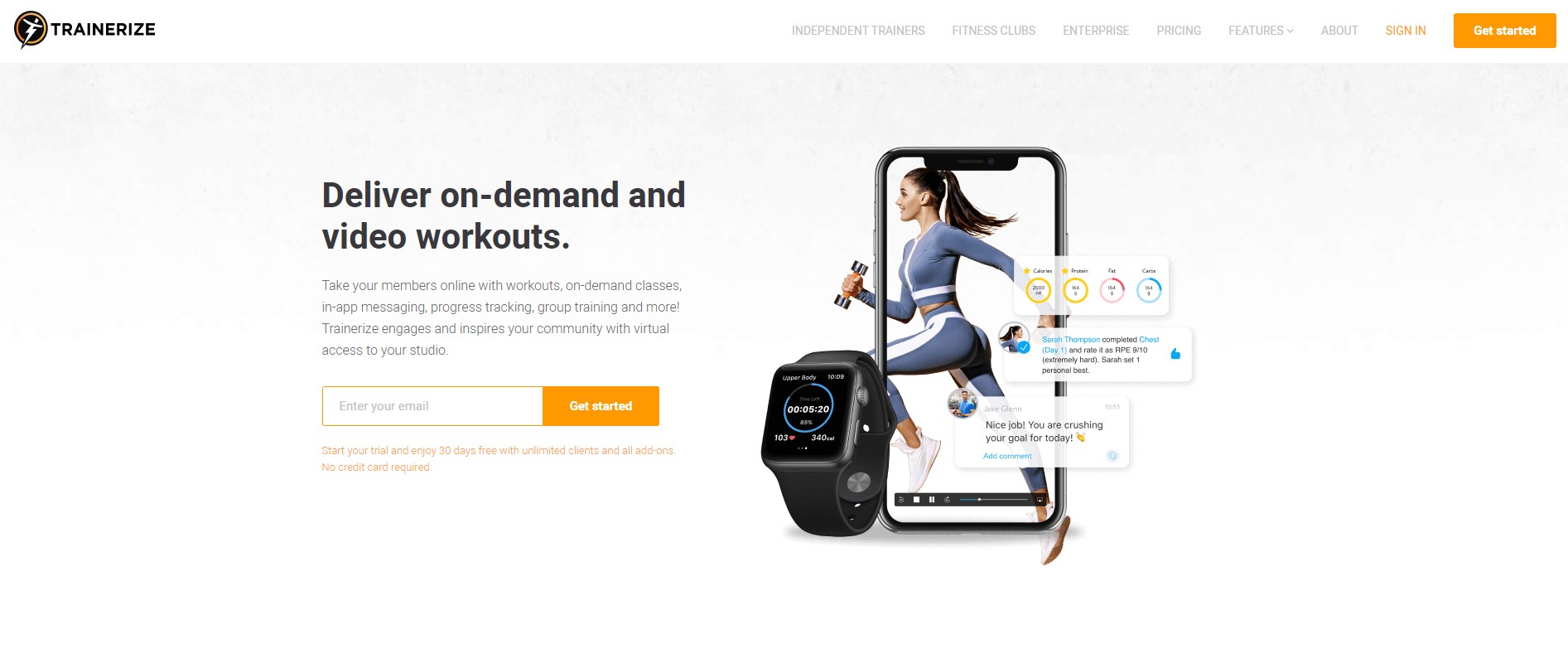 Trainerize offers an easy-to-use interface and several integrations for clients training with you both online and in person. The platform lets you track client progress in several ways, including with photo evidence. The app also integrates with FitBit and allows you to set up custom goals, custom tracking, and note-sharing options with your clients. Meals plans are part of the app, too, with nutritional services.
This app works especially well for gym owners, who may want to manage programs for large numbers of clients. It has a number of integrations with different payment systems. On the downside, there is no desktop version of this application for clients, and clients have reported mixed reviews on the set-up process.
Cost: With one client, you can pay as little as $0 and up to $250 for unlimited clients. Your price will reflect the clients you have.
---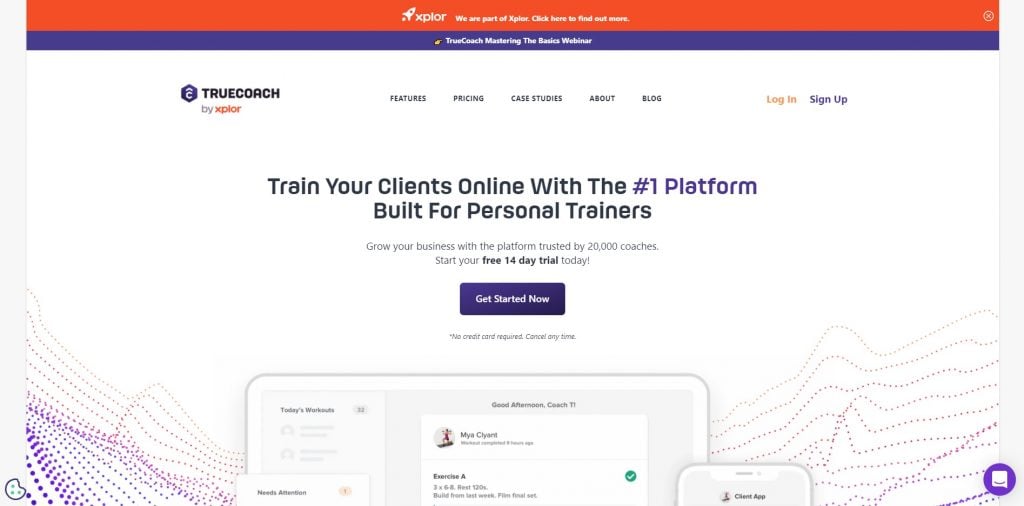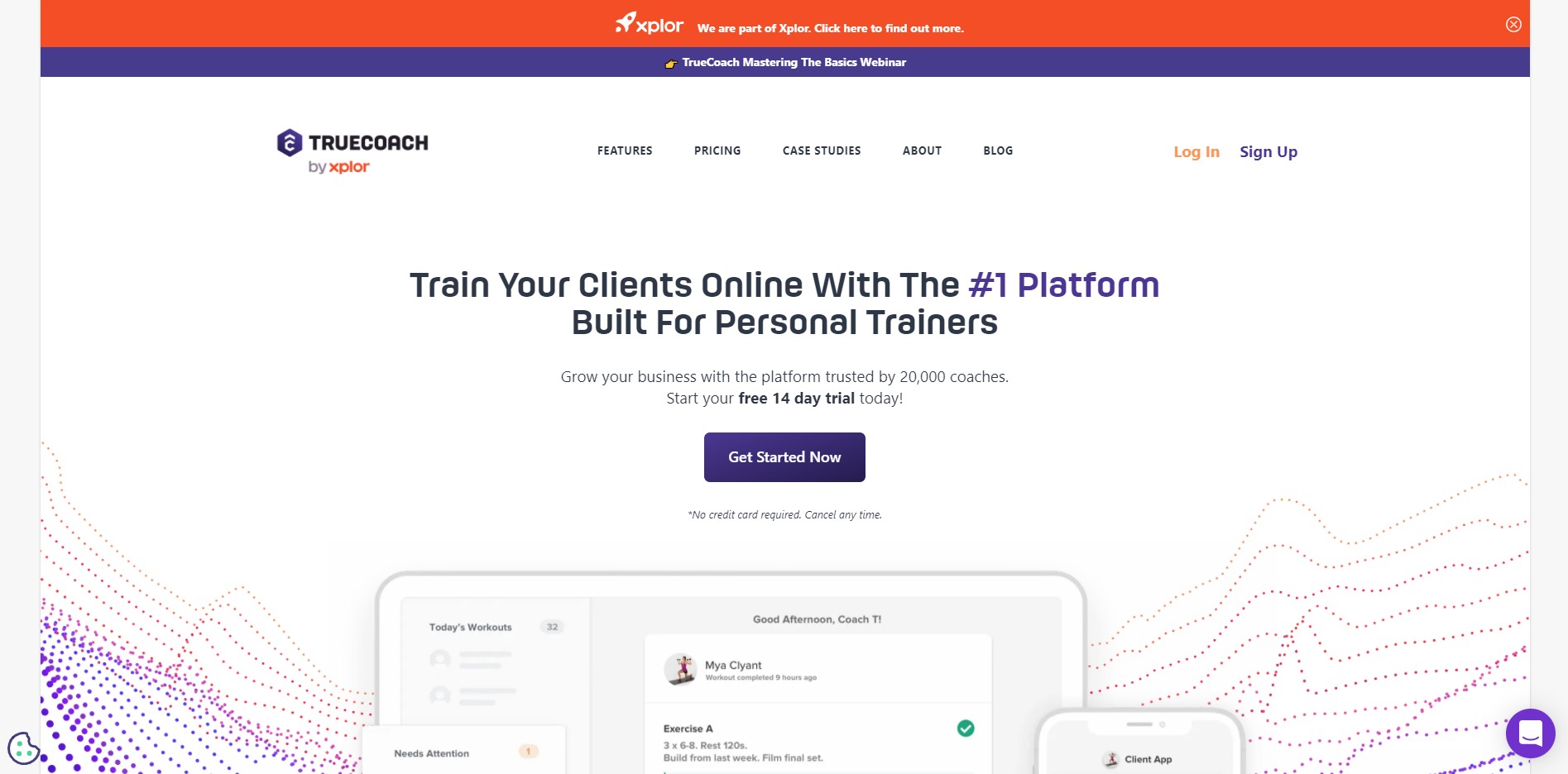 True Coach offers simple-to-use personal training services with multiple capabilities serving a number of different clients. The app features a huge range of videos demonstrating moves, and you can upload your own as well from Vimeo or YouTube. You can write your own custom workouts in advance for your clients and send them to your clients at a later date featuring different equipment lists for each client. It's a great feature for planning your work in advance, too.
True Coach offers a lot of flexibility for different types of clients with different abilities. On the downside, the nutrition section can be confusing the way it is managed. In addition, the application does not feature any way to manage paperwork you may need to hand out to clients.
Once you start working with the app, you can input how many individual clients you work with and determine a compliance rate for the week, month, and quarter. Plus, True Coach supports multiple trainers on the same app.
Cost: The price starts at $19 a month for 5 clients, and pay up to $99 for 50 active clients. More clients can be added on a sliding scale. Additional fees for further customization options.
---
VirtuaGym takes personal training software to a new level with live stream workout capabilities in addition to individual workout plans for your clients. This software offers two primary options for trainers: video on demand and virtual trainer workouts. In addition, you can create your own workout videos. The program has exercise options, nutrition options, and scheduling options all built into the platform, too, with payment integration.
Cost: pricing is not public; you will need to book a demo to learn the price.
---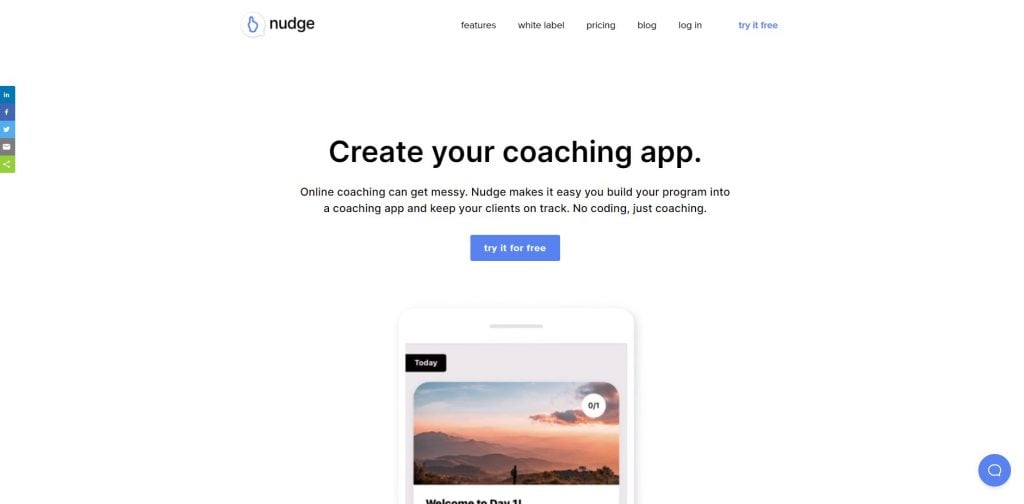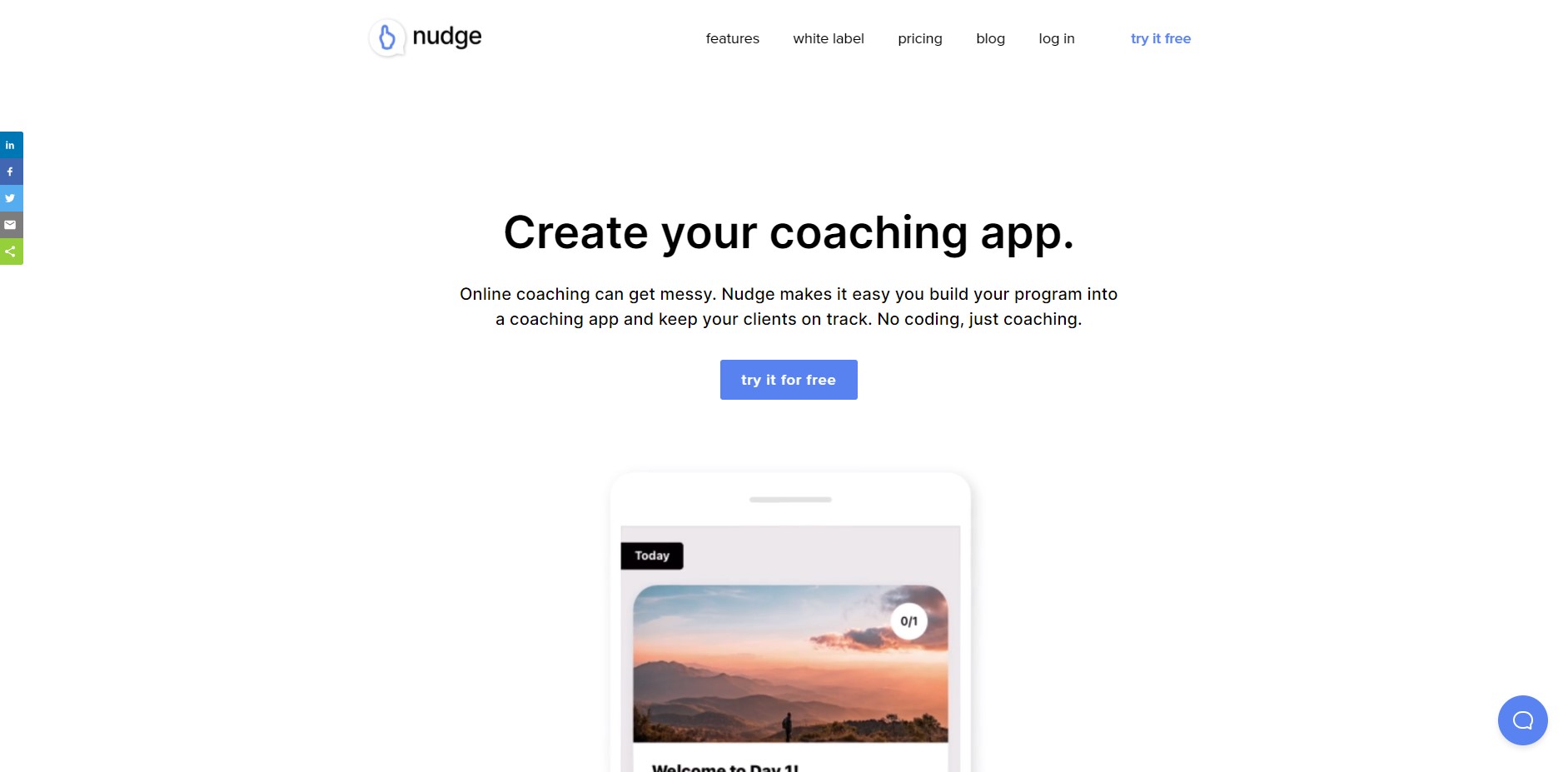 NudgeCoach has easy-to-use software for both the personal trainer and client side. For additional costs, you can brand the platform after your business. On the platform, you can send your clients messages (individual or group) as well as scheduling advanced messages. NudgeCoach also has much easier group challenges for your clients, too, and works best for smaller online businesses. However, there are no templates to use, which may be frustrating for some coaches.
Cost: Prices start at $60 and go up to $100.
---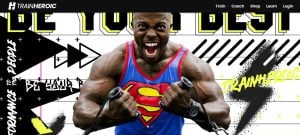 TrainHeroic is a powerful and user-friendly software for personal trainers and fitness coaches. Robust features on this platform include tools to help you build programming quickly and easily, connect with clients and keep them organized, and maintain steady communication. Use the advanced chat and video features throughout to deliver the most engaging experience to your clients, while saving you time.
Athletes complete a readiness survey before each training session, and they can compare their performances with one another to spark some friendly (or fiery) competition.
Deliver training programs to individual clients, or group them into Teams, helping you streamline feedback and communication.

Cost: Monthly pricing plans start at $9.99 and go up to $159.99.
---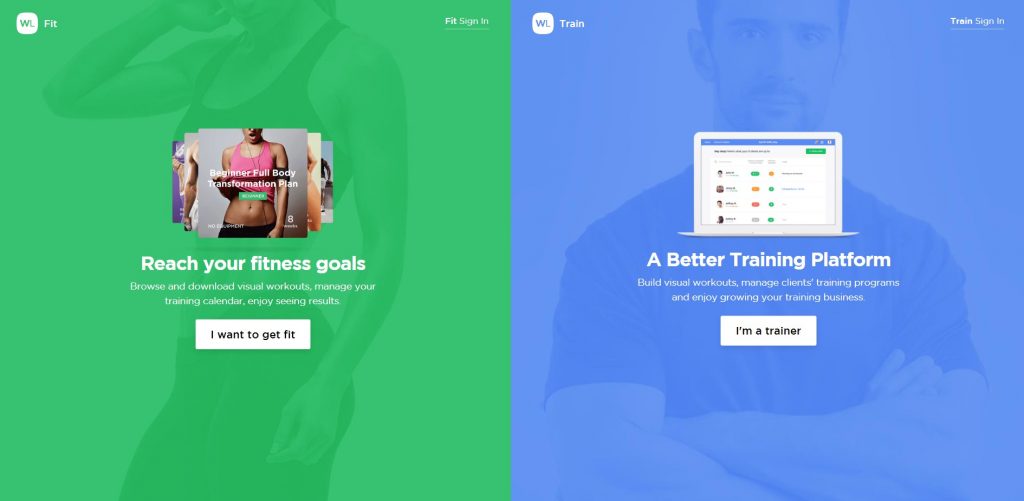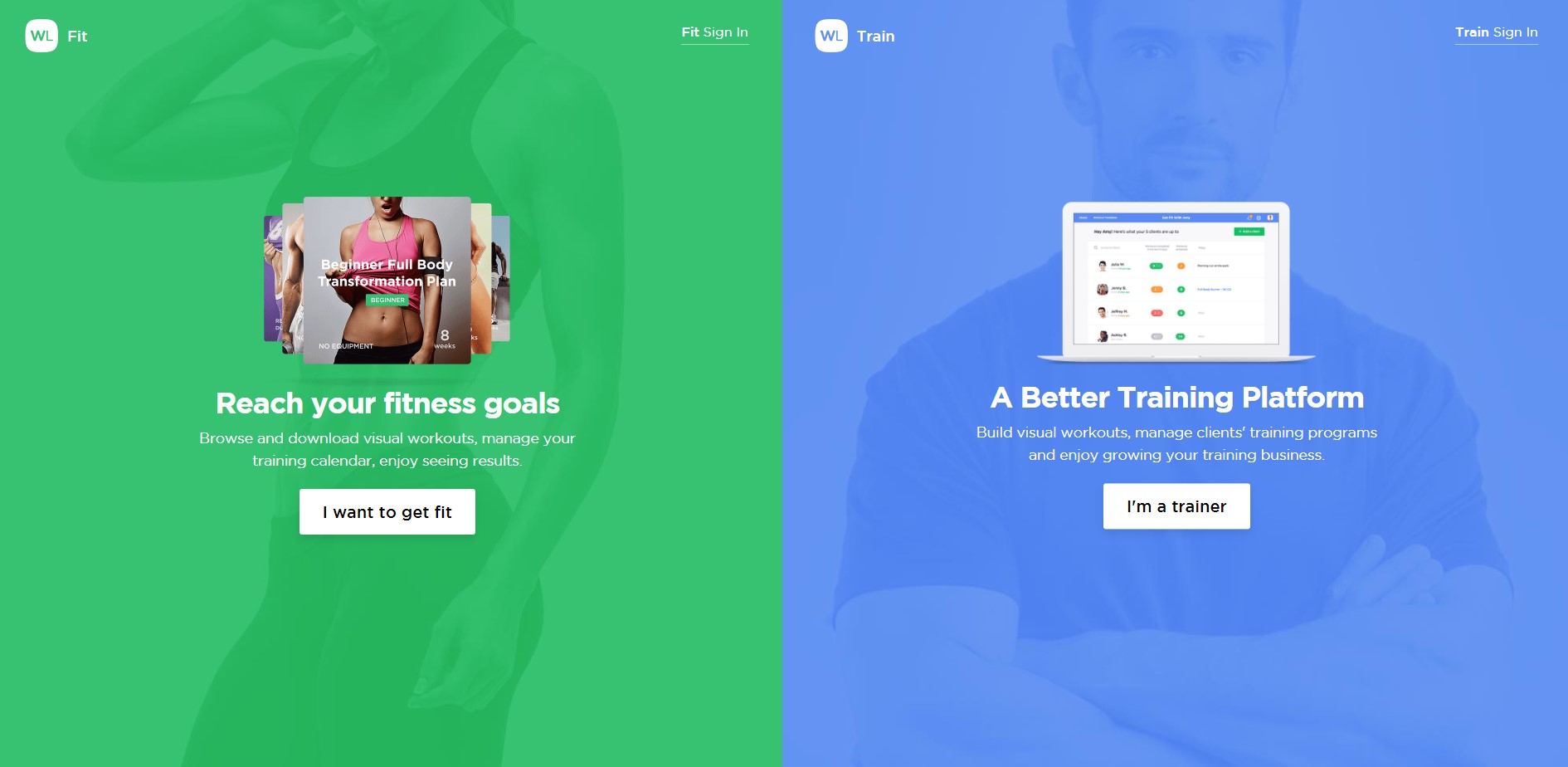 Workout Labs has a much nicer interface than others on this list and offers a way for trainers in a variety of disciplines, from yoga to exercising. This platform has a workout builder template to allow for fitness and training plans with illustrated workouts. The drag-and-drop elements in Workout Labs make this an easy option for trainers to build their workouts. In addition, Workout Labs has customizable options for your own branding.
Cost: $29 a month for up to three clients; every additional client costs $5 per month. Workout Labs also offers unlimited clients for $295 a year.
---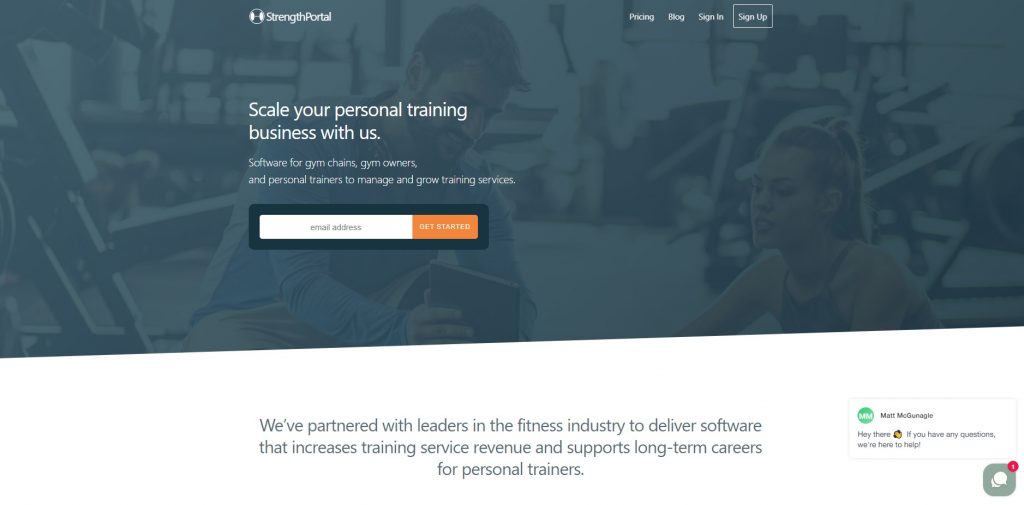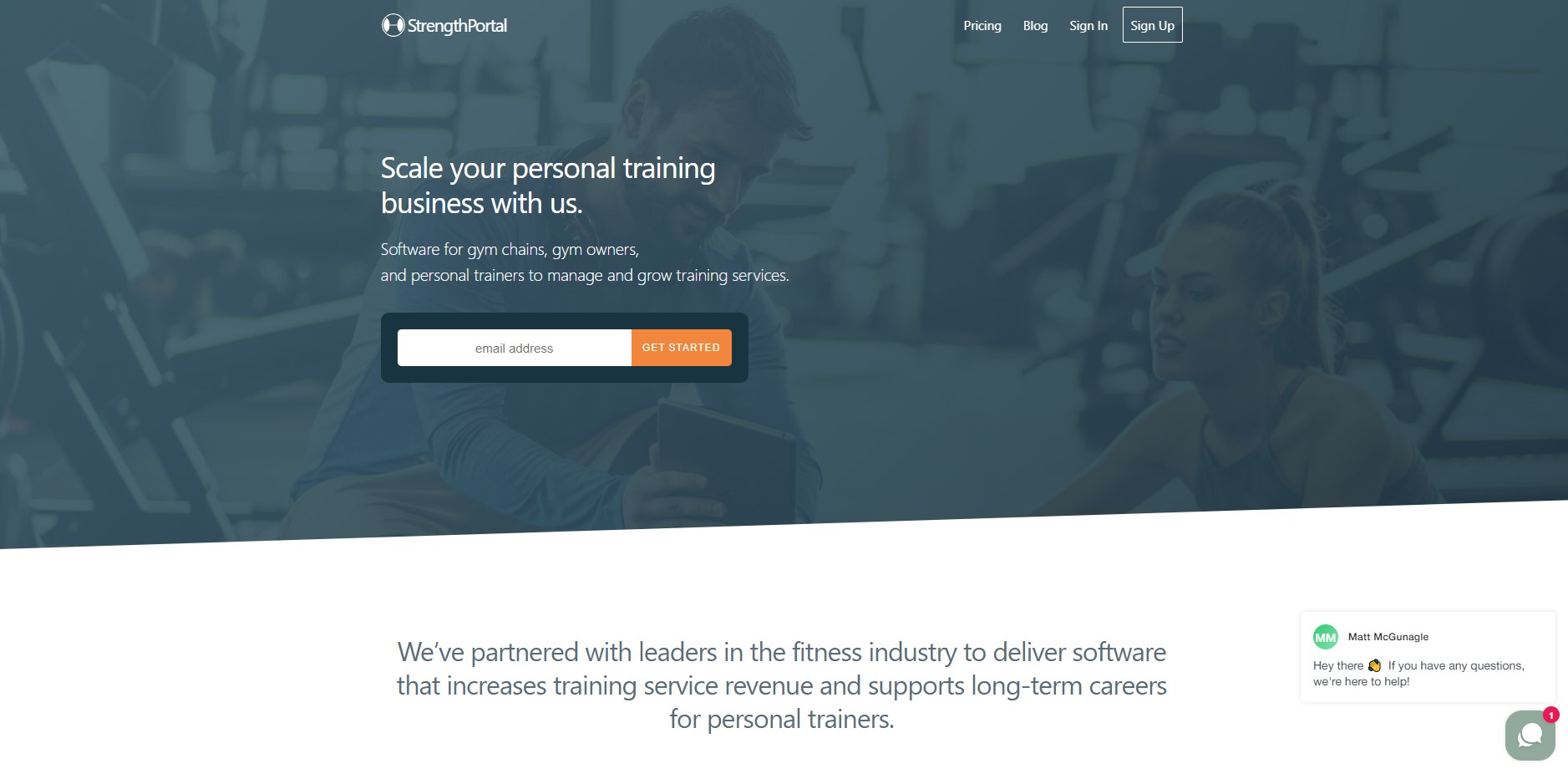 Strength Portal is a much larger platform for personal trainers working with a big range of clients or gym owners. This platform has a minimalistic vibe and has hybrid options to let you manage both in-person clients as well as remote clients all at once. Like other options on this list, Strength Portal has a big library with exercise videos as well as the ability to import your own custom videos. Clients will find it easy to fill out their side of the workout, and communication with clients is simple and straightforward. Unlike other options on this list, paying members have access to all services on the portal, and added features do not cost more.
Cost: Prices range from $25 to $250 per month. Paying annually will save you 10 percent.
---

Exercise.com is a great platform for personal training professionals who focus on an affiliate-based business model. On the platform, clients will be able to track their workouts and log their workouts as well as pick from options for alternative workout movements. The platform is set up a bit differently than other apps in that trainers have the option to offer set workouts for sale and more. However, you can set up automated memberships. You can set up subscriptions for your clients as well as coupons for products. The focus tends not to be on habit training as much as other platforms. Trainers can import their own videos from YouTube or Vimeo.
Cost: Pricing is not public. Set up a demo for a free trial to learn more about pricing.
---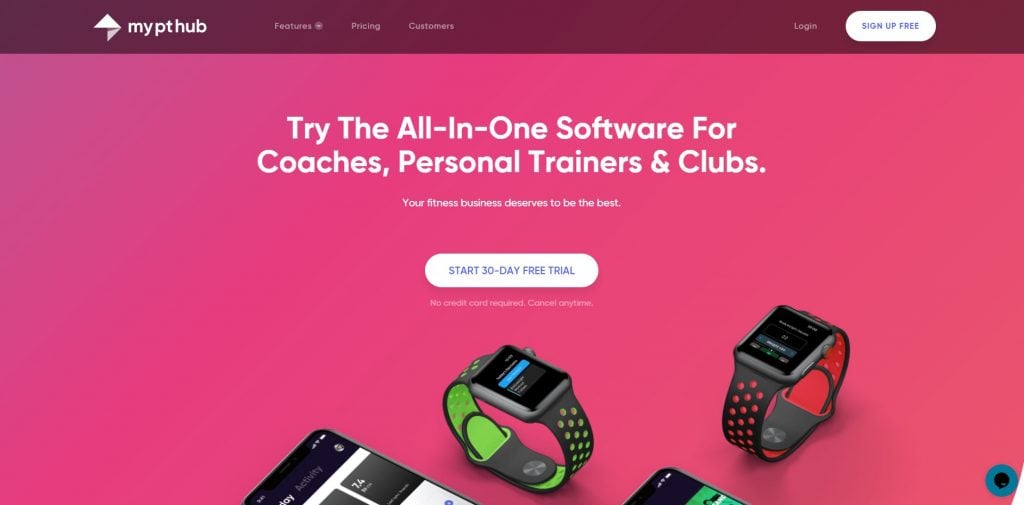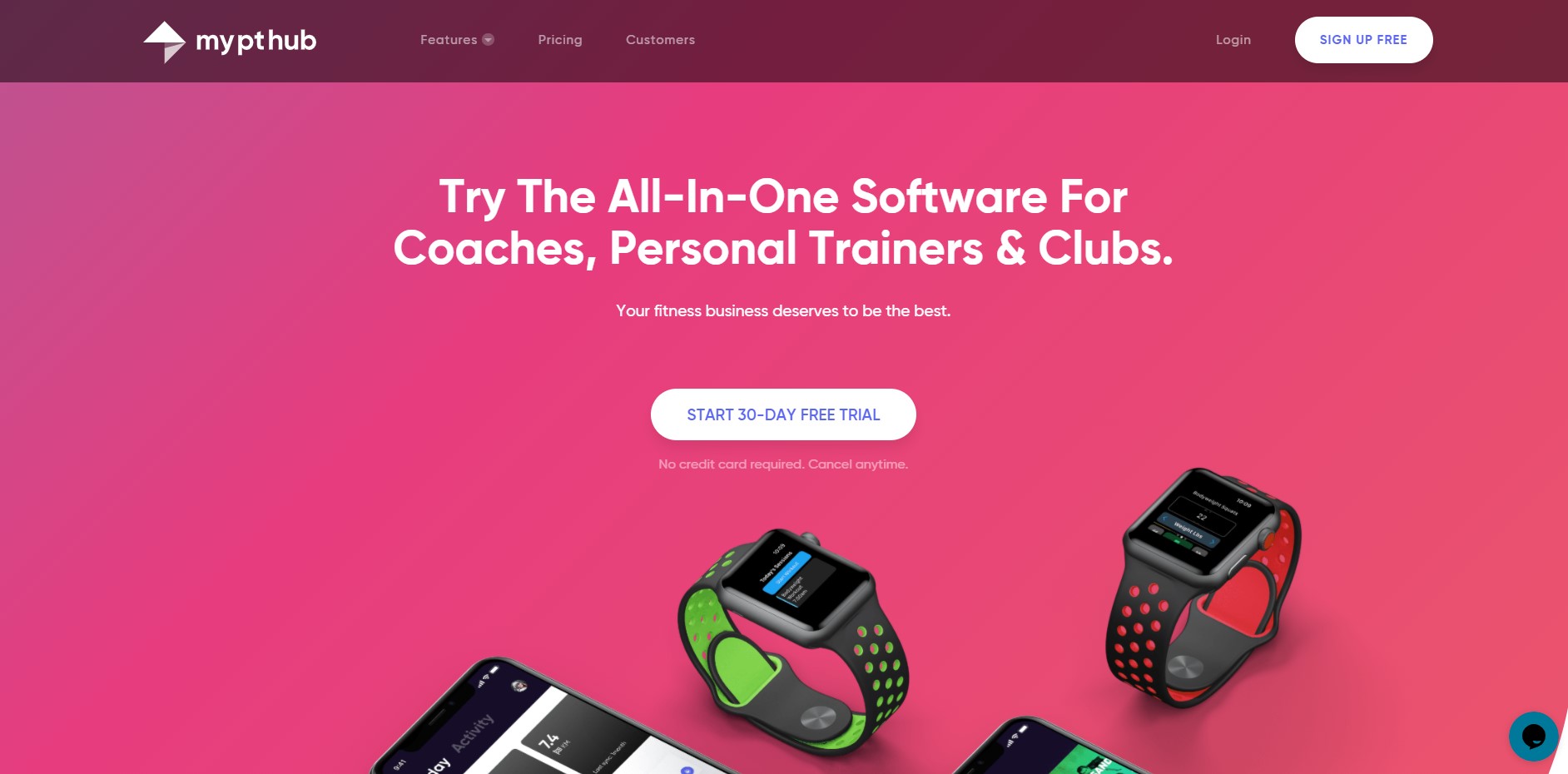 My PT Hub is an online platform with an expansive database of content that offers an easy-to-use and simple dashboard. The platform will allow your clients to work on their nutrition in addition to custom workouts, particularly when it comes to tracking and calculating macros. My PT Hub even generates a shopping list for clients, too. Gym owners can track attendance on workouts, as well. The app has a big variety of features and works best for owners of gym facilities.
Cost: The cost ranges from $42 to $49 a month.
---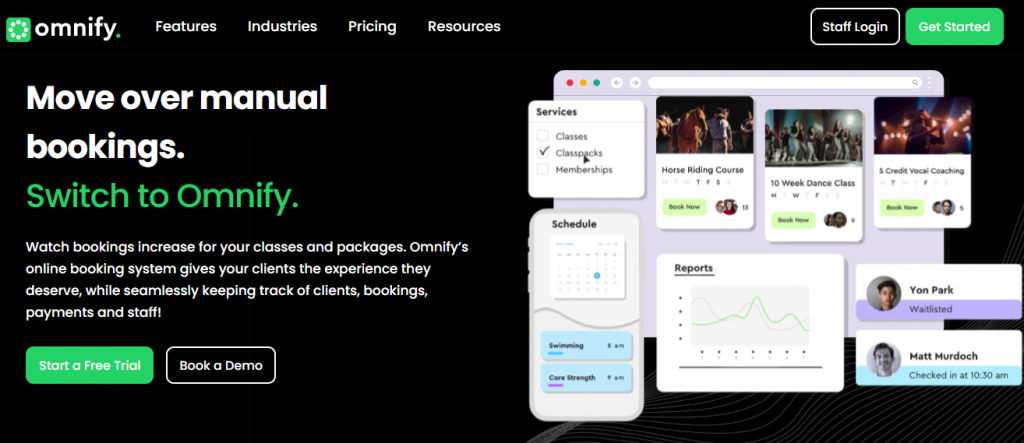 Omnify offers a place for fitness professionals to sell and schedule services, as well as communicating with clients. Instead of working with one-on-one workouts, this service focuses instead on selling specific programs or workouts. The platform has booking options, family sharing options, check-in portals, advance reportings, and more. In addition, there are ways to communicate with your clients and book appointments for in-person visits to track attendance.
Cost: Prices are not public. Start a free trial or schedule a demo to learn about pricing.
---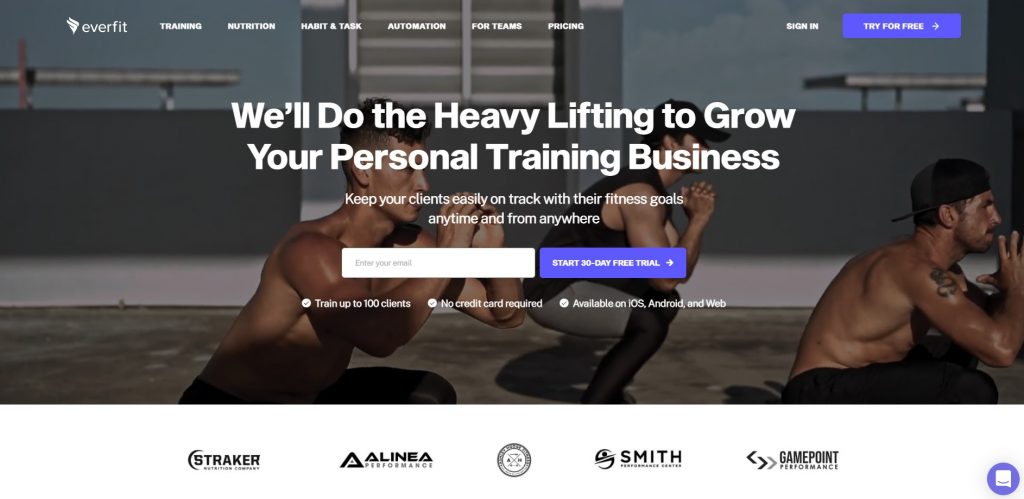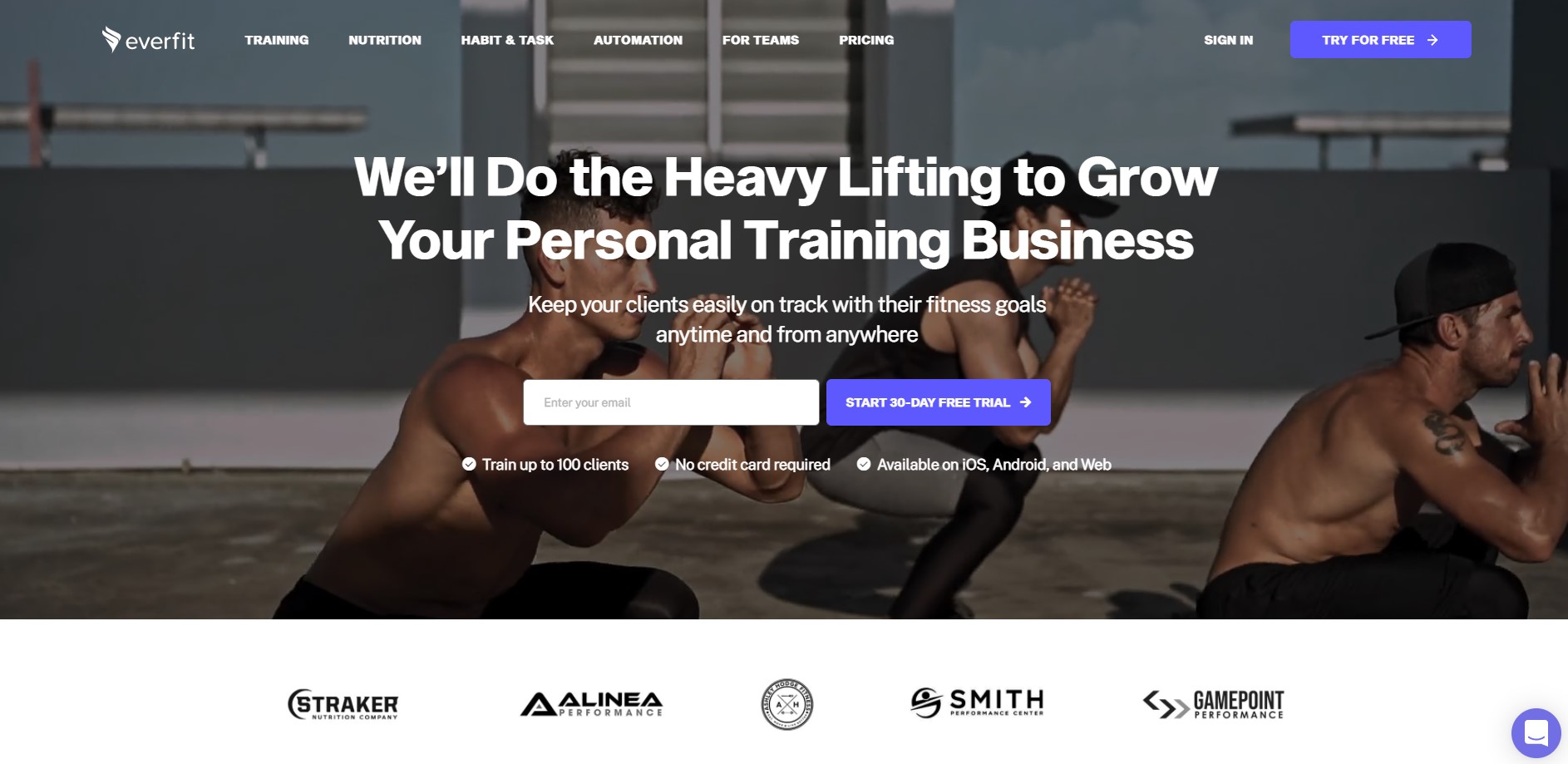 Everfit is an up-and-coming platform for personal trainers and gym owners to help them better connect with their clients, boost revenue, and retain their members. They offer a mobile platform and a web platform where personal trainers can build programs and deliver them to the clients, as well as follow through on the programs - both in-person and online. EverFit also has nutrition tracking and automated features.
Cost: Contact EverFit for the price. The first five clients are free.
---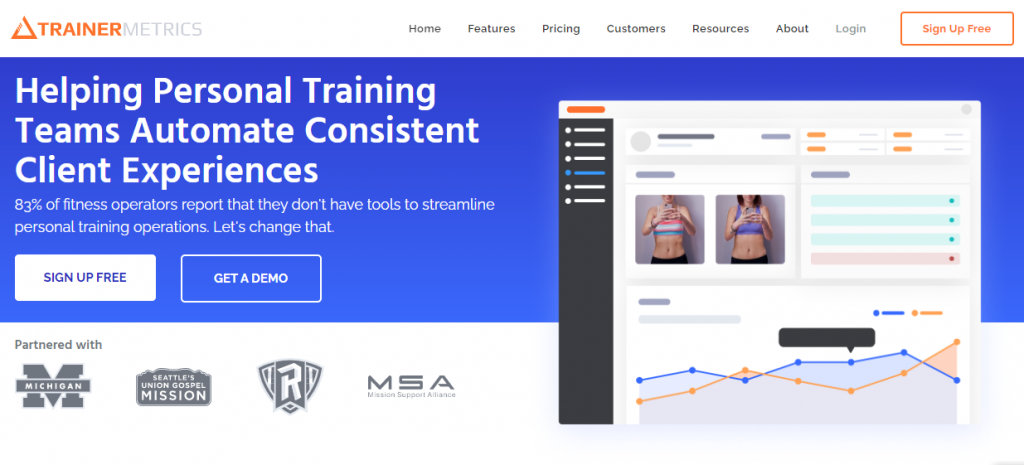 TrainerMetrics provides a comprehensive way for personal trainers to set goals and track progress for their clients. The app provides fitness testing, goal setting, and progress reporting tools for clients and personal trainers alike. In addition, personal trainers and clients will get specific, measurable goals to drive their progress.
Cost: The first three clients are free with limited features and costs go up to $49 a month, with an option for custom client pricing.
---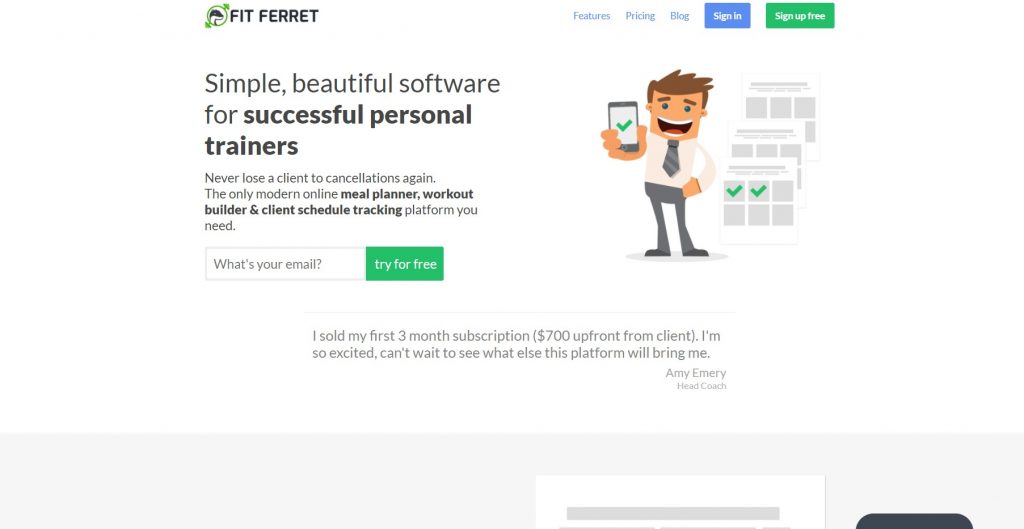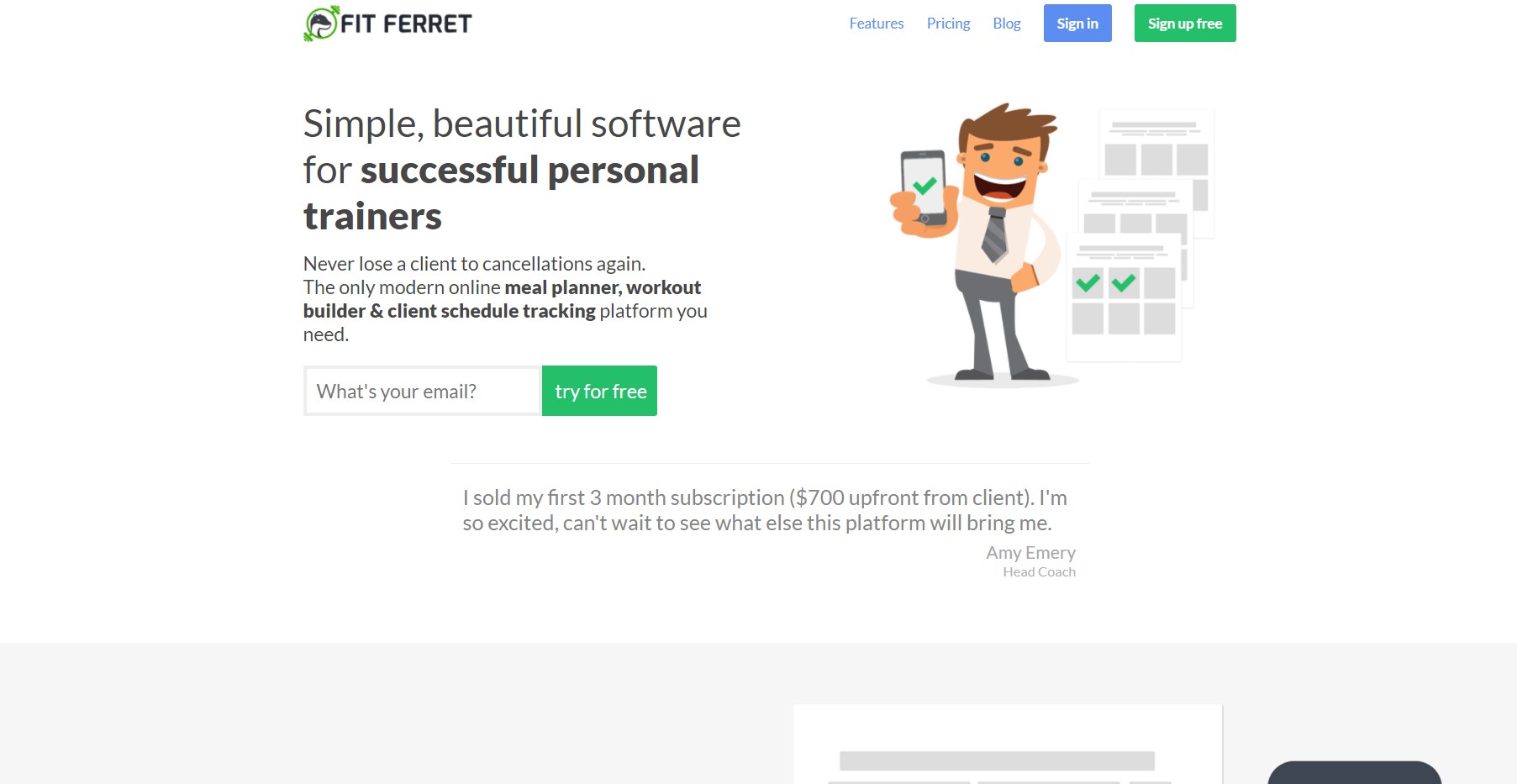 This online personal trainer software allows trainers to work with their clients in-person or remotely. The platform lets trainers create a virtual gym for their clients complete with workouts, progress reporting, meal plans, appointments, and more. In addition, you can message your clients securely and report progress as well as setting new goals.
Cost: Train two clients for free; 50 clients for $19 a month.
---
Picking the Best Personal Training Software
Now that you have read through all the options, it's important to pick the best personal training software for you and your clients. This means choosing an option with all the features you need right now to get the best results for your clients - and any features you may need in the future.
It's more than finding a way to take your business online. Picking the best software is about supplementing your existing systems and making your workouts and tasks better for you and your clients.
Frequently Asked Questions
What is the best program for personal training?
These are the best personal trainer certification programs for 2022:
PTDistinction

Total Coaching

Trainerize

True Coach

VirtuaGym

NudgeCoach

TrainHeroic

Workout Labs

Strength Portal

Exercise.com
What app do personal trainers use for clients?
These are the most popular apps that personal trainers use for their clients:
PTDistinction

Total Coaching

Trainerize

True Coach

VirtuaGym

NudgeCoach

TrainHeroic

Workout Labs

Strength Portal

Exercise.com
How do I make a personal trainer program?
To make a personal trainer program, start with a concrete plan. You need to listen to your clients' goals and needs. Determine your exercise metrics and align them with fitness goals. Your personal trainer program will be based on your assessment and program development.
How do I create a personal training website?
Follow these easy steps to help build a personal training website:
Build a website and register a domain

Implement SEO best practices

Create a content plan

Promote your website

Track your website metrics