Since the onset of the COVID-19 pandemic in early 2020, businesses have been scrambling to find innovative ways to keep their businesses moving and growing despite stay-at-home orders. And the fitness industry hasn't been immune. Let's be real, gyms are filled with heavy breathing and germs (especially when people fail to clean off the equipment when they're done with it... you know who you are). To keep your fitness business thriving, you've probably already made the leap into offering online classes. If you haven't, or if you're ready to grow and expand, this is the article for you! We're going to share 10 virtual fitness software, tools, and platforms that will help you start or grow your fitness business online.
---
10 Virtual Fitness Software, Tools, and Platforms to Explore Your Fitness Business:
---
Why Go Virtual?
There's nothing quite like a global pandemic to change the way our world works. Gyms all over the world were forced to close down their in-person operations and figure out how to keep their business solvent when they couldn't bring in clients.
But it hasn't stopped people from working out.
More and more people have moved their fitness practices into their homes. And with this newfound freedom from commuting to and from a gym or having to deal with dirty equipment and packed classes, it's a pretty good bet that people are going to want to continue their at-home fitness plans even if they're able to head back to the gym.
What does that mean for your fitness business? If you're not online, it's bad news. Taking your fitness classes online will give you a scalable and sustainable way to continue growing your fitness business, even if you decide not to head back to the gym or studio.
---
10 Virtual Fitness Software, Tools, and Platforms to Broadcast Fitness Online
It's easier than ever before to offer online fitness classes. And no matter which virtual class format you use, from one-on-one personal training to group dance classes, there's a virtual fitness platform that will make running your online fitness business a breeze.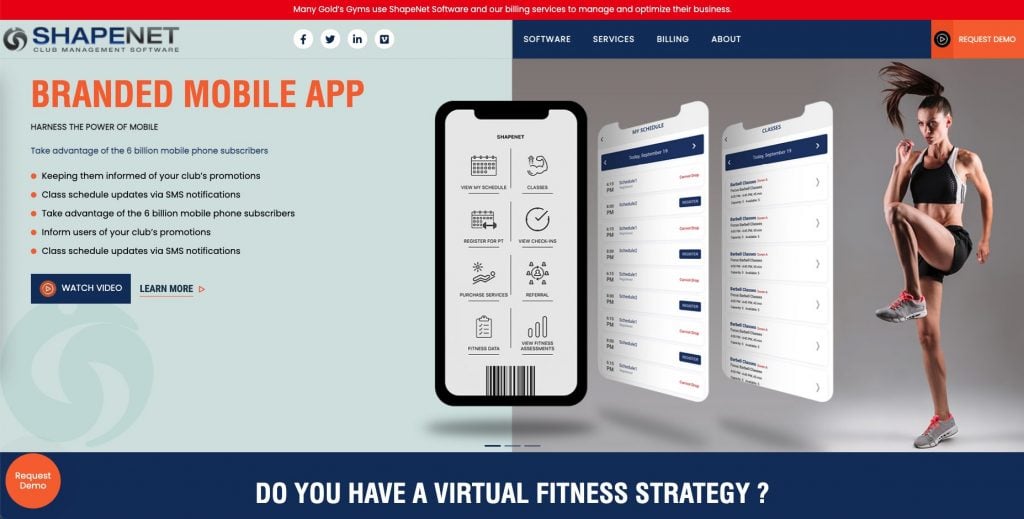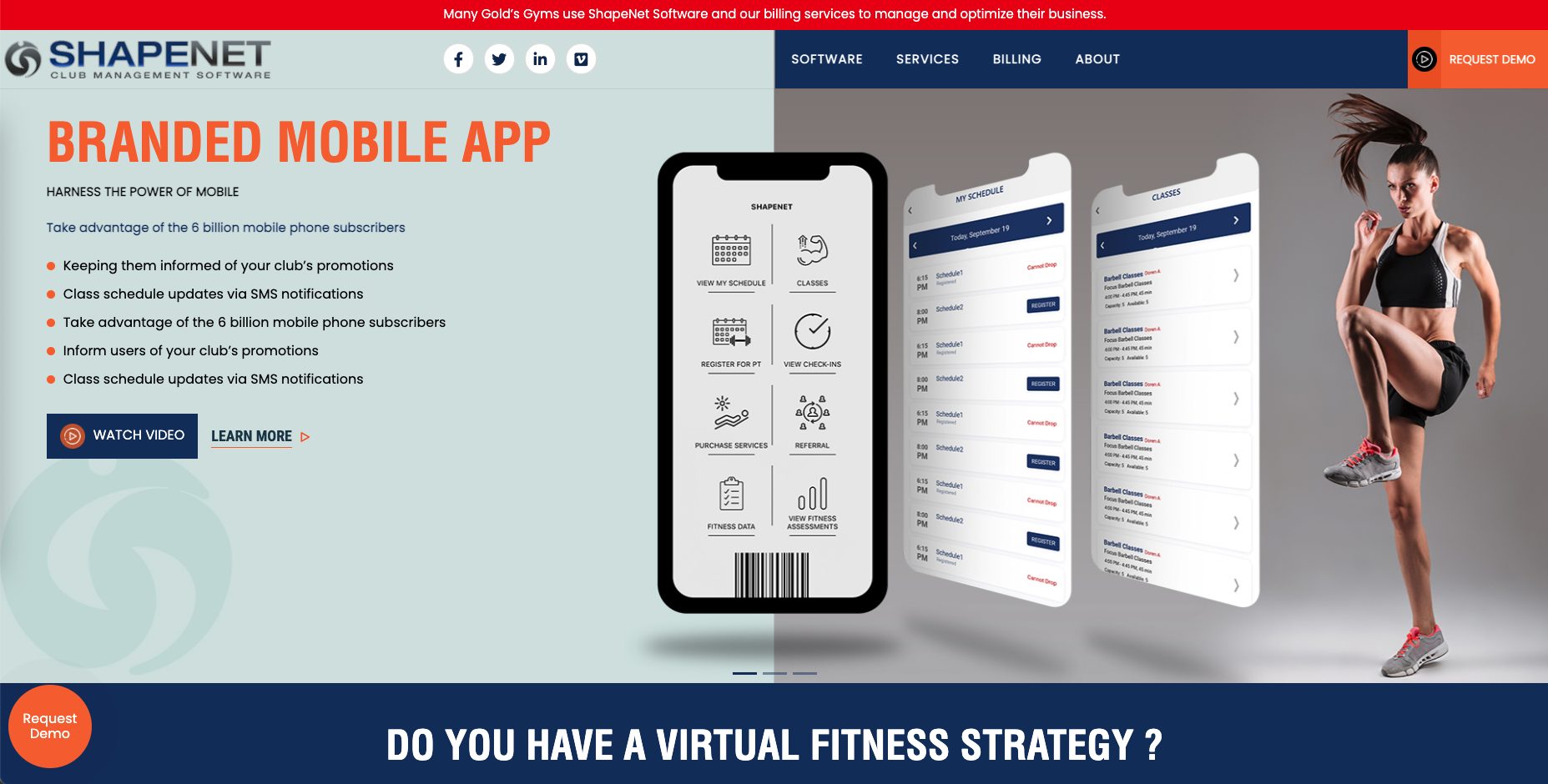 ShapeNet is an all-in-one cloud-based fitness club management software that allows for unlimited one-on-one coaching sessions and group webinars. The platform offers on-site training for your team, seminars, and is easy to use. This virtual fitness platform is geared towards users with yoga studios, health and wellness facilities, or who own a franchise gym. It provides branding and advertising space via the member portal homepage, integration to Facebook, and an RSS feed as well as state-of-the-art security features.
Features
300+ videos in the video-on-demand library

Live remote training with secure access

Stream your classes anywhere

Create your own workout programs with the video program builder

Access to existing programs created by experts

Add your own video content

Sell directly from your own website

Videos can be viewed on a computer, tablet, or mobile app
Pricing
By quote.
---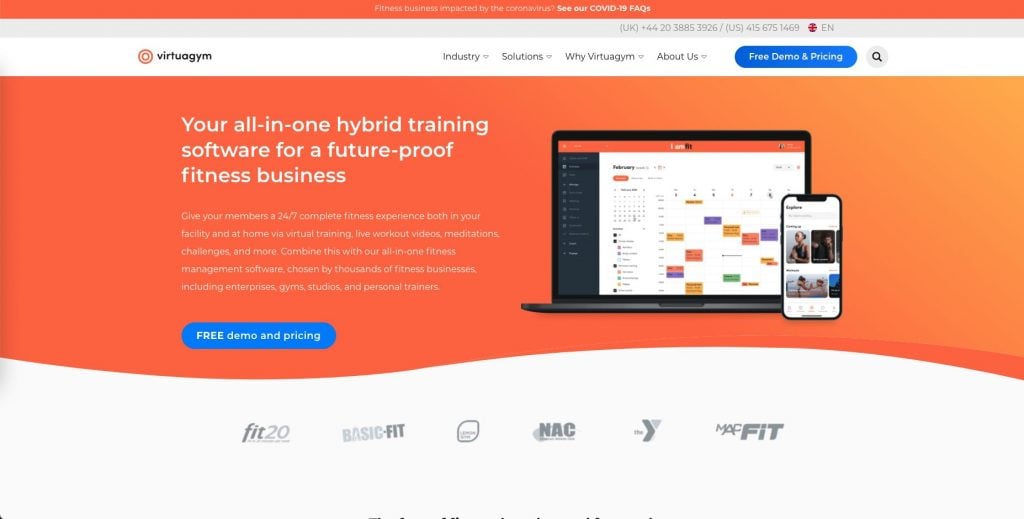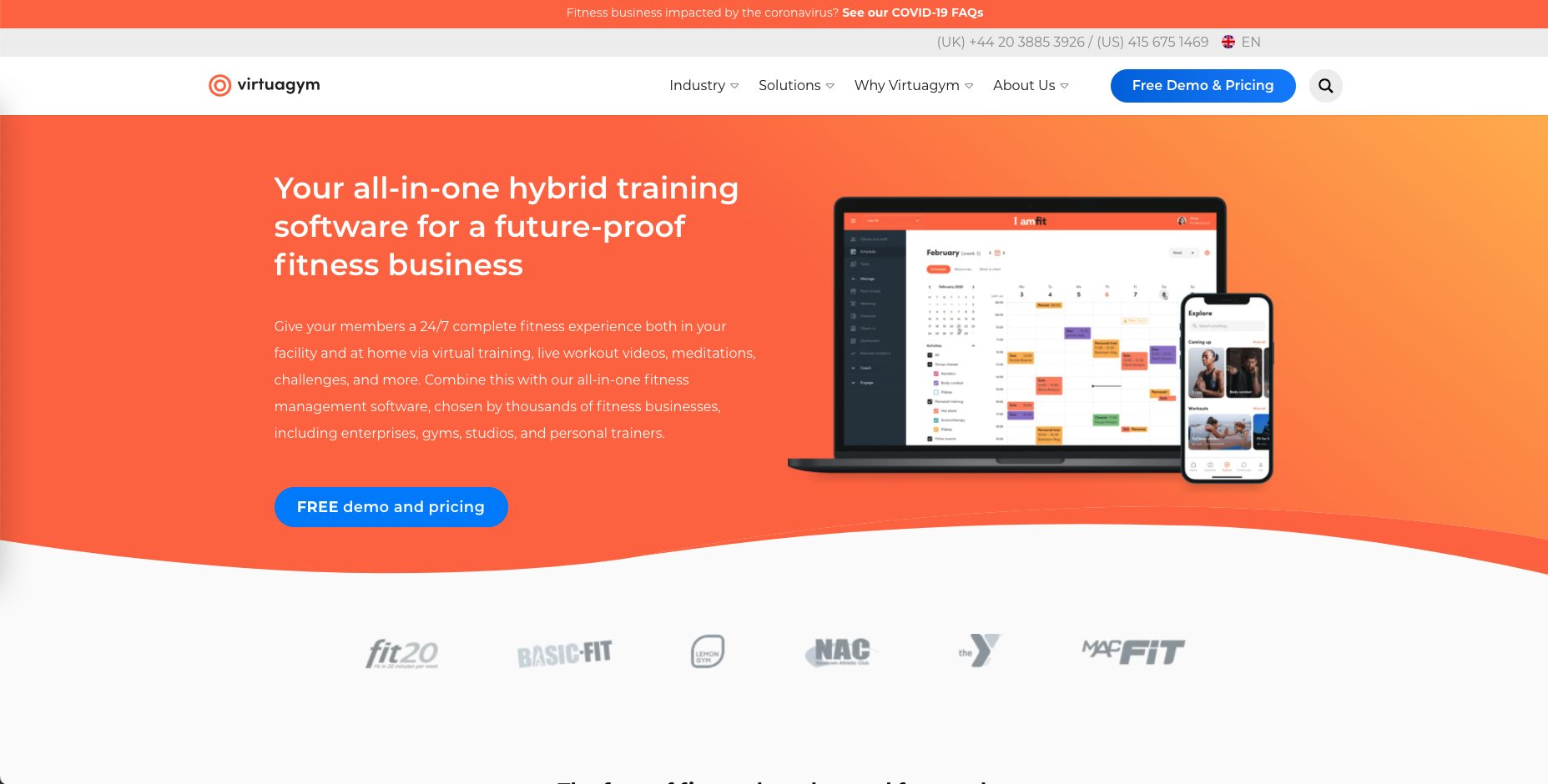 With Virtuagym, you can provide members 24/7 access both on-site and at home through live workout videos, virtual training, meditations, challenges, and more. The platform allows for automated billing, member and staff management, a customized app, simple scheduling, easy booking, and more.
Features
Automate billing

Manage memberships and staff

Customized app with your own brand elements

Simplify scheduling online and on-site, and enable easy booking

3 mobile apps that allow you to handle all aspects of personal training

Exercise and nutrition guidance, progress tracking, and other coaching tools

Keep clients motivated with challenges, rewards, and an online community
Pricing
By quote.
---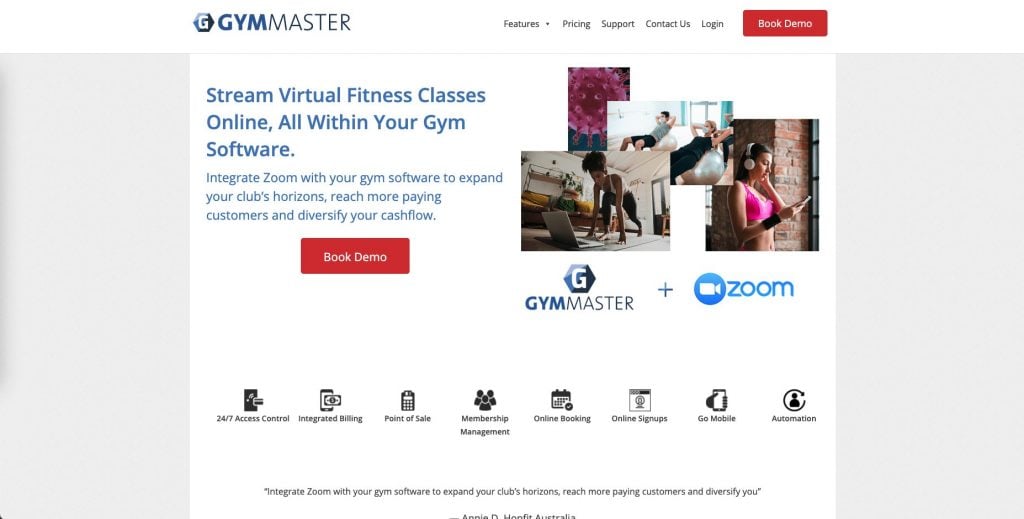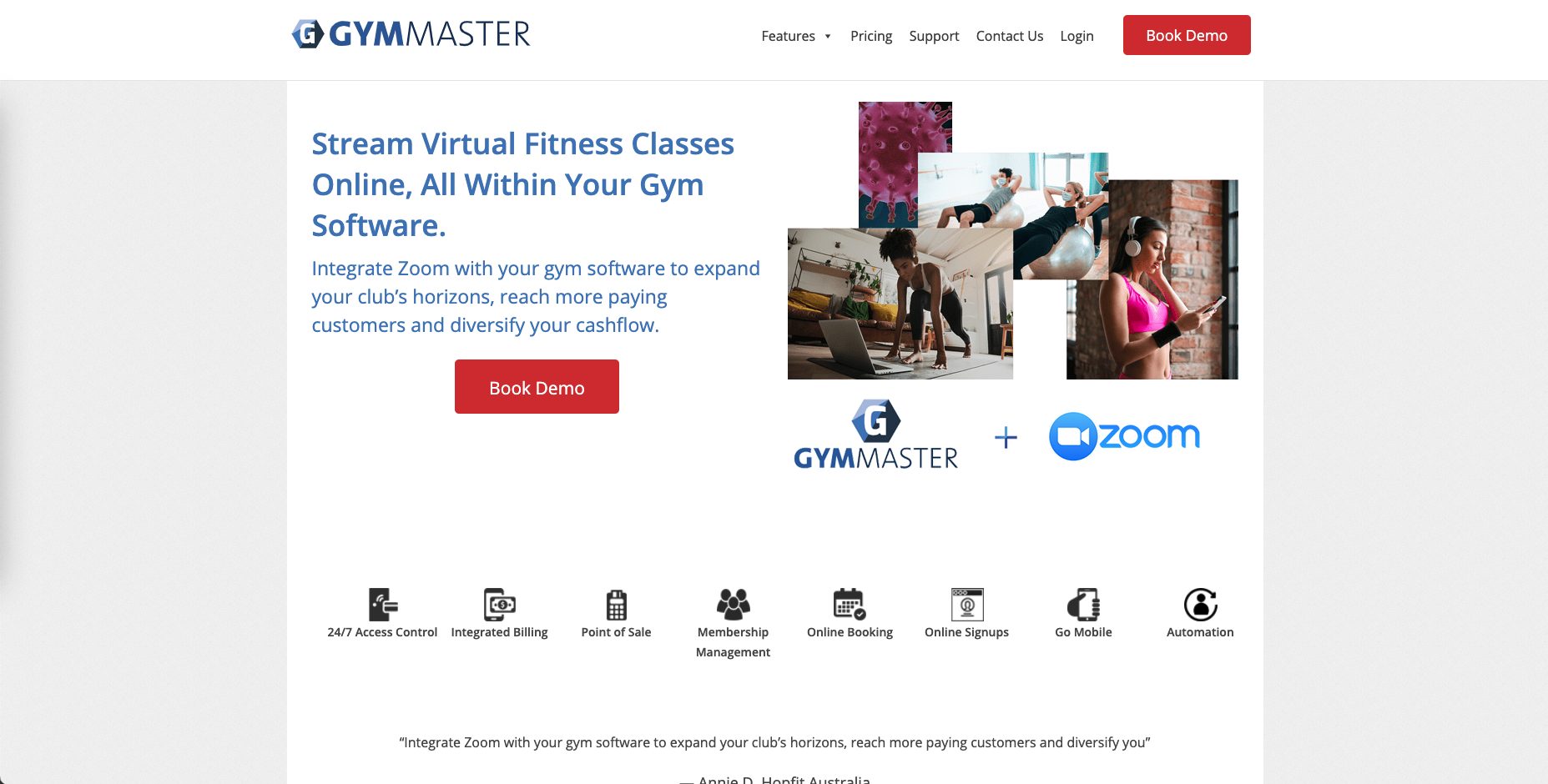 GymMaster helps you reduce risk to your business by offering members the chance to work out online at home. It integrates easily with Zoom and even has a trial option so you can let non-members see if they want to subscribe. With GymMaster, you can run dedicated online classes or live streams with just a click. Members can join a class from your timetable and the app sends out booking reminds and emails.
Features
Integrates with Zoom

Configurable attendee permissions

Run dedicated online classes

Live stream with a single click
Pricing
GymMaster offers four plans:
Studio:

$62.10/month when billed annually; $85/month when billed monthly.

Standard:

$89.10/month when billed annually; $99/month when billed monthly.

Professional:

$170.10/month when billed annually; $189/month when billed monthly.

Enterprise:

By quote.
---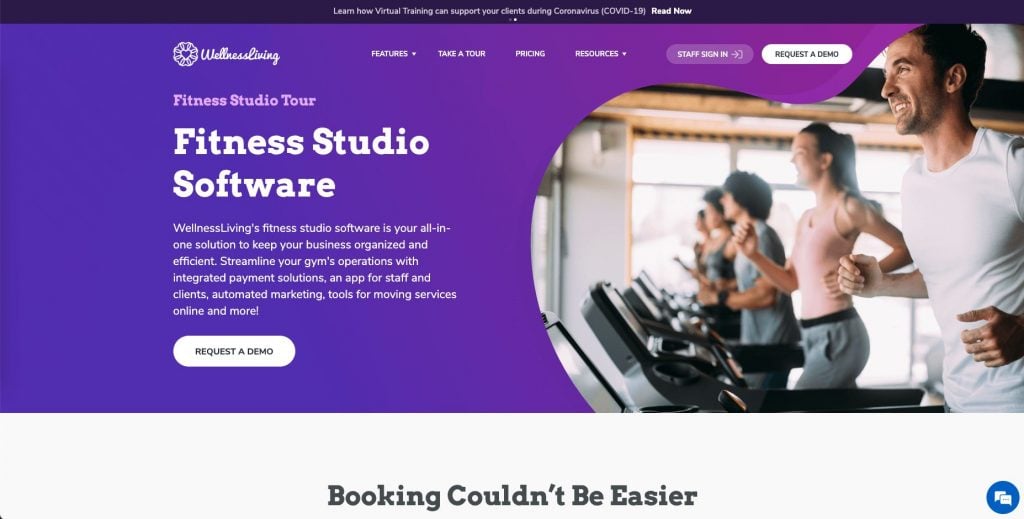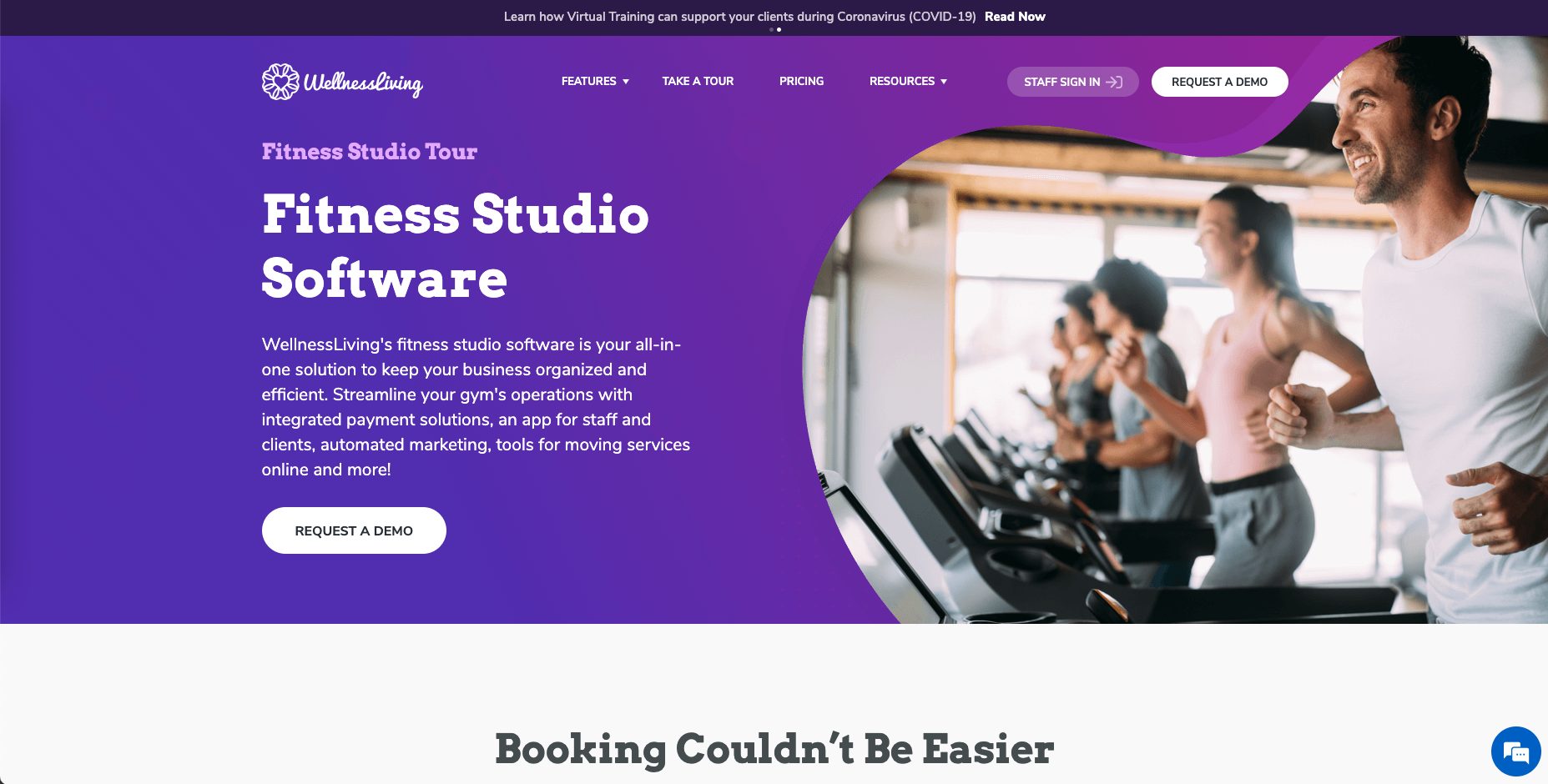 WellnessLiving is another all-in-one solution that helps streamline your operations through integrate payment gateways, staff and client apps, automation marketing, and more. The multi-channel booking options make it easy to increase attendance, reach more clients, get your classes filled, and deliver excellent customer service. WellnessLiving also has a partnership with Google so you can use the Reserve with Google feature, allowing people to find and book classes through searches and map results. With WellnessLiving, you'll be able to provide live classes, consultations, and private instruction entirely online if you choose. You can even implement direct mail campaigns from the software to build relationships and keep your brand top of mind.
Features
Easy multi-channel booking options

Reserve with Google integration

Customizable widgets for your website or Facebook page

Integrates with Zoom

Customized video-on-demand channel

Dynamic

marketing tools

Built-in SEO
Pricing
WellnessLiving offers four plans:
Basic:

$59/month.

Advanced:

$99/month.

Professional:

$129/month.

Enterprise:

By quote.
---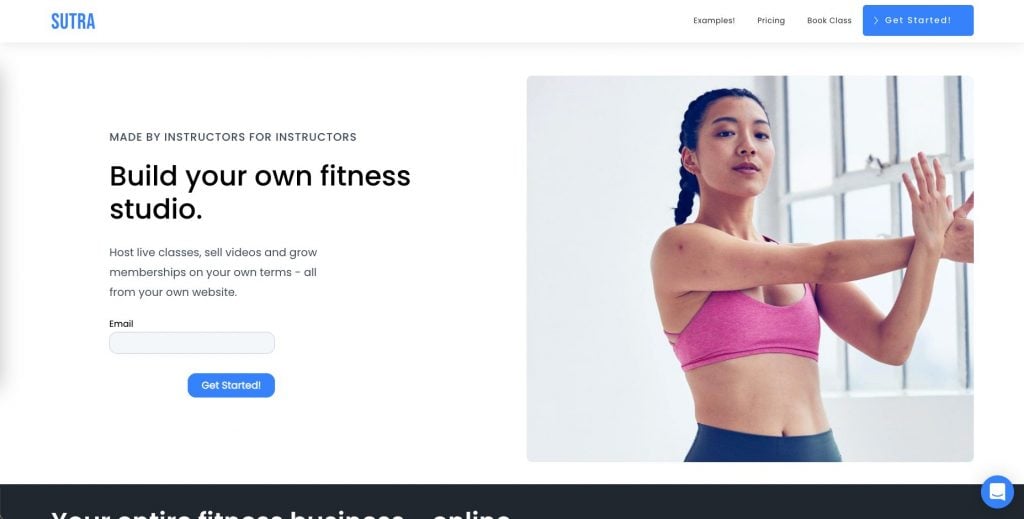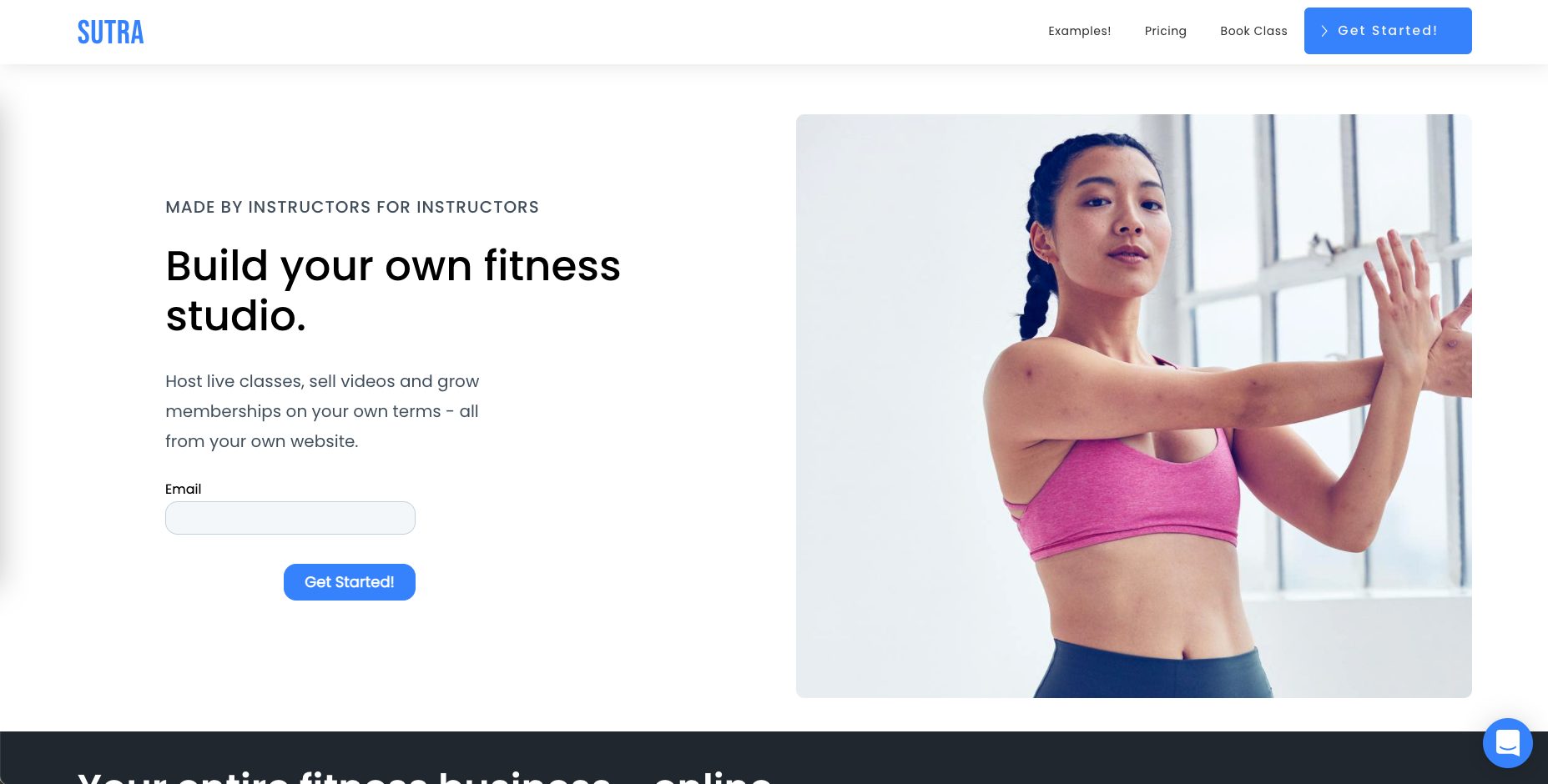 Sutra lets you build your own fitness studio online through video sales, live classes, workshops, courses, and other programming. Sutra will help you build a custom website or integrate the software into your existing website and create a branded experience including pricing options, colors, email confirmations, and more. With Sutra, you can host free, paid, and donation-based classes, let customers purchase or subscriber to your on-demand video library, offer live stream or in-person classes, private classes, workshops, and retreats, and a whole lot more.
Features
Host free, paid, and donation-based classes individually or as a part of a program

Let customers purchase or subscribe to your on-demand library

Earn one-time and recurring payments

Livestream or in-person classes, privates, workshops, and retreats

Set up subscriptions, one time purchases, rentals, or bundles

Unlimited storage
Pricing
Sutra offers three plans:
Starter:

$0/month and 8% booking fee.

Sutra Pro:

$25/month and 3% booking fee.

Sutra Premier:

$50/month and 3% booking fee.
---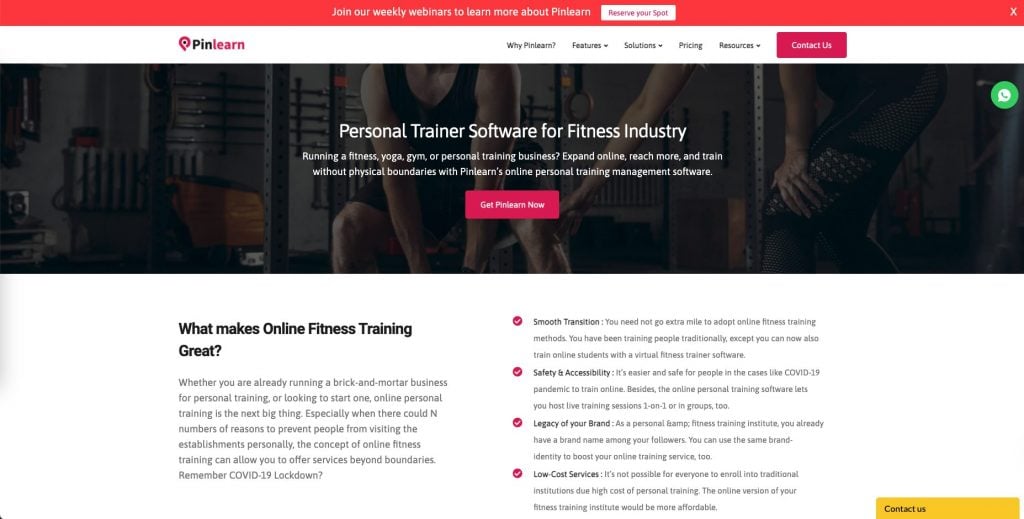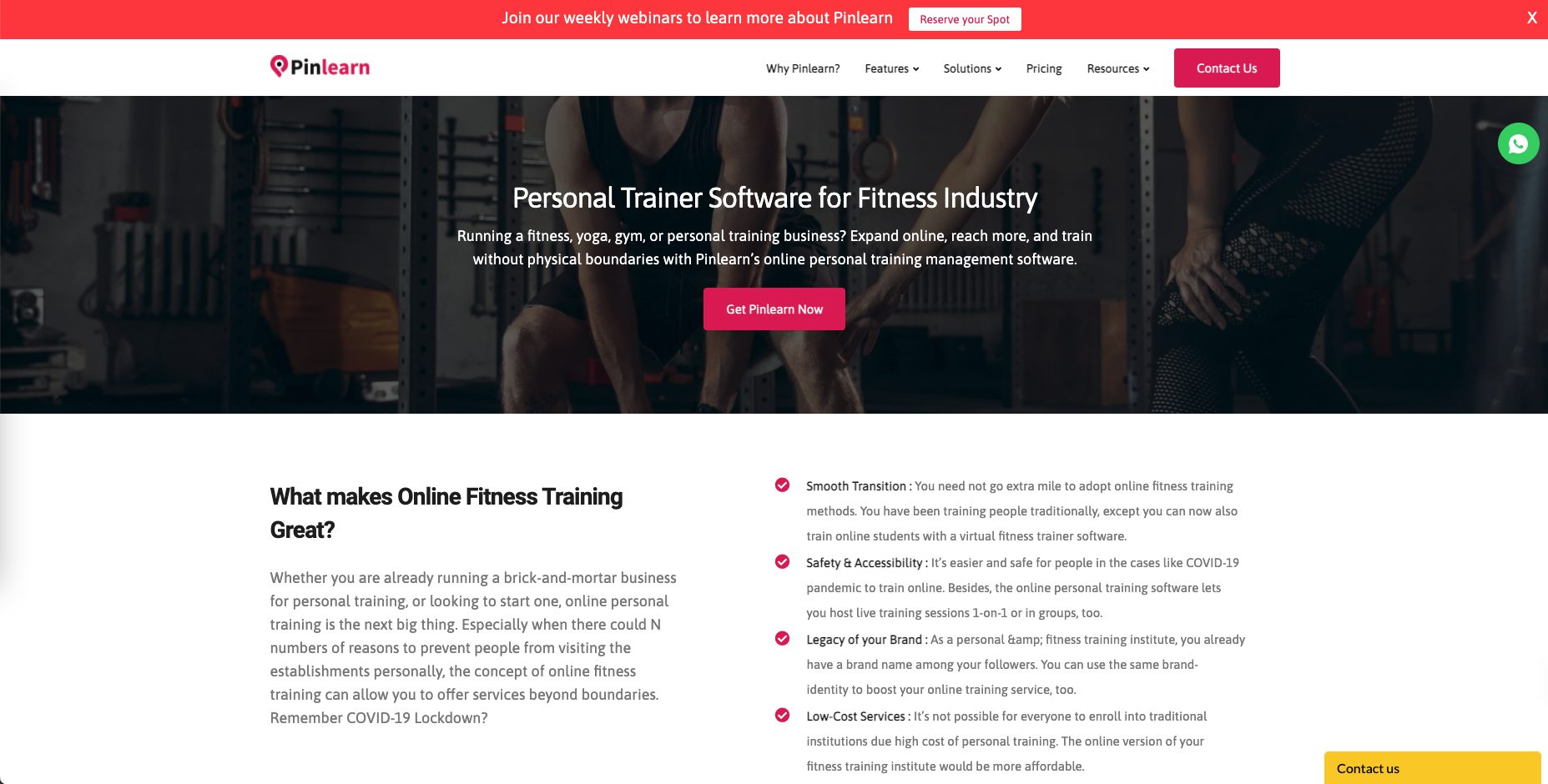 Pinlearn is a great virtual fitness tool for your fitness, yoga, personal training, or gym business. It's an online personal training management software that lets fitness instructors host live one-on-one personal training sessions, pre-record sessions, group classes, and more. You can set up an individual training platform or add multiple trainer profiles that you can earn commissions on. The platform is easy to set up and use and gives you the freedom to customize everything to match your branding. Pinlearn even includes SEO tools like SEO-friendly URLs, social sharing buttons, Google Analytics integration, customizable page titles and meta descriptions, and more.
Features
Live personal or group training

Recorded sessions

Multiple trainers

Create, upload, and sell online courses

Multiple, cutting-edge monetization channels
Pricing
Pinlearn is a one-time purchase of either $399 or $999. The higher-priced plan gives you the additional functionality needed to sell courses and get course content protection.
---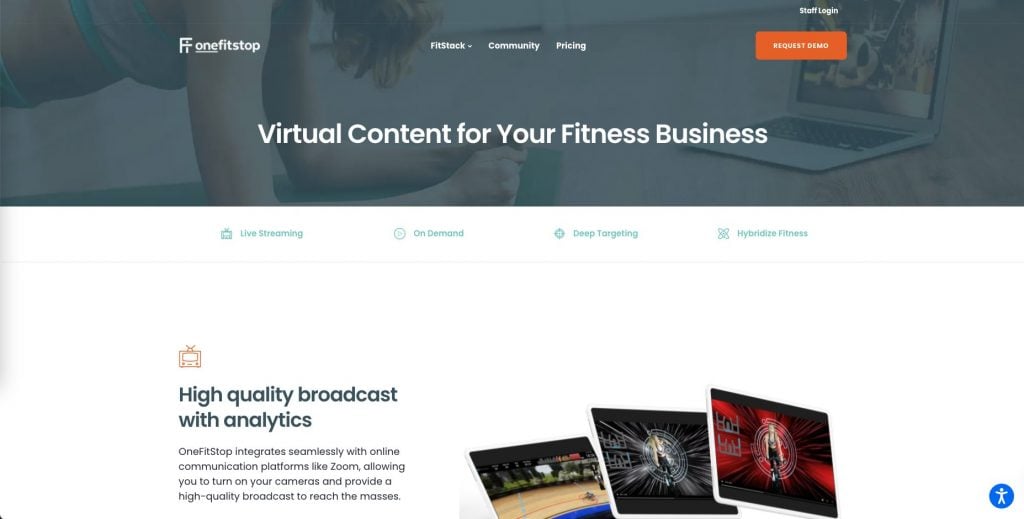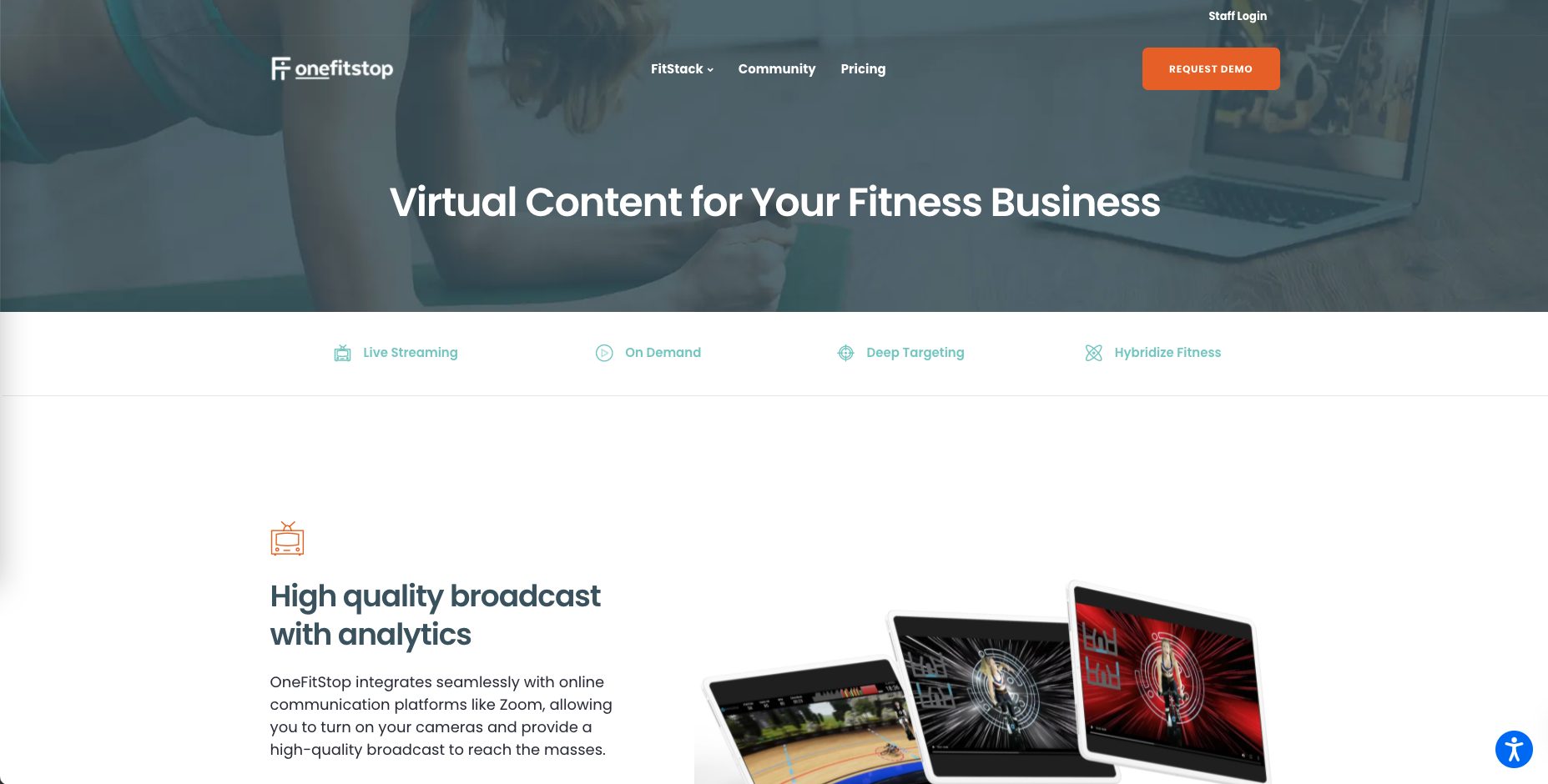 OneFitStop is a virtual fitness software that integrates with live streaming platforms like Zoom so you can provide high-quality broadcasts to your clients. The platform includes integrated scheduling for live classes, attendance tracking, automatic adjustments for timezones, an integrated app and web widgets, and more. You can categorize, sort, and tag your content to curate an on-demand video library, articles, and recipes as well as sort content and categories into playlists.
Features
Integrated scheduling for live classes

Attendance tracking

No manual link sharing

Automatic adjustment of timezones for viewers around the world

Sort content into categories and playlists

Cast all video content with both Airplay and Chromecast

Integrated app and web widgets for native playback



Pricing
OneFitStop requires a quote. Basically, you pick a "core" platform (Solo, Elite, or Enterprise) and then add the features you want (branded client app, CRM and marketing automation, digital content suite, and a corporate dashboard).
---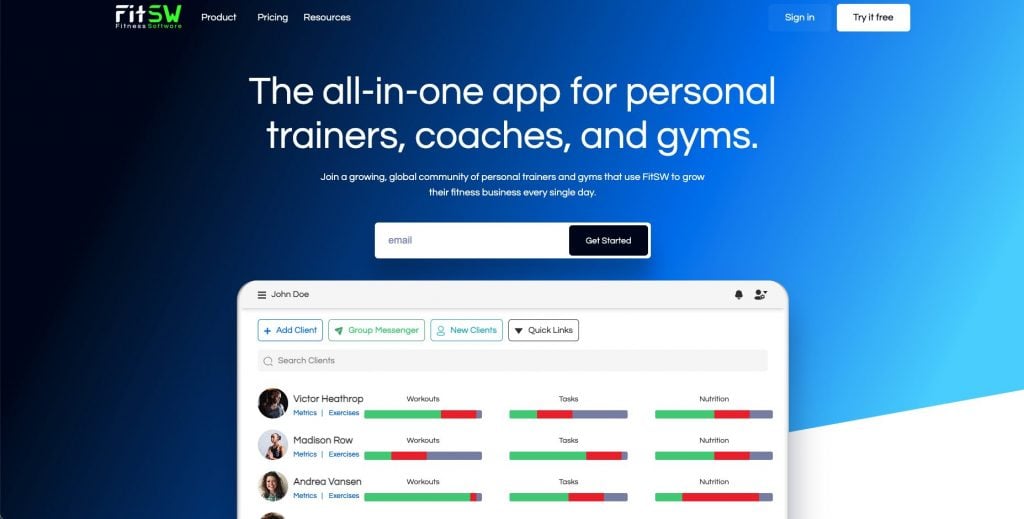 FitSW is a fully integrated app that brings together tools perfect for fitness, health, and wellness professionals. You can easily build out your fitness programs, assign programs to the appropriate clients, track client progress, and more. To save time, you can create recurring workout schedules, save workout templates, and copy and paste workouts. Additionally, every account comes with demo workouts and a default exercise list that you can use or replace with your own.
Features
Create fitness programs

Track client exercise progress

Compliance tracking

Personalized fitness blog

Custom tracking metrics
Pricing
FitSW offers three plans:
Free:

$0/month.

Premium for Trainers:

starts at $16.66/month for up to 15 clients when billed annually; starts at $19.99/month for up to 15 clients when billed monthly

Premium for Gyms:

starts at $49.99/month for up to 60 clients when billed annually; starts at $59.99/month for up to 60 clients when billed monthly
---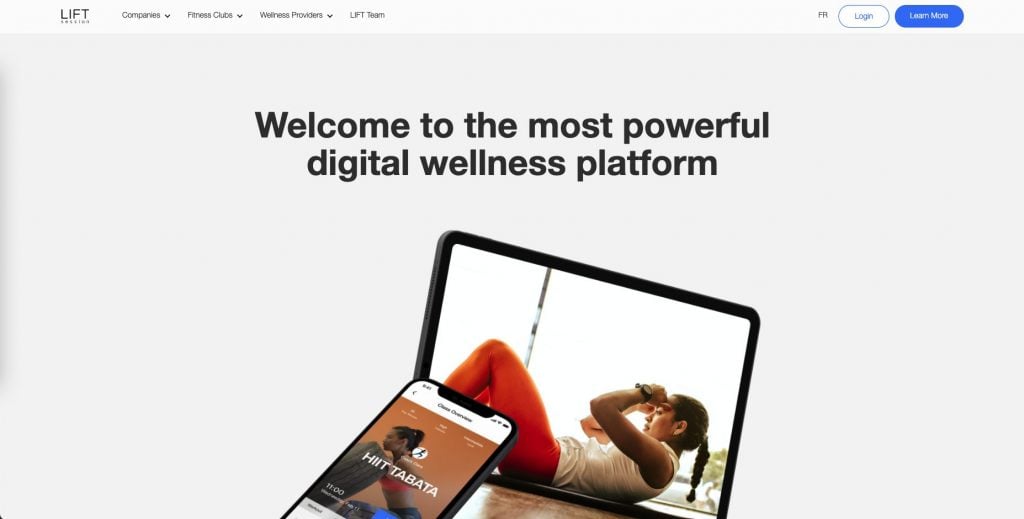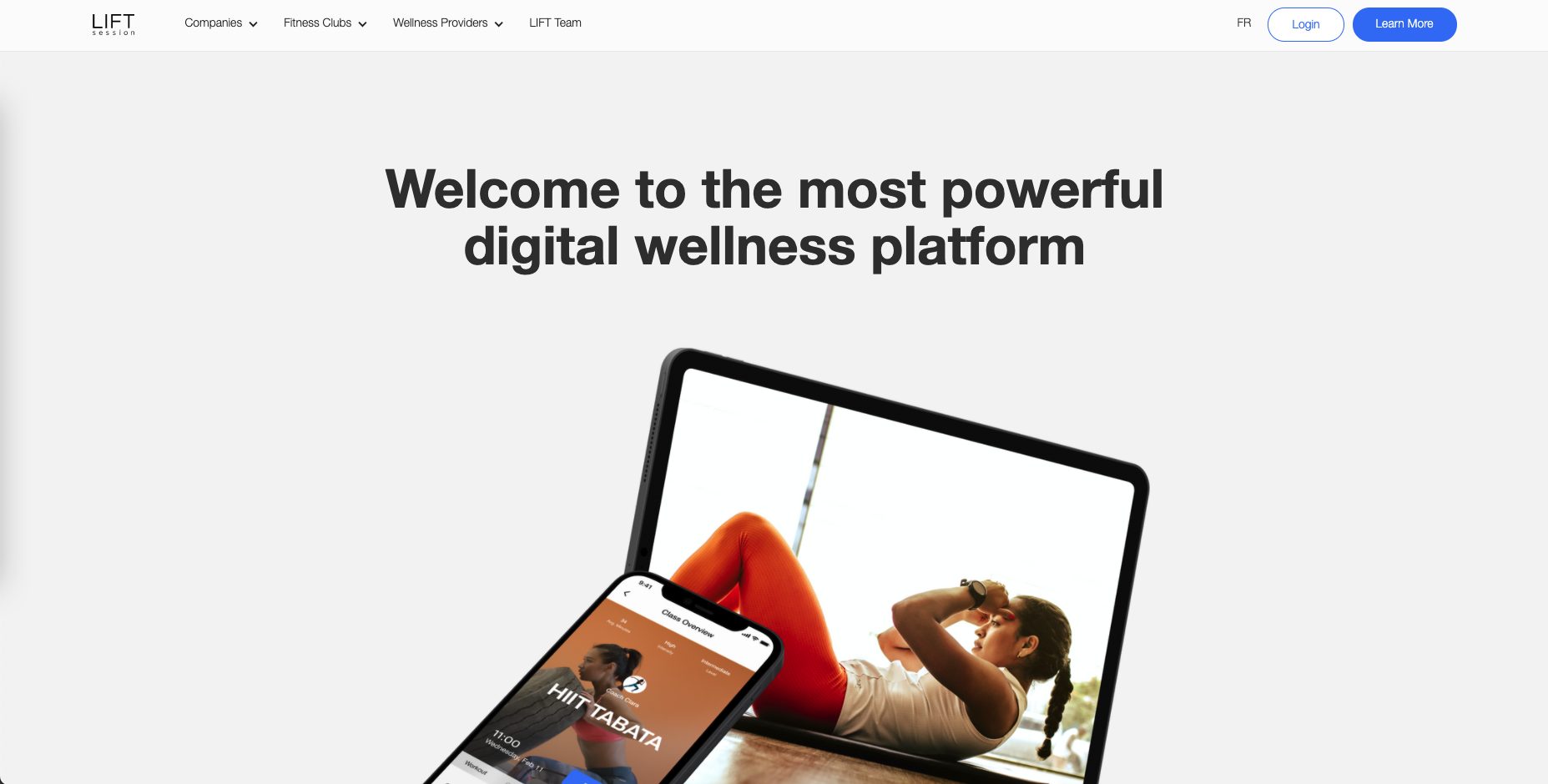 LIFT is a digital fitness and wellness platform for fitness clubs, wellness providers, and companies. The platform delivers on-demand and live workouts for all markets. The platform includes a broad selection of digital and virtual wellness services as well as allowing fitness professional to create their own live virtual group class schedules. You even have the option of using LIFT's instructors if you want. LIFT also lets you create a customized end-client onboarding with your own branding and messaging.
Features
Configurable challenges to build engagement, usage, and community

1-on-1 or small group coaching

Customized wellness journeys

Live virtual group class schedule using LIFT professionals or your own

Provide access to experienced wellness professionals
Pricing
By quote.
---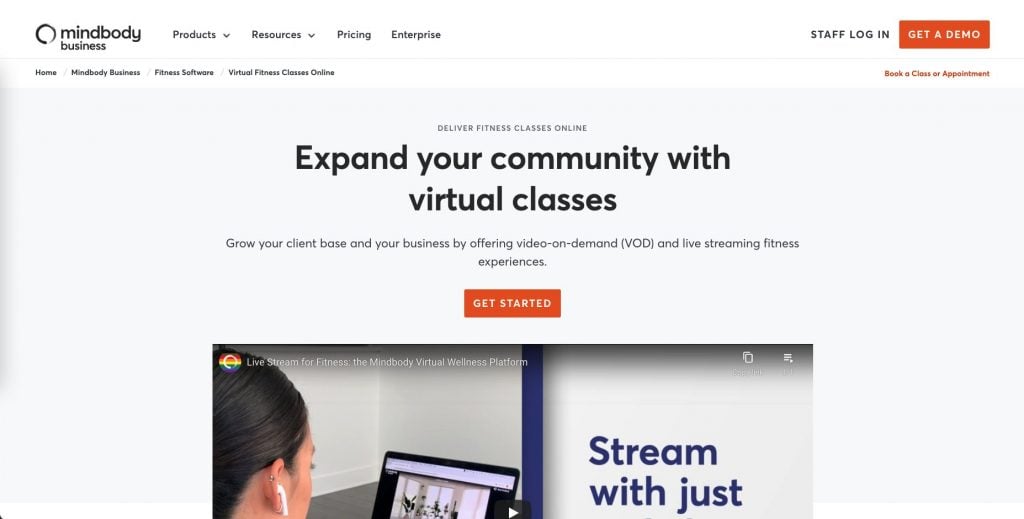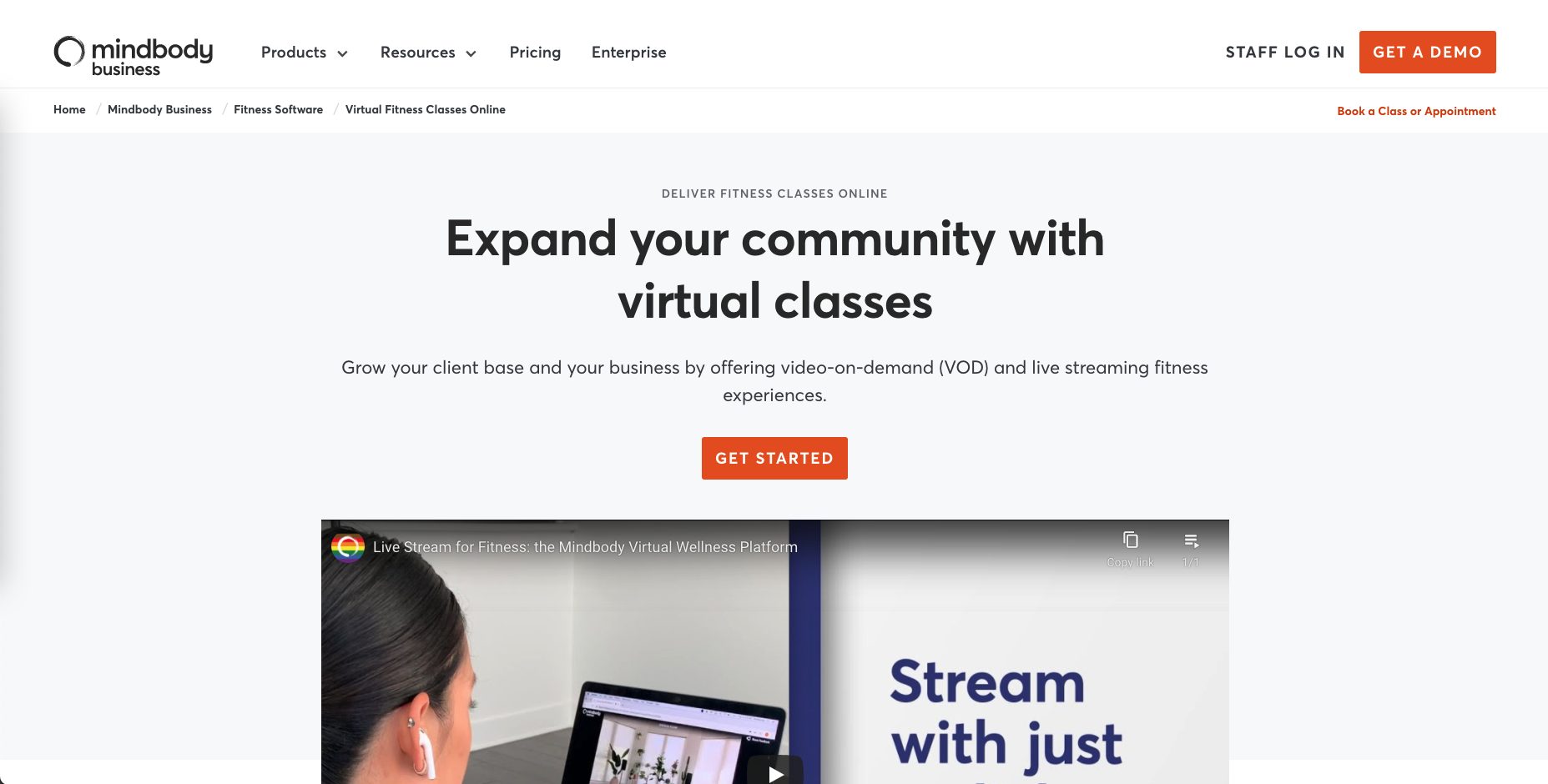 Mindbody offers powerful studio management, live streaming, video on demand, automated marketing, and everything else you need to grow your fitness business. The Virtual Wellness Platform integrates with your software, streamlining the process for your clients to log in, book a class, and stream your online fitness classes from home. With Mindbody, you can provide your members access to your online library of on-demand fitness content as well as live online classes that are then automatically uploading to your video-on-demand library.
Features
Live streaming and video-on-demand features built-in

Seamlessly integrates with business platforms

Custom templates and automated marketing tools

1-on-1 setup and training

Live customer support

Manage clients and staff
Pricing
Live stream your classes starting at $69 AUD/month and offer pre-recorded, VOD workout classes to your members for $149 AUD/month. Contact MINDBODY for higher volume and bundled pricing options.
---
Wrapping Up
There are several reasons taking your fitness classes online just makes sense. Ultimately, going virtual is so easy these days that it doesn't make sense not to. You'll be able to reach more members, provided added value, boost brand awareness, and grow your business in ways you never expected.
Frequently Asked Questions
How do I start a virtual fitness business?
It's surprisingly easy to get started as a virtual fitness trainer. Here are the steps you can take:
Choose a fitness model. Will you offer personal training? One-on-one classes? Group classes?
Choose a virtual fitness software. Any of the platforms on our list can help you get up and running as a virtual fitness instructor. The right software can also help you manage the business side of your fitness enterprise, not just the delivery.
Set up your space. You'll need to get the right exercise equipment, make sure your space is well-lit and provides ample room to move, and grab some quality audio/video equipment.
What is the best way to bill for your membership?
We recommend finding a virtual fitness tool that allows for automatic billing. It's much easier to rely on a tool to automate this process for you than it is to track it manually.
What is the best virtual fitness software?
The best virtual fitness software for your business depends on your needs. We think these virtual fitness platforms are an excellent place to start:
ShapeNet
Virtuagym
GymMaster
WellnessLiving
Sutra
Pinlearn
OneFitStop
FitSW
LIFT
MINDBODY