Competition is tight among plumbing businesses. A robust marketing and advertising strategy for plumbers is crucial to stand out in today's market. In this article, we've rounded up tried-and-true marketing and advertising strategies to help you book more plumbing jobs in 2023.
---
Marketing and Advertising Your Plumbing Business in 2023: Top Ideas to Get More Clients:
---
Marketing vs. Advertising a Plumbing Business
Before diving into which marketing and advertising strategies you should use, it's important to understand the difference between the two. Marketing requires a roadmap on how you're going to position your service as the best solution for customers. Advertising is a part of this roadmap. But before launching ads, you first need to know who your target audience is, which channels to use, and what you need to launch the ads and gain customers for your plumbing business.
---
Marketing Strategies for Plumbers in 2023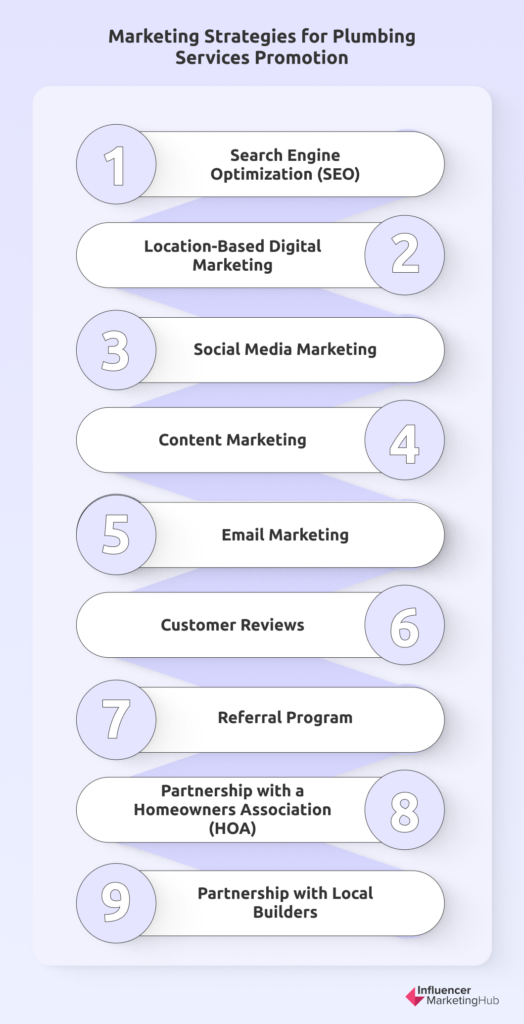 1. Search Engine Optimization (SEO)
Using SEO will help your plumbing business boost its visibility online. By applying SEO best practices, your website can appear on the first page of search engine results pages (SERPs). This will come in handy when potential customers look for a plumber in your location using Google, for example.
Maintaining a high ranking on SERPs is important because most users don't go past the first page. To ensure a good SEO ranking, utilizing keywords and phrases related to your business is key. For example, you can use "best plumber in [location]" or "plumbers in [city]."
Try to stick to long-tail keywords, meaning those with more than two words, to avoid competing with other websites that use short and generic keywords like "plumber." Short-tail keywords have high search volumes and competition, so it'll be easy for your site and content to get lost in the mix. Besides, potential customers usually search using long-tail keywords to find exactly what they're looking for.
---
2. Location-Based Digital Marketing
Since plumbers usually offer their services around a specific area, your plumbing business will benefit from location-based digital marketing. This strategy ensures that potential customers in your area will be directed to your website when they search online. They will also be able to see your complete address, contact information, business hours, and customer reviews.
To get started, claim your listing on Google Business Profile. In addition, don't forget to add your location to your social media pages and posts. Geotagging will allow your posts to reach potential customers within your area.
---
3. Social Media Marketing
Posting on Facebook is also a great marketing strategy for plumbers, considering that 71.43% of Americans regularly used Facebook as of 2022. Not only does Facebook let you post ads, but it also allows you to engage with customers. You can answer queries, accept bookings, and let customers post reviews on your Facebook page. You can also join Facebook groups to get closer to your market.
Creating business profiles on Instagram, Twitter, and TikTok is essential as well. Through these platforms, you can engage with customers and spread the word about your plumbing business. You can even post photos or videos showcasing your services to demonstrate your skills and capabilities.
---
4. Content Marketing
To further drive traffic to your website and get more plumbing bookings, you can utilize content marketing. One example of an effective content marketing strategy is posting blogs. Write about plumbing topics people usually search for, like common plumbing issues, and utilize the popular keywords associated with that topic.
You can also tap other websites to post content that mentions your plumbing business. Off-page SEO is a great way to build backlinks and improve your ranking.
---
5. Email Marketing
If you want a more personalized approach, try email marketing. You can address customers by name, which can help capture their attention better. To increase leads and conversions, ensure that your call to action (CTA) is clear and that your message is short and concise. You can also build an email list that customers can join to receive exclusive content like newsletters and special offers.
---
6. Customer Reviews
Since you'll be working inside your customers' personal spaces, earning their trust is crucial. You want to boost your plumbing business' reputation in your community to get jobs and referrals.
You can build trust by asking your satisfied customers to leave reviews on your website or social media. If you have a listing on Google Business Profile, customers can also leave their reviews there. Positive reviews and high ratings improve your credibility and reputation, making new customers confident in your capabilities and service.
---
7. Referral Program
Aside from collecting and showcasing positive reviews, you can also leverage word-of-mouth marketing by encouraging your satisfied customers to refer your plumbing business to their friends. However, you have to be selective with who to ask for referrals. Look at your reviews and only pick customers who left positive feedback. You can also ask those who've sent thank-you messages for your service. If a customer wasn't entirely pleased with your work, it's wiser to skip asking for a referral and just thank them for their business instead.
You can bring up your referral program in person after finishing a plumbing job. You can also promote it via email or SMS. Make sure to incentive participating customers with discounts or free service to encourage them to keep referring you to their friends.
If your business is still new, you can ask for referrals from other plumbers, builders, or contractors. You don't have to limit your referral program to your customer base only.
---
8. Partnership with a Homeowners Association (HOA)
Reach out to the HOAs in your service areas to ask if you can form a partnership. Partnering with HOAs ensures that you'll be the first plumber they'll call if a homeowner encounters a plumbing issue.
---
9. Partnership with Local Builders
Besides partnering with HOAs, connecting with your service area's local builders will also increase your bookings and customer base. Choose a builder whose projects fit your knowledge, skills, and scope of work.
---
Best Plumbing Advertising Ideas for 2023

1. Pay-per-Click (PPC) Ads
PPC ads are a powerful tool for boosting traffic and brand awareness. A PPC ad comes with the "Sponsored" label and appears at the top of SERPs. Since these are paid ads, they appear above organic listings, ensuring that your plumbing business has the most optimal visibility.
To launch a PPC ad, you first need to select keywords that will trigger your ads. Then you bid for those keywords. If your bid is among the highest, your PPC ads will be given the top spot on SERPs.
You can set your maximum budget for a PPC ad, which makes it an attractive and affordable option. Once you set your maximum bid, you'll never pay more than that amount. What's more, as soon as your PPC ad goes live, your website will start to drive traffic. On the other hand, organic SEO takes time to generate results, so it's best to combine paid search and organic SEO when advertising your plumbing business online.
---
2. Sponsored or Boosted Social Media Posts
Aside from geotagging, investing in a sponsored social media post, like Facebook Boost Posts, can help you target users around your area. The great thing about sponsored posts is they target specific audiences based on location, interest, and other demographic factors like age and gender. As such, your posts are tailored to people who are most likely interested in booking your plumbing services.
Additionally, sponsored posts contain a CTA, so people no longer need to dial your number or search for your website. They only need to click or tap the CTA to get in touch with you.
---
3. YouTube
YouTube remains one of the most well-known social networks in the US. Since many people rely on video tutorials for repair and maintenance tasks, you can use the platform to provide educational or instructional videos while also advertising your plumbing business.
You can post videos demonstrating how to fix leaks, install plumbing fixtures, or winterize pipes. Even if you teach people how to perform plumbing tasks by themselves, it can actually encourage them to book your services because you've earned their trust and built credibility.
---
4. Lead Generation Website
You can also advertise your plumbing business on lead generation sites like Angi or ProReferral. These sites help you connect with new customers with little effort on your part. Some sites may charge a sign-up fee or annual membership. Meanwhile, others charge per lead or offer subscription-based pricing.
To save on sign-up fees, you can start by creating your listing on Google Business Profile and Facebook Business. You can use your Google Business Profile to manage your plumbing business's ranking performance for free. On the other hand, you have to set a small budget for Facebook Business to boost your posts or promote your page itself.
Your costs can add up quickly if you sign up on a lead generation website, so set a monthly budget and define your service areas clearly to get quality leads for your plumbing business.
---
5. Offline Ads
Offline ads remain effective even in the era of digital marketing. Signboards and flyers are feasible and inexpensive options if you're just starting out as a plumber and haven't built a solid customer base yet. You can also catch potential customers' attention with business cards or postcards that you can personally drop into their mailboxes. If you can stretch your budget, try investing in car wrap advertising. Then the vehicle can drive around your service areas to spread brand awareness about your plumbing business.
Once you've built up your reputation and customer base, you can take it up a notch with branded merchandise. You can give away branded keychains, T-shirts, or fridge magnets to your happy customers. These items can trigger word-of-mouth marketing that will further increase brand awareness and leads.
---
Tips for Marketing and Advertising Your Plumbing Services
Thorough planning and research are essential in any marketing and advertising campaign. Identify your target audience and promote on the channels they actively use. Monitor key marketing and advertising metrics to determine which strategies work for you, so you can enhance them and get more clients in 2023.
Keep in mind that you don't need to use a hard-sell approach to market your plumbing business. Hard-sell language tends to be focused on the product or service instead of the customer, which can drive your sales down instead of up. As a plumber, you're solving customers' problems and potentially improving the quality of their daily lives. So it would be more appropriate to focus on the benefits they'll enjoy from your services instead of your skills.
It's also essential to engage with your customers to earn their loyalty. So be active on social media by responding to comments, reviews, and queries. In addition, be consistent in posting photos, videos, blogs, and sending email or SMS blasts. Your consistency in publishing content will always remind customers of your plumbing business. This will also optimize your website and social media pages. As a result, your plumbing business can maintain its high SERP ranking.
That said, don't forget to utilize keywords with high search volumes and low competition. Fortunately, you don't have to be tech-savvy to utilize SEO. There are many online keyword planning tools you can use easily and for free. If you want to generate leads fast, you can start with paid social media posts that only require a manageable budget.
Connecting with other professionals in the industry, like fellow plumbers, builders, and contractors, is also important. They help expand your network and make your plumbing business known to their customers. Additionally, being referred or recommended by experienced professionals boosts your reputation and credibility.
Offline strategies shouldn't be overlooked as well. Posters, flyers, and signboards remain effective collateral for plumbers, especially if you're still increasing brand awareness. And of course, word-of-mouth advertising always comes in handy. If positive things about your plumbing business naturally come up in spoken conversations, you can easily build trust and boost your reputation.
---
Level Up Your Plumbing Advertising and Marketing Game in 2023
To thrive in today's fast-paced and competitive market, leveling up your plumbing advertising and marketing game is key. A successful plumbing business stays updated on marketing trends by leveraging online strategies such as SEO, PPC ads, social media, content marketing, and more. These techniques let you target your ads and promotions to people who are most likely interested in your plumbing services.