Advertising Disclosure
Advertising disclosure:
Our partners compensate us. This may influence which products or services we review (also where and how those products appear on the site), this in no way affects our recommendations or the advice we offer. Our reviews are based on years of experience and countless hours of research. Our partners cannot pay us to guarantee favorable reviews of their products or services.
Programmatic advertising has transformed the way businesses reach and engage with their target audience in today's digital landscape. It refers to the use of automated technology, such as algorithms and machine learning, to buy and sell advertising space in real-time. Programmatic ad platforms are at the heart of this process, enabling advertisers to deliver highly targeted and personalized ads to consumers with greater efficiency and precision than traditional advertising methods.
The rise of programmatic advertising can be attributed to its ability to leverage data and technology to deliver more relevant and engaging ads to consumers, resulting in higher click-through rates and better ROI for businesses.
Programmatic advertising has also opened up new opportunities for businesses to reach their target audience across a variety of channels, including social media, video streaming services, and mobile apps. This has led to increased competition among programmatic ad platforms, with new players entering the market and established platforms constantly evolving their technology to stay ahead of the curve.
As the advertising industry continues to shift towards automation and data-driven decision-making, programmatic advertising is poised to play an increasingly important role in the future of advertising.
---
Top Programmatic Ad Platforms to Improve Ad Delivery and Performance:
---
What Are the Benefits of Programmatic Advertising Platform?
Programmatic ad platforms utilize real-time bidding (RTB) technology, which allows advertisers to bid on ad inventory in real-time. When a user visits a website, the programmatic ad platform will evaluate the user's profile and bid on the available ad inventory based on the user's demographics, browsing behavior, and other relevant data points. The platform will then serve the winning ad to the user in real-time, ensuring that the ad is highly relevant and personalized.
Programmatic ad platforms also utilize data-driven algorithms to optimize ad delivery and maximize advertising ROI. These algorithms use machine learning and artificial intelligence to analyze large volumes of data and make predictions about which ad creative and targeting options will be most effective for a given audience.
These solutions also offer robust data and analytics capabilities that allow advertisers to track and measure the performance of their advertising campaigns in real-time. This includes metrics such as click-through rates, conversion rates, and cost per acquisition. By analyzing this data, advertisers can optimize their campaigns and make data-driven decisions about how to allocate their advertising budget for maximum impact.
With automated and data-driven approach to managing advertising campaigns, a programmatic advertising platform can significantly increase the efficiency and effectiveness of advertising for large businesses and enterprises.
---
Types of programmatic ad platforms
There are different types of programmatic ad platforms available that allow advertisers to automate the buying and selling of ad inventory through real-time bidding (RTB) and other automated processes. Here are some of the main types of programmatic ad platforms: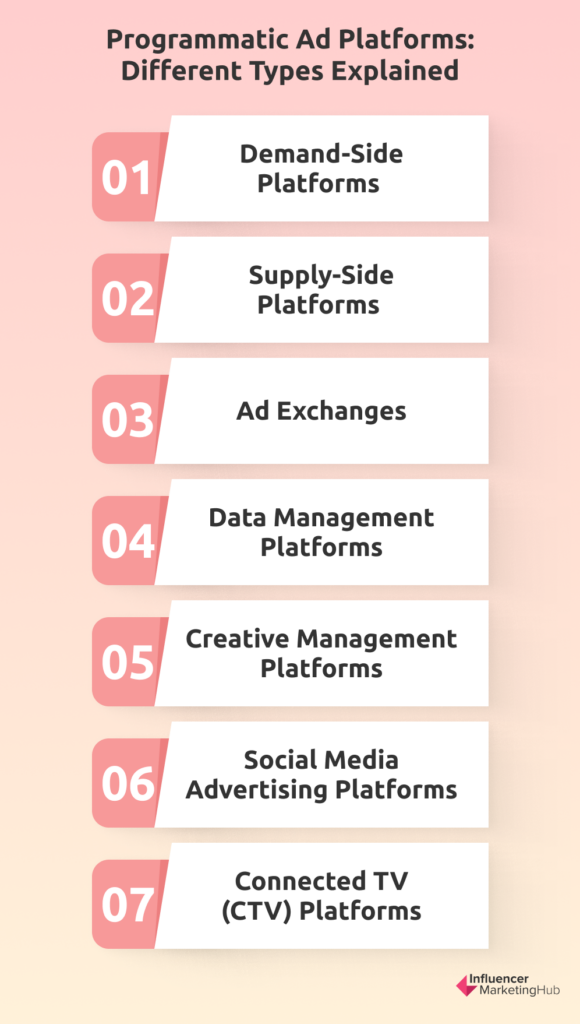 Demand-Side Platforms (DSPs): These platforms are used by advertisers and agencies to purchase ad inventory across multiple ad exchanges and supply-side platforms (SSPs) through real-time bidding. DSPs provide advanced targeting capabilities and optimization features to help advertisers achieve their campaign goals.
Supply-Side Platforms (SSPs): These platforms are used by publishers to sell ad inventory across multiple ad exchanges and demand-side platforms. SSPs provide tools to help publishers manage and optimize their ad inventory and maximize revenue.
Ad Exchanges: These platforms provide a marketplace where advertisers and publishers can buy and sell ad inventory through real-time bidding. Ad exchanges offer access to a large pool of ad inventory from multiple publishers and allow for efficient, data-driven ad buying and selling.
Data Management Platforms (DMPs): These platforms collect and analyze data from multiple sources, including first-party and third-party data, to help advertisers and agencies better target their ads and optimize their campaigns.
Creative Management Platforms (CMPs): These platforms provide tools for designing and optimizing ad creatives, including display ads, video ads, and native ads.
Social Media Advertising Platforms: These platforms allow advertisers to create and run ads on social media platforms, such as Facebook, Instagram, Twitter, and LinkedIn, through programmatic buying.
Connected TV (CTV) Platforms: These platforms enable programmatic buying of ads on connected TV devices, such as smart TVs, Roku, Apple TV, and Amazon Fire TV.
These are some of the main types of programmatic ad platforms available, and each type offers different features and capabilities to help advertisers and publishers achieve their advertising goals.
---
---
---
---
---
---
---
---
---
---
Frequently Asked Questions
What is a programmatic advertising platform?
A programmatic advertising platform is a technology platform that automates the buying, selling, and optimization of digital advertising inventory in real-time using artificial intelligence, data, and algorithms. It connects advertisers with publishers across multiple ad networks, exchanges, and supply-side platforms.
How does programmatic advertising work?
Programmatic advertising platforms use data to automate the ad buying and selling process. Advertisers can set their targeting criteria such as demographics, geographic location, interests, and behavior. The platform then uses machine learning and algorithms to analyze this data and match it with available ad inventory, ultimately serving the most relevant ad to the right user at the right time.
What are the benefits of programmatic advertising platforms?
Programmatic advertising platforms offer several benefits, including real-time bidding, enhanced targeting and personalization, cost-effective advertising, increased efficiency and automation, and improved ad performance through better data analysis and optimization.
What types of ad formats can be run on programmatic advertising platforms?
Programmatic advertising platforms support a wide range of ad formats including display, video, native, social, and mobile. These platforms also support different pricing models such as cost-per-thousand impressions (CPM), cost-per-click (CPC), cost-per-acquisition (CPA), and viewability-based pricing.