Advertising Disclosure
Advertising disclosure:
Our partners compensate us. This may influence which products or services we review (also where and how those products appear on the site), this in no way affects our recommendations or the advice we offer. Our reviews are based on years of experience and countless hours of research. Our partners cannot pay us to guarantee favorable reviews of their products or services.
As most of the world continues to stay indoors, shopping trends and experiences continue to evolve. Specifically, online marketplaces have dramatically grown in the last two years. This year, it's expected that US e-commerce sales will surpass $1.1 trillion for the first time—a prediction that was reserved for 2024 before the pandemic took place.
But with the vast selection of available marketplaces, promoting your products online can be overwhelming, especially if you don't know where to begin. Changing platforms after launching your business can be a hefty process, so it's better to get it right the first time.
Multi-vendor online marketplaces offer a convenient way for consumers to browse and shop for products. At the same time, they allow brands to promote and sell their products without worrying about back-end logistics. Choosing the best multi-vendor e-commerce platforms can help you attract your target market, grow your audience, and increase your revenue.
---
Top Multi-Vendor Online Marketplace Software:
---
Defining Multi-Vendor Online Marketplaces
A multi-vendor online marketplace is a software solution that lets brands or sellers list and sell their products or services on the internet. Think shopping malls, but with a wider variety of products, and anyone can set up a shop.
Multi-vendor online marketplaces help merchants reach a larger audience and increase their visibility online. Consumers can browse the offerings and buy from any shop on an e-commerce platform. No matter your industry or business size, you can use an e-commerce platform to sell your products and services.
---
How Do They Work?
Before anything else, a brand or seller signs up on the online platform and customizes their storefront to stand out from other sellers. Then they list their products or services and respective prices. Some of the features of e-commerce marketplaces also allow sellers to post multiple pictures of their items, write a description for each, and indicate their preferred modes of payment.
When a customer purchases an item from any of the stores, the multi-vendor online platform handles most back-office operations. That includes inventory management, warehouse or storage, customer service, payment processing, and order fulfillment. This arrangement reduces stress among businesses, allowing them to operate their stores more efficiently.
---
Benefits of Selling on Multi-Vendor Online Marketplaces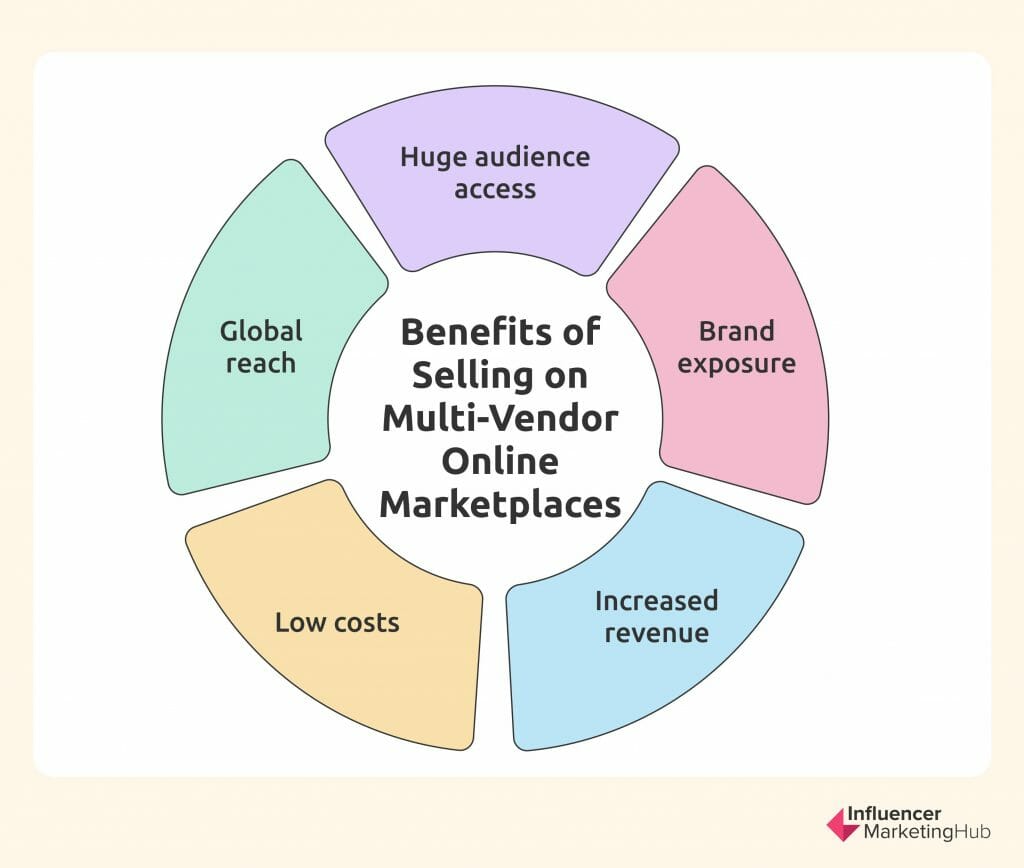 Ecommerce has boosted the number of online shoppers worldwide. In 2023, digital buyers totaled 2.64 billion and are projected to increase to 2.77 billion by 2025. Most audiences use them as a jump-off point when searching for new brands. Putting yours on these platforms can help you connect to both new and old audiences without spending anything on marketing. It's a good opportunity for small businesses with limited marketing funds.
Then, to help you make the most of your marketing budget, it's also a good idea to sign up for a platform like Pacvue which can help with many aspects relating to using online marketplaces. In addition to advertising, it can also help with sales and managing retail operations.
You can use it to:
Conduct keyword research

Get inventory forecasts

Access sponsored search ads and other types of ads on numerous retailers' websites

Identify market share growth
Some online shoppers, especially those visiting niche marketplaces, discover their new favorite shops on an online marketplace. That's because these platforms recommend products to consumers through related searches, helping boost a brand's visibility without cost. Exposure also helps build consumer trust, which eventually motivates them to purchase from that shop.
Established multi-vendor online marketplaces gain a lot of traffic that both small and large enterprises use for selling and promoting their products. For example, a lot of notable brands use Shopify to drive traffic to their sites and boost their sales. Listing your brand on an online marketplace will allow you to take part in that revenue growth.
Brands spend very little on an online marketplace. For one, you can sign up on most platforms for free. Some marketplaces may charge a monthly subscription fee. But usually, multi-vendor e-commerce platforms earn from brands through a commission or listing fee. Otherwise, they are still generally affordable, which is a good deal for brands that have limited marketing funds.
Businesses usually spend a ton on marketing to attract international audiences. E-commerce platforms, on the other hand, have an international infrastructure. This means that you can use these platforms to sell to both local and international markets without spending a dime. Global reach will help you not only improve your international sales but also grow your business experience.
---
Multi-Vendor Online Marketplace Types
Here are the three primary types of multi-vendor e-commerce platforms.
Product-based: These platforms sell a wide range of physical goods at competitive prices, such as apparel, furniture, and home supplies. Amazon and eBay are two examples.
Niche-based: These marketplaces offer a curated list of niche products, like electronics, home décor, and fashion. Some examples are Etsy and Booking.com.
Service-based: Marketplaces like these allow sellers to offer both product-based and niche-specific services. For example, vendors can offer an array of home repair and pet sitting services. At the same time, they can also offer writing and tutoring services. Similar platforms include Taobao, Alibaba, Teachable, and Fiverr.
---
What to Look for in a Multi-Vendor Online Marketplace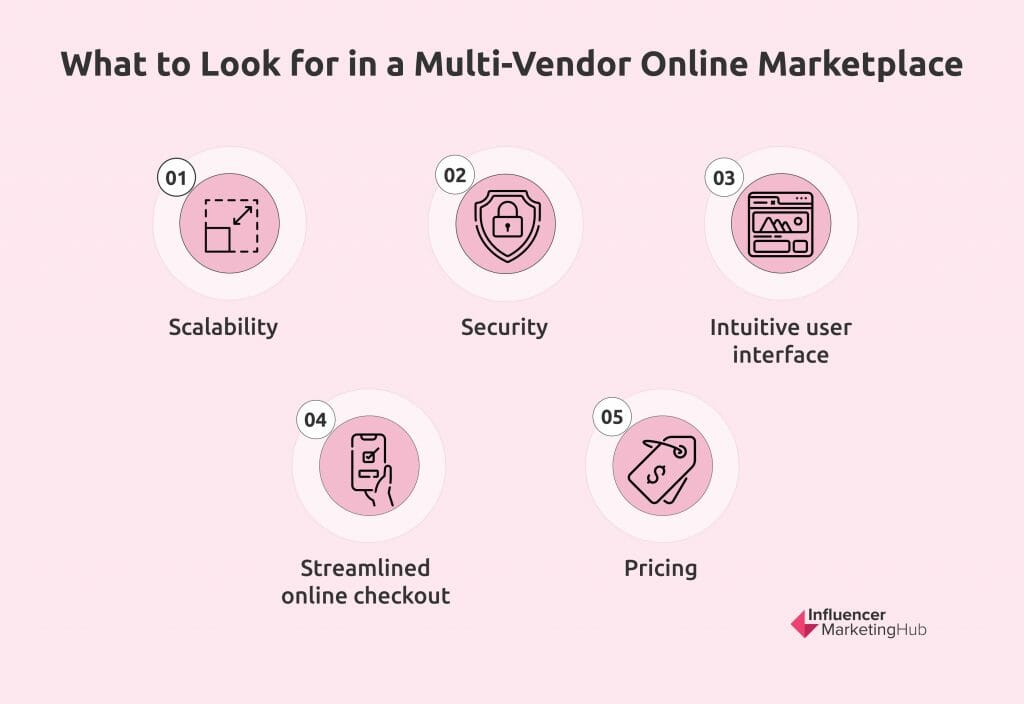 The low costs of multi-vendor e-commerce platforms are attractive, especially if your business is only starting out. But aside from pricing, you should also consider the platform's potential to help you grow should you decide to expand in the future. The best platform helps keep you on top of the competition through upgrades and in-person features.
It's important for customers to purchase from trustworthy e-commerce sites, which should make robust security features one of your top priorities. Highly secure platforms will not only create trust between you and your consumers but also protect you from fraud. Look for an online marketplace that secures user-level information, uses two-factor authentication, and offers secure payment gateways.
Navigating an e-commerce platform should be not only simple but also easy to use for both you and your consumers. Audiences are unlikely to push through with a purchase if the interface looks complicated. At the same time, you want to manage your business from an intuitive dashboard. To get a feel of the user interface, schedule a free demo or start a free trial.
Streamlined online checkout
Making sure that your customers can easily and securely complete their purchase helps create customer satisfaction and increase the potential for repeat customers. A lengthy checkout process can be frustrating for customers and result in cart abandonment. Choose a multi-vendor platform that can offer various payment gateways, as well as familiar checkout options like PayPal and Amazon Pay.
It can take time to generate returns when you're just starting out, so it's important to consider an e-commerce platform's pricing plans. Some marketplaces have free plans with limited capabilities, but some may already have the features that you need. Other platforms offer a free trial. Focus only on what your business needs now before looking for features that you think you might need in the future.
---
Top Multi-Vendor Online Marketplace Software
A multi-vendor online marketplace software enables multiple sellers to establish digital storefronts where they can list and sell their products. Here are the top 5 multi-vendor online marketplace software solutions in 2023.
---
---
---
---
---