Advertising Disclosure
Advertising disclosure:
Our partners compensate us. This may influence which products or services we review (also where and how those products appear on the site), this in no way affects our recommendations or the advice we offer. Our reviews are based on years of experience and countless hours of research. Our partners cannot pay us to guarantee favorable reviews of their products or services.
The first interaction potential clients often have with a real estate business is not a handshake at the office door, but a mouse click that opens a webpage. Therefore, the importance of a well-designed, intuitive, and conversion-focused website cannot be overstated. This is why hiring a real estate web design agency that offers expertise that marries aesthetics with functionality, will drive tangible business results.
Real Estate Web Design Agencies specialize in creating websites that are not only visually stunning but also geared towards generating leads and boosting conversions. These agencies understand the unique needs and nuances of the real estate industry, ensuring they create websites that resonate with its target market. From seamless property listings to interactive virtual tours, they focus on crafting user experiences that not only meet but exceed visitor expectations.
---
Top Real Estate Web Design Agencies
A stellar real estate website designed by a competent agency can be a game-changing asset that drives customer acquisition, strengthens brand image, and ultimately contributes to the business's bottom line. This article aims to guide business owners in their pursuit of the best real estate web design agencies, each characterized by their creative vision, industry knowledge, and proven ability to deliver measurable results. Here is the list.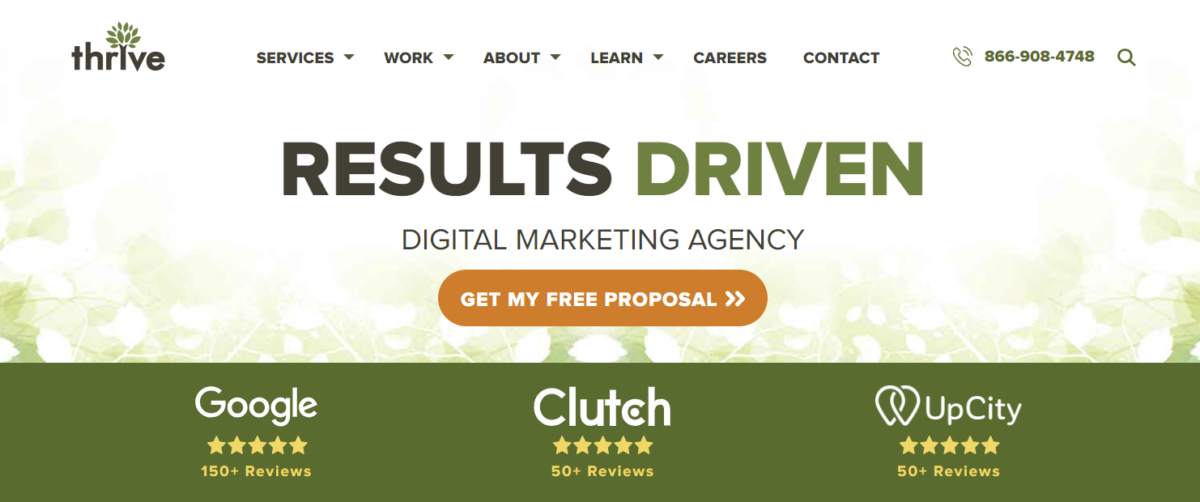 Average Hourly Rate: $100-$149
Average Project Cost: $1,000+
Dallas, Texas-based Thrive is a web design agency that specializes in empowering real estate businesses to capture high converting leads through customized and innovative digital strategies. They pride themselves on their in-depth understanding of the dynamic real estate industry and their ability to create unique, user-friendly websites that reflect the brand's voice.
Thrive ensures that every website they deliver is 100% unique by collaborating closely with their clients. They follow best practices to create responsive designs that work seamlessly on all devices, improving user experience and navigation. Their other services include content creation, website hosting, ecommerce web design, custom web design, and even customized Shopify themes to build brand identity and attract an ideal audience. Their team of WordPress experts also provides the best CMS for managing content.
Proven real estate web design results include a significant reduction in the client's cost per lead and an increase in full video views. They also offer transparent reporting, constant improvement, and stellar customer service, demonstrating their dedication to client satisfaction and success.
Services:
SEO & PPC
Social Media Marketing
Web Design and Development
Content Writing
---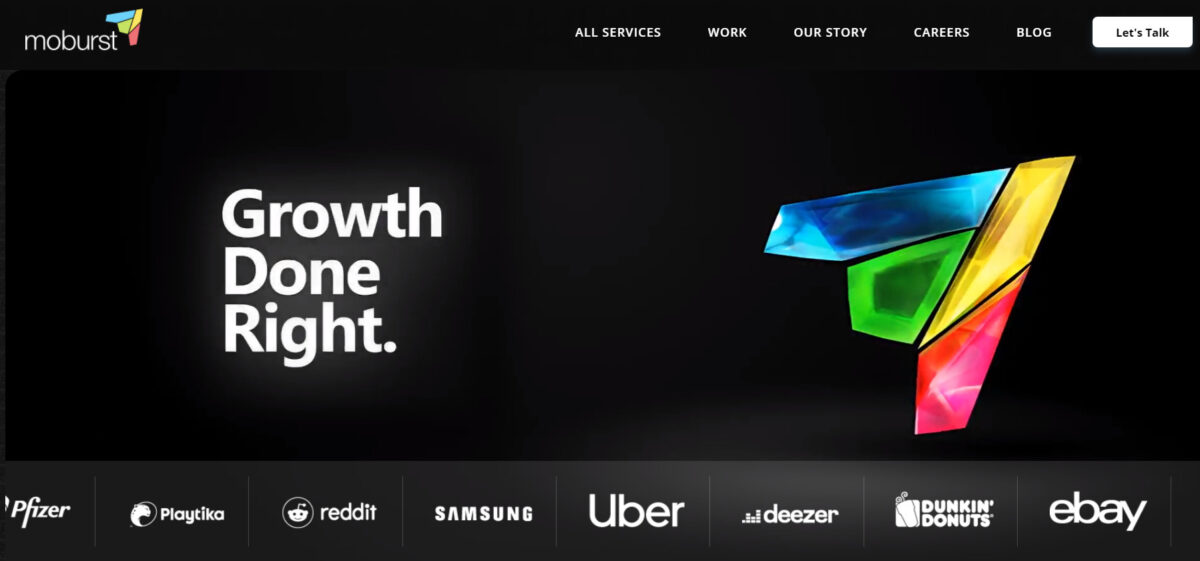 Average Project Cost: $25,000+
Average Hourly Rate: $150-$199
Operating out of New York, NY, United States, Moburst is a mobile-first, digital creative agency that aids companies in achieving substantial business growth. Boasting a diverse workforce, the agency provides a range of services including website design for real estate businesses
Moburst's emphasis on creating captivating and engaging platforms fosters strong relationships between businesses and customers. Their ability to deliver the most relevant experiences for each user is attributed to their extensive experience in redefining hundreds of apps and A/B testing every possible feature in every vertical.
Partnering with globally recognized brands such as Google, Uber, Discovery, Fiverr, Sony Music, and Nielsen, Moburst has demonstrated its expertise in resolving complex mobile challenges and optimizing KPIs for its clients. Their innovative solutions seamlessly connect brands with highly targeted audiences, converting them into loyal users, driving traffic, and generating leads.
Services:
Mobile & App Marketing
Advertising
Social Media Marketing
Web Design
Web Development
---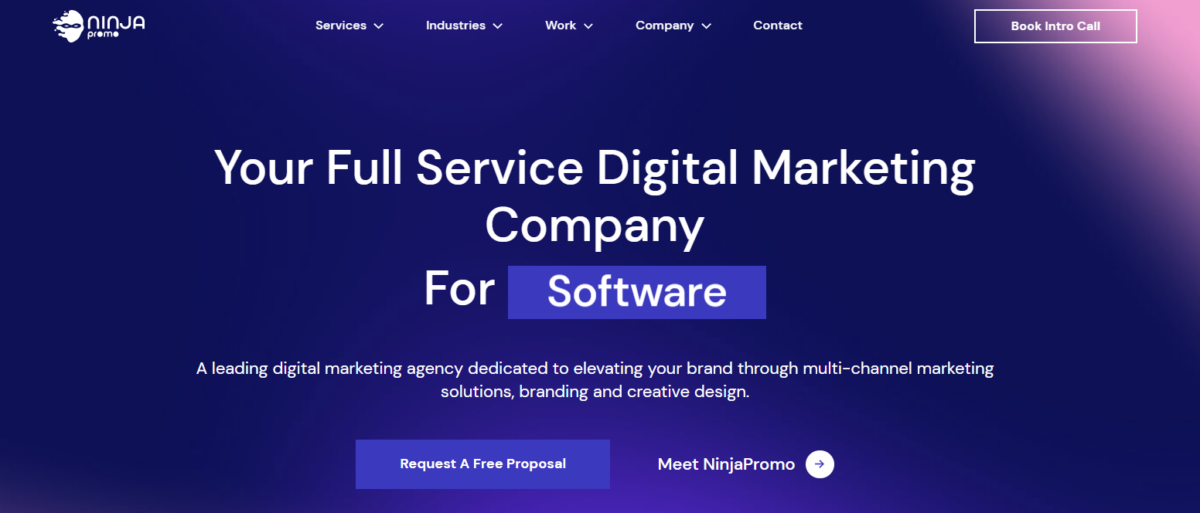 Average Hourly Rate: $50-$99
Average Project Cost: $1,000+
NinjaPromo, based in London, United Kingdom, is a diverse marketing agency providing a wide array of services, including web design, SEO, social media marketing, and branding.
NinjaPromo excels in creating user-friendly and visually appealing websites for real estate businesses. Their focus on optimizing for search engines and mobile devices aims to deliver an excellent user experience and draw more relevant traffic. Their multi-disciplinary team brings together technical and marketing expertise to attract, captivate, and convert customers. From initial concept to ongoing maintenance, NinjaPromo offers a comprehensive suite of services. They combine robust marketing strategies and compelling website copywriting to keep visitors engaged and convert them into leads. Their SEO experts ensure your website reaches the top of search engine results, and their ongoing maintenance solutions guarantee your site continues to deliver optimal performance and ROI.
Services:
Advertising
Search Engine Optimization
Social Media Marketing
Video Production
Branding
---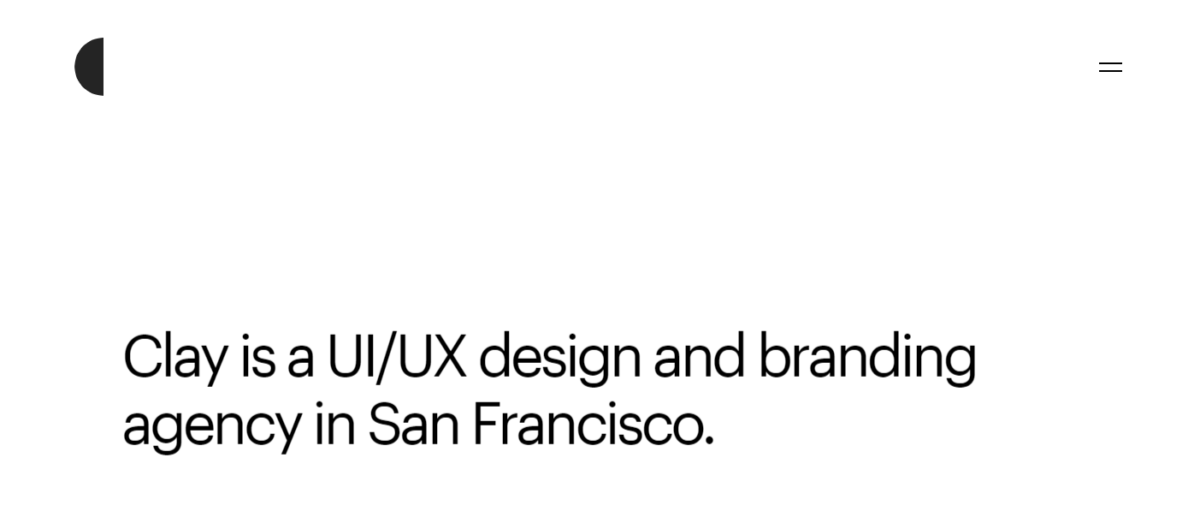 Average Project Cost: $50,000+
Average Hourly Rate: $150-$199
San Francisco, CA-based Clay is a global design agency specializing in UX/UI Design. Clay's clientele includes some of the most innovative startups and established brands.
Clay ensures high-quality services for business website design and branding, always delivering projects on time and within budget. Their experienced marketing team and professional client management have garnered positive reviews from their clients. Moreover, they prioritize secure servers and premium designing tools to create the best websites.
Their design-first approach ensures a strong online presence that is essential to draw more relevant traffic, ultimately increasing the likelihood of converting visitors into leads.
Services:
UX/UI Design
Web Design
Branding
---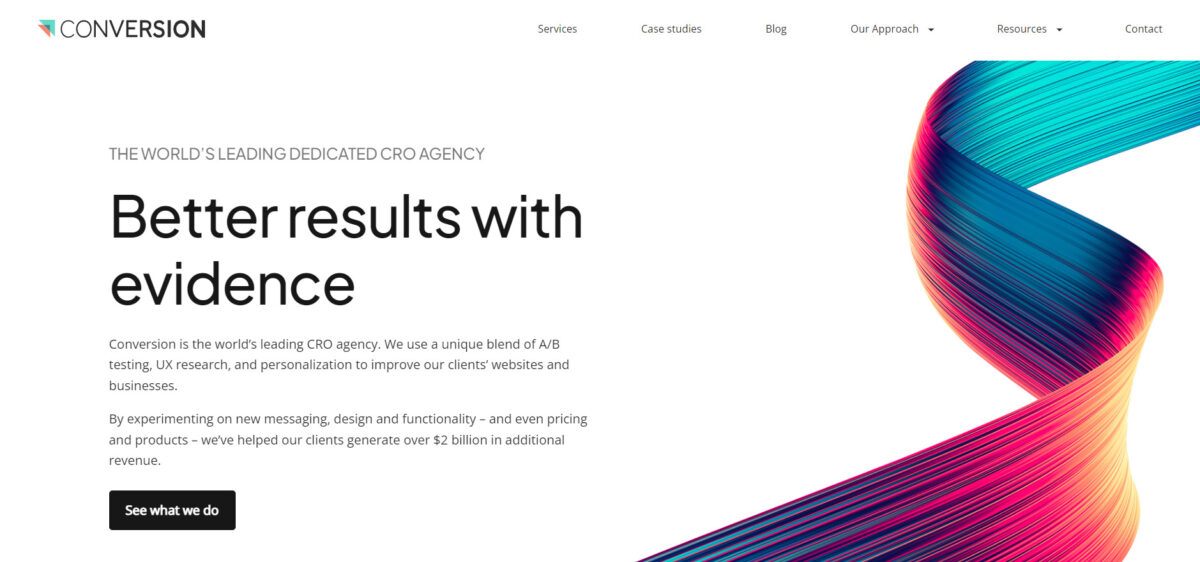 Average Project Cost: $10,000+
Average Hourly Rate: Undisclosed
Conversion, located in Vancouver, Canada, is a conversion optimization-focused agency, delivering high-converting experiences from the start. They have served leading brands such as Microsoft, Facebook, Canon, Google, and Just Eat.
Conversion's design process fundamentally differs from the norm by prioritizing conversion. Their UX design team, with vertical expertise in real estate, creates quality products swiftly, helping businesses reach their market faster.
Over the past fifteen years, their work within a diverse range of industries and experimentation programs has generated well over $2 billion in additional revenue for their clients. This speaks volumes about their potential to design cutting-edge web experiences that attract relevant traffic and generate high-quality leads.
Services:
Conversion Optimization
UX Research
CRO training
---
Average Hourly Rate: $50 – $99
Average Project Cost: $25,000+
Humbleteam is an innovative web design agency based in New York, United States. Over the past five years, they have successfully launched over 100 digital products, assisting clients in a wide variety of industries. This versatile agency is especially proficient in helping real estate businesses generate more traffic and leads through effective UX/UI and branding. They work with their clients every step of the way, right from ideation and strategy to bringing scalable products to the market. Their unique strength lies in creating strong brand identities that allow businesses to effectively find and connect with their audience. Working with startups and Fortune 500 companies alike, Humbleteam has the ability to provide scalable design teams that can work independently or merge with in-house teams when needed.
Services:
Product design and strategy
Digital branding
Remote design teams
---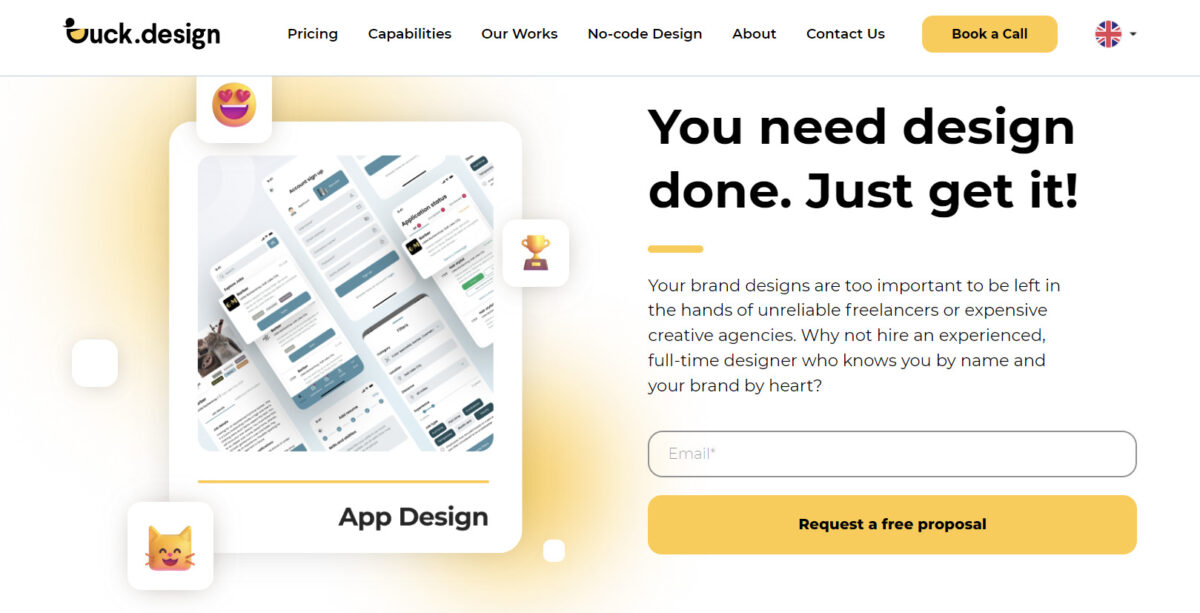 Average Hourly Rate: Undisclosed
Average Project Cost: $1,000+
Duck.Design is a comprehensive design agency based in London, UK. They specialize in developing various types of digital assets, from online stores and corporate websites to promotional pages and user-friendly web portals. Particularly for real estate businesses, Duck.Design has proven proficiency in building compelling websites that mirror the brand's image and effectively solve marketing issues. Their adept handling of complex information and building intuitive navigation makes the browsing experience effortless for the user, thereby improving customer engagement and conversions. With a strong grip on graphic design, product design, and UX/UI, Duck.Design is skilled at illustrating the unique advantages of a business or product, thereby boosting its appeal to the audience.
Services:
Graphic Design
Product Design
UX/UI Design
Web Design
Branding
---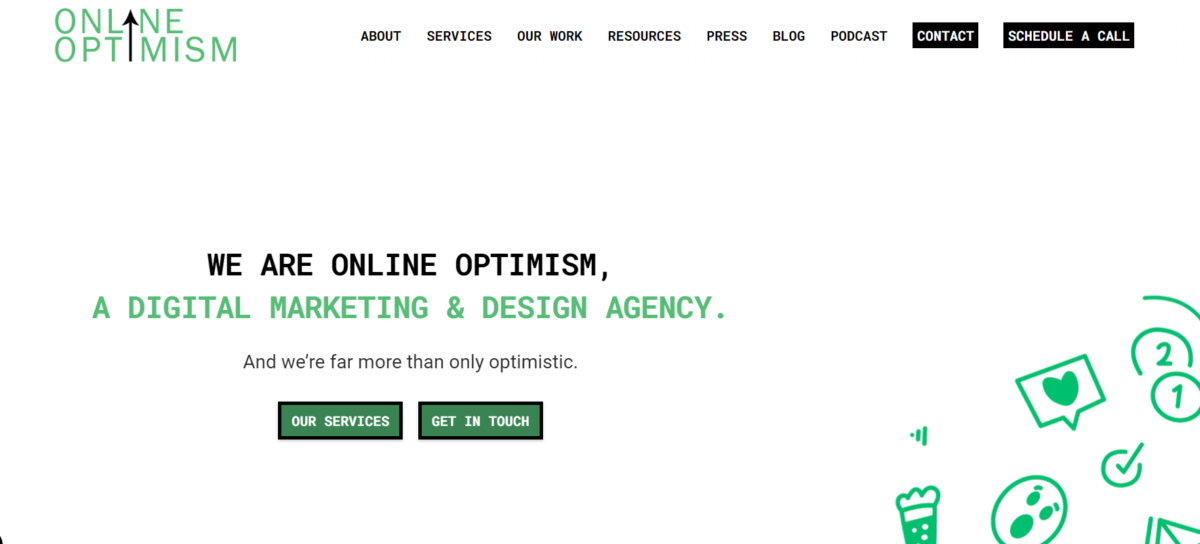 Average Hourly Rate: $50 – $99
Average Project Cost: $1,000+
Online Optimism, based in New Orleans, United States, is a versatile digital agency offering a broad range of services, including web design. Their web design team is known for the seamless integration of form and function in the websites they build. Especially for real estate businesses, they offer services that enable easier navigation and efficient sorting through residential and commercial listings.
The company has a track record of successfully redesigning real estate websites to create user experiences that highlight the company's history, knowledge, and expertise in real estate. They also offer robust SEO services, which help businesses rank better in search engine results, thereby increasing visibility and driving more traffic and leads.
Services:
Web Design
Advertising
Search Engine Optimization
Social Media Marketing
Content Marketing
PPC
---

Average Hourly Rate: $100-$149
Average Project Cost: $25,000+
Based in San Francisco, California, Neuron specializes in UX/UI design. Their team comprises a dynamic mix of industry experts who are adept at creating best-in-class digital experiences to help businesses thrive in the digital world.
Neuron helps real estate businesses capture more relevant traffic and convert them into leads by enhancing the user experience and interface of their digital platforms. Their expertise lies in designing world-class business and enterprise tools that increase productivity, sales, and business intelligence. They work closely with real estate companies to solve their pressing UX/UI challenges, whether that involves adding a new feature, launching a new product, or redesigning an existing one. Their approach ensures the businesses they work with are set up for success in today's digital landscape.
Services:
UX Design
UI Design
Web Design
---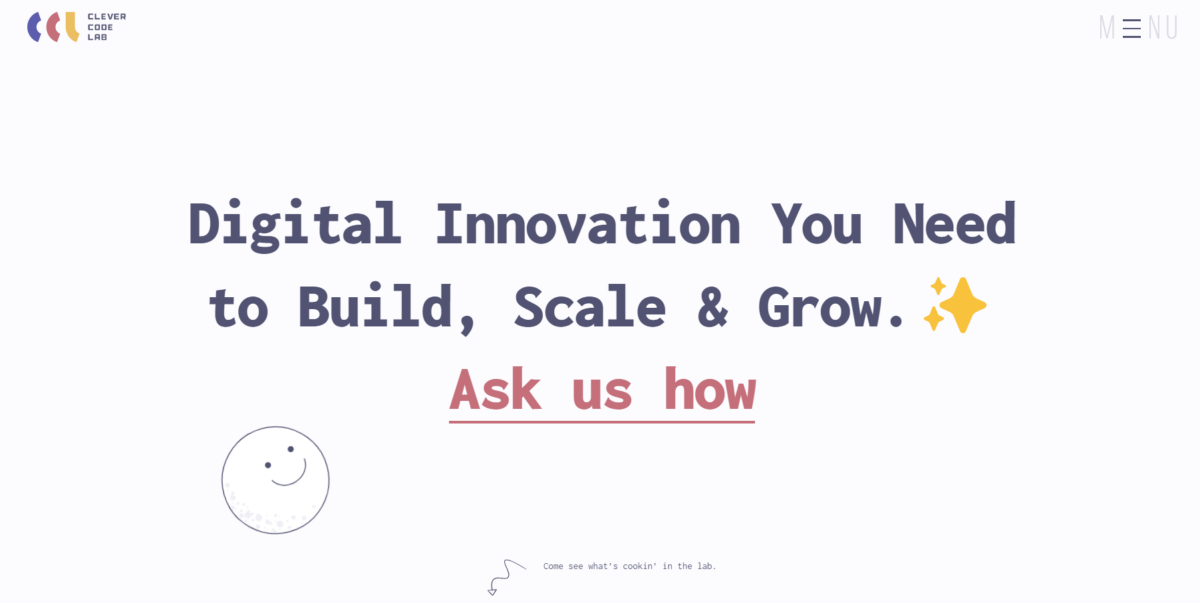 Average Hourly Rate: $25-$49
Average Project Cost: $5,000+
Clever Code is a web development, graphic design, and web design agency based in Poltava, Ukraine. They pride themselves on creating beautiful, user-friendly designs and high-quality code that can thrive on the internet.
They offer real estate companies a comprehensive suite of design and development services. From prototyping to product support, Clever Code delivers designs that are simple, inspiring, and user-friendly. They understand that a B2B website doesn't have to be 'Boring to Boring,' and use minimalist design, interactive elements, and user-focused digital experiences to blow competition out of the water. By providing a visually engaging platform, they help real estate businesses turn heads, gain market share, and outrank competitors.
Services:
Web Development
Graphic Design
Web Design
---

Average Hourly Rate: $50-$99
Average Project Cost: $1,000+
Berbay Marketing & PR, a Los Angeles-based agency with a compact yet highly skilled team of 2-9 employees, specializes in delivering web design services for real estate firms. Their strategic approach helps firms demonstrate their expertise, leadership, and energy in the industry while serving as a centerpiece for online marketing and social media campaigns.
Berbay's real estate web design options include revitalization and designing a new website based on your current site's architecture. They effectively use case studies, testimonials, success stories, and blogs to validate your position and showcase your expertise in the real estate industry. Their strategic placement of fresh and relevant content, combined with insightful commentary, generates leads translating into new business opportunities. Additionally, they enhance your site's design to keep it engaging and easy to navigate, retaining potential clients.
With a proven track record of increasing brand visibility through media placements, speaking opportunities, and creative newsletter campaigns, Berbay is the go-to web design agency for real estate firms seeking substantial results.
Services:
Website Design and Revitalization
Public Relations
Social Media
Search Engine Optimization
Marketing Materials
Advertising
Nominations & Rankings
Speaking Engagements
---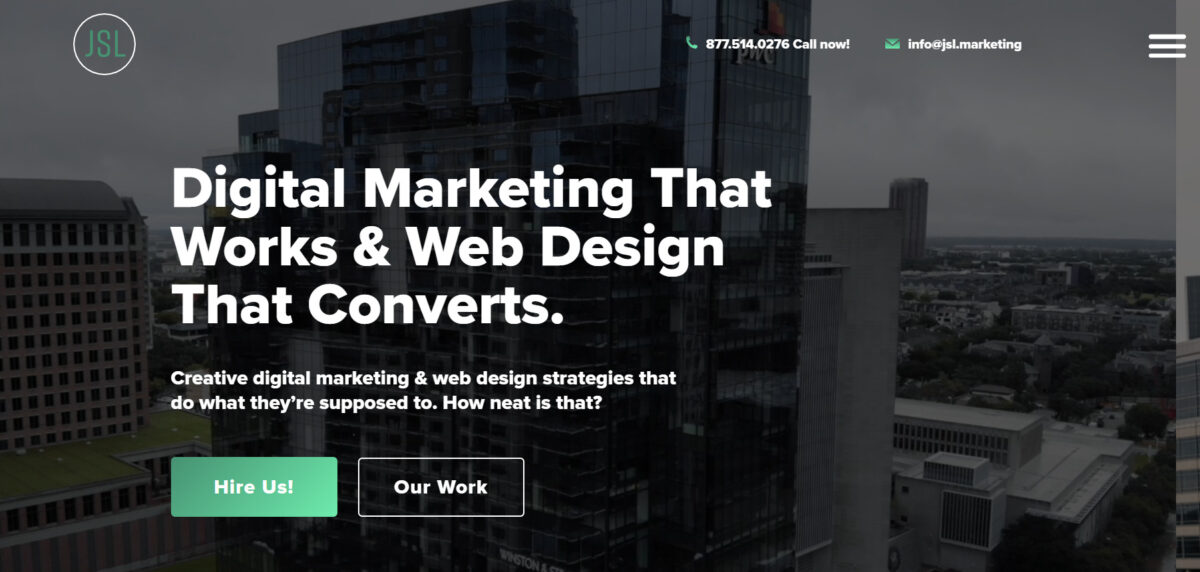 Average Hourly Rate: $100-$149
Average Project Cost: $5,000+
Dallas-based JSL Marketing is a full-service agency offering web design solutions primarily for commercial real estate businesses. With a robust team of 10-49 employees, they leverage digital technology to design scalable, lead-generating property developer websites.
JSL's services go beyond basic web design to facilitate a transformation in how your commercial real estate broker website functions. They focus on creating a site that lets you display information to potential clients quickly and effectively, streamlining your business process. Their customized WordPress builds offer secure and reliable hosting, third-party compatibility, mobile responsiveness, advanced coding standards, Google Analytics integration, E-commerce options, and an SEO-friendly process.
In addition to designing websites, JSL also offers photography and video production services, brand development, social media marketing, email marketing, and content marketing. They emphasize the use of high-quality visuals to enhance your brand's message, and SEO writers to generate keyword-rich content for better rankings and lead generation.
JSL's expertise extends to promoting the designed website through various channels, ensuring it is seen by your target audience. They combine industry-specific knowledge with cutting-edge marketing tactics, enabling commercial real estate businesses to showcase properties and close deals more effectively.
Services:
Website Design and Development
Brand Development
Social Media Marketing
Email Marketing
Content Marketing
Search Engine Optimization
Photography & Video Production
Google Analytics Integration
E-Commerce Options
---
How to choose the best real estate web design agency?
The selection of the right agency can be a complex process, given the myriad of factors involved. A comprehensive understanding of your business needs and goals, the agency's track record, their technical and creative prowess, industry-specific knowledge, and a thorough analysis of their previous works are all pivotal in making an informed decision. More than just an attractive facade, the ideal website should serve as a highly efficient lead-generation machine.
The right Real Estate Web Design Agency should also possess expertise in content optimization. In an era where attention spans are dwindling, captivating and SEO-optimized content is paramount to keep visitors engaged and encourage them to take action. According to a study conducted by Sweor, it takes about 50 milliseconds for users to form an opinion about your website that determines whether they'll stay or leave. Therefore, engaging content, coupled with a user-friendly design, forms a potent combination that increases dwell time, reduces bounce rate, and enhances the probability of conversion.
Frequently Asked Questions
Can a real estate web design agency work with my existing website?
Typically, yes. Most agencies can revamp existing websites, improving their design and functionality. However, it's best to discuss this with the agency upfront to ensure they can meet your specific needs.
What results can I expect after revamping my website with a real estate web design agency?
With an optimized, attractive, and functional website, you can expect improved online visibility, increased visitor engagement, and higher lead conversion rates. However, it's important to note that results may vary and are influenced by other marketing efforts as well.
How can I ensure that my website remains relevant and effective in the long run?
Partnering with a real estate web design agency for ongoing support is key. Regular updates, SEO optimization, and adapting to new trends in web design and real estate will help keep your website relevant and effective.
What if I need custom features for my real estate website?
Most real estate web design agencies are capable of customizing your website with specific features that meet your unique business needs. Be sure to communicate these requirements upfront so the agency can plan and design accordingly.
What happens if I'm not satisfied with the work provided by the agency?
Before beginning work, it's essential to clarify what happens in such scenarios with the agency. Some agencies offer revisions or a trial period, while others may have a satisfaction guarantee policy.