Advertising Disclosure
Advertising disclosure:
Our partners compensate us. This may influence which products or services we review (also where and how those products appear on the site), this in no way affects our recommendations or the advice we offer. Our reviews are based on years of experience and countless hours of research. Our partners cannot pay us to guarantee favorable reviews of their products or services.
In the intricate realm of digital marketing, retargeting stands as a pivotal strategy, focusing on re-engaging individuals who've previously interacted with a brand. While its potential is vast, the challenges it presents—such as ad fatigue and audience segmentation—are equally daunting.
Recognizing these complexities, many businesses turn to specialized retargeting agency services, professionals adept at navigating the nuanced intricacies of this discipline. As the digital landscape constantly evolves, finding the right agency becomes paramount. Let's delve into a comprehensive analysis of the top 10 retargeting agency services that are leading the way.
---
Top Retargeting Agency Services
Top
retargeting agencies services
2024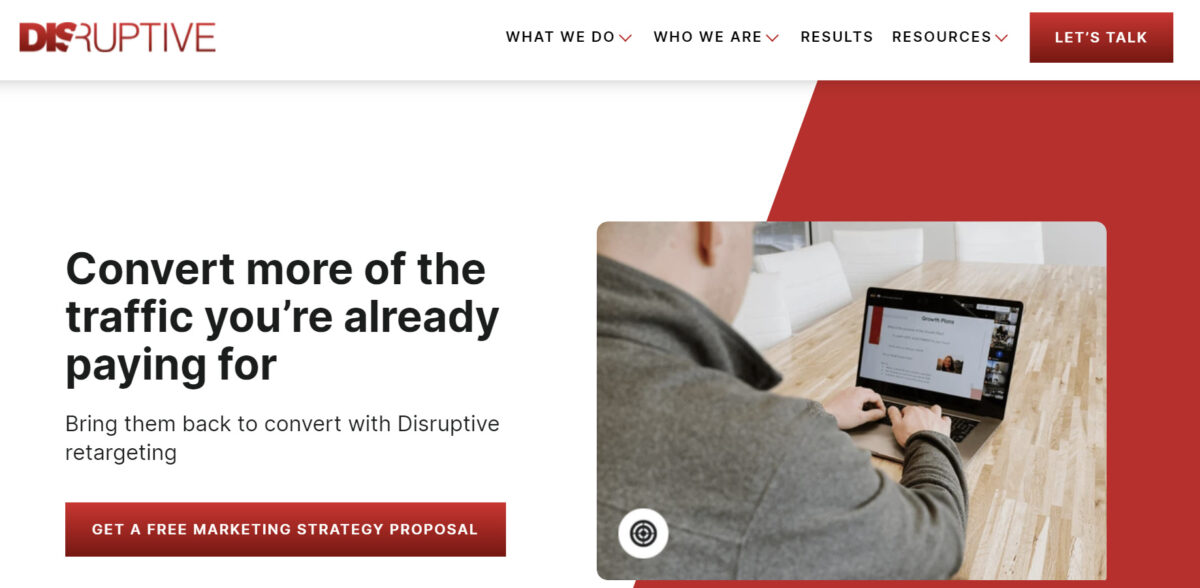 Disruptive retargeting agency's core competency lies in its ability to exponentially enhance the conversion rates for businesses. With their bespoke retargeting strategies, they ensure businesses are not just attracting visitors but are proficiently re-engaging and converting them. Their methodology is rooted in identifying target audience segments, constructing compelling creative content, launching precise campaigns, and meticulously tracking performance to ensure optimal results.
Their prowess is further validated by significant case studies, demonstrating lead volume increases of up to 86% and substantial revenue augmentation, as evidenced in their collaboration with AeroGarden, which resulted in an additional $983k in revenue over a year. Disruptive leverages pixel retargeting, on-platform retargeting, and list-based targeting, showcasing their versatility and adaptability to distinct business needs and audience behaviors. Each retargeting type is strategically employed at different stages of the marketing funnel, ensuring a tailored approach that resonates with the specific interactions and interests of the audience.
Why Choose this Agency?
The agency's expertise in pixel retargeting stands out, offering businesses insights into visitor behaviors and interests. By utilizing dynamic retargeting, they are able to display the exact products viewed by potential customers, ensuring personalized ad content that significantly boosts the likelihood of conversion. Their adherence to privacy regulations and adaptability amidst evolving digital landscapes further underscores their commitment to ethical and effective practices.
---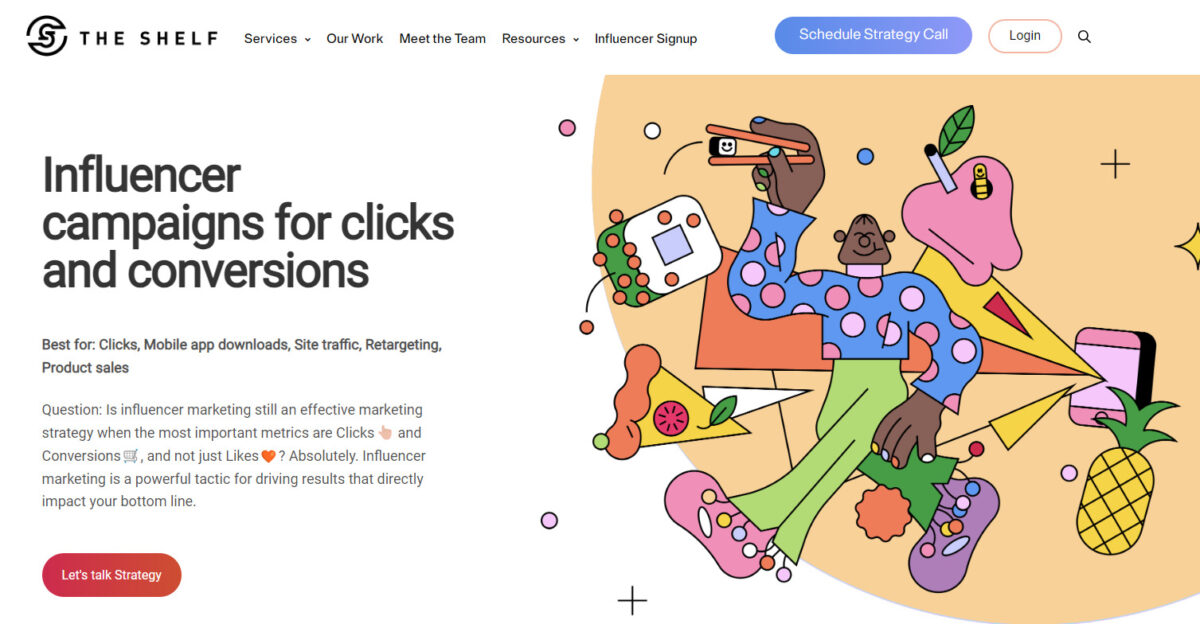 Theshelf emerges as a powerhouse in the retargeting agency landscape, particularly distinguished in the niche of home improvement and decor. The agency prides itself on a bespoke approach, meticulously crafting data-driven influencer campaigns that resonate with the unique behavioral patterns of diverse buyer segments. Their strength is rooted in a profound understanding of the nuances of marketing, from construction companies to individual homeowners. This granular approach ensures that the crafted retargeting strategies are not just comprehensive but are also exquisitely tailored to meet specific marketing goals and challenges.
The integration of technology is another defining attribute of Theshelf. Utilizing natural language processing and machine learning, the agency ensures influencer selection, campaign concepts, and audience targeting are optimized for maximal impact. Every piece of content is meticulously assessed by a team of art directors, copywriters, and strategists so quality and relevance are uncompromised. The agency's commitment to real-time optimization is exemplified in their staged activation of influencer campaigns, allowing for continual enhancement and adaptation to yield superior results.
Why Choose this Agency?
Theshelf's methodology is anchored in an exhaustive analysis of competitors, market dynamics, and customer behaviors. This analytical foundation ensures influencer campaigns are not just responsive but are also predictive, aligning with emerging trends and audience preferences. The agency's capability to combine unique targeting with the delivery of ads via influencers' accounts amplifies audience familiarity and comfort with client's products or services. Moreover, their adeptness in building relationships with influencers translates to enhanced engagement rates, substantiating Theshelf's stature as a retargeting agency that transcends conventional boundaries to deliver spectacular ROI.
---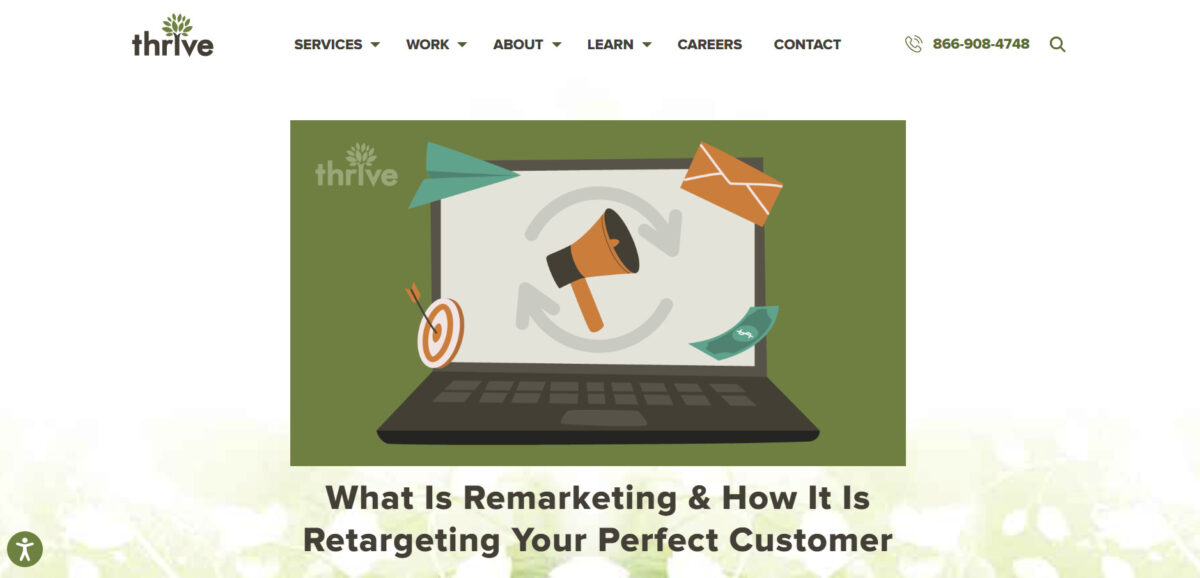 Thrive's distinction lies in its targeted and dynamic approach to social media marketing, designed to amplify brand visibility and engagement. This agency underscores the symbiosis of creative campaigns and strategic implementation, offering a bespoke mix of organic and paid strategies tailored to the unique needs of each business. Thrive has demonstrated proficiency in restoring and enhancing brand reputations, as highlighted in their work with a gaming company, where they not only repaired the brand's image but significantly amplified its social media impressions and engagements.
Thrive stands apart with its robust social media management, characterized by the creation, scheduling, and evaluation of content across various platforms. Leveraging cutting-edge tools like Hootsuite and Onlypult, the agency ensures real-time monitoring and optimization of social media presence. Thrive's commitment to innovation and adaptability is evident in its continual alignment with emerging trends and market shifts. This adaptability ensures that the brands they represent remain relevant and engaging, fostering a vibrant and responsive online community.
Why Choose this Agency?
The agency's expertise extends to social media advertising, a critical avenue for brands facing the challenges of declining organic reach. Thrive employs targeted advertising campaigns to place brands directly in front of specific audience segments, optimizing return on investment. The inclusion of social media brand management amplifies Thrive's offering, ensuring consistent brand presentation and engagement across platforms. 
---

Tuff growth distinguishes itself as a retargeting agency that meticulously crafts strategies, ensuring businesses efficiently convert website traffic into revenue. Leveraging an arsenal of tools and tactics, including Google Ads, Bing Ads, Facebook and Instagram Ads retargeting, Tuff growth pivots from generic, 'set and forget' campaigns to dynamic, interactive, and audience-specific strategies. The transformation clients experience is profound; from a state of undefined audiences and limited communication, they move to a structured, streamlined process where daily communication and focused retargeting are paramount.
The agency's approach is rooted in customized, data-driven methodologies that include but are not limited to tracking implementation, audience creation, conversion optimizations, and A/B testing. Their granular and broad retargeting ensures audiences are not just broadly targeted but receive tailored interactions that enhance conversion rates. Clients, post-engagement with Tuff growth, testify to an environment where results are delivered, progress is clear, and a palpable sense of trust is established. They are particularly lauded for organizing everything in one place, amplifying the efficiency and effectiveness of retargeting campaigns.
Why Choose this Agency?
The efficacy of Tuff growth is encapsulated in their case studies, showcasing remarkable feats such as turning a mere $172 of extra ad spend into $192,853 more in sales. Their prowess in app installations and building conversion-focused landing pages underscores their multifaceted expertise. Companies, ranging from local businesses to e-commerce giants, echo sentiments of enhanced retargeting ads results and revenue growth.
---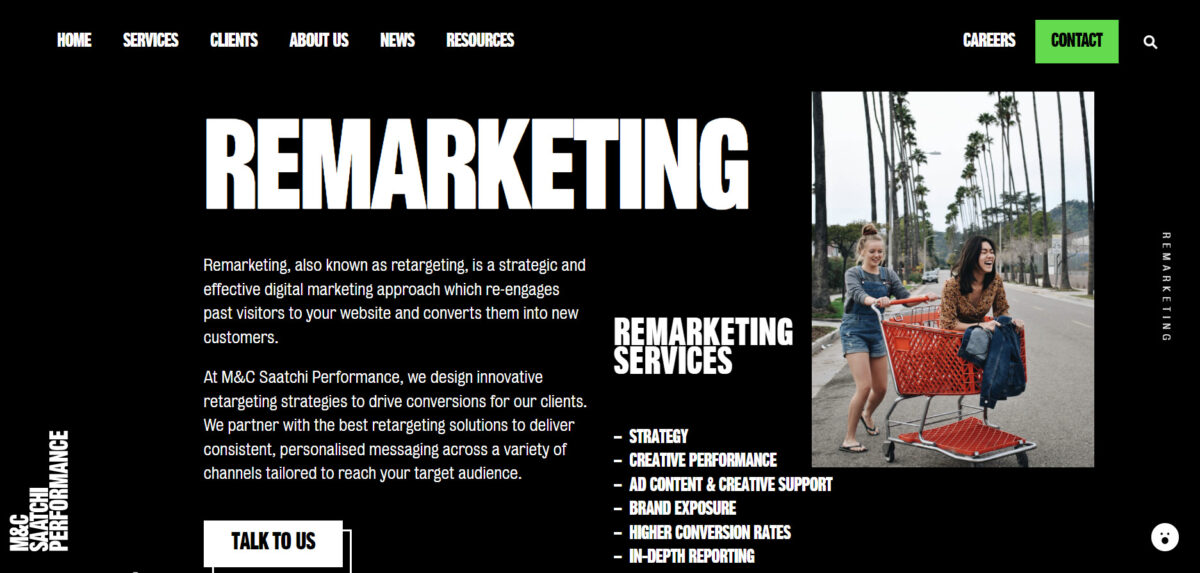 M&C Saatchi Performance exemplifies innovation and efficiency in the retargeting landscape, offering bespoke solutions tailored to individual client needs. Their remarketing strategy re-engages past visitors with precision, turning potential interest into tangible conversions. The agency leverages optimal retargeting solutions, delivering personalized messaging across diverse channels. Clients can anticipate a synergy of strategy, creative performance, and ad content that elevates brand exposure and ensures each campaign resonates with its intended audience effectively.
Navigating the complexities of the digital landscape, especially amidst evolving data security and privacy norms, requires adept hands. M&C Saatchi Performance stands out for its adeptness in this domain. With a team of privacy specialists, the agency guides clients through the shifting terrains of user tracking and data storage, ensuring compliance without compromising campaign effectiveness. Clients, including renowned brands like Amazon and Rakuten Rewards, testify to the agency's ability to harmonize data security with effective retargeting, accentuating brand awareness and fostering long-term customer loyalty. The agency's accolades, including Agency of the Year for seven consecutive years, affirms its standing as a leader in the retargeting arena.
Why Choose this Agency?
The agency's commitment to data-driven decisions sets it apart. Repeated tests and analyses are integral to their approach, ensuring assumptions give way to actionable insights. M&C Saatchi Performance is renowned for its capacity to optimize PPC ads continually, attaining improved performance metrics and higher conversion rates. Clients benefit from in-depth reporting that not only unravels the intricacies of ongoing campaigns but also illuminates pathways for future strategic developments. The agency's adeptness in content and creative support underscores their holistic approach, ensuring clients' retargeting needs are met with ingenuity and expertise.
---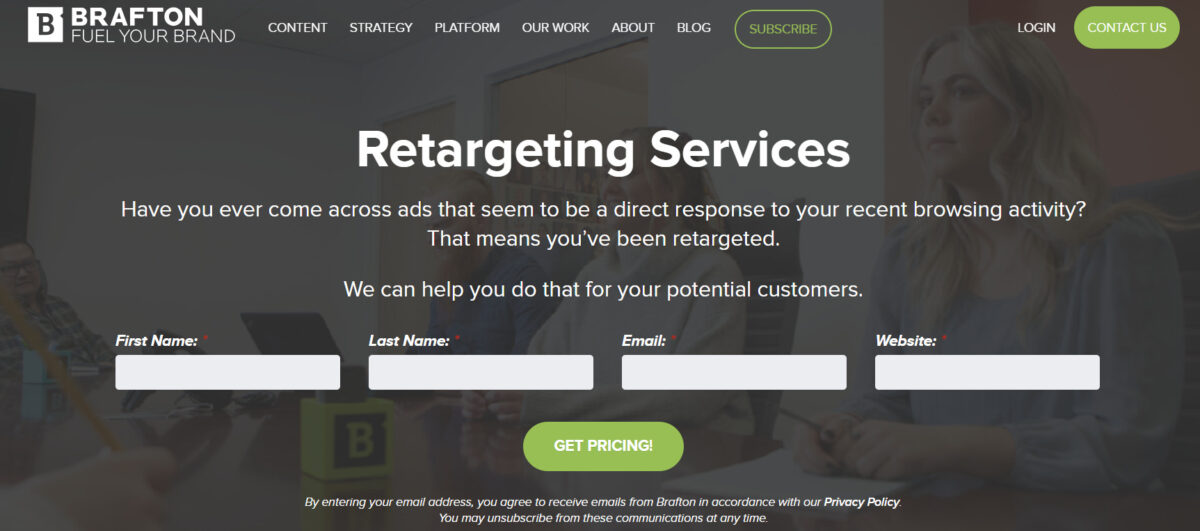 Brafton's comprehensive retargeting services stand out for their strategic precision and personalized approach, ensuring potential customers consistently encounter tailored advertisements that speak directly to their interests and interactions. This agency focuses on PPC advertising, leveraging real-time bidding to optimize the visibility and effectiveness of each ad. The deployment of ad retargeting is meticulously crafted, targeting specific web users based on their internet activity, utilizing cookies and third-party data to refine this focus, ensuring each ad's maximal impact and relevance.
What sets Brafton apart is the combination of Managed Spend Allocation and Campaign Management. Every client is assigned a dedicated consultant responsible for meticulously planning and allocating the advertising spend towards channels promising the highest returns, informed by historical campaign data and audience insights. The agency employs platforms like AdRoll, emphasizing audience segmentation and geo-targeting to enhance the ads' effectiveness and reach. This intricate process is backed by detailed reporting and attribution mechanisms that track conversions and measure campaign performance based on a variety of key metrics.
Why Choose this Agency?
Brafton places significant emphasis on strategic content optimization, integrating various elements that contribute to the success of retargeting ads. Clients benefit from services spanning buyer persona development, landing page copy optimization, UX and design audits, and beyond. The agency's pragmatic approach is rooted in data, ensuring every strategy is informed and every tactical decision is made to optimize advertising spend and boost conversion rates. Brafton's international presence, with services extending across the United Kingdom, Australia, and Germany, attests to its global expertise and adaptability to diverse markets and audience segments.
---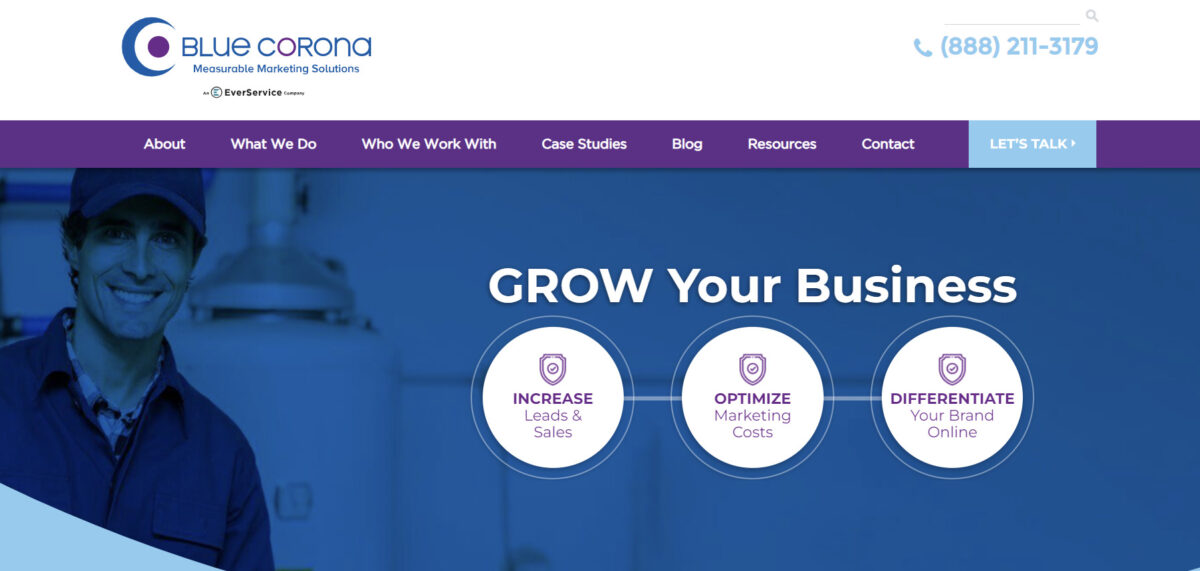 Blue Corona stands as a paragon in the retargeting landscape, driving client success through precision-engineered strategies tailored to intercept and re-engage the visitors who leave without converting. The agency's expertise spans various remarketing platforms, including Google Display Ad Network and popular social media channels. The methodology is deeply rooted in strategic segmentation and targeted outreach, where ads are not just seen but resonate, thanks to the strategic allocation and optimization ingrained in every campaign.
In the realm of services offered, Blue Corona showcases a multifaceted approach, deploying retargeting strategies across video remarketing on YouTube to dynamic and display remarketing within the Google ad network. Social media remarketing is another forte, with LinkedIn, Facebook, and Pinterest platforms transforming into conduits that re-connect brands with potential customers. Beyond these, customer list remarketing emerges as a distinguished service, wherein personalized ads target individuals from meticulously curated customer lists, enhancing the brand's resonance and engagement quotient.
Why Choose this Agency?
Data and analytics are the linchpins of Blue Corona's remarketing prowess. Every campaign is scaffolded by in-depth analytics, ensuring advertisements are not just disseminated but are strategically placed to yield maximal engagement and conversions. The agency's emphasis on pre-campaign analytics and data gathering underscores a commitment to informed, results-driven remarketing endeavors. This detailed analytics and measurement framework, complemented by a comprehensive PPC audit and continuous optimization, positions Blue Corona as an agency where campaigns are not just run but are evolved, optimized, and tailored to deliver discernible, quantifiable results in the complex digital ad space.
---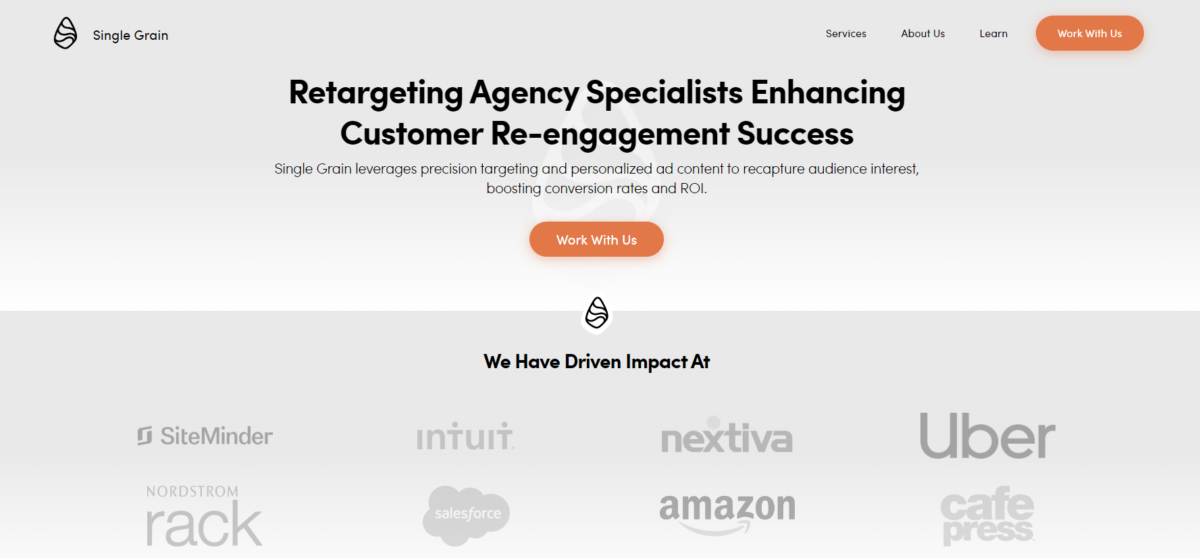 In the competitive digital marketplace, Single Grain emerges as a top-tier retargeting agency, epitomizing the confluence of technology, innovation, and strategic prowess. The agency is equipped to mitigate the challenge of customer disengagement, converting fleeting interactions into tangible business opportunities. They specialize in recapturing the customers who abandon their online journey prematurely, transforming lost opportunities into meaningful engagements and enhanced ROI.
Single Grain's service portfolio is an amalgamation of art and science. They leverage data-driven insights to discern the nuances of customer disengagement, unraveling the underlying causes and patterns. These insights are the bedrock of their personalized retargeting strategies, tailored meticulously to align with the unique dynamics of each business and its audience. Services such as A/B testing, real-time campaign monitoring, and conversion rate optimization are meticulously woven into a coherent strategy aimed at re-engaging lost customers with precision and relevance.
Why Choose this Agency?
Distinguished for their comprehensive retargeting solutions, Single Grain ensures returning customers are not just recaptured but are nurtured into loyal patrons. Their strategies are characterized by purposeful personalization and engaging user experiences that resonate with the audience. Every retargeting campaign is engineered to be memorable and effective. Through meticulous segmentation, targeted ad distribution, and personalized ad creation, Single Grain's retargeting mechanisms are not just about reclaiming lost customers but fostering enduring relationships that translate into business growth and enhanced profitability.
---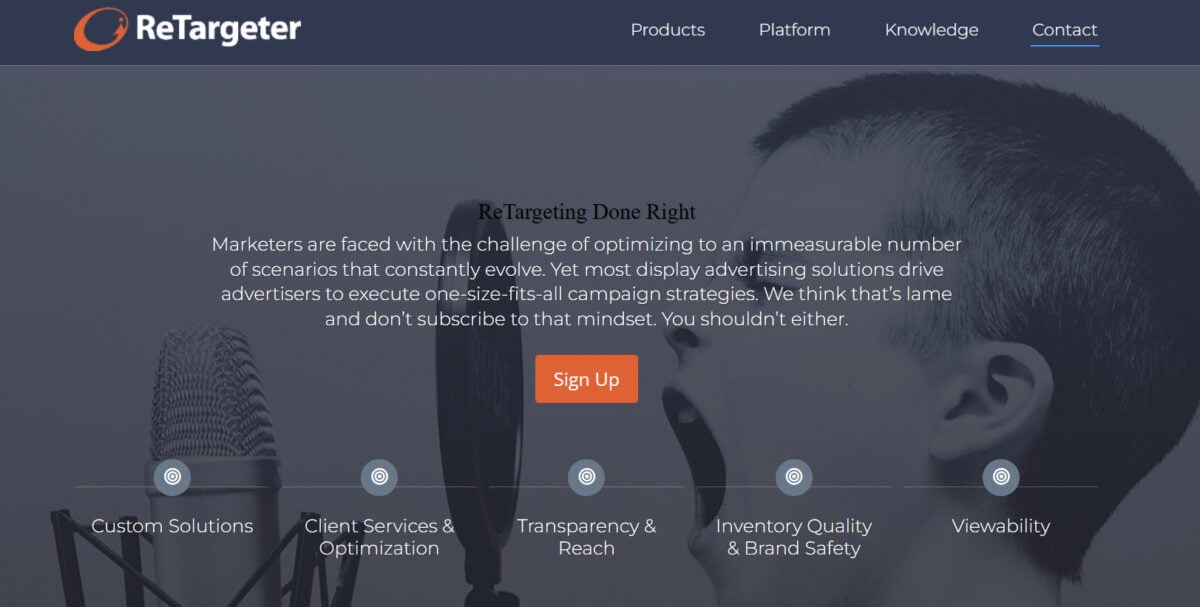 ReTargeter distinguishes itself as a digital advertising agency through its unwavering commitment to customization and innovation. In the realm of retargeting, where most agencies often employ generic, one-size-fits-all strategies, ReTargeter stands as an antithesis. Recognizing the uniqueness of each business and the diversity of their goals, the agency crafts tailored media strategies that are as distinct as the clients they serve. B2B and DTC organizations alike find a partner in ReTargeter, an agency capable of transforming standard campaign strategies into bespoke solutions aligning with specific business objectives and market nuances.
The agency's approach to client services and optimization underscores its dedication to client success. ReTargeter acts as an integral extension of a client's marketing team, characterized by a blend of emotional intelligence and intellectual prowess. Every advertiser is paired with a dedicated Account Manager, a professional equipped to comprehend the intricate details of the client's business and adept at optimizing media for optimal performance. Furthermore, the agency's unyielding commitment to transparency and reach ensures clients not only know where their ads are being served but also exert control over them, guaranteeing a balance between transparency and expansive scale.
Why Choose this Agency?
Quality, brand safety, and viewability are the cornerstones of ReTargeter's operational ethos. With in-house and top-tier partners, the agency scrutinizes every impression served, ensuring real individuals, not bots, view ads. Real-time filtering of content surrounding each impression, in tandem with brand safety technology, safeguards the online reputation of brands. Viewability is accentuated by adherence to IAB standards, ensuring clients pay exclusively for impressions that are genuinely viewable. The testimonies of satisfied clients and impressive metrics of clicks, conversions, and cost per acquisition accentuate ReTargeter's stature as an agency where innovation, customization, and quality converge for retargeting excellence.
---
Key Statistics That Define the Impact of Retargeting Agencies
Retargeting agencies play a key role in modern marketing. Their contributions in recapturing the attention of potential customers who didn't convert during their first website visit cannot be overlooked. Let's delve into some compelling statistics that underscore their significant impact on online marketing and e-commerce spaces.
A staggering 98% of visitors, on average, leave a website without making a purchase or taking a desired action. This is where a retargeting agency steps in. By utilizing cutting-edge technology, they successfully recapture 25% of those lost visitors, inducing them to return and complete their purchase. This notable percentage highlights the efficacy of retargeting in enhancing conversion rates.
CTR (click-through rate) is another metric that bespeaks the effectiveness of retargeting. Retargeting ads boast a ten times higher CTR than typical display ads. This statistic demonstrates the pivotal role of personalization and timing, hallmarks of retargeting campaigns that are expertly crafted by specialized agencies.
Furthermore, businesses that have incorporated retargeting into their marketing strategies have witnessed a 147% increase in average conversion rates, as per a recent study. This data is a testament to the tailored approach that retargeting agencies employ, ensuring that ads are not just seen, but also resonate with the audience, prompting decisive action.
What Retargeting Services Are Offered By Agencies?
Agencies leverage retargeting strategies to target specific internet users based on their prior online activity. This prior activity, discerned from cookies and third-party data, becomes the foundation for directing advertisements. There are two primary forms of retargeting:

Website Retargeting
This strategy focuses on users who have already shown interest in a brand by visiting its website. For instance, if a user browses a clothing brand's website, viewing certain dresses or shirts, website retargeting ensures ads featuring those specific items appear to them as they navigate other parts of the internet. 
This method operates under the principle that familiarity breeds comfort. By reintroducing potential customers to products they've already viewed, there's an increased chance of conversion. 
Dynamic Retargeting
While website retargeting zeroes in on users familiar with a brand, dynamic retargeting casts a wider net. It targets users based on their overall online behavior, not just their interaction with a specific brand. For example, if a user searches for running shoes but hasn't visited a particular sports brand's website, dynamic retargeting could still show them ads from that brand based on the general interest shown in running shoes. 
The ads in this approach are dynamically generated and tailored based on the user's browsing patterns. So, if they've looked at multiple sports items across different sites, they might receive an ad showcasing a range of sports gear. 
Managed Spend Allocation
Entrusted with maximizing the return on advertising investments, agencies often have teams of dedicated consultants who specialize in spend optimization. These professionals analyze extensive sets of historical campaign data, meticulously studying patterns and trends. Coupled with a clear understanding of a brand's marketing objectives, they factor in specific target demographics, seasonal market fluctuations, and emerging industry patterns.
Campaign Management
Given the dynamic nature of online audiences and the ever-evolving digital landscape, managing a retargeting campaign is no minor feat. Recognizing this, agencies employ expert consultants proficient in using sophisticated platforms retargeting platforms. These platforms offer an array of functionalities:
Audience Segmentation

: Audience segmentation can classify users based on the frequency of site visits, the duration of their stay, the type of content they interact with, and even subtle behavioral cues like scrolling speed. Such detailed segmentation allows for the crafting of highly personalized ad experiences that resonate more effectively with each user segment.

Geo-targeting

: Modern geo-targeting goes beyond merely determining a user's city or country. With advancements in technology, it's now possible to target audiences right down to specific neighborhoods or zones. This hyper-local targeting is invaluable for businesses such as local eateries, boutiques, and service providers looking to attract footfalls from specific locales.

Reporting and Attribution

: In today's data-driven world, mere qualitative feedback isn't enough. Quantitative metrics are vital. Expert consultants employ sophisticated tools that track a plethora of metrics, from CPC (Cost Per Click) and ROAS (Return On Ad Spend) to more nuanced ones like customer lifetime value and post-click activity. 
---
Conclusion
In wrapping up this in-depth exploration, it is evident that the highlighted agencies are revolutionizing the retargeting landscape with their unique approaches and innovative strategies. They harness state-of-the-art technologies, ensuring personalized and targeted ad content that effectively re-engages potential customers.
The combination of strategic prowess and technological innovation has proven effective in not only recapturing the audience's attention but also in converting this re-engaged audience into loyal customers. The practical application of data analytics ensures every campaign is optimized for the highest level of engagement and conversion. These comprehensive analyses and personalized strategies illuminate the pivotal role that retargeting plays in today's dynamic digital marketing ecosystem, proving it to be an indispensable strategy for brands aiming to maximize their online advertising effectiveness and ROI.
Frequently Asked Questions
How much does it typically cost to hire a retargeting agency for an ad campaign?
The cost can vary greatly depending on the scope of the campaign, the agency's expertise, and the targeted audience size. It's essential to discuss your specific business needs and budget with potential agencies to get a customized quote.
How do retargeting agencies safeguard the privacy and security of our customers' data?
Retargeting agencies prioritize data privacy and security by adhering to strict industry standards and regulations. They implement advanced security protocols, ensuring that customer data is protected and used ethically.
What kind of tools and technologies do retargeting agencies use to optimize ad campaigns?
Agencies utilize a range of sophisticated tools and technologies, including cookies, pixels, machine learning algorithms, and AI, to track user behavior, analyze data, and deliver personalized ads effectively.
What metrics are used to measure the effectiveness of a retargeting campaign?
Key performance indicators (KPIs) like click-through rates (CTRs), conversion rates, return on ad spend (ROAS), and customer engagement levels are commonly used metrics to gauge the success of a retargeting campaign.
Is retargeting a viable strategy for B2B marketing, or is it primarily used for B2C?
Yes, retargeting is equally effective for B2B marketing. It helps businesses stay top of mind with potential clients, engage them with personalized content, and encourage them to complete the desired actions, such as signing up for a webinar or requesting a quote.