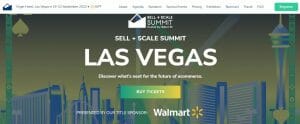 eCommerce is rewarding. However, many entrepreneurs are racked with challenges, such as how to convert visitors, maintain customer loyalty, and become sustainable. eCommerce is a saturated market where it can be challenging to catch the attention of consumers.
How do you equip and position your business for growth? If you're thinking of venturing into eCommerce and eCommerce marketing, how do you build a business that meets your customers' changing needs? For eCommerce veterans, how do you take your business to the next level?
---
Here's Everything You Need to Know About the Sell + Scale Summit 2022:
---
What is the Sell + Scale Summit 2022?
Hosted by Helium 10, one of the leading global eCommerce growth platforms for Amazon entrepreneurs, the Sell + Scale Summit brings together eCommerce entrepreneurs, experts, and thought leaders for a 3-day conference packed with proven strategies, fresh ideas, and actionable insights. The conference will take place on September 19-22, 2022, at the Virgin Hotel in Las Vegas.
At the Sell + Scale Summit, you'll get to see five keynote speakers, including serial entrepreneur Gary Vaynerchuk and marketing expert Neil Patel. Attendees will also gain access to over 30 curated presentations by industry experts, diverse networking opportunities, and a world-class exhibition market that showcases more than 50 exhibitors and sponsors, including Walmart, Ampd, and FE International.
---
Discount Coupon
As an Influencer Marketing Hub Reader you can Use S3IMH200 to get $200 OFF your tickets.
---
What to Expect at the Sell +Scale Summit
The Summit will be a feature-packed event. To help you prepare for it, here's a rundown of what to expect during this event.
Tracks
The conference will have three tracks designed to equip you with skills and resources to help you maximize your growth. These are:
Fortify Foundations for Success
This track is designed to help sellers refine their eCommerce tactics and strategies to enable successful product launches and operations. In this track, you'll learn about the tools you can use to build your brand and information on pricing, PPC, logistics, and sourcing, as well as opportunities to network with other entrepreneurs and experts.
Strengthen Your Brand + Smash Sales Goals
This track is ideal for established eCommerce businesses and will give them the knowledge and resources needed to grow their business and unlock growth opportunities. What sets this track apart is it will provide you with ideas for self-care that will help you achieve a better balance between your personal life and your business life.
For participants in the executive leadership level, this track is designed to help you expand your business on a larger, global scale by providing you with the tools and frameworks needed to utilize and maximize strategic business opportunities.
---
Speakers
Get to know more about how you can set up your business for success from some of the world's top eCommerce marketing companies, experts, founders, and executives. Listen to new ideas and get key insights from Sell + Scale speakers, which include:
Keynote Speakers
Gary Vaynerchuck

Neil Patel
Other Speakers
Below is a list of other Sell + Scale Summit speakers, which includes CEOs, founders, a patent attorney, consultants, and more:
Bradley Sutton

Kevin King

Jana Krekic

Rachel Pedersen

Carrie Miller

Kian Golzari

Saqib Azhar

Scott Deetz

Michael Lebhar

Melisa Vong

Mark Casey

Izabela Hamilton

Melissa Burdick

Mina Elias

Michael Jackness

Lazar Žepinić

Joe Shelerud

Gilad Freimann

Trevin Peterson

Cara Sayer
The Sell + Scale Summit's emcee will be serial entrepreneur and author Ramon Ray.
---
Activities
Here are more activities to look forward to during the Sell + Scale Summit:
Enjoy a beach party at the Elia Beach Club on September 19, from 7:00 to 10:00 p.m. Music, food, and drinks are sponsored by Assembly.
Listen to world-renowned rapper and singer Nelly as he heats the scene with his distinctive vocals and performance during the private welcome party.
The Teaching Lounge is a collection of interactive sessions that let you ask anything from eCommerce experts.
The Breakout Sessions will provide you with an opportunity to engage in various deep dive sessions with industry experts, allowing you to learn more from them about specific topics.
Networking events are included with your conference registration. Here are some of the sessions you don't want to miss out on:
Daily networking breakfasts and lunches

Social media strategies

Fun Zumba classes

Interactive networking sessions for 6-figure sellers and 7-figure and up sellers
---
Exhibitors
The Sell + Scale Summit exhibitors include global brands, financial services companies, eCommerce enterprise software companies, and eCommerce growth platforms, such as:
Check out the full list of exhibitors and the exhibitor floor plan here.
---
Ticket Prices
Platinum passes are $999, while VIP Experience passes go for $1,599.
Here are some of the things you can get with a Platinum pass:
Access to keynotes, seller showcase, and curated content

Educational tracks

Access to the exclusive exhibit hall

Breakfast and lunch
If you want a more comprehensive experience, here are some of the things that a VIP Experience pass can give you:
Everything included in the Platinum pass

Access to Mastermind sessions with reserved seating

VIP reception and access to the welcome party

Upgraded meals
Note that there are only 250 tickets available for the VIP experience, so you might want to get your tickets now.
---
Gearing Up for Growth This 2022
Whether you're just starting out with eCommerce or you want to expand your business, the Sell + Scale Summit is an opportunity that you shouldn't miss out on. It's designed to give participants the most value using a seller-first approach for each activity.
It's also centered around private-label selling and helping you learn more about what it takes to build your brand by connecting you with some of the world's top eCommerce authorities. You can expect to get inspired and bring with you actionable takeaways after each session. Plus, you get to experience a fun environment while learning new ways to build, develop, or grow your eCommerce business!
Purchase your tickets now so you won't miss out on all the excitement and learning that the Sell + Scale Summit 2022 offers.
Frequently Asked Questions
Who is the Sell + Scale Summit for?
The Summit is intended for anyone who's in the eCommerce industry, whether you're interested in starting your own eCommerce business or currently engaging in eCommerce.
How much do tickets cost?
Platinum passes are $999, while the VIP Experience tickets, with only 250 tickets available, cost $1,599.
When and where will the event be held?
The Sell + Scale Summit hosted by Helium 10 will be on September 19-22, 2022, at the Virgin Hotel, Las Vegas.
What do I need to bring to check-in?
To check-in, you need to bring a government-issued ID.
What safety measures should I take note of?
Mask mandates have been lifted by the State of Nevada. However, wearing a mask is recommended if you are not yet fully vaccinated or if you have underlying health conditions.