While email is convenient, it's not the best choice for sending big files. For example, Gmail limits your attachments to 25 MB. That's practically nothing. And, Outlook's file size limit is even smaller.
If you haven't had an issue with sending large files until now, count yourself one of the fortunate few. There'll come a time – sooner than later – that you'll have to send a large file for personal or business use. When that time comes, here are the available options:
---
11 Ways to Send Large Files Easily and Quickly:
---
1. Cloud Storage
Google Drive, OneDrive and Dropbox are three of the most well-known and cost-effective cloud storage solutions if you need to streamline your marketing project management or simply send large files like video and photos. Without having to fork out a lot, these cloud service providers offer plenty of storage space.
Google Drive
With Google Drive's Free plan, you get access to 15 GB of storage. If you're fine with deleting the files after you have sent them, this can be a viable free option for sending large files regularly. While you'll have 15 GB of space in total, the files or folders that you send may not be bigger than 10 GB, which is also better than average.
For more storage space, you can check out Google Workspace Essentials. It costs only $8 per user per month and gives you access to 100 GB storage space per user or 2 TB pooled cloud storage.
Dropbox
Just like Google Drive, Dropbox needs no lengthy introduction. With its Free plan, you can access 2 GB of storage space, much more than what Google Drive offers for free. If you need more space, you'll have to sign up for Dropbox Plus. For $12 per month, it offers a single user secure file storage (2 TB of encrypted storage) and sharing.
If you'll mainly be using it for sending large files to co-workers, the Family plan ($20 per month), will be more suitable. While this plan comes with the same storage space, it can accommodate up to 6 users.
OneDrive
If you mostly use Microsoft, you can check out OneDrive. Microsoft 365 subscribers automatically have 1 TB of storage at no extra cost. Though, if you simply want to use OneDrive as a standalone product you can do that too. With its Free plan, you'll get 5 GB of storage space, while for $2 per month you can increase that space to 100 GB.
---
2. USB Flash Drive or External Hard Drive
If you work in person with a team, buying a USB flash drive remains one of the best ways to send large files in a flash. Nowadays, USB drives can be as large as 2 TB. So, it doesn't have to be used just for the odd photo or Word doc.
Not only will it make it easier to collaborate with colleagues but it will also increase the storage capabilities of your devices. So, while there are better digital asset management options available for team collaboration, an external hard drive can be a good way to back up your personal files at least.
Alternatively, if you need more space, you can also use an external hard drive. For example, on Amazon you'll find external hard drives of up to 28 TB selling for about $1,000. While it's much more expensive than a monthly subscription, it's much faster than using a dedicated line.
If you need this much space, but won't see your co-worker in person for delivery, you can use a courier service. Before sending the external hard drive with the courier, remember to encrypt the hard drive to prevent unauthorized access and back up the files somewhere else for just in case.
---
3. File Compression
File compression is one of the most straightforward solutions if you need to transfer big files. You can, for example, use a software like 7-Zip that's compatible with Mac, Windows and Linux. As you can group your files in a single folder and compress them at once, it's especially useful if you need to send more than one file. For extra protection, you can also create a password to keep your files safe.
---
4. Hightail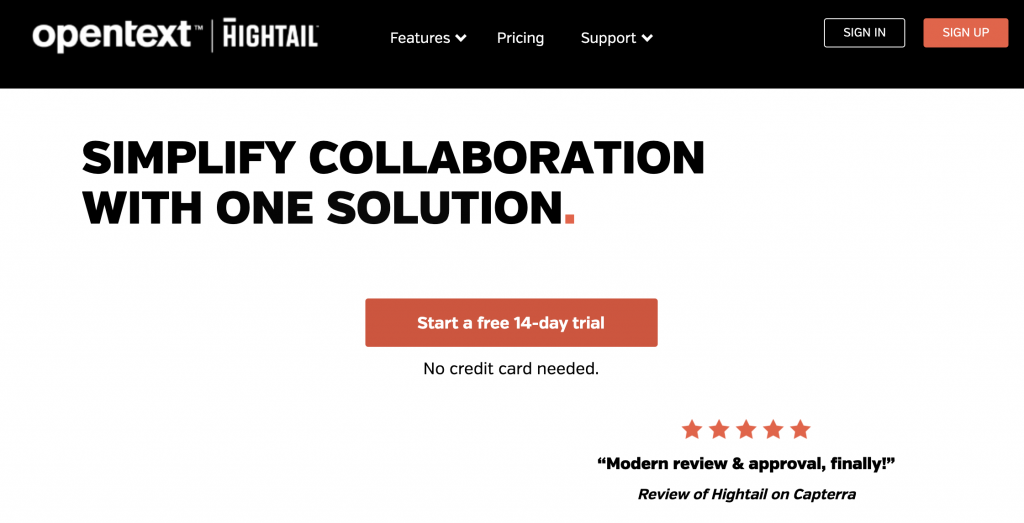 Hightail used to be called YouSendIt and is a great file sharing and storage solution for business users. It offers you three options for sharing files. You can send the file directly to the email address of your team member, use a send form and upload your files to be delivered, or store the files in Hightail Space and send the recipients the link to access them. The latter option is especially useful if you need to get co-workers' input on multiple documents.
Like most similar services, Hightail also offers a free file sharing service. With its Lite account, you can share files of up to 100 MB and get 2 GB of storage space for free. If you need more space, its cheapest plan starts at $15 per month and comes with a file sharing size limit of 25 GB.
---
5. Resilio Sync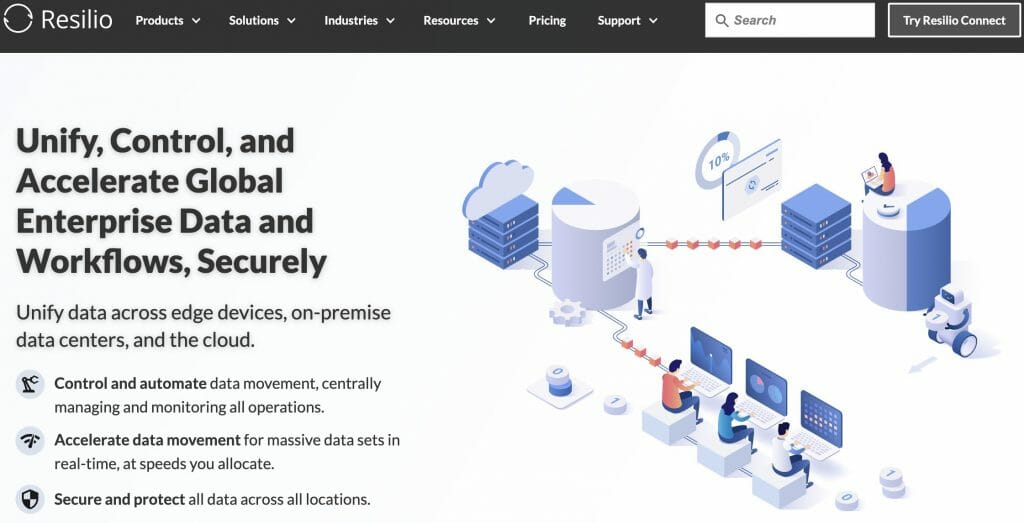 Formerly called BitTorrent Sync, Resilio Sync is a peer-to-peer sync tool and can be used to sync big files directly between two or more devices. Whereas Hightail is more aimed at businesses, Resilio Sync has a product - Resilio Sync Home - that was specifically designed for personal use. For more information about its pricing, you'll have to reach out to their team directly.
---
6. MediaFire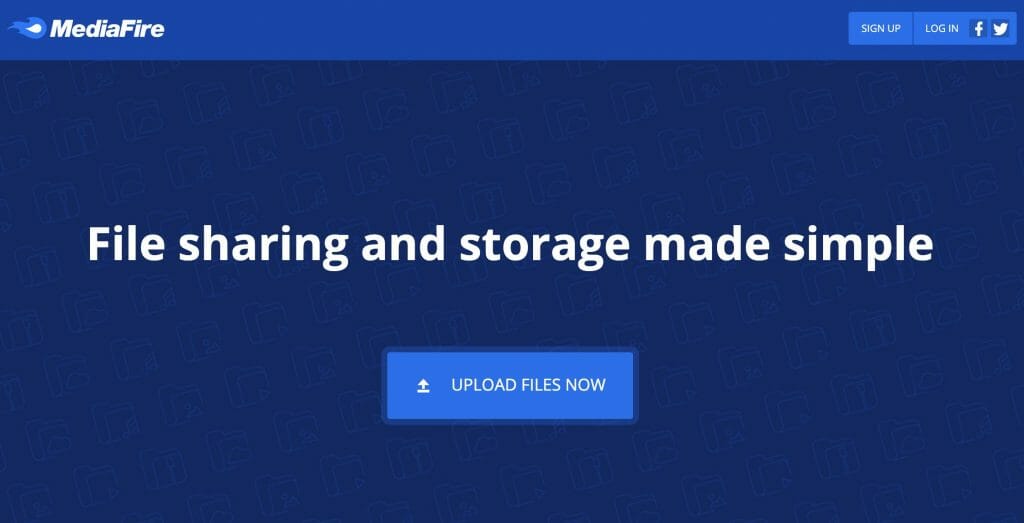 MediaFire offers file hosting, cloud storage, and file synchronization services. When you register for your free account, you'll get 10 GB of storage and if you refer friends you'll be "rewarded" with up to 50 GB of additional storage space.
If you don't want to spam your network with recommendations but need more space, you'll have to sign up for a paid subscription. In addition to its free Basic plan, it offers the Pro plan for a single user and the Business plan for a team of 100 users. With the Pro plan, you'll get 1 TB for about $7 per month, while the Business plan gives you access to up to 100 TB at $80 per month.
One of the main advantages of MediaFire is that you can send up to 20 GB per file. So, if you need to send long videos or other big files, this is a good alternative to a more well-known service like Google Drive.
If you're running a subscription-based business, this is also a good solution as you'll be able to share one-time links with subscribers. This gives you much better control of your downloads as subscribers will not be able to share the link with others after downloading it.
---
7. MASV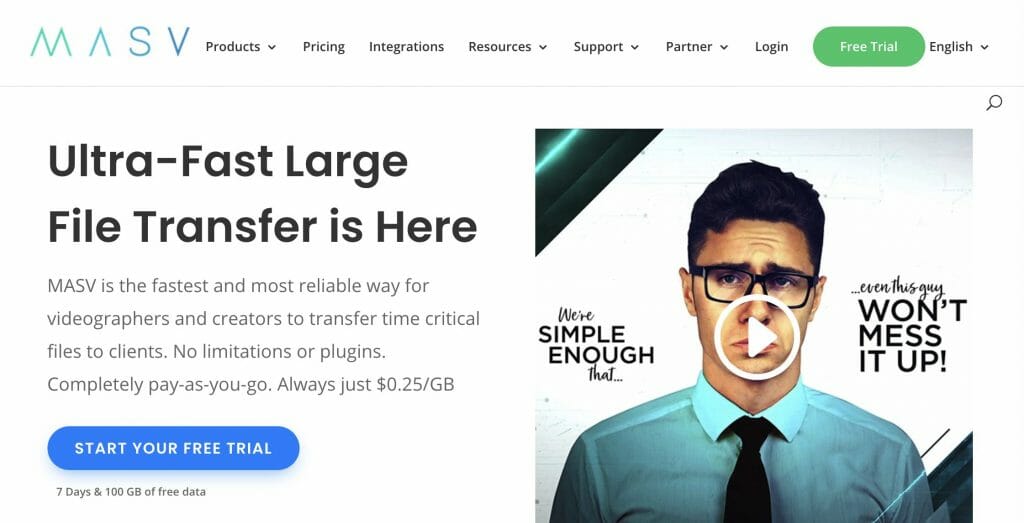 Masv is a browser-based file transfer solution. It uses built-in proprietary tech to speed up the upload of files bigger than 20 GB. Unlike some of the other services, you can pay as you go instead of a monthly fee. At $0.25 per GB, it can work out more costly, but it's much faster than cloud storage services such as Google Drive and really convenient for that one-off project.
---
8. WeTransfer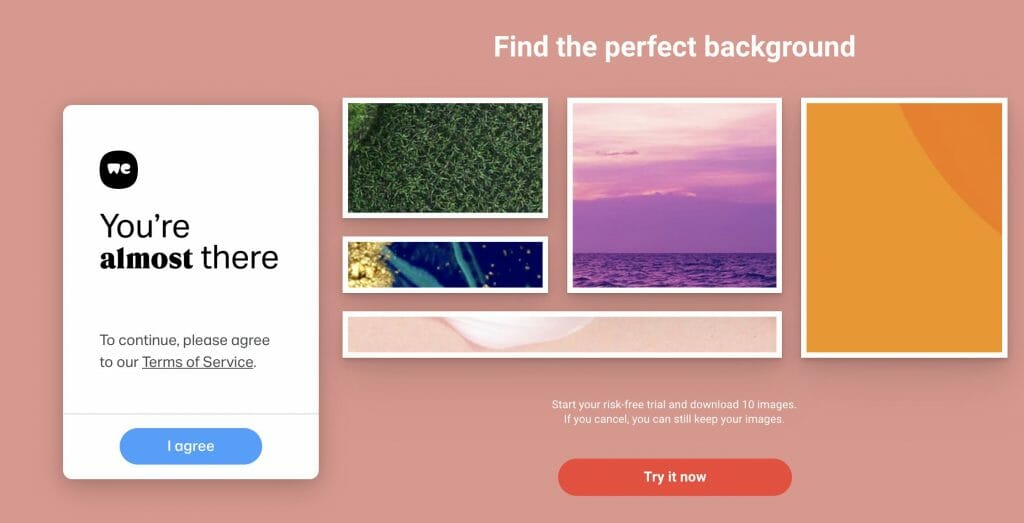 WeTransfer is an online service that allows you to share files without registering first. In short, you access its website, upload your file, add the recipient's email address as well as your address and write a message. With its Free plan, you can send up to 2 GB in total. If you need more capacity, you can sign up for WeTransfer Plan. It costs only $12 per month and lets you upload documents of up to 20 GB. For added security, you can also use a password to protect your documents. All in all, as no sign-up or downloads are needed, it's a great free option for sending big one-off files.
---
9. Send Anywhere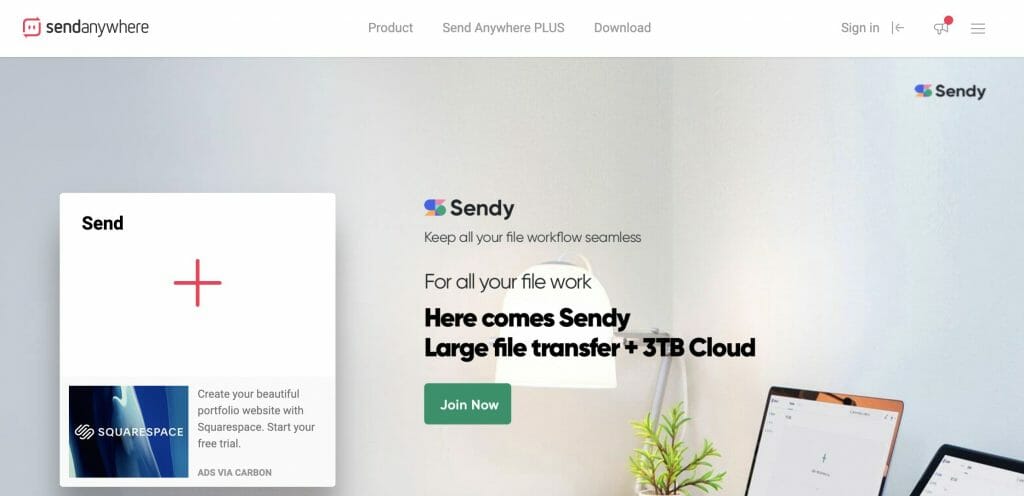 With Send Anywhere, you can send files of up to 10 GB free of charge. Unlike cloud storage services, Send Anywhere doesn't compromise speed. You can access its service via its web app or mobile app for iOS and Android, making it a convenient solution if you're in a hurry and often work on the go.
---
10. Jumpshare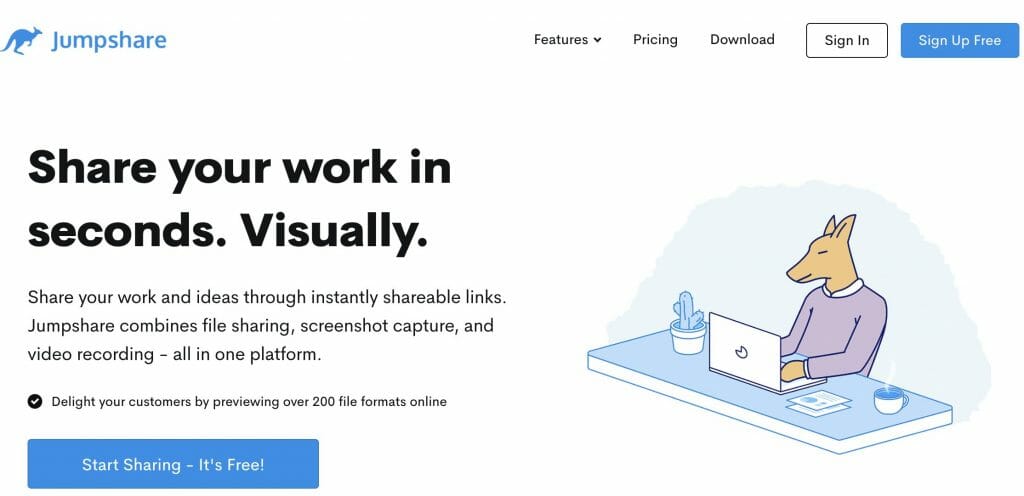 Jumpshare is one of the most popular services for sharing large files. It lets you send up to 250 MB as shareable links at no cost. While it's not as much as WeTransfer, it's still much more compared to what the majority of email services offer. Plus, it also offers many other features like screenshot capture, previewing 200 file formats, and analytics. Overall, it's really easy to use. Though, you first need to sign up on its website before you can use it, but, other than that, it's very convenient.
---
11. Box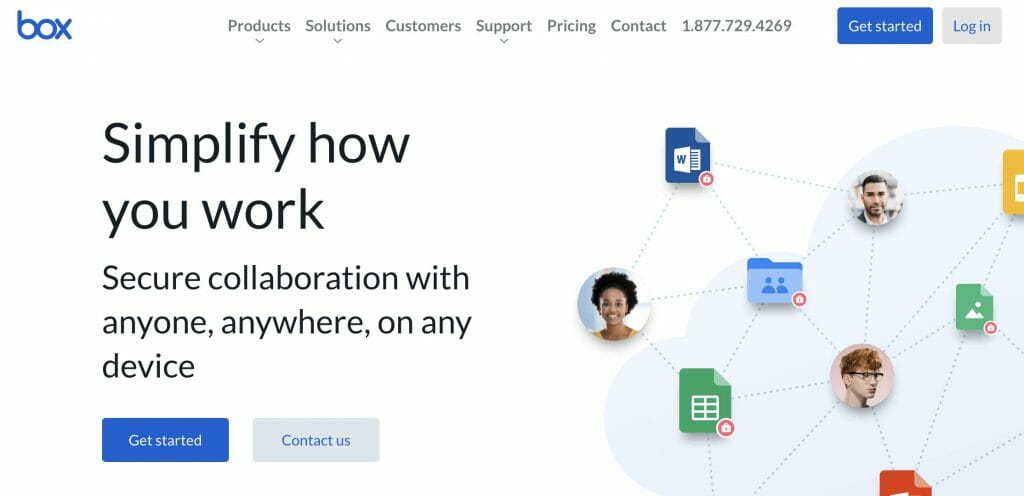 If you need to send large files for business purposes, be sure to check out Box. Unlike many of the other services in our list, Box aims its cloud content management and file sharing services mostly at businesses. It does offer a free plan for single users, but this plan has an upload limit of 250 MB per file and 10 GB of storage in total. The storage space is pretty generous for a free plan, but, similarly to Jumpshare, it's not the best solution if you specifically want to use the service for sending big files.
That being said, even if you need to sign up for one of its paid plans, it's still reasonably priced. Its Starter Business plan works out similar to Google Workspace Essentials. For $7 per user per month, you can collaborate with up to 10 users, get up to 100 GB of storage and upload files of up to 2 GB. Keep in mind, though, that you need to sign up at least 3 users, which means that Google Workspace Essentials can work out cheaper for basically the same functionality.