Advertising Disclosure
Advertising disclosure:
Our partners compensate us. This may influence which products or services we review (also where and how those products appear on the site), this in no way affects our recommendations or the advice we offer. Our reviews are based on years of experience and countless hours of research. Our partners cannot pay us to guarantee favorable reviews of their products or services.
Nowadays, when websites are the gateway to business success, understanding the significance of a comprehensive SEO audit is pivotal. The competition for organic search visibility is fiercer than ever, and a well-optimized website can be the difference between obscurity and prominence in search engine rankings. Therefore, as a business owner, ensuring that your website ranks high on search engine results pages (SERPs) should be a top priority.
With this realization, it's only natural to seek out the expertise of professionals who can navigate the intricate world of SEO audits and empower your online presence. Fortunately, there are dedicated agencies that specialize in this craft, ready to delve into the depths of your website and unlock its hidden potential. So, let's explore the top 8 web SEO audit service providers who excel at driving results for businesses like yours.
---
Leading Web SEO Audit Services
Top
seo audit services
2024
Year Founded: 2011
Location: Paramus, New Jersey
SmartSites Digital Marketing Agency sets itself apart with its in-depth Technical SEO Audit services. They employ an in-house team of experts armed with advanced software and proprietary tools to meticulously assess every facet of your website's on-page SEO. From scrutinizing Google My Business listings to assessing HTTP status codes and redirects, their thorough approach ensures no SEO stone is left unturned.
SmartSites boasts an impressive array of industry credentials, including Google Premier Partner, Microsoft Advertising Select Partner, Meta Business Partner, and Amazon Ads Partner. Such recognition underscores their commitment to excellence. But what truly makes SmartSites shine is their client-centric approach. They don't just identify SEO issues; they guide you on how to fix them. With a full-service team comprising marketing experts, technical SEO analysts, and website developers, SmartSites ensures your website's optimal performance and empowers your business to thrive in the digital realm.
With SmartSites Digital Marketing Agency, you're not merely engaging an agency; you're forming a strategic partnership with a team of seasoned professionals deeply committed to enhancing your online presence and fostering enduring growth for your business.
---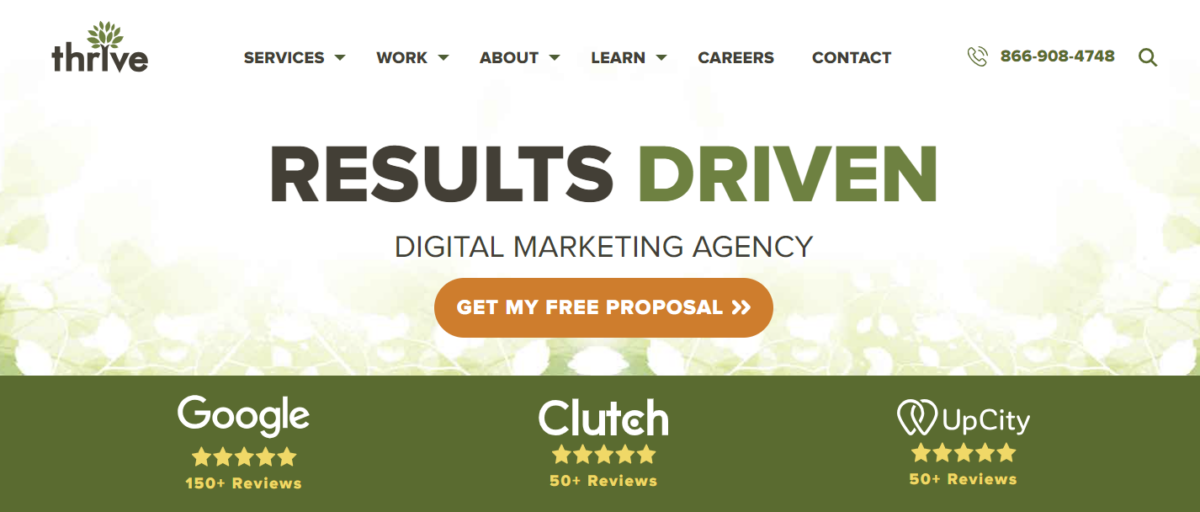 Year Founded: 2005
Location: Dallas, Texas
Thrive Internet Marketing Agency shines as a leading provider of SEO audit services, with expertise in Shopify SEO and eCommerce. Their dedicated team of SEO experts is well-versed in optimizing websites and stores, aiming to strengthen your digital presence and expand your market reach. Thrive offers 24/7 customer support, ensuring that urgent needs and concerns are addressed promptly. Their comprehensive offering is designed to enhance the overall website experience for your customers.
With over 15 years of industry experience, Thrive brings a wealth of knowledge to the table. Their track record of helping businesses across diverse industries grow their online presence and revenue is a testament to their expertise. Many of their SEO experts boast over a decade of industry leadership, making them a reliable choice for businesses of all sizes. Thrive's collaborative approach ensures every client benefits from their collective experience, with a single point of contact to manage each project.
Thrive's success is rooted in its Agile SEO methodology. This well-structured approach encompasses various phases, from discovery and analysis to strategy development, execution, measurement, reporting, and continuous adjustment. Their commitment to transparency and data-driven decision-making ensures that your SEO campaign is not only effective but also adaptable to evolving market trends.
---
Year Founded: 2017
Location: London, UK
Ninja Promo is a powerhouse of innovative SEO tools designed to propel your website's performance to new heights. Whether you're an agency, freelancer, or marketer, Ninja Promo has the arsenal you need to boost website traffic, rankings, and, ultimately, your online sales. Ninja offers a groundbreaking SEO Audit Tool that conducts a thorough on-page analysis. It meticulously scans and identifies errors hindering your search engine rankings. With a 100-point on-page scan, their tool ensures your website's health is always at its peak, allowing you to dominate search engine results effortlessly.
Going beyond the basics, Ninja deploys advanced crawlers to examine every facet of your website. Their SEO algorithm then calculates an overall SEO health score. The higher your score, the better your chances of ranking prominently on search engines. But not just that, Ninja provides actionable insights to optimize your site effectively, empowering you to conquer the digital landscape.
The agency recognizes the need for advanced SEO audits, in-depth analysis, and sweeping reporting tools tailored to enhance your ability to attract and retain clients. By harnessing Ninja's robust suite of SEO solutions, you can do just that.
---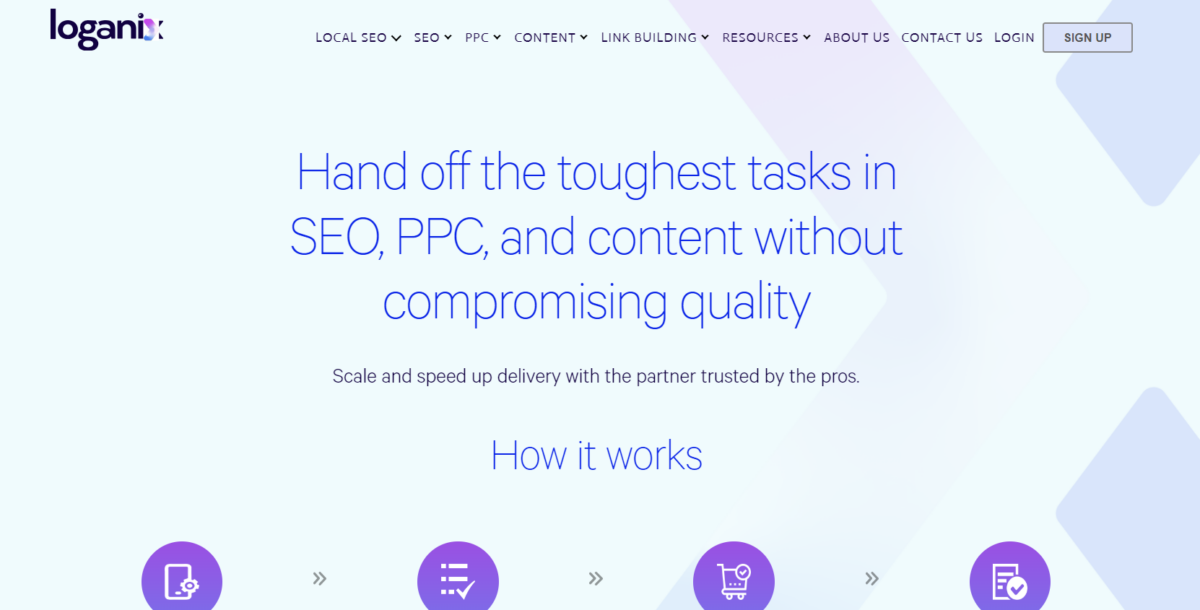 Year Founded: 2009
Location: Vancouver, Canada
When it comes to SEO audit services, Loganix stands as a beacon of excellence. Their ample suite of offerings covers everything you need to optimize your online presence, from local SEO to citation building, link analysis, and more. But Loganix doesn't just identify issues; they provide prioritized and instantly actionable feedback delivered by experienced SEO specialists. Whether you opt for the Mini SEO Audit or the Full SEO Audit, you'll receive plain-speak summaries, on-page SEO recommendations, keyword profiles, competitor analyses, and more. This data-driven approach ensures you know exactly what to focus on to enhance your rankings.
Beyond insights, Loganix offers expert implementation services. Their team of copywriters, web developers, and link builders are ready to tackle vital tasks that may be hindering your search performance. Whether it's content creation or code fixes, you get specialized assistance while maintaining control of the outcome.
Loganix understands the importance of branding and efficiency. Their SEO audits and optimization services are white-label by design, ready for rebranding or delivery as-is.
---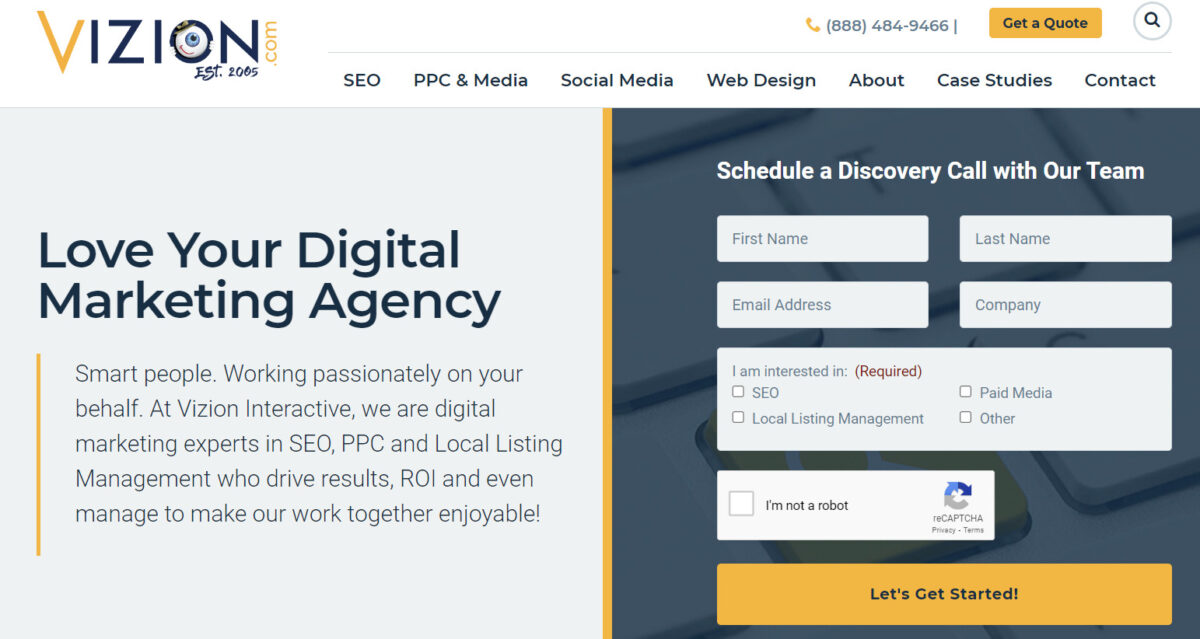 Year Founded: 2005
Location: Irvine, Texas
In the vast landscape of SEO audit services, Vizion Interactive stands as a true industry leader. This reputable agency offers a wide array of services designed to propel your online presence to new heights. From technical SEO audits to content gap analysis, Vizion's expertise covers all aspects of search engine optimization.
What sets Vizion apart is its team of SEO professionals who are not only qualified but deeply passionate about the world of SEO and digital marketing. When collaborating with Vizion, you become part of a dedicated team focused on your success. Vizion understands that one size does not fit all. So their SEO audits are customized to your specific needs, providing a holistic view of your website.
The audit process encompasses SEO improvements, content quality enhancements, backlink analysis, and competitive research. This tailored approach ensures your website is well-equipped to outperform competitors and secure top rankings in search engine results.
---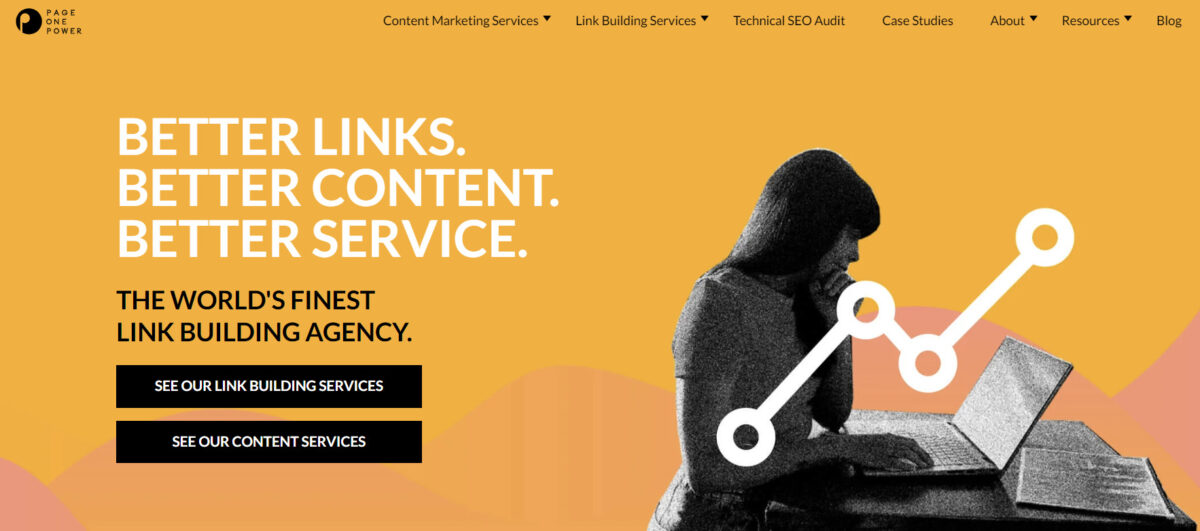 Year Founded: 2010
Location: Boise, Idaho
Page One Power offers a wide array of services that encompass technical, on-page, and off-page SEO, making it the go-to choice for businesses looking to optimize their online presence. Page One Power's commitment to SEO excellence is unparalleled. With a team of seasoned experts they possess the knowledge and experience to analyze your site thoroughly. They understand the evolving landscape of search engine algorithms, making regular SEO audits essential for maintaining a competitive edge.
Page One Power's auditing services provide invaluable insights into your website's performance, helping you craft a tailored SEO strategy. By addressing issues like minimal traffic, slow loading times, broken links, and outdated content, they ensure your site is optimized for success in search rankings.
This agency follows a transparent auditing process, starting with a consultation to understand your specific needs. They delve deep into technical SEO elements, accessibility, indexing, site architecture, and more. Their meticulous approach results in a prioritized action plan, ensuring the most impactful changes are implemented to boost your website's ranking.
---

Year Founded: 2004
Location: Akron, Ohio
With a dedication to delivering tailored solutions for your website's unique needs, Outer Box Design is the key to unlocking your online potential. It offers in-depth SEO audits that cover both on-site and off-site aspects. Being industry professionals, you can expect one-on-one meetings with their seasoned SEO strategists, who will walk you through every finding and suggestion.
As a trusted provider, Outer Box Design has earned accolades such as being recognized as an Inc 500 SEO Audit Provider. Their experience extends to various eCommerce and CMS website platforms, making them well-equipped to address the unique challenges of each. Outer Box Design's web development team collaborates seamlessly with their SEO experts to conduct a thorough technical website audit. This holistic approach ensures that any programming or technical issues hindering your SEO performance are identified and resolved.
They also offer extensive competitor research, enabling you to outperform your rivals in search rankings. With over a decade of experience, their audits encompass keyword research, technical SEO, on-page SEO, analytics audit, content suggestions, and link profile audit, among others.
---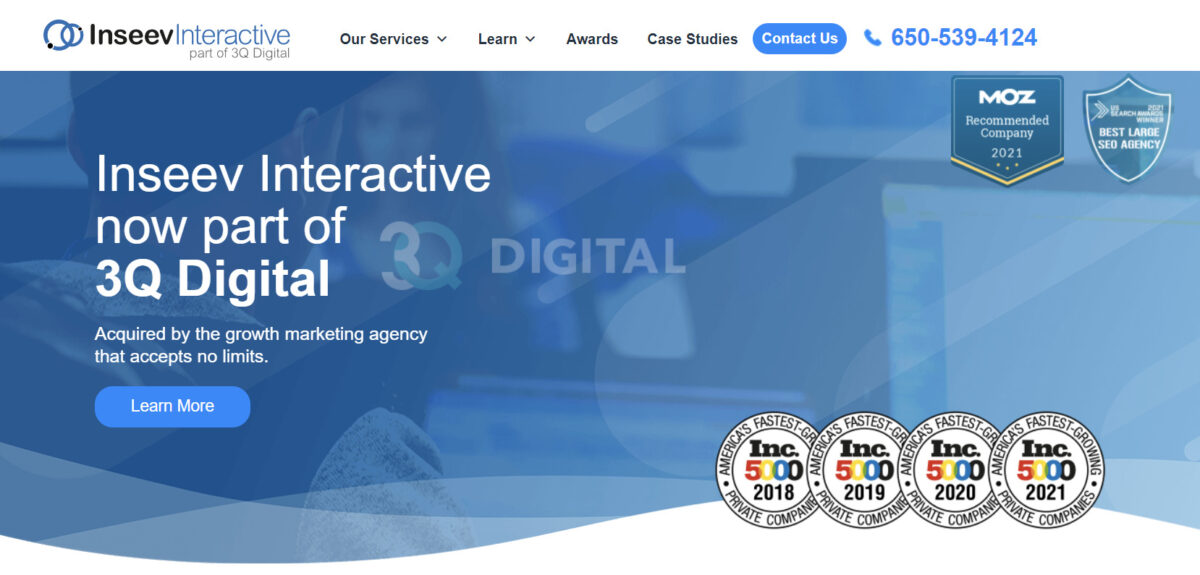 Year Founded: 2013
Location: San Diego, California
Inseev Interactive is the name that stands out as a standard of thoroughness and expertise. Their team of highly trained SEO specialists has successfully collaborated with a multitude of websites across various industries, making them a reliable partner for businesses seeking SEO excellence. Inseev Interactive invests thousands of hours in ensuring no aspect of your website goes unnoticed. Their advanced intelligence tools provide a profound understanding of your industry and market, setting the stage for a tailored SEO strategy.
Unlike firms that promise instant rankings, Inseev Interactive takes a pragmatic approach. They recognize that SEO is a long-term investment and provide audit services, including technical SEO audits, on-page audits, and link audits, as your digital roadmap to long-lasting success.
Inseev Interactive's website audit goes beyond the ordinary. It comprises over 80 pages of meticulously documented observations, reporting, analysis, and actionable recommendations, all customized to your unique needs. Whether you're already a client or exploring their services, their commitment to excellence shines through.
---
The Importance of SEO Audits
Picture this: your business website is a powerful engine that can drive organic traffic, generate leads, and boost sales. However, just like any sophisticated machinery, it needs regular maintenance and fine-tuning to perform at its best. SEO audits serve as the diagnostic check-up for your digital engine, identifying issues and prescribing solutions to optimize your website's performance.
Therefore, a well-executed SEO audit can accomplish several crucial objectives:
Uncover Hidden Issues
SEO audits dig deep into your website's structure, content, and technical elements to reveal issues that may be holding you back in search rankings. These issues could range from broken links and slow page loading times to keyword optimization gaps and content quality concerns.
Enhance User Experience
User experience is a critical factor in SEO rankings. Audits can identify user interface and navigation problems, helping you create a smoother, more user-friendly website that keeps visitors engaged and encourages them to explore further.
Boost Organic Traffic
By addressing on-page and off-page SEO elements, audits help you optimize your content and increase its visibility in search results, leading to more organic traffic and potential customers finding your website.
Stay Ahead of Algorithm Changes
Search engine algorithms are constantly evolving. An SEO audit helps you stay ahead of these changes by ensuring your website aligns with the latest SEO best practices, protecting your rankings from sudden drops.
Competitive Edge
By fine-tuning your website based on audit recommendations, you gain a competitive advantage. A well-optimized website can outrank competitors, making you more visible to your target audience.
---
Selecting the Right Website SEO Audit Services
Now that we understand the importance of SEO audits, the next crucial step is choosing the right agency to perform this critical service. While many agencies offer SEO audit services, not all are created equal. Selecting the right agency is a decision that can significantly impact your website's future success.
So, consider the following factors when choosing an agency:
Expertise: Look for an agency with a proven track record in SEO audit services. Check their portfolio and client testimonials to ensure they have the necessary expertise.
Customized Approach: Your business is unique, and your SEO audit should be tailored to your specific needs. Avoid agencies that offer one-size-fits-all solutions.
Transparency: A reputable agency should be transparent about their methods and provide clear reports detailing their findings and recommendations.
Ethical Practices: Ensure that the agency follows ethical SEO practices. Unethical tactics can lead to penalties from search engines.
Communication: Effective communication is key. Choose an agency that maintains open lines of communication and keeps you informed throughout the audit process.
Cost-Efficiency: While cost is a factor, don't base your decision solely on price. Consider the value and quality of services offered.
---
Conclusion
As a business owner, investing in a professional SEO audit service is a strategic move that can propel your website to new heights in organic search results. With the right agency by your side, you can uncover hidden issues, enhance user experience, and position your business for online success in a competitive digital landscape. In the following listicle, we will explore the top SEO audit service agencies of 2024, shedding light on their features, capabilities, and how they can help you unlock the full potential of your website.
Frequently Asked Questions
What exactly is a website SEO audit, and why do I need one?
A website SEO audit is a thorough examination of your website to identify issues that affect its performance in search engine results. It's essential because it uncovers hidden problems, such as broken links, poor content optimization, or technical glitches, that can hinder your site's visibility and traffic.
How often should I get an SEO audit for my website?
The frequency of SEO audits depends on various factors, including your website's size, industry, and how frequently you update content. As a general guideline, it's advisable to perform an audit at least once a year. However, if you've made significant changes to your website or noticed a drop in rankings, consider more frequent audits.
Can I perform an SEO audit myself, or do I need to hire an agency?
While website owners can do some basic SEO checks, a comprehensive audit often requires specialized tools and expertise. Agencies have access to advanced SEO tools and experienced professionals who can provide a more thorough analysis and actionable recommendations.
How long does it take to see results after implementing audit recommendations?
The timeline for seeing results can vary depending on the issues identified and the changes made. Some improvements may lead to immediate changes in search rankings, while others may take weeks or months to show a significant impact. Consistency in implementing recommendations is key.
Are there any risks involved in SEO audits, such as potential ranking drops?
SEO audits are designed to improve your website's performance in the long run. While there may be temporary fluctuations in rankings as changes are implemented, a well-executed audit should ultimately lead to improved visibility and rankings.