Advertising Disclosure
Advertising disclosure:
Our partners compensate us. This may influence which products or services we review (also where and how those products appear on the site), this in no way affects our recommendations or the advice we offer. Our reviews are based on years of experience and countless hours of research. Our partners cannot pay us to guarantee favorable reviews of their products or services.
Names like Sephora, Volcom, and Nike are just some of the websites that use Shopify and Shopify Plus. Combine the platform's ease of use with its responsive designs and it's no surprise that it has found these global brands' favor along with millions of other online sellers to become one of the most popular eCommerce platforms.
While it's intuitive, optimizing your store so that you fully leverage the feature-rich platform requires more technical skills. Considering that optimizing an online store can be the difference between success and failure, you'll want to find the right team with a proven track record of executing optimization strategies.
There are many service providers out there who specialize in helping online store owners maximize their Shopify stores' performance. To help you find the right fit for your business, here are 14 of the best agencies that will transform your online store into a top-of-the-line, revenue-generating powerhouse.
---
Top 14 Shopify Optimization Agencies to Check Out: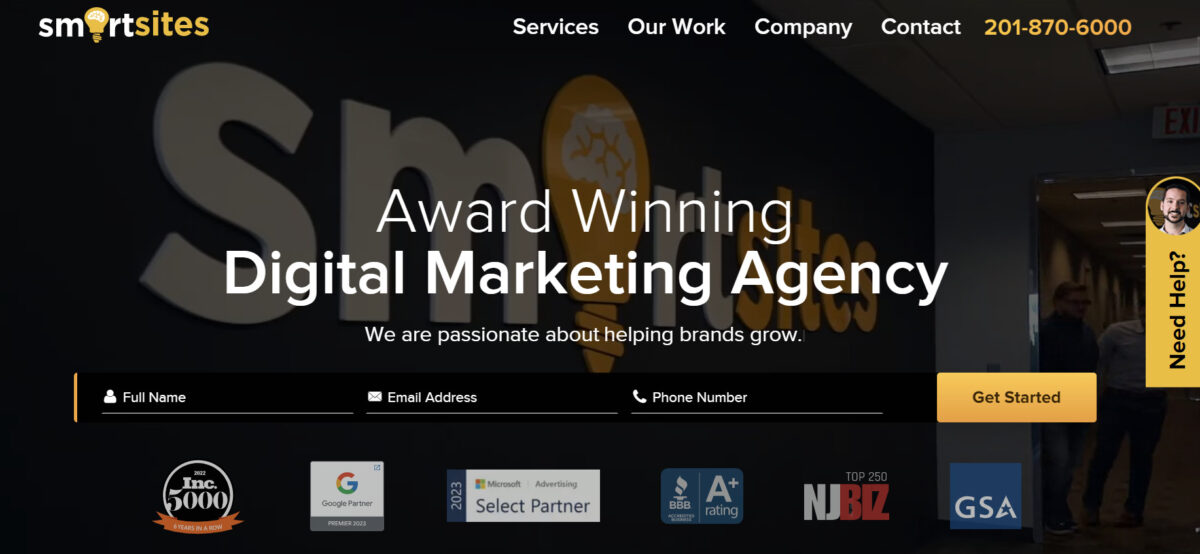 SmartSites is rated as one of the top web development agencies that eCommerce brands should check out. What makes them such a great choice for Shopify is that they're also a Shopify Partner.
They offer a wide range of eCommerce services to help your store reach its maximum potential. Their team of certified experts can create a smooth customer experience at all stages of the purchase journey to generate more conversions. In addition to optimizing the speed of your website across all devices, they'll also improve SEO. First, they'll complete an in-depth technical SEO audit before they introduce website changes.
That's exactly what they've done for Disney's Beans, a coffee roaster that sells coffee products online. After building a new Shopify website from scratch, they turned their attention to content and optimizing the blog posts and product pages. To help them leverage the subscription model, they also added plugins for extra functionality.
Key services include:
Website design and development
Theme customization
Conversion optimization
---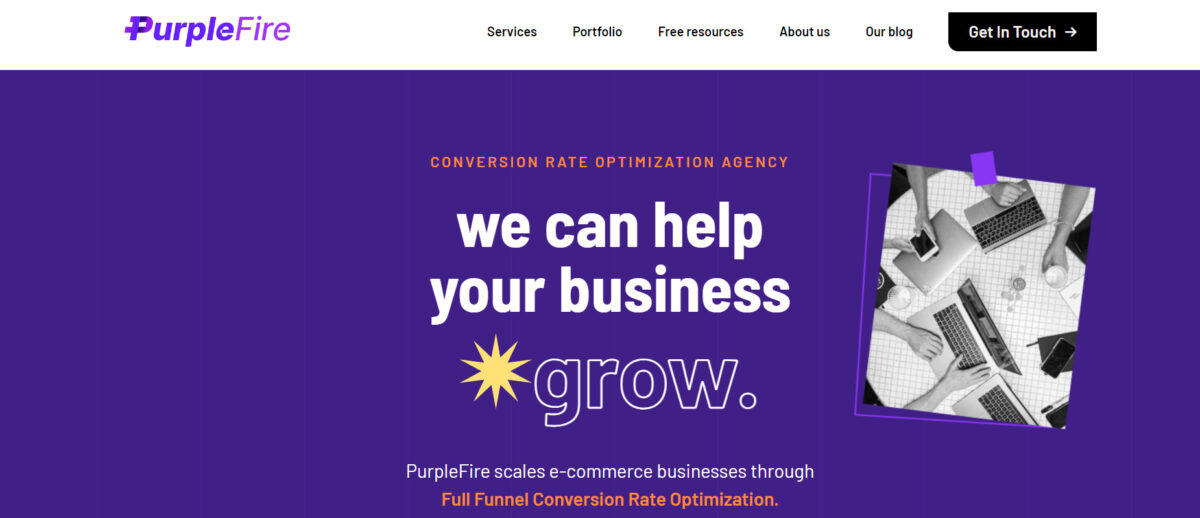 PurpleFire is a software development company that's headquartered in Copenhagen, Denmark. Their team is highly skilled at eCommerce and can create custom solutions for various types and sizes of retail businesses.
They work with all the leading eCommerce platforms, including Shopify. Not only will they be able to offer complex Shopify services, but they'll also help you to select the right plan and plugins. From subscriptions to SEO to shipping, they can assist with various key aspects of setting up and optimizing a Shopify store. Then, after your Shopify site has been launched, they'll continue to monitor system performance, fix issues, and introduce improvements.
For example, when Neuro, an innovative Californian startup wanted to boost the conversions of their Shopify website, PurpleFire helped them to spark a change in its performance. The issue was that their website was too complex, but this wasn't too complex for the PurpleFire team. They had no issue working with Neuro's design team to create a concept that will be more visually pleasing and, at the same time, improve conversions.
Key services include:
Custom themes and templates
Payment systems
Marketing
Localization
Catalogs and navigation
---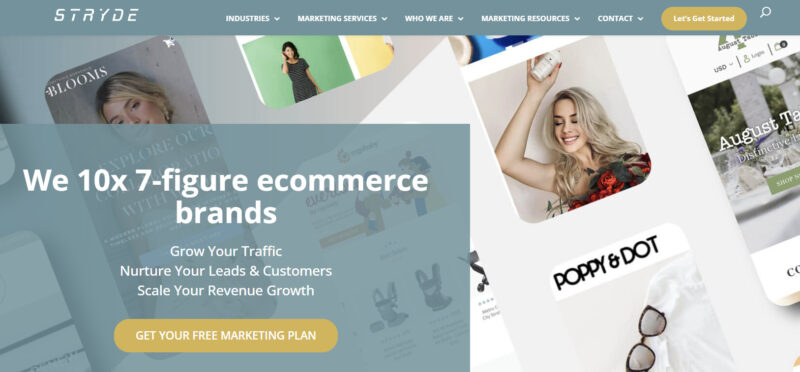 Unlike many of the other agencies on the list that label themselves as development and design firms, Stryde chooses to describe themselves as a boutique eCommerce marketing agency instead. As a Shopify partner, they can also help you to market your website.
Another reason why they're a great choice for Shopify stores is that they actually have their own stores on which they actively sell. This way, they can set up and test apps and many other things which ultimately help them optimize the performance of their clients' stores.
Their focus areas are — conversions and customer acquisition. One way that they do this is by creating conversion codes allowing them to understand your site analytics better. They'll also take care of store layout and navigation to ensure that it's intuitive and optimize category and product pages so that you rank higher on Google.
As for industries, they work with the fashion, home goods, baby, and sporting goods industries. For example, when a Shopify store selling handmade leather goods needed to boost organic traffic, Stryde's team helped them in several areas including fixing migration mistakes.
Key services include:
Paid social media ads
Search engine optimization (SEO)
Conversion rate optimization (CRO)
Migration to Shopify
Email marketing
For Influencers: If you are looking for agencies to represent you click here.
---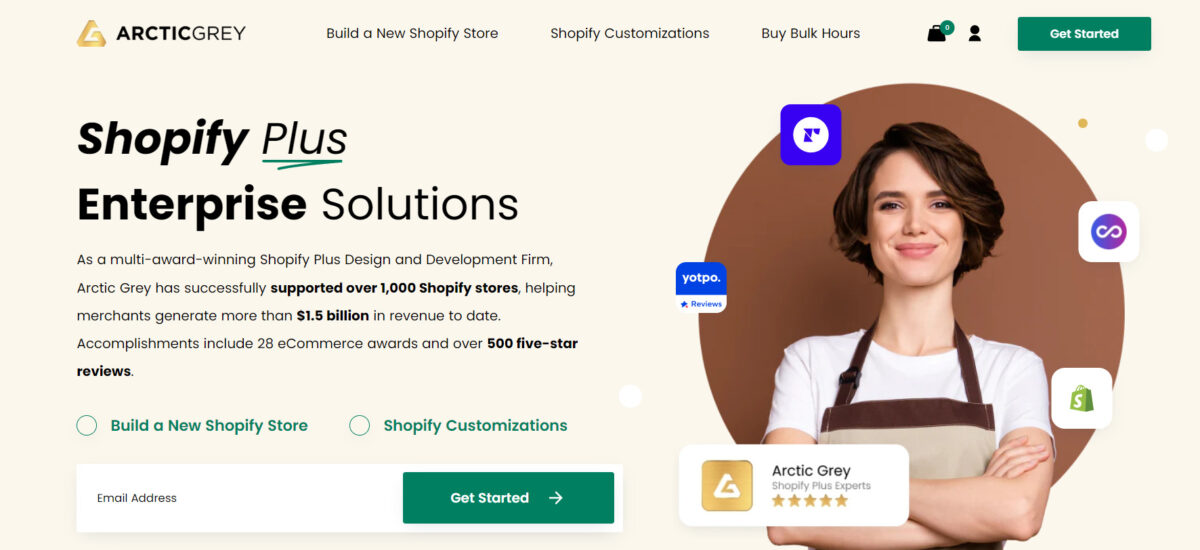 Enterprise and publicly traded companies can check out Arctic Grey. There's nothing grey about their capabilities. For proof of their worth and capabilities, you only have to look at their dozens of awards, hundreds of five-star reviews, and client list that include names like EBY by Sofia Vergara, Moonbug & Cocomelon, and Happy Little Camper by Hillary Duff.
Whether you need help building a brand new Shopify store from the ground up or you need to customize a current theme, they've helped enterprise merchants from all over the globe. Since their inception in 2015, their focus has always been on Shopify. The only thing that's changed is that they've expanded their team and skills to meet the demand for advanced eCommerce solutions and enter the realm of Shopify Plus. As such, they recently started focusing on serving enterprise Shopify merchants specifically.
Key services include:
UX/UI audits
Custom theme creation
Migration to Shopify
---

Absolute Web is an award-winning Shopify Plus agency with locations in Miami and Los Angeles. Not only do they work with businesses of all sizes across a wide range of industries, but their list of services is equally impressive.
From performance optimization to progressive web apps (PWA) and everything in between, their team of Shopify specialists can virtually help with everything. After your website is up and running, you can also entrust maintenance to them and make use of their innovative marketing strategies.
Clients have praised them for their passion, promptness, and problem-solving capabilities. For example, when BHFO, a discounted designer fashion outlet store, needed to upgrade the user experience of their old website, Absolute Web developed custom features and functionalities. As the store boasted as many as a million SKUs, they needed a powerful search solution. Absolute Web's solutions included a product wishlist and collection pages based on Searchspring.
Key services include:
Custom app development
Data migration
Code customization
CRO strategy
API integration
Architecture strategy
---

Just like Shopify, Think Renegade is a Canadian success story. Based in Toronto, they've worked with brands like Starbucks and Tea India, helping them with various services including eCommerce growth planning and website design.
All their websites are built with conversion as the goal. Their dev team will place your target audience at the core and create your Shopify store around them, helping them through the buyer's journey. In addition to helping you get your online store designed, they'll also share advice and strategies regarding boosting average order value and customer lifetime value as well as improving the overall customer experience.
Key services include:
Advertising
Email marketing
Influencer marketing
CRO
Content marketing
---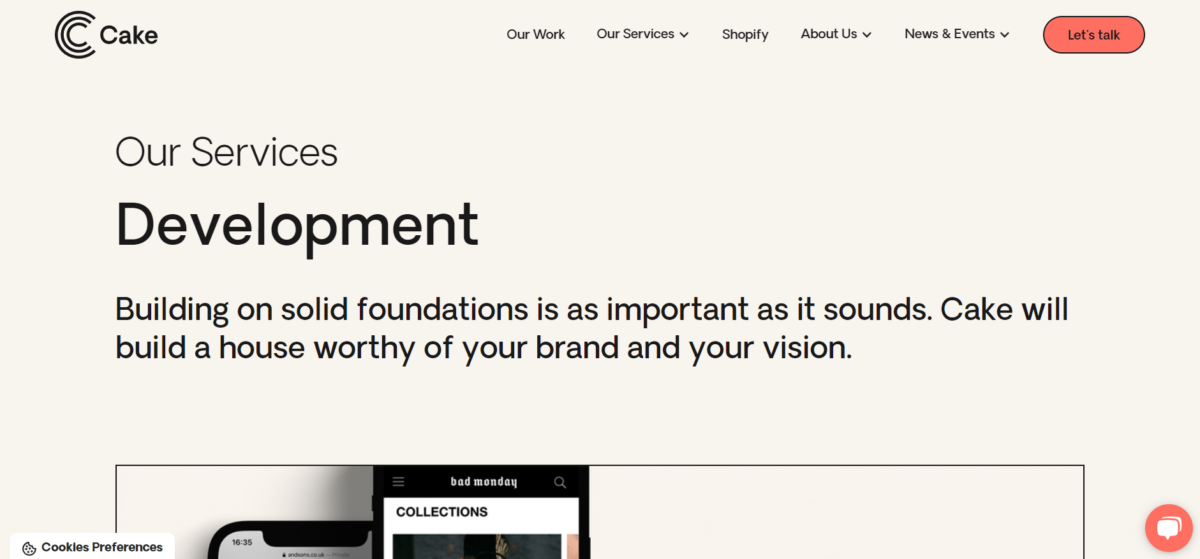 Launched by retailers for retailers, Cake (formerly called Digital Cake) is a UK-based eCommerce consultancy and Shopify Plus agency that has grown online brands for the past two decades. From bespoke Shopify builds to SEO to social media, they can help with various key aspects of starting and growing your own online brand.
One key feature that deserves special mention is that they offer a go-live warranty. Every website that they build comes with a 90-day warranty after it went live. They also pride themselves on their transparent pricing and can offer a fixed price for website builds.
They work with businesses of all sizes, helping them to improve their strategy and online proposition. To date, they've built over 100 Shopify stores for names like Dancing Leopard, &Sons, and Aran Woollen Mills.
For example, when Dancing Leopard wanted to invest in a new site ahead of Black Friday, they turned to Cake. While their current site's performance was good, they wanted to see what more they could achieve with a newly optimized website. Cake managed to improve the page speed significantly by, for example, cutting the length of videos and optimizing images.
Key services include:
Consultancy
eCommerce marketing
Shopify development
Integrations
Replatforming to Shopify
---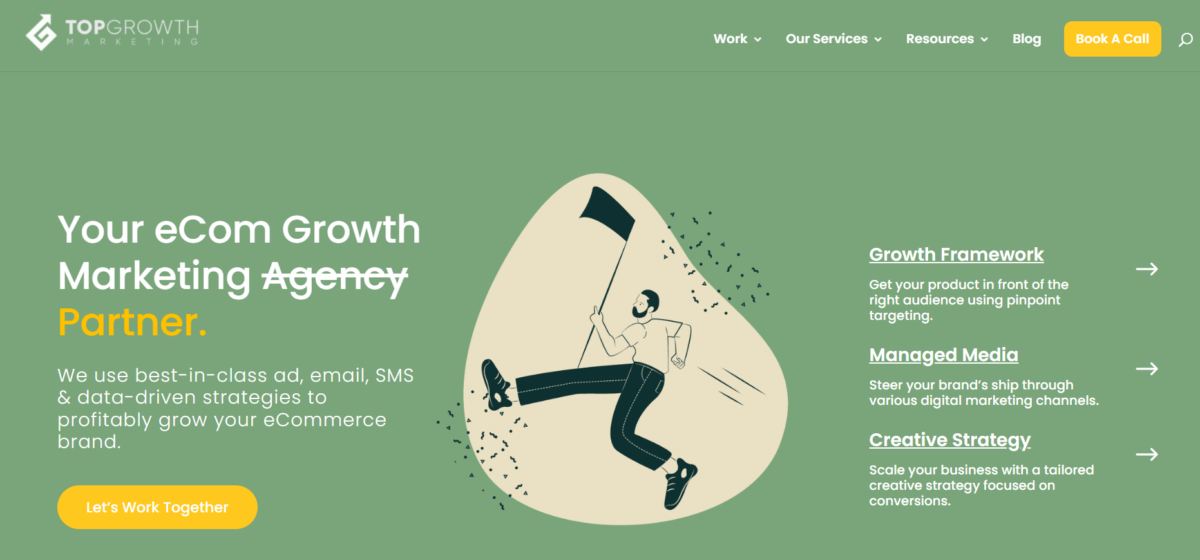 Founded in 2016, Top Growth Marketing is a Shopify Partner that includes Shopify marketing in their list of services. Their team of experts use tried-and-tested tactics and a custom strategy to fuel growth.
You'll be assigned a customer success manager who will put together an in-house team of media buyers, content creators, and designers to help you uncover weaknesses in your online store and introduce improvements to drive more conversions. They don't believe in using a single strategy and, thanks to their capabilities, they can carefully combine multiple strategies.
This approach has helped a high-end fashion brand to increase purchases by a massive 71% in just six months. For a skincare and beauty eCommerce brand, they generated similar results in the same short period of time and managed to increase their revenue by over 200%.
Key services include:
Shopify brand strategy
Search ads
Pay-per-click (PPC) management
SMS and email marketing
Social media advertising
---
While Propeller is rated as one of the best social media marketing agencies in the UK, they can also help with launching enterprise stores on Shopify Plus. Their agency is a Shopify Plus partner and will operate as an extension of your in-house team by offering direction and support.
For the past 10 years, they've customized themes and designed their own bespoke themes by incorporating the latest design trends for a number of industries, including luxury fashion, travel, and lifestyle labels. After the successful launch of your store, they'll continue to work with you to help you optimize the digital journey so that you can grow your base of loyal customers.
For example when Ming Ray, a luxurious Italian handbag brand wanted to migrate their store to Shopify, they partnered with Propeller. Not only did they ensure that the existing features worked seamlessly on their new platform but to help propel their brand further forward, Propeller also added many more features.
Key services include:
UX and product planning
SEO
Migration
Responsive web design
Warehouse and shipping integrations
---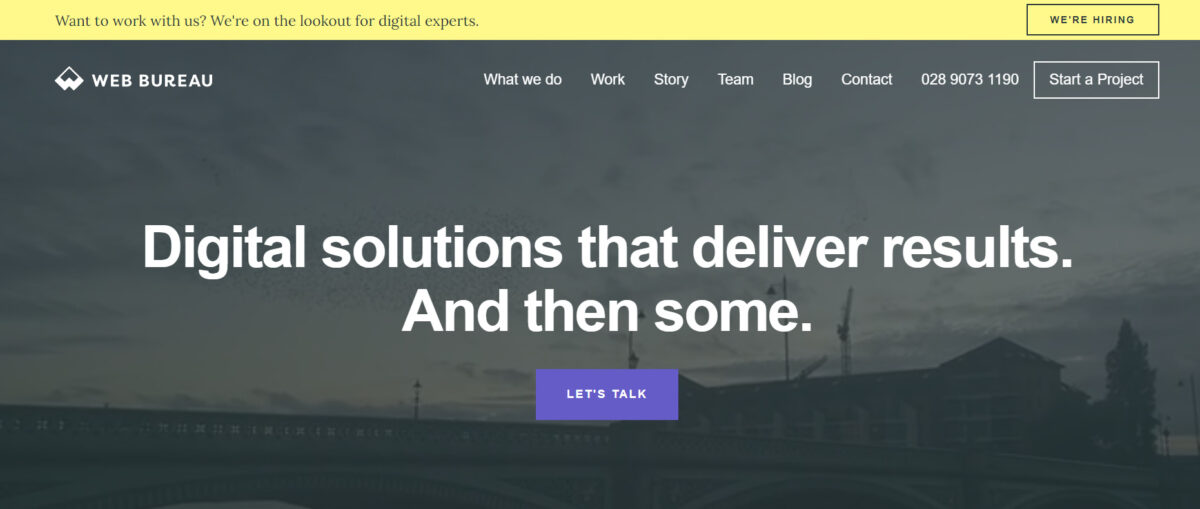 Online businesses in the UK can reach out to The Web Bureau. Along with Propeller, The Web Bureau is also regarded as one of the top UK-based social media marketing agencies. As their name suggests, their scope is much more than just social media and can help with virtually everything related to the web.
Included in their substantial list of services is Shopify website design. They're a trusted Shopify partner and their talented, in-house dev team creates first-class website builds with the aim of growing your business. Not only will they help with the planning and launching phases, but they're happy to continue working on a partnership basis to generate website traffic and sales continuously. If you prefer to get involved more yourself, they also offer training and workshops that include Shopify platform training.
Key services include:
Website design and build
App development
SEO
PPC
Content marketing
---

With more than 1,100 websites launched, WebFX has the experience to help you maximize your Shopify store's potential. Not only can their award-winning team of designers craft a custom design that will set your store apart while incorporating your specific branding at the same time, but they also have the skills to include extra functionality. This way, they can help you to unlock more possibilities.
On top of additional functionality, they can also help with advanced optimization. From targeted keywords to category and subcategory optimizations to sales channel setup and optimization, they'll take a holistic approach to improve the frontend as well as backend of your website. They have hundreds of digital marketing experts at hand specializing in key areas like CRO and SEO.
Key services include:
SEO
CRO
Website copywriting
Shopping feed management
Data tracking and analytics
---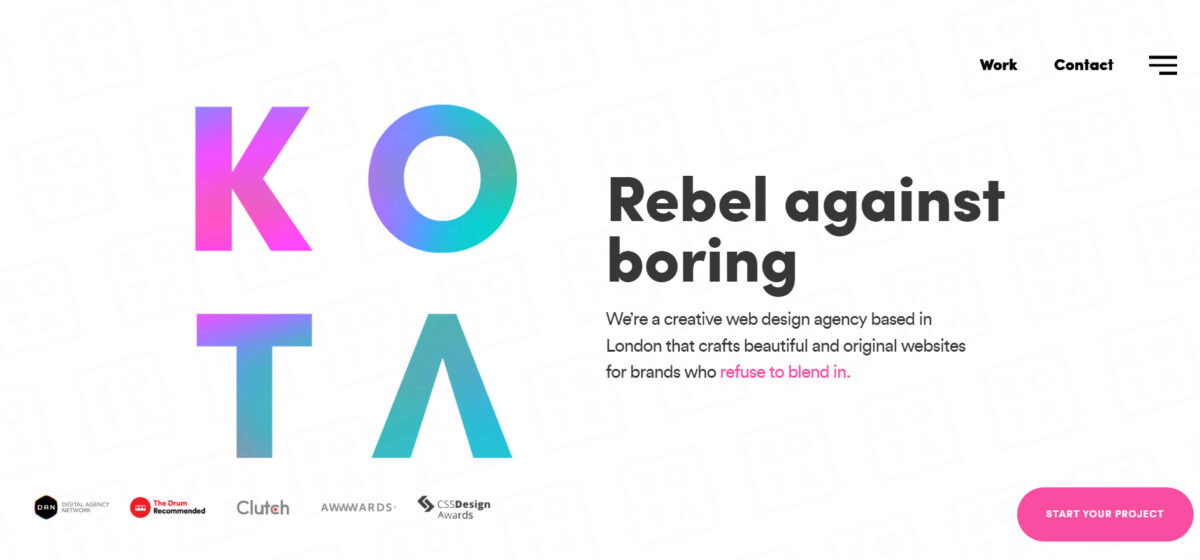 KOTA is another UK-based agency that has made a name for themselves when it comes to Shopify. While they're based in London (and New York City), they've created Shopify sites for brands from all over the globe.
Whether you want to start with a black canvas or migrate from another eCommerce platform to Shopify, their team of eCommerce specialists can help with both frontend and backend design.
They mix user-focused design with conversion rate optimization to help you unlock the full potential of your online store.
Their workflow is divided into 11 phases with every project starting with a kick-off meeting with stakeholders. Then, after your website was launched, they also offer dedicated training and ongoing support to help you maximize the impact of your newly designed asset.
As they also include branding in their list of services, they can ensure that your new Shopify store echoes your branding. This is exactly what they've done for Little's Coffee, a family-run coffee business with a playful identity. The result — an easy-to-digest website that's as fun as the brand itself.
Key services include:
Responsive optimization
Branding
Digital marketing
---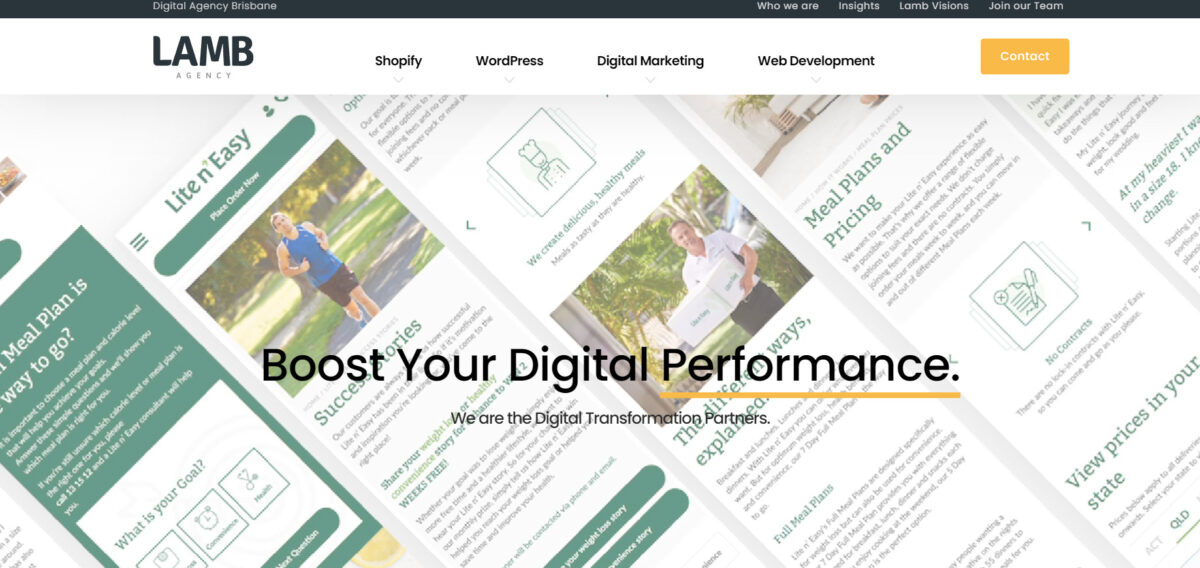 Based in Australia, Lamb Agency is a Shopify Plus partner that creates industry-leading digital solutions. What makes them such a great choice is that they use only Shopify. As such, they work only with brands that want to use Shopify and they've honed their practices and process around this platform specifically.
What's more, their team of eCommerce pros understand all the stages of the eCommerce journey. This allows them to improve all your operations and the overall customer experience. While they will spend time on user journeys and brand positioning, they don't lose sight of the functionality. Website speed improvements and mobile optimization form a key part of their strategy.
Their results are proof of that. According to their website, on average, their new Shopify sites have increased their conversion rate by 36%. For brands like The Hat Club, they've achieved even more impressive results. By redeveloping their site, they managed to more than double their growth.
Key services include:
Headless eCommerce
API integrations
Migration to Shopify
Ongoing platform support
---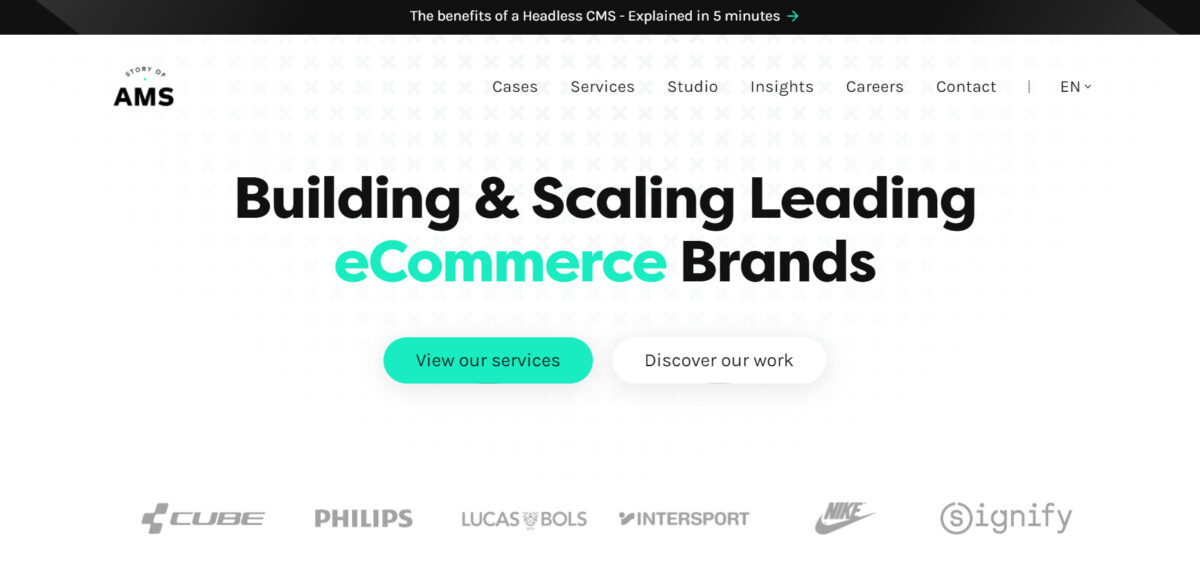 Based in Amsterdam, Story of AMS is an eCommerce agency that has worked with leading brands like Nestlé and Bols. They understand the importance that your website plays in the customer journey and as they're a certified Shopify Plus partner, they have the credentials to help create a Shopify store that's customer-centric. From design to development to strategy, they can help with various aspects of running a successful store on Shopify.
For example, when Bols, one of the most popular liquor brands, turned to Story of AMS to create a new eCommerce platform, they had a lot riding on this project. It would be the first time that this global brand sold directly to consumers. As they needed a solution that was fast and robust to do that, Story of AMS suggested that they switch from their custom solution to Shopify Plus. They then helped them to create a custom storefront that offered localized experiences for their two global major markets.
Key services include:
UX and UI design
Responsive web development
CMS implementation
Content strategy
---
---
Wrapping Things Up
The success of your online business depends heavily on how well-managed, promoted, and optimized it is. Taking the extra step to optimize your store can give you optimal sales, a higher ranking on search engines, improved reachability, and increased customer engagement - all of which can lead to more loyal customers and larger profits. It's an "extra" step that you won't regret.
By entrusting this process to one of the Shopify optimization agencies listed above, you'll
also save time, energy, and money in the long run. It's a smart decision for any business owner looking to make their mark.
It's important to note, though, that optimization is an ongoing process - the faster you adjust, the better. The goal should be to make sure that you're giving customers the shopping experience they deserve from the start by providing fast loading times, great customer service, and feature-rich design solutions. By making these improvements today, you're preparing your store for greater success tomorrow.
Frequently Asked Questions
What makes Shopify a great eCommerce platform?
Shopify's ease of use is arguably one of its biggest attractions. It makes it very straightforward to set up a store, maintain it, and scale your business. That said, its high level of user-friendliness is not at the expense of functionality. It offers loads of features and integrations. Thanks to its responsive designs, it's also easy to attract sales via mobile devices.
Are there any agencies that specialize in Shopify marketing?
For help marketing your Shopify store, you can check out one of the following marketing agencies:
SmartSites
Brenton Way
Cake
KOTA
Common Thread Collective
Lounge Lizard
Should you use affiliate marketing for your Shopify store?
Yes. Affiliate marketing is one of the most effective marketing strategies as it's a form of social proof. This means it's a more organic form of marketing. On top of that, it's also low risk and affordable. What's more, Shopify makes it easy to connect your online store to an affiliate marketing app, making the whole process easy and seamless.
What are some of the best Shopify themes?
The following are some of the best Shopify themes that you can check out:
Kalles
Dawn
Ella
Porto
Outstock
How can you optimize your Shopify store for the search engines?
To help optimize your Shopify store for the search engines, here are some best practices to keep in mind:
Set up tracking
Optimize the site's structure and product pages
Get to know your buyer
Conduct keyword research
Build links to your store
Create content that's trustworthy and shows your expertise and authority