Advertising Disclosure
Advertising disclosure:
Our partners compensate us. This may influence which products or services we review (also where and how those products appear on the site), this in no way affects our recommendations or the advice we offer. Our reviews are based on years of experience and countless hours of research. Our partners cannot pay us to guarantee favorable reviews of their products or services.
SMTP (Simple Mail Transfer Protocol) is a standard protocol used to transfer electronic mail messages from one computer to another over the internet. SMTP services are used to send large volumes of email, including marketing campaigns, transactional messages, and newsletters.
---
Best

SMTP

Service Software for 2023:
---
SMTP services provide a number of benefits for businesses. First and foremost, they offer a reliable and scalable solution for sending large volumes of email. SMTP services are designed to handle high volumes of traffic and ensure that emails are delivered quickly and reliably to the intended recipients.
Here are some key advantages of using SMTP services:
Improved email deliverability: SMTP services are designed to optimize email deliverability rates, which means that more of your emails will reach your intended recipients.

Cost-effective: SMTP services can be more cost-effective than using an in-house email server, as you only pay for the number of emails you send and don't have to worry about maintenance or hardware costs.

Advanced tracking and reporting: Many SMTP services offer advanced tracking and reporting features, allowing you to see who opened your emails, which links were clicked, and other important metrics.

Increased security: SMTP services often come with advanced security features, such as encryption and two-factor authentication, to help protect your emails from cyber threats.

Automation capabilities: Many SMTP services offer automation capabilities, allowing you to set up automatic email campaigns or trigger emails based on specific events or actions.

Integration with other tools: SMTP services often integrate with other marketing tools, such as CRM software and marketing automation platforms, making it easier to manage your email campaigns and track their effectiveness.
In addition, SMTP services offer a range of features that can help businesses optimize their email campaigns. For example, many SMTP services offer tracking and analytics tools that allow businesses to monitor the success of their campaigns and make data-driven decisions about how to improve them.
SMTP services can also help businesses ensure that their emails are delivered to the inbox, rather than being flagged as spam or sent to the junk folder. By following best practices and leveraging advanced deliverability tools, SMTP services can help businesses improve their email deliverability rates and maximize the impact of their campaigns.
Top
smtp service software
2024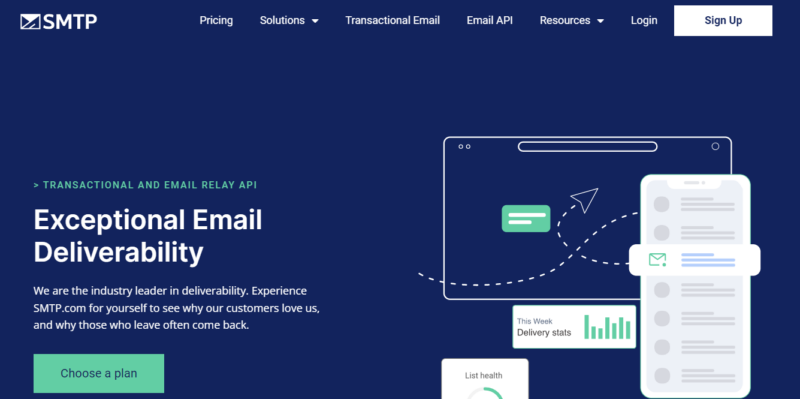 SMTP is a reliable email delivery service ideal for high-volume and transactional emails. It offers a one-month free trial, fast delivery rates, Reputation Defender, transactional email options, and marketing tool integration. SMTP provides detailed reporting, delivery consulting, and 24/7 customer support. Although slightly pricier, its superior inbox delivery and advanced features make it an excellent choice for businesses of all sizes.
Pros:
Excellent email deliverability
Easy setup
Helpful customer service
Cons:
No free plan
Reporting not as in-depth as competitors
Email-only service
Price: Starts at $25 per month for up to 50,000 emails.
---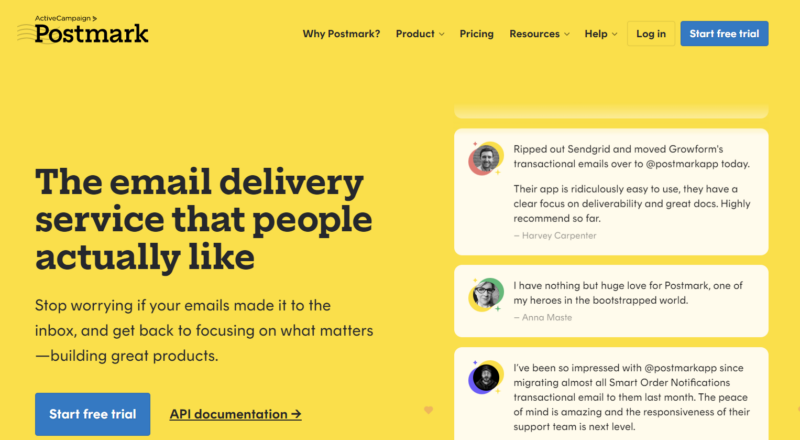 Postmark is an SMTP email service that focuses on reliability and email deliverability. The company provides transparent, real-time deliverability statistics, so you know when and whether your emails arrive. Postmark's pricing is clean and straightforward, with a range of paid plans based solely on the number of emails per month. The service also boasts a knowledgeable support team that is available via email, chat, or phone to answer your questions.
Pros:
Best email deliverability rates in the industry
Price transparency with no hidden fees or feature-based add-ons
Excellent customer support
Cons:
Narrow focus with no add-ons for digital marketing or SMS services
Data retention limited to 45 days on all plan types
Price: Starts at $15/month for 10,000 emails.
---

SendGrid is an email delivery service provider that offers powerful SendGrid API and email marketing services. The company provides support for SMS, WhatsApp, and video, making it a great choice for enterprise customers looking for a solution that covers multiple channels. SendGrid's pricing varies based on features and customer support tiers, so you'll need to compare your options closely to choose the right plan.
Pros:
Trusted by many top brands
An enterprise platform for more than just email
Offers SMS, WhatsApp, and video support
Cons:
Mixed deliverability results based on IP pool quality
Basic approach to troubleshooting deliverability issues is to upgrade to a higher-priced tier
Tiered customer support can result in longer wait times for lower-tier customers
Price: Starts at $19.95/month for 10,000 emails.
---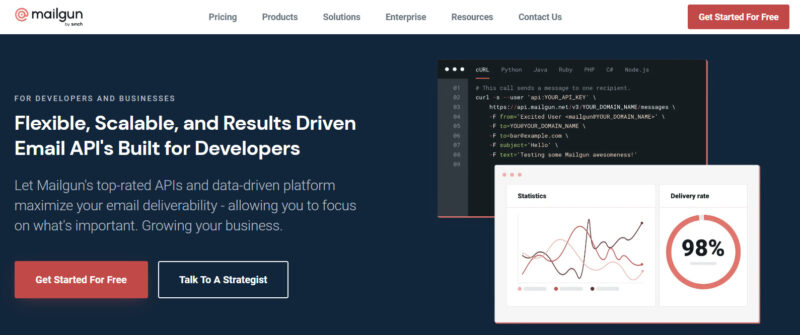 Mailgun is a developer-focused email service that offers a heavy emphasis on API use. The provider is trusted by over 225,000 businesses, many of which are global enterprise operations. Mailgun offers pay-as-you-go pricing options that come in handy when you're figuring out how many emails you're sending. Mailgun's pricing varies based on plans, with different retention times for message and log retention.
Pros:
Large list of users
Commitment to reliable service
Scalable plans
Cons:
Inconsistent deliverability and sending speed
Mixed experiences with customer support
Data retention varies greatly across plans
Price: Starts at $35/month for 50,000 emails.
---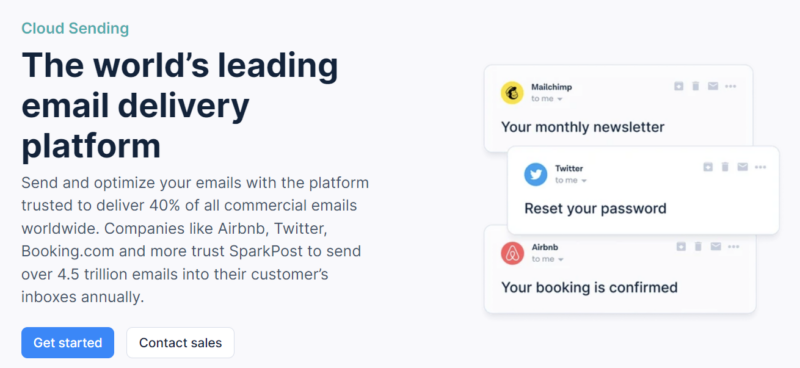 MessageBird is another large player in the transactional email space that sends high volumes of commercial email. The company offers a robust and helpful pool of documentation for troubleshooting and setup. However, MessageBird's focus on compliance and enterprise service might be overkill for small senders or those looking for a simple SMTP sending tool. MessageBird offers three service tiers that cover different levels of email volume, with varying features and customer support levels.
Pros:
Detailed documentation
Attention to compliance and enterprise service
Cons:
Enterprise focus might be overkill for small senders
Customer service issues reported
Limited feature set
Price: Starts at $20/month for 50,000 emails.
---
Choose From the Best SMTP Marketing Services
Our SMTP services list offer reliable and scalable solutions for sending large volumes of email, including marketing campaigns, transactional messages, and newsletters. These services provide advanced tracking and reporting features, increased security, and automation capabilities, among other benefits.
Among the best SMTP services in 2023 are SMTP, Postmark, SendGrid, Mailgun, and MessageBird. Each of these services offers unique advantages and pricing options that can fit different business needs.
Choosing an SMTP service depends on various factors like budget, the features you need, and who is going to be using the tool in your business. As long as the service you choose is reliable and has good deliverability, you'll see improvements in your email marketing strategy and be able to meet your marketing goals.
Frequently Asked Questions
What is SMTP and how does it work?
SMTP stands for Simple Mail Transfer Protocol. It's a communication protocol used for sending and receiving email messages over the internet. SMTP works by using a set of rules and standards that define how email messages are sent and received between email servers.
What are the benefits of using an SMTP service?
An SMTP service offers several benefits, such as reliable email delivery, high email deliverability rates, email list validation, detailed reporting, and IP reputation management. SMTP services also provide tools for managing and organizing email lists, scheduling email campaigns, and automating email workflows.
Is SMTP a free service?
SMTP does not offer a free plan, but it does provide a free trial period of one month. After the trial period, you need to subscribe to a paid plan to continue using the service.
Can I use SMTP with my existing email client?
Yes, SMTP can be used with any email client that supports SMTP authentication. You can configure your email client to use the SMTP settings provided by your SMTP service provider.
Is SMTP secure?
SMTP supports encryption protocols such as SSL and TLS, which provide secure communication between email servers. However, the security of your email messages also depends on the security measures implemented by your SMTP service provider and your email client.
What is Reputation Defender and how does it work?
Reputation Defender is an add-on feature offered by SMTP that helps to suppress invalid email addresses and improve email deliverability rates. It works by analyzing your email list and identifying email addresses that have a high risk of bouncing or being marked as spam. Reputation Defender also provides feedback on your email campaign performance and offers suggestions for improving your email engagement rates.