There's only so much the written word can do. Sometimes, you need to be able to hear those words being spoken to understand the tone and the emotions behind them, and truly connect with the story. That's why podcasts seem to be all the rage these days. It's also the reason why social audio is starting to gain ground in the social media landscape.
But what does social audio even mean? What makes it different from regular social media? More importantly, how can businesses leverage it in their marketing? Let's find out in this guide.
---
Everything You Need to Know about Social Audio (+3 Best Apps):
---
What Is Social Audio?
Social audio or voice-based social media is a term used to describe a type of social networking that involves audio communication. That means members of the platform communicate using audio instead of text and images. Users can record themselves discussing certain topics or telling stories and then share the recordings with other users. Some platforms even allow you to host "rooms" where you can share stories for others to listen to or participate in conversations with other users.
---
Benefits of Social Audio for Businesses
Wondering what exactly social audio brings to the table? What makes it something that you should consider using for your business? Here are the top benefits of social audio for businesses.
It boosts engagement
Social audio gives you a new way to drive engagement with your audience. You can go beyond simple text-based communication and give your conversations a boost by adding an audio element. This new way of communication is a great way to reach and engage audiences who may prefer audio over text.
Moreover, depending on the social audio platform you're using, audiences have several new ways to engage with the conversation. For instance, they may be able to raise a hand to ask a question or send you Stars and reactions to show their support.
---
It allows for nuanced conversation
There's only so much information you can fit into the 2200-character space limit in your Instagram caption. Traditional social media posts always have a limit on the number of words you can include, which can limit your communication. Audio gives you room to go in-depth into the nuances of a given topic.
As you talk about something, you have leeway to add quick side notes to clarify your point and avoid any misunderstandings. You can also easily answer questions in real-time and further go in-depth into the topic, which allows for richer conversations.
---
It builds credibility
By going deeper into topics and offering more nuanced content, your audience will be able to see that you know what you're talking about. So audio makes it easier to showcase your expertise and establish credibility in your chosen field. This not only helps you earn customer trust, but it also helps you attract new customers and improve customer loyalty.
---
There's less competition
Although social audio is trending right now and is quickly getting adopted by the masses, many brands are still hesitant to try it out. Fortunately, this means these social audio platforms aren't as saturated as leading platforms like Facebook and Instagram. So you have less competition and a better chance of standing out.
---
It helps improve brand-audience connection
Audio is a great way to truly express the emotions behind your words, making it easier for the audience to connect with your story. Instead of just reading about a brand's story, they're listening to a real person telling the story.
In the meantime, by being able to engage with your audience in real time, you also have the opportunity to learn more about them. This helps to build a stronger connection between your brand and the audience, which is crucial for building loyalty and driving conversions.
---
How to Start Using Social Audio
Now that you understand just how beneficial social audio can be, you're probably excited to start using it. But before you do, make sure you're being strategic with it if you want to get ahead of the competition. Check out this step-by-step process of using social audio for marketing.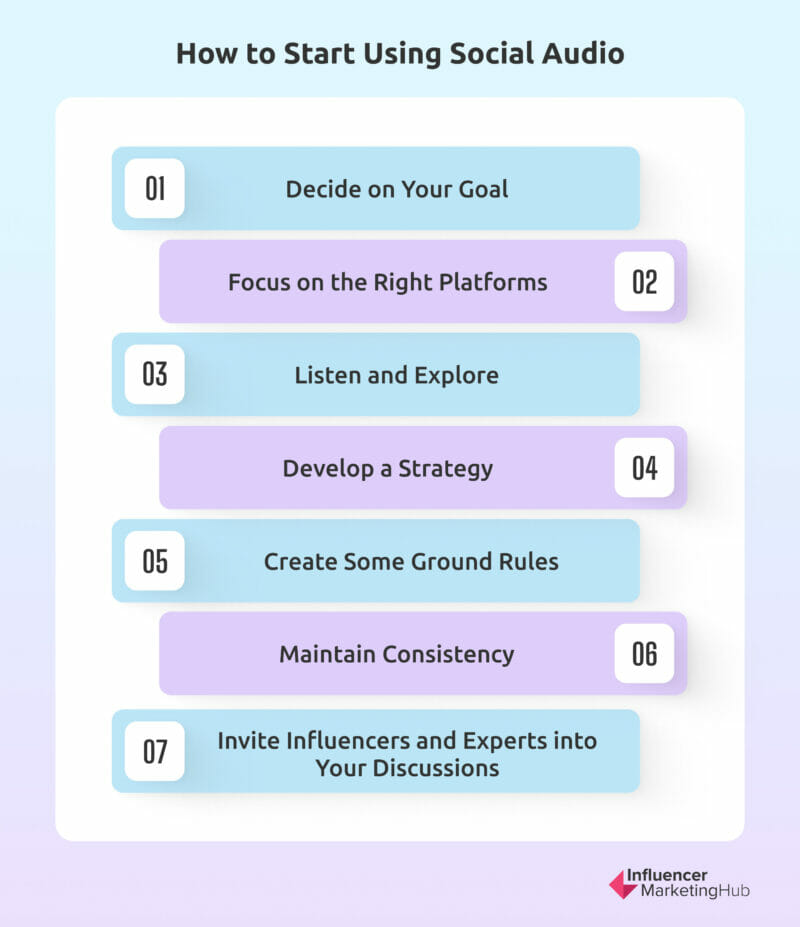 Step 1: Decide on Your Goal
First, think about why you want to use social audio in the first place. Perhaps you want to build a new and engaged community. Or you want a way to educate your audience and provide them with new and interesting information that's of value to them. Deciding on the main purpose can help you take a strategic approach to social audio marketing.
Clearly outline what you wish to accomplish through social audio. This can help you guide your decisions on which platforms to use based on the features they offer and the type of users they have. Your entire social audio strategy also relies on your main goal as it can help you decide things like whether to give your audience a chance to participate or whether they should just listen to your latest updates.
---
Step 2: Focus on the Right Platforms
The type of platform you use plays a crucial role in your ability to achieve your goals and reach your target audience. You don't necessarily have to use every single social audio platform. What's important is that you're focusing your efforts on the right platforms that matter to your audience. In other words, you should first focus on platforms that your audience is regularly using.
Instead of just going by assumption, look at the key demographics of each social audio platform. You can also conduct a social media poll and ask which platforms your audience is using and which ones they prefer.
Another factor to consider is the features. What can you do on the platform that will get you closer to your goal? For example, Clubhouse comes with a feature that lets users raise hands if they want to ask a question or add their commentary. This feature can come in handy if you plan on hosting discussions in which you want your audience to actively participate and ask questions.
Additionally, you'd also want to look at things like the audio quality. This is crucial because the clarity of your voice determines the clarity of your message. Good audio quality is essential to ensure that you get your message across clearly with minimal risk of misunderstanding and minimal interruptions.
---
Step 3: Listen and Explore
While you may be eager to jump in as soon as you set up a profile on your chosen platform, don't be in a rush. Take the time to explore the platform and listen in on existing conversations that are taking place. This is a great way to get a feel of what your competitors and others in your industry are doing.
You can check out what kinds of discussions they're hosting, which topics they're discussing, how they're engaging their audience, and more. You can even join in on relevant discussions and contribute, which is a great way to build connections well before you start building your brand presence on the platform. These connections can come in handy once you start to put your social audio strategy into action as they may turn into valuable audiences.
---
Step 4: Develop a Strategy
Based on what you've learnt and what you plan to achieve, it's time to set up a social audio strategy to market your business. Decide on details like what types of discussion formats you'll want to use.
Perhaps you'll have discussions where one or more pre-determined speakers talk while the audience listens, with possibly an option to ask questions at the end. Or maybe you want to make it more interactive, with every participant getting a chance to contribute. On platforms like Clubhouse, you can host talk shows, panel discussions, moderated group discussions, activity-based hangouts, and watch parties depending on your goal.
You should also decide on whether to invite guest speakers to your discussions and when you should invite them. For example, you may have a weekly Q&A session with influential industry experts.
Another key detail to strategize is the frequency of your discussions. Will it be an everyday thing or perhaps just once a week? Based on this, draft up a discussion schedule and plan your discussion topics ahead of time. This will give you plenty of time to prepare your talking points and decide on which speakers to invite over the next few months.
---
Step 5: Create Some Ground Rules
Since you'll be building a community of engaged audiences, you'd want to make sure that every member of your community feels safe and heard. This would involve creating some ground rules that will help you maintain decorum in your rooms and ensure that they become a safe space for productive discussions.
For example, your rules may prohibit members from interrupting while someone is speaking. You may also want to ban explicit or offensive language to maintain civility and professionalism. Additionally, being rude and disrespectful towards others could get members kicked out of the room. Clearly list these rules and share them with your audience so they know what's expected of them.
---
Step 6: Maintain Consistency
Remember that you're entering into a new platform and a new engagement format. Don't be too much in a rush to grow your audience instantly. Instead, make sure you're consistent with your discussion schedule so you can gradually build and grow your community.
---
Step 7: Invite Influencers and Experts into Your Discussions
One effective way to provide value to your audience and expand your reach is by getting influencers and industry experts to speak at your discussions. You could host interviews, Q&A sessions, and thought leadership sessions that will allow them to add valuable insights that your audience might be interested in. Moreover, they could help you attract their own audience to your social audio content, thus helping you reach more people.
---
3 Best Social Audio Apps in the Market
Your choice of platform plays an important role in the success of your social audio strategy. So it's important that you carefully choose a platform that can help you effectively reach and engage your audience. Let's take a look at the three leading social audio apps in the market so you can test the waters.
Clubhouse is the platform that really catapulted the popularity of social audio. As you can expect from a platform that's built especially for social audio, it comes with a robust set of features that make it one of the best in its class. Although relatively new in the market, it was already seeing 2 million active users weekly even during its invite-only phase.
Using Clubhouse, you can create several types of rooms to host audio conversations. This will determine who can join in on the conversation. You'll also be able to create Clubs, send invitations, take Clips from a conversation, save Replays from a room, and share rooms and Replays with your audience.
---
2. Facebook Audio Rooms
Live Audio Rooms on Facebook allow users to join and listen in on discussions hosted by public figures and industry experts. At the time of writing this post, the feature is currently only open to public figures and select Facebook Groups located in the U.S. With Facebook still being the number one social media in terms of user base, its Audio Rooms can also be an excellent way to expand your reach if the feature is accessible to you.
You can invite public figures, friends, and followers as speakers and host interesting discussions that add value to your audience. These Audio Rooms even allow you to select a nonprofit or fundraiser to support and people can directly donate during the conversation.
---
3. Twitter Spaces
Twitter Spaces is another popular social audio service that allows you to host a Space in which people can listen in on your audio conversation. You can invite other users as speakers and co-hosts and even assign them as moderators. Twitter Spaces also allow you to create Ticketed Spaces so you can generate revenue from ticket sales.
Frequently Asked Questions
What is social audio?
Social audio or voice-based social media is a term used to describe a type of social networking that involves audio communication.
What is a social audio strategy?
A social audio strategy refers to a marketing strategy that leverages social audio to connect and engage an audience.
Is social audio the future?
Social audio is quickly catching on and is becoming a popular way for social media users to engage.
What social platforms only use audio?
Social platforms like Clubhouse, Discord, Twitter Spaces, and Facebook Audio Rooms mainly focus on audio communication.
Why is audio important in social media?
Audio helps users to better express the emotions and tone behind their words, making it easier to build a connection with their social media audience.