Advertising Disclosure
Advertising disclosure:
Our partners compensate us. This may influence which products or services we review (also where and how those products appear on the site), this in no way affects our recommendations or the advice we offer. Our reviews are based on years of experience and countless hours of research. Our partners cannot pay us to guarantee favorable reviews of their products or services.
How do you measure if your social media content is hitting the mark? Social mentions? Likes? Audience growth? Engagement rate?
To get a truly complete picture, there are dozens of social metrics that you should track. This alone is a challenge. Then, you still need to make sense of the data or at least present it in such a format that others can get instant insights.
Your followers aren't the only ones who prefer visual content over chunks of text. It's much easier to get your team members cooperation if you present information to them in a format that's visually pleasing too. Not only will it help to grab and maintain their attention, but it will also help to demystify something like social analytics.
To help you with this critical puzzle piece, most social media management software solutions also include some form of reporting. We've scoured the web to find you over 10 of the best tools to use if you specifically need help in the reporting departments. In this list, you'll also find tools that are dedicated to reporting specifically, going this route can be useful if you want to evaluate more than just your social media marketing campaigns.
---
Top 14 Social Media Reporting Tools to Measure Growth in 2024:
---
14 of the Best Social Media Reporting Tools
Top
social media reporting tools
2024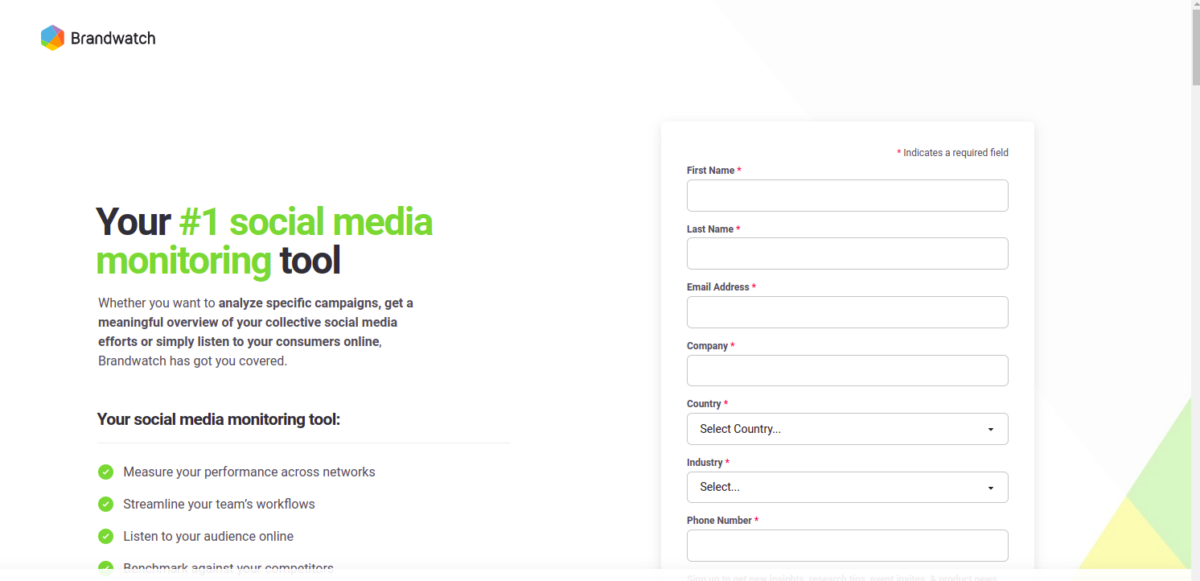 Brandwatch is one of the top social media software solutions trusted by digital agencies. It offers many cool features to help inform your social strategy. From publishing to benchmarking, it can basically help you during all the key phases.
As for its analytics and reporting functionality, it offers user-friendly, customizable dashboards from where you can monitor your performance across various channels. As the metrics are in real time, you can enjoy peace of mind that you remain up to speed with the latest development.
You can use it for reporting on your audience size, engagement, and reach as well as compare yourself to others in your niche. If you want to drill down onto post-level, Brandwatch can also help you to identify which content pieces resonate the best with your audience segments. There are over 100 post-level metrics that you can use.
What's more, it offers unlimited reporting. It doesn't cap the number of reports that you can create and it also doesn't restrict you to just a few file formats. In addition to the standard formats, you can also export reports as CSV, JPG or PNG files.
Other key features include:
Approval flows
A unified calendar
Content and hashtag analysis
Historical data
Plans and pricing:
For more details about pricing plans, you'll need to contact Brandwatch directly.
---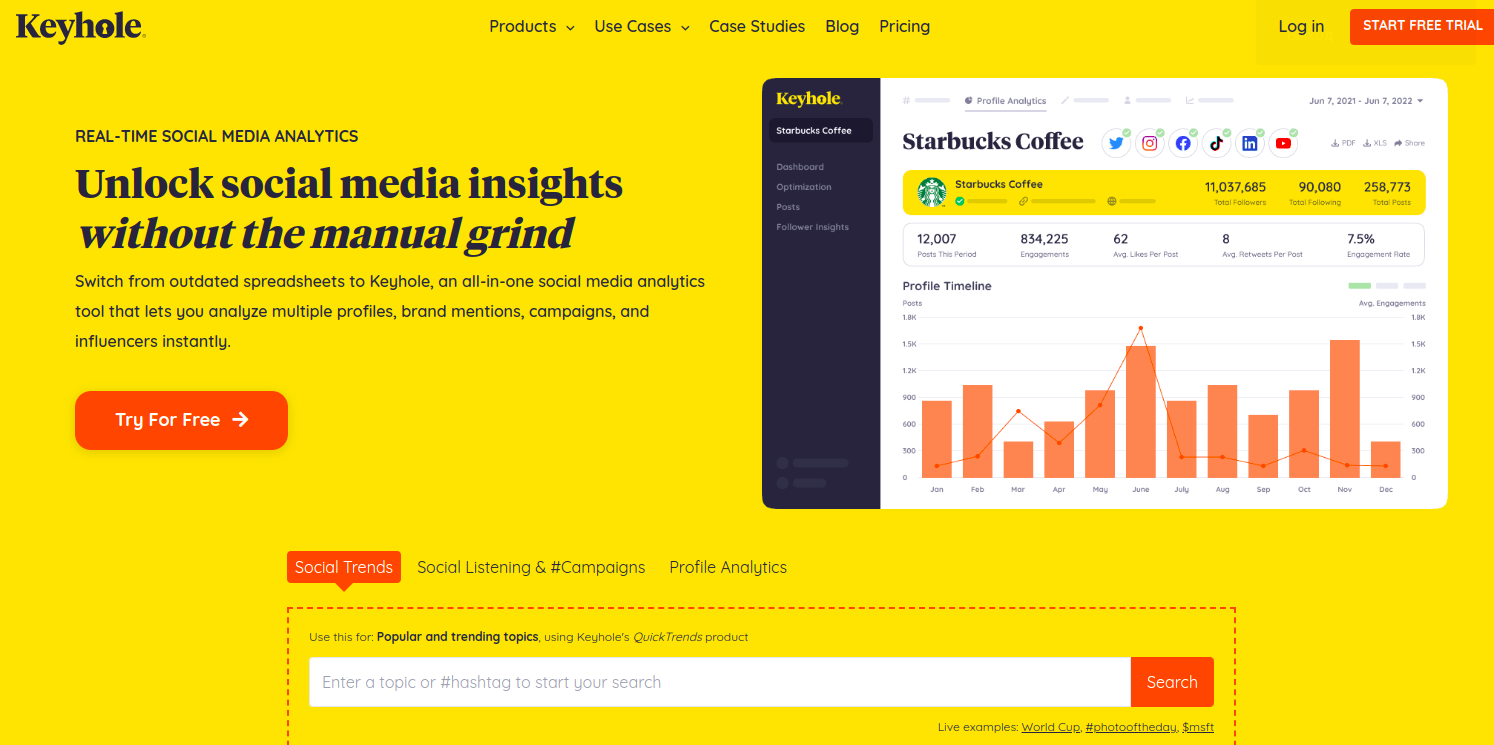 Keyhole offers several different types of reports that include hashtag reports, social campaign reports, influencer campaign reports, and brand monitoring reports for all the major social networks. What makes it such a good tool for social media reporting and one of the reasons why it's used by thousands of marketers and agencies is its use of visualization. This makes the content much easier to digest.
For easier sharing, these are available for downloading (either as a PDF doc or XLS file). Plus, agencies will also be able to create white-label reports to include their own branding.
Though, if the reports aren't complex enough for your needs, it also supports data exporting. By exporting keyword data in an Excel file, you can create your own reports online eliminating the need to start entirely from scratch. It also offers API access to social media data to help you create your custom report.
Other key features include:
Social listening
Profile analytics
Publishing and scheduling
Plans and pricing:
After a free seven-day trial, pricing starts at $99 per month (or $79 per month when billed annually).
---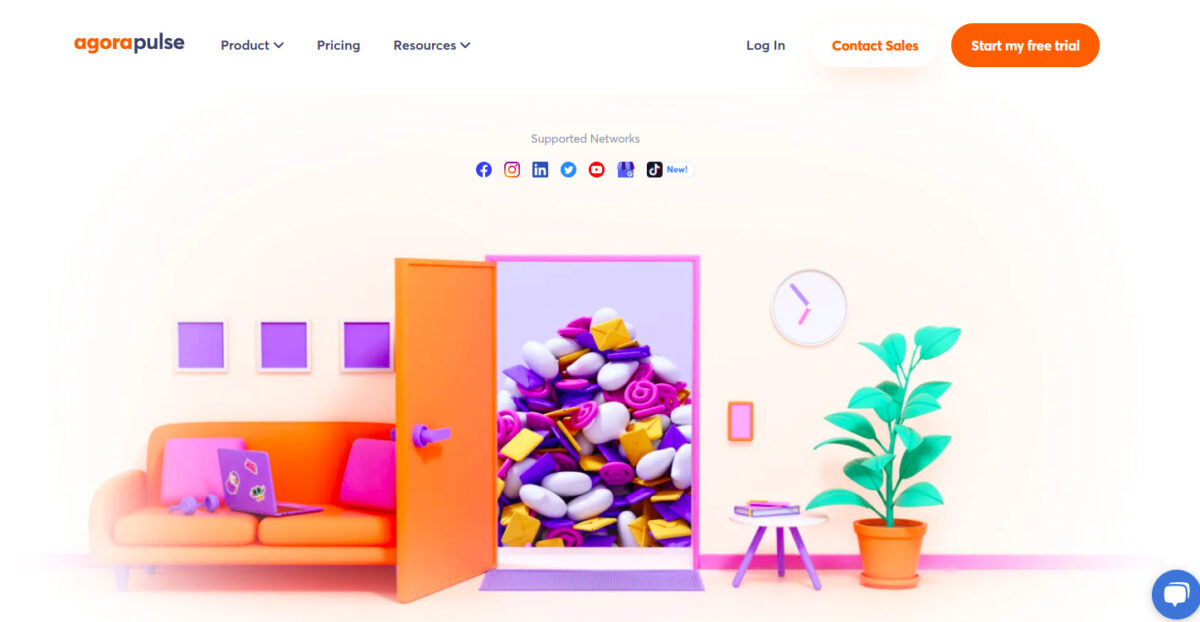 Agorapulse helps you to identify which types of content delivers the best results and on which platforms (it supports Facebook, Instagram, LinkedIn, Twitter, and TikTok). With the help of this actionable data, you can change your content marketing strategy and zoom in more on the social network that delivers the best results.
Its social media reporting can also help you to identify key trends. By selecting your own custom report date range, you can, for example, pick up if there's a steady decline in follower counts. Another way that you can customize your reports further by branding it with your own logo.
Agorapulse can be especially useful for marketing teams and agencies. In addition to social media metrics, it can also report on the performance of your team. Included in its offering is community management reports that can track the inbox activity and response times of your team.
Other key features include:
Post scheduling
Social listening
Analytics
Plans and pricing:
After a 30-day free trial, pricing starts at $59 per user per month (or $49 per user per month when billed yearly).
---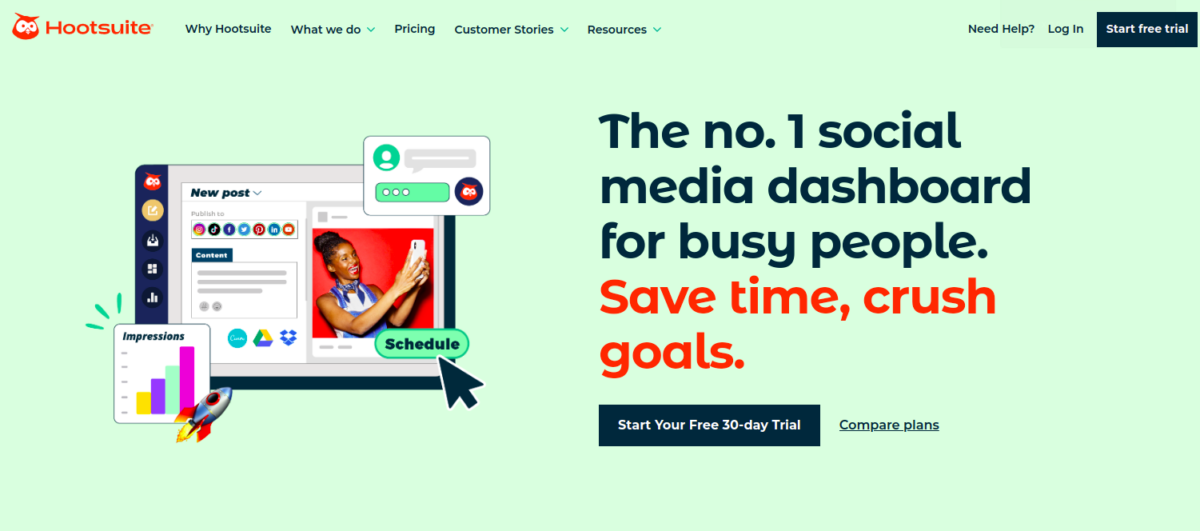 Included in Hootsuite Analytics is reporting. What makes Hootsuite's reporting feature such an attractive option is that it also includes Pinterest analytics. As you'll see when assessing the other tools, Pinterest is usually excluded.
Their reports are completely customizable and thanks to its intuitive interface it's easy to take advantage of this feature. Each metric is individually displayed as tiles. If you want to customize your report, you simply drag and drop these tiles. Much like building a house.
To simplify this process of building your report further, Hootsuite also offers templates. These templates are basically a prearranged collection of tiles that gets organized by social media profile and gathers analytics about your content's performance, followers, and engagement. Using templates can come in handy when you're still deciding which analytics you should track.
For more experienced social media marketers, Hootsuite offers custom reports. This way you can add only the metrics that you want to monitor.
Other key features include:
Automated email delivery of reports
Suggestions for best time to post
Competitor analysis
Social listening
Plans and pricing:
After a free 30-day trial, pricing starts at $99 per month. However, if you skip the trial, you can get 20% off.
---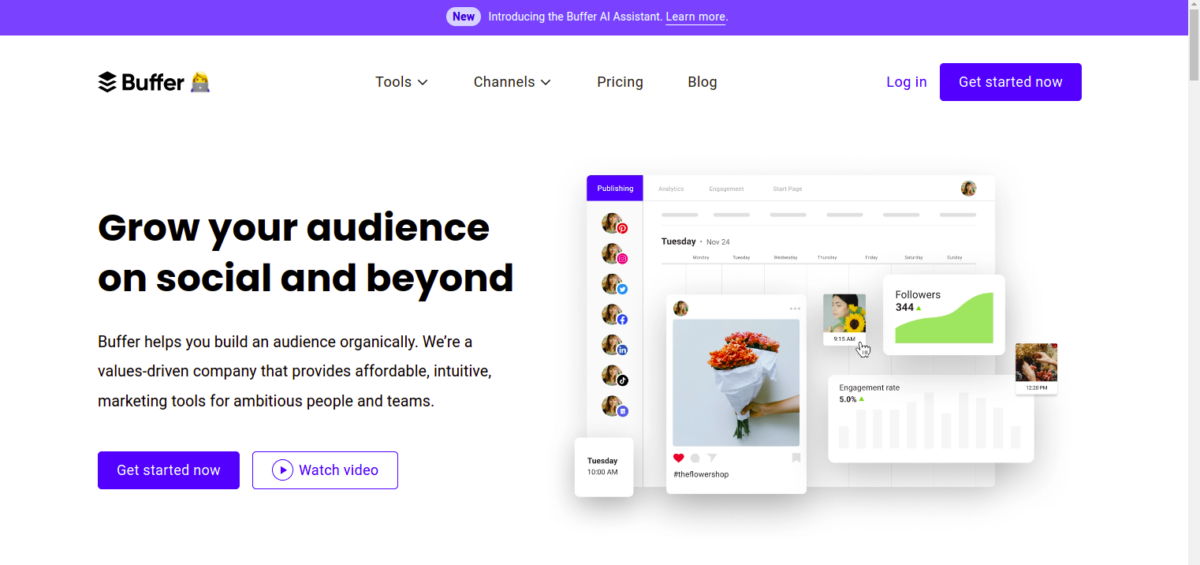 Buffer offers a single dashboard. Here you can monitor performance for LinkedIn, Instagram, Facebook, and Twitter. In addition to key engagement metrics, you can also use it to get insights into the performance of Instagram Stories, boosted posts, and hashtags. It also includes audience demographics to help you assess if you're indeed reaching your target audience.
To help you share all this data in an easy-to-understand format, it lets you create customized reports. You simply add the metrics and it will get updated daily. Not only does Buffer give you the freedom to decide which metrics to add, but it also supports white label reports if you wish to add your own branding.
While Buffer doesn't support that many platforms, it does share recommendations which can help you to grow your social media presence. It will show which times will get you the highest reach, which type of social media posts generate the best results, and how often you should post these.
Other key features:
Planning and publishing tools
Historical data access
A hashtag manager
Plans and pricing:
The ability to create custom reports is included in all of Buffer's paid plans. After a free 14-day trial (no credit card required), pricing starts at $6 per month for one channel.
---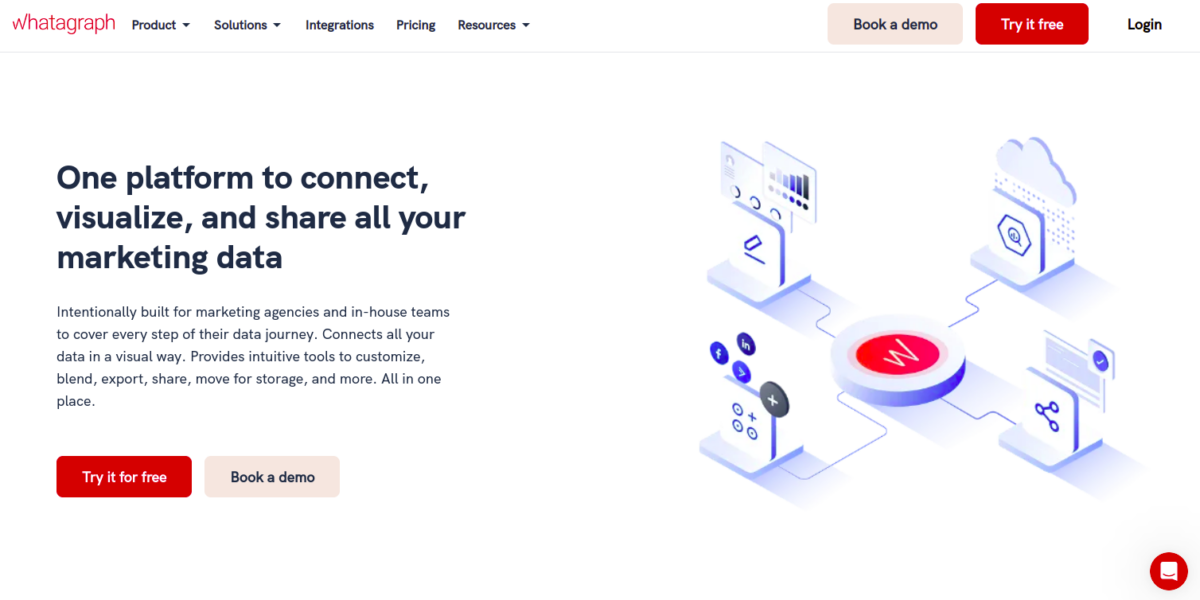 Aimed at marketing agencies and teams, Whatagraph offers a visual platform for gathering data and sharing insights. From SEO to SEM to social media, it can be used for various types of reporting.
It has over 40 integrations which means that you can basically visualize all your social media data via a single place. You can also segment data using filters like campaign or demographics or narrow it down to a specific date range. Then, to draw attention to certain data, you can add emojis, while charts, tables, and graphs can be created for communicating patterns or trends.
Marketing agencies will also benefit from its automatically delivered reports and white-label reports.
Other key features include:
Report templates
Live links for real-time monitoring
Custom branding
Plans and pricing:
After a free seven-day trial (no credit card required), pricing starts at $223 per month when billed annually. In addition to the free trial, it also includes a 30-day money-back guarantee.
---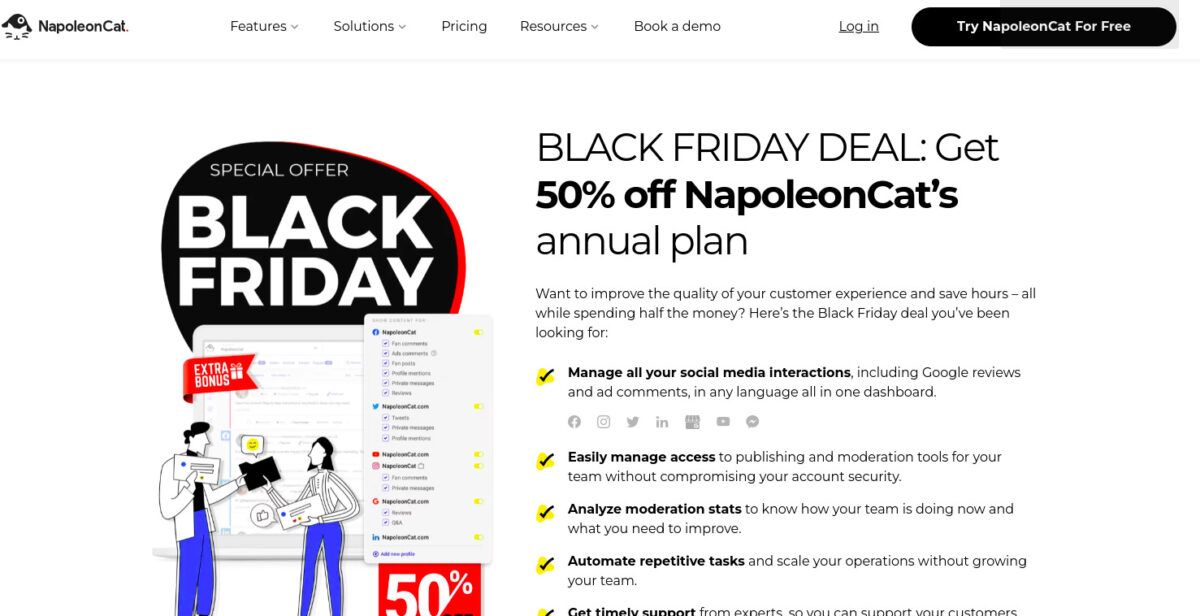 Included in NapoleonCat's features are professionally designed social media reports for Facebook, Instagram, and Twitter. It offers you a way to get an in-depth understanding of key social media metrics such as engagement, follower growth, and reach. Not only can you report on these social media channels of your business or clients, but also of your competitors.
To help you save time, you can also set it up so that it gets created automatically. You can schedule it for each quarter, month, or even week. If none of these work for you, you also have the option of setting a custom time range like every six weeks.
It can also be set up so that it gets sent automatically, either to team members or clients. If it's for the latter, branded PDF versions are available.
Similarly to Agorapulse, it also includes reports on team performance. You can use it to keep tabs on their inbox activity or social media moderation efforts.
Other key features include:
A content publisher
Comments management
Data analytics
Plans and pricing:
After a 14-day free trial, pricing starts at $31 per month (or $26 per month when billed annually).
---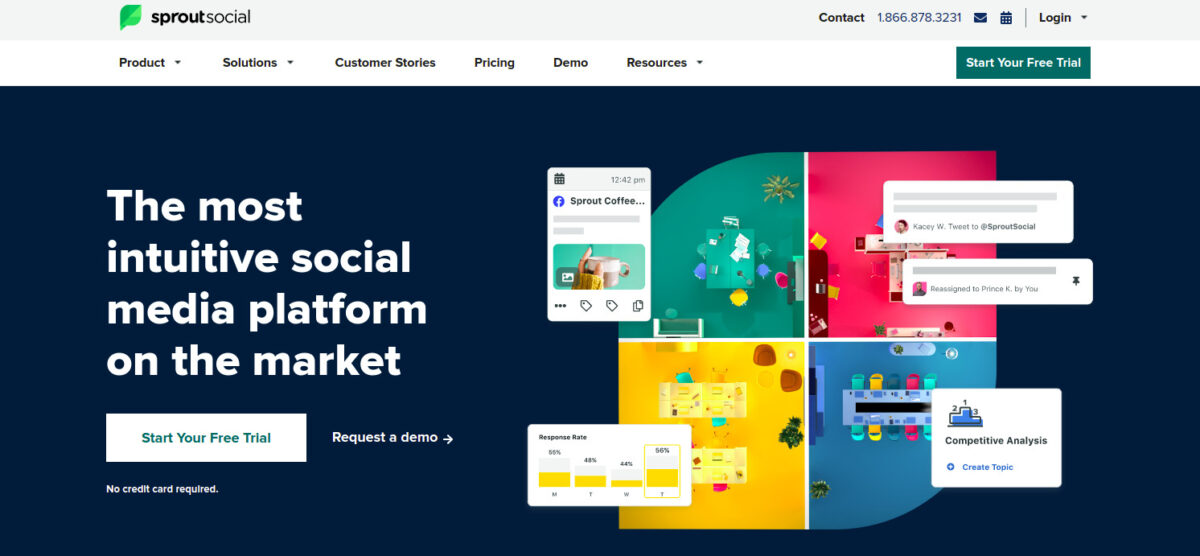 Sprout Social offers a user-friendly set of tools that you can use to measure key metrics. In addition to giving you the tools, they also offer training as well as education resources to help with onboarding.
After your onboarding, you'll be able to see all of your linked social profiles via a central place. It currently offers analytics for all the main platforms including TikTok and Pinterest. Premium analytics are also available as an add-on. What makes this dashboard so useful is that publishing and engagement tools are integrated next to the analytics, making it much simpler to put what you've learned into practice.
Alternatively, you can use its intuitive reporting features to export the data. There are templates as well as custom reporting options that you can use for breaking down the performance of your content, campaigns, and team. Digital agencies can also add the branding of their client's for a more personal touch.
Other key features include:
Competitor reports
Interactive charts and graphs
Advanced filtering
A social content calendar and all-in-one social inbox
Plans and pricing:
After a free 30-day trial, Sprout Social's pricing starts at $249 per month
---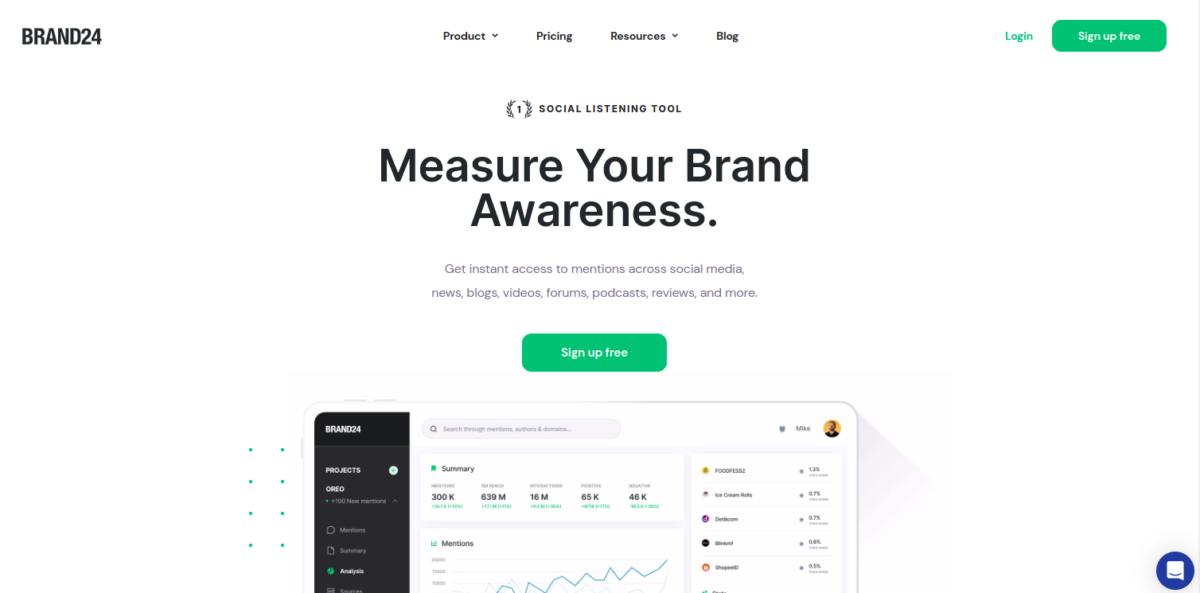 Brand24 is trusted and loved by brands of all sizes including global household names like Uber, Discovery Channel, and IKEA. It's more than simply a social listening tool that you can use to track brand mentions across millions of online sources. Included in its list of features is metrics to help you measure your brand presence and track the reach of marketing efforts.
As mentioned, Brand24 can track various types of online sources. If you want to use it specifically for social media, you'll be able to use it for Twitter, Facebook, Instagram, TikTok, YouTube, and LinkedIn. Whether you want to focus on your earned media or want to benchmark your performance against your competitors, their team of seasoned analysts will also be able to translate the data into sights with the help of custom, presentation-ready reports. Alternatively, you can use its data exporting functionality and create automated PDF reports.
Other key features include:
Customer insights
Hashtag tracking
A discussion volume chart
Plans and pricing:
After a free 14-day trial (no credit card required), Brand24's pricing starts at $79 per month (or $69 per month when billed annually).
---
B2B marketers can check out Oktopost. It's a social media platform that was designed specifically for B2B enterprise companies.
In terms of their reporting functionality, Oktopost lets you share data as PDF, PowerPoint or CSV reports. In addition to presentation-ready reports, Oktopost also includes visuals like charts and tables in its custom dashboards to help you make sense of data faster.
You can use it to communicate to members of your team or stakeholders what your social media strategies have achieved in terms of engagement. It can report on post-level data, such as top-performing links, as well as share audience insights, like demographics.
Other key features include:
Social listening
Content curation
Smart scheduling
Plans and pricing:
For more information about their pricing, you'll need to reach out to Oktopost directly or book a demo.
---
For an alternative to Whatagraph, you can check out DashThis. These tools are similar in the sense that unlike the others on this list, their main focus is reporting. One key difference between Whatagraph and DashThis, though, is that with DashThis you don't get charged per user making it a good tool for bigger teams.
With the help of DashThis, digital marketers and agencies in various sectors can create stunning automated marketing reports quickly. It offers an intuitive drag-and-drop interface, more than 40 data integrations, and a selection of templates to mention only some of its key features.
If you specifically want to zoom in on your social media performance, it includes social media reporting tools as well as a tool dedicated to Facebook (including a separate one for Facebook Ads), YouTube, Instagram and LinkedIn (also including a separate one for LinkedIn Ads). To help you get started quickly, it's prebuilt with all the most important social media KPIs, but it's also completely customizable if you want to include other data.
Other key features include:
Customizable dashboards
White-label reports
Dashboard comments
PDF export
Link sharing
Plans and pricing:
After a free 15-day trial, pricing starts at $39 per month (or $33 per month when paid yearly).
---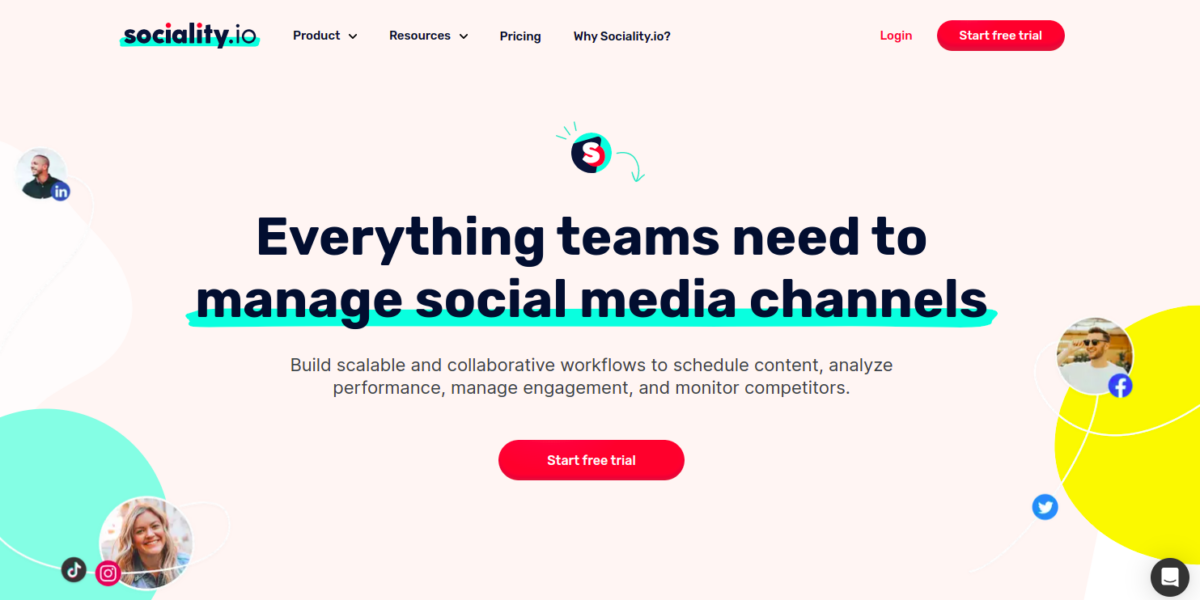 Trusted by names like We Are Social, Soiality.io offers social media management solutions for scale. From publishing to analytics, it can help with all the key stages involved in social media campaigns.
Its social media reports gather data across TikTok, Twitter, Instagram, Facebook, LinkedIn and YouTube to deliver you performance insights in one place. You can, for example, use it to compare the performance of organic vs promoted posts on Instagram or track the impressions and reach of your Instagram Stories.
In addition to helping you make sense of your own social media efforts, Sociality.io can also help you track how your team and competitors perform. Team performance reports that give a holistic overview of an individual's KPIs are also available in its more expensive plan, while all plans give you the ability to schedule automatic competitor analysis reports.
Whether you prefer to be updated on a daily basis or a monthly report will do, you can set it up to get automated analytics reports delivered straight to your inbox. As for the format, reports are available in PDF, PowerPoint, or Excel format.
Other key features include:
Unlimited scheduled posts
A unified inbox
Saved reply templates
Sentiment analysis
Social listening
Plans and pricing:
After a free 14-day trial (no credit card required), its entry-level plan costs $99 per month when billed monthly for one user. If you need to add more users, you'll need to sign up for its Business plan that costs $199 per month (or $166 per month when billed annually).
---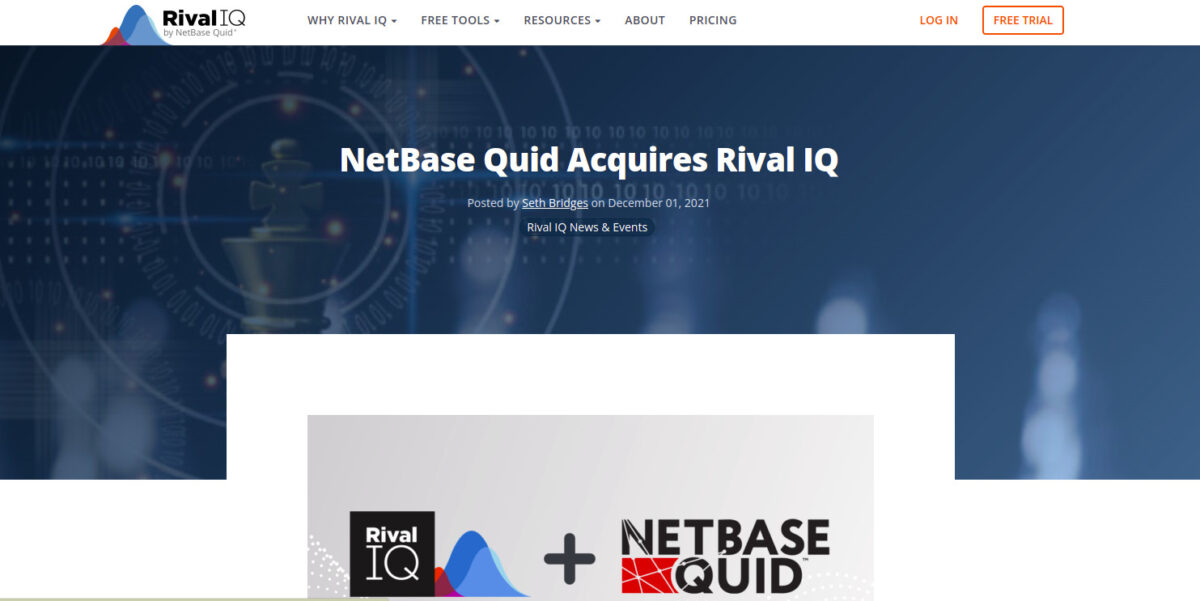 Rival IQ offers on-demand social media analytics for Facebook (including Facebook Ads), Instagram, Twitter, YouTube, LinkedIn, and TikTok and custom reports to help you improve your social media strategy. You can use it to monitor and measure your own performance as well as compare it to that of your rivals.
To help you save time further, it also includes prebuilt reports and scheduled export delivery. However, it's not at the expense of customization. There are custom dashboards (including custom date ranges) and a wide range of graphs, charts, and tables to choose from. Plus, it also lets you export in any panel, dashboard, or page in more formats than just the standard PDF, Excel, or PowerPoint.
Other key features include:
Email alerts
Social posts analysis (including hashtag analysis)
Social media benchmarking
Plans and pricing:
After a free 14-day trial, pricing starts at $239 per month. If you choose to pay yearly, you can save 15%.
---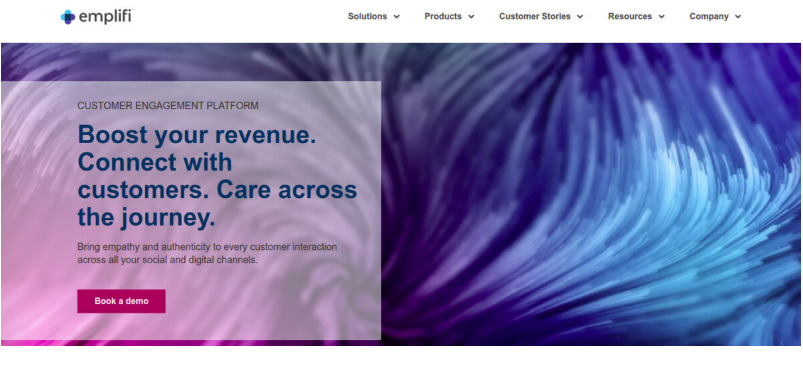 If you're searching for a tool that embraces artificial intelligence and automation, you can check out Emplifi. Several global brands like Miele, Domino's, and The Body Shop use Emplifi's powerful, intuitive, social media analytics tools to streamline the analysis of marketing campaigns across multiple social channels in real time. Not only will it help you to gain a deeper understanding of your own campaigns, but it will also share actionable data and insights about how your competitors are using social channels.
Flexible widgets give you the power over how you want to see the data, while interactive visualizations and cross-channel campaign views paint a holistic picture. You can then either share the custom dashboard with your team and other stakeholders or let Emplifi create automated reports in various formats.
Other key features include:
Historical data
Publishing and scheduling
Social media listening
Content analysis
Plans and pricing:
Pricing starts at $240 per month when paid monthly (or $200 per month when billed annually).
---
Wrapping Things Up
Data only becomes useful to business owners if they can get quick insights. Otherwise, it remains only a sequence of numbers. By investing in a social media tool that offers reporting, much of the time-consuming process can be automated. Not only will it help you to save time when it comes to data analysis, but it also prevents you wasting more time on social media networks or types of content that simply don't deliver the results.
While you're at it, it can also be a good idea to look at what your competitors are up to. Many of these tools listed above also include some form of competitor analysis. This will give an idea of how your social presence stacks up against theirs. It's not a popularity contest, but hey, you don't want your brand to be a Facebook wallflower.