Few platforms like Squarespace have proven to be easy to use and quick to deploy for website building. Trusted by the biggest brands worldwide and smaller businesses everywhere, the platform has become a popular choice to help businesses secure their online identity.
However, popularity alone won't determine whether you succeed or fail on the platform—which is where search engine optimization (SEO) comes in. SEO is crucial to help any website increase visibility on search engines.
Here's a checklist on how to optimize your Squarespace SEO, along with useful tips and considerations when building your website on the platform.
---
Squarespace SEO Checklist and Tips for 2024:
---
A Squarespace SEO Checklist For Better Website Visibility
There are two approaches you can use to improve your Squarespace SEO: on-page, which refers to everything you can do or change on your website itself, and off-page, which refers to factors that you can change outside your website. Both need equal attention to increase your visibility.
Here's how to optimize each approach.
On-Page SEO for Squarespace Websites
It should be noted that the specifics of the following steps will differ depending on your industry, such as the specific keywords you'd use.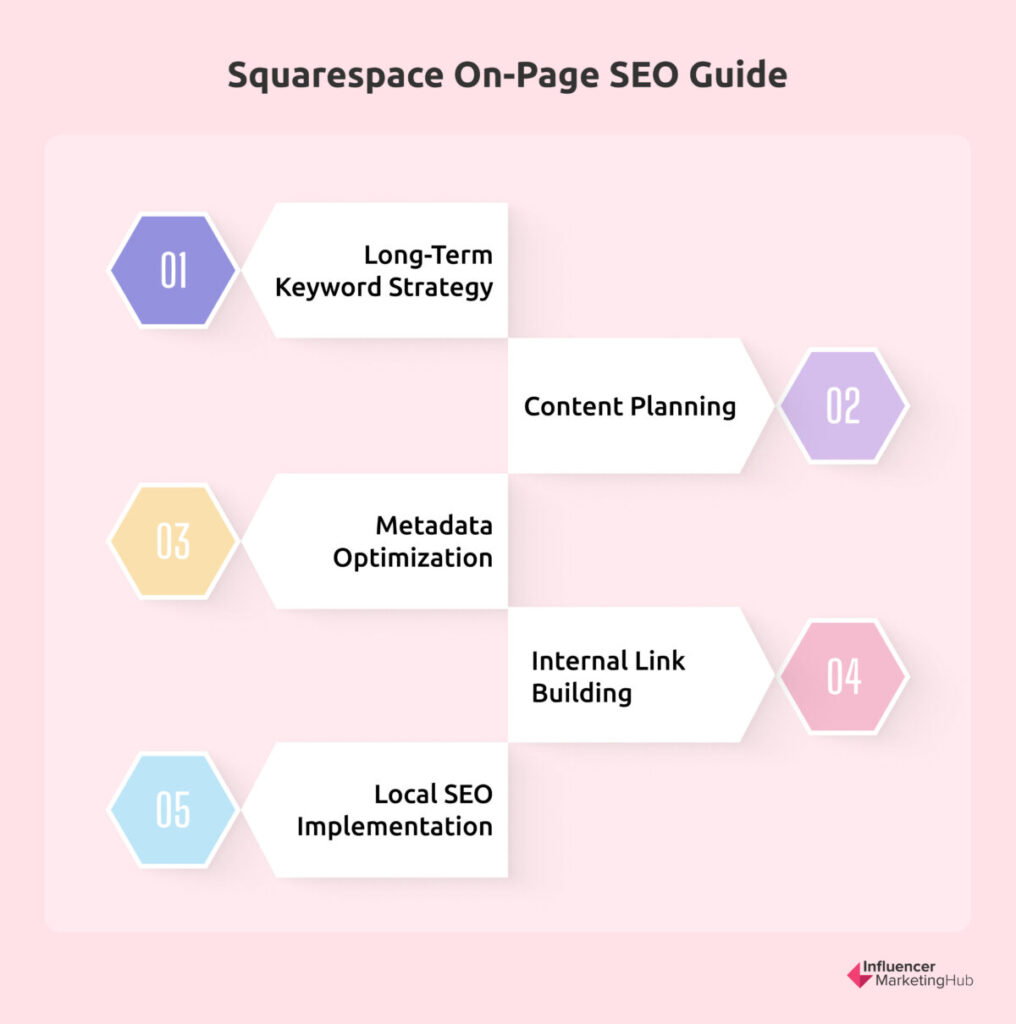 1. Conduct long-term keyword research and implementation
Keyword research for Squarespace SEO is one of the foundations of your entire content plan. They're crucial to telling search engines what your website is about—and not choosing the proper keywords can drastically affect the visibility of your website.
You don't necessarily have to frontload your content with keywords, as search engines will penalize keyword stuffing. However, having a library of keywords that your business will be ranking for is still important.
Some questions you can ask to determine if a keyword will work for you include:
Relevance. Is this keyword related to my business, brand, or products?
Location. Am I trying to capture leads in an area around me, or am I trying to expand to an audience further away?
Competition. Is the keyword I'm trying to use already in a niche where plenty of other brands/businesses use it?
Customer intent. Are these the keywords that my audience uses to search online?
Trends. Are these keywords added in response to short-term customer demands, or are they for more long-term business growth?
Many keyword research tools can give you all the information you need to decide which ones to use. The important thing to remember is to use keywords relevant to what your business does or can provide and can ultimately help your target market find you.
---
2. Create a comprehensive content plan
Once you've decided on keywords, you'll need to develop a content plan to determine where to deploy them. Squarespace's content block feature is extremely versatile, allowing you to drag and drop almost any content anywhere on your website. Anywhere your website copy exists counts as SEO—which means optimizing your content via a content plan is crucial to long-term SEO ranking.
This is even more critical for brands with specific content types, such as blogs. Blogs are some of the most effective methods you can use to affect your website's SEO ranking. However, they still need dedicated SEO work to be registered as high-value content by search engines.
Your content plan should be able to:
Provide an overview of which areas on your site need the most SEO content work

Reference the content that your website will produce consistently

Establish guidelines that your content creators, writers, or employees can follow when uploading content to the website

Outline processes to follow in content creation for more efficient turnaround times when publishing content

Ensure a review process that makes sure all website content is aligned with search intent
Content plans can also cover off-site SEO approaches, but they mostly revolve around the content you put on your website. By sticking to a content plan, you follow a consistent strategy that can effectively support your SEO optimizations in the long term.
---
3. Optimize the way you use metadata in your website
Metadata are bits of information that give search engines an idea of the content on your website or pages. They're bits of text embedded in code that isn't visible to viewers but can be read by web crawlers. These are responsible for looking through your entire website before it's listed on their search engine results.
Optimizing metadata is important because it's one of the first things search engines will look at to rank your website. Search engines are far more likely to "favor" websites with optimized SEO since this makes connecting them to the audience looking for those specific search terms much easier.
Some important ways you can leverage metadata include:
Page title tags, which describe what a specific webpage on your website contains

Meta descriptions, which are summaries that appear underneath your page title tags on search engines

URL structures, which are custom URLs that can contain your focus keywords

Alt text, which usually describes images on a page when they fail to load
It might be easy to miss including metadata as these aren't visible to most audiences, but Squarespace makes this process easy through functions such as SEO descriptions.
---
4. Invest in your website's internal links
Occasionally, content on your website—or even entire pages—may be removed, changed, or temporarily taken offline. This affects your internal links, negatively impacting your SEO rank if left unaddressed.
Two notable examples are 301 redirects (changes in the original page's URL that redirect it to another page on your platform) and 404 error messages (displayed to users who click links that lead to pages that no longer exist) for your internal links. Because links are important parts of your website's SEO, avoiding these errors ensures that users get to the content you want them to see.
Investing in internal links can also benefit your website in other ways:
Automatically updates search engines and your customers about any changes in your website

Allows you to create a hierarchy of web pages that you can invest more SEO support into

Help make reporting and analytics of your website performance easier via link tracking

Prevents the loss of domain authority if you update, replace, or change any established websites

Improves website experience by showing audiences content that's relevant to them
Internal links should always be considered when improving your Squarespace SEO since it turns your website from a simple collection of pages to a cohesive experience that your audience and search engines can better understand.
---
5. Apply local SEO practices to your website's content
According to research by BrightLocal, 99% of consumers use online searches to find and engage with local businesses. It's not difficult to see why; customers are far more willing to interact with businesses they can easily reach.
This means that your Squarespace website can benefit greatly from local SEO. Squarespace has several ways that let you do this, from its Business Information Settings to adding Map Blocks in your website's content. You don't need a physical store or goods to take advantage of this feature—its primary purpose is to tell search engines that your business is operating in a specific area or targeting specific audiences.
Local SEO practices you can integrate with your Squarespace website include:
Creating a location page that has updated content that web crawlers need to index your website, such as your business's name, address, and phone number

Making location-specific content with relevant information targeted at audiences from that area

Optimizing your website elements so they load consistently across different devices (made easier by Squarespace's responsive designs)

Linking specific keywords to your products and services (like "near me," "around X area," or "nearby")
Local SEO is a targeted approach that can drastically improve your SEO rankings for a particular area, and Squarespace provides plenty of features that can support this effort. By being consistent with your local SEO, you can bring your business to nearby people already looking for it.
---
Off-Page SEO Strategies for Squarespace
Off-page SEO strategies vary depending on your resources, goals, and industry. However, they all refer to activities that you do outside your website that help lead search engines to your Squarespace domain.
Keep in mind that you can't start with off-page SEO unless you've already finalized your on-page SEO. If you haven't, you can lose a lot of value by linking your audience to a subpar website.
Once you've managed to make sure that your website contains what you want your audience to see, you can do the following: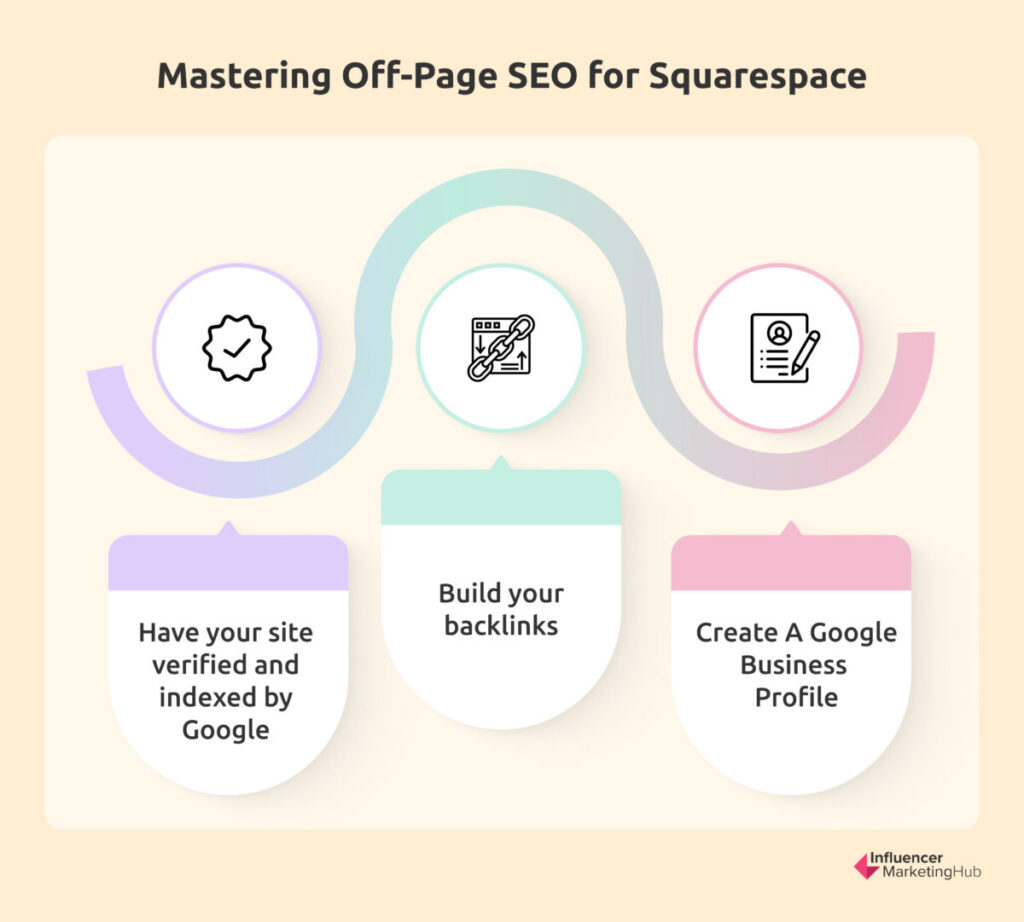 1. Have your site verified and indexed by Google
Squarespace allows domain owners to submit their Squarespace websites for verification via the Google Search Console. This allows Google's web crawlers to verify your domain and have it display crucial information about your website's health and how it will perform once it's been added to Google's search results.
Users can take this one step further and have their sites indexed by Google, allowing it to update its search results if you add new pages or content to your website. This will enable you to find any errors in your domain, review your links, and give you actionable data on your website performance.
---
2. Build your backlinks
Backlinks (or inbound links) are links to your website that can be found on other websites. There are many ways to add backlinks to your Squarespace domain, from doing guest posts on other websites to ramping up your social media marketing.
Building backlinks requires more work and may differ depending on your business's industry. However, a good rule of thumb to secure backlinks is to make sure that your Squarespace website has valuable content that your audience is looking for—and to take the opportunity to partner with other websites that will find it useful to link back to your own.
---
3. Create A Google Business Profile
A Google Business Profile (formerly Google My Business) can help you have your business listed on Google Maps, drastically affecting your local SEO results. This profile helps Google understand what your business has to offer but also improves your search visibility as it indexes the content you include in it.
Google Business Profiles aren't required to be listed in Google search results, but there's no denying that it helps with local SEO. Keep in mind that there may be issues connecting your Google Business Profile directly to your Squarespace website, as it's a technical error the platform is still working to fix. However, listing your business profile still indirectly helps your local SEO rankings.
---
Wrapping Up
Squarespace SEO isn't that complicated, but it does require consistency to positively affect your website's rankings and visibility in the long term. Sticking to an established SEO improvement process and consulting a checklist can help you keep your website well within the best practices to rank higher in search engines.
With enough time, investment, and a little help from Squarespace's own SEO features, you can raise the ranking of your website for more visibility and better audience engagement.
Frequently Asked Questions
Will improving my Squarespace SEO guarantee a higher ranking on Google?
While Squarespace offers robust support and features for SEO on its website builder, improving your SEO doesn't always equate to a better ranking in search results. SEO isn't an overnight process—it takes time for your changes to take effect. When they do, it's difficult to predict how exactly search engines (not just Google) will account for your SEO strategies.
How quickly will I see results from improving my Squarespace SEO?
Search engines usually require some time to index the content of your page, as this includes taking measures to detect and penalize content that tries to manipulate their algorithms and artificially bump up your website ranking. Most SEO work won't have any immediate results, with the median time for any updated rankings appearing anywhere from 4 to 6 months.
Can I set up a Squarespace site without putting a lot of work into SEO?
Squarespace doesn't require its users to drastically invest in SEO—in fact, the platform prides itself on easy accessibility and quick setup, which doesn't always involve comprehensive SEO work. However, SEO is crucial to helping any website get more visibility once published. We recommend investing even in basic SEO improvements to your Squarespace website, especially since the platform supports features that improve SEO scoring across different areas.
Is improving on-page SEO enough for improved visibility?
Most users will focus on on-page SEO during the beginning of their website builds and shortly after launch. This is fine since the content gives search engines the foundation to index your website. This doesn't mean that off-page SEO won't be important, though. Investing in off-page SEO solutions can drastically improve the visibility of your earlier on-page SEO work, so make sure to set aside time and resources to work on it further along your website's development.
Can I outsource Squarespace SEO work?
Many marketing companies have experience in using SEO to increase website visibility and have plans/offers that can take care of SEO work for you. If you don't have the time but can spare the budget, outsourcing your Squarespace SEO work can potentially give you a good return on your investment. However, the Squarespace platform is already user-friendly enough to do your own SEO work with a little time and investment.