Advertising Disclosure
Advertising disclosure:
Our partners compensate us. This may influence which products or services we review (also where and how those products appear on the site), this in no way affects our recommendations or the advice we offer. Our reviews are based on years of experience and countless hours of research. Our partners cannot pay us to guarantee favorable reviews of their products or services.
American big-box store Target—which has a brick-and-mortar outlet within a 10-mile radius of 75% of U.S. residents—has drawn closer to its shoppers since 2019 with the launch of its online marketplace, Target Plus (Target+). Target RedCard holders get the same five-percent discount, an additional 30 days for returns, and free shipping, which they enjoy at physical stores.
---
Best Target+ Marketing Agencies
Here are 12 companies you can collaborate with to realize your Target+ seller dreams:
Top
target plus agencies
2024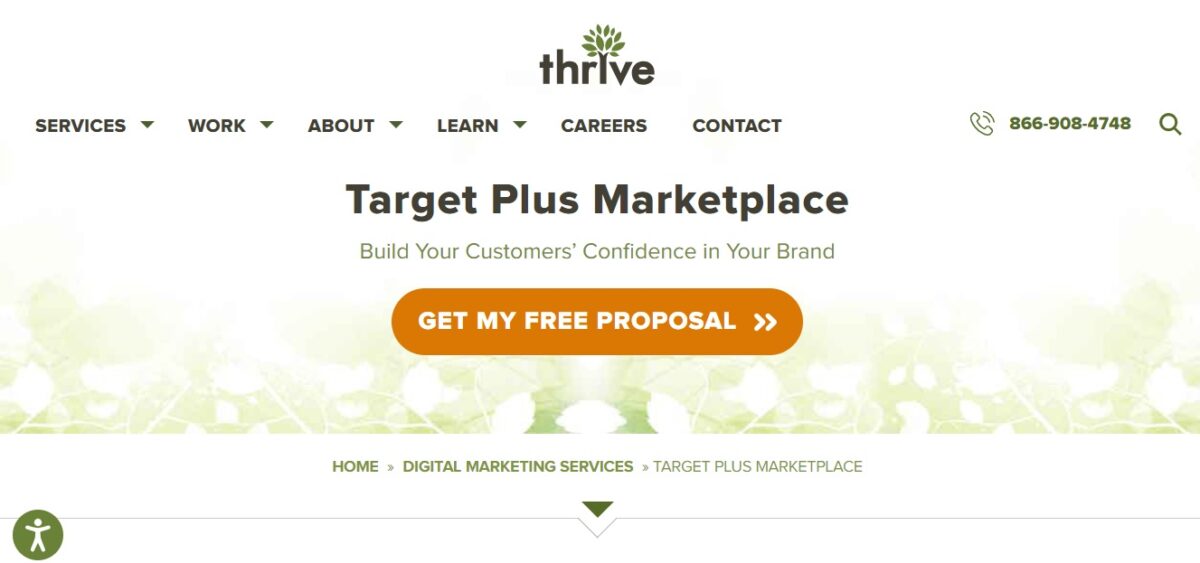 Location: Dallas, Texas
Thrive is a digital marketing leader and certified Google partner with a 220-strong team in ten nations.
The agency's Target Marketplace storefront services include client dashboard setup, in-depth reporting, monthly management covering product listings audit, and results-driven recommendations. Its expert team also performs optimization through SEO, category and subcategory targeting, content writing for product listings, competitor benchmarking, and shipping best guide development. You can also hire Thrive's in-house photography and web design specialists to take care of your product photography.
With its integrated marketing solutions, the agency can optimize your social media, pay-per-click (PPC) strategy, and reviews management to generate more traffic to your Target+ store and other eCommerce accounts.
---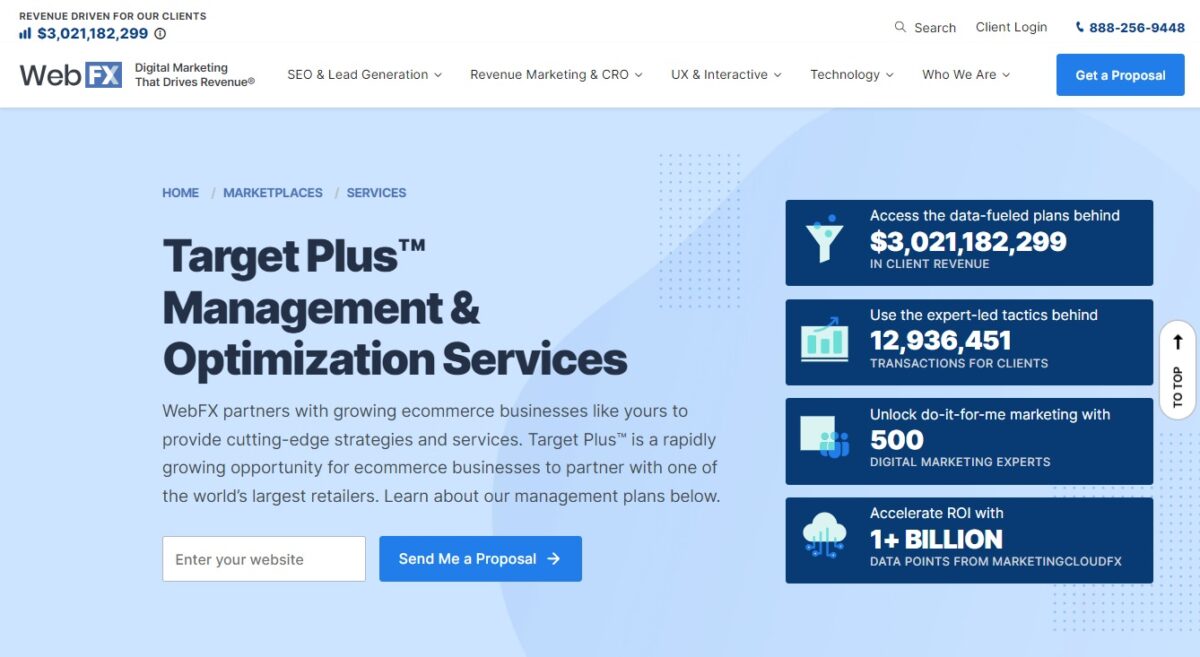 Location: Harrisburg, Pennsylvania
Thanks to its IBM-backed data analytics and eCommerce staff, WebFX is another reliable conversion rate optimization partner. You can choose from the company's three Target+ service plans to widen your market share through category and sub-category suggestions, product content feed, pricing structure training, shipping best practices, product search volume analysis, listing reclamation, and competitor product and price point analysis. Its specialists can help you with everything from setup to monthly store management.
WebFX can help you optimize more products the higher your plan goes—the lowest Aggressive plan allows up to 20 products, while the highest-tier Trailblazer plan covers up to 100 items.
---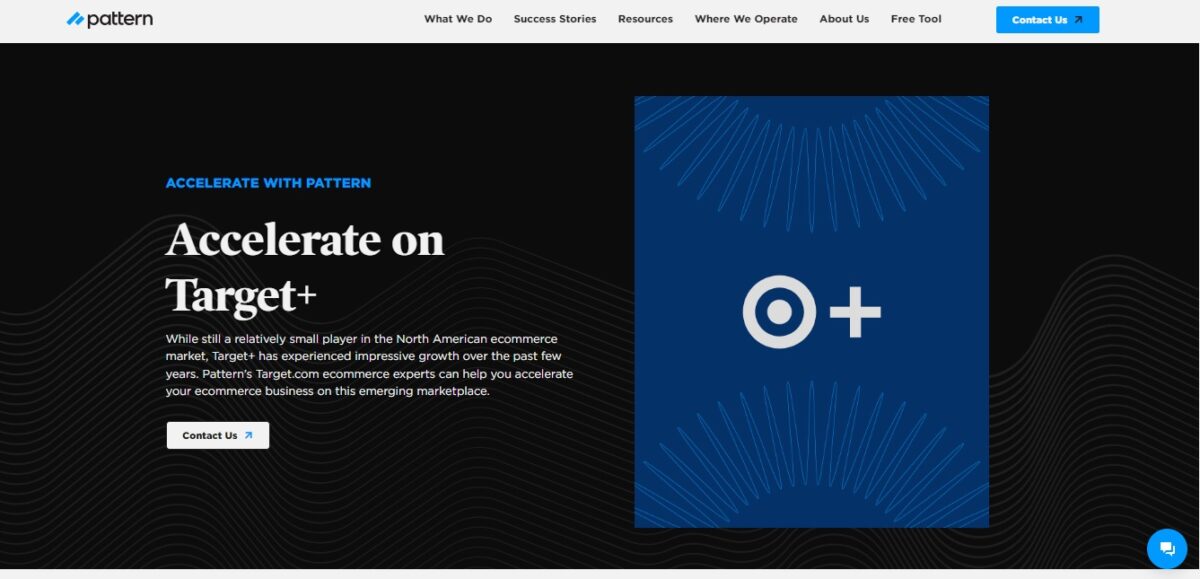 Location: Lehi, Utah
Pattern describes itself as an eCommerce accelerator, helping brands break internationally through marketplace management. It taps AI for its order and warehouse management systems to ensure your store remains always in stock and complies with logistics solutions for product delivery. Meanwhile, its data science team helps you make better decisions through market share analysis, marketplace performance scoring, digital shelf competitor analysis, and more. Minimum advertised price compliance and product suppression rates also undergo monitoring to protect your brand.
To attract more visitors and leads to your Target+ space, Pattern performs SEO keyword automation, automated advertising, ad campaign management, and ad inventory protection, influencer marketing, and direct-to-consumer site optimization.
Need to ramp up your store's visuals? Call on its creative team for graphic design, photography, videography, and 3D rendering.
---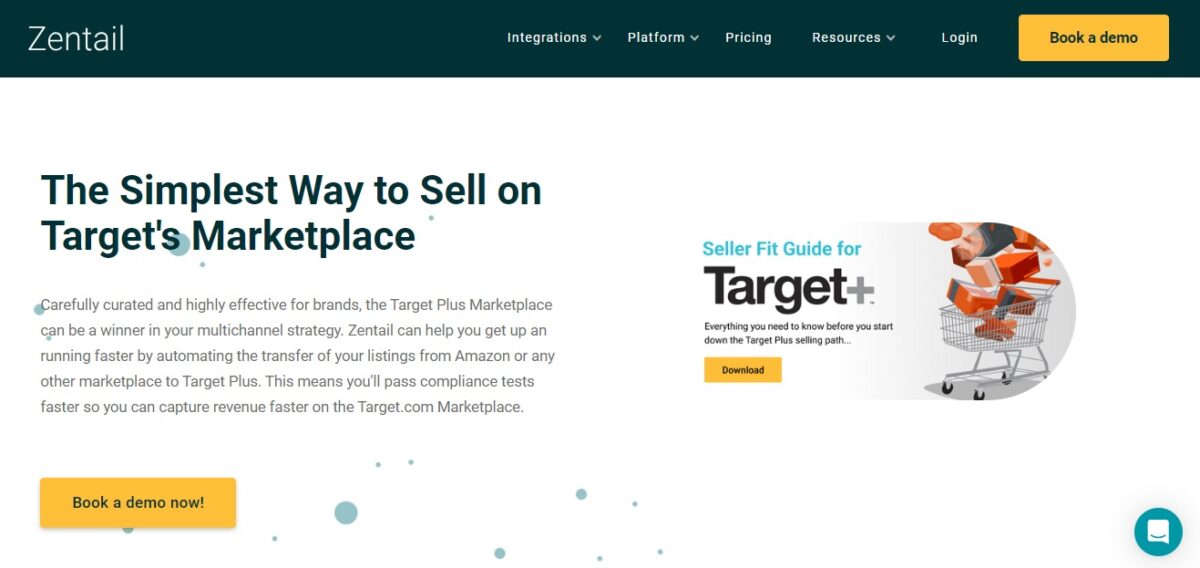 Location: Columbia, Maryland
Zentail boasts of halving your onboarding time on Target+ by automating the transfer of your product listings from other online marketplaces. Its proprietary AI-run SMART Types technology enables the migration of whole product catalogs from different eCommerce sites, such as Amazon, Shopify, Walmart, eBay, or BigCommerce. Zentail's AI can align your product titles with Target+'s required attributes so your product line gains compliance more quickly.
Meanwhile, its pricing management service monitors your pricing 24/7 to harmonize your Target+ rates with those in your other marketplace. Zentail also tracks your sales performance, cumulative shipping costs, profit margins, and more.
The agency also offers real-time multi-channel inventory tracking and synchronization, which aids in product bundling and purchase predictions.
---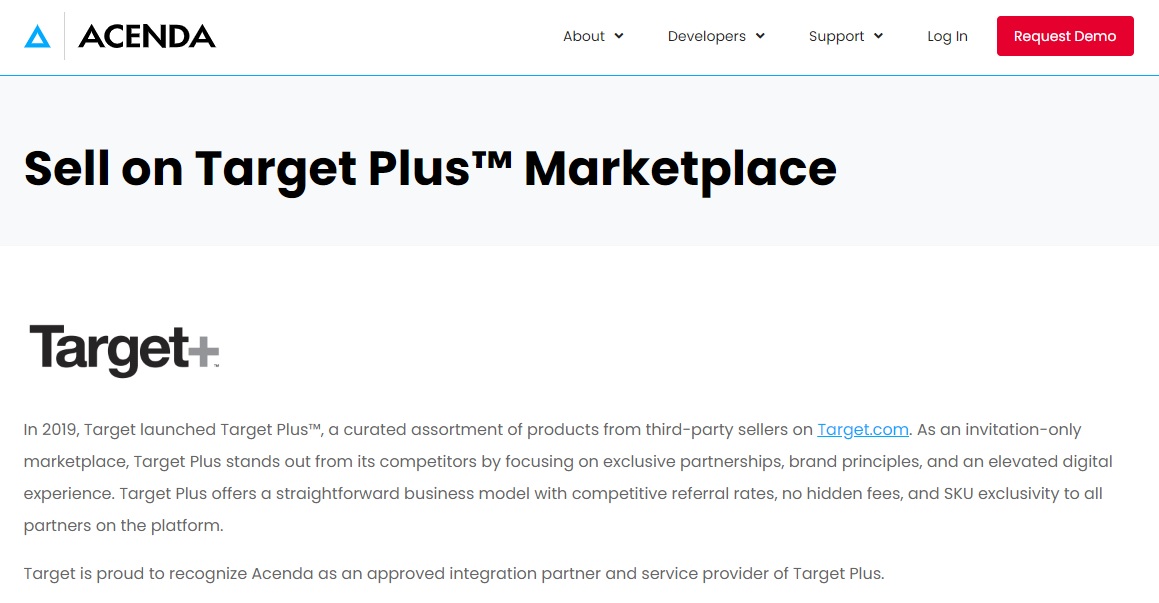 Location: San Diego, California
Acenda is a platform as a service provider that empowers you to work with over 50 leading retailers, including Target+, through its content management system (CMS) and distributed order management (DOM) tools.
The agency uses your REST API credentials to help you manage your orders, product content, inventory, pricing, and shipping requirements. Acenda's AI hastens product data importation by 27% and improves inventory accuracy, while its Content First CMS and Visual Query Builder allow you to organize this data and assign unique images.
Meanwhile, its DOM capability automatically tracks compliance and stock levels and routes orders to fulfillment levels, helping reduce order defect rates and keep your supply chain running efficiently.
Acenda can integrate with Shopify, Netsuite, ShipStation, Shipwire, and others. Its team can also customize integration.
---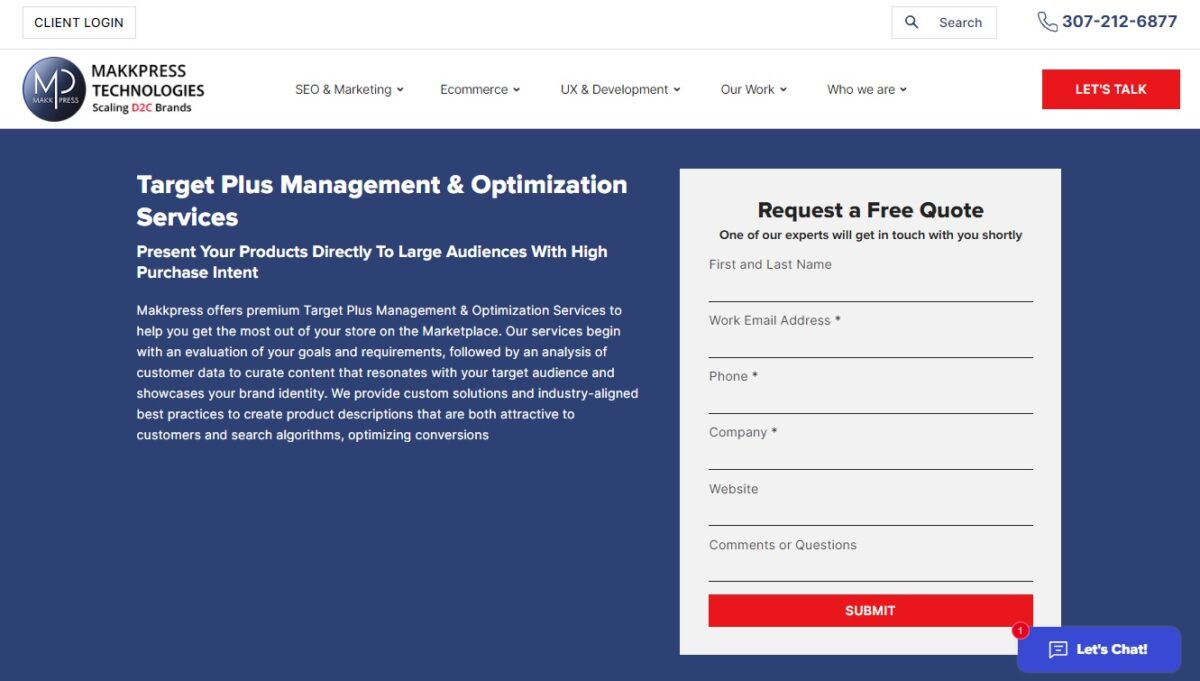 Location: Aliso Viejo, California
Makkpress Technologies can help you break into Target+ by tweaking the attributes of your existing storefronts to match Target's requirements. Or, if you're already a Target+ member, the agency can edit your listings or craft new ones, guide you through categories and sub-category selection, and perform keyword and product search volume analysis to increase organic traffic. The agency can set up your dashboard so you can easily track growth metrics—traffic, click-through rates, and conversions—and generate reports you can use to study your progress.
Makkpress' services also include monthly audits, which include expert recommendations on creating more profitable listings and executing these optimizations. Also, Makkpress has in-house web design experts who can handle your product photography and image editing needs while adhering to Target+ specifications. The agency can design revenue growth-focused campaigns—from product placement and ad copy to pricing and activation.
Figuring out the best carrier for your store? Makkpress offers shipping guidelines and best practices to help you with your workflow and shipper selection.
---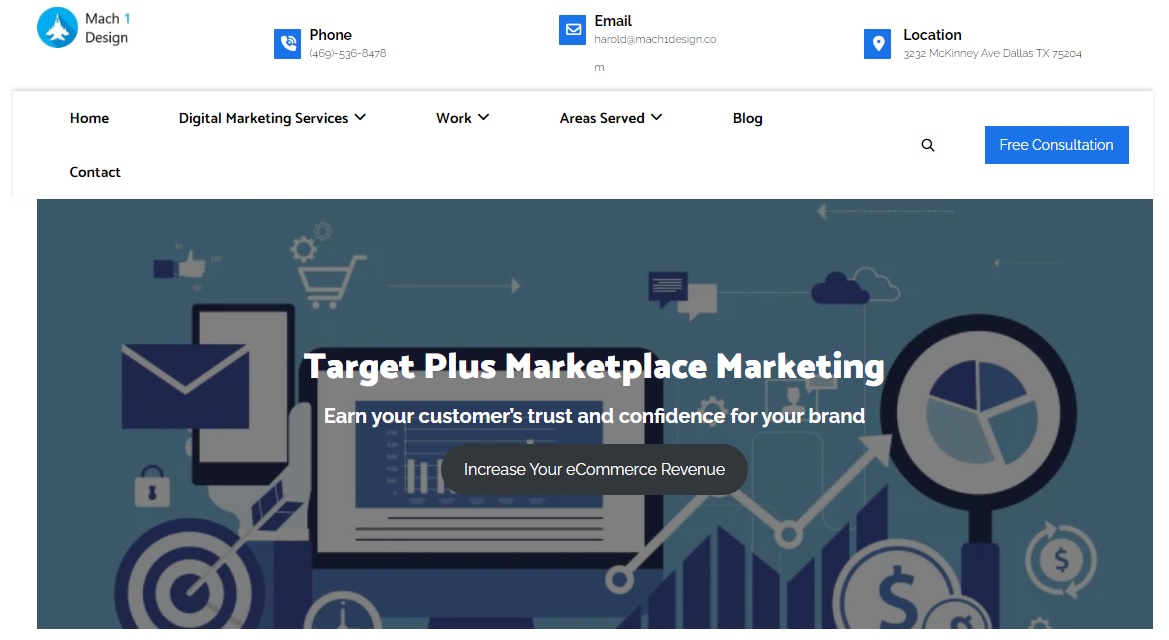 Location: Dallas, Texas
Mach1Design's eCommerce service mix of SEO, content writing, PPC management, web design, integrations, and social media marketing has helped clients achieve 76+% growth in Google Shopping conversions, 142+% rise in CTRs, and 202+% increase in organic revenue.
You can include one or more of these services for Target+ marketing. However, the agency's "toolbox" for this shopping platform mainly consists of category/sub-category targeting, listing optimization, competitor benchmarking, and shipping management. Like the other Target+ marketing service providers in this listicle, Mach1Design's team can assist you with dashboard setup, monthly management, and in-depth reporting. Its team can customize solutions, including integrating your marketing strategy (social, email, PPC advertising) to attract more visitors to your Target+ store and synching your offers across various online shopping sites.
---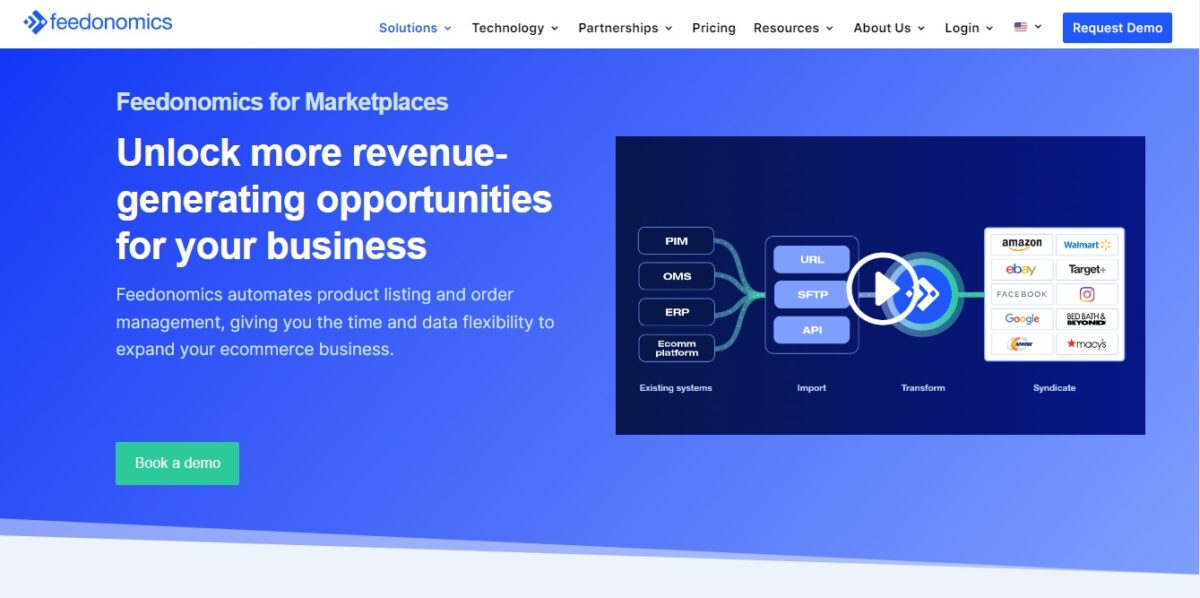 Location: Woodland Hills, California
Feedonomics is a full-service product feed management software provider that helps brands synchronize their product data across various digital marketplaces. This synchronization reportedly cuts clients' feed management-related work by 20 hours monthly.
Moreover, the agency's platform optimizes product listings to reach more marketplaces, where Feedonomics says almost 45% of consumers begin their research. The agency combines AI-powered technology with support specialists for a fully managed solution that automates catalog optimization, data protection, error monitoring, and inventory/order management.
Feedonomics can integrate Target+ with BigCommerce, Shopify, WooCommerce, Magento, Volusion, Netsuite, and Salesforce Commerce Cloud.
---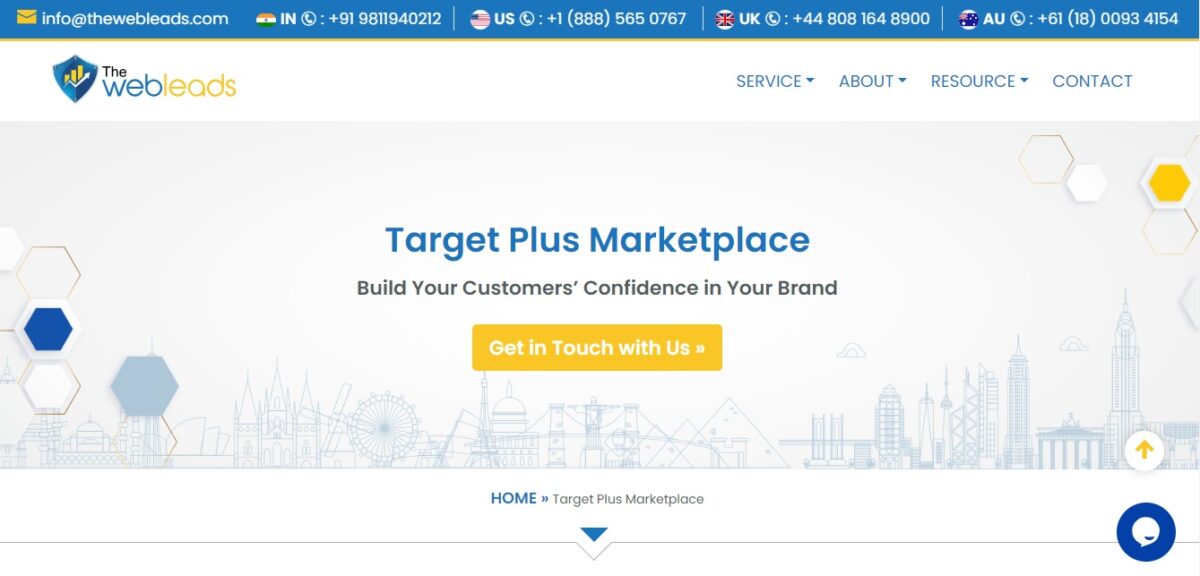 Location: Noida, India
TheWebLeads catering to B2B and B2C industries from their Delaware headquarters since 2005, can help you achieve your Target+ membership dream through trust-building services.
Its eCommerce team can perform audience and competitor analysis for SEO and consequently higher Google rankings, content writing that reflects your unique selling point and connects with your market's pain points, product categorization, listing optimization, product cost and benefit analysis, and shipping guidelines development.
After becoming a validated Target+ merchant, your TheWebLeads team can turn its management and consultancy role into an outsourced task, providing performance audits and developing sales campaigns for you monthly.
---

Location: Morrisville, North Carolina
ChannelAdvisor intends to be your complete multi-channel commerce solution, providing a centralized platform for automating your storefront operations—including product data management and pricing adjustments through Deal Planner, creating and launching your ad campaigns, and processing your fulfillment.
When you choose ChannelAdvisor to be your Target+ management partner, you'll receive support for test marketing to determine consumer response to your products, listings view and error management, Target Product Ad placement, order cancellation or refunds, and fulfillment and shipping.
---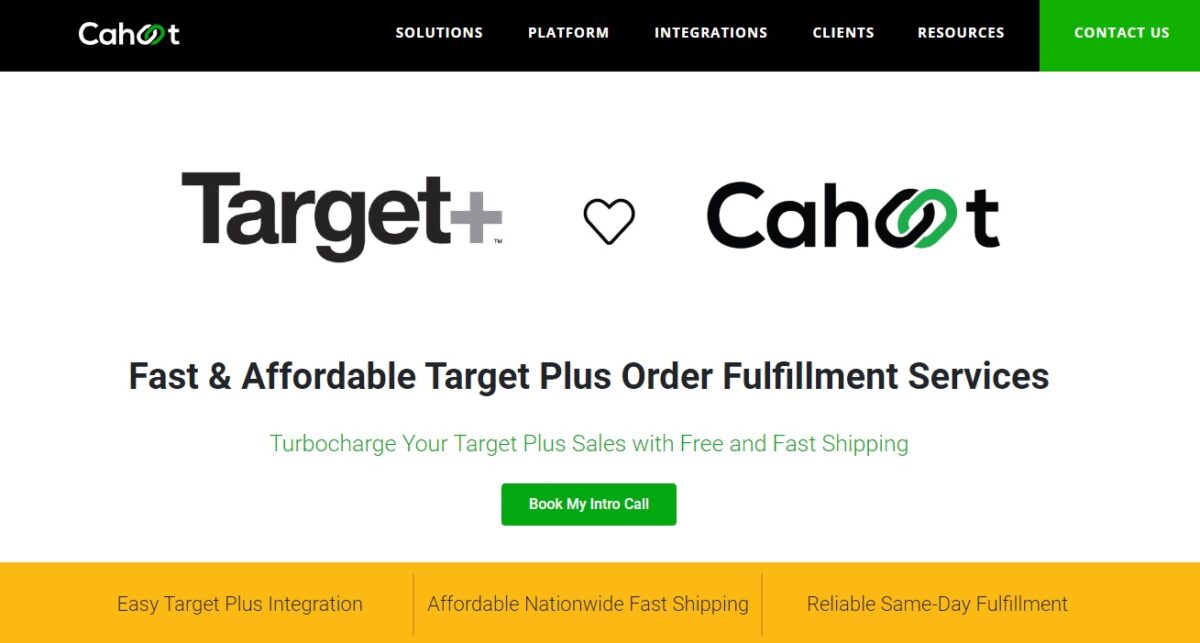 Location: Bridgeport, Connecticut
If you're searching for an efficient order fulfillment agency after bagging your place on Target+, consider collaborating with Cahoot, whose services have expanded beyond Amazon, Walmart, and eBay sellers. Fulfillment for your Target Plus orders can start as early as two weeks after you sign up with them.
The company offers one to two-day deliveries, even on weekends, at the lowest cost due to its peer-to-peer business model. You get complete visibility on your inventory, orders, and deliveries. Moreover, Cahoot allows customers to monitor their order's transit through its branded tracking page, freeing up your customer service staff and giving you cross-sell opportunities.
---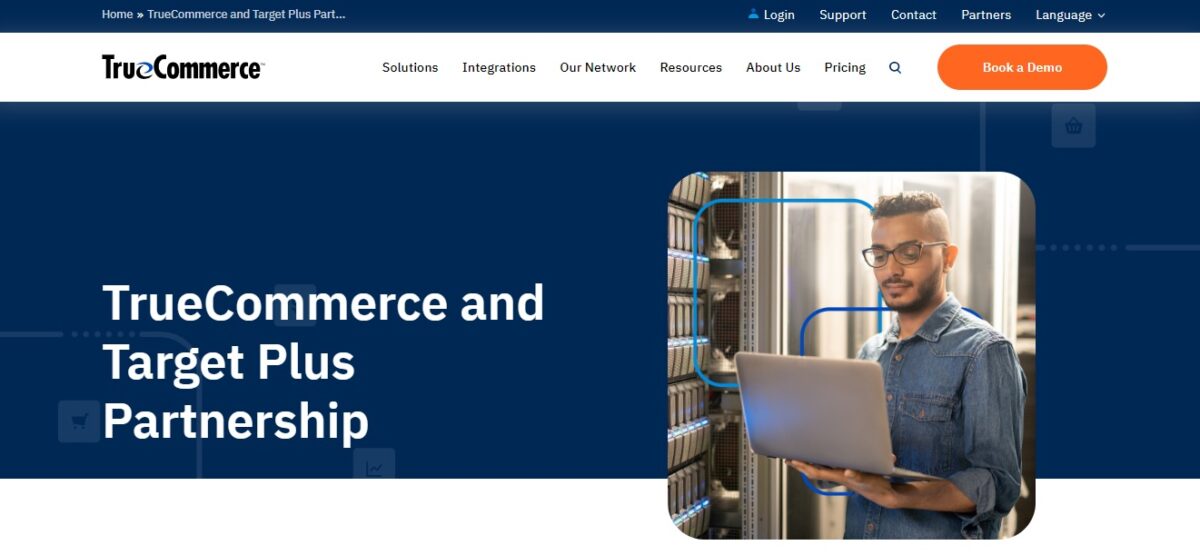 Location: Cranberry, Pennsylvania
TrueCommerce is an electronic data interchange (EDI) company that can integrate your existing business software or enterprise resource planning (ERP) solution with Target Plus.
With its tailor-fitted integrations, you can export data files from your accounting or ERP system directly into the TrueCommerce network. This preserves data accuracy, and streamlines order tracking and fulfillment. The network also offers immediate insights on order spikes and other alert conditions and allows automatic updating of inventory and pricing data.
---
The 650 sellers on the eCommerce platform became partners through the company's invite-only program, a process that the company said it plans to open up to more applicants soon. Despite having fewer merchants than Amazon and Walmart, Target+ ranks fifth behind eBay among the leading U.S.-based eCommerce companies.
Also, online sales contributed 18.5% to Target's overall 2022 earnings.
Given Target+'s market position, qualifying as one of the platform's sellers and optimizing sales once you're in can help prop up your income if you're experiencing flat growth from other revenue streams such as Shopify and other online selling channels. The expertise of companies specializing in Target+ marketing will go a long way in enhancing your product line or brand. We listed some of them below to give you an overview of their services.
---
How Does Selling On Target+ Work?
You must first fill out a Seller Application on Target's website to sell on its online platform. The company will evaluate whether a submission aligns with its business strategy, and if it does, Target will reach out to the applicant.
What's the profile of Target+ sellers?
Target chooses sellers:
 - With a business and bank account in the U.S.
 - Who price their products around the same range as in other sales platforms
 - Have been shipping products in the U.S. within 24 hours, arriving at destinations within five days
 - Whose products have Universal Product Codes or Global Trade Item Numbers
 - With merchandise that meets Target's inclusivity standards, such as:
Diversity across race, ethnicity, gender, age, body size, physical abilities, sexual orientation, skin color

Exclusion of foul language, violence, vulgarity, and political leaning included in product listing 

Ensuring product descriptions for alcohol-related items don't promote excessive drinking and explicitly target shoppers over 21 years old
---
3 Steps to Improve the Odds of Securing a Spot in Target+
Want to increase your chances of getting approved as a Target+ seller? Try the following steps:
1. Match your product line with Target+ categories.
Study the items offered on Target Plus and specialize in selling "best-in-class" products found under their existing categories.  Also, find products for niche hobbies or businesses, such as planters for bonsai growers or organic baby snacks.
2. Boost your performance in other online marketplaces.
Target prefers partnering with well-established brands. Work on your online image across all the eCommerce platforms where your goods are available.
Offer consistently competitive rates across the selling channels carrying your products.
Be attractive to Target by showing you can deliver orders fast—ensure 24-hour shipping and delivery not exceeding five days.
3. Increase your brand visibility.
Use SEO, request customer reviews, invest in Google Shopping Ads, and use social media to create buzz and a community around your products.
---
Polish Your eCommerce Presence Now
If you have delayed auditing your eCommerce shop's performance because you don't know where to start, check our guide "17 eCommerce Conversion Rate Optimization Tips That Work." Meanwhile, get a better grasp of the online shopper's psyche and more optimization strategies by reading our article "How to Use eCommerce Merchandising to Improve Your Customer Experience."
Frequently Asked Questions
What are the benefits of selling on Target+?
Becoming a Target+ seller:
Gives you access to Target's loyal shoppers (

100 million people

belong to its Target Circle loyalty program)

Improves your reputation due to Target's positive image and more refined product selection on its online store

Offers convenient returns for your customers at Target's brick-and-mortar stores

Allows sales in a less competitive environment, which reduces undercutting 

Provides additional exposure for your brand when you get featured on Target's social channels
What's the commission rate that Target+ sellers must pay?
Target+ marketing agencies say the commission rate or referral fee ranges from 5% to 15%.
What specifications does Target+ have for sellers' product images?
Target+ requires high-quality images:
In .jpg format. Their resolution can range from 1,200 by 1,200 pixels to 2,400 by 2,400 pixels

Without graphics, inset images, watermarks, or promotional text

With a white background 
Every product should have at least three images.