Artificial intelligence is expected to be one of the top five fastest growing industries in 2023, according to Entrepreneur. If you've been following the AI conversation online, you would know that one of the key takeaways is that brands that fail to incorporate AI will be the ones left behind.
To ensure that you don't get left behind and stay ahead of the curve, there are various exciting tech conferences lined up in 2023. While AI is one of the the main themes at this year's tech conferences, many other relevant topics are also on the agendas like mobile technologies, climate tech and cloud computing.
Here are 14 of the biggest tech conferences that you can attend in 2023 to learn more about the future of technology. Plus, to help you keep the momentum going, we've also included a few conferences that you can add to 2024's calendar in the meantime.
---
14 Tech Conferences to Add to Your 2023 Calendar [+ Dates for 2024 Included]:
---
14 Tech Events for 2023: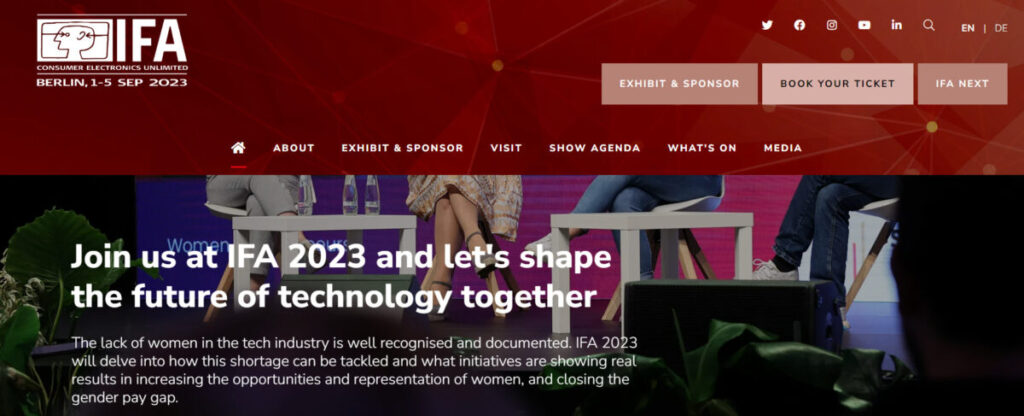 When: September 1-5, 2023
Where: Berlin, Germany
For those who want to learn more about consumer electronics, there's IFA — the biggest consumer electronics and home appliances trade show across the globe. It's been the place for tech launches since 1924, putting it firmly at the center of tech and innovation. During its 99 years, it has served as the place where industry pioneers (including the likes of Albert Einstein) and innovative products come together.
But enough about the past, here's what you can expect at 2023's event:
Hundreds of speakers from global names like Spotify, Meta, and Paramount
An exciting list of exhibitors that include brands such as Bosch, Kodak, Motorola Sound, and Swiss Pro+
Show areas exploring audio, communication, connectivity, computing and gaming
---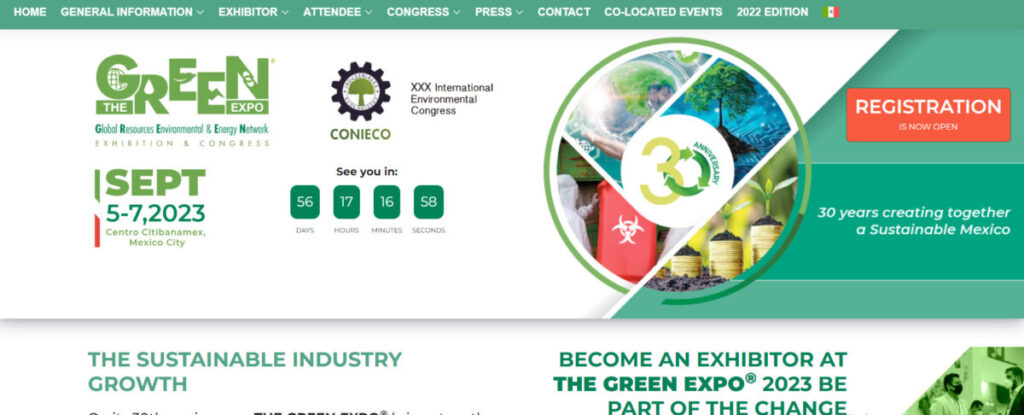 When: September 5-7, 2023
Where: Mexico City, Mexico
If you're specifically searching for ways to improve your sustainability efforts, there's The Green Expo. Here, some of the leading global brands come together to showcase their sophisticated tech for clean energy.
Various sectors are represented including:
Consumer goods
Packaging
Electronics
Beauty products
Healthcare
In addition to energy-efficiency technologies, you can also expect to learn more about cloud-based digital platforms, smart grids, and resource management solutions.
---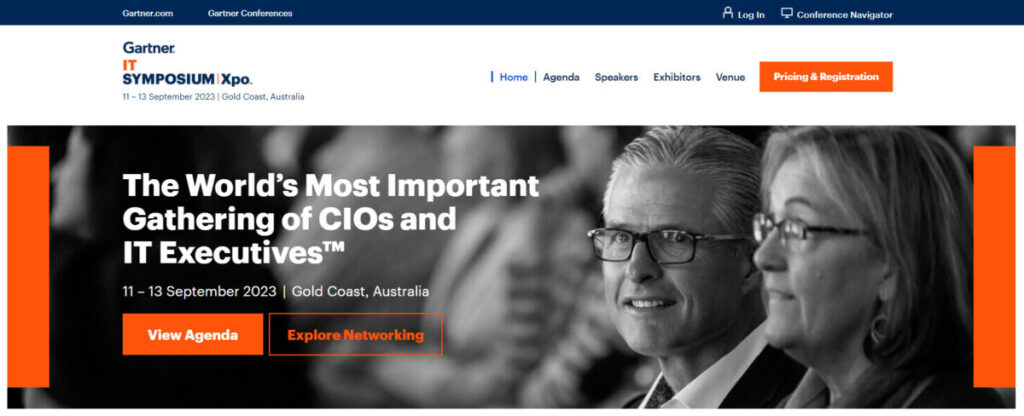 When: September 11-13, 2023
Where: Gold Coast, Australia
Aimed at CIOs and IT execs, Gartner's event will offer insights into the direction that tech is taking, trends that will impact the future of business and IT, and best practices for creating IT strategies. Attendees can also look forward to real-world examples about how they can execute their main goals.
From customer experience to cybersecurity, over a dozen topics will be explored. Basically, all the most important hurdles that leaders face will be explored, with a strong focus on AI adoption.
Topics on the agenda include:
The Next Era — We Shape AI, AI Shapes Us
Top Strategic Technology Trends for 2024
Key Trends in Customer Experience You Can't Ignore
A Strategic Roadmap for the Future of Applications
How to Continuously Measure and Optimize Your Digital Execution
As for speakers, the lineup mostly features Gartner experts. There will also be two exciting keynotes presented by an award-winning filmmaker and an internationally renowned content curator.
---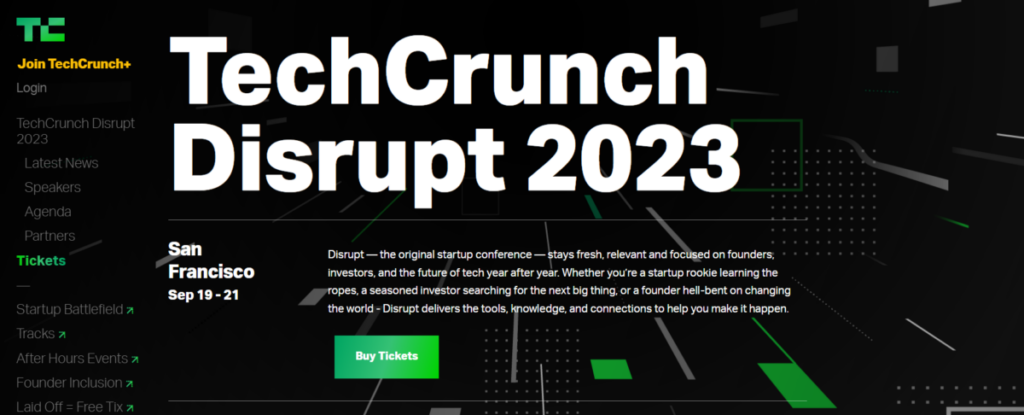 When: September 19-21, 2023
Where: San Francisco, California, USA
TechCrunch is the go-to online resource about all things tech for millions. In September, they'll also be taking their online experience offline at their Disrupt event, the original startup conference. Its focus — founders, investors, and the future of tech.
Whether you want to make new connections or you're more interested in uncovering the latest tech trends, it's a great event for startup newcomers, founders, and experienced investors. Here, progressive founders will share more about their own journeys as well as tips and takeaways to help you prevent common mistakes.
At 2023's event, there will be six stages dedicated to the following fields:
AI
Fintech
Hardware
SaaS
Security
Sustainability
The speakers that will be addressing these topics include:
Asha Sharma, COO of Instacart
Heather Adkins, VP, Security Engineering at Google
Morgan Beller, General Partner at NFX
David Desanto, Chief Product Officer at GitLab
Thomas Dohmke, CEO of GitHub
---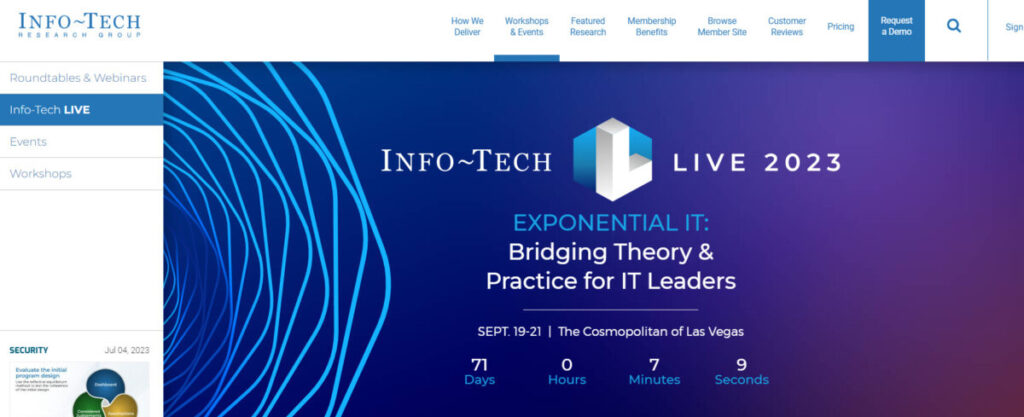 When: September 19-21, 2023
Where: Las Vegas, Nevada, USA
Info-Tech LIVE is another event that will be taking place on the West Coast of the United States in September. The theme for this year's event — Exponential IT: Bridging Theory & Practice for IT Leaders.
It's a popular event among enterprise organizations in banking, gaming, manufacturing, and retail. There will be hundreds of one-on-one analyst discussions, over 70 breakout sessions and panels, as well as a dozen practical workshop sessions. Aside from these educational encounters, attendees will also have unlimited opportunities to network with their peers.
As for speakers, the program includes 11 keynote speakers that include:
Chris Barton, the founder and creator of Shazam
Ray Kurzwell, a bestselling author, pioneering inventor, and futurist
Charl Lombard, President, Digital Transformation Consulting Practice, Info-Tech Research Group
---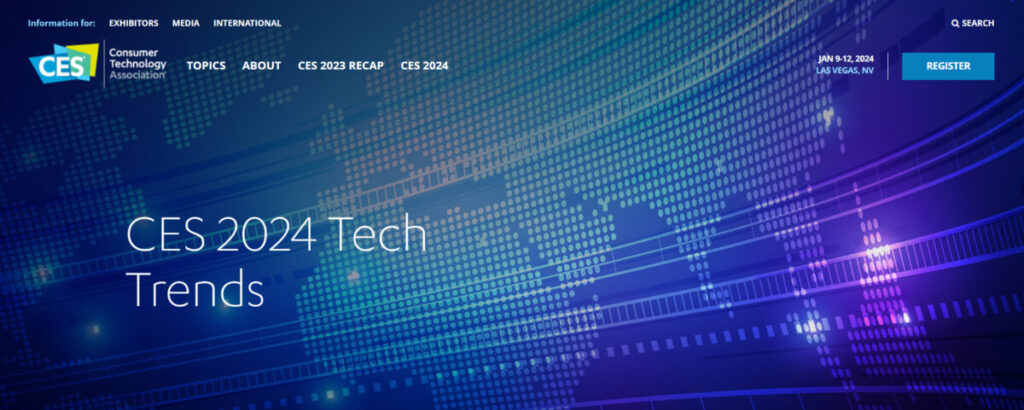 When: September 20, 2023
Where: Paris, France
FDDay 2023, an exciting startup event in France, and the Consumer Technology Association (CTA) will co-host the CES 2024 Tech Trends. This one-day event will be the first international event on the CES calendar and will attract thousands of investors and founders all across Europe.
From industry influencers to senior execs, it will basically attract everyone in the tech industry. The conference programming will explore international tech trends, the latest market research, and entrepreneurship's global impact. The focus will be on creating a new age of innovators in a competitive, fragmented world who'll be able to find answers to technological, environmental, and societal challenges.
---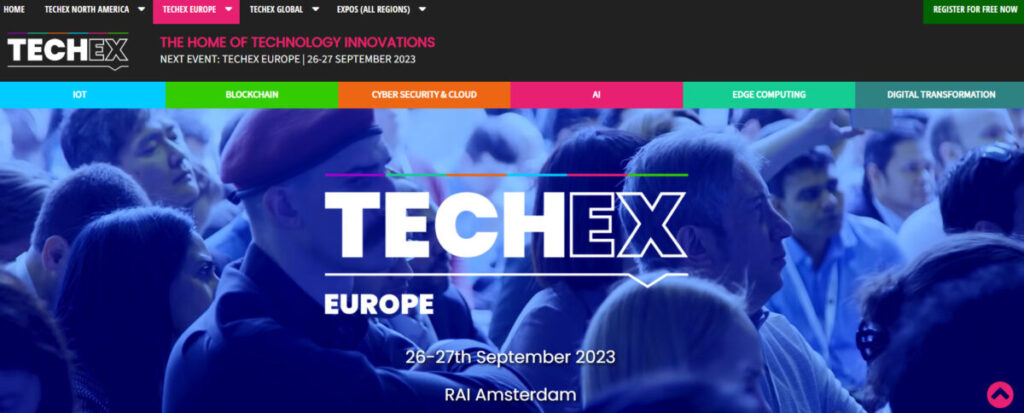 When: September 26-27, 2023
Where: Amsterdam, The Netherlands
TechEx is the leading enterprise technology exhibition and conference on the European calendar. It's made up of six co-located events that cover key topics like the Internet of Things (IoT), AI, and blockchain.
Thousands of senior tech professionals that include CTOs, IT directors, and developers are expected to attend 2023's event to explore how the latest developments will impact the supply chain and industries like healthcare, retail, and manufacturing.
There will be hundreds of exhibitors and even more speakers that will include names like:
Oliviana Bailey, Women in AI ambassador
Mahmoud Yassin, Senior Data Manager at Booking.com
Aoibhinn Reddington, Head of Strategy for AI-powered Operations at Deloitte
Maximus Ndaboka, Global Enterprise Data Management Transformation Manager at PepsiCo
José Ferrel, Head of Technology Management Services at Netflix
Kevin Gamble, Chief Digital Officer of IKEA Netherlands
---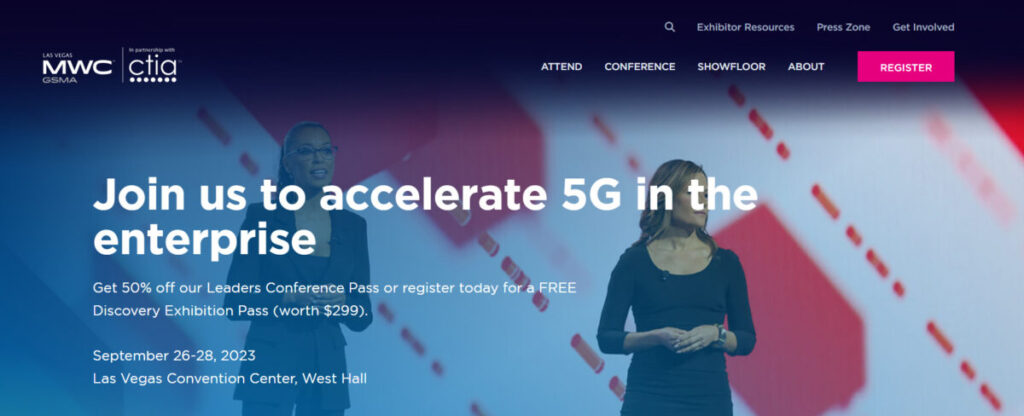 When: September 26-28, 2023
Where: Las Vegas, Nevada, USA
MWC Las Vegas, the biggest and most influential connectivity event in North America, will return to the stage in 2023. What makes this year's event even more exciting is that for the first time three of the leading telecoms names in the US - AT&T Business, T-Mobile Business, and Verizon Business - will participate.
It promises to be a holistic experience. The theme for 2023, Velocity, will dive deep into 5G's potential and the Internet of Everything (IoE) and explore the top trends in mobile innovation and connectivity. Some of the biggest topics on the agenda are 5G acceleration, enterprise mobility, and AI.
To give you an idea of what you can expect, last year's event attracted more than 350 exhibitors that included brands like Fujitsu, Dell Technologies, and Kigen and over 300 speakers.
---

When: October 16-20, 2023
Where: Dubai, United Arab Emirates
GITEX Global is regarded as the biggest and most inclusive tech event in the world, after a record-breaking show in 2022. To build on last year's success, they will also launch three new co-located shows this year: GITEX IMPACT, Future Urbanism, and Electric Future Expo.
It attracts a global audience from multiple industries. It's especially popular among tech and R&D teams as well as telecommunications professionals from the Middle East, Africa, and Asia. To give you a better idea of just how big it is in numbers, you can expect nearly 200,000 trade buyers, more than 5,000 exhibitors and over 1,400 expert speakers.
Last year's lineup of speakers included names like:
Dr Tian Qi, Chief AI Scientist at Huawei Cloud
Sébastian Borget, Co-founder and COO of The Sandbox
Dr. Guy Diedrich, Global Innovation Officer & SVP at CISCO Systems Inc.
Mike Butcher, Editor-at-large at TechCrunch
Divya Gokulnath, Co-founder of Oxford Analytica
Kelly Forbes, Executive Director at AI Asia Pacific Institute
Lochan Sim, Head of Product Offering at Payoneer
---

When: October 19-20, 2023
Where: Johannesburg, South Africa
This two-day event will unite tech providers with brands, marketers, investors, developers and designers. Attendees will learn more about the latest developments in marketing technology, SaaS, and mobile.
Aside from listening to leading thought leaders' presentations, you'll also have enough time to mingle and network with peers over welcome refreshments or during networking luncheons. You'll also be given an opportunity to collaborate with some of the top, high-tech firms' representatives.
---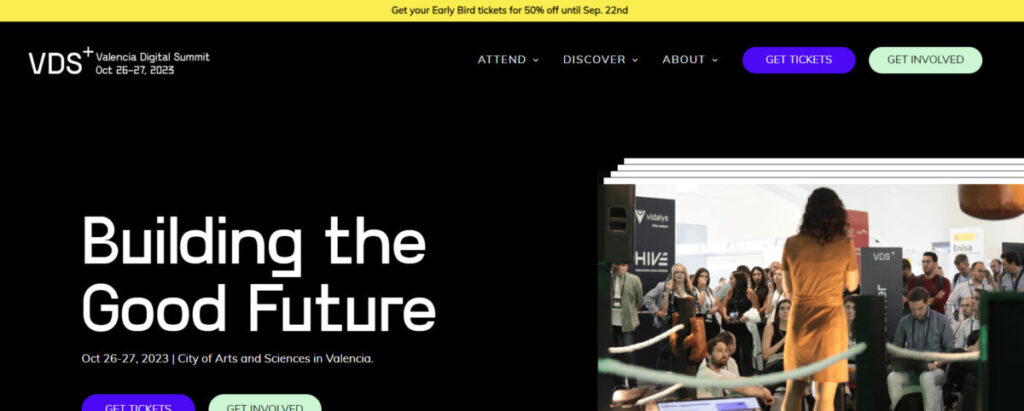 When: October 26-27, 2023
Where: Valencia, Spain
Aimed at startups, corporates, and investors, Valencia Digital Summit describes itself as "an enabler of a technology-based future". This is echoed in the key theme for 2023 — "Building the Good Future".
The two-day summit will show how tech, digitization, and innovation can rebuild all the aspects of our lives. It will also look at the role that tech will play in the main economic and social problems we'll face in the future. It's expected to attract thousands of attendees and hundreds of speakers and investors.
Past events attracted speakers from brands like:
Kibo Ventures
TechCrunch
Beacon
Fit2go
Talkbase
Nespra
Token City
---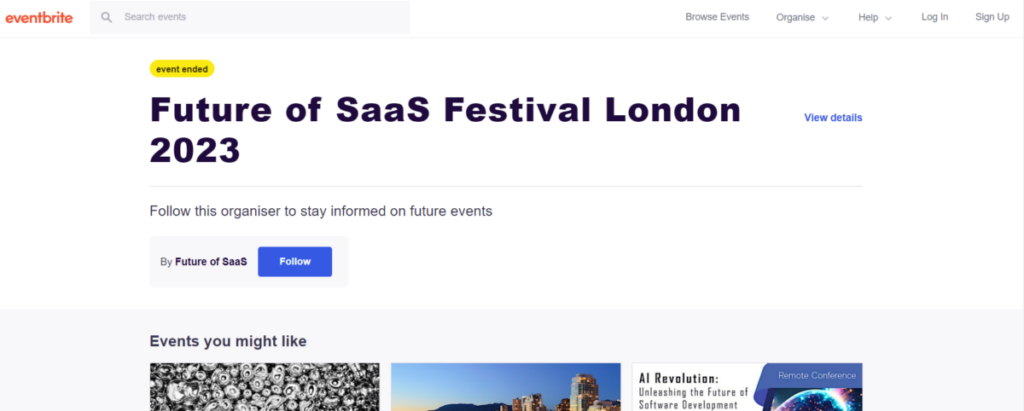 When: November 8, 2023
Where: London, England
Hosted by Future of SaaS, a global collective of SaaS professionals, this event is aimed at C-suite professionals and founders. Whether you're from a niche startup or a global enterprise, all you need is a desire to stay ahead in the SaaS market.
Attendees will gather actionable insights and get the chance to ask seasoned SaaS leaders about specific strategies and challenges from companies like Adobe, Zoom, and Shopify.
The event will also cover a number of relevant topics like:
Using AI to improve automation and performance
Maximizing security to ensure privacy and grow customer trust
Optimizing packaging and pricing
---
When: November 13-16, 2023
Where: Lisbon, Portugal
Web Summit is an Irish company that hosts events across the globe. Leading publications have praised them for their expertise when it comes to running tech conferences.
Their formula is pretty straightforward. They get heads of states, policymakers, and leaders of tech firms and fast-growing startups together in one room to discuss what's next.
Companies that have attended Web Summit events include leading names like Microsoft, Atlassian, and Siemens. In November, thousands will once again flock to Lisbon to listen to world-class speakers and network as well as discover proprietary software.
So far, the following names have been added to the speaker roster:
Wade Foster, Co-founder and CEO of Zapier
Brad Smith, Vice Chair and President at Microsoft
Amrapali Gen, CEO of OnlyFans
Cameron Adams, Co-founder and Chief Product Officer of Canva
Mitchell Baker, Chairwoman and CEO of Mozilla
---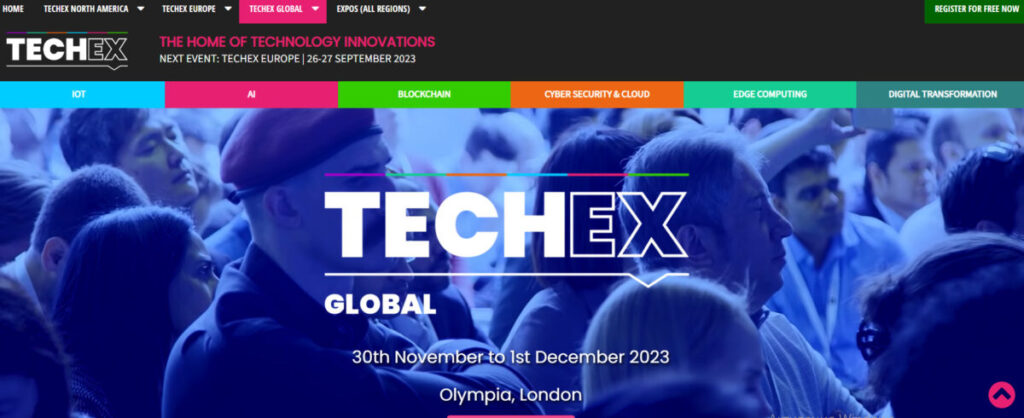 When: November 30 - December 1, 2023
Where: London, England
To conclude our list of the top tech events for 2023, there's TechEx Global. It's anticipated to draw over 5,000 attendees from all over the globe that will include tech providers, developers, and VCs.
The program will include solution-based case studies, more than 20 conference tracks, and live demonstrations. There will also be hundreds of exhibitors and speakers exploring the realms of AI, blockchain, 5G, and cyber security to mention only a few focus areas.
It's also a great place for networking and past events attracted speakers from brands like:
Vodafone
Dell Technologies
Meta
Volvo
IBM
NASA
Rakuten Mobile
Canon
As for this year's event, some of the noteworthy speakers that have been added to the list already include:
Jesper Toubøl, VP of Operations at Lego
Duncan MacRae, Editor in Chief at TechForge Media
Lu Zheng, Transformation Lead at Philips
---
4 Tech Events for the First Half of 2024: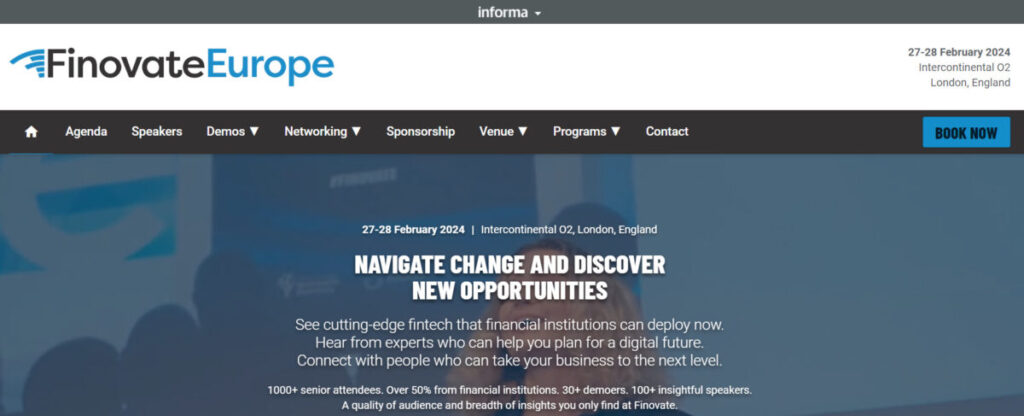 When: February 27-28, 2024
Where: London, England
For those especially interested in tech solutions aimed at the financial industry, there's FinovateEurope. It's attended by over 1,000 in senior positions that come together to listen to a long list of speakers and watch dozens of demos.
At the most recent event held at the beginning of 2023, the different streams explored the future of banking, customer experience, payments, and tech, among other things. Attendees were also treated to demonstrations by companies like Your Juno (the "Duolingo of money") and Stock Republic (a B2B social trading platform).
Other companies that were represented at 2023's event included:
Barclays Bank
Morgan Stanley
Lloyds Banking Group
Revolut
J.P. Morgan
Harvard Business School
Storied Data
Coinbase
Wise Platform
---

When: March 8-16, 2024
Where: Austin, Texas, USA
Organized by South by Southwest®, SXSW celebrates the merging of tech and creative fields like film and music as well as culture and education. It serves as an example that some of the most unexpected discoveries occur when diverse people come together to discuss diverse topics.
In the true spirit of diversity, SXSW incorporates a wide range of formats. There are keynotes, featured sessions, panels, workshops, mentor sessions, and meetups.
As for content, the tech-related topics discussed at 2023's event included:
Nanotech breakthroughs
Life-extension research
How tech can be used to change how food can be grown
MedTech
Music and tech
Biometrics and data analysis
Platforms, software, hardware and virtual systems
Augmented reality (AR)
Aside from these topics, other interesting topics included advertising and brand experiences. Aimed more at organizations and agencies, a whole track was dedicated towards experiential marketing and other digital practices used to engage audiences.
---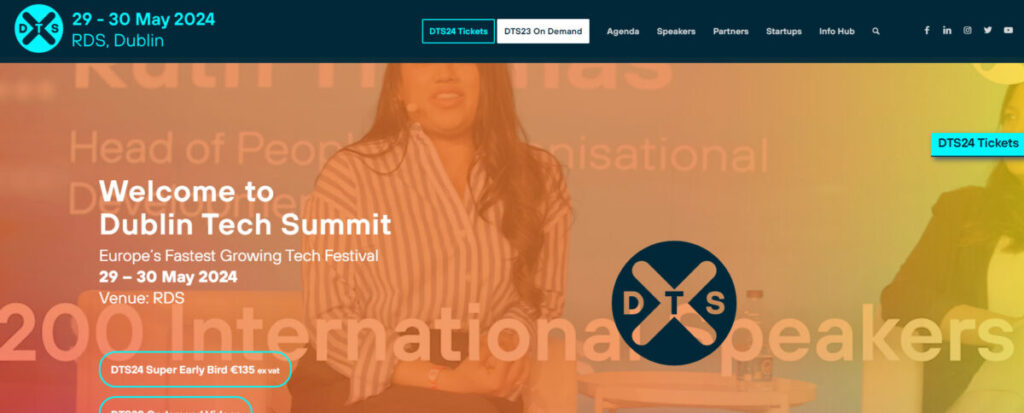 When: May 29-30, 2024
Where: Dublin, Ireland
According to their website, the Dublin Tech Summit is the fastest-growing tech festival in Europe.
Here's how big it is in numbers:
8,000+ attendees
200+ international speakers
150+ startups
Dozens of corporate partners
Aimed at thought leaders, influencers, and innovators, the two-day technology event is a great place to grow your network and brand awareness and connect with industry experts. Aside from the networking opportunities, you'll also walk away with more knowledge about cutting-edge technologies and the latest tech trends.
To give you an idea of what you can look forward to, here are just a few of the interesting themes explored at 2023's event:
Sustainability
Blockchain and Web3
Artificial intelligence and machine learning
The future workforce
Diversity, equality, and inclusion (DEI)
Tech for good
Deep tech and future innovation
---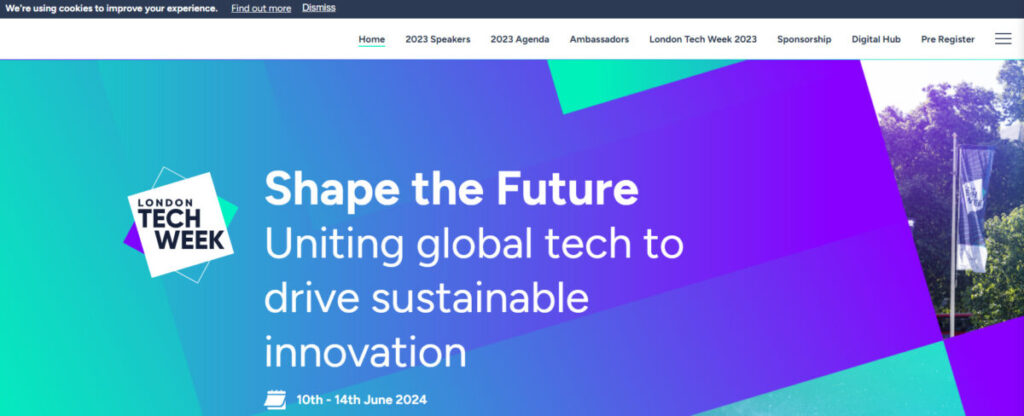 When: June 10-14, 2024
Where: London, England
The mission of London Tech Week is to merge global tech so that sustainable innovation can grow. In 2024, it returns, but this time to a new, bigger venue. This promises to deliver even more opportunities to gain valuable insights, connect with your target audience, and showcase your innovative products.
Not only will there be more space, but also more time for networking and upskilling. In 2024, two extra days will be added to the program.
As for the agenda, some of 2023's highlights included:
A fireside chat between the prime minister of the UK and the founder of Google DeepMind exploring the future of AI
A keynote address about generative AI
A panel discussion about what's next for Web3
A keynote address about tech for sustainable transformation and innovation
A fireside chat about working in the metaverse
As for speakers, 2023's event attracted more than 300 names including leaders from companies like:
Cloudflare
Lenovo
PwC
Flickr
Pluralsight
What3words
Tesco
Meta
IBM
Wise
Google
Uber Eats