The past two years have been highly challenging for the event industry, thanks to COVID-19. This will probably continue into the foreseeable future.
However, even COVID-19 hasn't stopped eCommerce advocates from coming together to share the latest trends and practices of eCommerce. If there's one positive effect of COVID, it's the rapid increase in eCommerce usage worldwide and the ability of businesses to adapt their practices to cope with large numbers of people ordering their products from the comfort and safety of their homes.
On a side note, these events include multiple spelling variations on the word eCommerce. In each case, we've used the version that the event organizers have chosen for their activity.
---
Top 37 eCommerce Events for 2022:
---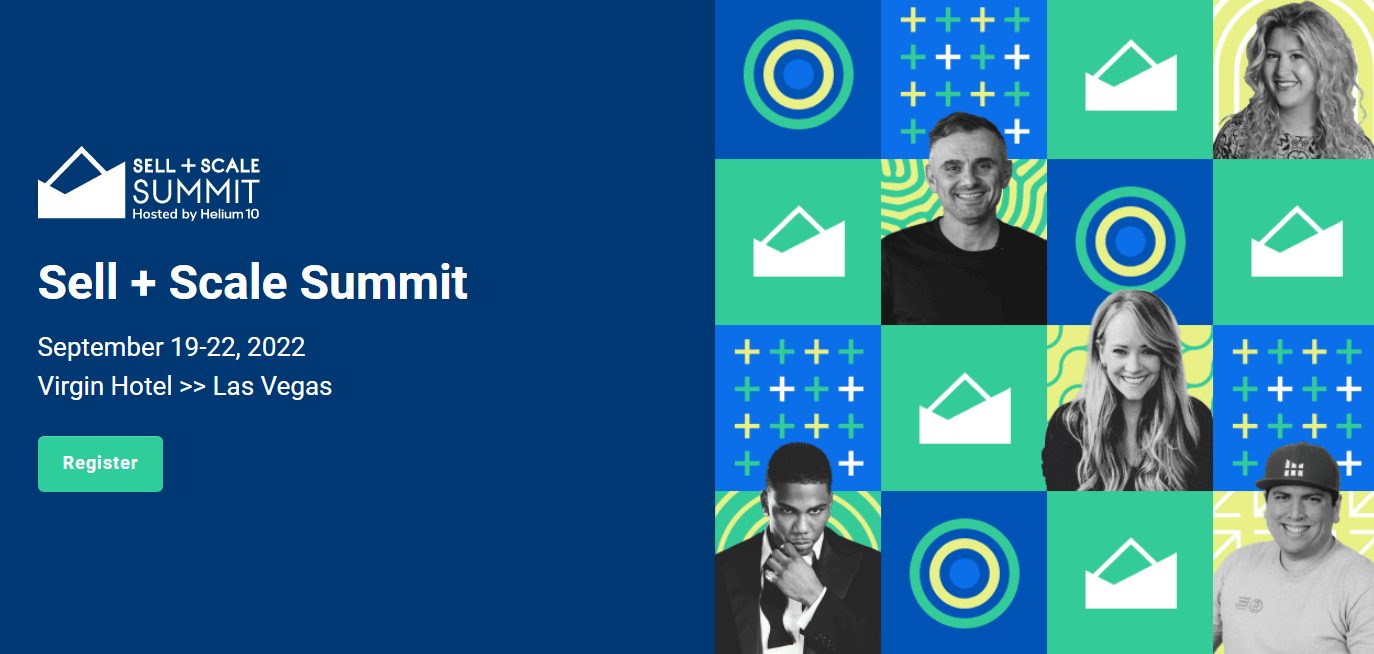 Location: Las Vegas, NV
Date: September 19-22, 202
Helium 10, the leading all-in-one software and analytics solution for e-commerce sellers, is hosting the Sell + Scale Summit conference for private-label sellers. The conference will bring together a community of growing and established sellers, industry experts, and guest speakers for unparalleled education and networking. Sell + Scale Summit will feature world-renowned guest speakers and entertainment including:
Gary Vaynerchuk, CEO of VaynerMedia
Rachel Pedersen, Social Media Strategist at the Viral Touch
Kevin King, Amazon Marketer
Bradley Sutton, Chief Evangelist + Director of Training at Helium 10
Musical performance by Nelly!
---

Location: Brussels, Belgium
Date: 24 March 2022
At 2021's event, topics like ultra-personalization, e-payment, AR/VR, and social commerce were discussed. While not a lot of information has been shared about 2022's event yet, the one-day physical event promises to be a valuable experience.
---
Location: New York, USA
Date: 29 September – 30 September 2022
The White Label World Expo is the leading US wholesale, eCommerce, and product branding event. It showcases the latest and most effective strategies and innovations in retail and emerging markets. It's anticipated that 2022's event will attract about 10,000 attendees, and 400 suppliers. There will also be hundreds of speakers that include:
Kyle Ranally, Vertical Insights Marketing Strategist at Facebook
Neel Mehta, author and product manager at Google
Parth Detroja, author and product manager at Google
Michelle Marshall, Head of DEI at Puma
Tayde Aburto, CEO of US Business Association of eCommerce
---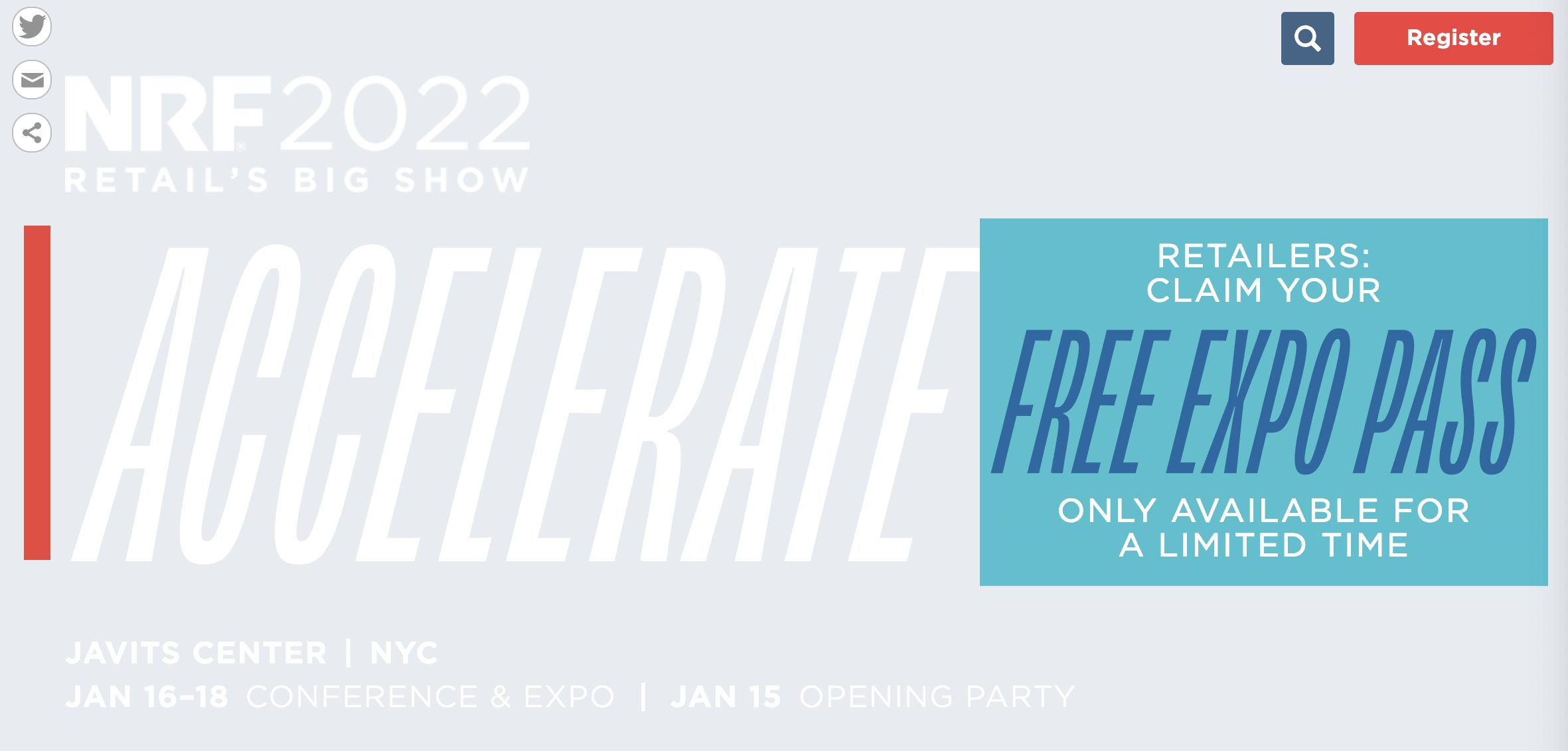 Location: New York City
Dates: 16 – 18 January 2022
Promising almost 30,000 retailers, vendors, and industry experts, NRF 2022 is one of the best networking opportunities on the calendar. It also offers one of the most impressive lists of featured speakers and includes figures like Brian Cornell, Board Chairman and CEO of Target Corp., Patrice Louvet, President and CEO of Ralph Lauren Corporation, Arvind Krishna, Chairman and CEO of IBM, and John Furner, President and CEO of Walmart US.
---
Location: Berlin, Germany
Dates: 22 – 23 February 2022
At Savant eCommerce Berlin, there will be over eight hours of networking with more than 90 brands that include Coca-Cola and PVH. From dedicated networking sessions to think-tank formats, you'll have more than enough time to build the right connections. Not only will it be a great opportunity for networking, but it also offers 13 hours of packed content that includes more than 30 industry-leading speakers and panelists. For each vendor that they invite, they also invite three retailers.
---
Location: Stockholm, Sweden
Dates: 23 – 24 February 2022
The two-day event offers lectures, networking opportunities, and hundreds of activities. Attendees can look forward to hundreds of exhibitors and speakers that will share their insights into what tomorrow's technology holds in store. Speakers for 2022's line-up include Jack Peters, Business Development Director of Alibaba Group, and Robin Bradley, a lecturer in AI and emerging tech.
---
Location: A global virtual event
Dates: 15 – 17 March 2022
The Adobe Summit is a free virtual event aimed at experience makers. Not only will you learn new skills, but it also promises to leave you inspired so that you can create better customer experiences.
---
Location: Rome, Italy
Date: 5 – 7 April 2022
The World Retail Congress is a place where leaders, creators, and owners of today's leading major retail businesses can get together. It promises to deliver inspirational stories of successes, failures, and transformation and to help connect individuals from across the industry to facilitate networking and foster lasting international connections.
---
Location: Orlando, USA
Dates: 11 – 13 April 2022
The Ecommerce Operations Technology Summit focuses on showcasing the future's innovations to meet the operational challenges of today. If you want to future-proof your eCommerce business, this is a great event to attend. Areas that will be covered include automation, fulfillment systems, returns logistics, and supply chain visibility.
---
Location: Los Angeles, USA
Date: 14 April 2022
At this one-day event, a number of industry leaders and innovators from various established retailers and brands will share their thoughts. Speakers for 2022's line-up include:
Joline Nehoray, co-founder of Beverly Hills Lingerie
Victor Peña, CEO of Omniprint Inc.
Ricky Hernandez, Senior Director of eCommerce Sales and Merchandising at Avery Products Corp.
---
Location: Warsaw, Poland
Date: 14 April 2022
The Ecommerce Warsaw Expo is described as the most important event for online sellers in Poland. The one-day event will attract more than 4,000 participants. Featured exhibitors include PrestaShop, PayPal, Freshworks, GetResponse, and Webmetric.
---

Location: University of Plymouth, UK
Dates: 27 – 29 April 2022
In 2022, the ICEEG will be held in Plymouth. It offers an opportunity for scholars, researchers, and engineers from all over the globe to get together and learn about our digital world and share their experiences and ideas.
---
Location: Amsterdam, the Netherlands (in-person and virtual participation)
Dates: 28 – 29 April 2022
In April 2022, the Global Digital Transformation & Customer Experience Summit will return for the fifth time. Speakers for 2022's line-up include key employees from MasterCard, DHL, Bosch, and many more. Key topics that will be discussed include understanding digital transformation, the future of digital customer experience, and using digital customer engagement to improve customer experience.
---
Location: Austin, USA
Dates: 2 – 4 May 2022
B2B Summit North America is one of the leading events aimed at B2B sellers and CMOs to help them increase their revenue. At the event, groundbreaking research will be explored and attendees will also get a chance to form peer connections and get their hands on practical case studies. The speakers lined up for 2022's event include a number of principal analysts and research directors at Forrester.
---
Location: Milano Convention Center (MiCo), Italy
Dates: 3 – 4 May 2022
At Netcomm Forum, professionals from the digital ecosystem can come together and discuss strategies, techniques, solutions for eCommerce, and digital retail. Each year about 15,000 international companies and 200 sponsor companies get together to unpack the data and trends. In addition to a physical format, 2022's event is also planned to take place digitally for increased accessibility.
---
Location: Berlin, Germany
Dates: 5 May 2022
If you can't make it to the Savant eCommerce Berlin, you can also check out the one-day E-commerce Berlin Expo. More than 8,000 participants, 170 exhibitors, and 40 speakers are expected to attend. So far, speakers include Wendy Nichols, Head of Sales and Marketing at WEBSALE, and Peter Hartmann, Global Digital Marketing Manager at Henkel.
---

Location: Seoul, South Korea
Dates: 13 – 15 May 2022
In May, the eighth ICEMC will be held in South Korea. It's an international platform for scholars, researchers, and practitioners to discuss research and practices in the fields of mobile commerce and eCommerce. Keynote speakers will share their thoughts on cutting-edge research and a lab tour is also scheduled for the last day of the event.
---
Location: Taupo, New Zealand
Dates: 16 – 18 May 2022
Unlike many of the other events mentioned in this article, the iMedia Online Retail Summit NZ is an invite-only event for the leading senior eCommerce professionals in New Zealand. The 2.5-day event will include one-on-one meetings, breakout sessions, and interactive roundtable
discussions.
---
Location: Nashville, USA
Dates: 1 – 4 May 2022
Smarter Faster Payments is a yearly event where new and experienced professionals come to engage in discussions about the latest trends in the industry. Highlights include focused educational session tracks and a dynamic exhibit hall. A virtual event is also planned for the end of May.
---
Location: Online
Dates: 4 – 5 May 2022
Ecom World attracts over 30,000 attendees and 7,000 brands. The line-up for 2022 includes over 70 speakers and 10 tracks of in-depth speeches, workshops, panel discussions, and live Q&A sessions. Past topics include:
Fulfillment and customer service
Business operations
Store design and optimization
Brand building
Influencer marketing
The future of eCommerce
---
Location: Dubai, UAE
Dates: 31 May – 1 June 2022
Seamless Middle East is expecting more than 10,000 attendees, along with over 300 speakers and 350 exhibitors. It will cover a number of content themes that include:
Banking
Home delivery
Retail
Fintech
eCommerce
Payments
Credit and lending
Identity
Speakers for 2022's line-up include:
Hani Khalil, Group Head of Digital Banking at Qatar National Bank
Kambiz Hemati, VP of Customer Experience at American Eagle Outfitters
Alan Boehme, CTO of H&M Group
Hetal Popat, Open Banking Director at HSBC Group, UK
---
Location: Gold Coast, Australia
Dates: 6 – 8 June 2022
Pure play online retailers that have a turnover of less than $100 million a year can bookmark the iMedia Online Retail Summit: Pure Play. It's a new, exclusive invite-only event aimed at Australia's next generation of retail stars. The 2.5-day event will offer face-to-face business meetings, captivating presentations, and networking opportunities.
---
Location: Singapore and online
Dates: 7 – 9 June 2022
This event is described as Asia's most senior-level eCommerce and digital marketing summit for retail. Attendees will be able to learn from and network with some of the leading heads of eCommerce and digital marketing. Some of the confirmed speakers for 2022's event include Atul Shivnani, Head of eCommerce and Digital at The Body Shop, and Jake Hissitt, Global Media Lead of the Alibaba Group.
---

Location: Online
Dates: 22 – 23 June 2022
For the latest insights into Asia's commerce and fintech leaders, be sure to tune into Seamless Asia's virtual event. It will span across two days and feature more than 100 speakers. There will also be live panel debates across six content channels.
---
Location: Osaka, Japan
Dates: 23 June – 24 June 2022
This event is one of Japan's biggest eCommerce events. Companies from all over Japan will exhibit solutions that are useful for eCommerce site construction, B2B, payment, and logistics.
---
Location: New York City, USA
Dates: July 2022
Grow NY is a two-day event where retail conversation and human connection intersect. Some of the topics that 2022's event will cover include:
Product development and design
Supply chain and shipping
Brand awareness
Designing for conversion
Livestream shopping
Sustainability and transparency
Email automation and flow optimization
---
Location: Mumbai, India
Dates: 3 – 4 August 2022
Last year's event attracted over 1,000 attendees, 300 companies, 100 speakers, and 50 exhibitors. The event planned for 2022 includes case studies, networking, CXO talks, cohort sessions, and exclusive sessions to help you analyze newer technologies and innovations.
---

Location: Online
Dates: 13 – 15 September 2022
The Shoptalk Fall Meetup lets online stakeholders in the retail community connect in a fun and open environment. There are over 2,500 participants from Europe and the United States who take part in double opt-in meetings and interactive small-group content. There are also "Tabletalks" led by moderators that look at issues facing the retail sector.
In short, you get your ticket, complete your profile, and select the people with whom you want to meet and group conversations that you would like to join. Then, if you receive new meeting requests, you have the option to join. All in all, it's a great platform to share your ideas.
---
Location: Shanghai, China
Dates: 21 – 23 September 2022
The event takes a look at the products, technologies, and services needed by the eCommerce industry. It also explores the challenges and future trends of the industry.
---
Location: Shenzhen, China
Dates: 22 – 24 September 2022
This event is aimed at small and medium-sized foreign trade factories that are in urgent need of transforming and upgrading their import and export cross-border eCommerce platforms. Areas that will be explored include new foreign trade formats, models of cross-border eCommerce, the latest services, products, and business models. It's a great place to exchange ideas and share experiences.
---
Location: London, UK
Dates: 28 – 29 September 2020
Whether you're a multichannel, pure play, B2B, or B2C retailer or brand, this in-person event is a must. There will be eight conference theaters with diverse streams and sessions as well as real sessions with a real audience and many unique networking opportunities.
---
Location: Marina Bay Sands, Singapore
Dates: 12 – 13 October 2022
This event promises to be a one-stop show where attendees can learn more about the latest technologies and trends in the eCommerce industry. It will be co-located with Cloud Expo Asia, Cyber Security World Asia, Technology for Marketing Asia, and a few other events.
Topics that will be explored include:
Customer experience
Mobile commerce
Cross-border commerce
Supply chain management
Omnichannel retail
---
Location: Frankfurt, Germany
Dates: 12 – 13 October 2022
The White Label World Expo will be held in Las Vegas, New York, London, and Frankfurt. In 2022, Frankfurt will play host to Europe's event and will attract 8,000 visitors, 200 speakers, and 350 exhibitors. It aims to help online retailers find the hottest new white label products.
---
Location: London, UK
Date: 20 October 2022
The Digital Customer Engagement Summit offers one-to-one business meetings, interactive seminars, and valuable networking opportunities, making it the ideal opportunity to nurture lasting professional relationships. It's aimed at senior professionals in the customer services and IT/digital customer fields. In 2022, it will again be a hybrid event which means that virtual attendance options will also be available.
---
Location: Rimini, Italy
Dates: 23 – 25 October 2022
The Richmond E-Commerce Forum Autumn is dedicated to business matching in the eCommerce sector. The event targets eCommerce professionals in Italy to bring together supply and demand, and share new ideas, solutions, and innovations with the sector.
---
Location: Makuhari Messe, Japan
Dates: 26 October – 28 October
Advanced E-Commerce & Retail Expo is Japan's biggest IT trade show in autumn and is aimed at professionals from the retail sector as well as manufacturers and marketers. It will feature a wide range of products that include store operation, customer service, and store connection solutions. In addition to exhibits, there will also be seminars on the latest trends which will be held in Japanese.
---

Location: London, UK
Date: 15 November 2022
The Customer Engagement Summit is described as Europe's biggest customer engagement event. Attendees can look forward to diverse content that looks at all aspects of customer engagement. Top-level speakers from international brands will use real-life case studies to demonstrate the latest innovations in the world of customer experience. It might only be a one-day event, but 20 exclusive presentations are planned for the event as well as opportunities to network with peers.
---
Location: Barcelona, Spain
Dates: To be confirmed
E-show Barcelona focuses on topics relating to eCommerce, online marketing, social media, and cloud computing. Last year's event included speakers like Diego Santos Sicardo, Senior Marketing Manager at HubSpot, and Ramón Ramos, Customer & Market Intelligence at IKEA.
---