Cryptocurrency has become an increasingly popular mode of investing, and crypto owners are pushing for it to be used as a more mainstream type of currency to exchange. However, not everyone is on board with this.
This is especially evident as TikTok previously banned all content related to cryptocurrency and financial services.
Which makes their recent change of events interesting. TikTok is currently working on a program that will allow crypto companies to run ads on the platform. While there will be restrictions in place, this is a big step forward for TikTok crypto advertisers.
Throughout this article, we're going to talk more about what cryptocurrency is, who this new program affects, why it's such a big step, and what the history of cryptocurrency has looked like on TikTok.
---
What is TikTok Crypto?
---
What is cryptocurrency?
Cryptocurrency (also called "crypto" for short) is essentially digital money. While many people are currently using cryptocurrency as a form of investments as their values change frequently, in the future, cryptocurrency could also be used as a mainstream form of currency for online purchases and monetary exchanges.
The biggest difference between crypto and traditional money is the technology behind it. Cryptocurrency is supported by a technology called blockchain, which is decentralized, meaning no government body or other entity is in charge of it. Instead, a network of computers keep a secure, tamper-resistant record of crypto exchanges and transactions.
Crypto investors can use a crypto profit calculator to gauge their profit margin. There are also a number of crypto/NFT agencies as well as crypto influencers for brands interested in learning more about how cryptocurrency might affect marketing, advertising, or currency exchanges in the future.
---
Who does this TikTok Crypto program impact?
TikTok is currently beta testing its new program in the US and Canada. It allows crypto companies that are registered with an approved regulatory body to run ads promoting cryptocurrency to all TikTok users over the age of 18.
The current approved regulatory bodies are:
US: Financial Crimes Enforcement Network (FinCEN)

Canada: Financial Transactions and Reports Analysis Centre of Canada (FINTRAC)
These registered crypto companies can place ads on TikTok promoting their services and talking about investing in cryptocurrency. Because this is still such a new and volatile type of currency, there is a lot of caution being taken in these types of promotions.
While TikTok's PR spokesperson says these crypto companies can still post organic content about crypto onto their TikTok feeds, they aren't able to run paid advertisements. TikTok's platform is now looking to change this.
---
Why is this important?
We mentioned that in 2021, TikTok banned all crypto content. While it looks like that may have been temporary for organic content, they've still blocked paid ads relating to crypto.
TikTok's advertising policy has this as a part of its "Restricted" list:
"Ads promoting single securities or other tradable financial assets, bail bonds, debt assistance programs, get rich quick schemes, pyramid schemes (including non-financial pyramid schemes) and multi-level marketing, penny auctions, binary options, cryptocurrency wallets, unaccredited digital banks that perform any traditional bank-like function, cryptocurrency credit or debit cards, initial coin offerings, token sales, or other means of promotion or advertisement of individual digital currencies or tokens."
Before the ban, however, there were some crypto companies who were able to successfully run paid ads. Marketing Brew spoke to an advisor at Lolli, a Chrome extension that offers bitcoin cash back rewards, who stated that they were able to run one or two ads on TikTok sometime in 2021, but that it all of a sudden stopped being okay.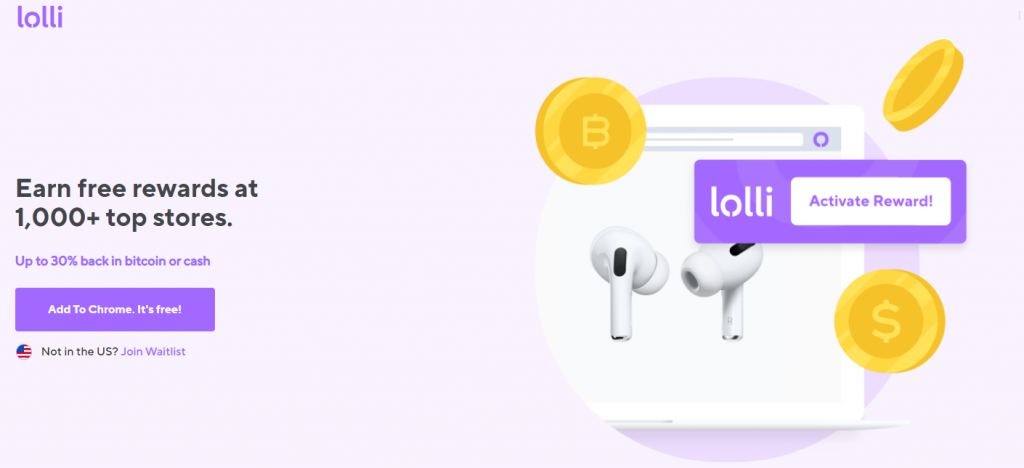 Completely losing access to a platform that's a part of your marketing and advertising strategy can be a major hit to a company. This is why TikTok's new crypto beta program is a big step forward for crypto companies.
Their restrictions also mean that any crypto company wanting to advertise on TikTok has to take the necessary steps to ensure they're regulated by specific bodies.
In addition, TikTok's restrictions that these ads can only be shown to users 18 and up means we can rest assured that only legitimate crypto companies are able to advertise to adults and users who can make informed financial decisions.
---
How to promote cryptocurrency on TikTok
If you're in charge of marketing for a cryptocurrency brand, you're probably looking for ways to promote your brand that sets you apart from many scams in the industry. This makes digital marketing for your brand even more important—you need to prove your legitimacy and show your value all in one fell swoop.
But even with TikTok cracking down on crypto brands, it's not all bad news. With TikTok's new beta test, legitimate cryptocurrency companies can rest assured that they're creating a trusted online presence.
However, TikTok Crypto beta program is only open to select brands at the moment. While there's no set end date for the beta test, if it's adopted, any brand that is regulated by an approved financial institution will be able to run paid ads.
In the meantime, there are still several ways crypto brands can create organic content. Let's cover a few.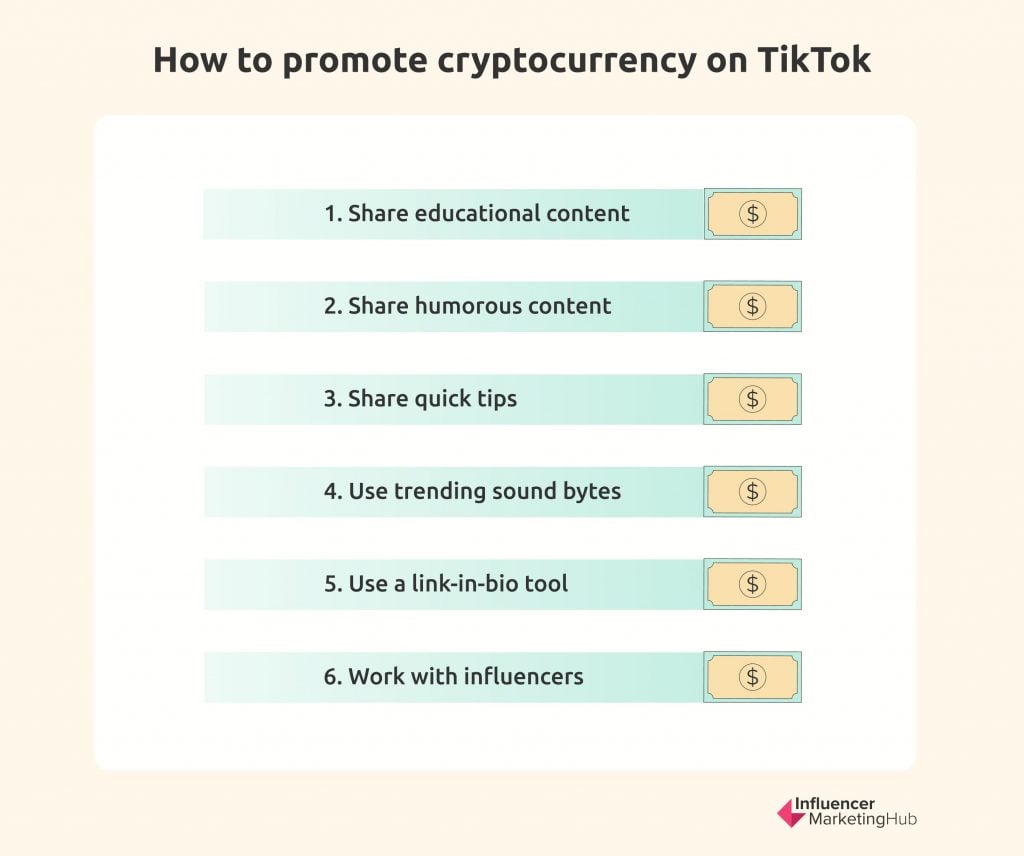 1. Share educational content
The cryptocurrency industry is still new, and a lot of people have no clue how it works. By sharing useful information and some beginner basics, you're able to bring a lot of newbies into the fold while simultaneously introducing them to your business.
Here's an example of what your educational videos could look like:
Do your best to make this complex industry as easy to understand as possible. This way, people who are new to crypto can get on board—and hopefully become a customer at the same time.
---
2. Share humorous content
Have fun with your crypto-related content. Although it's a more serious topic—after all, we're talking about money and investments—there's still room to poke fun at each other.
Here's a great example of what this might look like:
Just make sure your audience knows it's a joke and that they shouldn't be making big gambles like this with their own money.
---
3. Share quick tips
Investing can be full of quick tips, like what to invest in now, what to sell, what to hold, and more. These can be 5-second videos that you share with your audience to help keep them in the loop of what's popular and what's up-and-coming.
Here's an example of what this might look like:
These types of videos will likely be incredibly well-received by your audience as they look for their next big investment move.
---
4. Use trending sound bytes
One big content type on TikTok is videos that use trending sound bytes in different ways. See if you can find ways to use popular sound clips while still relating them back to your business or industry.
---
5. Use a link-in-bio tool
TikTok allows users to have one link in their bio, which means a link-in-bio tool can become incredibly useful on this platform. A link-in-bio tool allows brands to create a mini landing page with multiple links, allowing them to essentially link to pages from their videos.
Your landing page can vary greatly based on the tool you choose. Some allow you to create a grid so that each video links to something else, while others allow you to have a list of different links.
Use this strategically, by linking to your website, services page, email list signup, blog content, and more. In your videos, you can reference "the link in our bio" in order to get people to swipe over to your profile and click to learn more.
---
6. Work with influencers
One of the most fool-proof ways to create content on TikTok crypto at the moment is to mark it as branded content. This means you can easily work with crypto influencers and get a free pass to ensure your videos aren't removed due to "violating community guidelines."
Find influencers who promote the same types of crypto that your brand works with and work together to create promotional and educational content that both of you can share on your own profiles.
To find some of the best influencers, check out our list of the top 15 crypto influencers and start following a few of them to see if they'd fit in with your brand messaging and guidelines.
---
Conclusion
Want to make the most of this new TikTok crypto program? As a crypto company, this can be a great way to get the word out about cryptocurrency and secure ways of investing in it. To learn even more about marketing your crypto brand, check out these top crypto marketing agencies.
Frequently Asked Questions
Can you talk about crypto on TikTok?
Right now, crypto brands and influencers can post organic video content to their feeds talking about cryptocurrency. In the future, only approved brands will be able to promote paid crypto ads—and that's only if TikTok's beta program moves forward.
What are TikTok NFTs?
NFTs are non-fungible tokens, which is essentially like a digital collector's item. They're typically bought using cryptocurrency and are a part of the blockchain technology, just like crypto.
TikTok came out with their plan to sell NFTs by popular creators, with the proceeds going towards those creators. However, we haven't seen this plan come to fruition yet. If these NFTs come out, they will be on the Ethereum blockchain.
Can you buy shares in TikTok?
TikTok is currently owned by ByteDance, which is a privately owned company. This means that as of now, you cannot buy shares in TikTok. Once they have an IPO, they will be able to be publicly traded.
What types of ads does TikTok ban?
TikTok has prohibitions and restrictions when it comes to advertising on their platform. Prohibited ad types are:
Ads promoting alcoholic beverages

Ads promoting products specifically for children

Ads promoting financial services like cryptocurrency

Ads promoting gambling

Ads promoting weight loss products/services

Ads promoting transactional/infidelity dating services
Why did TikTok ban cryptocurrency ads?
It appears that the reason TikTok banned these types of ads is to help curb the number of potential scams out there. While this does impact legitimate crypto brands, these scams have shown to be targeting young people, and the platform is doing its part in avoiding that.
This is why TikTok's new beta crypto program is requiring that qualified brands are approved by specific regulatory bodies. They're working to ensure that legitimate crypto brands are able to run ads while still weeding out the scammers.