Twitch is easily one of the biggest live streaming platforms that cater to the multitude of interests of its millions of users. It is the home for all kinds of streamers that a variety of flavors to the platform.
However, it was originally meant to be a haven for online gamers to showcase their skills - competitive or otherwise. While the gaming space continues to be dominated by male influencers, women make up 35% of the streamer base on Twitch.
Numerous women are taking their passion for gaming and creative talents online. Despite not having millions of followers like top gamers on YouTube, these women have done well for themselves. Twitch offers them a community known for being a tightly-knit group of followers, donors, subscribers, and tippers.
For Influencers: If you are looking for agencies to represent you click here.
It allows them to boast high engagement rates, making them very good candidates for your influencer marketing campaign. Let's take a look at the top 15 female Twitch streamers you should be collaborating with.
Enter your favorite Female Twitch Streamer's Username below to see their Subscriber Count
---
Top Female Twitch Streamers - The Twitch Girls:
---
1. KittyPlaysGames
KittyPlays, aka Kristen is a 26-year-old streamer from British Columbia. With 1.1 million followers, she is one of the top 100 streamers on the platform. She streams twice a day and covers various popular games like CS: GO, Fortnite, and PUBG.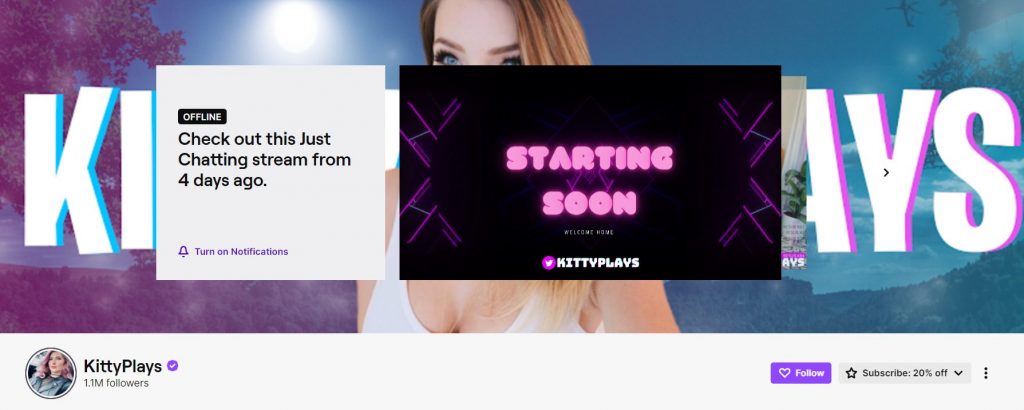 She regularly interacts with people on her chat and tries to keep an upbeat, relaxed environment. Kristen is also known for her vlog where she talks about travel, cooking, and even her experiences racing supercars.
---
2. LegendaryLea
LegendaryLea is the Twitch handle used by Lea May Currier. She's a passionate gamer and streamer who entertains her audience by providing a holistic and friendly experience. The Physiology and Neuroscience major has close to 622,000 subscribers on Twitch.

The flamboyant and candid Twitch girl loves interacting with her viewers while playing. Primarily, she plays Hearthstone on stream with some CS: GO as well. She likes to keep her content fresh and is known for shaking things up by posting on games like Sims 4.
---
3. Kaceytron
Kasey Caviness, or Kaceytron as she is better known, has 556,000 followers on Twitch. The self-proclaimed "Fake Gamer Girl" has used controversy and sexuality to grow her fanbase. Kacey is a blast to watch especially with her sarcastic comebacks and bold personality.

She plays a multitude of games on her channel but League of Legends is her preferred poison. She frequently posts content featuring Overwatch, World of Warcraft, and Grand Theft Auto V as well.
---
4. xMinks
With more than 353,000 followers, this Twitch girl has managed to become one of the biggest stars on the platform. xMinks, aka Chelsea hails from Australia and originally went to school to earn a degree in Pharmacy. She worked as a dispensary technician before switching to become a full-time streamer.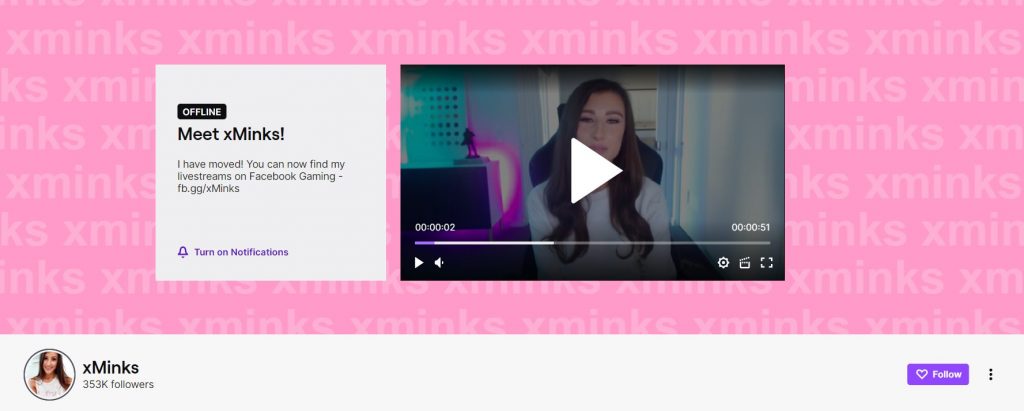 Lately, she's been plying her trade in Fortnite but has streamed other games like H1Z1 and Call of Duty. In fact, she's quite the notorious expert when it comes to Call of Duty, and one of Australia's best players.
---
5. DingleDerper
DingleDerper is the online persona of Tory, another very popular Twitch girl. For the most part, she streams games like CS: GO and PUBG. But other than her gaming life, she's quite popular for sharing details of her personal life to her roughly 432,000 followers.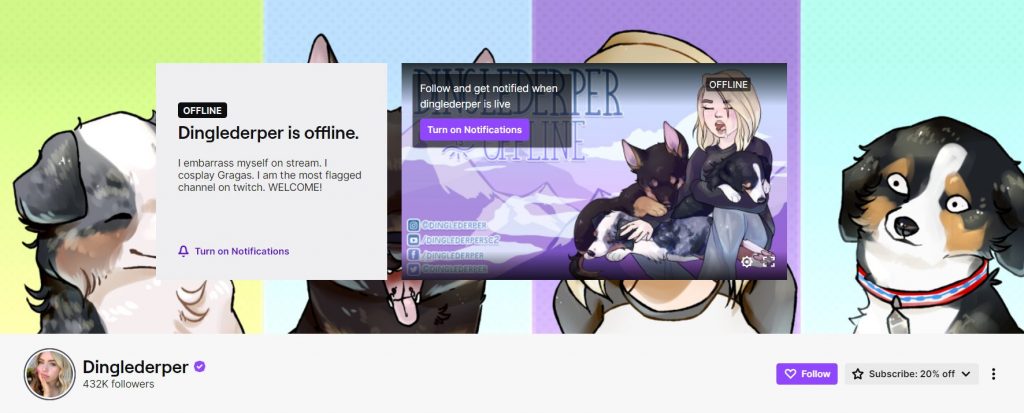 She typically starts off streaming sessions by playing League of Legends but viewers can expect something extra from her each time. She entertains them by doing funny dances and silly cosplays. With fresh and varied content and a charismatic and lively personality, she's one of the most likable streamers.
---
6. Miss_Rage
Contrary to what her name suggests, Miss_Rage, aka Julia Kreuzer, is a rather nice and outgoing streamer. Whether it's her charming personality or the numerous tattoos on her body, her fanbase of 358,000 subscribers keeps growing.

She's a frequent broadcaster of CS: GO, World of Warcraft, and Overwatch. Unlike her peers, the Australian doesn't have a set schedule for streaming. She's also quite popular thanks to her cosplays, stream highlights, and giveaways.
---
7. Ms_Vixen
Lanai Gara is a gamer and Twitch streamer who goes by the name Ms_Vixen. She specializes in first-person shooter games and has attracted approximately 354,000 followers on Twitch. Her claim to fame? She was the top Call of Duty: World at War player in the world back in 2008-09.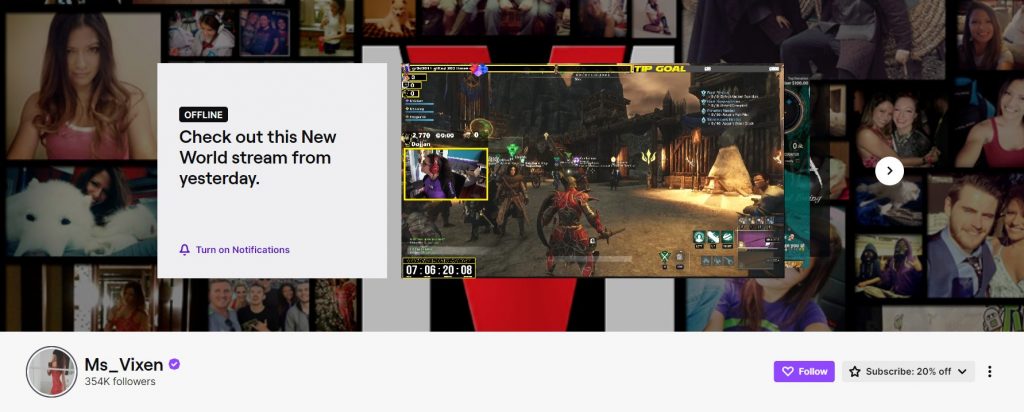 She was also a member of Ubisoft's all-female professional gamers team "Frag Dolls" between 2009 to 2012. She often streams games like Mario Kart 8, LawBreakers, Battlefield 1, and Call of Duty.
---
8. KatGunn
Katherine "Kat" Gunn (also known as Mystik) from Dallas Texas has quite the resume. KatGunn has been a competitive gamer for roughly a decade, and has won numerous accolades during that time. She's a National Champion in Dead or Alive 4, and 2016 Guinness World Records holder for being the highest earning female gamer.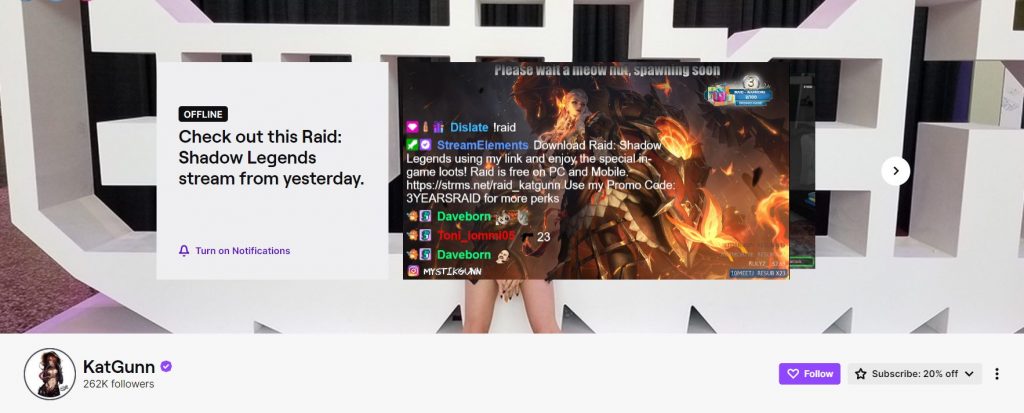 First-person shooter and fighter games are her specialties. She's been streaming a lot of Fortnite for her 262,000 odd fans off late. She's also streamed various other games like Call of Duty, Zelda, Street Fighter V, For Honor, and Resident Evil 7.
---
9. LoserFruit
Despite using the username LoserFruit, Kathleen Belsten is anything but a loser. She may claim to have "failed her way to success" but she's properly good at whatever she plays. One of Australia's top gamers, she boasts 2.8 million subscribers.

Numerous streamers are popular because of their variety, but very few have a library as diverse as Kathleen. She can be found broadcasting games like Witcher 3, Overwatch, and even Just Dance. Additionally, she also vlogs plenty of creative content as well.
---
10. ItsHAFU
Rumay Wang is one of the most popular Twitch streamers. She's a very dedicated streamer and logs in anywhere between 60-80 hours per week for her 1.3 million followers.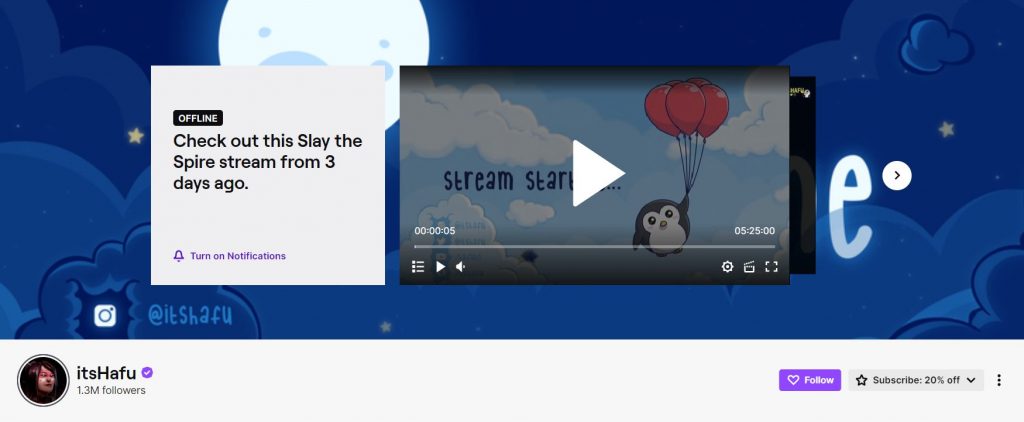 Under the moniker of ItsHAFU, she's conquered the League of Legends, World of Warcraft, and Hearthstone worlds. In fact, she played World of Warcraft professionally for a major league gaming team and has won several top titles.
---
11. KneeColeslaw
Nicole Echols, or KneeColeslaw as she is better known, started her gaming career at a young age. She's very candid with her comments and genuinely enjoys engaging her viewers no matter how blunt the questions are. Her sense of humor paired with her good looks and gaming expertise make her a popular streamer.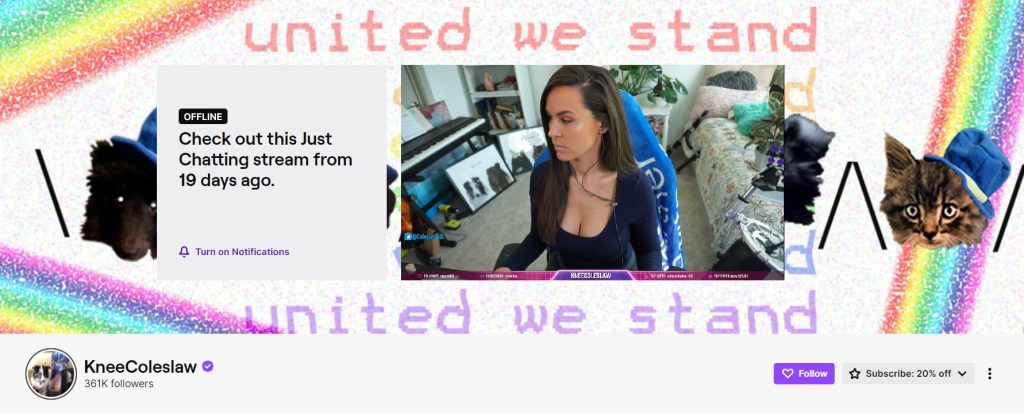 She has streamed games like Fortnite, God of War, Super Mario, and Until Dawn. Nicole loves to get creative with her streams. She does funky dances, draws random people's faces, and sometimes even chats with other streamers on Google Duo.
---
12. DizzyKitten
DizzyKitten is the online alter-ego of Brandi, an accomplished gamer and Twitch streamer with a little over 674,000 subscribers. Her current go-to game is CS: GO. Even though she's not the best player in the world, she has a certain appeal which is why viewers love her.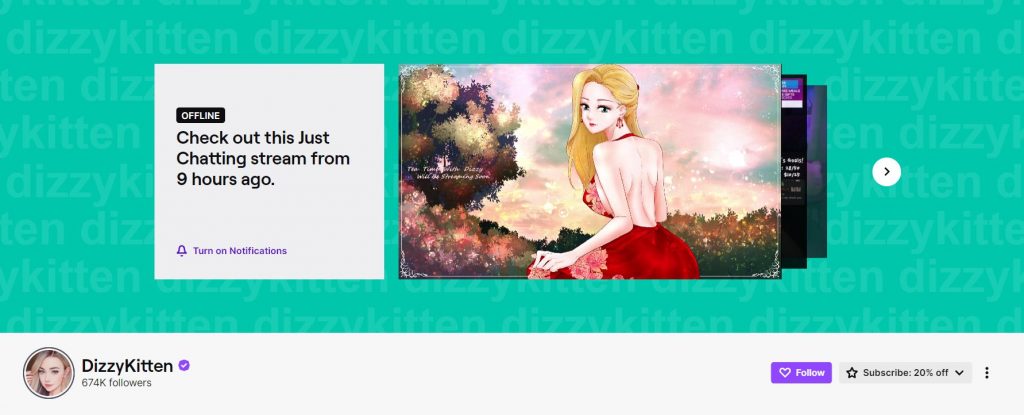 She doesn't shy away from sharing her outgoing and engaging spirit with her fans. She's known for doing the occasional cosplay and Q&A sessions. She also hands out giveaways every day to her loyal fans and viewers.
---
13. Becca
Becca (formerly BehkuhTV) Tilts is a Korean gamer and Twitch streamer with a Sociology degree from Boston College. She likes to keep things real and is very animated on her streams. Becca comes off as someone who genuinely cares about her 409.000 viewers and makes light of her situations.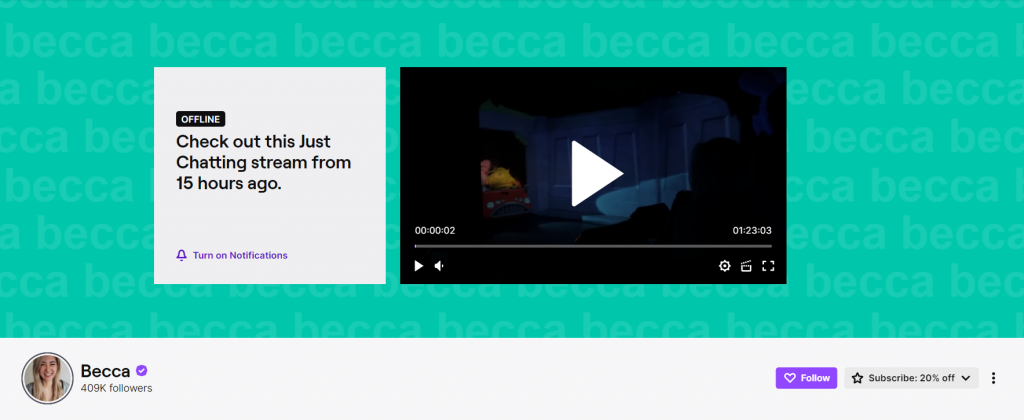 Although she streams various different games, she's best known for her work in League of Legends. During one session when the game servers were down, she spent an hour just talking to her viewers. Making the best her time by getting to know her fans better.
---
14. 2MGoverCSquared
Ally is the woman and gaming guru behind 2MGoverCSquared, a popular YouTube and Twitch channel. She boasts a fan base of roughly 415,000 loyal subscribers. Although her specialty lies CS: GO, she often dabbles with games like Injustice 2 and PUBG as well.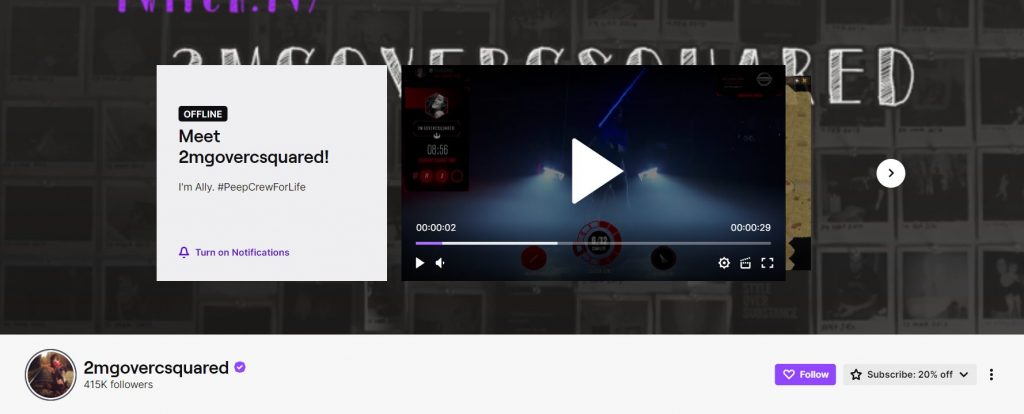 A science geek, her username is derived from the equation of the Schwarzschild radius. The vlogger is part of the Dapper Crew team on Twitch. She's been known to vlog about her interests beyond gaming and science with her viewers.
---
15. OMGitsfirefoxx
Sonja Reid goes by the gaming handle of OMGitsfirefoxx. With almost 740,000 followers, she's easily one of the biggest Twitch stars there are. She loves to interact with her viewers. So if she isn't commenting on a game, you'll find her chatting to her viewers.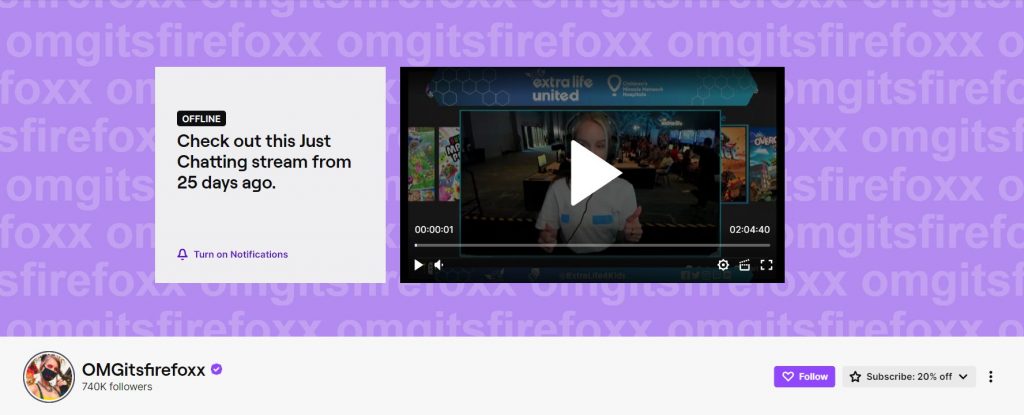 She streams numerous games like CS: GO, Overwatch, and Minecraft. She often also leverages the IRL feature on Twitch to share fun-filled real-life moments and experiences. Sonja also streams creative content in which she makes something with Perler beads.
---
Conclusion
Twitch is gradually turning into a mecca for gaming aficionados. It's perfect for people who want to share their own live streams or to watch and learn from their favorite gaming influencers. Most importantly, it's a place for like-minded individuals to connect, exchange tips, and share their stories.
Given how tightly-knit these niched gaming communities are, Twitch can also be a mecca for marketers too. The opportunities for influencer marketing, especially, are abundant. Twitch boasts creative raw content, high engagement rates, and consistent influencer interaction.
That's exactly why we thought you'd appreciate this list of "Twitch Girls." These starlets in the gaming world can help your brand gain a whole different dimension of exposure. All you have to do is tap into these reserves of much potential.
In case you think we missed any kickass Twitch streamers like these women, let us know. You can comment with their names below.
Frequently Asked Questions
Can female gamers make money?
The gaming space is still dominated by male gamers, but women make up already 35% of the streamer base on Twitch. Even though they do not have millions of followers like the top gamers on YouTube, there are many women who are taking their passion for gaming to Twitch and have done well. On Twitch, they have found a community of followers, donors, subscribers and tippers that make it possible to make money from gaming.
Can you use Twitch for advertising?
Twitch can be a valuable platform for marketers when you consider how close the niched gaming communities on this platform are. There are many opportunities for influencer marketing as Twitch offers creative raw content, consistent influencer interaction and high engagement rates. There are many female and male streamers that can help your brand to gain a completely different dimension of exposure.
Who are some of the top female Twitch streamers?
You can check out Sonja Reid (OMGitsfirefoxx) who has almost 775,000 followers, Kristen (KittyPlaysGames) who has 800,000 followers and Lea May Currier (LegendaryLea) who has close to 640,000 subscribers. OMGitsfirefoxx and KittyPlaysGames come from Canada, while LegendaryLea hails from the United States. All three like to play CS: GO.
Are there any successful Australian female Twitch streamers?
LoserFruit (aka Kathleen Belsten), xMinks (aka Chelsea) and Miss Rage (aka Julia Kreuzer) all come from Australia and have over 350,000 followers on Twitch making them some of the biggest stars on Twitch. LoserFruit is one of the top female gamers in Australia and has a very diverse library and likes to vlog as well, while Julia Kreuzer is popular thanks to her cosplays and giveaways. xMinks is one of the best female players in Australia, especially when it comes to Call of Duty.
Which games do female gamers like to play?
Some of the most popular games that female streamers on Twitch like to play are CS: GO, Fortnite, Hearthstone, Call of Duty, PUBG, Overwatch and World of Warcraft. CS: Go and Fortnite, in particular, are very popular among the top female Twitch streamers.