Who are the top sports influencers? No matter whether your brand is a smaller fitness business or a large shoe line, you'll be well-served by knowing the answer to this question. While social media tends to be filled with fashion, beauty, and gaming influencers, sports influencers in niches like yoga, surfing, tennis, soccer, and more hold a lot of, well, influence, too. In this article, we're going to share 20 of the top sports influencers that every brand should have on its radar. Don't worry, we're not just including the superstars, so smaller brands take notice!
---
20 Top Sports Influencers Every Brand Should Know About:
---
20 Top Sports Influencers
Athletes are valuable as influencers. People look up to them, respect them, want to be like them. This all combines to create a powerful influencer. Professional athletes, retired athletes, and fitness influencers can be an excellent way for brands to get in front of the right audience, no matter the industry. The reason? Athletes have broad appeal.
But, if you're a smaller brand or one that's just starting out, you're probably not going to be able to bring on someone like Tiger Woods to do influencer marketing for your brand. On the other hand, if you're a large, global brand, you probably want an influencer that has a bit of notoriety. Either way, we've got you covered here. We'll start out our list of top sports influencers with 10 influencers that don't yet carry the authority of celebrity influencers then wrap up with 10 influencers that do. Let's dive in!
---
10 Top Sports Influencers: Non-Celebrity Status
In this section, we're going to cover some of the top sports influencers, regardless of platform, who might not have made it to "household name" status—yet.
Joshua Patterson was a professional rugby player who took on a starring role in a British structured-reality television series broadcast by E4 called Made In Chelsea. It was during this time that Patterson became a social media celebrity. He speaks publicly about mental health (including his own struggle with anxiety and depression) and has also become an advocate for those with disabilities after his brother suffered a motorbike accident and was left unable to walk.
---
Travis Burke is known for capturing stunning photography during extreme sports like climbing, slacklining, paragliding, as well as imagery from more mainstream athletic endeavors like hiking and skateboarding. His Instagram is a truly amazing testament to his love of sport and his obvious skill with a camera.
---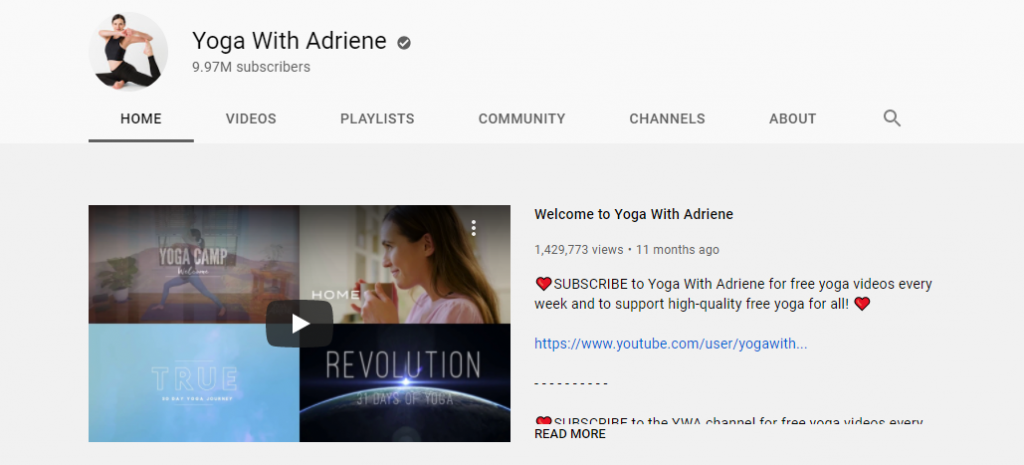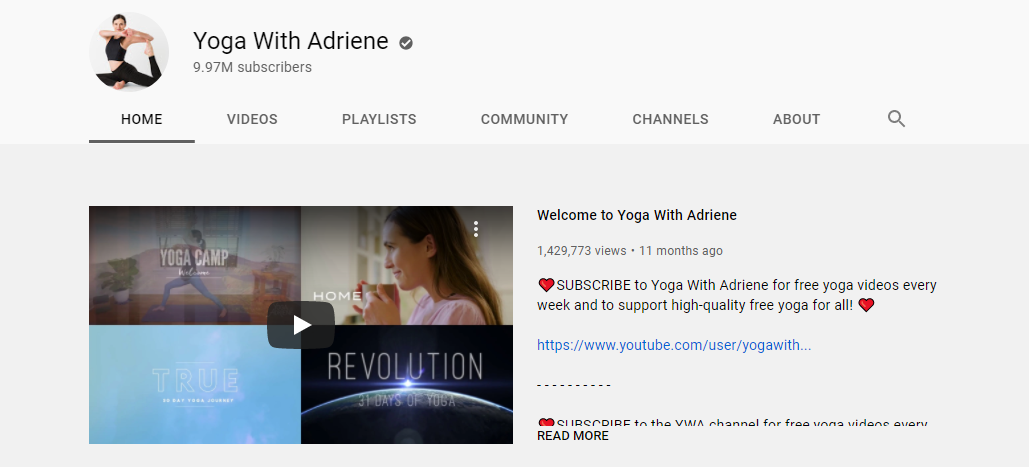 If you're a Westerner interested in yoga, you've at least heard of Yoga With Adriene. Her YouTube channel is awash in millions of followers who flock to her for her high-quality of teaching, yoga challenges, and easier sessions for beginners. Her dog, Benji, regularly joins in on her yoga sessions, increasing the draw and "awww" factor.
---
4. The Coffin Brothers
Conner and Parker Coffin are legit surfers (in 2017, Conner won the Vans World Cup). They have a joint YouTube channel where they don't have tons of subscribers but get tons of engagement from the videos they post of themselves riding waves around the world. They maintain separate Instagram accounts where they bring in hundreds of thousands of followers.
---
Katie Ormerod is badass, no doubt. She's a British professional snowboarder who has wowed the world with her snowboarding tricks since she was 16 years old. She participated in the last Olympic winter games (Pyeongchang 2018) and is training for the 2022 Olympics in Beijing. She's a RedBull-backed athlete with an always growing follower count.
---
Elliot Burton is a bodybuilding and weightlifting coach. On Instagram and YouTube, he shares workout routines, fights racism and inequality, and shares a bit about his personal life, too. He offers a Spotify playlist, free downloadable training and nutrition eBook, a strong Facebook community, and an online coaching app.
---
Who knew that you could teach yourself to be a contortionist? Sofie Dossi, apparently. She started her YouTube channel in 2013 and three years later, in 2016, became a finalist on America's Got Talent. Her YouTube channel is where she shares tutorials, challenges, and a vlog that focuses on what she's really good at: being bendy in different places and situations.
---
Kanoa Greene is a former opera singer who now works to tear down stereotypes of what people with bigger bodies can do. She started a virtual gym in 2015 and now surfs, hikes, sails, and teaches yoga. Greene is also the founder of Plus Size Retreats, an adventure retreat organization designed to bring plus-size bodies together for outdoor empowerment. Greene is a fitness instructor on Joyn, a body-neutral fitness space, as well as creator of the SPARK - Ignite Chang‪e fitness app.
---
Naomi Osaka is a professional tennis player who won her second US Open in September 2020. She's used her notoriety to raise awareness of racially-driven police brutality. She's a self-professed introvert who has only recently started speaking out on social justice issues.
---
Alex Callahan is a yogi from Boulder, Colorado, who uses Instagram to share her fitness and spiritual journey with her followers. She has been able to cultivate a strong relationship with her followers and has worked with brands like Aerie, MVMT, and Michelob Ultra.
---
10 Sports Influencers: The Big Guns
Now that we've covered some of the smaller (and up-and-coming) sports influencers, let's take a look at those who have achieved true celebrity status. Here, you'll find the sports influencers that have become household names.
Cristiano Ronaldo has had a ridiculous soccer career. He started with Sporting Lisbon and has since played for Manchester United, Real Madrid, and Juventus. Ronaldo has won several major awards and honors throughout his career and was the first athlete to get 200 million followers (2019)—and that was just his Instagram account.
---
LeBron James is a popular and wildly successful NBA star. He's won four NBA championships (2012 and 2013 with the Miami Heat, 2016 with the Cleveland Cavaliers, and 2020 with the Los Angeles Lakers) and is a four-time league MVP (2009, 2010, 2012, and 2013). He's partnered with brands like Nike and has been outspoken in recent years about social justice issues.
---
Virat Kohli is one of the top cricket players in the world and is seen by many as the face of cricket in India. He's ranked as one of the best batsmen in the world and has partnered with brands like Uber.
---
Serena Williams is a household name whether or not you follow tennis, the sport she dominated for years. Williams has won 23 Grand Slams and has been an outspoken advocate of women's equality in sports and throughout every aspect of society. She has partnerships with major brands like Nike, Wilson, Beats By Dre, and more.
---
Floyd Mayweather is a former professional boxer who had an undefeated professional career of 50-0. Despite being retired, Mayweather has millions of followers across social media platforms and has penned deals with brands like Hublot, ShowTime, and more.
---
Dan Carter is a former New Zealand rugby union player with nearly 1600 points and two World Cups to his name, making him the leading test matches point scorer. Carter retired in February 2021 after 32 years of playing rugby, 19 of those years professionally.
---
Tiger Woods has been a staple in golf for more than two decades. Woods was the public face of the PGA Tour gaming series throughout much of the 2000s and 2010s and he has had some enormous deals with brands like American Express, Golf Digest, EA Sports, and several others. He's tied for first in PGA Tour wins, holds numerous golf records, and ranks second in men's major championships. He's largely regarded as one of the most famous athletes and greatest golfers of all time.
---
Neymar Junior is yet another of the top sports influencers that play soccer (soccer is the number one sport in the world, after all). He holds the record as the most expensive player ever and currently plays for PSG. He has sponsorship deals with brands like Beats By Dre, Nike, Red Bull, Gillette, and more.
---
Roger Federer is a professional tennis player who turned pro in 1998. He's earned the most Grand Slam singles in history and that hard work has been rewarded with sponsorships deals with Wilson, Nike, Gillette, and more. Federer's talent has earned him an enormous audience across social media platforms.
---
Soccer again! Lionel "Leo" Messi is an Argentinian soccer player who started his professional career at the tender age of 16 with FC Barcelona. His tremendous soccer skill and sweet, humble personality have earned him fans around the world. Messi was offered a basic sponsorship contract by Adidas Football just three short years after his first game and he's stuck with Adidas ever since.
---
Wrapping Up
Brands have long used professional and retired athletes to sell shoes, clothing, food, sporting equipment, and more. And, thanks to the growth of social media, now smaller brands can also connect with some of the top sports influencers to promote their wares. Smaller brands will want to stick with the list at the top, but don't completely discount the celebrity influencers. They can be valuable as a learning opportunity. Check out their content and take what you like to apply to your own influencer marketing campaigns.