Price hikes are driving consumers to private label products for food, staples, and consumables, according to a Numerator report. Almost 40% of high and middle-income shoppers buy private label items. Because of this, private label brands are becoming more important for retail stores, and Walmart is at the front of the pack.
Walmart currently holds four of the top five private brands: Great Value, Equate, Marketside, and Freshness Guaranteed. Great Value items are bought by 72.7% of consumers in the US. Thanks to the success of these four private label brands, Walmart is investing more in its house brands.
---
How Walmart Is Dominating Private Label Brands + 30 Walmart Private Labels to Be Aware Of:
---
Private Label Brand Explained
Private label brands are made by a third-party manufacturer or under contract and sold under a store's name. This is ideal for entrepreneurs and businesses with an existing following that want to earn passive income online through product sales.
As a retailer, you can choose every product element. This includes the content, label, and packaging of the product. The flexibility of private labeling enables you to experiment with products as you see fit, including introducing new variants (ex. colors, tastes, and sizes). You must pay for its production and delivery to your store.
Private label products are particularly popular among high-income buyers. Private label product sales at US retailers topped $5.47 trillion in 2019 and are expected to climb to $5.94 trillion by 2024. That's not surprising, given the prevalence of store-brand alternatives in most major retail outlets. Walmart has Great Value. Target owns Archer Farms. Costco's store brand is Kirkland.
Most supermarket chains have their own line of condiments, spices, and beverages. Hair salons typically produce their own range of shampoos, conditioners, and styling items. High-street boutiques often sell their own lines in addition to branded alternatives. Restaurants typically end up having their own private label of customer-favorite sauces. Pet shops also sell their own brand of food, toys, and pet supplies.
---
Walmart and Private Label Brands
Walmart's private label brands encompass 29,000+ products. They are a part of over 315 brands in around 20 categories.
Walmart and private label brands have a long history. In 1983, the retail giant introduced its first private label brand, Ol' Roy, for dog food. The business model for private label branding developed from there.
Establishing a private label brand range like Walmart's requires a lot of resources. Walmart has intensified its efforts to compete with other retail stores when it comes to private label products. But its approach to private brands differs from that of other major retailers. The retail company concentrates on low prices, which is what it does best. As a result, there's an increase in brand awareness as well as growth in existing clientele.
White-labeled products are a way for Walmart to keep budget-conscious shoppers coming back to the store. Strategic investments account for most non-Walmart brands seen on store shelves. The goal was to differentiate these brands from the private label ones. Walmart does a lot of testing with its own brands to figure out the best way to do things.
---
Why Does Walmart Sell Private Labels?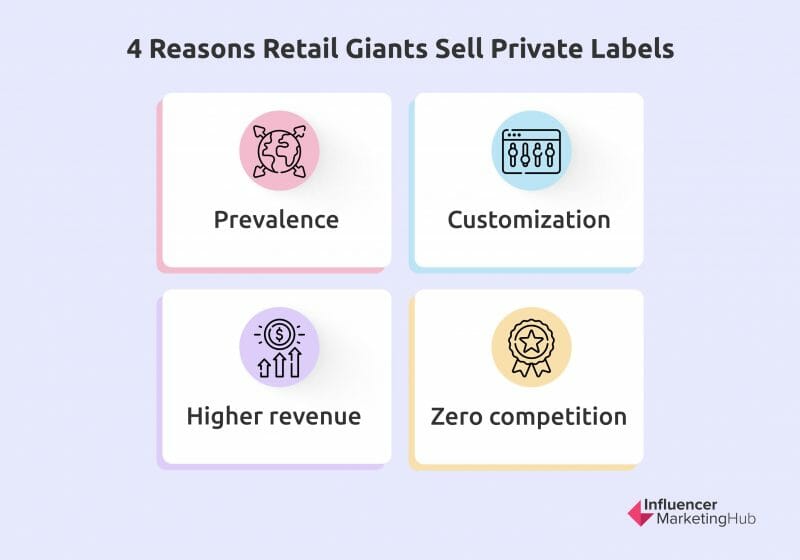 Shoppers like Walmart's private brands because they consistently meet or exceed their quality and value standards.
Prevalence
Since Walmart has been carrying private labels for decades now, they have grown in popularity. Buyers trust these brands since they are of comparable quality to name brands.
Customization
Owning the label means Walmart has complete authority to customize the brands in any way they see fit. It gives Walmart the flexibility to try out various concepts and figure out what works best.
Higher revenue
Private labels provide higher margins for Walmart. Buyers have no choice but to buy from Walmart since these products can only be found there. This enables Walmart to keep expenses in check while generating revenue.
Zero competition
Walmart's private brands are exclusively available at Walmart stores.
---
How to Sell Private Labels on Walmart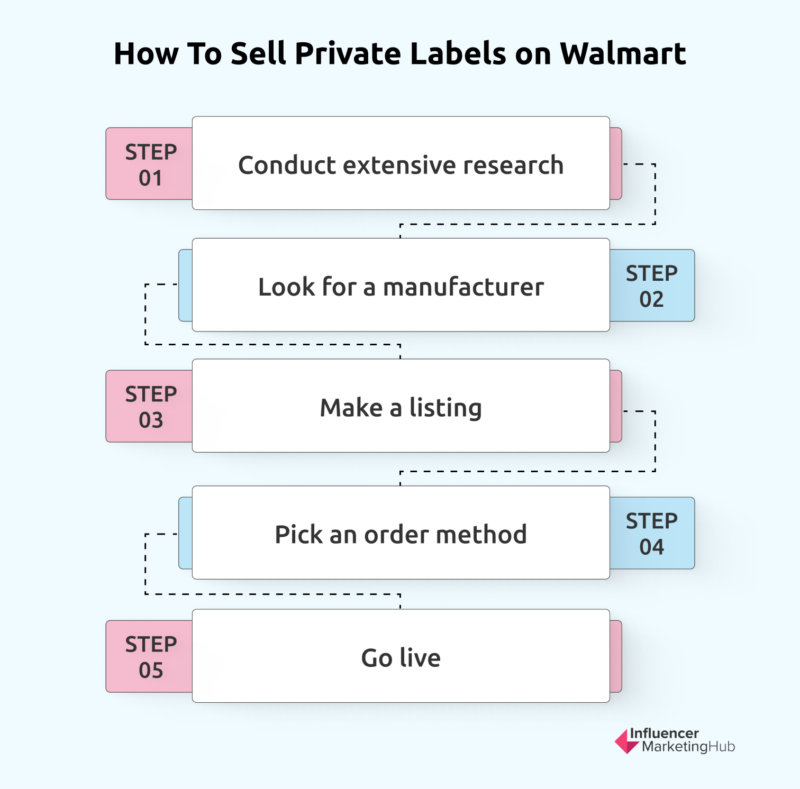 eCommerce vendors interested in an omnichannel approach can seize a strong market share advantage by selling private label products on Walmart. Here are the basics on how to do it.
---
Conduct extensive research
Product research is the most important phase of the operation. Without due diligence, you may invest in an unpopular or expensive product.
Browse retail stores, both offline and online, to get a sense of the market. Typically, if a product does well at other big retailers (like Amazon), it will do well at Walmart too.
Growth Opportunities in the Walmart Seller Center can be used to find unique products that are in demand. Look for items that have a small number of sellers.
---
Look for a manufacturer
When you have found what you want to sell, find a manufacturer. This can be tricky and can take a while, but keep at it. Talk to different manufacturers to find out who can give you the best price for the best product. Purchase samples from each source before placing a large order to check the quality. Discuss the terms and conditions.
---
Make a listing
Create and update your product listing on Walmart. Spend some time exploring keywords to determine precisely what your audience is looking for. To optimize online visibility, make sure your title, description, and key features are well-written and include relevant keywords.
Make sure to add pictures of the products as well. It's best to hire a qualified photographer for HD photos.
---
Pick an order method
Walmart has two fulfillment methods. You can fulfill orders on your own or leverage a third-party distribution center. The other alternative is to use the Walmart Fulfillment Services (WFS) program to have Walmart do it for you.
---
Go live
When everything is ready, launch your product. You can introduce your item and reach your target market with Walmart Sponsored Product ads.
---
A List of Customer-Favorite Walmart Private Labels
Let's explore some of Walmart's popular private brands:
Sam's Choice is a store brand named after Sam Walton who founded Walmart. It was launched in 1991. It is a top-of-the-line food brand.
Sample offerings: thin-crust pizza, premium condiments and sauces, meats, bread, coffee, chocolates, pickles
Great Value was established in 1993. Hundreds of home and food goods are listed under the brand.
Sample offerings: fresh and frozen products, pantry staples, coffee, bread and bakery, candies, cleaning supplies, beverages, snacks, food storage bags
Parent's Choice sells baby products at lower costs compared to national brands.
Sample offerings: diapers, baby bottles, bath essentials, skincare products, training pants, formula dispenser, compartment plates
Equate used to be an independent brand but has been acquired by Walmart. It manufactures health and personal care products.
Sample offerings: soft toothbrush, chewable tablets, ointments, bath poufs, OTA medicines, maxi pads, mouthwash, flushable wipes, lotion
Pen + Gear is the store brand name for school and office products at Walmart. It currently has more than 500 listings on Walmart's site.
Sample offerings: notebooks, paper products, organizers, magnets, pens, gel pens, writing instruments, novelty items, bubble wrap, folders, index cards
Ol' Roy is a dog food brand that is named after the dog of Walmart's founder. The private label was founded in 1983. Ol' Roy provides high-quality dog food and treats.
Sample offerings: wet dog food, dog treats, jerky sticks, multiflavored dog biscuits, peanut butter twist sticks, coated rolls, chews for dogs
Not to be left behind, Special Kitty is all about cat food and supplies.
Sample offerings: wet cat food, odor control cat litter, dry cat food, indoor and outdoor formula, cat treats
The store brand was created in response to Tesco's Fresh & Easy outlets. Marketside primarily offers food and drinks. Most items are available in Walmart's deli and bakery shops.
Sample offerings: pizza, soup, bread, vegetables, pastries, salads, flatbreads, lemonade, subs and wraps, cakes, dips
Mainstays is a Walmart brand known for its low-priced bedding, kitchen utensils, DIY furniture, and home furnishings.
Sample offerings: mattresses, bath, storage and organization, patio and garden supplies, arts and crafts, cooling and heating appliances, quilts, bed covers, throws
This is the store brand for women's clothing, shoes, and accessories at Walmart.
Sample offerings: dresses, pants, coats and jackets, leggings, tops and tees, skirts, shorts, shoes, handbags, maternity
Wonder Nation is Walmart's first label made especially for kids. It offers the best-fitting designs for infants to 24 months, toddlers, kids of all sizes, and tweens. It also carries husky sizes for boys and plus sizes for girls.
Sample offerings: t-shirts, shorts, jackets, polo shirts, dresses, vests, crewnecks, hats, socks, pants, leggings
Walmart's Brahma boots are budget-friendly work boots for men and women.
Sample offerings: steel-toe boots, vertex work boots, waterproof soft-toe boots
Play Day is a well-known brand of fun toys for kids that don't break the bank. Play Day launched as a replacement brand for Kid Connection.
Sample offerings: inflatable pools, sports balls, bubbles, squirting gun, pool toys, chalk spray, lawn and pool games and sprinklers, sand toys, ball pits, sports equipment
Hometrends is a Walmart store brand for furniture, appliances, and home décor.
Sample offerings: table lamps, dinnerware sets, chairs, washcloths, patio set, seat cushions, sofa sets, lock lid jars, soft sheet sets
Your Zone is a line of home goods made specifically for young adults and college students.
Sample offerings: curtains, table lamps, dinnerware sets, string lights, microfiber sheet sets, machine-washable plushies, storage and bookcases, flip chairs
Douglas is a Walmart private label brand that sells low-cost tires. Some models are manufactured at a Goodyear factory.
Sample offerings: all-season tires
EverStart is a line of batteries and battery-related accessories manufactured by Johnson Controls and sold only at Walmart.
Sample offerings: automotive battery, jump starter, heavy-duty clamps, acid marine cycle battery, auto battery charger
Mash-Up coffee is a line of high-end, specialty-grade, organic coffee beans manufactured by Boyer's Coffee and offered exclusively at Walmart.
Sample offerings: organic medium roast, blend coffee, ground coffee, dark roast, organic whole bean coffee
Tasty, licensed from BuzzFeed and Walmart-exclusive, is a range of kitchen utensils.
Sample offerings: cookware, bakeware, kitchen gadgets
Walmart Family Mobile is the retailer's prepaid mobile phone service. It works on the T-Mobile network.
Sample offerings: unlimited monthly prepaid plan, prepaid smartphone, international calling, and roaming plan
Manufactured by PPG, ColorPlace is Walmart's store brand for paints and painting supplies.
Sample offerings: spray paint, gloss paint, semi-gloss paint, interior and exterior paint, rollers, and brushes
This is presently Walmart's own label for carbonated and flavored water. It was previously known as Sam's Choice Clean American.
Sample offerings: strawberry sparkling water, black cherry sparkling water, pineapple sparkling water, peach nectar sparkling water, huckleberry sparkling water
NOBO, or No Boundaries, is one of Walmart's private apparel brands. The label offers clothing for both young men and women.
Sample offerings: pullovers, cable knit cardigans, corduroy hoodies, jogger pants, low chunky sneakers, underwire t-shirt bra, flare pants
Way To Celebrate! distributes decorations and supplies for a range of holidays, including Christmas, Valentine's Day, St. Patrick's Day, and others.
Sample offerings: plastic party tablecloth, glittered wreath, cake box, chocolate fondue fountain, paper dinner plates, party favors, novelty items
This is Walmart's own brand of low-cost wines. The retail price is around $3 per bottle.
Sample offerings: cabernet sauvignon red wine, peach white wine, red blend red wine, Moscato white wine, merlot red wine, chardonnay white wine
One of Walmart's own brands of apparel is Athletic Works. The brand offers activewear for men, women, and children.
Sample offerings: knit pants, sweatpants, crewneck t-shirts, joggers, running shirts, relaxed fit yoga pants, leggings
This is Walmart's store brand that specializes in Christmas supplies.
Sample offerings: Christmas wrappers, Christmas trees, hanging ornaments, rope lights, Gingerbread boy, LED story-telling Santa Claus
Protege is the retailer's own luggage and travel accessory brand.
Sample offerings: carry-on luggage, rolling trunk duffel, rolling duffel, 2-wheel luggage set, weekender duffel bag, rolling under-seater luggage
SuperTech is Walmart's brand of motor oil. The brand offers oil for gasoline and diesel engines, as well as auto products and supplies.
Sample offerings: full synthetic motor oil, all-purpose spray lubricant, windshield washer fluid,
Joyspun is the retailer's own brand of sleepwear and intimates for women.
Sample offerings: pajama sets, slipper socks, plush sleep robes, opaque tights, fishnets, sleep cardigans
---
Final Thoughts
Walmart is your best bet for expanding your online footprint via a marketplace that millions of people visit every day. Walmart Marketplace can help you create and sell your well-researched, high-quality product. For a seamless selling experience, you may integrate your eCommerce site with Walmart using a great integration solution.