Ever wonder who are YouTube's highest-paid stars? We've put together this list of the 13 highest-paid YouTube personalities you can look to as inspiration for your own YouTube content creation goals so you too can make money on YouTube. While you may not be the next YouTube millionaire, there's still money to be earned on the platform.
In this article, we're talking YouTube earnings only—estimated or as reported by the creators themselves. These numbers don't cover net worth (but if it did, can we just say daaaaang, Jeffree Star). In our research, we found some other lists that were based on old, like 2017-old, numbers, or left some of the highest-paid YouTube celebrities off the list entirely. Why? Who knows. What we do know is that this is the most up-to-date and complete information out there.
---
13 of YouTube's Highest Paid Stars Right Now (Dec 2020):
---
13 Highest Paid YouTubers for December 2020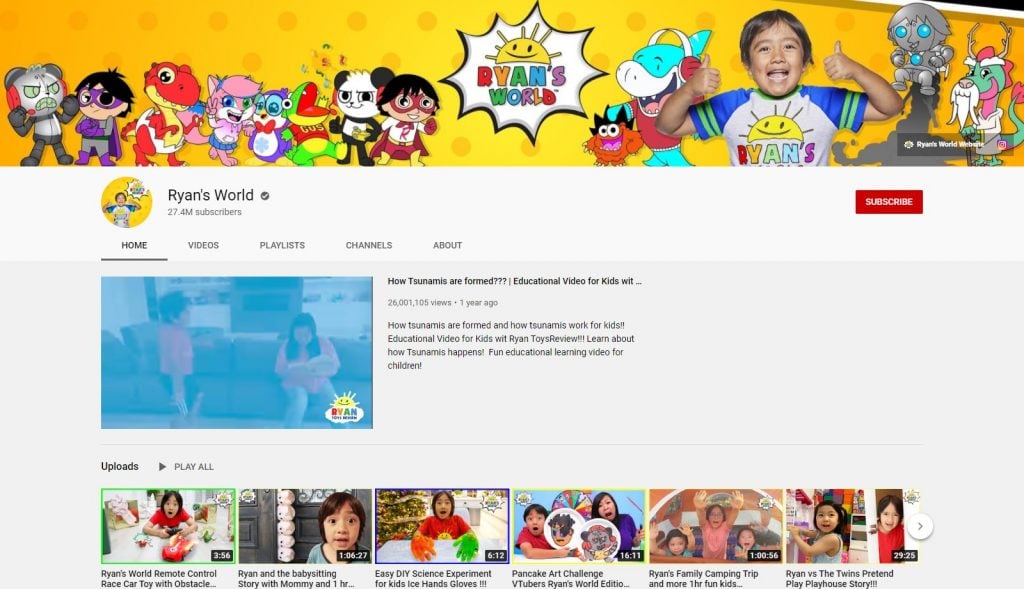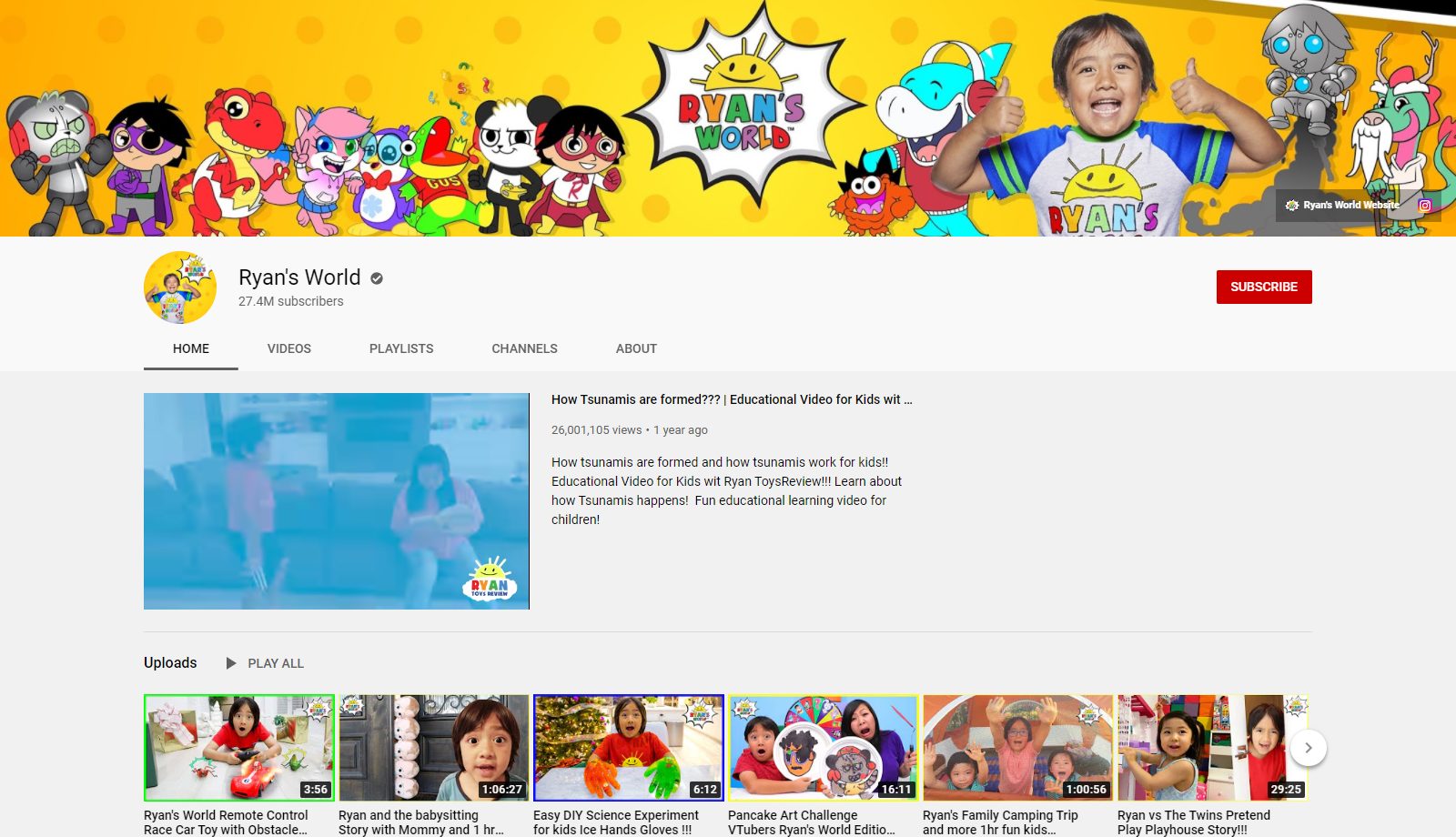 Estimated Earnings: $26 million
Subscribers: 27.4 million
Views: 43.4 billion
Ryan Kaji turned nine years old in October 2020 and is the highest-paid YouTube star. This adorable little person has more than 27.4 million subscribers to his YouTube channel, Ryan's World, and was just tapped by Amazon to star in its first original long-form original for Kids+, Super Spy Ryan. Ryan already has his own show on Nickelodeon as well as a line of toys and clothes and a deal with Hulu.
Ryan's YouTube channel started in 2015 when his parents, Shion and Loann, started uploading videos of him unboxing toys. Since then, the channel has grown into a platform where Ryan doesn't just cover toys but also educational stuff. These days, Ryan's been conducting science experiments and working off YouTube to build his clothing and toy lines, not to mention his acting gigs on Hulu, Amazon's Kids+, and Nickelodeon. A superhero version of Ryan, Red Titan, even floated in the 94th annual Macy's Thanksgiving Day Parade.
Ryan's channel usually publishes a video every day or so, ranging from just a few minutes to over an hour and including vlogs, product reviews/unboxing, science experiments, and more.
---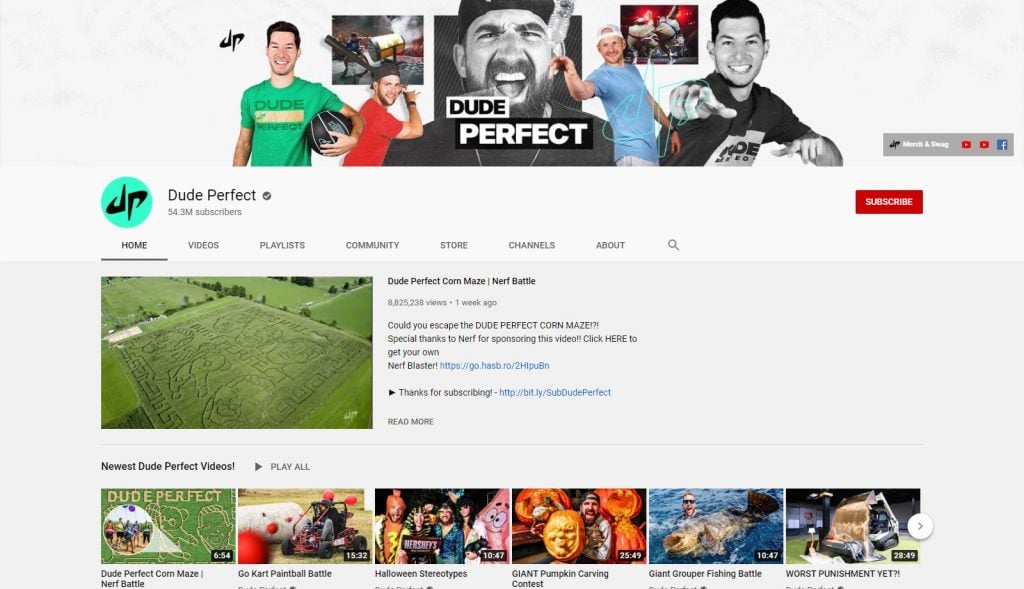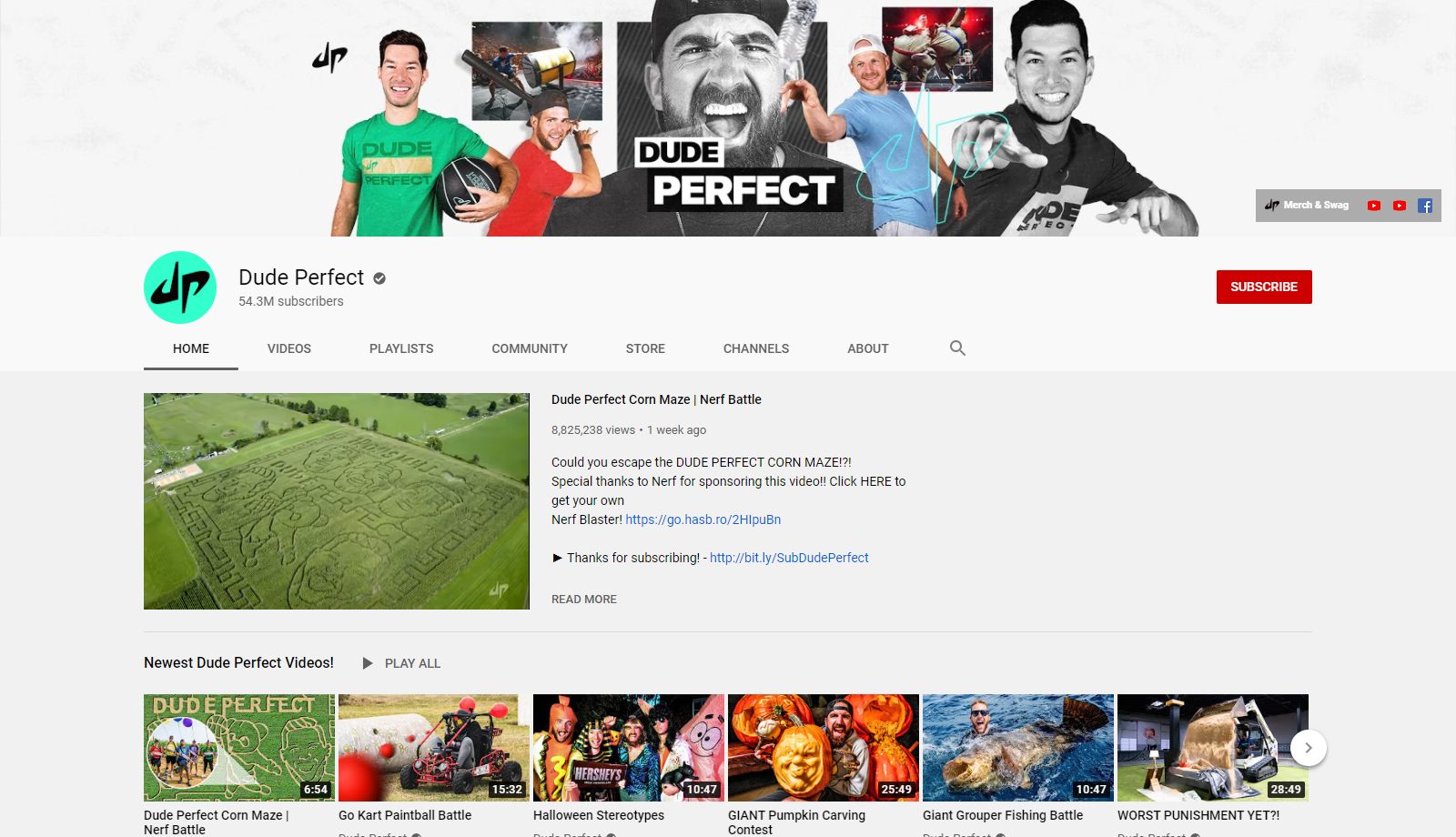 Estimated Earnings: $20 million
Subscribers: 54.3 million
Views: 12 billion
Dude Perfect is a group of five friends from Texas A&M who film themselves doing silly stunts and sometimes breaking world records. The group consists of twin brothers Coby and Cory Cotton, Garrett Hilbert, Cody Jones, and Tyler Toney. They first drew attention for their basketball trick shots but you'll find a range of content on their channel these days, from friendly battles among the team to videos of the dudes checking items off their bucket lists.
The YouTube channel began in 2009 and has grown to more than 54.3 million subscribers since, making it the most-subscribed sports channel on YouTube, according to FanBuzz. Dude Perfect has more YouTube subscribers than "NBA, NFL, MLB, and NHL YouTube channels."
In 2011, Dude Perfect released a mobile game, Dude Perfect, followed by other games (Dude Perfect 2, Endless Ducker, and That's Lit). Group member Cory Cotton also wrote and published Go Big, a book detailing what the group has learned about building a business through social media. Following that, in 2015, the group was chosen by the Harlem Globetrotters in their annual player draft and also had their television series, The Dude Perfect Show, given the green light on CMT. In 2020, Dude Perfect partnered with YouTube Originals to release Backstage Pass, a behind-the-scenes of their live tour.
---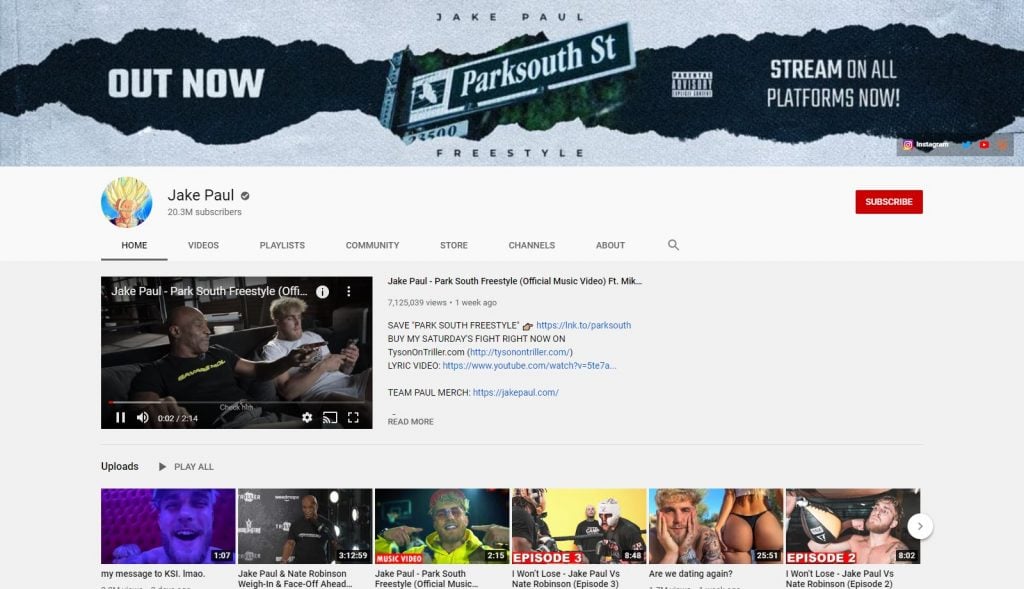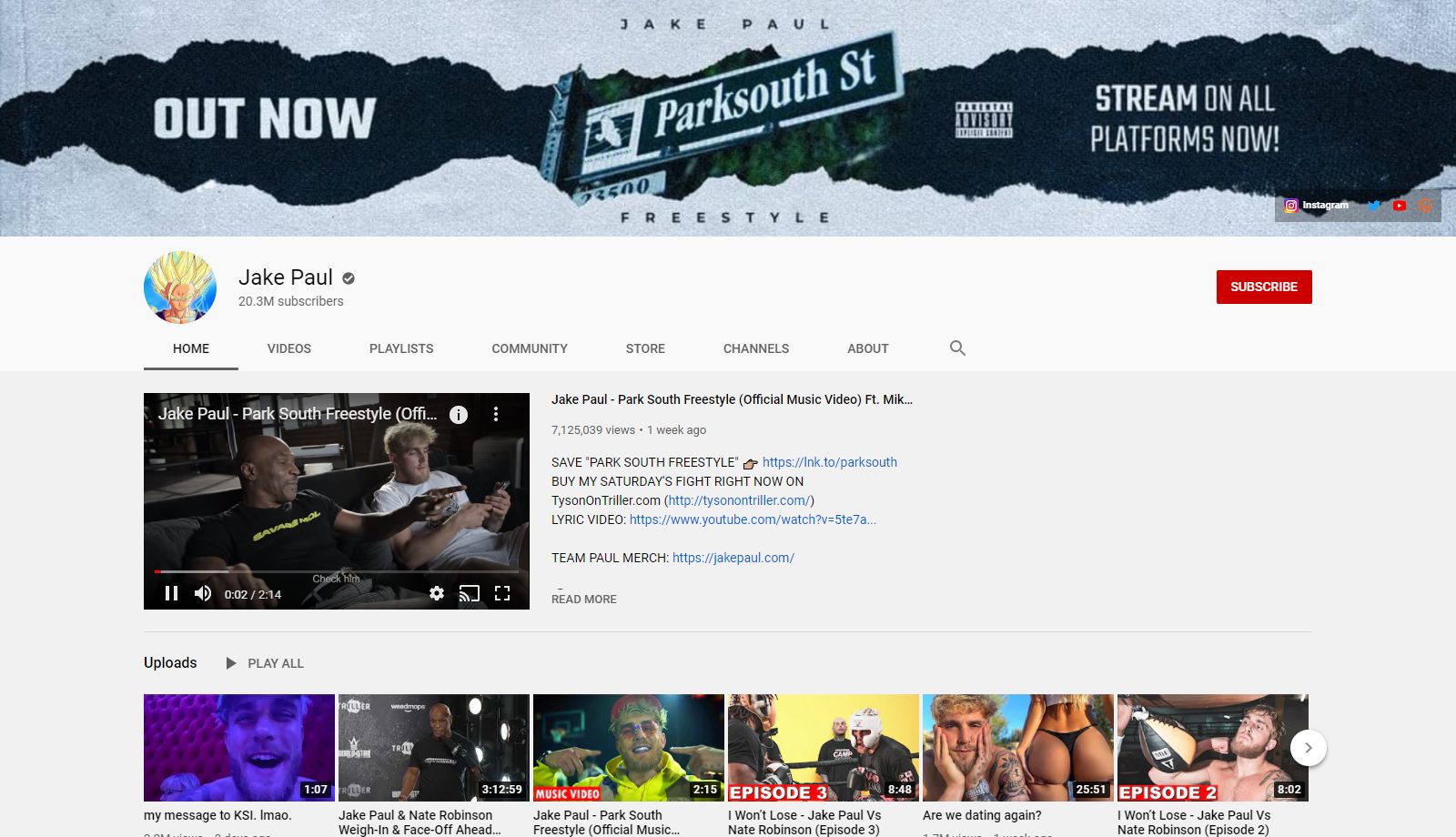 Estimated Earnings: $19 million
Subscribers: 20.3 million
Views: 6.9 billion
Jake Paul is an actor, comedian, and boxer who went viral in 2017 with the music video for his single "It's Everyday Bro." He's the younger brother of YouTube star Logan Paul. Jake got his start posting videos on Vine. When Vine shut down in 2017, Jake had about 5.5 million followers and 2 billion views on the platform. After Vine shut down in 2017, Jake was hired by Disney for the sitcom Bizaardvark. He was fired from the show during the filming of the second season after complaints about wild parties, fire hazards, pranks, and crowds outside of the home he rented in LA.
Jake founded the influencer marketing platform Team 10 in January 2017. The creative agency went on a US tour in 2018. While the website for Team 10 remains, there hasn't been any activity since 2018. In January 2020, Jake began a professional boxing career. He's currently 2-0.
Jake publishes new YouTube videos a couple of times a week. The content is a mix of vlogs, behind the scenes of his boxing career, music videos, and other random topics.
---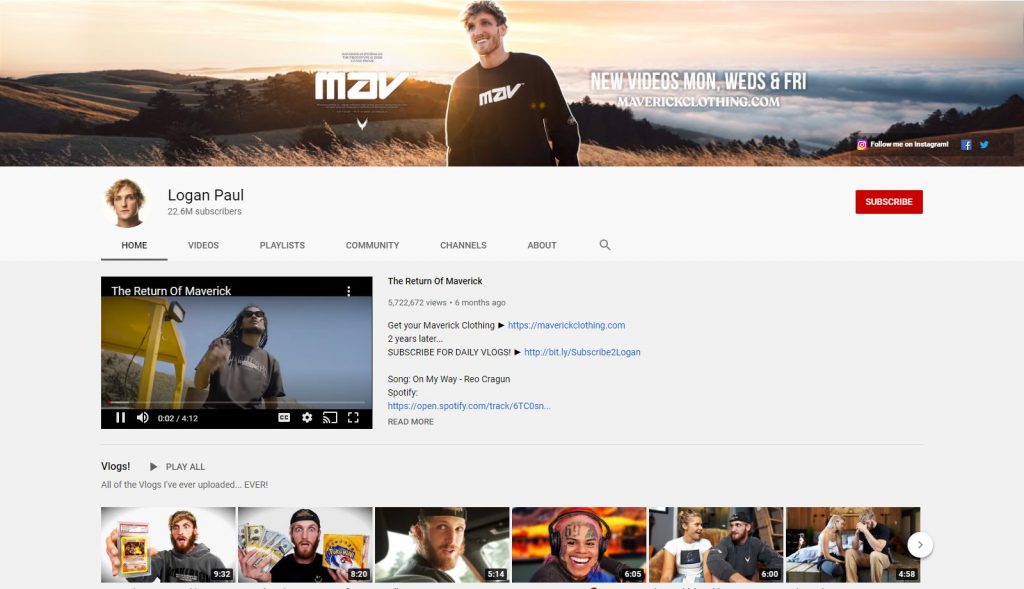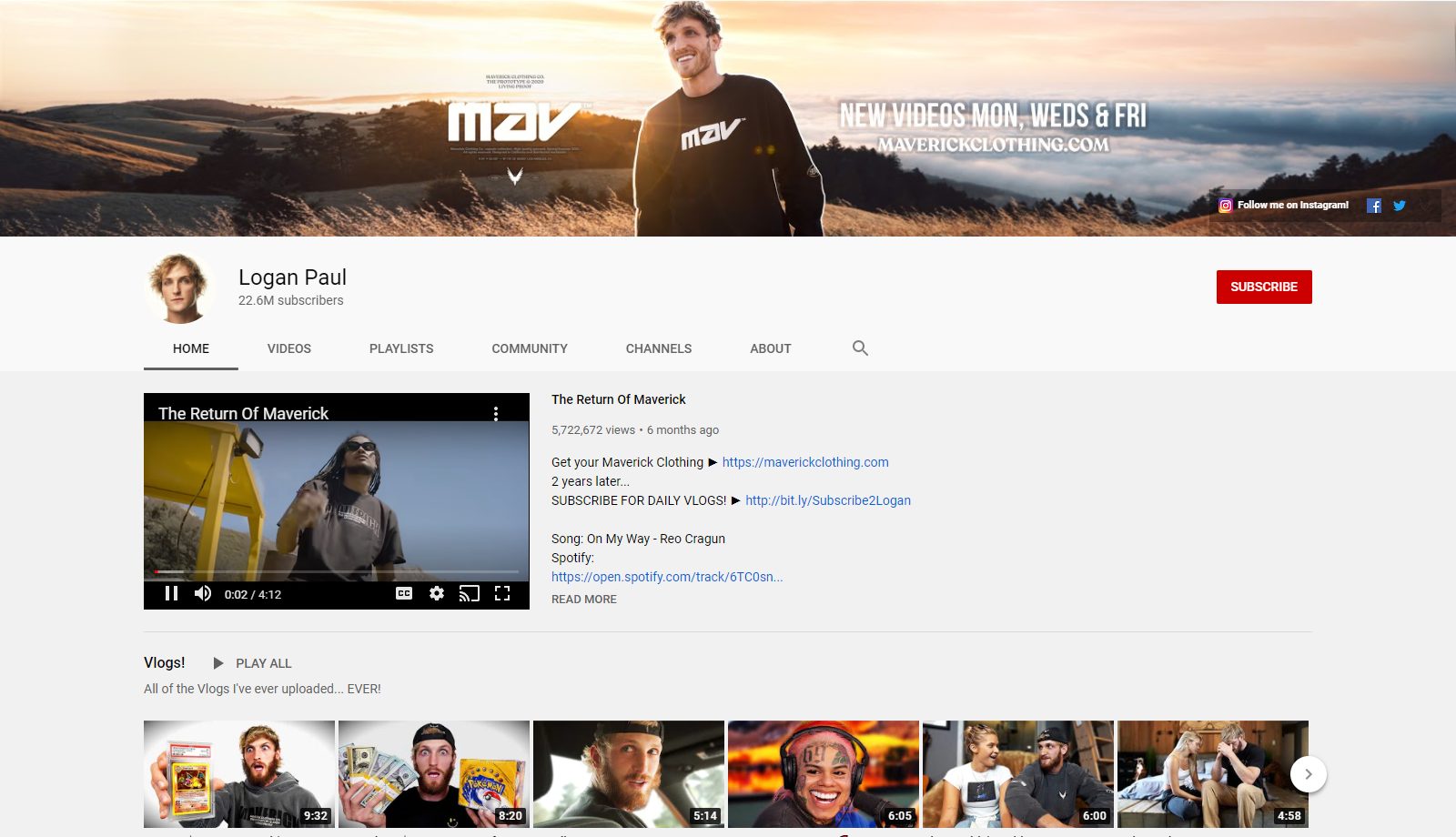 Estimated Earnings: $19 million
Subscribers: 22.6 million
Views: 5.8 billion
Logan Paul is a YouTube star, actor, podcaster, and boxer. He started making YouTube videos when he was 10 years old, going from 900 followers across social media networks to more than 1.5 million. Jake is another internet celebrity who got his start on Vine. A compilation of his Vine videos was posted on YouTube in 2014, getting more than 4 million views during its first week. That soon translated into 4 million viewers on Vine and being hired to create sponsored content for Virgin Mobile, Hanes, HBO, Pepsi, and others. After Vine closed down, Logan focused his efforts on his YouTube channel.
Like his younger brother, Logan has run into some trouble. In 2018, Logan uploaded a video filmed in the "suicide forest" at the base of Mount Fuji that showed a dead body hanging from a tree. The backlash was swift. Logan removed the video and issued an apology on Twitter but the damage had been done. YouTube removed Paul's channels from its preferred ad program and he was fired from the YouTube Red series Foursome.
These days, Logan is spending more time on his podcast channel, Impaulsive, posting on the channel a couple of times each week.
---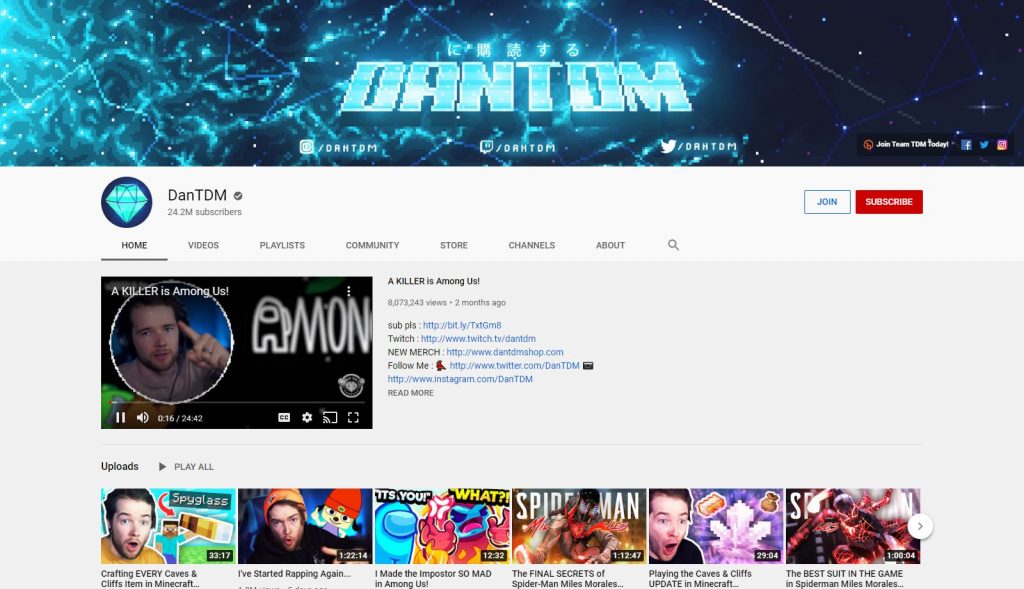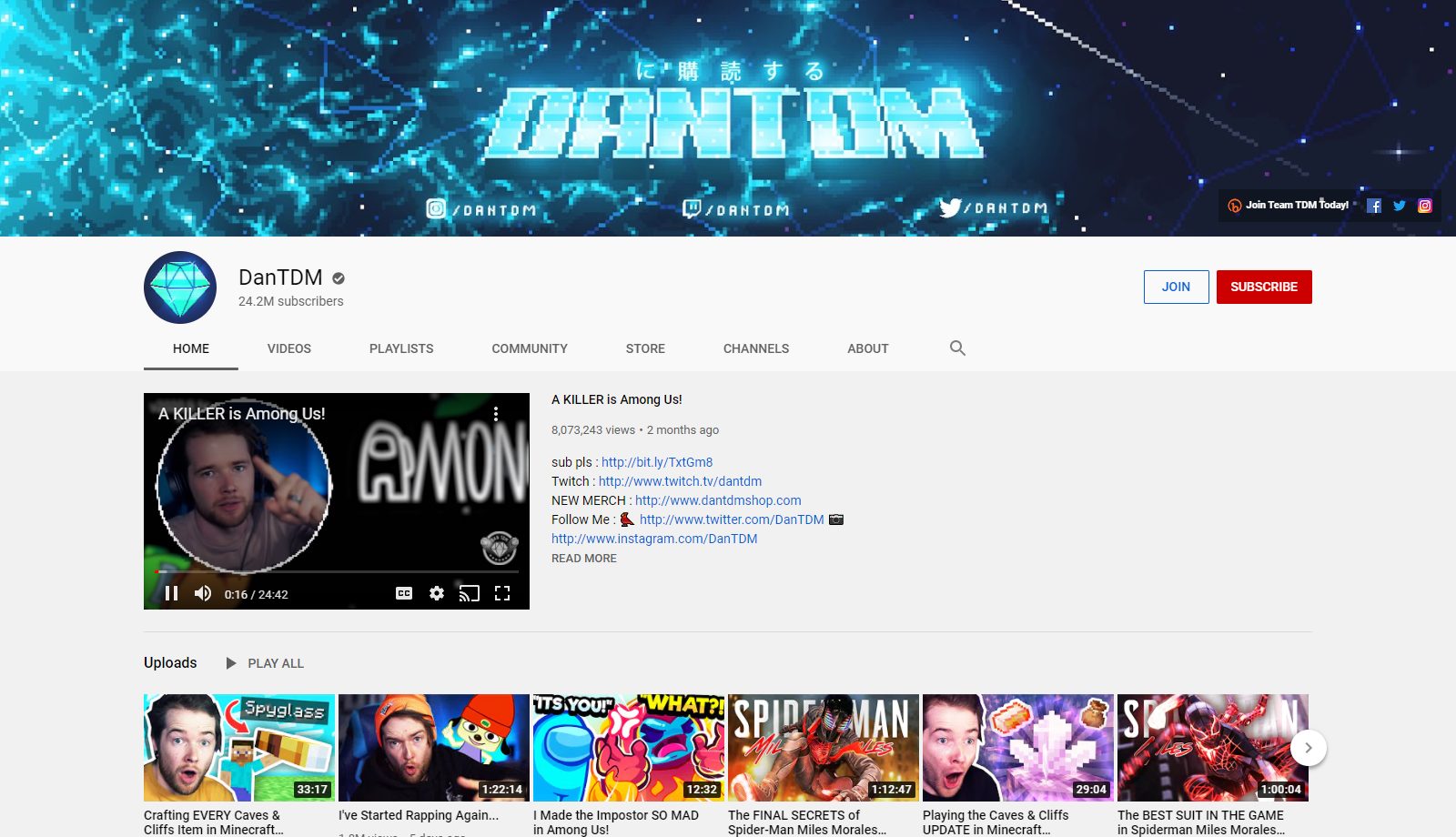 Estimated Earnings: $18.5 million
Subscribers: 24.2 million
Views: 17.5 billion
Dan Middleton, aka Dan TDM, is a gaming influencer known for his Minecraft and Fortnite videos. Dan treats his YouTube channel as a career, spending his time staying on top of everything Minecraft, recording and editing videos, and planning out his content. Since 2016, Dan has diversified his channel, adding games like Roblox and Tomodachi Life to his Minecraft offering. Dan released a graphic novel, Trayaurus and the Enchanted Crystal, in 2016 and enjoyed sitting in the number one spot on The New York Times best-seller list for hardcover graphic books for 11 weeks.
In 2017, Dan starred in a YouTube Red web-series called DanTDM Creates a Big Scene, starring alongside other social media influencers. The series ran for six episodes.
As of January 2020, Dan has shifted gears toward community Discord challenges, reaction videos, and playing random video games. He also streams live on Twitch and posts on his YouTube channel a few times a week.
---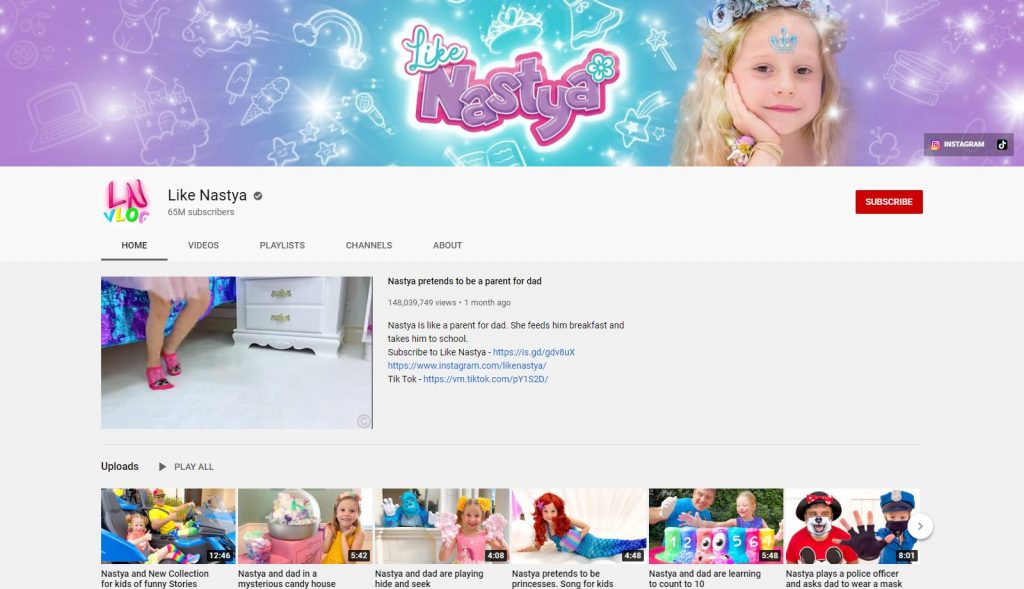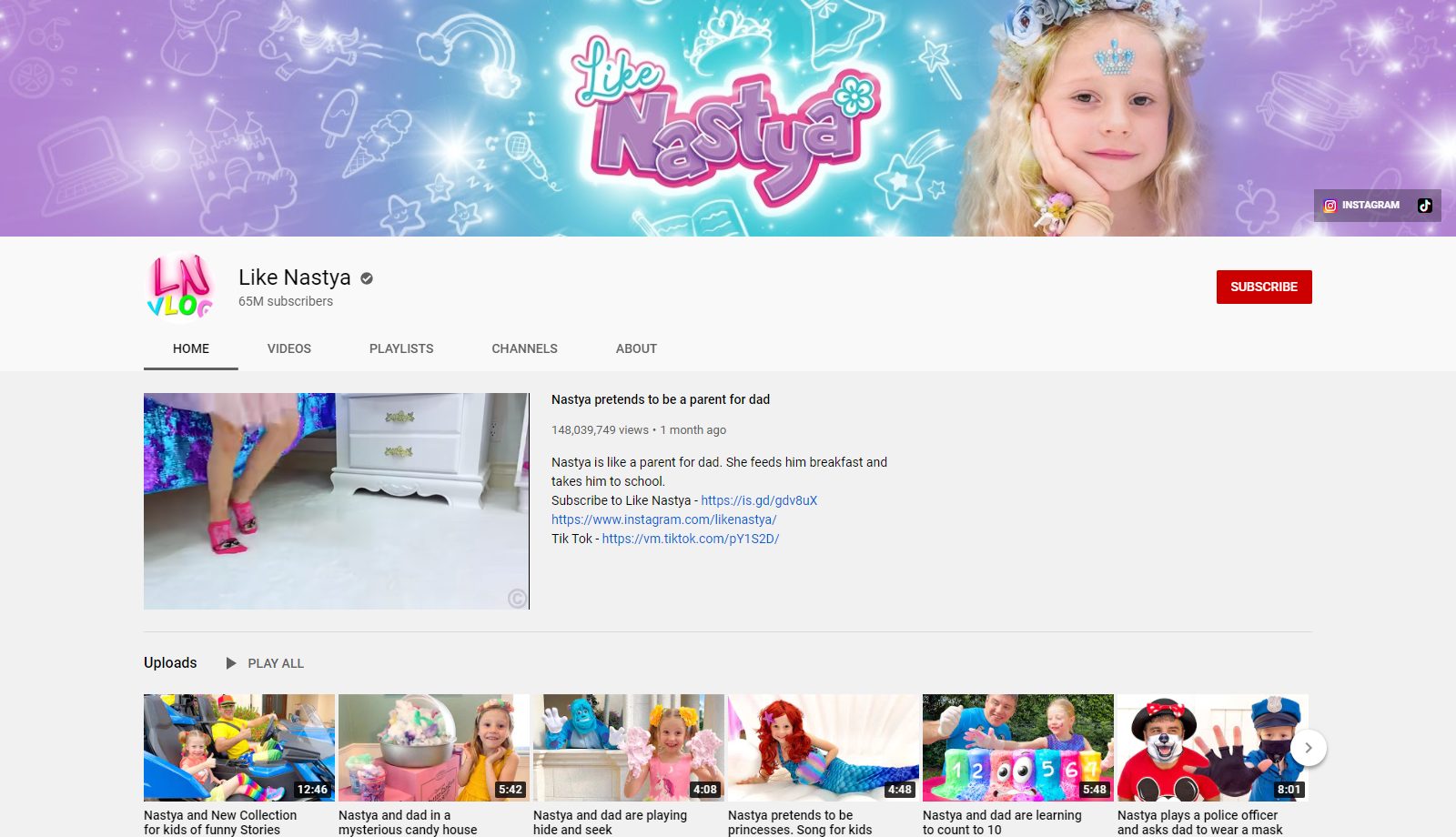 Estimated Earnings: $18 million
Subscribers: 65 million
Views: 47.6 billion
Anastasia Radzinskaya is the youngest on our list of YouTube's highest-paid stars at five years old (she'll be six in January 2021). She is a Russian-American creator who gets help from her dad to create entertaining and educational content for more than 65 million subscribers in seven languages. Her parents help her maintain several YouTube channels such as Like Nastya, Like Nastya Vlog, Stacy Toys, Funny Stacy, and Like Nastya Show, among others.
Anastasia's main channel, Like Nastya, started as a toy unboxing channel before morphing into a travel channel showing videos of the family's visits to amusement parks around the world. These days, she posts a few times each week and focuses more on the entertainment content she creates with her dad.
---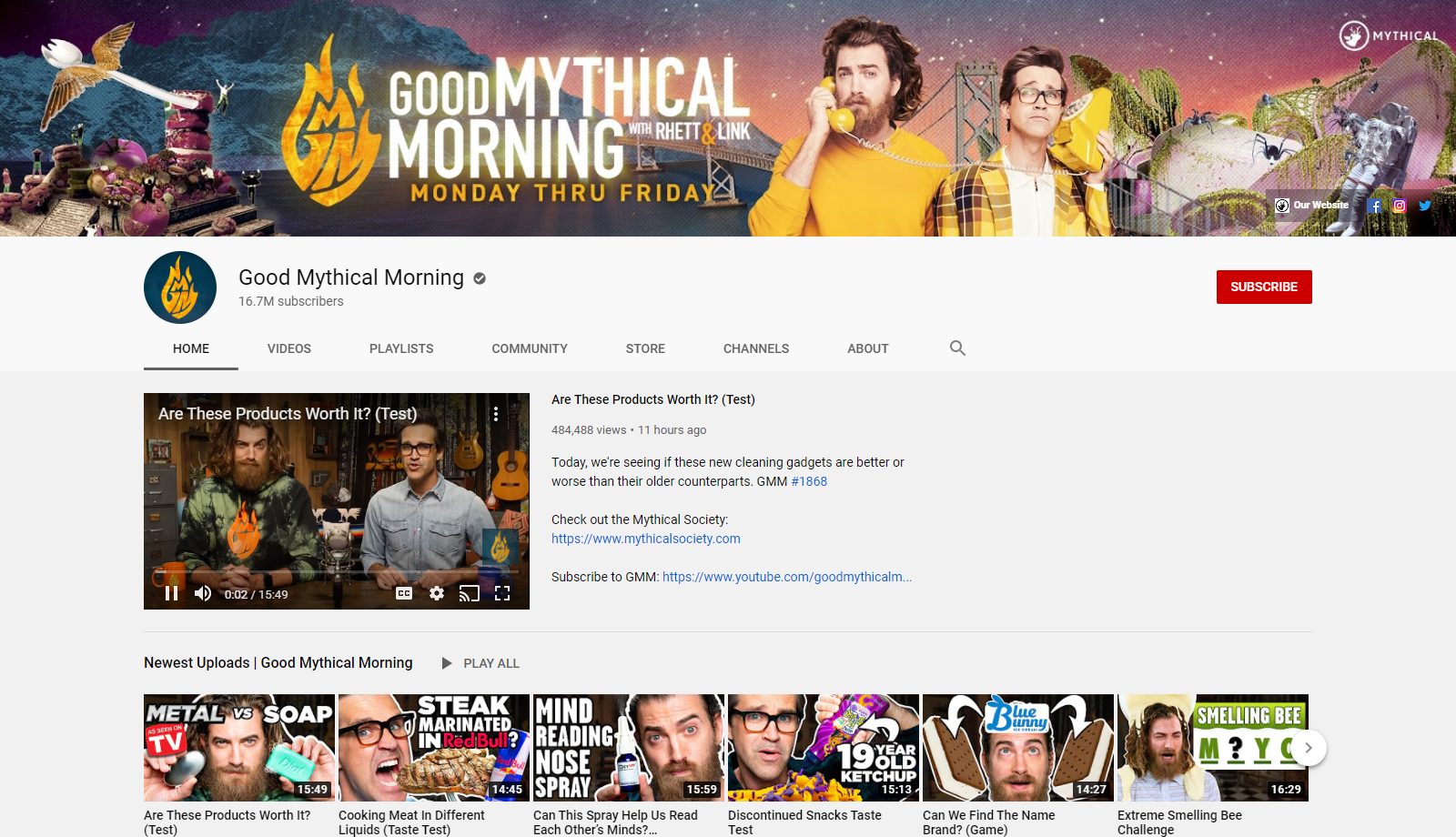 Estimated Earnings: $17.5 million
Subscribers: 16.7 million
Views: 6.8 billion
Rhett and Link have been on YouTube for ages. They've been friends since they were kids, growing up together watching YouTube and using that as inspiration to become the "Internet's Kings of Comedy," according to Parade. They've evolved into multiple YouTube channels but are best known for the YouTube series Good Mythical Morning.
The duo currently runs four YouTube channels in addition to Good Mythical Morning: Good Mythical MORE, Mythical Kitchen, Rhett & Link, and Ear Biscuits. They post on their main page once every day and cover product tests (some real, some fake).
---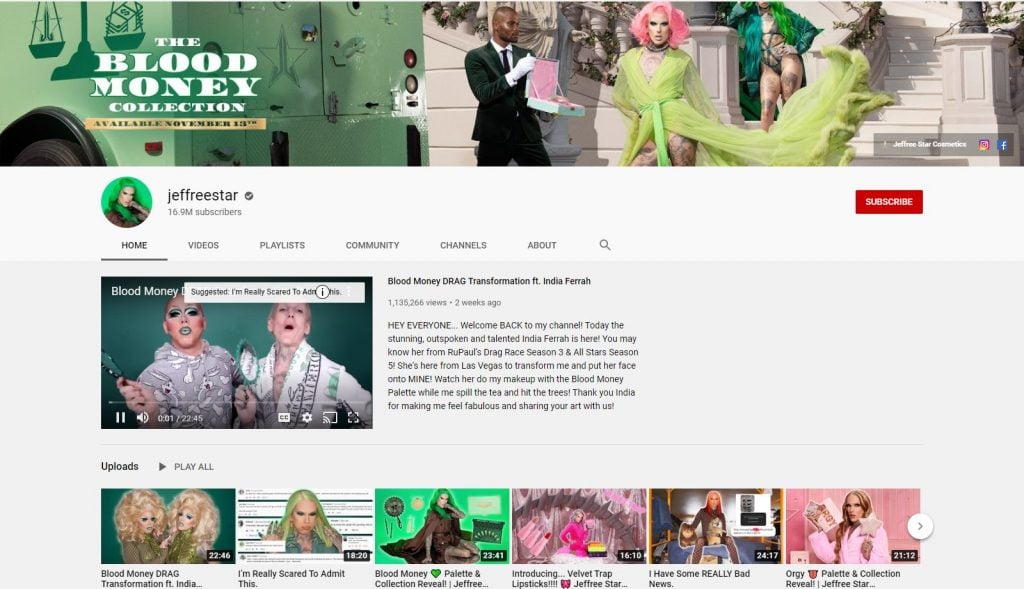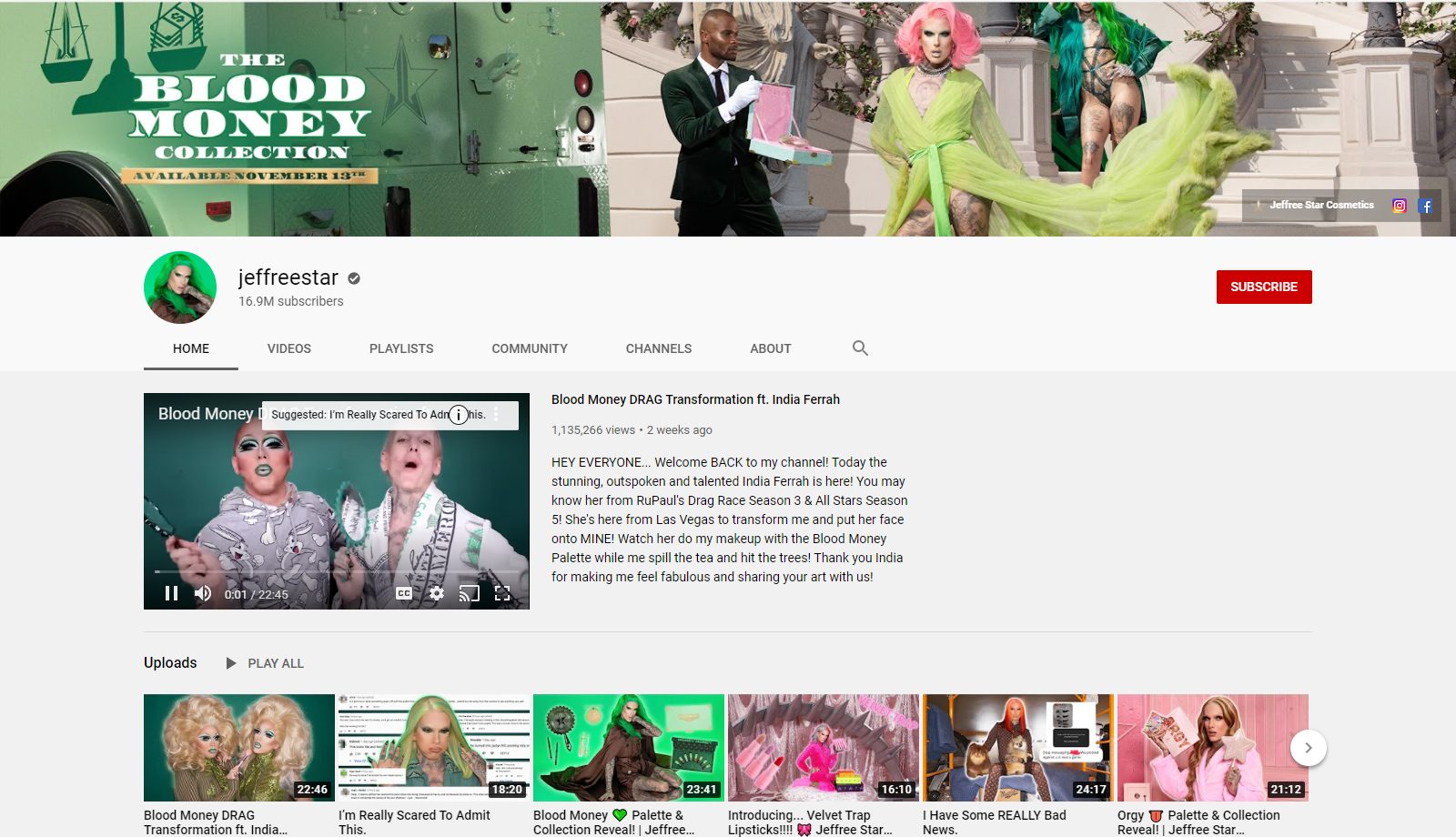 Estimated Earnings: $17 million
Subscribers: 16.9 million
Views: 2.4 billion
Jeffree Star is a model, DJ, singer-songwriter, fashion designer, and makeup artist with a net worth of about $200 million. His YouTube earnings are around $17 million, making him one of the top paid YouTube stars. Jeffree got his start through the social networking platform MySpace, using the platform to blog about his personal life as well as topics like fame, self-image, confidence, beauty, and life. He released a studio album, Beauty Killer, in 2009 and even signed on with Akon's record label in 2010 before leaving the music industry in 2013. In 2014, Jeffree started his eCommerce makeup brand, Jeffree Star Cosmetics. He promoted the brand on YouTube, boosting the popularity of his YouTube channel and his makeup line.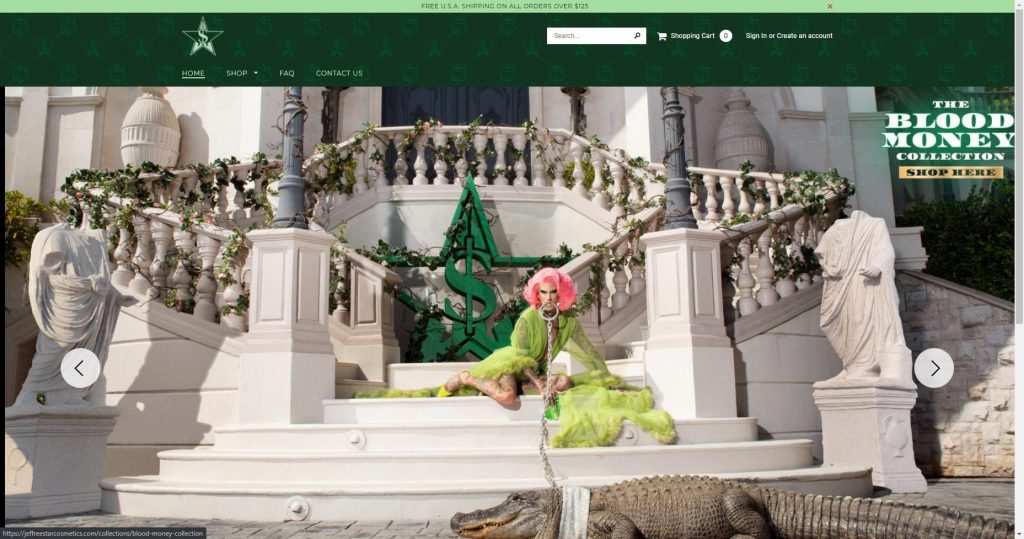 ---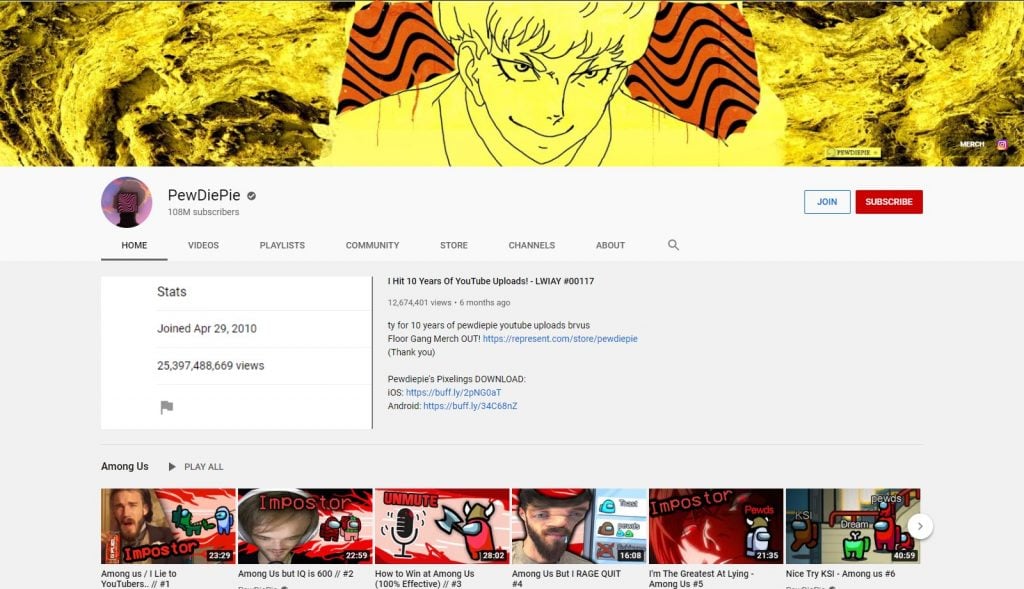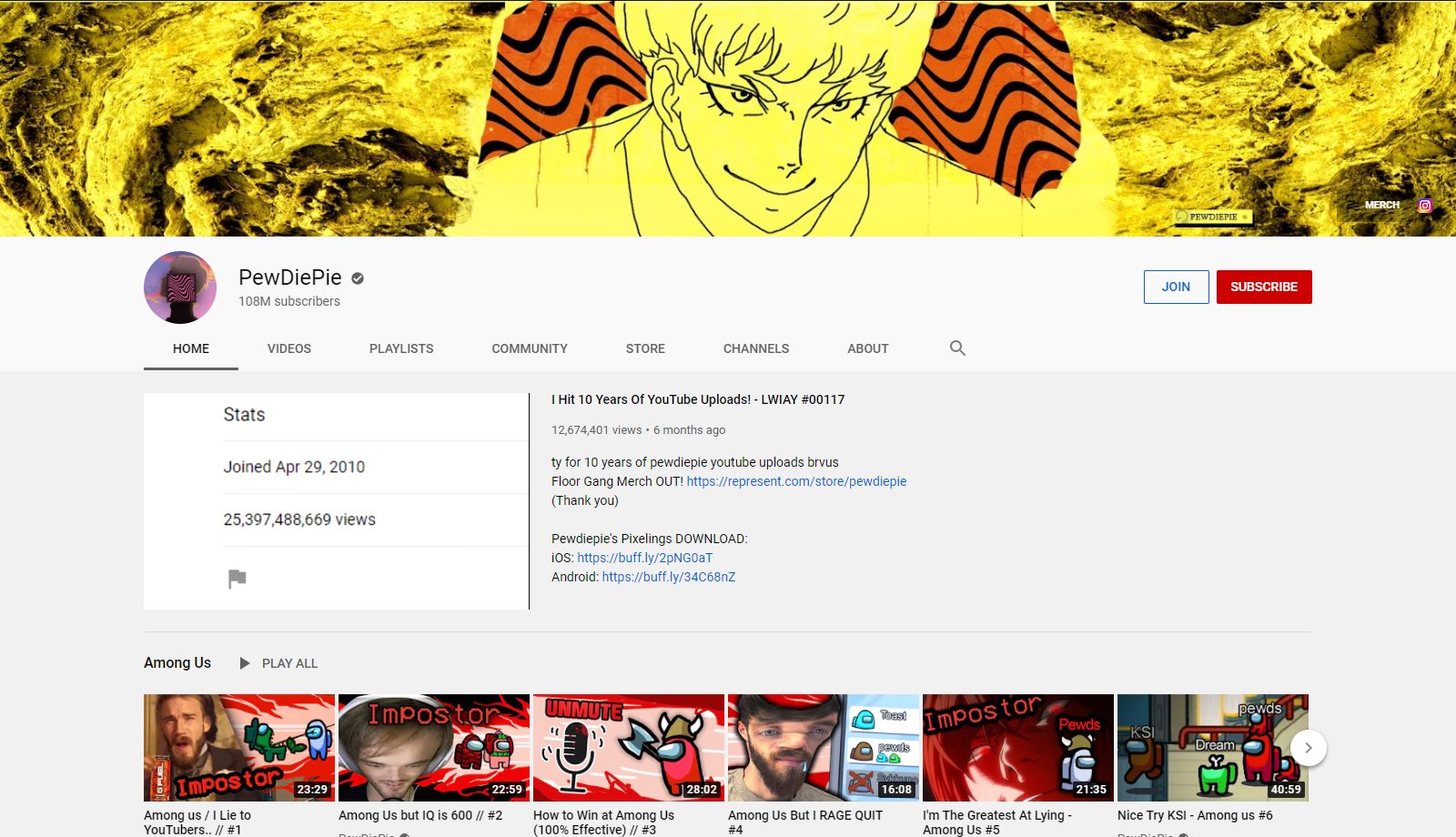 Estimated Earnings: $15.5 million
Subscribers: 108 million
Views: 26.6 billion
PewDiePie is a well-known name among YouTube influencers so it's no surprise that he's also one of YouTube's highest-paid stars. His YouTube channel became the most-subscribed channel on the platform in August 2013 and held that honor until early 2019 when he was surpassed by the Indian record label T-Series. With more than 26 billion views, PewDiePie ranks as the 19th most-viewed channel on YouTube.
Early on, PewDiePie's YouTube content was heavy on Let's Play videos where his commentaries on games in the horror genre were some of his most popular content. He eventually started doing walkthroughs of other games, skyrocketing in popularity due to the friendly and personable way he communicated with his audience during walkthroughs. Variety said that he "acts like he's spending time with a friend." As his popularity has grown, PewDiePie's content has expanded to include vlogs, comedy skits, and shows.
PewDiePie's YouTube career hasn't been without controversy. He's regularly experienced fallout from using racial and homophobic slurs, sharing anti-semitic language and imagery, and misogynistic content. PewDiePie always apologizes but never seems to learn his lesson.
---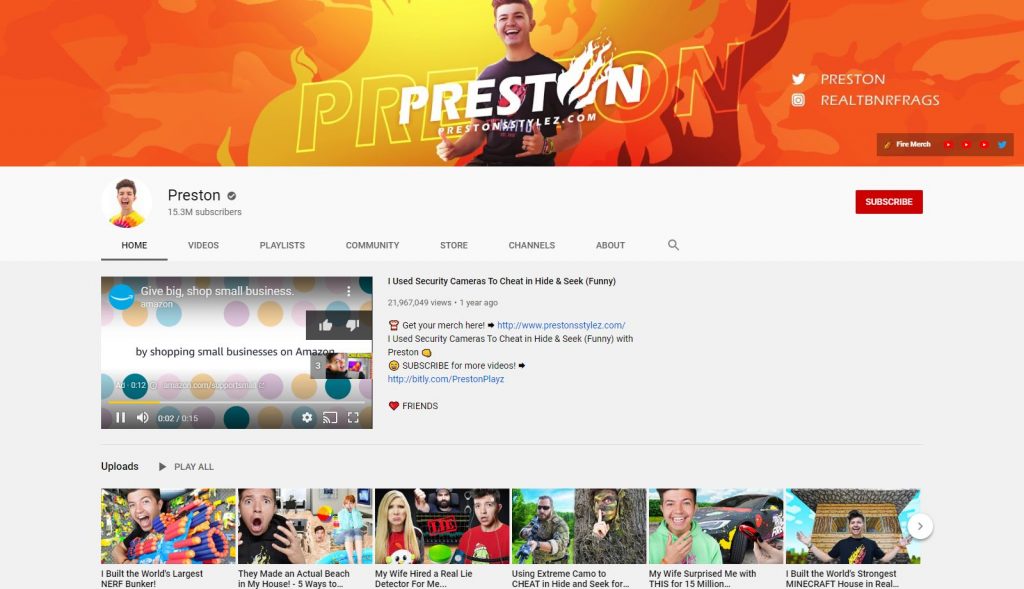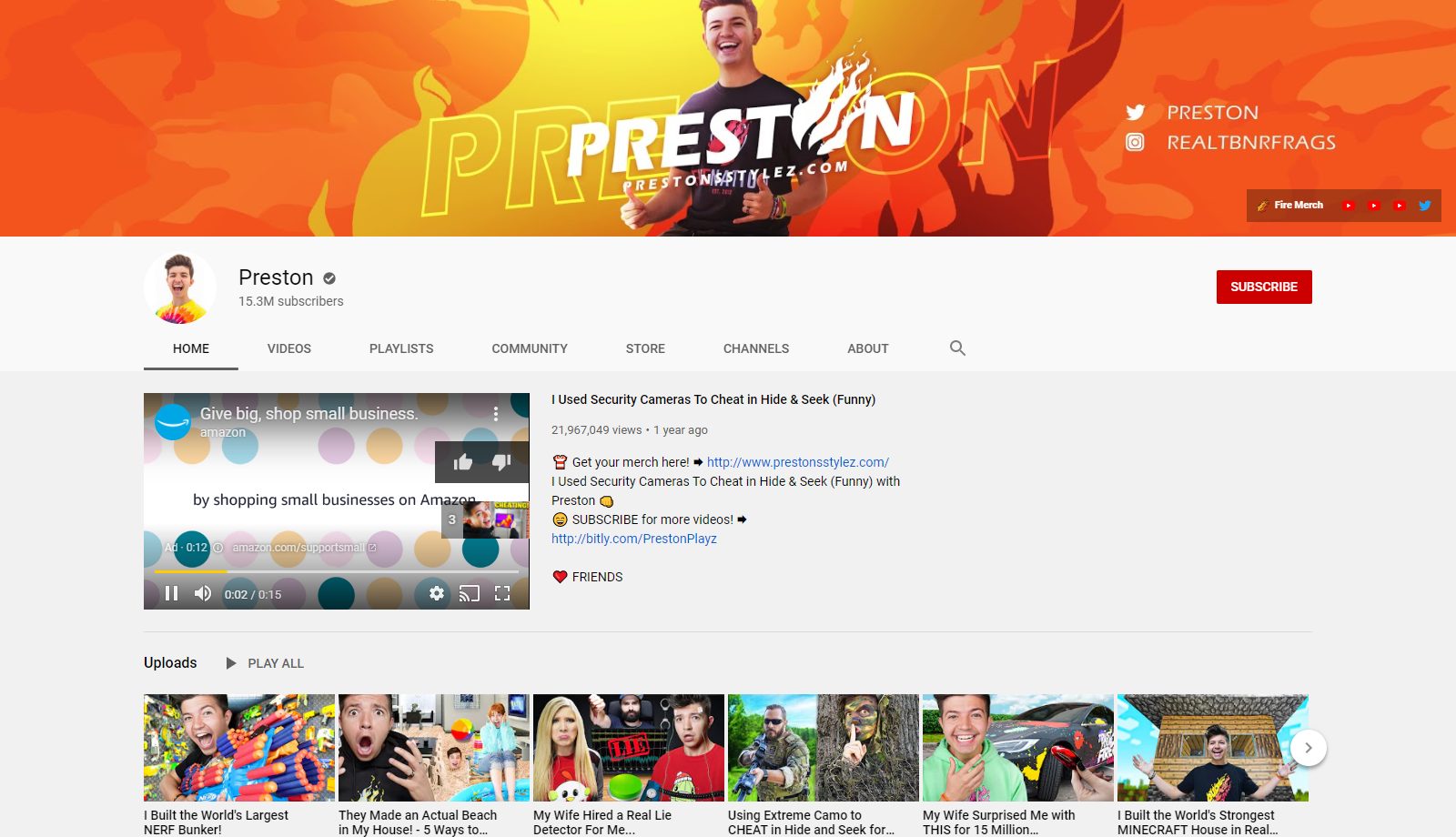 Estimated Earnings: $14 million
Subscribers: 15.3 million
Views: 4.8 billion
Preston Arsement, commonly known simply as Preston or as PrestonPlayz, is a popular YouTube vlogger known for his Minecraft, Fortnite, and Roblox gameplay. These days, Preston focuses on kid-geared content like challenges and pranks through vlog-style content. He also runs an in-house influencer merch line and has invested in both real estate and game development. He currently runs several channels with the help of his 24-person team.
---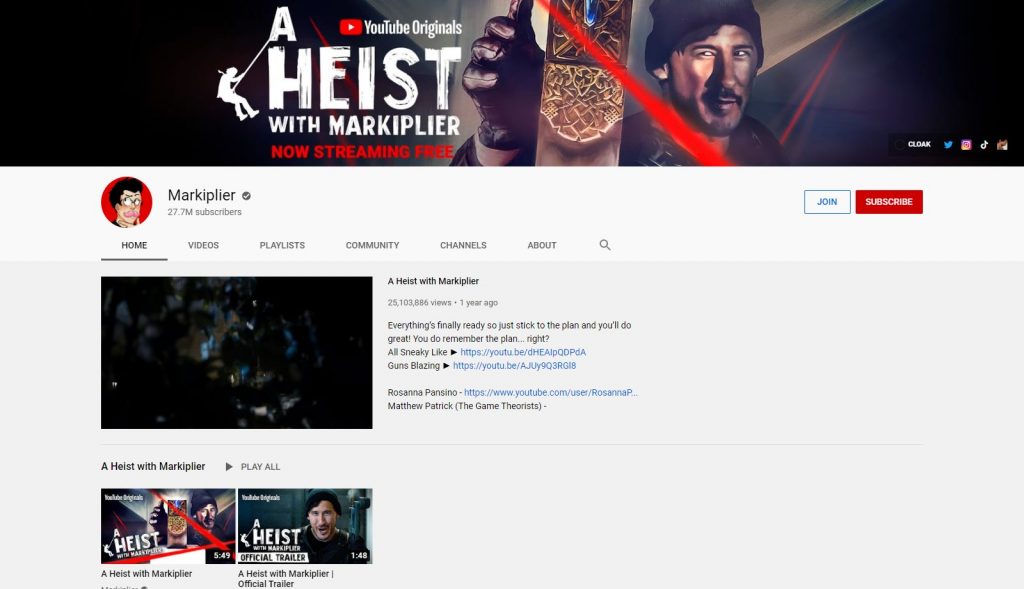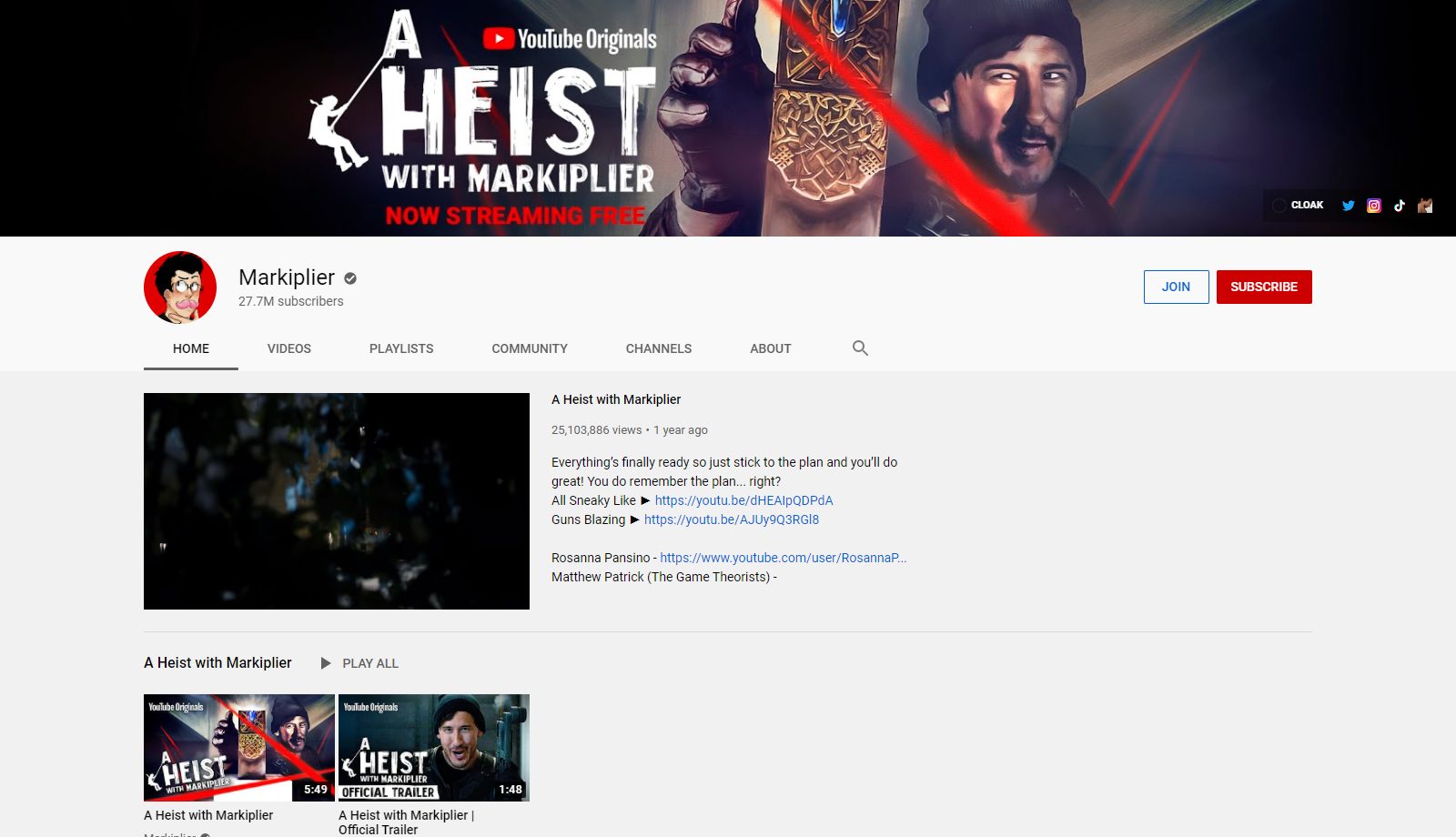 Estimated Earnings: $13 million
Subscribers: 27.7 million
Views: 14.5 billion
Markiplier is a YouTube gaming influencer, actor, and comedian who specializes in Let's Play videos, predominantly of the "survival horror" genre. He has collaborated with scores of other YouTube influencers as well as celebrities like Jack Black and Jimmy Kimmel. He regularly live-streams on YouTube, playing games and collecting donations for charities like Best Friends Animal Society, Depression and Bipolar Support Alliance, Cancer Research Institute, and Cincinnati Children's Hospital Medical Center.
---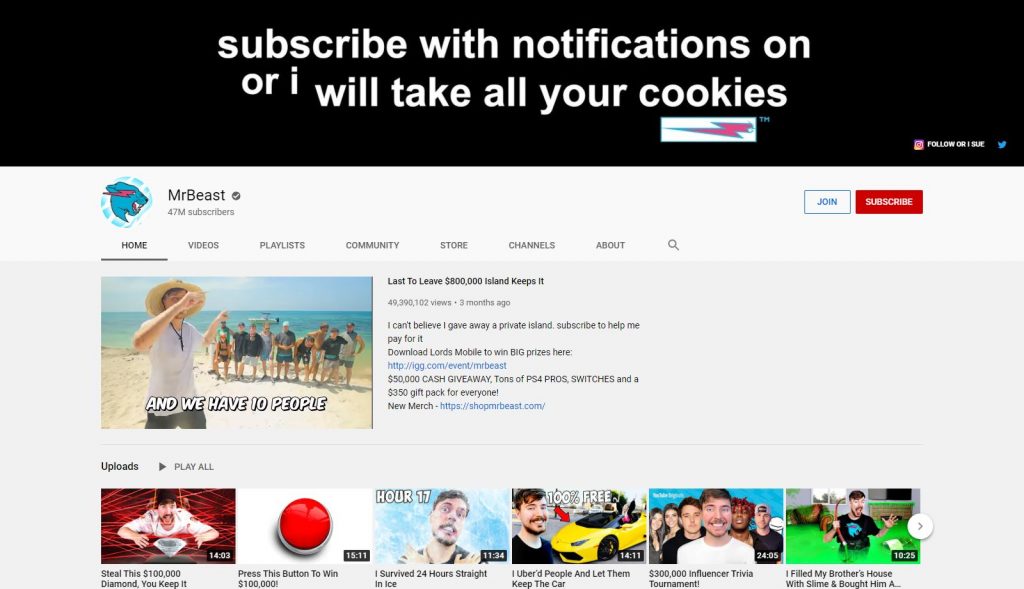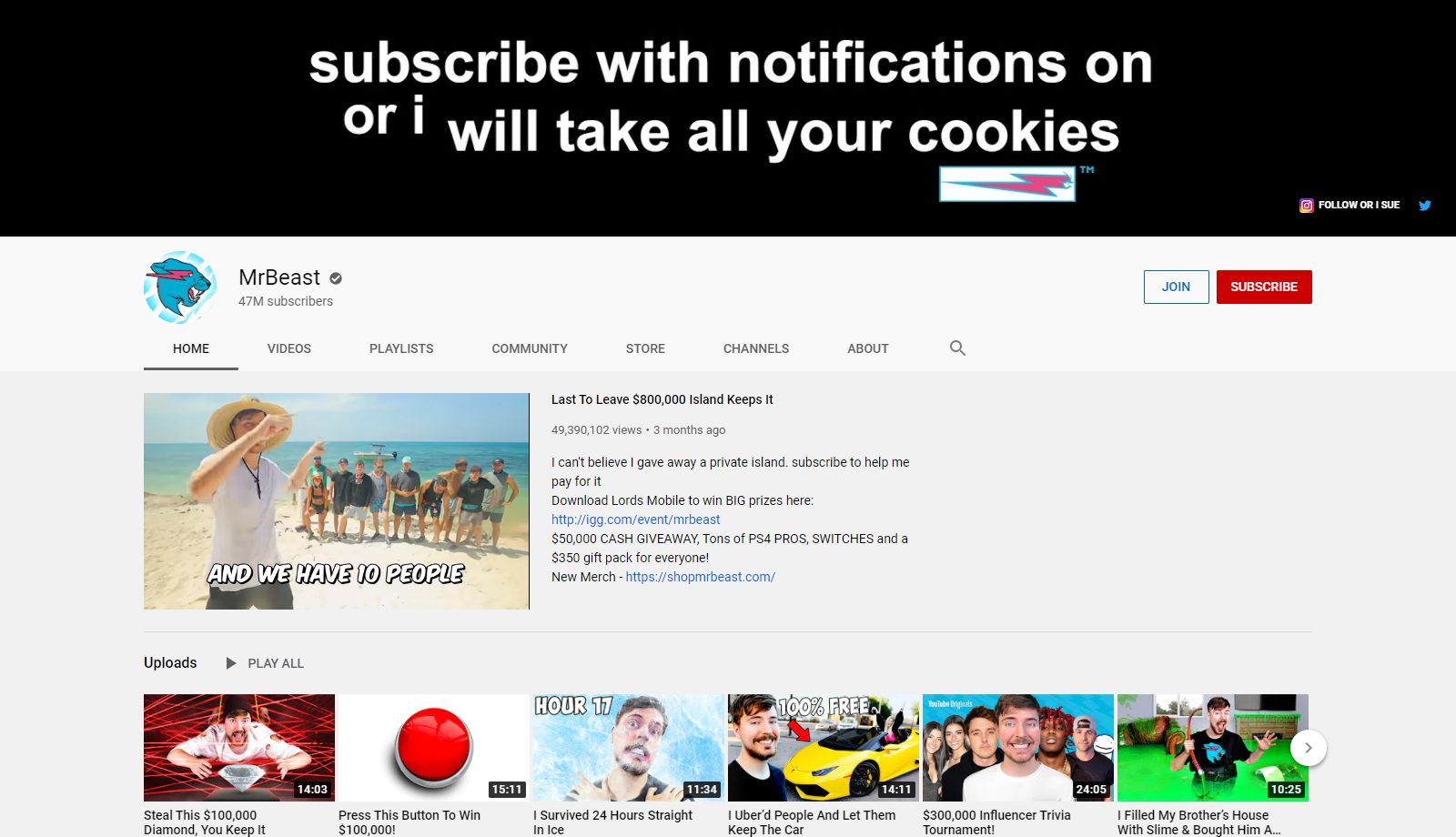 Estimated Earnings: $12 million
Subscribers: 47 million
Views: 8 billion
Jimmy Donaldson has been on YouTube since 2011. His earlier content was mostly Let's Plays. He finally went viral in 2017 with his "counting to 100,000" video in which he, you guessed it, counted to 100,000. He's best known for expensive stunts focusing on philanthropy. Mr. Beast often posts videos in which he donates large sums of money. While many of the videos are sponsored (commonly by coupon company Honey), he has made donations without a sponsor in the past, putting up his own money.
---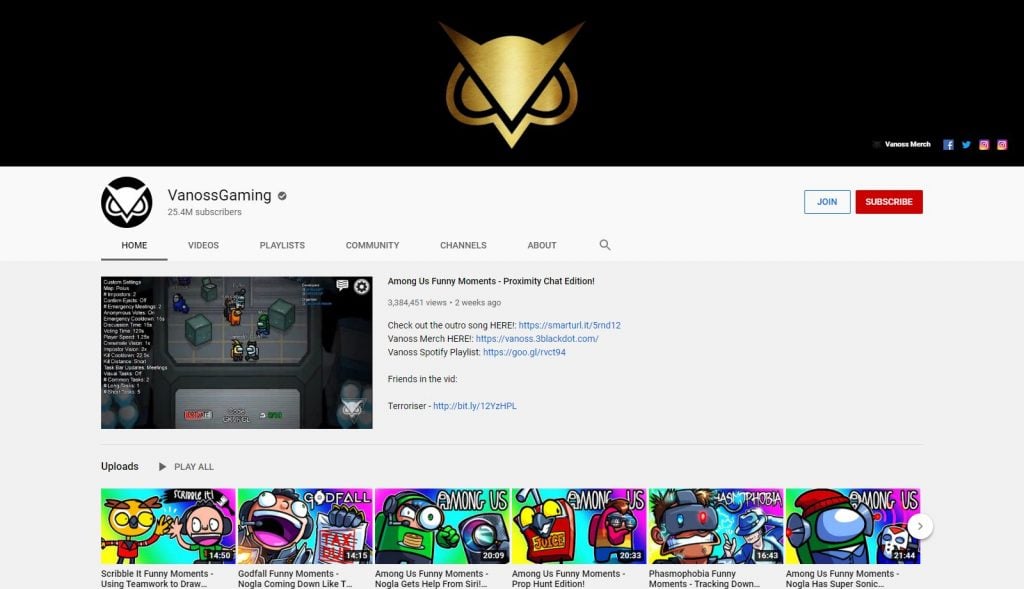 Estimated Earnings: $11.5 million
Subscribers: 25.4 million
Views: 13.3 billion
Evan Fong is a gaming influencer and music producer who started gaining attention for his YouTube channel in 2015. Most of the videos on VanossGaming are montages or compilations showing clips from gaming sessions, typically including other video game commentators.