NeoReach is once again bringing thoughtful research and industry insight into the state of influencer marketing. They are analyzing how brands and agencies view the current, and constantly evolving, industry throughout the year. This study presents an even greater depiction of data than previous quarterly reports to deliver the highest value as a source for influencer marketing information.
This quarter's installment of the Social Intelligence Insights Report Q3 2020, in collaboration with NeoReach, analyzes data from over 8,800 YouTube videos that indicated brand partnership or sponsorship in line with FTC regulations. Consideration for inclusion in the report required the following criteria in addition to adhering to FTC regulations: the YouTube videos needed to earn over 10,000 views, and the content needed to be published from a United States or Canadaian brand within the period of July-September 2020. The results of the data analysis are displayed in the following report to deliver insights into the influencer marketing industry through the behavior of the top spending brands on YouTube through influencer campaigns.
In conjunction with the results of this research, we included additional statistics relevant to influencer marketing across all industries. The data and conclusions presented in this report are thanks to our partner NeoReach, an influencer marketing data and agency service provider for the world's leading brands. NeoReach's data is collected using their best-in-class software, Social Intelligence API. It is capable of crafting effective campaigns at scale by providing data to guide decision-making and discovering the best influencers to partner with for a desired campaign objective.
Comparing Q3 against data from both Q1 and Q2 of 2020, sponsored YouTube videos and brand partnerships continue to propel creators and companies to new heights with their ability to capture highly targeted audiences.
This article conveys, in detail, the results from NeoReach's Social Intelligence Insights Report Q3 2020 along with the downloadable report document. It includes extensive analysis of the data accompanied by a range of thought-provoking statistics on the state of the influencer marketing industry as it pertains to YouTube spending.
---
Youtube Influencer Marketing Global Spend Report: Q3, 2020
---
Important Takeaways
With nearly 9,000 sponsored videos, Q3 saw an uptick of over 40% more sponsored videos than Q2, with over 2,500 new videos. Gaming, Tech, and Food & Drink have officially rebounded from COVID-19.

If you are NOT spending on YouTube, you are missing the mark! Sponsored viewership is at an all time high. Over 1.3B sponsored views were published in Q3. This means 110M sponsored views per week, 15M per day, 600k per hour, 10k per minute, 170 per second! How are you not spending on YouTube!?

MrBeast's sponsorship with Honey was the most valuable sponsored content in all of Q3, totalling over 32 Million views, 250k+ new users, and a media value topping over $5.5M USD worth. IT PAYS TO WORK WITH THE BIGGEST INFLUENCERS, that's a fact.

Viral content is still incredibly difficult, only 4/8,893 videos (0.000449%) or 1 in 2,223 sponsored videos go viral! Just ask Honey, Hasbro, Activision, PGATour2k21 how they did it. (pssst there is a SECRET)

Did you know Giveaways on YouTube are on the decline!? Only 82 of 8,893 sponsored videos included a giveaway. Sending traffic to a direct purchase page or landing page accounts for over 91% of marketing pushes.

Audible continues it's sponsored YouTube influencer dominance, over 170 videos, 21M views, and over $3M in IMV. One of the most mature brands in the sponsored YouTube game. @all brands take note! Reading is still VERY marketable, and cool 🙂

Reese's, Bang Energy, Honey, Nord VPN, & Express VPN were the top 5 winners of Q3. With just 138 total influencers, 874 videos, over 50m likes, comments, and shares, and nearly 300M views, these brands earned $50M in aggregate Influencer Media Value. Proving yet again, the best strategies return a 5-10x ROI on their marketing budgets.
---
Research Methodology
The data presented in this report was collected from over 20,000,000 YouTube videos. All of the YouTube influencer data that is contained in this report was captured by the NeoReach Social Intelligence API. Videos were required to comply with proper FTC disclosure regulations. Our analysis included sponsored YouTube videos posted between the months July through September 2020. We further refined this data to target YouTube videos of influencers located in North America, solely in the United States and Canada.
Of the selection of YouTube videos which met these criteria, this report showcases only those brands and companies that activated campaigns with sponsored content achieving at least 10,000 views. The resulting data set consisted of over 8,800 YouTube videos.
Therefore, the following report does not include all sponsored content on YouTube during the Q3 period. However, it does include the top spending brands and industries for influencer marketing on YouTube for Q3 2020.
Influencer Media Value (IMV) is a calculated value used to determine the return on investment of influencer marketing campaigns. The NeoReach Social Intelligence API automatically retrieves, evaluates, and scores sponsored posts against standard industry benchmarks. These standard industry benchmarks are created from a culmination of data from all types of marketing channels. The software looks at factors such as past campaign performance, paid channels, industry surveys, reports, and other performance-tracking analytics. IMV compares the reach of sponsored posts, with each post reviewed for quality, to the previously explained industry benchmarks. The result is the specific IMV representing the cost of generating an equivalent engagement level using another form of paid media.
---
Social Intelligence Insights
Top Industries on YouTube
Out of the 1,775 brands that used proper FTC disclosure of advertisement, ad or sponsored videos on YouTube in Q3, the top 19 industries with the highest spend are analyzed in this report. NeoReach's analysis for Q3 provides a more granular look at the data on influencer marketing on YouTube for greater insights into the state of influencer marketing for brands, marketers, and creators.
Top 19 Industries Metric Breakdown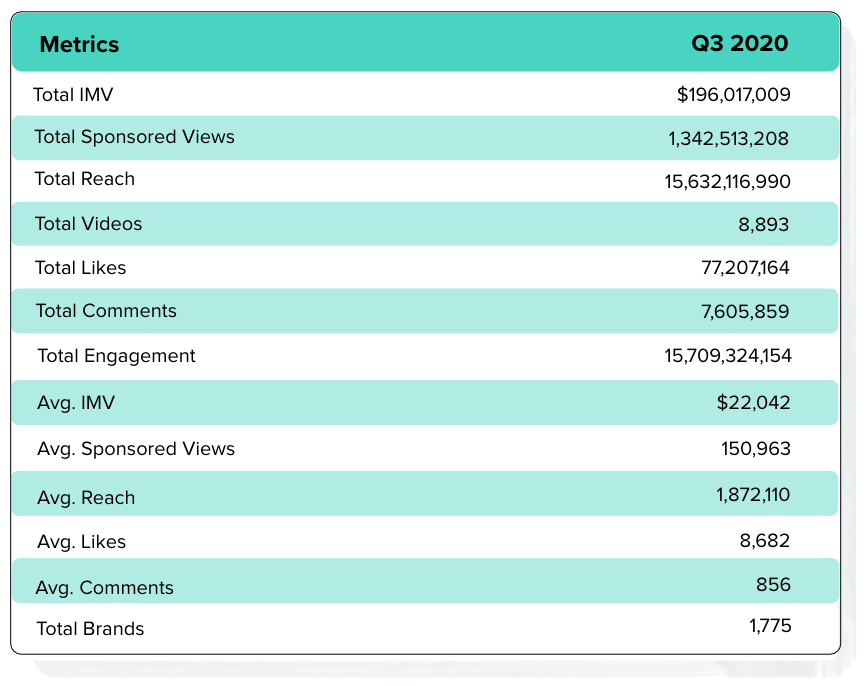 Of the top spending 19 industries in Q3, the combined spend on YouTube sponsored videos totals more than $196M. That is just under a 9% increase in total spend from Q2. The top spending industries of 2020 remain – Tech, Gaming, and Food & Drink – with reach more than doubling since last quarter at a 51% increase.
There was a pool of 8,893 qualifying YouTube videos in this quarter's data set. Brands continue to join in on the influencer marketing investment with 236 more brands participating in Q3 and over 12.5M sponsored views as a result
---
Top Industries on YouTube: Closer Look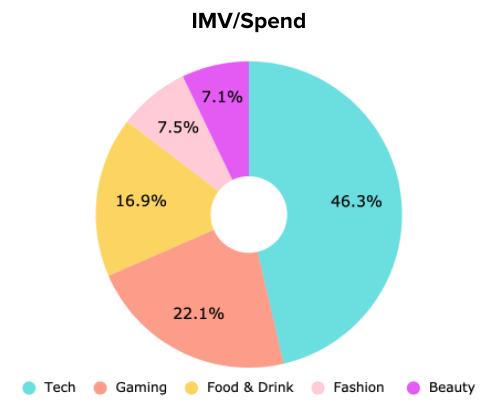 Looking exclusively at the top 5 industry spenders, Tech accounts for almost half with 46% of the total IMV. Tech continues to dominate in views with over 450K views in Q3 – over twice as many as Gaming, the next highest industry spender. These top 5 industries spent more than $148M collectively in YouTube sponsored videos, which is actually almost $5M less than their collective spend in Q2.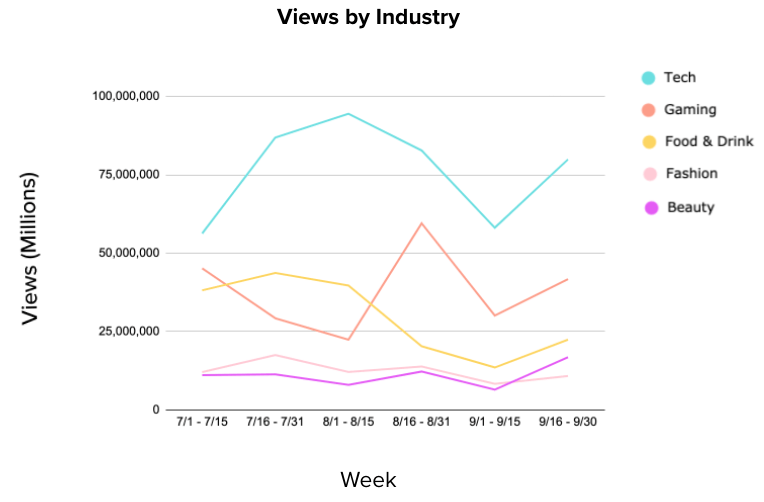 ---
Campaign Objectives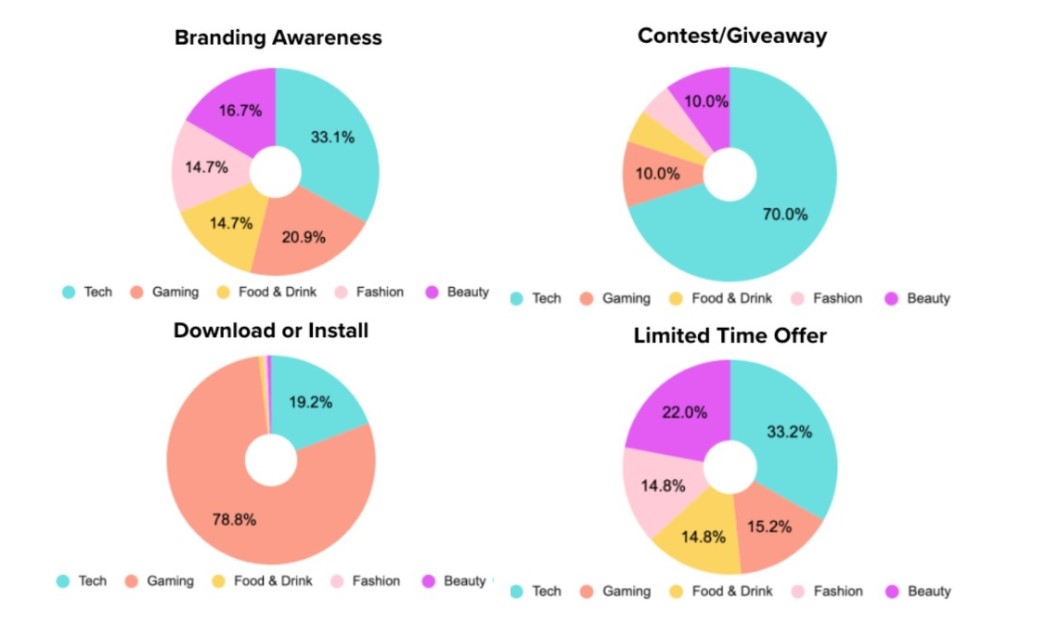 We broke campaign objectives into four main categories. Most of the YouTube sponsorships promoted a limited time offer or drove brand awareness at 89.6% with a fairly even split among the top 5 industries. Looking at the industry breakdown, Tech leads in 3 of 4 categories and Gaming dominates in driving downloads for Q3.

---
Calls to Action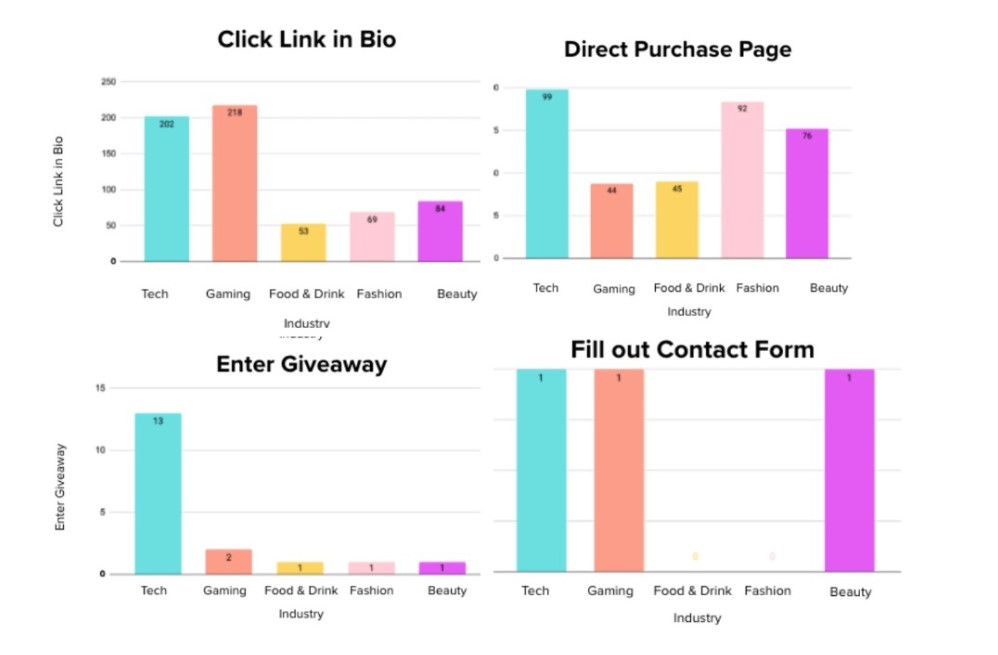 Almost a 50-50 split for campaigns choosing to use a call to action of Click Link in Bio or Direct Purchase Page. The data breakdown continues to show favor towards the ability to track and measure ROI of YouTube influencer marketing spend. Of the 8,170 qualifying videos, 91% opted for a direct link. The distribution within each of the calls to action among the top industries shows no clear pattern for Q3.

---
Content Types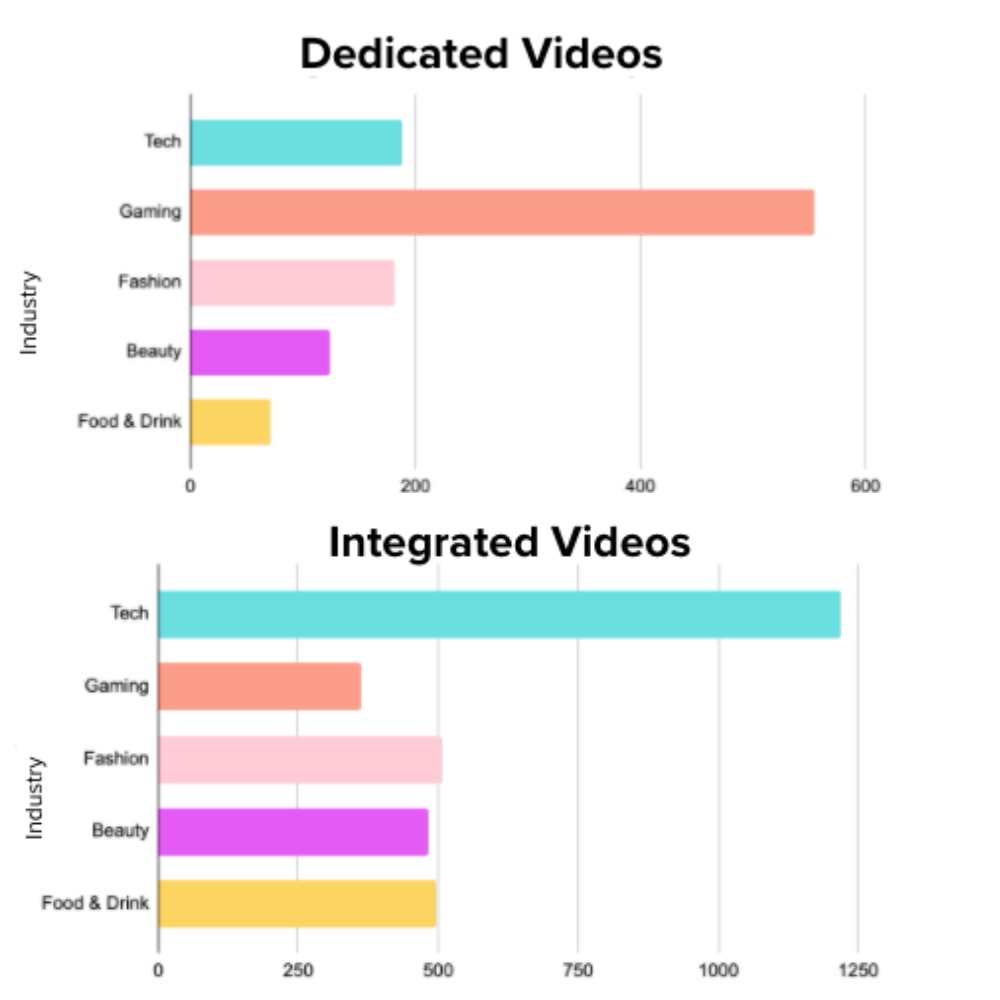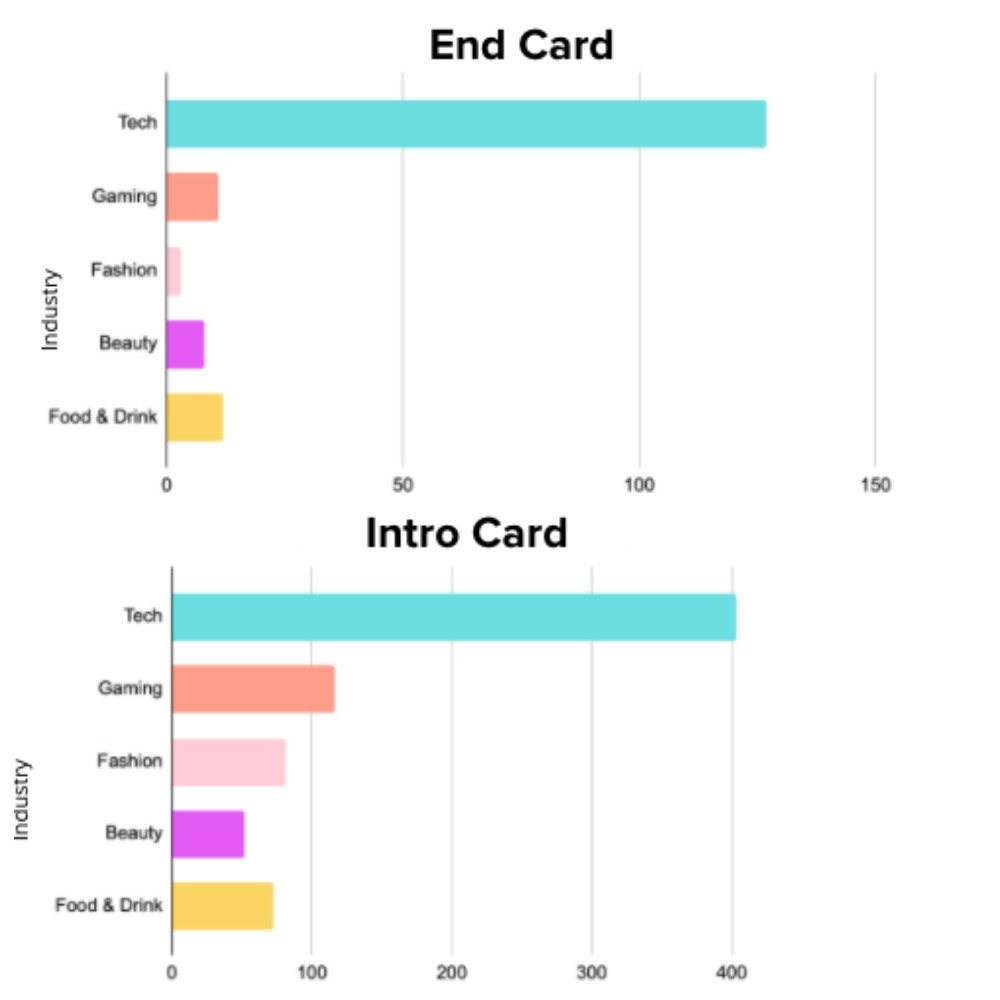 Following the trends of Q2, Integrated content is again the dominant content type accounting for 48.04% of videos. Tied in second are Dedicated videos and Description Only. Gaming overtakes Tech in the top spot for Dedicated videos while Tech out numbers the other industries in the three remaining content type categories.

---
Top Brand Highlights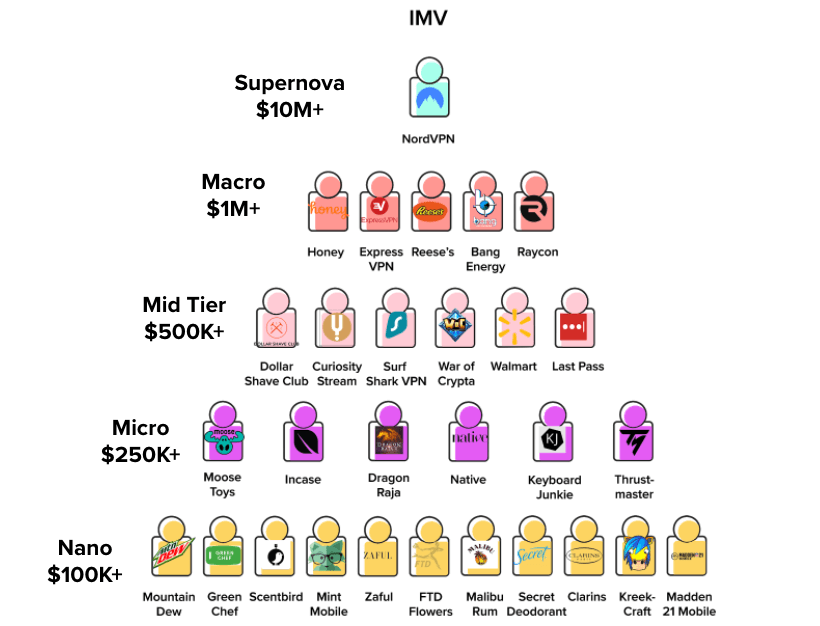 Following the trends of Q2, Integrated content is again the dominant content type accounting for 48.04% of videos. Tied in second are Dedicated videos and Description Only. Gaming overtakes Tech in the top spot for Dedicated videos while Tech out numbers the other industries in the three remaining content type categories.

---
Top Spenders on YouTube
The top 10 brand spending accounts reached nearly 6 billion – a 1.6 fold increase from Q2. This reach comes from only 654 influencers across 1,677 videos. Furthermore, 7 out of 10 of the top brands are repeat top spenders from the past quarter.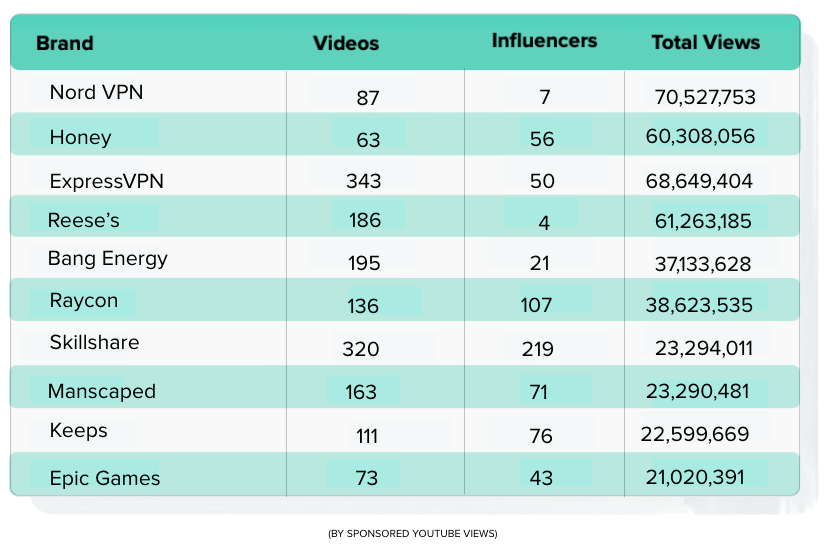 Of these top 10 spending accounts, brands acquired a total reach of over 3.63 billion. Paramount to this success is the 136% increase in total sponsored views from last quarter. Check out the growth for yourself from our Social Intelligence Insights Report Q1 2020.
---
Top Spenders on YouTube: Closer Look
From NordVPN to Epic Games, the spend ranges across $8.7M in estimated brand spend between the #1 and #10 spots. Believe it or not, the top 10 spenders of Q3 amount for only 33% of the total estimated spend. These 10 brands achieve a total spend of $65M on YouTube sponsored videos.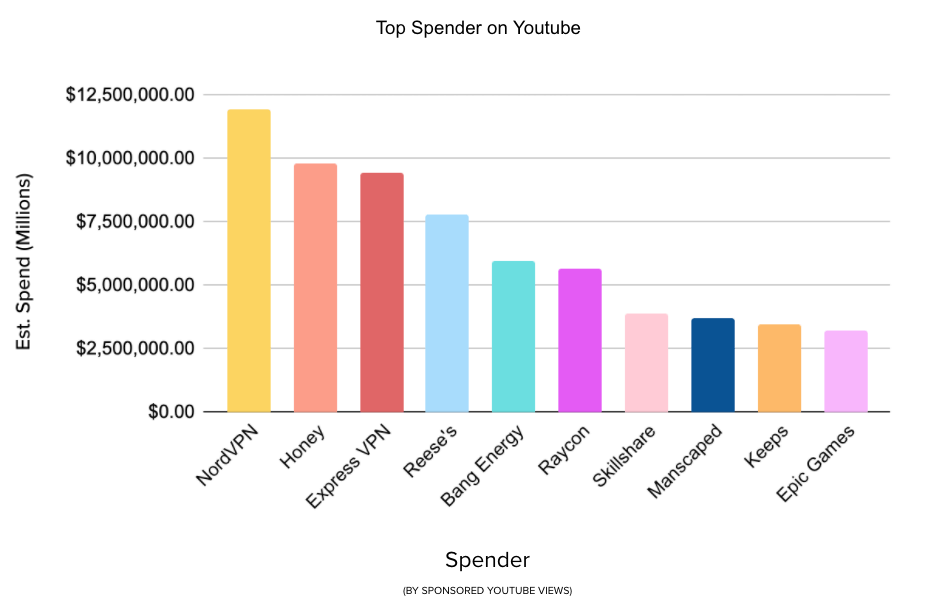 Each of the highest spending brands of Q3 come from the top 5 industries – Tech, Gaming, Food & Drink, Fashion, and Beauty. Once again, our data confirms the highest spending industries on YouTube also have the highest spending individual brands.
Brands cannot deny the strong impact of influencer marketing on YouTube. At a collective 426.7M views across the top industries, sponsored videos show generous returns for brands in a variety of industries.
---
Ad Lengths for Top 5 Spenders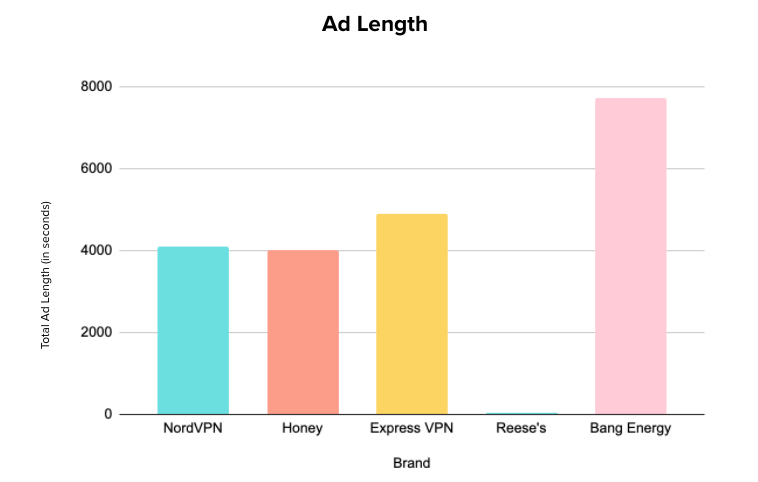 Bang Energy surpasses the other four top spenders in sponsored YouTube video ad length totalling 7,719 seconds across 195 videos for an average ad length of 40 seconds. Reese's, on the other hand, used solely Description Only advertising on all but one sponsored video.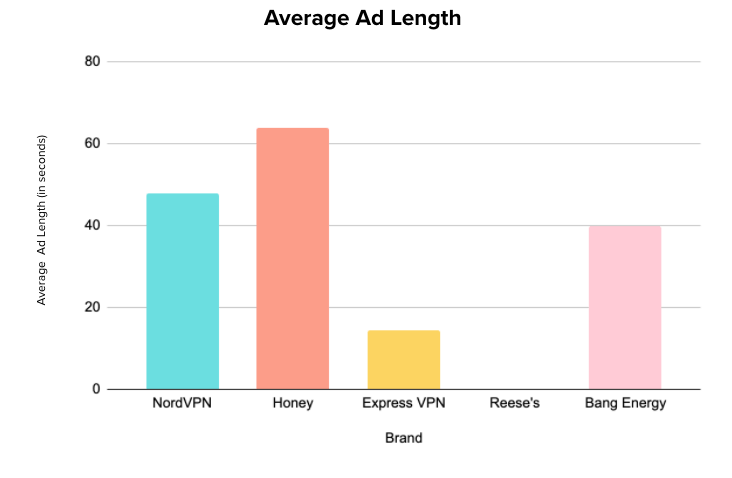 ---
Brand Showcase
NordVPN takes the trophy for top brand spender overall in Q3 – spending $2.1M more than the #2 spot. The brand's best performing integrated sponsored YouTube video received 5.3M views and 613K engagements. This video alone accounted for $1.1M of NordVPN's Q3 spend and achieved a reach of 105M. NordVPN ran almost exclusively Limited Time Offer campaigns with a direct link to the purchase page.

---
Weekly Top Spenders
A new addition to this quarter's report, NeoReach has included a weekly breakdown of the highest spenders on YouTube. The quarter's brand showcase – NordVPN – is the top spender 5 out of 14 weeks. In total, the weekly top spenders invested $37.7M in sponsored videos.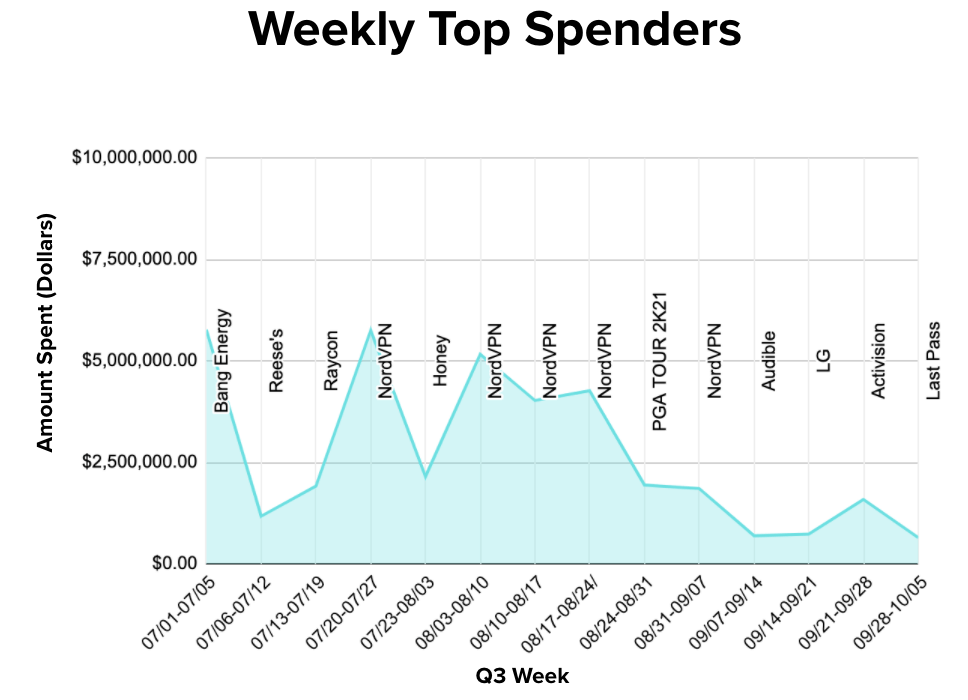 Bang Energy spent the most in the first week of July at $5.8M, then NordVPN came in second with $5.7M later in the month. 79% of the weekly top spenders spent over $1M, with 43% over $2M and 36% spending more than $4M.
---
Top Recognizable Influencers
Highlighting 10 of the most recognizable channels from sponsored videos on YouTube this quarter, brands have opted to activate some of the platform's best talent. Each influencer is depicted with their most notable brand partnership as well.
Only one of the top 10 brand spenders made the list – Honey – but, the brand is featured in 3/10 most notable influencer partnerships. The biggest name creators are able to guarantee brands a huge return on investment for their influencer marketing campaign.
---
Quarter Over Quarter Comparison
The side by side comparison of Q1, Q2, and Q3 shows the steady growth in IMV throughout 2020. Although not nearly the 2x growth from Q1 to Q2, IMV grew by $15M this quarter.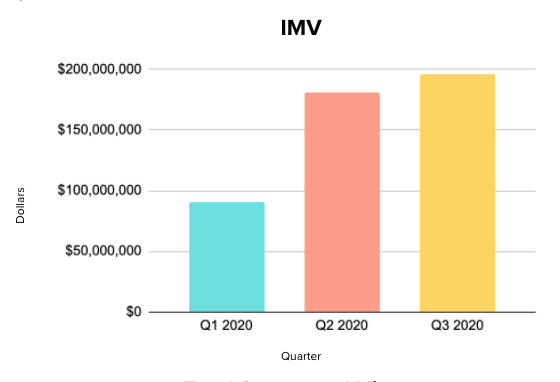 In a less obvious depiction, the increase in IMV of millions of dollars did not create substantial growth in views when considering all industries together. Q3 experienced a 12.7M increase in sponsored views, a less than 1% increase. However, we cannot apply this aggregate lack of growth to the industry or brand level as you will see later in the report.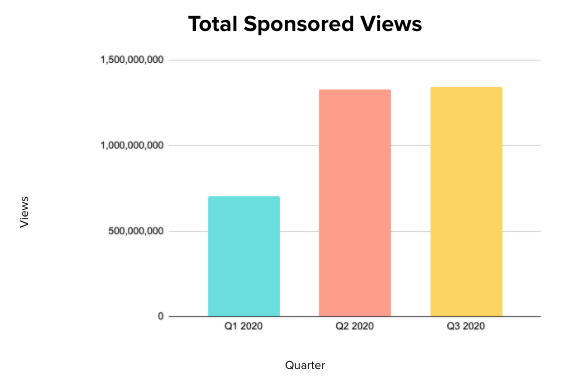 Q3 saw a substantial growth in reach of 5.3B more than Q2, and 9.3B more than Q1. Sponsoring 2,564 more YouTube videos than the previous quarter, a 4x jump from the Q1-Q2 period, the $15M increase in IMV made a wider impact.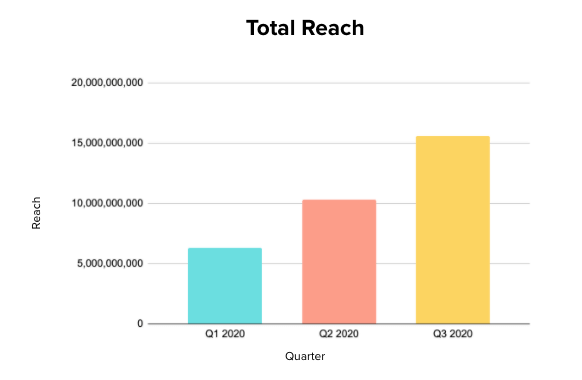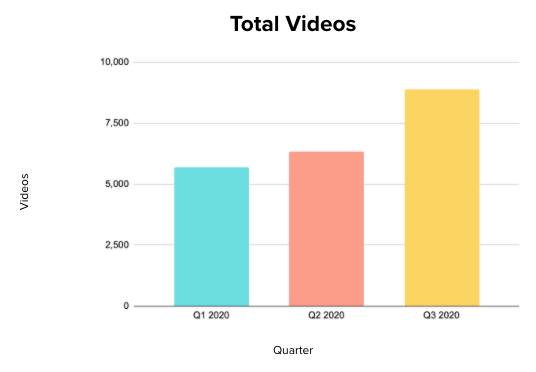 Reach and sponsored videos continue to display the growing success of influencer marketing as a channel that drives high returns no matter the industry.
---
Tech Industry Overview
Tech is the reigning champ in top industry spenders. With a reach over 6B on YouTube, video sponsorships on the platform have continuously shown high returns as a marketing channel. Leading brands in the Tech industry spent more than $68M on influencer marketing in Q3. That makes up 35% of the total top industries' spend.
The Tech industry sponsored 65% more videos in Q3 with an almost doubled IMV than Gaming. With these superior stats above, Tech brands saw more than 2x the views and engagement.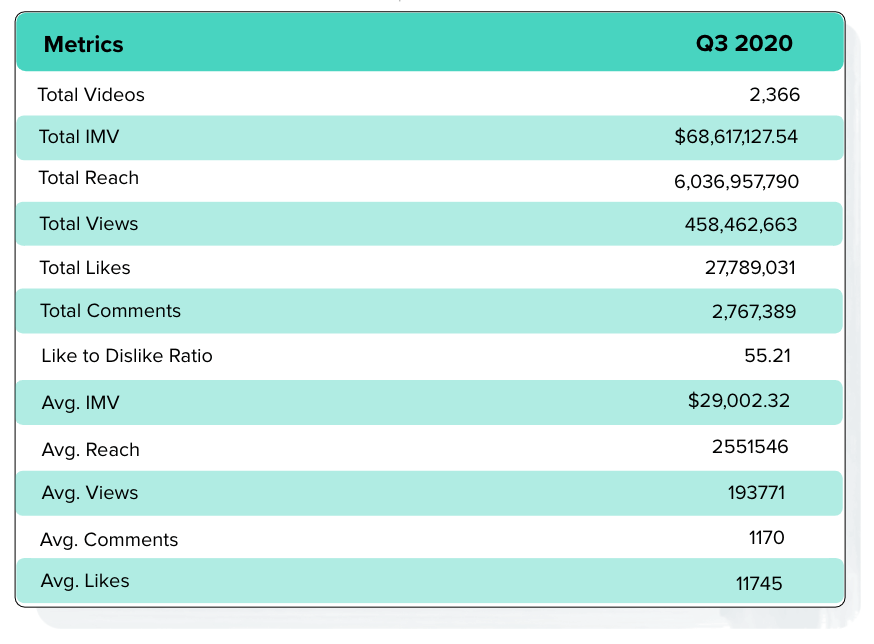 ---
Tech Campaign Breakdown
Taking a closer look at the campaign details of the Tech industry, sponsored YouTube videos posted during Q3 were analyzed by campaign type, call to action, and content type. With a clear winner in campaign type and content type, Branding and Awareness and Integrated videos were most common across the Tech industry. The main calls to action involve direct sales initiatives, favoring a link in bio or direct purchase page to capitalize on the influencer content.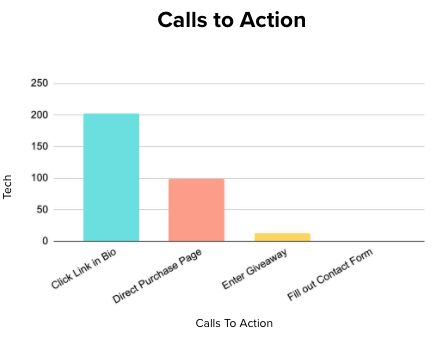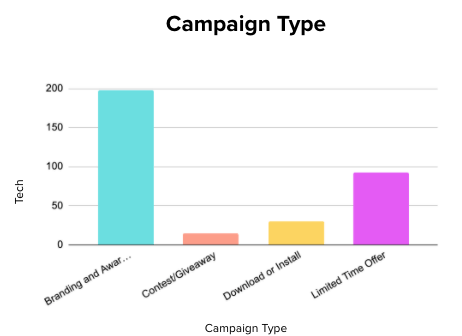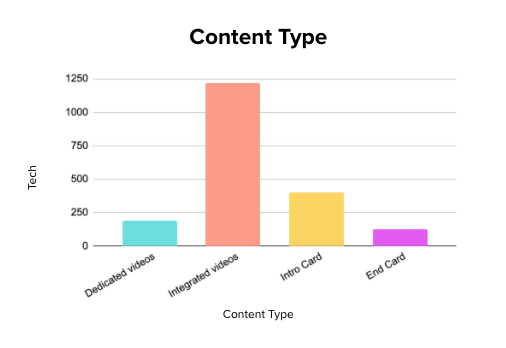 ---
Top 5 Tech Spenders on YouTube
Spending over $40.8M, the Tech industry's top 5 brand spenders continue to reinforce that sponsored YouTube videos are an effective marketing channel. Their IMV makes up about 60% of the total industry spend. With 261M views collectively, these top spending brands also account for 57% of the total Tech industry views.

This grouping of brands – NordVPN, Honey, ExpressVPN, Raycon, and SkillShare – hold the majority share of the technology industry's investment in YouTube influencer marketing.
---
Tech: Compare Q1, Q2 & Q3
Looking at the quarterly review of the entire 2020 year to date, the Tech industry was able to increase both reach and sponsored videos than Q2 with less spend. After a slow start in Q1 compared to the quarters to follow, Tech upped its investment in a lucrative marketing channel.

---
Top Tech Spender Spotlight
NordVPN was the highest Tech spender as well as the highest spender on YouTube in all of Q3. NordVPN sponsored 87 videos and was able to accumulate 5.7M likes, reach 2.2B, and 70M views. All that with nearly $12M spent on influencer marketing – 17% of the industry total.

---
Top Influencers: Tech Industry
The Tech industry activated 952 unique influencers for its YouTube campaigns in Q3. MrBeast6000, Dude Perfect, and PewDiePie are the top channels on this roster. With a combined reach of 198.4M, it's amazing that these mega influencers are only 3.3% of the Tech industry's reach for the quarter.
---
Gaming Industry Overview
Gaming falls into Q3's second highest industry spender spot. Achieving a reach of 2.8B, Gaming makes up 18% of the total Q3 reach. This industry invested $32.7M during Q3, 30% more than the number three spot of Food & Drink. At this level of investment, Gaming received 13.9M engagements.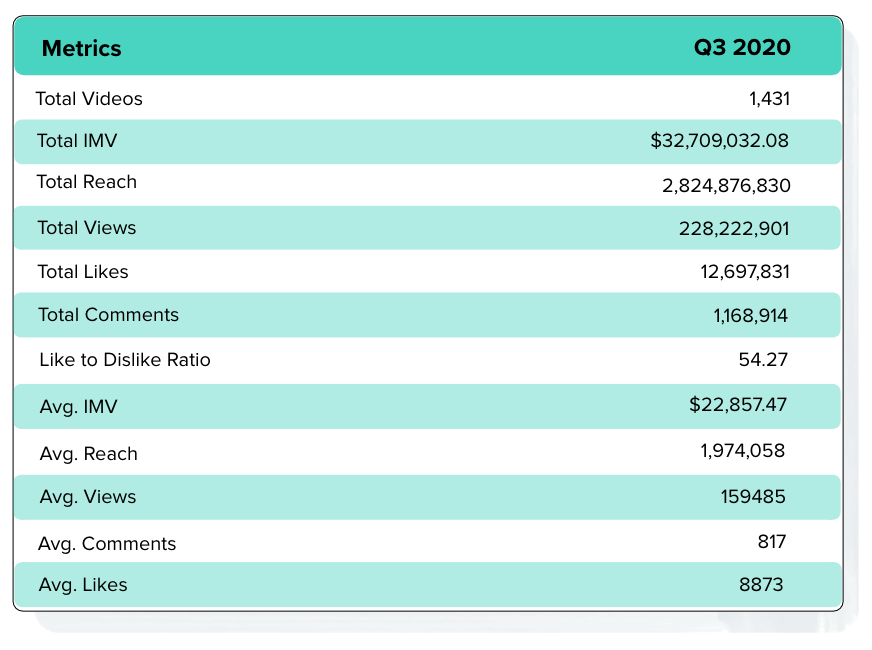 Consistently ranking among the top 3 industry spenders, Gaming is maintaining a strong foothold in influencer marketing through sponsored YouTube videos. A three for three streak in 2020 paints a favorable picture for Gaming brands looking for effective marketing channels.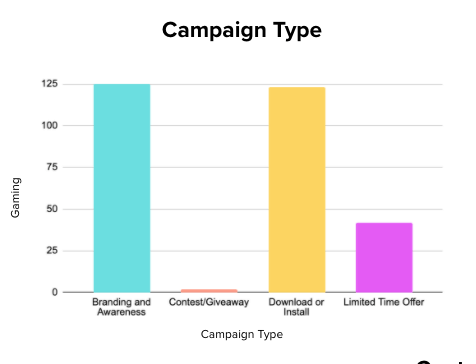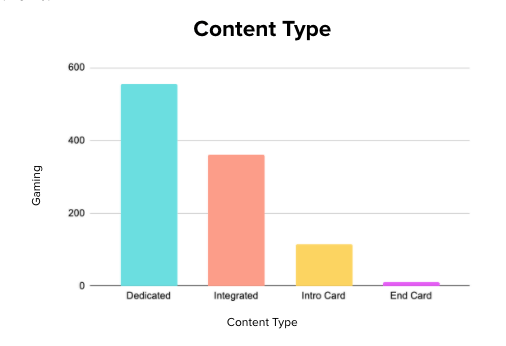 Mimicking the campaign type favorites of Q2, Gaming utilized mainly Branding and Awareness and Download or Install as campaign goals. The industry's calls to action also primarily fell into the two categories driving direct sales.
Of the 1,431 sponsored videos, Gaming incorporated a variety of content types, using some of each kind from Dedicated to End Card.
---
Top 5 Gaming Spenders on YouTube
Battling Twitch, Facebook Gaming, and other rising streaming platforms created to target gamers, YouTube retains its crown as the most effective channel for influencer marketing sponsored content in the Gaming industry.

The top 5 Gaming brand spenders on YouTube made a collective investment of $12.7M. That accounts for 39% of the total industry spend with 30% coming from the top three spenders – Epic Games, Arkade, Ubisoft.
With the NeoReach Social Intelligence API, Gaming brands can dominate the industry by determining where their best investment is for influencer marketing to get the highest reward.
---
Gaming: Compare Q1, Q2 & Q3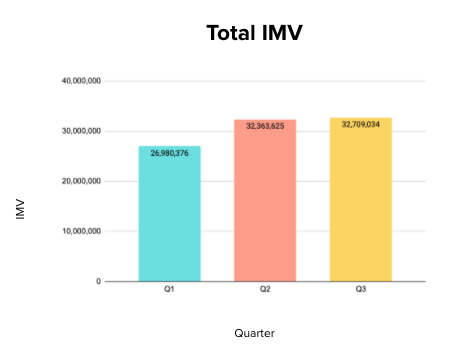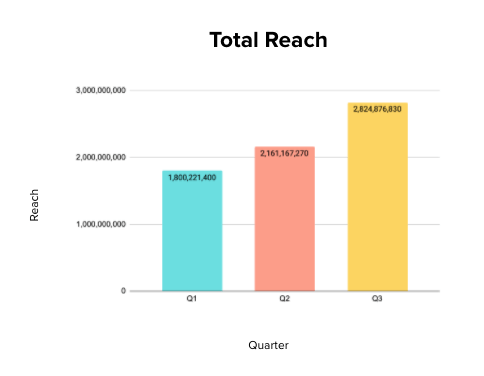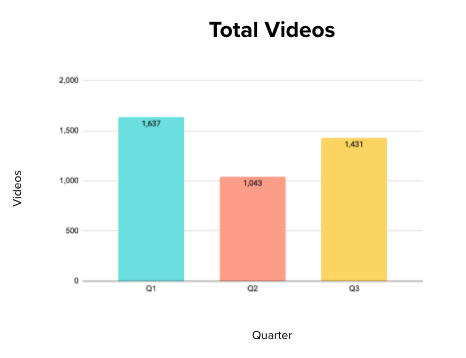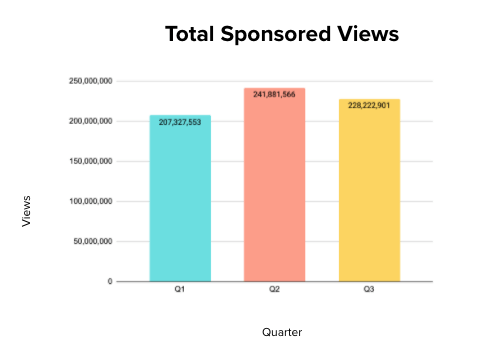 In Q3, Gaming nearly matched its industry investment in sponsored YouTube videos in Q2. With an almost identical influencer marketing spend, Gaming was able to reach 664M more with an additional 388 videos.
Total sponsored views, however, decreased by 5.7% this quarter. Despite the lower view count, the 478 influencers activated by Gaming in Q3 amassed 1.4M more engagements than Q2.
---
Top Gaming Spender Spotlight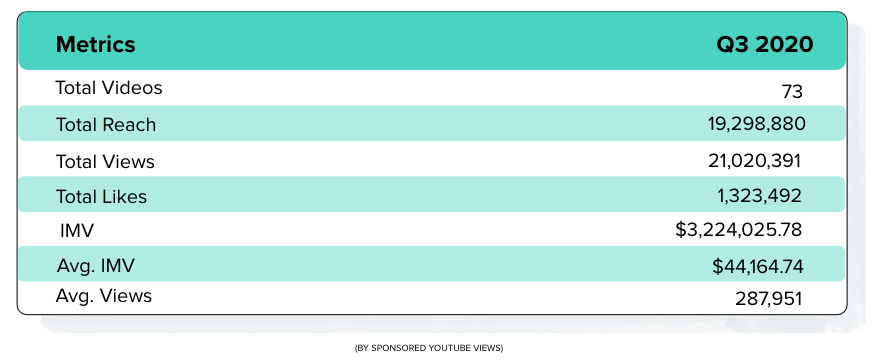 Epic Games continues to be the highest Gaming spender of 2020. Q3 the brand took a smaller share of the total industry spend with a $3.2M spend, down from $8.4M in Q2. The brand composes 9.9% of the industry spend, which is less than half the industry share Epic Games held last quarter at 26%. 73 sponsored videos makes up only 62% of the number of videos as last quarter.
---
Top Influencers: Gaming Industry
Appearing on the top influencer list for both Gaming and Tech, PewDiePie and Dude Perfect are cross-functional, high performing channels. Together with WebzWithAz, these three influencers have a combined reach of 161M. With a mega reach like this, the top Gaming influencers only make up 5.7% of the total industry reach.
---
Food & Drink Industry Overview
From energy drinks to candy to home cooking, Food & Drink brands spent a total of $25M on YouTube sponsored videos. The industry racked up 10.4M engagements during Q3 from less than 1,000 videos with 177M views. The Food & Drink industry's sponsorships were able to achieve a reach of 2.3B.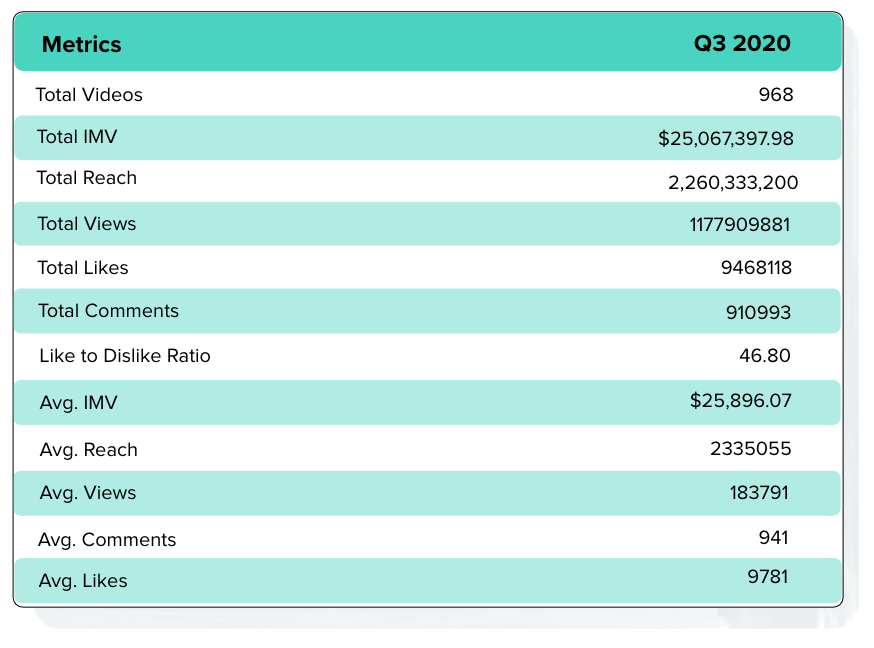 ---
Food & Drink Campaign Breakdown
Following the trend of the previous quarter, Food & Drink almost exclusively ran YouTube influencer campaigns with the goals of spreading brand awareness and promoting a special offer. Calls to action followed a similar pattern with all of hte videos falling into direct purchase channels.

Content type, on the other hand, saw a clear leader with integrated videos, but other content types also had some representation in Q3.
---
Top 5 Food & Drink Spenders on YouTube
The top 5 brand spenders in the Food & Drink industry cover a range of products. Their accumulated YouTube sponsored video spend was $16.3M, 65.2% of the total industry spend. Q3 saw three repeat high spenders – Bang Energy, Reese's, and G Fuel – and a couple of new top brands. These top brands amassed 115M views from 554 videos, which is 65% of the industry's total views.
---
Food & Drink: Compare Q1, Q2 & Q3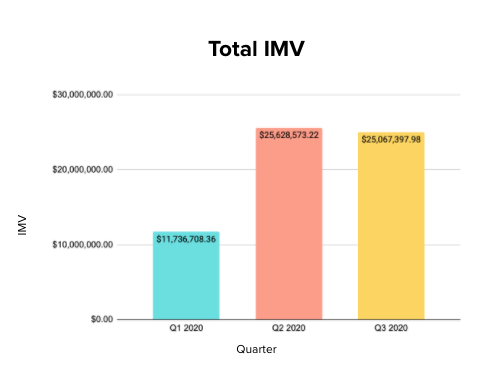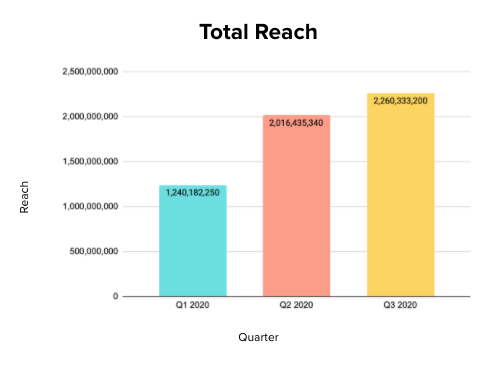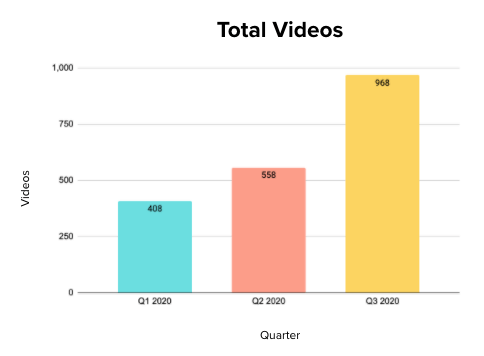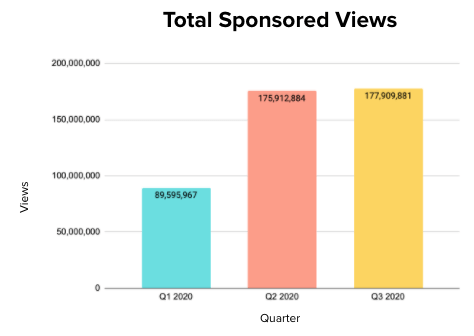 Sponsoring 410 more videos in Q3 than the previous quarter, Food & Drink was able to spread $561K lower investment across more videos. The industry also saw a 12% increase in reach. Total sponsored views grew by nearly 2M for Q3.
Other than the number of sponsored videos, Food & Drink did not experience the same growth in Q3 as the industry had from Q1 to Q2.
---
Top Food & Drink Spender Spotlight
Reese's overtakes two-time champ Bang Energy as the highest spender in Food & Drink for Q3. The brand spent $7.8M on YouTube sponsored videos, $2.2M or 40% more than Bang Energy. Although, Reese's doesn't hold the majority share with only 30% of the total industry spend as Bang Energy has in the past.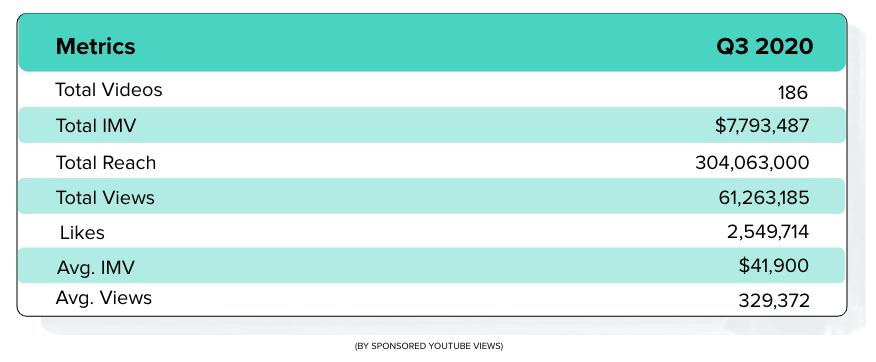 ---
Top Influencers: Food & Drink Industry
Taking the top 3 Food & Drink influencers from Q3 sponsored YouTube videos, the industry's best creators total more than 24.5M subscribers between them. 134 brands in Food & Drink activated 316 unique influencers, an increase in brands and influencers who participated in Q3 sponsorships.
---
Get in Touch
Ready to launch your most lucrative marketing campaign ever? Are you prepared to go viral with your biggest powerhouse influencers on YouTube. NeoReach has the software and data capabilities for your brand to tap into the most strategic influencer initiatives. Discover how the NeoReach Social Intelligence tool can help your brand reap the benefits of influencer marketing.
Share a few contact details and we'll send a download link to your inbox