GIFs are one of the most engaging content that's easily shareable across social media platforms. They're virtually everywhere on the likes of Facebook, Instagram, Twitter, Snapchat, WhatsApp and Discord. Their attractive visual elements and fun nature effortlessly grab attention and pique curiosity among users. This makes them a powerful addition to any marketer's arsenal of digital marketing tools.
Here, we go over the best tools you can use to learn how to convert YouTube videos to GIFs in no time at all.
---
How to Convert YouTube Videos to GIFs:
---
Why Convert Videos to GIFs?
Don't underestimate the power of these short, animated images. They're not just fillers that add variety to your social media posts. Used strategically, they can positively impact your bottom line. One way to leverage them is to use GIFs to share clippings of your marketing videos. Converting your videos to GIFs can help you create hype through easily shareable, more bite-sized content.
Generate interest in new products or services by creating GIFs of interesting or funny scenes video launches you post on your YouTube account. These give your audience a quick yet entertaining peek of your new offerings and let them easily share the news with their friends.
Compared to videos, GIFs tend to be more memorable as they often highlight just a detail or two. Because of this, they are more effective in raising awareness and increasing retention rates.
---
How to Convert YouTube Videos to GIFs in Just a Few Clicks
Converting videos to GIFs may sound complicated, but it's actually quite easy to do. There are several apps and tools designed specifically for creating GIFs. The conversion process is also pretty straightforward. You paste the URL or upload a video, click convert, then save or share the GIF generated.
To save you the trouble of finding the best converter tools, we've narrowed down the choices to ten of the most popular ones among marketers.

Targeted towards brands and businesses, gifs.com has all the features you need to create enticing GIFs for your marketing campaigns. You can create an account for free to use the basic features or sign up for a subscription to use more advanced editing tools.
To convert your YouTube video, copy and paste its link into the dialogue box. Select the option to remove ads then choose the start time, duration, and frame. Gifs.com has an automated highlights feature that detects the best parts of a video and suggests it when you set the start and end times. Use the editing options to insert captions or stickers, blur or crop images, add effects or filters, and remove watermarks. Download the GIF or share it directly to your social media platforms. You can also embed a link on your website or email campaign.
---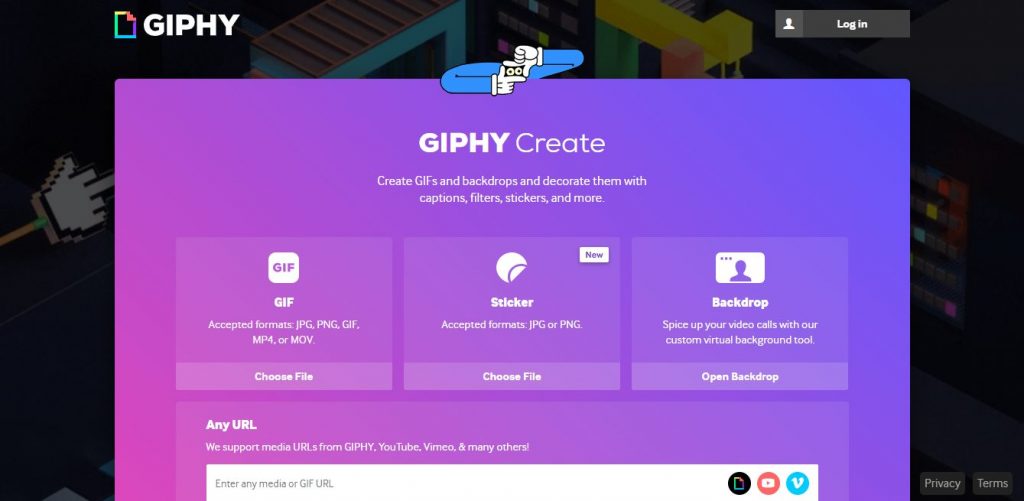 Want something that can be used while on mobile? Download the GIPHY app from Google Play or the App Store. You'll need to create an account to convert videos to GIFs. Once you log in, you can access various features that offer lots of customization options. The app supports most video formats including MP4 and MOV.
Start creating your customized GIF by pasting the YouTube link. Look for the part you want to convert into a GIF, then set the start and end time. Decorate the GIF with stickers, overlays, captions, filters, and other graphic elements. Set additional preferences including privacy settings and tags. Complete the conversion process by tapping on 'Create and Publish'. Download the GIF, embed the link, or add it to your social media handles.
---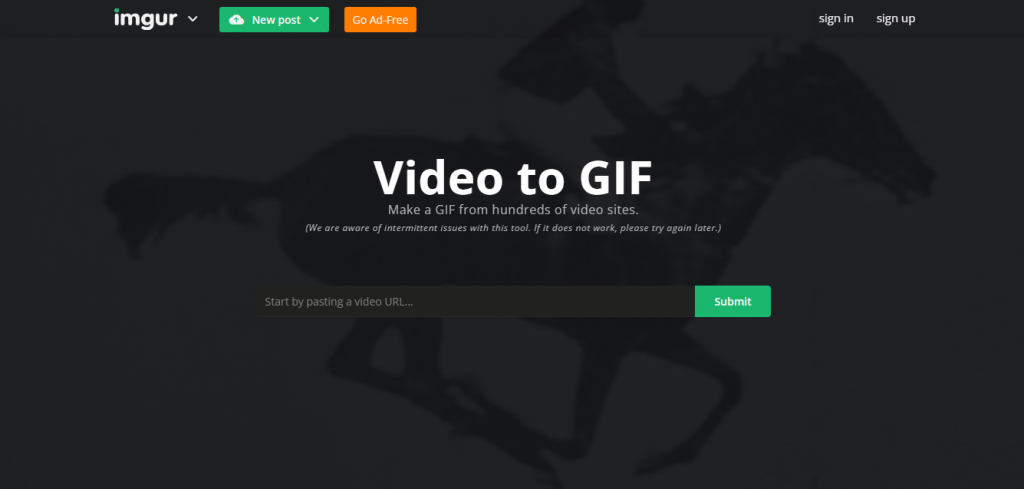 Imgur may have limited editing features but it has tons of visuals that can be used to create GIFs. It has a vast library of images, memes, GIFs, and digital stories that can help you create just the right GIFs for your marketing campaigns.
Its workflow is also one of the simplest ones. You simply paste the YouTube video URL, select the part you want in your GIF, then click 'Convert'. You can download existing GIFs and use them to create new ones. You can also make GIFs from hundreds of video sites.
However, this app isn't as reliable for large video files, as the performance tends to degrade. It's best used for quick fuss-free video to GIF conversions.
---
Ezgif.com lives up to its name—it makes creating animated images very easy. You simply paste the link to the YouTube video and choose the section you want to convert. Its editing features are limited but it accepts almost all video formats such as AVI, MP4, MPEG, WebM, 3GP, MOV, and FLV.
It also allows users to upload up to 2,000 image files with a maximum size of 100MB. So, if you use a lot of GIFs in your campaigns, Ezgif.com is a good option for you. Be warned though that it takes a long time to convert lengthy GIFs with high frame rates.
---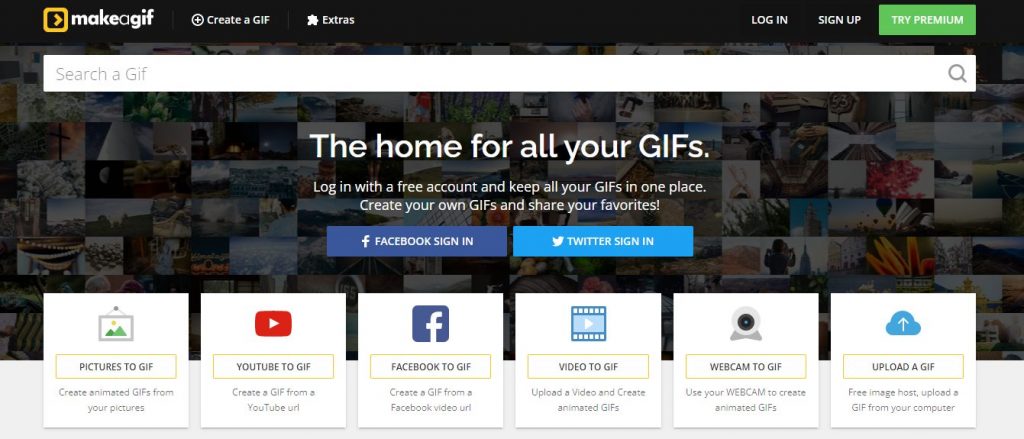 Make creating and storing GIFs hassle-free with Make a GIF. This software lets you create GIFs from pictures and videos in your local drive or social media handles. Moreover, it lets you store your GIFs in one place and share them across different platforms in just one click. Use a free account to minimize marketing costs or go premium to maximize impact on your audience with highly engaging GIFs.
To create a GIF from your YouTube video, log in to your account and click on 'YouTube to GIF'. Type or paste the URL of the YouTube video. Adjust the configuration settings then edit the GIF by adding captions and stickers. Once completed, you can add the GIF to your collection, download it, or share the link on your social media channels.
If you're using a premium account, you can customize your own watermarks to increase brand awareness. You also get to enjoy ultrafast editing whatever your video source is.
---
While most converter tools limit GIFs to 15 seconds, Gfycat lets you create ones that are as long as 60 seconds. It also lets you keep the audio from your videos. Best of all, it's completely free to use. However, the quality of GIF may not be at par with other apps.
To use Gfycat, all you need is the link to your YouTube video before letting your creativity take over. Paste the URL, click convert, use the editing tools to enhance the GIF, then share the GIF with other channels. You can also automate the conversion process if you are generating several GIFs.
---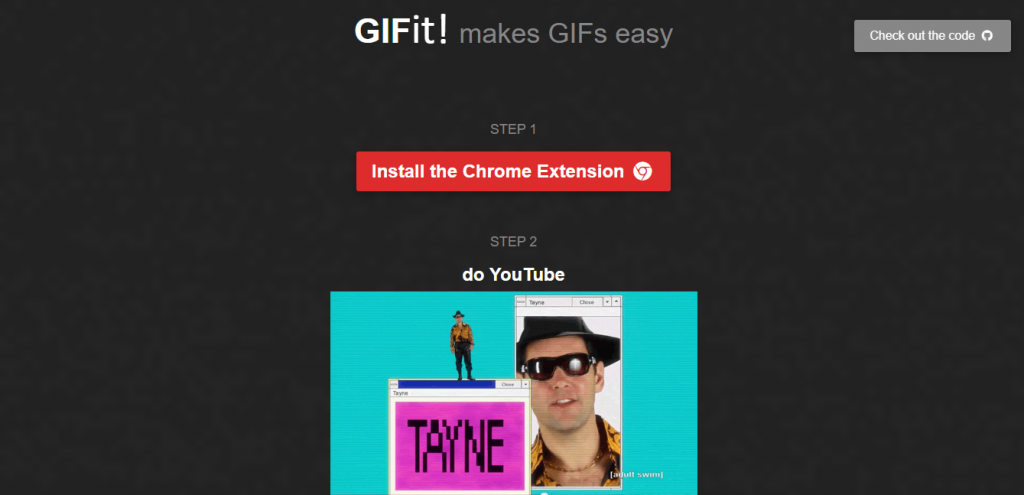 Generate GIFs straight from YouTube by installing the Chrome extension for GIFit. Get this free app from the Chrome Web Store and run the attachment to install it on your computer. When you watch any video on YouTube, you'll see the GIFit icon on the YouTube toolbar. Just click on it to create a GIF. Take note that this extension works only when YouTube is in HTML5 mode.
Once you click the GIFit icon, editing options will pop up. Set the start and end times, frame rate, resolution quality, width, and height. Click on the red GIFit button to generate your GIF. Share or save once it's ready.
GIFit is easy and convenient to use but it also has some downsides. For one, you can't add captions or stickers to your GIF. The GIFs it creates are also pretty big in size.
---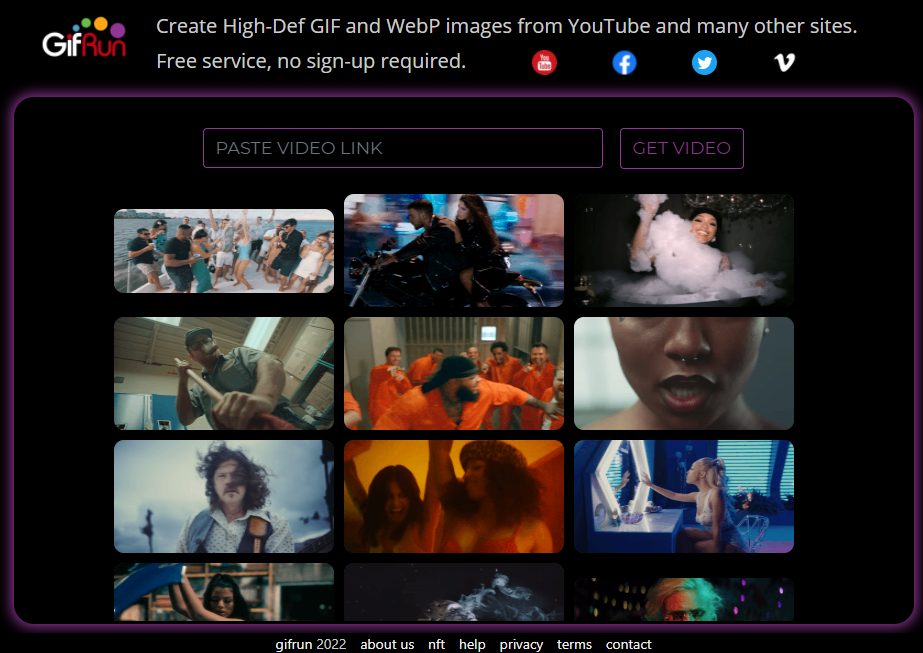 Create GIFs with no editing experience, zero technical expertise, and absolutely no fees. GifRun lets you convert videos to GIFs without having to sign-up for an account or paying a subscription.
The interface is easy to navigate. Start converting by pasting the video link from YouTube or other sites. On the editing page, set the duration of your GIF and select the start and end time. Choose the resolution you prefer then complete the conversion process. There are no direct share links to social media platforms so you'll have to download the GIF first before posting on your channels.
---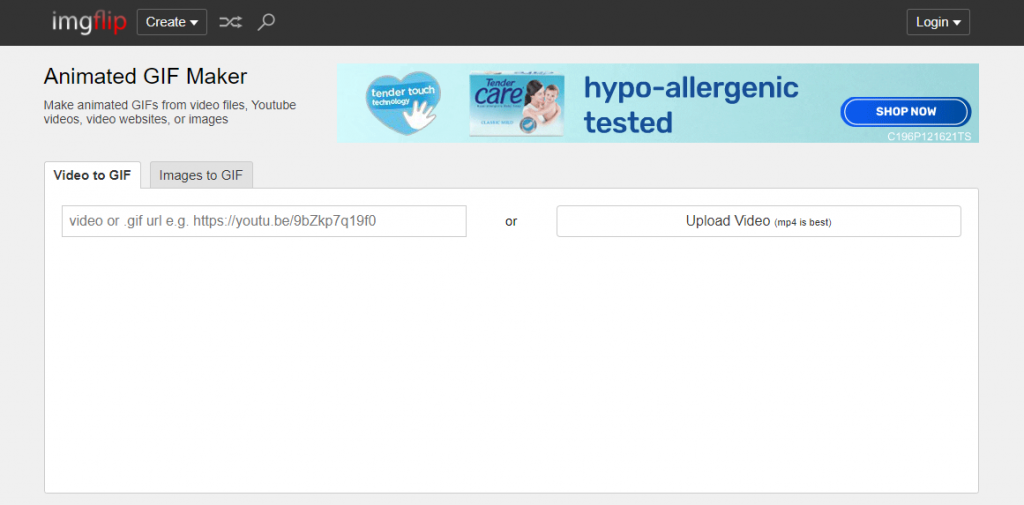 Imgflip is an animated GIF maker that's also popular among creators and brands. It offers both free and pro versions and enables sharing of content across various social media platforms.
Even with a free account, you can quickly create good quality GIFs from YouTube videos of various formats including MP4, MOV, OGG, AVI, FLV, and 3GP. On the other hand, the pro version allows customized animations and audio features.
---

Want a free GIF converter with no app watermarks? Consider using GIF Maker. This app is free and available online. You don't need to download any software or create an online account, though you can't use it for copyrighted videos.
Once on the site, paste the YouTube URL and click 'Create GIF'. The duration is limited to a maximum of 15 seconds but you can edit the GIF by adding filters and animations. You can also select the speed and specific start and endpoints. After editing and setting your preferences, generate and share the hosted GIF on your social media accounts. You can also download the GIF on your computer for later use.
---
Leverage GIFs to optimize marketing campaigns
Using GIFs helps you promote your brand in a fun and engaging way by leveraging its wide consumer appeal to amplify your influence online. More than their entertainment value, GIFs can create a memorable impact on your marketing campaigns.
Frequently Asked Questions
How long should GIFs be?
Most converter tools limit the duration of GIFs to just 15 seconds. There are a few that allow longer durations up to 60 seconds. However, longer GIFs might end up becoming soundless content that bore your audience, so try to keep GIFs at just around 5 seconds. That's about enough time to capture your audience and keep them engaged.
What is the best size for a GIF?
Just like images, GIFs that are too tall or too wide get cut off when viewed from certain devices. Users would need to click and expand the GIF to see the full view, but some users might not bother to do so. Also, large file sizes are often transcoded and compressed when sent. They also have a risk of not being delivered fast. To avoid these issues, keep your GIF less than 500 pixels wide. The ideal size for optimal loading time and picture quality is 480 x 480.
What is the difference between a GIF and a meme?
In a nutshell, GIFs move and memes do not. Memes are static images that have witty captions or references to pop culture. GIFs are animated images generated from a series of pictures or videos. Putting the elements of these two together gives us the popular GIF memes found in social media today.
How many frames should a GIF have?
The number of frames in a GIF is directly proportional to its file size. To keep the file size smaller, GIFs should have only about 15 to 24 frames per second