Facebook has become a significant player in the world of affiliate marketing. It is a great way to learn about your customers, find new audiences, and promote your products all in one place. Why is that? Facebook has over 2.95 billion active users making it the most used social media platform worldwide. This gives you the potential to reach a wide range of targeted audiences.
To generate clicks to your affiliate site through Facebook, you need to understand the proper steps and strategies, which is why we will be discussing some tips on how to be an affiliate on Facebook. Let's get started.
---
Top 10 Tips for Becoming an Affiliate Marketer on Facebook:
---
What is Facebook Affiliate Marketing in 2023?
Affiliate marketing on Facebook is a great strategy to increase your sales and profits. Affiliate marketers may leverage the platform's popularity to generate more visitors to a Facebook page, group, or an external website or landing page.
As stated earlier, Facebook is the most extensive and most widely utilized social media network globally, with thousands of groups and pages devoted to just about every topic you can think of on the platform.
Essentially, what you are doing is identifying the right audience for the product you are attempting to market. And you do this by assembling a group of individuals interested in the particular niche you choose.
---
How to do Affiliate Marketing on Facebook in 2023 (A Step by Step Guide)
If you want to start marketing your products on Facebook, you need to understand the technical know-how to succeed. Here is a step-by-step guide on how to use Facebook for affiliate marketing.
By following these simple steps, you will be able to set up your page and start on the right path to successful marketing through this popular social media site.
Create a Facebook Page
Creating a Facebook page is the first step in beginning your Facebook affiliate marketing career. While your Facebook profile page is quite similar to your business page, some distinctions exist. The Facebook page for your affiliate promotion is more like your website.
Once you have created your page, it will be time to start filling it with content. This is a great way to increase followers on your page and attract potential customers. Add images and videos that are relevant to your business and upload them into albums for easy sharing on other forms of social media.
Next, you need to fill out the "About" section of your page. This will give people an idea of what you offer on your page. Be sure to include any contact information so consumers can easily get in touch with you if they have any questions or comments about your products.
Get to know your Facebook Business page and dedicate a few minutes each day to learning how to make the most of it. Once you have created your website or blog, you can share the link to your blog posts on your business page.
A page is a lot simpler, and its primary purpose is to keep your audience up to date and informed about new content. There are several ways you may get people involved, including asking questions and sharing videos, as well as directly linking your affiliate link articles or particular products and services you are promoting.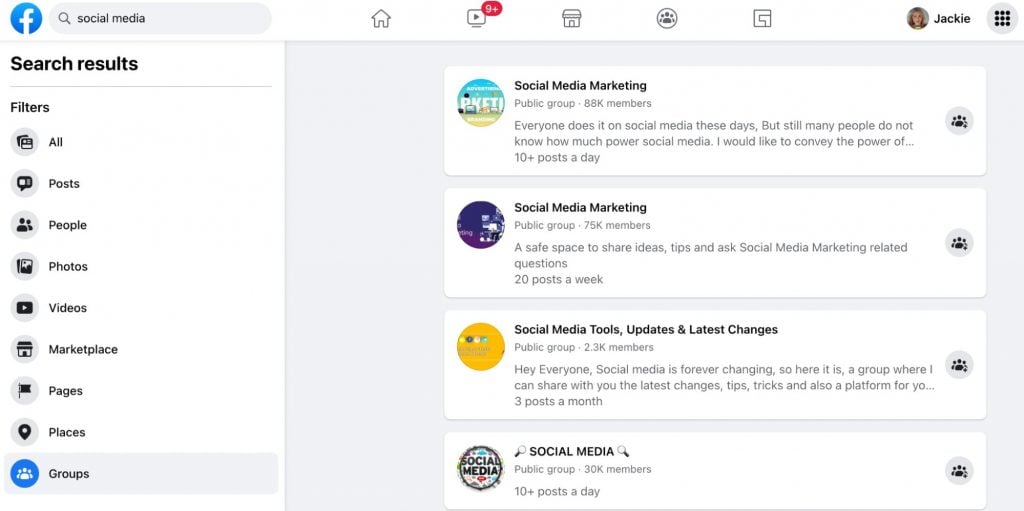 ---
Create a Facebook Group for Your Website
Creating a Facebook group for your business is a great way to connect with your audience and avoid spamming prospective customers. With a handful of your closest friends, you may create a Facebook group that grows from there. With their support, you'll be able to garner more attention and get your message out to a broader audience.
Implementing the KLT (Know, Like, and Trust) factor in your Facebook group activities will help you attract more audiences. This means that you should avoid adding an affiliate link to every content you post on your Facebook group; instead, you should give out free value to your audience.
In turn, people will get to know, like, and trust to buy whatever you are promoting as long as it is of their interest. This is why you should attract an audience interested in your product's niche.
You might be wondering—how do I get people to join my group after creating it? Some of the best strategies to use are posting content regularly, going live once in a while, and organizing a Facebook contest. These activities will trigger the Facebook algorithm to show your group to more interested people.
---
Join Relevant Groups in Your Niche
Instead of creating your group from scratch, you can join already existing groups. All you need to do is use the Facebook search options to search for relevant Facebook groups in your niche.
After joining new groups, you should avoid spamming, as this might lead to the group admin removing you. Post relevant content on the group, and after establishing trust, start including a link directing them to your website or blog.
A higher percentage of your Facebook audience will sign up for your mailing list if they see an opt-in email form on your website. It is possible to provide a freebie in line with what you are trying to sell.
---
Leverage Facebook Ads
For Facebook to be beneficial to your affiliate marketing effort, Facebook advertising is a must. It's the quickest way to get started with Facebook affiliate marketing. Because you've paid, Facebook will show your adverts to the right people.
So how do you get started? For Facebook advertising, you'll need a Facebook Business Page as well as a Facebook Ads account. After you've set these two up, you can begin creating your first ad in Facebook Ads Manager.
When using sponsored adverts for affiliate marketing, start small and limit your target demographic by making it as focused as possible. The foundation of every successful advertising campaign is a solid organic basis and a convertible landing page.
Important: Remember that you cannot directly promote affiliate links in Facebook advertising. However, you can promote a blog post that contains affiliate links.
In other words, you may only use Facebook advertisements to spread the word about your page or a particular blog article.
---
Boost Posts
---
Facebook DMs (Messenger)
More than a billion people use Messenger every day, and that number is expected to grow. You may chat with other Facebook users using Messenger to foster a relationship, but avoid spamming them with your affiliate link.
A great way to get people into your DM is by joining a Facebook group. You can post engaging and educational content on that group and ask people to DM you for more info. Once they are in your DM, you can redirect them to your affiliate landing page.
Facebook algorithm hates affiliate links, especially on Messenger, so don't send your affiliate link to your prospect directly.
Another approach is commenting under the posts related to the product you want to promote. If it's a question and answer post, you can comment your answer and ask people to message you in order to know more about it.
---
Top 10 Tips for Becoming an Affiliate on Facebook in 2023
If you are looking for a way to generate income with Facebook, affiliate marketing is a great way to do so. Using these tips and tricks to your advantage, Facebook can be integral in your marketing strategy.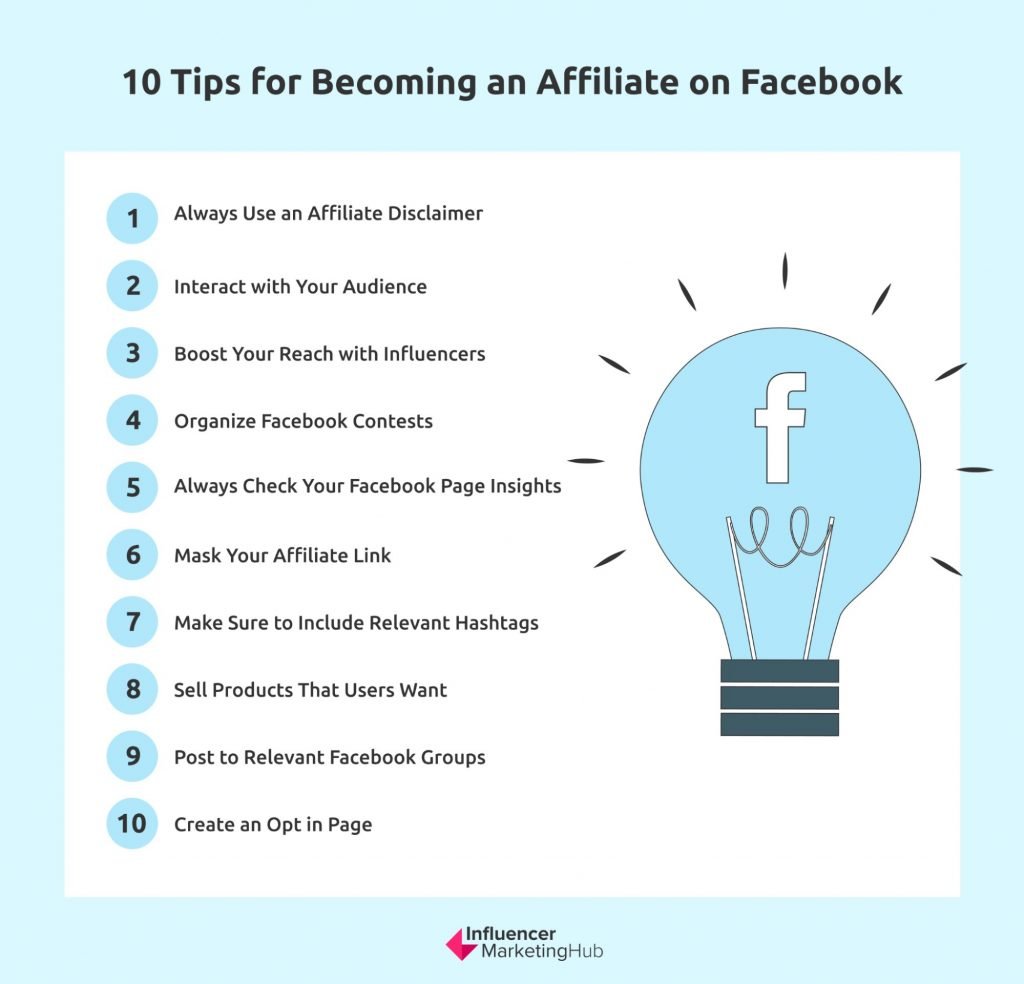 Always Use an Affiliate Disclaimer
As an affiliate marketer, you should be transparent while promoting products in exchange for a commission. Customers will not buy anything from you if they do not believe what you say. Being evasive about receiving compensation for promoting a product can undermine your credibility.
You might even lose more than your audience's trust. The Federal Trade Commission (FTC) regulates product endorsements to prevent affiliate marketers from misleading their customers.
Apart from Facebook, you also need to put an affiliate disclaimer on any of your blog posts containing affiliate links. If you don't know how to write an affiliate disclaimer, you can check websites or blogs in your niche for samples.
---
Interact with Your Audience
Getting people to "Like" your page is an excellent first step in building trust and generating affiliate sales. While it is crucial to maintain a regular posting schedule, do not overdo it by posting your affiliate link all the time. Apart from boring your audience, Facebook might also block your page.
Any time you post content on your blog, remember to share it on Facebook. Increasing the number of articles you post each week will ensure that your content gets seen by the most significant number of people possible, which in turn drives organic traffic to your blog.
80% of your postings should be informative, and 20% should be marketing. Most of the time, your promotional posts should be posted with the intent to sell a particular product. But remember to promote it respectfully.
Always respond to any comments left under your post, either on your blog or Facebook page, or group. Your aim should be to establish a long-lasting relationship with your audience.
---
Boost Your Reach with Influencers
By using influencers' large and active followings, you may improve your exposure and boost the number of visits to your website, both of which are beneficial. Using Facebook's search feature, you may find relevant pages and influencers in the same niche that you are.
To see whether they'd be interested in promoting your content to their followers, you could get in touch and extend an invitation. Focus on micro-influencers if your website is just getting started.
Ensure that the influencers you choose are very relevant to your target audience. An influencer with a huge following will only distribute high-quality content if it provides actual value to those who follow them. So always make sure that your content is worthy of promotion.
---
Organize Facebook Contests
Marketers have long used competitions and the potential to win something free to promote their affiliate products. Run a contest to get more people interested in your Facebook page and expand your fan base.
You can ask your audience to sign up for your newsletter so that they will be qualified to join the contest. This is also an opportunity for you to grow your email subscribers. The more valuable your reward is to your Facebook audience, the more likely you will obtain a response.
There is no need for the reward to be expensive, but it should be something that you know your audience needs. It can be a premium e-book or perhaps a small cash reward. Product owners utilize this method to get affiliates to promote their product, which shows that it works.
---
Always Check Your Facebook Page Insights
As part of your effort to engage your audience, you have probably published several forms of content. But how do you know which one resonates with your audience the most? Is there anything else you think you should give a shot? When visitors arrive on your Facebook page, how do they interact with it?
These questions and more can be answered by simply studying your Facebook insights data. It is a free tool offered by Facebook that provides information on the performance of your Facebook page. Insights include everything you need to monitor your audience's actions on your page.
---
Mask Your Affiliate Link
Link length varies based on the program you promote. Long links appear shady and might look spammy to your audience. You can shorten your links easily using affiliate link masking plugins such as the "Pretty links WordPress plugin." Advanced features like geo-targeting and link management may be accessed via the plugin's WordPress dashboard.
Affiliate link masking tools not only make it easy to monitor and manage your connections, but they also show your links in a polished, branded appearance. Pretty link is an excellent plugin for seasoned affiliate marketers, but newbies who wish to stick to other free choices have good options available.
---
Make Sure to Include Relevant Hashtags
Use hashtags to organize posts and increase conversation. You can also target a specific audience on Facebook through them. Hashtags are commonly used on Instagram and Twitter, but you can also use them on Facebook.
While using hashtags, make sure they are meaningful to the content. Using a random trendy hashtag would only make your content appear as spam.
Your Facebook page and website can gain traction if you use hashtags, as people can also find your posts using them. You may start a conversation on Facebook using a popular hashtag, or you can join one that has already been created.
When people use hashtags linked with your page when talking about your content or campaigns, you'll get additional exposure. If you use your hashtags strategically, people will advertise your page on your behalf.
---
Sell Products That Users Want
Many novice affiliate marketers make the mistake of selling many different products at once. When you introduce a new product, you must be sure it will benefit your audience.
Bear in mind that you are building a brand, and your customers will come back for more if you sell quality products. You need to provide the customer something of value in exchange for their money.
To avoid selling random products every day, you would need a long-term plan. First, spend some time investigating valuable items that your target audience would love. Sell that product for a while and monitor your insights. You can experiment with a few products in that niche and finally settle on one.
---
Post to Relevant Facebook Groups
A Facebook Group is a meeting place group of people who have a common interest or outlook on a subject matter. It facilitates communication between persons who share a passion. Fortunately, Facebook enables a single user to join up to 6,000 groups so you can join as many groups as possible.
You may either start your own Facebook Group or join one already established in your niche, as we mentioned earlier.
Make sure you don't come off as self-promotional even if you created the group, and focus on sharing quality content instead of just promoting your products.
---
Create an Opt in Page
An opt-in page is a web page meant to convert visitors into subscribers by offering them a lead magnet in exchange for their email address. Marketers utilize this method to persuade more consumers to provide their personal information.
The insights acquired from these data enable marketers to engage with their audience via high-quality and tailored email campaigns. There is a tendency that not every customer who goes to your affiliate landing page would buy immediately.
This is why it is good you use an opt-in page to collect their emails before sending them to the landing page. You can then send them the same offer through their email if they haven't purchased the product you are promoting.
---
Best Affiliate Programs for Facebook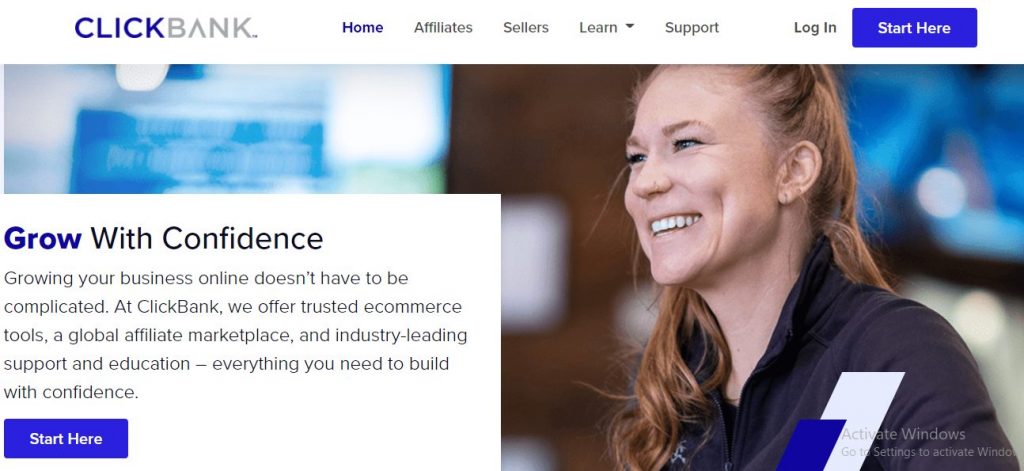 ClickBank is our first choice for starting an affiliate marketing business on Facebook. Even though they have expanded into physical products, ClickBank's concentration is mainly on specialty e-books, e-courses, and e-courses.
ClickBank is an excellent option for those who are just getting started in affiliate marketing since it enables you to join for free, and the approval procedure is almost instantaneous. The only downside is that ClickBank is not available in every country.
---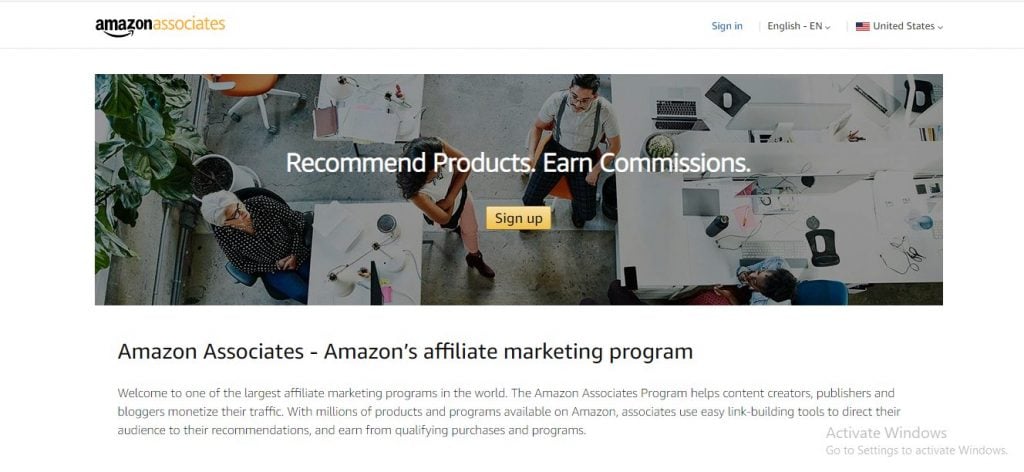 Beginners and seasoned affiliates alike may benefit from Amazon's Affiliate Program, which is simple to utilize. When it comes to advertising and links, Amazon has millions of products to choose from, making it easier for your visitors to get what they want.
All you need to do is go over to the amazon associates website and sign up for an account. You can get paid up to 20% depending on your niche and the product you are promoting. Once you have made a sale, you'll start getting your commission in 60 days.
---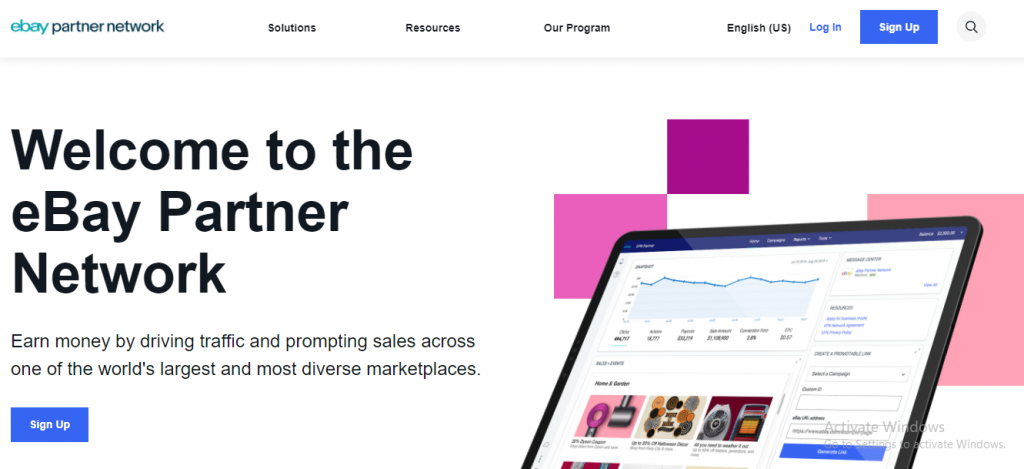 eBay connects 183 million customers across the globe, ranging from global brands to small local businesses, and has evolved from its roots as an auction site for used items. There are approximately 1.4 billion listings available at the moment, with 80% of those listed being new products.
The eBay Partner Network is entirely free to sign up, and you get approved within hours after your application has been reviewed. You can earn up to 6% commission on any sale you make, which might be low, and you get paid after 21 days. The minimum payout is $10.
---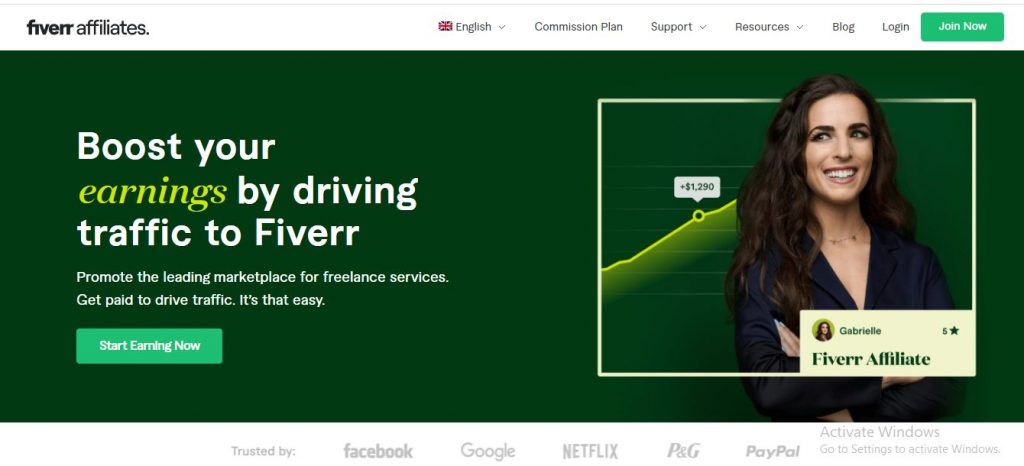 From writing and transcription to programming and graphic design jobs and other business services, possibilities are endless when you join the Fiverr affiliate program.
With the hybrid, $10 CPA/10% rev share model, affiliates may earn up to $150 in CPA for each new customer or up to $1,000 per sale after marketing these services. The Fiverr affiliate program cookies last for 30 days.
This means that when you refer someone to Fiverr, they should make a purchase within 30 days in order for you to get a commission. An advantage of the Fiverr affiliate program is that if you promote a particular service and the customer ends up ordering another, you will still get paid. The minimum payout is $100.
---
Shareasale is a huge affiliate marketing network with many affiliates promoting their products. This affiliate network has a long history, having been in operation for almost two decades. A few of their select markets to target include B2B, fashion, home and garden, and food and beverage.
Technology-wise, their platform is well detailed and easy to navigate. Because of its emphasis on openness, timeliness, accuracy, and efficiency for affiliates, Shareasale has built a strong reputation for itself as a trusted affiliate network. Their tracking cookies last for 90days, and the minimum payment threshold is $50.
---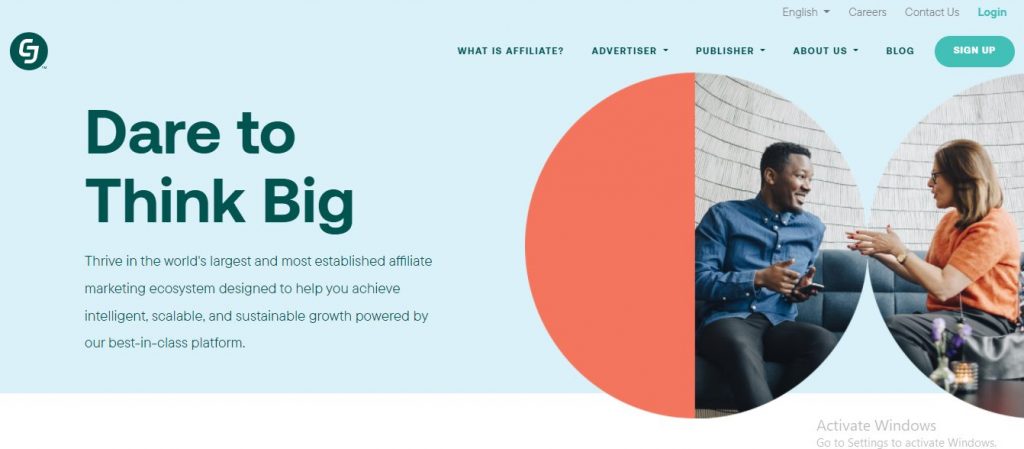 Like Shareasale, CJ Affiliate is another affiliate network that puts thousands of different merchants together under one roof. The fact that CJ is one of the largest affiliate networks in the world means that you'll have the opportunity to network with thousands of businesses, both large and small.
Joining the CJ affiliate network is a good choice if you want to collaborate with some of the best companies in the world. One of the disadvantages is that It may be difficult for new affiliates to accept big merchants on the platform.
If you want to collaborate with them, you'll have to be distinctive with their email outreach. The length of their cookies varies depending on the retailer you choose to join. In addition, the minimum payment threshold is $50 for direct deposit and $100 for a check payment method.
---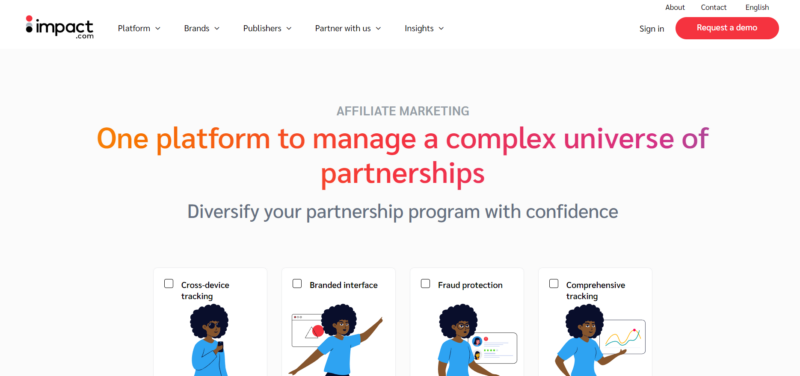 Impact Affiliate is a top-notch affiliate marketing platform. Impact uses automation to develop its network of partners. You may select from a variety of affiliate programs hosted by Impact Affiliate.
All of the businesses and organizations available for collaboration are listed in a marketplace that you can access as an Impact affiliate. A fixed amount or a percentage of sales is the most common compensation option.
Before applying to a program, be sure you know what it entails. Payments are made every month using the Impact Affiliate program. You may request withdrawals in any currency on a particular day of the month.
---
Conclusion
Becoming an affiliate on Facebook can generate both paid and free traffic to your affiliate product, but there are rules you have to observe. Avoid being too salesy or spam your links in any group you join, as this might result in you being banned or blocked.
However, you'll do just fine if you follow all of Facebook's rules and the FTC disclosure requirements. Maintaining a consistent post schedule is also one point you should keep in mind. This will make your audience engage with your site, as long as your content is of high quality and gives out value.
Facebook is a terrific tool for increasing affiliate earnings, but long-term success requires putting effort into cultivating relationships and gaining trust. Any of the top affiliate programs listed above have a variety of categories. Once you have chosen an affiliate program, apply all the tips and strategies we have discussed so far and scale your affiliate business.
Frequently Asked Questions
Is affiliate marketing allowed on Facebook?
Facebook's TOS and Amazon Associate's Terms of Service (TOS) both allow affiliate links on your personal pages and business pages. You need to ensure the affiliate network's terms of service and ensure it allows you to post your links on Facebook.
How do I become an affiliate page on Facebook?
To create an affiliate page on Facebook, follow these steps:
Create a new Facebook page

Grow your affiliate business

Promote blog posts

Publish related videos

Pin your most popular post

Add affiliate disclosures
Which social media is best for affiliate marketing?
These social media networks are best for affiliate marketing:
YouTube

TikTok

Instagram

Pinterest

Facebook
To be successful with affiliate marketing, you need to find potential clients where they are already interacting.
Can a normal person do affiliate marketing?
Anyone can sign up to do affiliate marketing – even a normal person! If someone purchases a product through your link, you will earn a small commission.