Advertising Disclosure
Advertising disclosure:
Our partners compensate us. This may influence which products or services we review (also where and how those products appear on the site), this in no way affects our recommendations or the advice we offer. Our reviews are based on years of experience and countless hours of research. Our partners cannot pay us to guarantee favorable reviews of their products or services.
Data-driven decision-making and traditional SEO strategies are rapidly being augmented by cutting-edge AI SEO technology. As business owners seeking to harness the power of AI to identify and target potential customers more efficiently through data analysis and predictive modeling, selecting the right agency becomes imperative. This means that the question is no longer whether to embrace AI in your SEO endeavors but how to choose between the agencies claiming proficient AI expertise.
Fear not, as we've meticulously examined and evaluated the top players in the industry, drawing upon our expertise to give you an estimation of their capabilities. We'll explore the critical factors that should underpin your decision-making process, ensuring that you choose an agency that aligns with your unique enterprise goals and objectives.
With that said, here's our listicle of the Top 10 AI SEO Agencies.
---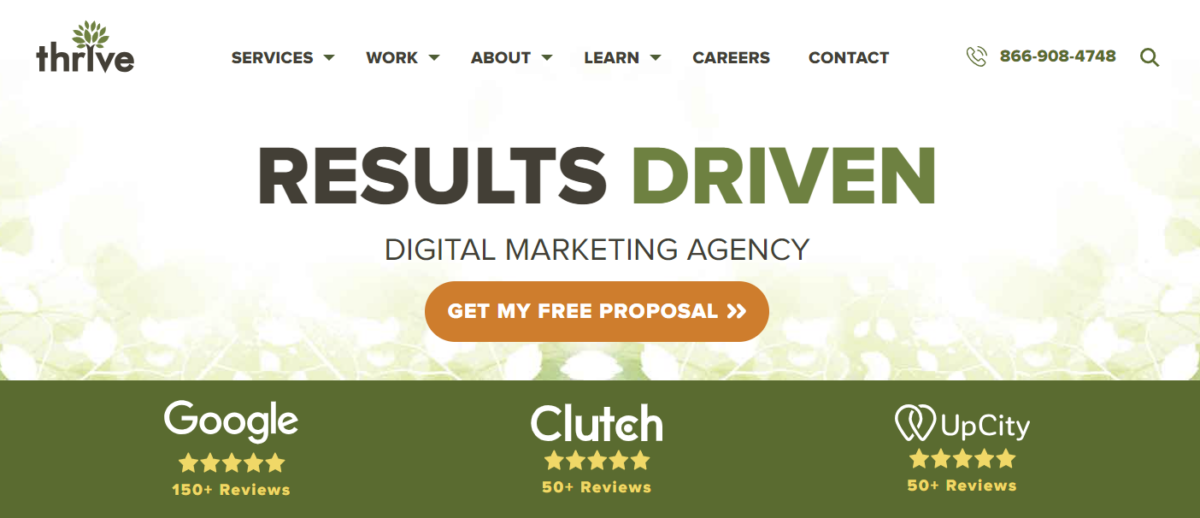 Year Founded: 2005
SEO Services: Local SEO, Technical SEO, Franchise SEO, SEM, SEO content writing, eCommerce SEO
Thrive is a well-known digital marketing agency specializing in harnessing the power of AI-driven SEO solutions to help your business excel in the digital world. With a committed and well-established team of experts, Thrive engages in promising and captivating projects. 
Thrive demonstrates exceptional proficiency in providing AI SEO services that attract organic search traffic and help grow online authority, increase conversion rate, and earn revenue. This includes keyword research, content strategy development, and content creation tailored to reach untapped demographics.
With a proven track record, Thrive's client portfolio speaks volumes about its capabilities. With numerous successful partnerships under their belt, Thrive leads the way in the new age of AI-powered search engine optimization.
---

Year Founded: 1996
SEO Services: Enterprise SEO, Local SEO, SEO Audits, Page Speed Optimization, eCommerce SEO
WebFX has consistently proven its expertise as a notable digital marketing agency, providing businesses with exceptional AI-driven SEO solutions. What sets this agency apart is its in-house technology and commitment to harnessing the power of artificial intelligence to drive revenue for its clients.
At the core of WebFX's offering lies its custom SEO services, designed to accelerate a brand's presence from search engines while demonstrating a clear bottom-line impact. These services are meticulously tailored to the unique needs of their customers, seamlessly blending human talent and cutting-edge technology. WebFX's commitment to proving ROI through conversion-to-close tracking and activating first-party data is yet another testament to their proficiency.
But that's not all. WebFX's SEO services encompass a comprehensive suite of offerings, ensuring businesses are well-equipped for success in the digital realm. Moreover, the agency's dedicated account managers leave no stone unturned, analyzing the client's websites, Google Analytics, Google Search Console, and competitor data to propel them to the top.

---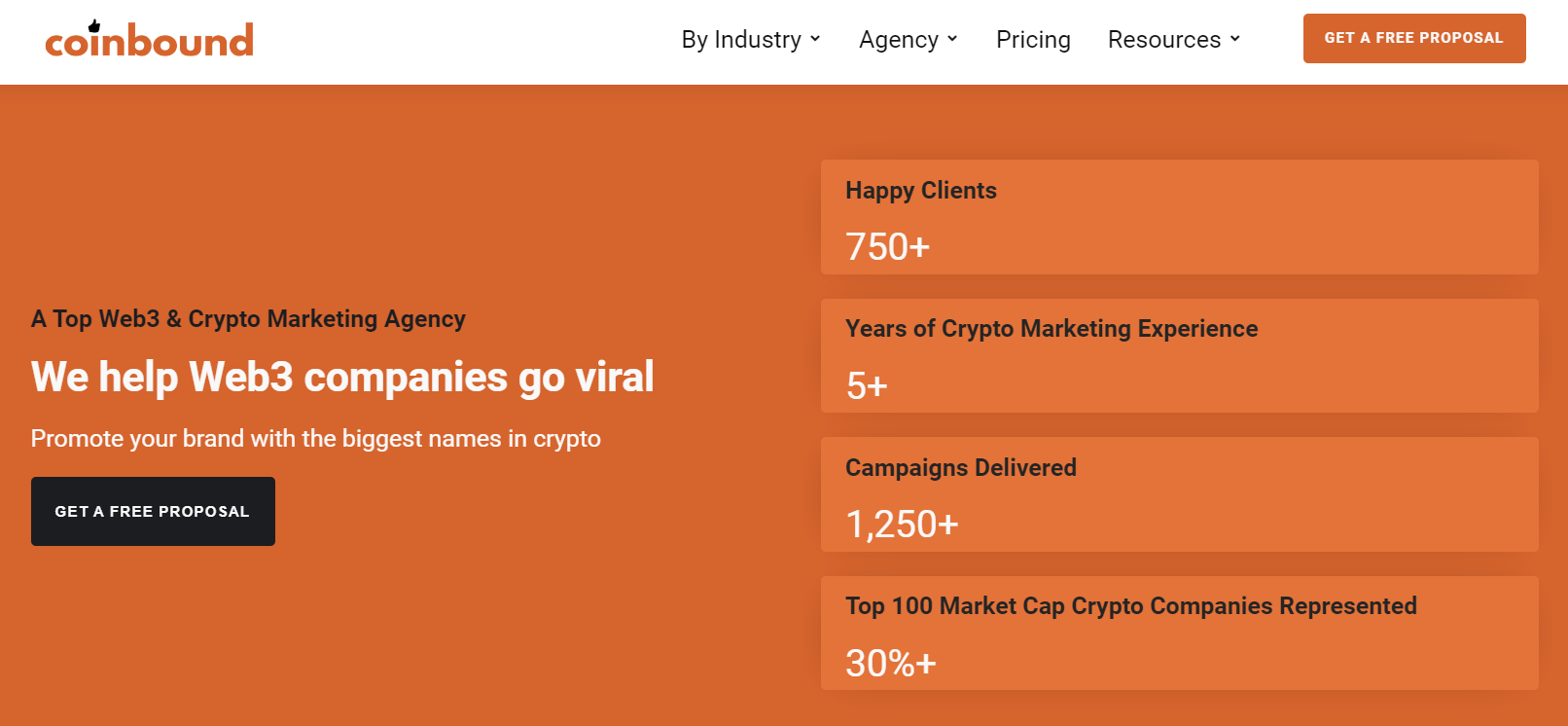 Year Founded: 2018
SEO Services: Comprehensive SEO, Link Building, Website Audits, Content Creation
Coinbound stands as a beacon in the AI SEO landscape, particularly in the realm of crypto, Web3, and NFT marketing. Their unmatched expertise is evident in the extensive partnerships they've forged with pivotal Web3 and crypto brands. At the center of Coinbound's offerings is its innovative approach to crypto SEO, which fuses meticulous research with compelling content. The agency's prowess is further enhanced by its ability to elevate brands through authority building, positioning them as challenging players in the crypto space.
Beyond just their technical acumen, Coinbound ensures its clients' websites are primed for optimal performance with advanced audits. The agency prioritizes transparency, offering in-depth analytics and reporting, allowing brands to witness their site's burgeoning traffic. Coinbound's suite of services doesn't end there. From media planning to public relations, every offering is fine-tuned to align with the dynamic needs of Web3 brands.
---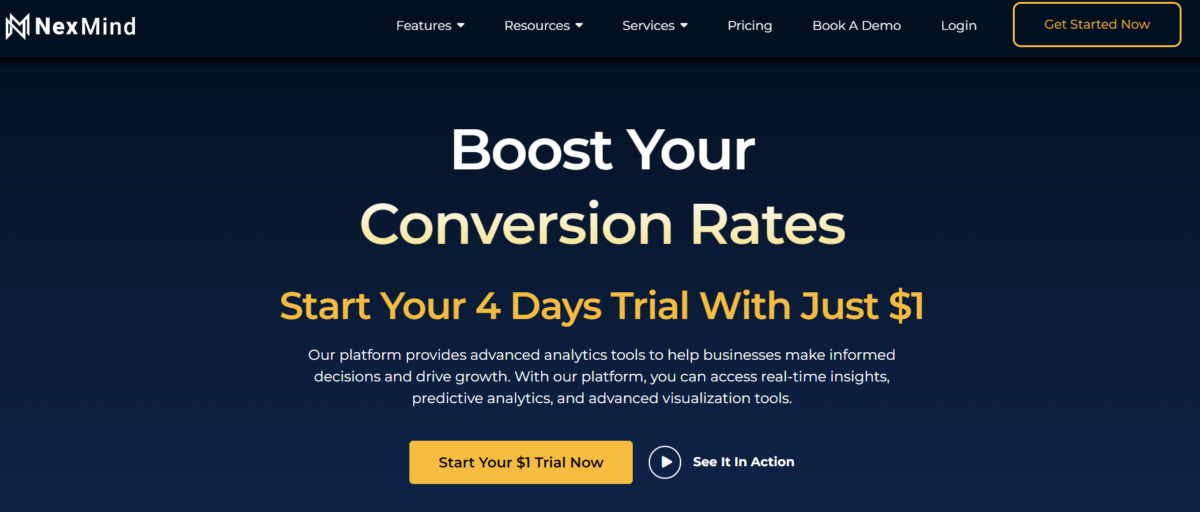 Year Founded: 2005
SEO Services: AI SEO Automation, Keyword Discovery, Keyword Tracker, Content Creation, Content Builder
NexMind has firmly established its position as a premier digital marketing agency, offering businesses unparalleled AI-driven SEO solutions. The agency's state-of-the-art platform and unwavering dedication to harnessing next-gen technologies to augment client revenue is one of their defining traits.
Central to NexMind's offerings are its before-mentioned AI SEO tools, meticulously crafted to amplify a brand's online presence. These tools are intricately designed to cater to the distinct requirements of their clientele, melding human ingenuity with the prowess of cutting-edge artificial intelligence. NexMind's focus on offering real-time insights through its keyword tracker and content suggestions clearly reflects their mastery in the field.
NexMind doesn't just stop there. Their SEO toolkit provides a broad spectrum of solutions, priming businesses for unparalleled digital success. Furthermore, the agency's adept team remains relentless, able to analyze and refine content in an impressive 17 languages, ensuring brands resonate on a global scale.
---

Year Founded: 2016
SEO Services: Local SEO, AI SEO, Content Creation & Marketing, Link Building
Seeker has unceasingly showcased its prowess as a distinguished digital media marketing agency, offering brands exceptional AI-driven SEO tools. 
A distinct edge that Seeker boasts is its forward-thinking approach, matching time-tested outreach and content strategies with advancements to ensure optimal brand visibility and growth. At the nucleus of Seeker's service suite are its AI-empowered SEO strategies, intricately sculpted to amplify a brand's resonance with its audience and deliver a palpable impact on revenue streams.
These offerings are adeptly customized, reflecting the unique requirements of their diverse clientele. Seeker ingeniously intertwines the intuitive insights of their seasoned professionals with the sheer efficiency of advanced AI tools. Their emphasis on leveraging artificial intelligence for analytical insights and as a symbiotic partner to human creativity clearly indicates their unique approach.
---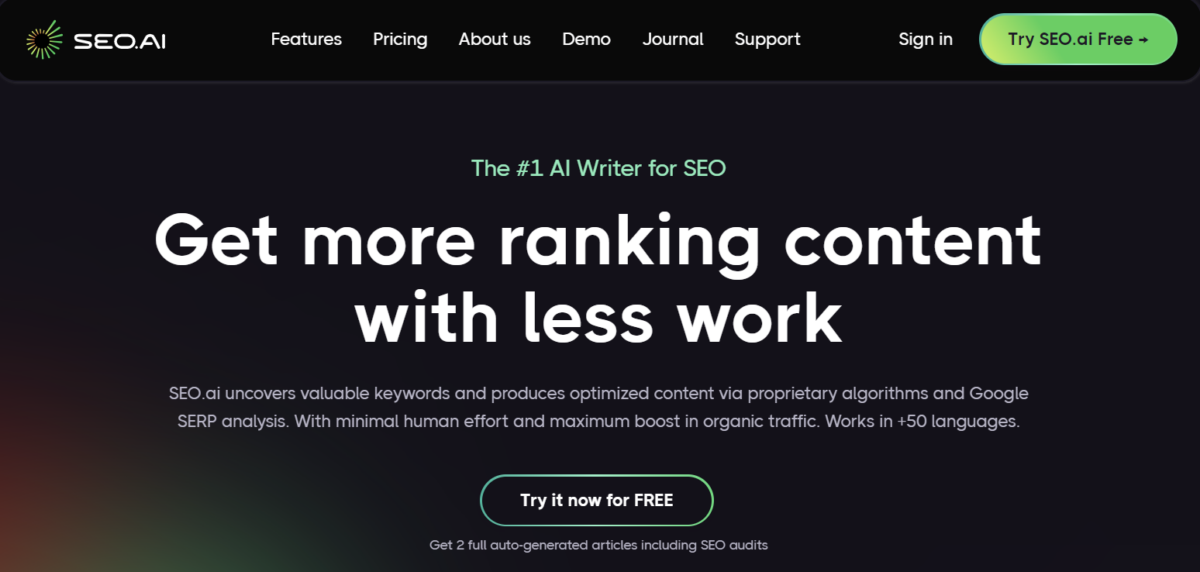 Year Founded: 2004
SEO Services: Content Creation, Keyword Research, Competitor Research, AI Editor
Emanating from a hub of innovation, SEO.ai stands out as a premier digital marketing agency for startups, skillfully employing AI-centric SEO solutions to carve a distinct niche for businesses in the expansive digital universe. With a foundation rooted in AI technologies, SEO.ai engages in transformative projects, each echoing the promise of unparalleled digital growth.
Its bespoke AI-optimized SEO services are conceived to turbocharge a brand's digital footprint while solidifying its revenue streams. The agency meticulously crafts content enriched by AI insights, ensuring it magnetizes organic traffic, fortifies online stature, and catalyzes conversion rates. This is further enhanced with in-depth keyword analytics and strategic content formulation designed to captivate untapped market segments.
SEO.ai ensures a holistic suite of solutions, positioning brands for sustained success in the online domain. Moreover, the dedicated specialists at SEO.ai demonstrate relentless commitment, deploying AI-driven analytics and tools, ensuring every digital dimension is optimized, and guiding brands to their zenith in online performance.

---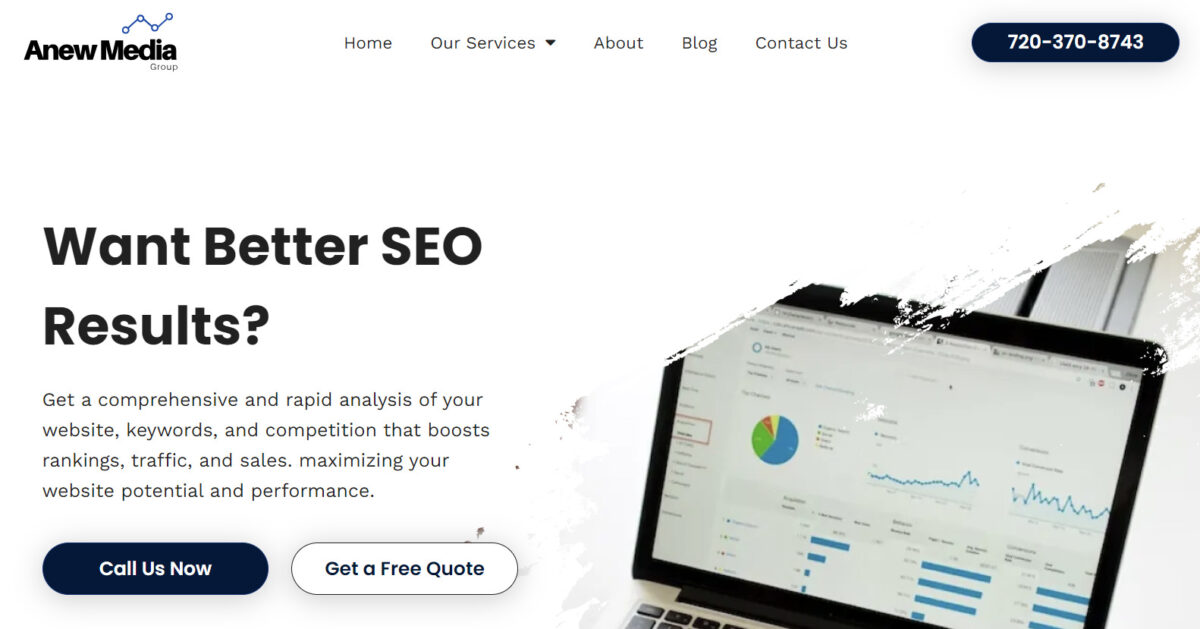 Year Founded: 2021
SEO Services: Local SEO, National SEO, Backlinking
Anew Media Group emerges as a frontrunner in AI-driven SEO strategies. Recognizing the transformative potential of the technology, this agency seamlessly mixes time-tested SEO practices with state-of-the-art AI tools.
Anew Media Group is distinguished by its commitment to transparency and innovation. They don't merely follow trends; they set them, always exploring unusual marketing techniques to keep businesses ahead in their respective industries. Their AI-focused services, from robust data analysis to targeted content creation, are about quantity and quality, ensuring the digital content resonates with the intended audience.
Anew Media Group's keen emphasis on transparency ensures clients are always in the loop, celebrating successes and navigating challenges hand in hand. Moreover, their consistent quest for innovation means businesses are always at the forefront, ready to seize the next digital opportunity. With a foundation built on integrity, expertise, and futuristic vision, Anew Media Group undoubtedly paves the way for the next era of SEO excellence.
---
Year Founded: 2019
SEO Services: Local SEO, Link Building, On-Page Optimization, Technical SEO, Blog Posts and Content, eCommerce SEO
Neural Edge is a premier digital marketing agency focusing intensely on AI-augmented SEO methodologies aptly suited for the dynamic demands of the industry. The firm, under its accomplished umbrella, fuses decades of standard SEO mastery with innovative AI tools, ushering in a new era of targeted campaigns tailored to meet the specific needs of contemporary businesses.
What truly underscores Neural Edge's commitment to excellence is its comprehensive approach to SEO. The agency embarks on a profound data collection and analysis journey, ensuring that its strategies are not just confined to keywords but encompass market trends and data insights. This holistic process facilitates crafting riveting content that boosts organic traffic and cements a brand's authority in its domain.
Services provided by Neural Edge are vast and varied, spanning from meticulous SEO strategies encompassing keyword research and scalable content creation to intricate technical audits ensuring optimal site performance. Additionally, their proficiency in digital PR and the unique addition of Pinterest campaigns make them stand out.

---

Year Founded: 2015
SEO Services: Keyword Analytics, Local SEO, B2B SEO Strategies, On-Site Optimization, Content Optimization, SEO Intelligence, Internal Link Analysis
SiO Digital, a dominant figure in the digital marketing landscape, provides businesses with unparalleled AI-infused SEO solutions. A distinctive hallmark of SiO Digital is its innovative fusion of predictive analysis with traditional marketing, ensuring that brands enjoy high-quality traffic and lead generation.  SiO Digital's services include AI-empowered SEO strategies intricately devised to supercharge a brand's digital footprint while ensuring substantial revenue enhancement.
These strategies are carefully shaped to resonate with their client's specific demands, spearheaded by their experts' intuitive brilliance. SiO Digital's unwavering focus on utilizing AI for actionable insights, overreaching mere data analysis to actual strategy formulation and execution, stands as a clear testament to their adeptness in the field.
What's more, their multifaceted SEO offerings present an all-encompassing range of services, positioning businesses at the pinnacle of digital success. Further spotlighting their commitment, the agency's experienced specialists employ AI-backed analytics and tools, ensuring every facet of the client's digital presence is primed for excellence, thereby guiding them toward unparalleled online ascendancy.
---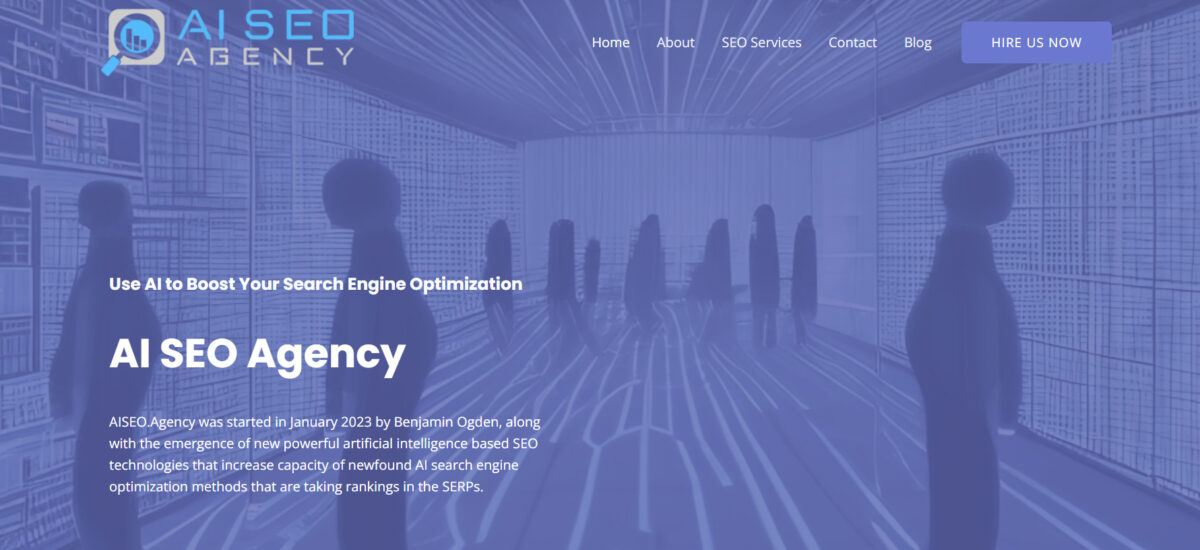 Year Founded: 2023
SEO Services: On-Page Optimization, Off-Page Optimization, Online Marketing, Social Media SEO, eCommerce SEO
AISEO Agency is a well-versed digital marketing agency with groundbreaking artificially-powered SEO techniques. Instituted by industry veterans, the agency has seamlessly integrated traditional SEO acumen with futuristic tools to foster digital growth, all within a year of its inception.
AISEO Agency's prowess lies in its ability to enhance organic search traffic, leveraging AI's precision to create content that resonates with target audiences and magnifies online presence. This mastery extends to meticulous content planning, robust SEO strategies, and even revitalizing traditional email marketing with AI-infused insights. They don't just stop at SEO; their expertise cascades into the realm of social media, optimizing brands for enriched digital visibility.
Furthermore, AISEO Agency is committed to client success, staying abreast with contemporary guidelines and always ensuring white-hat practices. Their dynamic services are expansive, covering the spectrum from the granular aspects of site analytics to the larger canvas of industry-wide audits. With a robust foundation and a futuristic vision, AISEO Agency is indisputably sculpting the SEO landscape of tomorrow.
---
Why do Businesses Need AI SEO Agencies?
AI SEO agencies offer businesses a competitive advantage that is hard to rival.  Without dwelling too much, here are several reasons why:
Personalized User Experience: AI SEO agencies utilize algorithms that analyze user behaviors and patterns. This allows businesses to tailor content, recommendations, and user interfaces to provide a highly personalized experience for each visitor.
Predictive Analysis: With AI's capability to analyze vast datasets, businesses can anticipate market shifts, user behaviors, and emerging trends, enabling them to adjust strategies even before a change becomes apparent.
Enhanced Efficiency: Automation, a key feature of AI, enables repetitive tasks like data analysis, report generation, and even some content creation to be done faster and more accurately than humanly possible.
Voice Search Optimization: As voice searches become more prevalent, AI SEO agencies have the tools to optimize content for this new mode of search, ensuring businesses don't miss out on this growing segment of users.
Visual Recognition: AI can analyze and understand visual content, helping businesses optimize images and videos for search, which can be a significant source of web traffic.
Continuous Learning: Traditional SEO methods might become outdated, but AI systems learn continuously from data, ensuring that the SEO strategies employed are always optimized for the current digital environment.
Semantic Search Enhancement: AI can understand the context better, ensuring that content is optimized for keywords and intent, providing more relevant search results for users.
---
Factors to Consider When Choosing AI SEO Agencies
Choosing the right AI SEO agency can be difficult, especially for those less versed in developing cutting-edge artificial technologies. Therefore, here's a checklist to help guide businesses:
Experience and Track Record: The right agency has to have implemented AI SEO with past clientele and show a proven track record of delivering success. 
Technological Prowess: What specific AI tools and platforms does the agency use? Are they leveraging the latest technologies? The right agency must display technological prowess, ensuring brands get their hands on the latest tech to help them rank on Google and other search engines. 
Transparency: The right agency must maintain open lines of communication, providing regular updates and insights to their clients. 
Cost-effectiveness: While AI-driven SEO may have higher upfront costs, assessing the potential ROI is essential.
Adaptability: The digital realm, especially AI, is ever-evolving. The agency must show a commitment to continuous learning and adaptation to remain ahead of the competition. 
Client Testimonials and Reviews: What do past clients say about the agency? Are there case studies that showcase their success? This information is crucial when examining the level of proficiency in regards to utilizing AI-powered SEO. 
Scope of Services: Beyond AI SEO, what other digital marketing services does the agency offer? Comprehensive solutions can be more effective than specialization in one area. 
Ethical Practices: Ensure the agency follows "white hat" SEO practices and adheres to guidelines set by search engines.
Customer Support: How accessible is the agency? Do they provide prompt responses and dedicated support when needed? The right agency must be able to guide clients throughout the process and offer some level of customer support. 
Remember, while AI can provide numerous advantages in SEO, the human element—understanding your business goals, target audience, and unique selling points—is irreplaceable. The ideal AI SEO agency will seamlessly blend technology with human insight.
---
Conclusion
The world of SEO is rapidly evolving, and these top AI-powered SEO agencies are at the forefront of this transformation. Each brings a unique set of skills and expertise to the table, making them stand out in their own right.
Frequently Asked Questions
What is an AI SEO Agency, and how does it differ from a traditional SEO agency?
An AI SEO agency, short for Artificial Intelligence Search Engine Optimization Agency, utilizes advanced AI technology to enhance your website's performance in search engines. Unlike traditional SEO agencies, AI SEO agencies employ machine learning, data analysis, and AI-powered tools to deliver more precise and effective results.
Why should my business consider hiring an AI SEO Agency?
AI SEO agencies bring a level of precision and efficiency that traditional methods can't match. They can analyze vast amounts of data, identify trends, and optimize your website in real-time, leading to improved search engine rankings and increased organic traffic.
What specific services do AI SEO Agencies offer?
AI SEO agencies offer a range of services, including keyword research, content optimization, competitor analysis, and backlink management. They also excel in AI-powered on-page and off-page SEO strategies, making your website more competitive in the digital landscape.
Can AI SEO Agencies help with content creation?
Absolutely! AI SEO agencies often use AI-powered tools to create high-quality, SEO-friendly content. These tools can generate content ideas, optimize existing content, and even write articles, ensuring your website always has fresh and engaging material.