Wouldn't it be great if every product offered on Amazon sold really well and became a hit with customers? Since not all items are sellable, it's essential for you to find products that ensure you're bringing in customers and making a profit. This guide will detail the different business models that sellers on Amazon use, the factors that make a product sellable on Amazon, the best types of products to sell, and tips you can use to find winning products.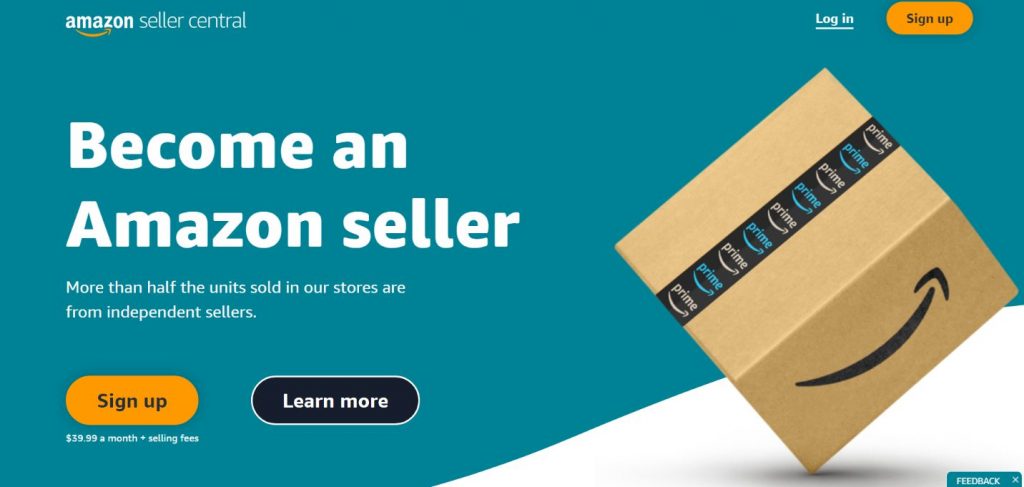 ---
A Guide to Selling on Amazon: Finding Out What to Sell on Amazon:
---
Is It Profitable to be an Amazon Seller?
This is something all aspiring Amazon sellers and entrepreneurs want to know, and the short answer is: yes. Selling on Amazon can be incredibly lucrative, with new sellers typically earning $42,000 in profits each year. According to research by Jungle Scout, 85% of Amazon sellers are considered profitable.
However, there are many sellers who also fail at selling on Amazon because they lack the product knowledge necessary to offer winning products to their customers. They may also not be marketing their products properly, which means they're not reaching the customers who are most likely to be interested in what they have to offer.
Now, before you go look for products to sell, it's important to distinguish the type of business model you want to follow as a seller on the platform.
---
Choose a Business Model for Selling on Amazon
On Amazon, there are six popular business models that sellers use to connect with customers and get a sale on the platform. The following are the business models most prevalent on Amazon: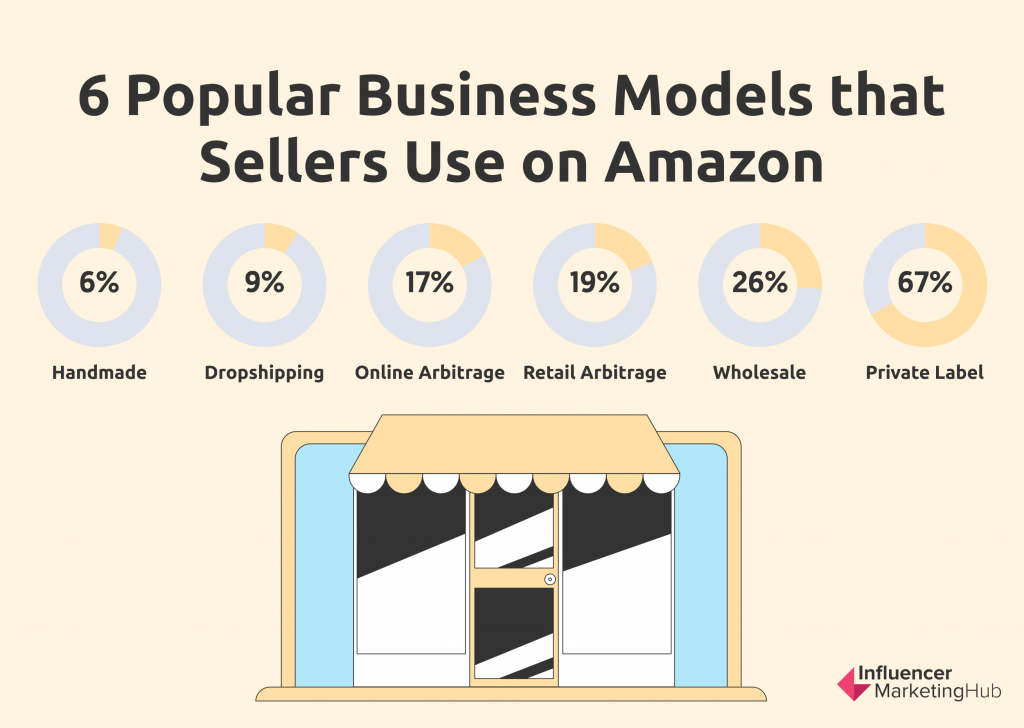 Handmade: 6%

Dropshipping: 9%

Online Arbitrage: 17%

Retail Arbitrage: 19%

Wholesale: 26%

Private Label: 67%
It's important to know the type of business model to utilize on Amazon, so you can ensure that it fits and maximizes your marketing plan, the types of items you're going to sell, earning goals, and more. The section below explains each business model in more detail.
Retail arbitrage
Retail arbitrage refers to the practice of purchasing items from other retailers and selling them under your own label. This is usually done by buying items on clearance racks and bargain bins and selling them for a higher price on your Amazon store.
Online arbitrage
This is similar to retail arbitrage, but instead of purchasing products from physical stores, it involves purchasing products from other online platforms.
Dropshipping
When you choose to adopt a dropshipping business model, this would mean that all the products get sent straight from the manufacturer to the customer. This reduces any overhead and rental costs you would normally have if you had to store your products.
Private label
Private label refers to when a retailer rebrands a product that they already manufacture in-house to be sold on their platform. An example of this is Amazon's AmazonBasics and Amazon Essentials. This is the most dominant business model on the platform.
Handmade
Handmade products are usually made by craftsmen and artisans. These products tend to be a little more expensive than mass-produced items, and they typically cater to a niche audience.
Wholesale
This business model refers to both purchasing and selling products in bulk. This allows you to sell items for a cheaper price than they would normally retail for.
---
What Makes a Product Fit for Selling on Amazon?
Because of the platform's accessibility and versatility, you can list almost any item you want (more on this later) on Amazon. However, this doesn't guarantee that you will make a sale. The perfect Amazon product needs to check off a few boxes to work well and resonate with customers across the platform. Here are the things you should consider when choosing a product to include in your Amazon inventory.
Need or demand for the product
When it comes to selling any type of product, you need to make sure you're targeting a specific customer pain point and can offer a viable solution. Otherwise, customers are less likely to purchase your product. Here are the questions you should ask yourself when it comes to selecting a product to sell:
Can this product address a common pain point among consumers, and are there many like it already available on the market? By assessing this, you can see if there are any market gaps that you can fill through your product.

What is the average cost of the product? Customers always want to know that they're getting the value for their money, so the cost should be one of your biggest considerations when it comes to putting out a product.

Are there niches that would benefit from a certain product? Selling to a niche market may seem inefficient, but you can actually use this as a strategy to grow your brand on Amazon. If you're not sure how to begin doing this, you can first try analyzing your own hobbies, passions, and interests.
Product's branding and marketability
On Amazon, your product marketing is key. You have to make sure that you're reaching customers who are genuinely interested in the type of products and services that you have to offer. This can be done by researching keywords to use, running ad campaigns, and beefing up your digital presence using social media platforms.
Of course, you need to make sure your product and content are both appealing and can hold the attention of people scrolling through the Internet. Otherwise, it would be more difficult to sell and drive traffic to your Amazon store.
Product's availability
You need to make sure you can keep up with the demand for your product by having consistent stock volumes. If a product is always unavailable, then it won't sell, and you would have a harder time building a connection with customers.
Once you lose stocks, your ranking as an Amazon seller would drop, and your product would become harder to discover on Amazon's search engines. Additionally, competitors would be able to swoop in and occupy your market share, which would make it even harder for you to sell your product.
Logistics and distribution
Ideally, your product should be shipped out in the easiest and most fuss-free way possible. Smaller products are typically more convenient to package and ship out because they're more compact and easier to handle.
When it comes to distribution, having a product with limited distribution is better because your price margins are protected. Amazon has a powerful price matching system, and it can force you to alter your prices if it sees better deals on the Internet. If your product can't be found on any other platform, this gives you more freedom to price it and sell it accordingly.
---
What Types of Products Should You Sell on Amazon?
You should choose products that are low-risk but can provide you with high returns. The list of Amazon's top sellers constantly changes, but these are the products that are usually in-demand:
Clothing and accessories

Books

Electronics and consumer gadgets

Children's toys and games
There are three categories that also perform the best out of all the product categories on Amazon. Home and kitchen products lead the fray with over 64.3 million products sold worldwide. Clothing and home improvement tools follow with 33.4 million products and 11.1 million products sold respectively.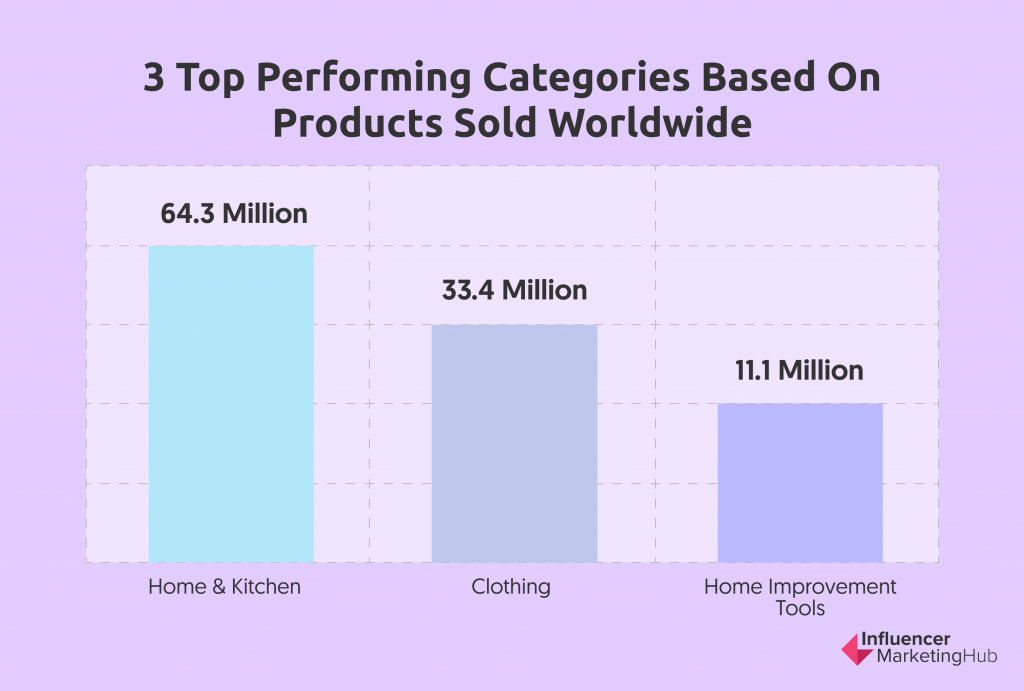 ---
The Products You Can't Sell on Amazon
While Amazon is excellent for selling most items, some products are prohibited for sale on the platform. Unfortunately, Amazon's list of prohibitions isn't black and white, and there are both restrictions and considerations for some products.
Restricted products – items that fall under restricted categories and can't be sold at all unless they meet a specific set of requirements.

Restricted categories – products that require approval by Amazon to see if they're legitimate and safe for public consumption. Jewelry is one of the categories that fall under this.
Here are some of the things you can't sell on Amazon or may need special permissions to do so. If you think your product falls within the following types, you would then need to consult with Amazon to see how you can get it approved:
Animal or animal-related items

Alcoholic beverages or products

Tobacco

Surveillance equipment

Recalled products

Plants and seeds

Offensive and controversial products

Laser products

Human body parts and similar items

Drugs and drug-related products
As a rule of thumb, you can only readily sell products that are perfectly legal, aren't regulated by the government, and aren't dangerous to both the general public and to you as a seller. If you want to know more about the requirements for selling these products and what items are absolutely prohibited, you can check out Amazon's restricted products page.
---
Tips for Finding Products to Sell
Finding a product to sell on the Amazon platform can seem like a daunting task, especially for beginners who are only just setting up their Amazon business. Here are a few tips to get you started on building your product listings for your store.
Check out the top-selling items on Amazon's Best Sellers page
Items on this page are considered Best Sellers for a reason. These products are the ones that sell the most and the fastest on Amazon, and they're likely to help you increase your income as an Amazon seller. They can give you a general idea of what works best on the platform, and you can check out the reviews per product to see if there's anything you can do to improve it.
You can even select specific sub-categories to narrow down your search. Note, however, that this page is largely influenced by recent sales, so the data might be skewed, depending on product trends and sales of discounted items.
Use Pinterest to get inspiration for products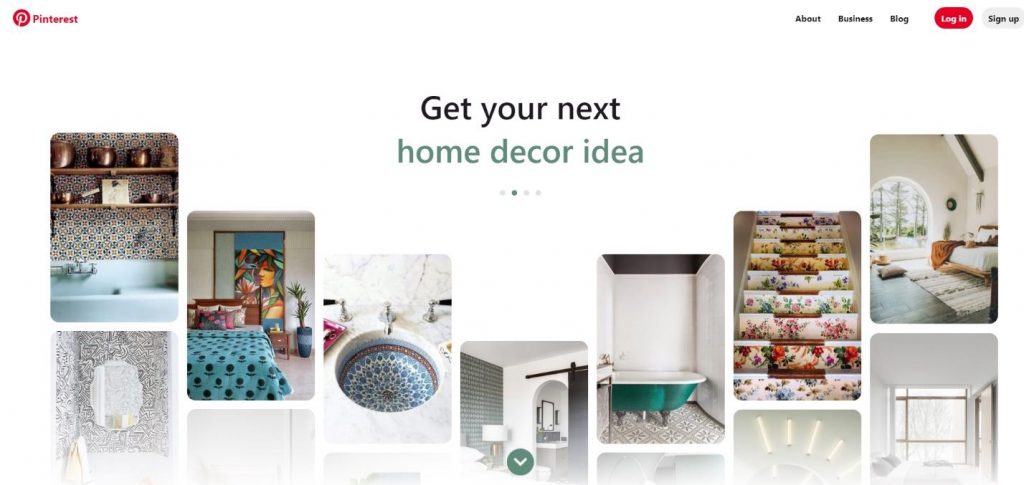 Pinterest is an excellent place to start looking for products to sell because you get a general idea of what people are interested in, especially if you decide to adopt a private label business model. Pinterest shows you the number of times something was "pinned," which is indicative of its popularity online. With this, you can search for exact products that customers are interested in, start creating your inventory list, and compare the product's performance on Amazon.
Check out other online marketplaces to see the best-selling items there
This will let you know which items are selling well on other platforms and are most likely to grab customers' attention. You can check out Alibaba, Shopify, and eBay to see what the best-selling items are. Of course, this shouldn't be done on a standalone basis. You need to incorporate this with your product and keyword research.
Conduct a thorough product research
This can be done using online tools like AMZScout Product Database or Helium 10. These can help you figure out the most profitable products to sell on your Amazon store. Using product research tools, you can set filters according to price and product type, so you can see the best-selling items on the platform for that category.
Conduct keyword research specifically for Amazon
There are keywords specifically geared for the Amazon platform, as Amazon's search engines work differently than other search engines. To find essential keywords to use, leverage Chrome extensions or online software like AMZScout's Keyword Search Tool and Helium 10's Cerebro. With these tools, you can see how many searches a specific search query gets.
Then, once you have your list of keywords, incorporate these into your product names and descriptions. This will help your products rank higher when prospective customers key in related search queries.
Frequently Asked Questions
What is the easiest thing to sell on Amazon?
Generally speaking, items that belong in the best-selling categories are easy to sell on Amazon. Home and kitchen supplies, for instance, are popular because everyone uses them for their daily needs. Other popular categories include clothing, beauty and personal care, toys and games, and health products.
Which handmade items sell best?
Some best-selling handmade items include candles, jewelry, beauty products like lip balms and lotions, and pet supplies like bandanas.
What is the most profitable product to sell?
Some of the items with high profit margins belong to the electronics category like computers, cellphones, and other gadgets. Handmade items, books, and products for baby care also rank high when it comes to profit margins.
Is it legal to buy and resell items on Amazon?
Yes! You can purchase an already existing item and resell it on the Amazon platform, provided that there are no restrictions around selling that specific item.