B2B eCommerce is becoming increasingly popular. According to Statista, it is anticipated that the global retail B2B eCommerce sales will amount to $1.1 trillion in 2021.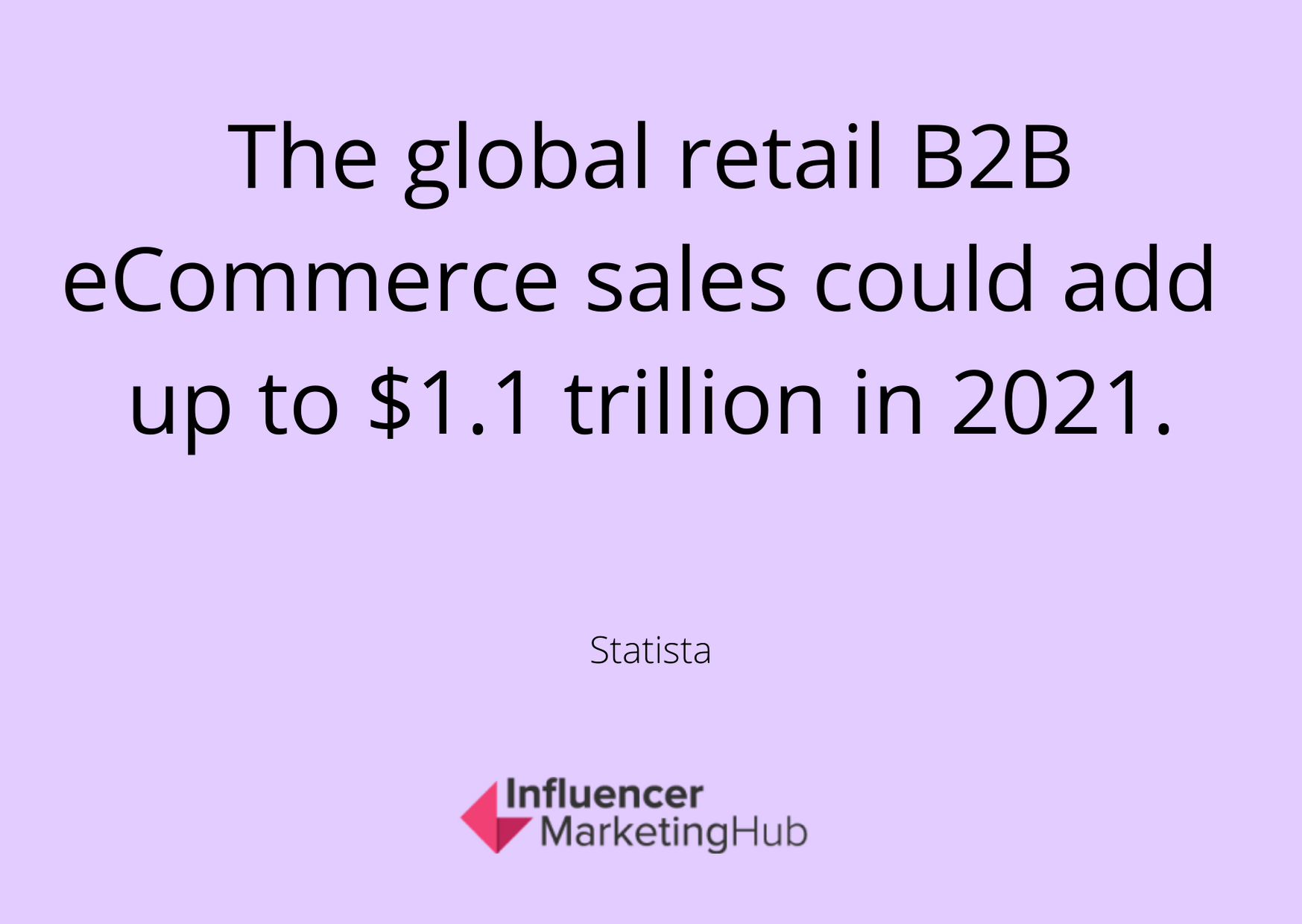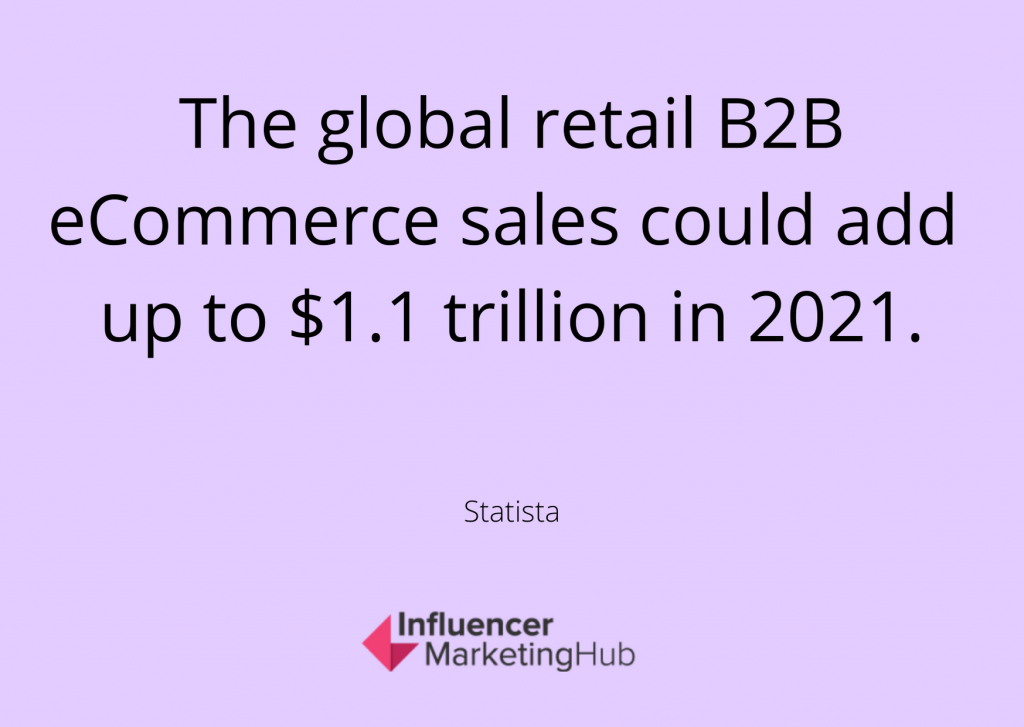 The majority of B2B buyers are used to having all the information quite literally in the palm of their hand as the Internet has become their go-to source. This has an implication for how B2B businesses manage their orders. If you want to meet the requirements of today's buyers, it is key that your business streamlines this process. It is expected that in the coming years, efficient fulfillment will become even more important as the new group of B2B buyers has an expectation that a B2B company should be able to deliver the same fast shipping that a B2C company can.
---
Why Improving Your B2B eCommerce Order Management Matters to Your Buyers:
---
What Is B2B eCommerce Order Management?
B2B eCommerce is short for business-to-business electronic commerce. It refers to when a business sells services or products to other businesses by means of the Internet. The businesses that bought their products will then resell it to consumers. As these types of businesses do not sell directly to the consumer, they typically sell their products in bulk and in large quantities. Needless to say, this can be challenging when it comes to managing orders.
In short, B2B order management refers to the process of keeping track of orders that were placed by customers and taking care of the fulfillment processes. The following are usually the steps in the B2B order management process:
The customer or sales rep enters the order into the order tracking system.

The customer receives an order confirmation.

The products that the customer ordered are reserved and assigned to the order of the customer. This process can be completed either automatically or manually.

The customer's order is forwarded to the warehouse where it will be packed and shipped.

If any products are currently out of stock, it will be backordered.

The customer receives a dispatch confirmation message.

The order gets delivered to the customer.
If the customer wants to return or exchange any of the ordered products, tracking and managing these transactions will also fall under the order management process.
To consolidate the tracking of orders, inventory and deliveries, it is crucial that B2B businesses have a reliable system in place. The most common types of order management systems include spreadsheets, enterprise resource planning software (ERP), B2B operations platforms and order management software solutions (but more about this later in this article).
---
Why Is B2B Order Management Difficult?
Even with advances in technology, B2B businesses still have to deal with a couple of challenges when it comes to managing their orders. In fact, technological developments are partly to blame for this. With B2B eCommerce taking off, so has the expectations of buyers. Also, now that there are different ways that B2B businesses can sell, new challenges have emerged.
The orders are more complex
As mentioned earlier, B2B businesses more often than not sell in bulk. The average buying cycle is also typically much longer which makes the orders more intricate than a B2C online sale. As a result, B2B businesses need more sophisticated technology.
Buyers' expectations are high
The orders that B2B customers place are bigger and, as a result, more costly. This means that there is a lot more at stake for the customer. What is more, the majority of B2B buyers want to find a business that they can do repeat business with and work with on a long-term basis. So, it is kind of to be expected that B2B buyers will have higher expectations.
There is another less obvious reason why the bar that B2B customers have set is even higher these days. Younger buyers have become used to first-class customer service, intuitive navigation, an efficient checkout experience, and fast delivery (in fact, anything less than same-day delivery is fast becoming subpar). So, they are starting to expect that B2B businesses should be able to deliver the same type of experience that the B2C sector can.
Electronic Data Interchange (EDI)
These days there are various ways that B2B businesses can fulfill their orders and deliver the products to their customers. One supply chain method that can cause issues is EDI (electronic data interchange). In short, EDI offers businesses the chance to exchange documents, like a purchase order, in a standard electronic format. This is convenient as it can eliminate the need to use paper copies. The challenge is that bigger companies have an expectation that the system that they are using should be compatible with the system that the B2B business uses.
An increase in online shopping
Make no mistake, online shopping is extremely convenient, but it still comes with its own set of challenges. By selling on multiple channels, it becomes even more important for your systems to update your inventory in real time. Also, by having more online orders, it can stretch your processes, even more so if your business already struggled with speed.
More customer needs that you need to address
B2B businesses have a unique set of challenges that a B2C business does not have to worry about. As a B2B business, you will have to take care of things like bulk discounts, back orders, preorders, customized pricing, back-to-back ordering and partial fulfillment.
---
Why Should You Invest in an Effective B2B Order Management System?
If your inventory many times runs out quickly or you simply have a hard time finding data, it could point to an inefficient order management system. Perhaps your buyers just often complain that they find your current system hard to use? Even if your B2B business does not show any cracks like these yet, there are many reasons why you should see where you can improve your order management system.
Here are just some of the main benefits of improving your order management system: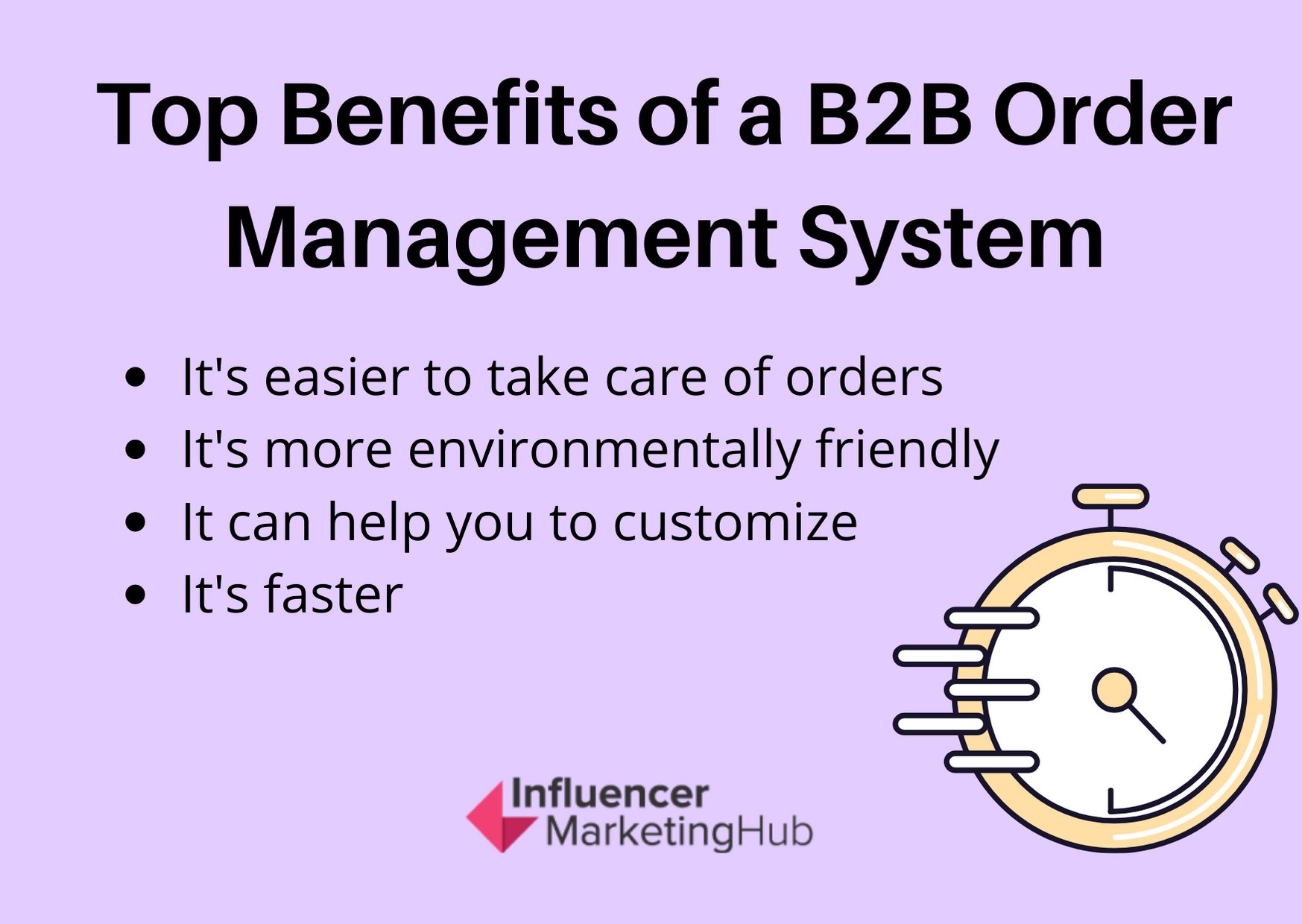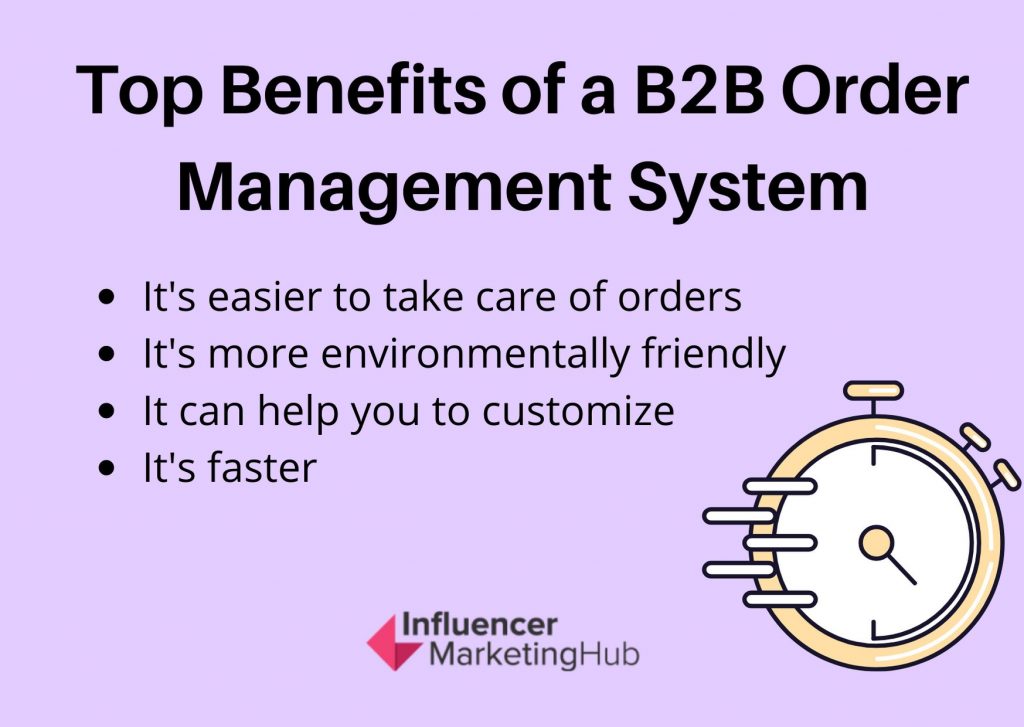 Makes it easy to take care of orders on different sales platforms
With the help of the right B2B order management system, you will be able to accept orders via all the different sales platforms that your customers use. This will save everyone time as there will be less need to go from pillar to post as you manage your inventory, create a new order, update an order and process the payment. All the information from multiple channels will be consolidated and you will be able to track your inventory and orders via one platform. So, it does not matter if a customer placed an order telephonically, in person or online as it will be much simpler to get a general summary of what is going on (and the data will be much more reliable and accurate too).
It's more environmentally friendly
As an order management system is cloud-based, it will help your business to reduce its paper usage significantly. Instead of having to send paper copies of documents, you can email it or use an online platform for communication.
Not only is it more environmentally friendly, but it is also more cost-effective. It helps your business to work more efficiently as you can access data whenever and wherever. Also, not only will you save money by not using paper, but you will also have to spend less on other much more expensive items like ink cartridges, toner, printers and maintenance.
What is more, you will also be in the good books of your customers as being eco-conscious is becoming more important to consumers. B2B businesses that use paperless systems can actually advertise that to their customers.
Let's you customize different stages
As mentioned, nowadays B2B buyers have higher standards. If your service does not meet their expectations, there are many other businesses that they can support instead. While you might not have to worry about competition that much if you are selling a very specific product or service, it is just good practice to care about your business. So, to help you stand out from other B2B businesses that offer similar products or services, it is a good idea to use an order management system that will allow you to customize important stages like delivery and billing.
It's faster
This is probably the most significant benefit of investing in an order management system. Advanced order management systems can help you to automate many of the processes such as assigning and fulfilling orders, sending updates about shipping and updating the inventory. Not only will your employees be less frustrated, but it will help you to get your orders shipped and delivered faster. All in all, it is much more cost-effective than trying to manage this process manually.
---
Which Solutions Are Available?
While you can use the backend of your eCommerce or simply stick to spreadsheets to manage your orders, these prove to be inefficient. For instance, if the sales rep has to place an order on his own, he does not have direct access to the current status of the inventory levels or delivery dates which makes the whole process much more time-consuming. Not only does it waste time, but it also leads to inaccuracies regarding your inventory levels.
B2B businesses that process over 100 orders daily can rather either consider investing in an enterprise resource planning software (ERP), a standalone order management software (OMS) or a B2B operations platform. With such a system in place, your sales team will be able to work much more efficiently.
ERP software
ERP software solutions offer various features that can help you with inventory management, order management, financial management, purchases, customer relationship management, and logistics. One of the drawbacks of going this route is that this type of software is not tailored for specific types of businesses and sectors. So, you might end up having to pay for functionality that you do not require. Another con is that in many instances this type of software is hard to learn. You will most likely end up requiring more time to implement this system compared to other types of tech designed for B2B businesses.
Standalone order management software
Most B2B businesses usually begin with a standalone order management software, an accounting software solution and an eCommerce platform like BigCommerce. While standalone order management software solutions can help you to consolidate orders across different channels, it does not offer all the technology that you might need. So, you might encounter issues with integrating all the types of technology that you use like your accounting or shipping software.
Retail and B2B operations platform
This type of solution is a combination of the other two options. It offers the functionality that a B2B business requires like logistics, financial management, inventory management, sales management, customer relationship management, order fulfillment and supplier management. What makes this solution such a great option for B2B businesses is that it was designed with the unique requirements of the B2B industry in mind.
---
Wrapping Things Up
B2B businesses must be able to meet high(er) demands. If they don't, they run the risk of contracts getting ended. In the B2B sector, this is kind of a big deal as it costs more to acquire new customers.
This is why it is crucial that B2B businesses invest in the right software for their type of business to help with order management. By investing in order management software, ERP or a retail and B2B operations platform, B2B businesses can help their sales team and customer service team to work much more efficiently and free up time that they can dedicate to other priorities. In addition, the right software will also help businesses to deal with the issues that are often linked with B2B order management.
To put it in simple terms, it can basically foolproof the ordering process. As you will be receiving updates in real time, the inventory levels will be much more accurate. Not only will the business be able to receive updates in real time, but businesses will also be able to share order numbers, confirmations and expected shipment dates in real time too.