Starting a podcast, or looking to revamp your current podcast set-up? There are dozens of options for editing and recording podcasts on the market nowadays. A lot of these options function in the same way and have similar capabilities. So what podcast software option should you pick?
First and foremost, the best podcast editing and recording software is reliable and versatile. But for many podcasters, the choice will come down to finding the best mix between budget and functionality.
Podcast tools can be a powerful tool to take your podcasts to the next level. However, podcast editing software cannot be a substitute for best practices when recording. Podcasts with great audio quality are a result of great gear (including microphones) used in the right way as well as an awareness of the recording environment.
Many of the software options on this list will work on both Windows and Mac operating systems, though a few of them will only work on MacOS because they are Mac-specific products.
---
The 18 Best Software Options to Start Your Own Podcast:
---
What Podcast Editing Software Can Do
Recording
Most podcast editing software options will come with the ability to record audio. It's a great added feature because it saves you money: you can record and edit your podcast all in the same place.
The only exception to recording audio is recording any calls or external interviews. If you plan to record remote conversations or conduct interviews over the phone, you will need to find a dedicated call recording software. Once you record the call elsewhere, you will need to import the audio into your podcast editing software and then edit it.
Editing
Podcast editing software has two main functions: editing mistakes or mishaps, and removing (or adding in) unwanted segments. You will want a podcast software that will be able to cut out content and rearrange segments to take your podcast from initial recording to finished, refined podcast.
Volume Levels
Post processing is one of the most important parts of editing your podcast. Post processing is the process during which you clean up background noise and make sure you have consistent volume levels throughout the entire audio recordings. It's one of the best ways to make sure your product sounds professional, and your volume levels are within industry levels.
Editing software can also help clean up background noise, or inconsistent noises like hissing or humming alongside your vocal track. Noises like this can be caused by a number of things like a running air conditioning unit, fans, and more. However, it's important to note that no editing software will replace bad recording practices. Furthermore, removing noises like slamming doors, ringing phones, or shouting may not be so straightforward. In some cases, getting rid of that type of background noise will not be possible, even with the right skills. Your audio may be left with flaws and inconsistencies in the primary vocal tracks.
---
What Podcast Editing Software Do You Need?
Before picking a podcast software editing program, consider what type of podcast you have and your editing needs. Knowing what type of editing software and what features you need will help you get a better grasp on the best option for you. There are several podcast formats that most podcasts will fall into. Depending on the format of your podcast, the software you need and editing tools you need may vary.
An Interview Podcast
In this type of podcast, you'll speak with guests and interview them for your audio. Your software will need to accommodate your interviews with your guests, especially if they will be located remotely.
In order to interview guests, you might use one of the following tools:
To edit your audio you will need to import your mp3 file onto your software and edit the audio. You need an option with multi-track functions, like GarageBand or Adobe Audition.
The Solo Podcast
In a solo podcast, it will just be you talking into the microphone over the course of the episode. This may be one of the easiest formats because you can edit your audio in your program.
You can edit your podcast in a number of different ways with a solo podcast. However, depending on the amount of special features, you may need advanced tools for the post-production phase. The best software is the one you feel most comfortable using, so make sure to test out software that works for you.
---
Our Picks for the Best Podcast Editing Software
Here is a complete list of our top podcast editing software recommendations.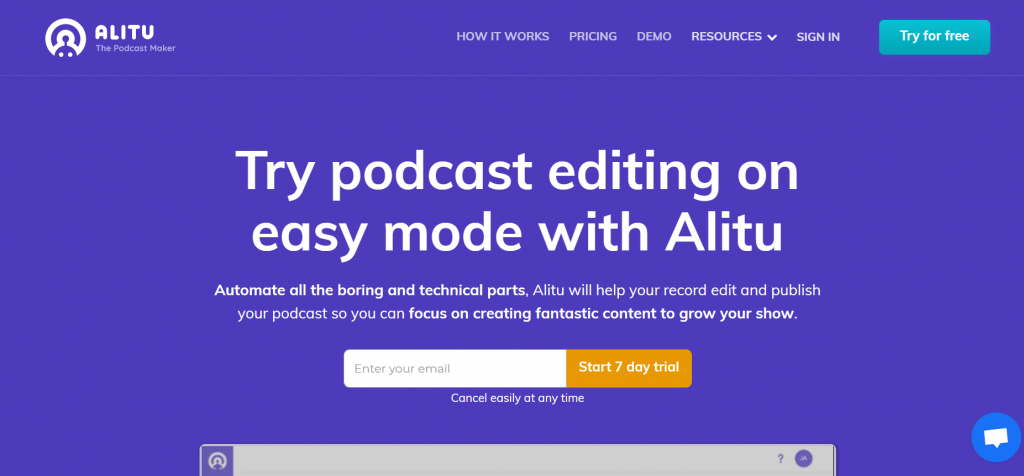 This editing option is best suited for complete beginners with no technical background and no real desire to learn about audio editing. Alitu will automate the technical side of podcast editing. If the thought of editing your own podcast terrifies you, then this could very well be an excellent option for you.
Alitu takes the raw audio from your recording and works to level the volume for you and clean up the audio for you. In addition, you will have the ability to add in music, segments, transitions, and more. Once you're ready, the web-based application will publish your episode for you.
Cost: The software costs $28 a month, with a free seven-day trial available.
---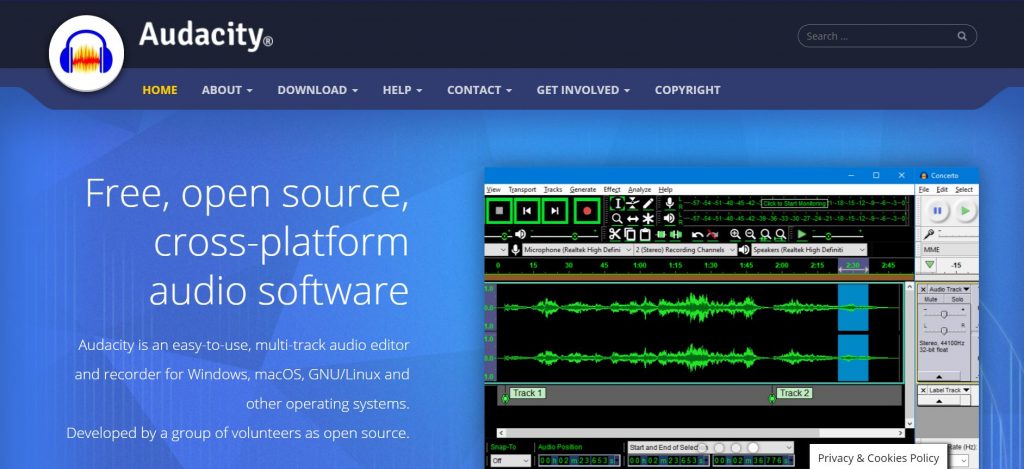 Audacity is an older podcast and audio editing software with some user-friendly features. This free option is an open-source recording and editing program. Because it's free, Audacity is used by countless professionals.
However, it's not just a great option because it's free. This program comes with plenty of features to take your podcast to the next level. The app works well with audio up to 32-bit/384kHz with built-in dithering.
Audacity will let you easily import, mix, and combine audio tracks, regardless of whether they are stereo, mini or even multitracked recordings. The program offers flexible editing down to the sample level with unlimited undos and redos. However, it's important to note that Audacity's edits are, in most cases, destructive.
Cost: Audacity is free
---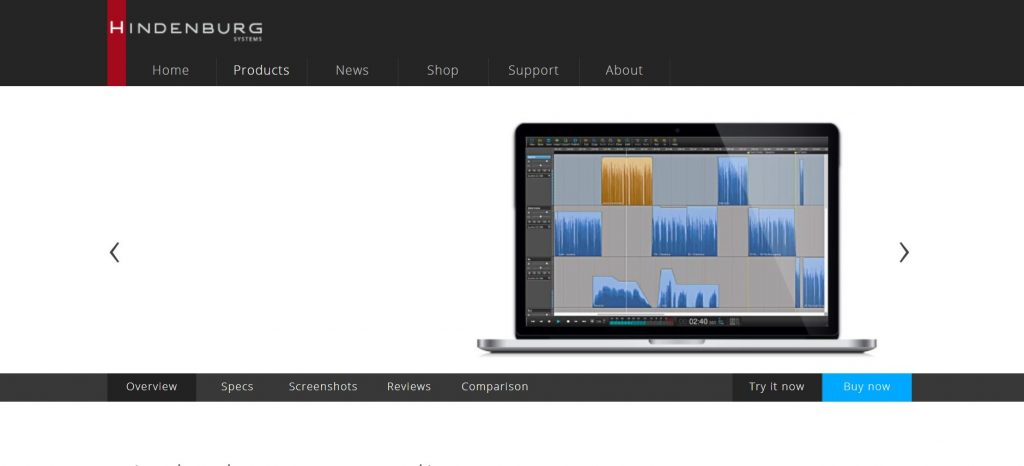 This application is specifically built for podcasters and radio journalists. Hindenburg Journalist can edit much more complex episodes - without being a master audio editor. It's a little easier to use and less intimidating than more advanced alternative programs.
Hindenburg will allow you to upload and edit sound files on the platform, no matter the size of the file, the channel, or the file format. You can use EQs to balance the recording sound and even apply some effects, like a crossfade, volume adjustment , and more.
It's a simple-to-use program with advanced features, but on the other hand, the program has an expensive subscription service.
Cost: Hindenburg Journalist costs $95 per month
---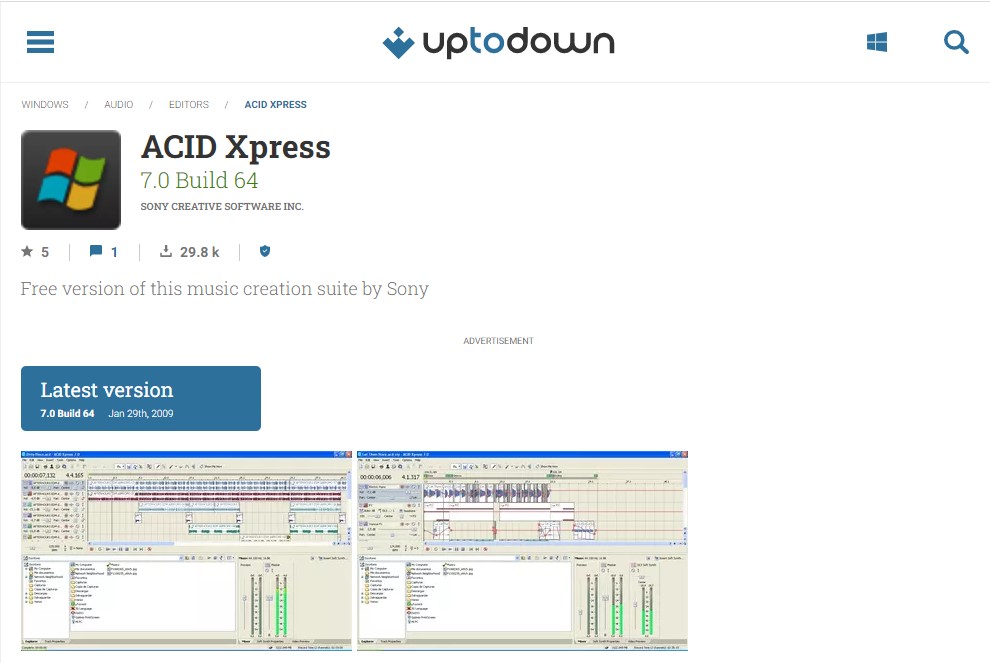 This editing software allows you to access a multitrack audio editor to record, edit, and mix your podcast sound files. ACID Xpress is quite complex and will allow you to combine loops and samples as well as drum beats, vocals, and other music snippets for original music and podcast recordings. The program has buttons to preview your songs as well. However, on the downside, the app can only record one audio track at a time.
Cost: Free
---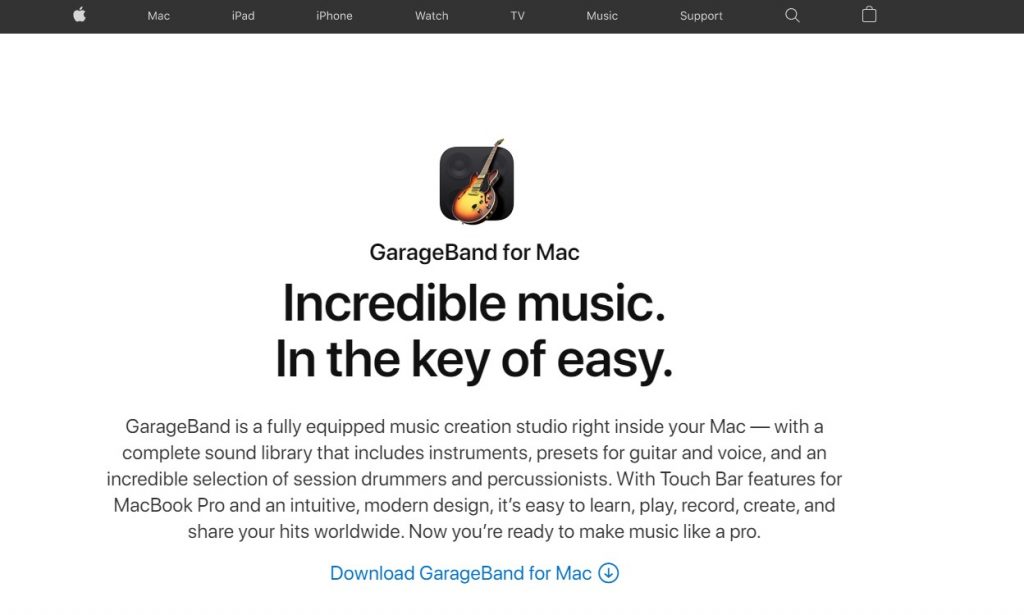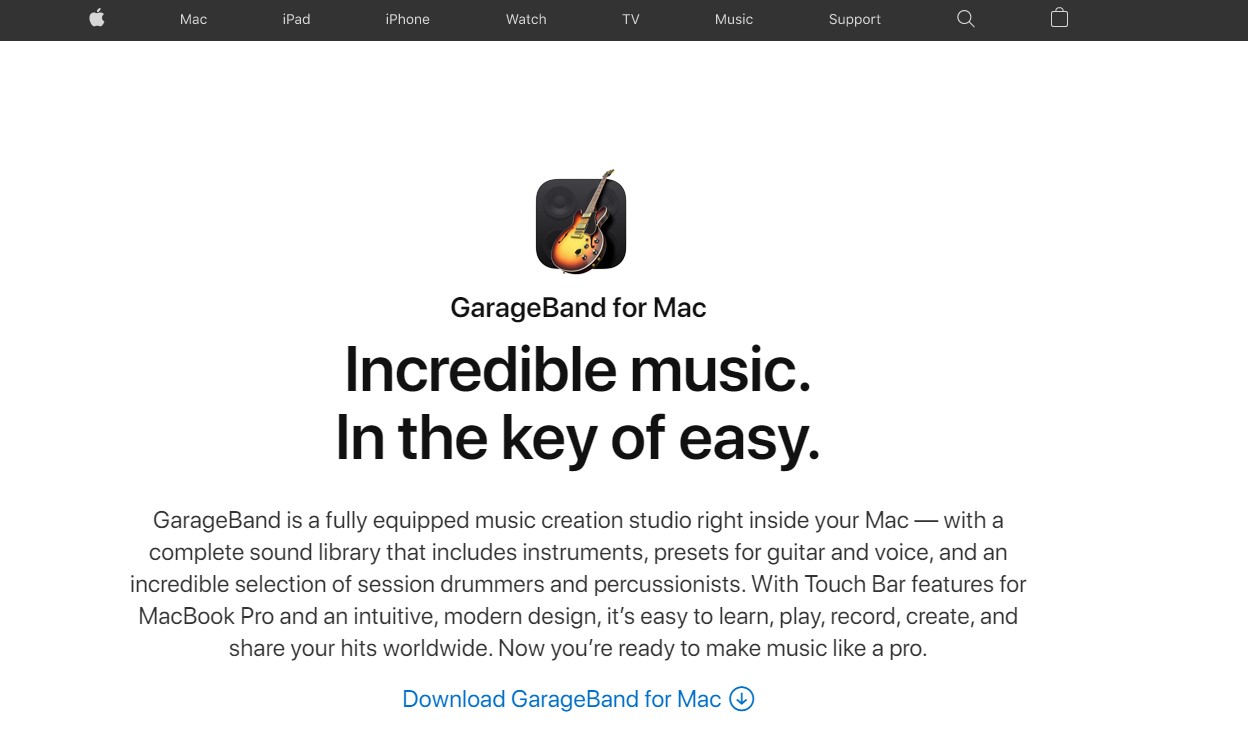 Garageband is a popular audio editing application for Apple iOS and Mac users. This podcast editing software is easy-to-use with an intuitive interface and a big range of features. In addition, the program is free with some smaller in-app purchases.
The big advantages to GarageBand include the advanced editing features, the ability to share files with others, and the price point. The disadvantages include the fact that it only works on Mac computers, and many users may find it simplistic.
The application lets users record audio along more than 250 tracks; you can share audio to SoundCloud as well. The digital audio workstation (DAW) lets you mix and master audio files for your podcast and edit the audio.
Cost: Free, with some in-app purchases
---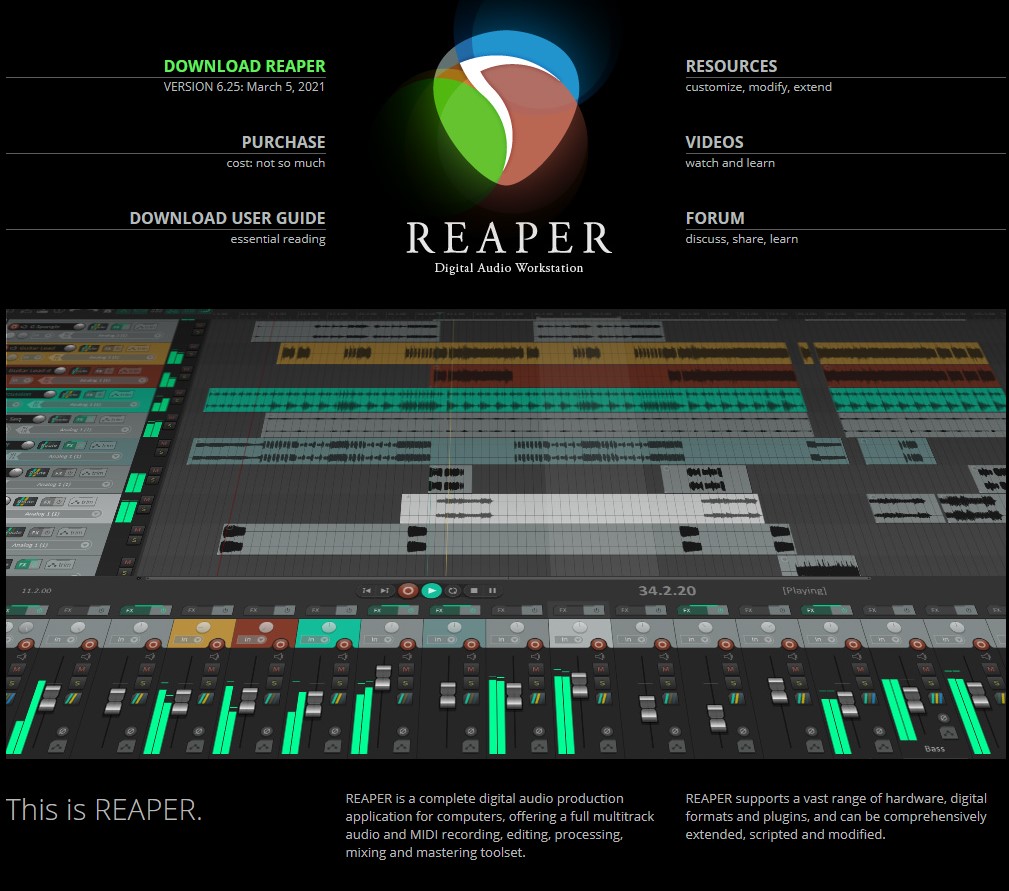 This digital audio production application runs as a desktop application; Reaper offers full, multi-track support for recording, editing, processing, mixing, and mastering.
REAPER is a complete digital audio production application for computers, offering a full multitrack audio and MIDI recording, editing, processing, mixing and mastering toolset.
Reaper has a discounted license you might be eligible for that is $60; otherwise the cost is $225. You can learn more about Reaper here.
Cost: Discount licenses available for $60, but $225 full cost.
---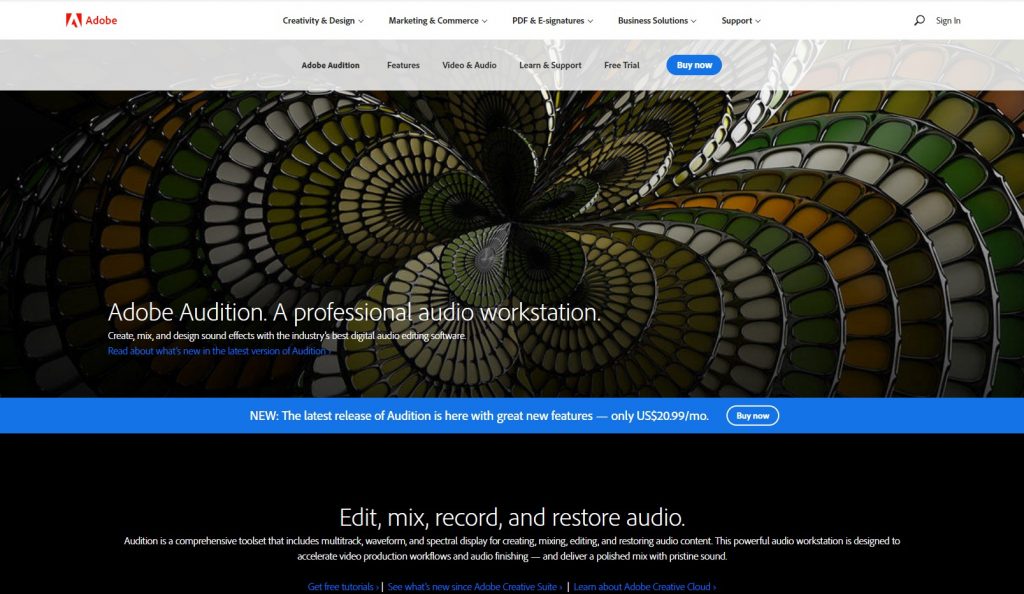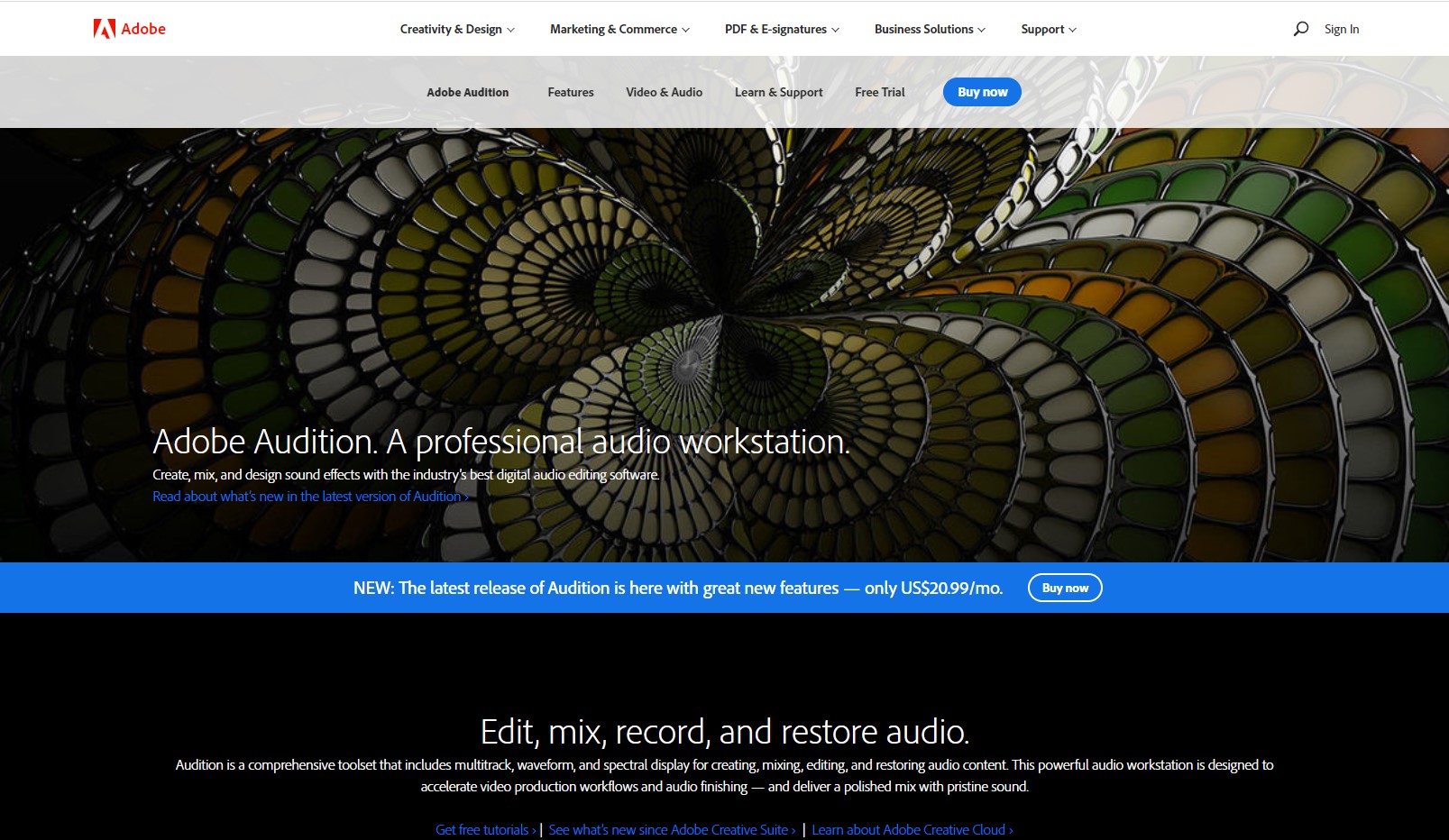 Adobe Audition is considered one of the most popular podcast editing software options on the market. The program gives the user near-complete control and flexibility over their projects. In addition, it has a stereo waveform editor with visualization tools and powerful noise-reduction tools.
The digital audio workspace can be challenging to use, at least at first, because it has so many features and options available to the user. The interface isn't the most user-friendly option available, but offers a big variety of features that lets you achieve complete control over your audio.
Cost: a $29.99 a month subscription-based service
---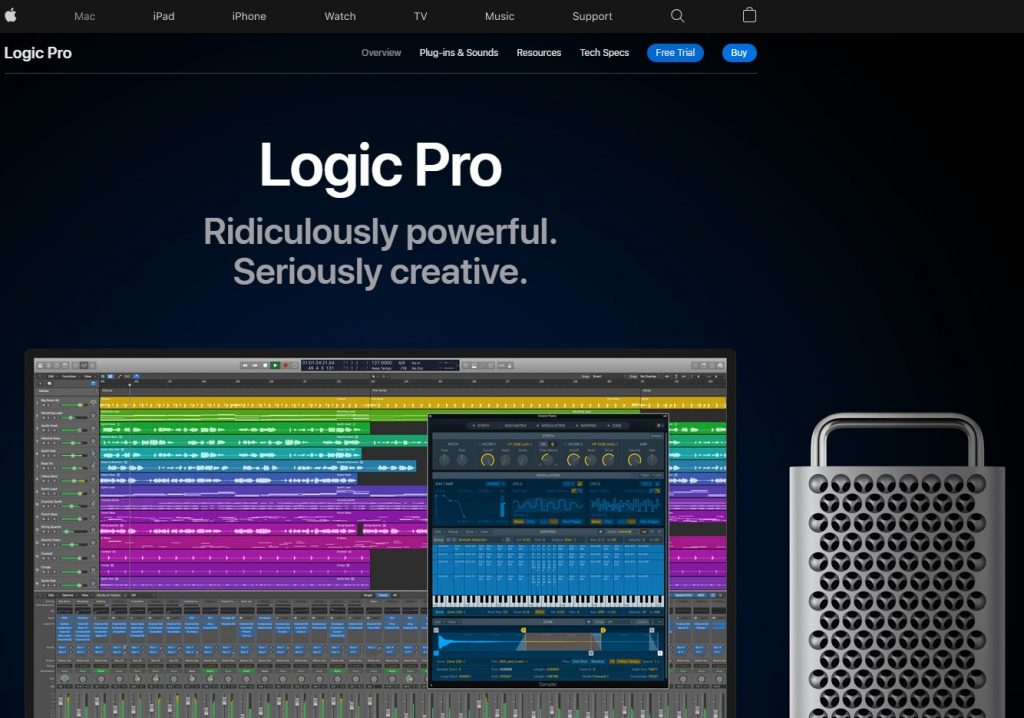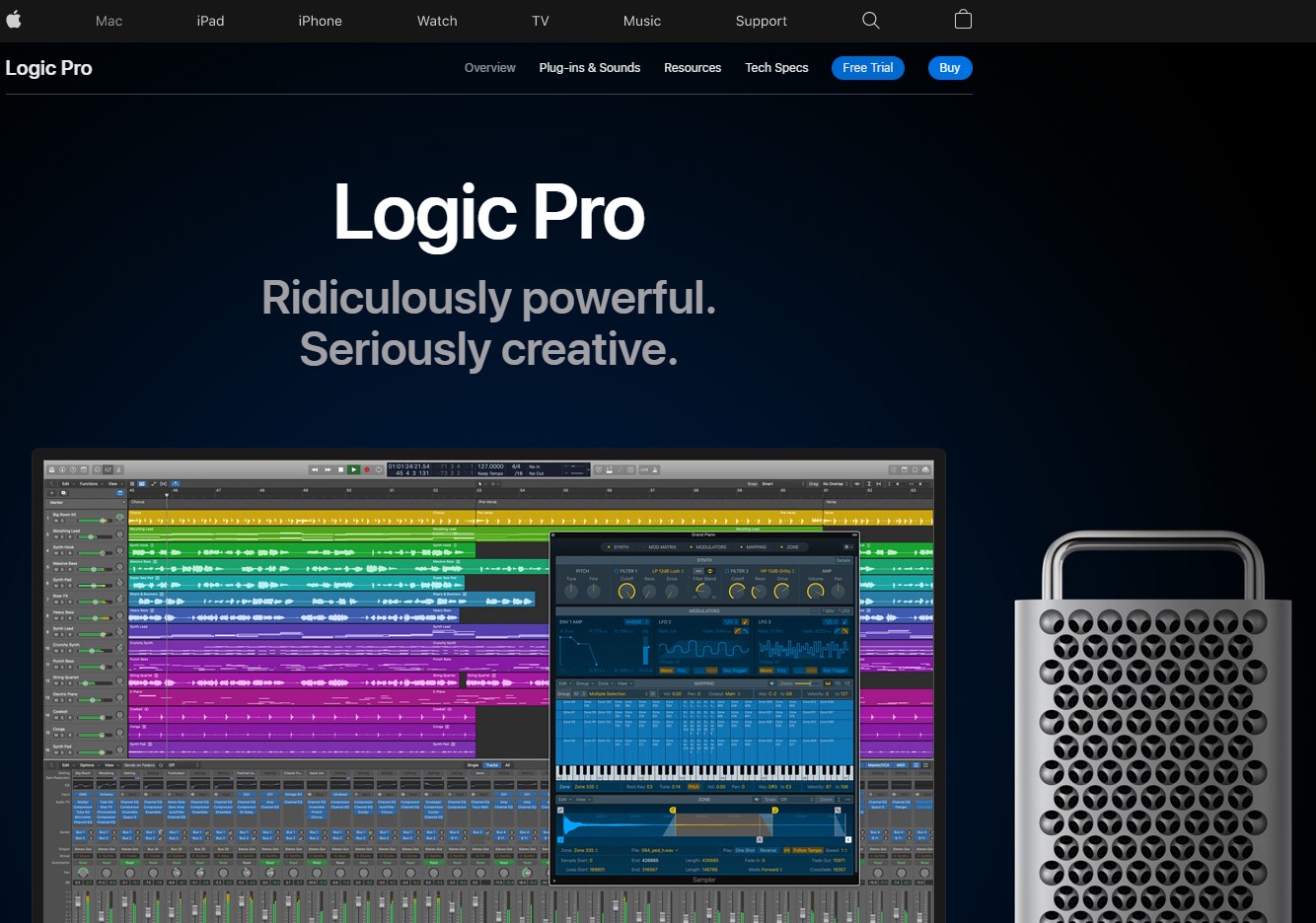 This Apple iOS and Mac podcast editing software has more of a professional music focus, but it still works well for podcast users. After all, many podcast episodes feature music! Logic Pro allows for editing audio with fade-in and fade-out effects as well as many other traditional editing features. However, you may find a more podcast-specific software that works better for your uses. In addition, Logic Pro can be pricey compared to many other products on this list.
Cost: After the free trial, the program costs $199
---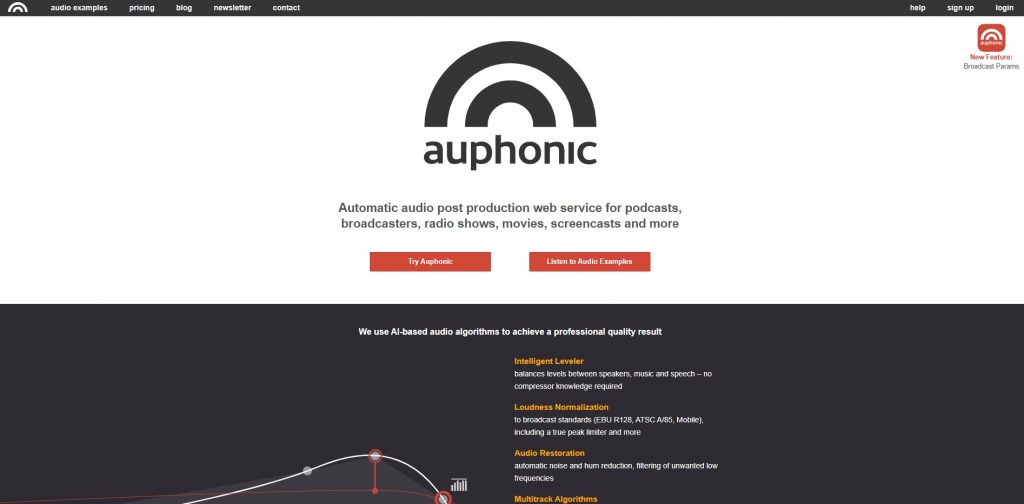 This post-production software editing tool will help upgrade your podcast audio files after-the-fact. Auphonic will perhaps best work to clean up your audio files with proper editing tools, like levelers, normalization, and restoration. The program works well for people who may not have proper or high-quality audio equipment. In addition, Auphonic will help work with interviews that may have different levels than your own.
Cost: The first two hours of audio per month are free; plans cost $11 per month after that.
---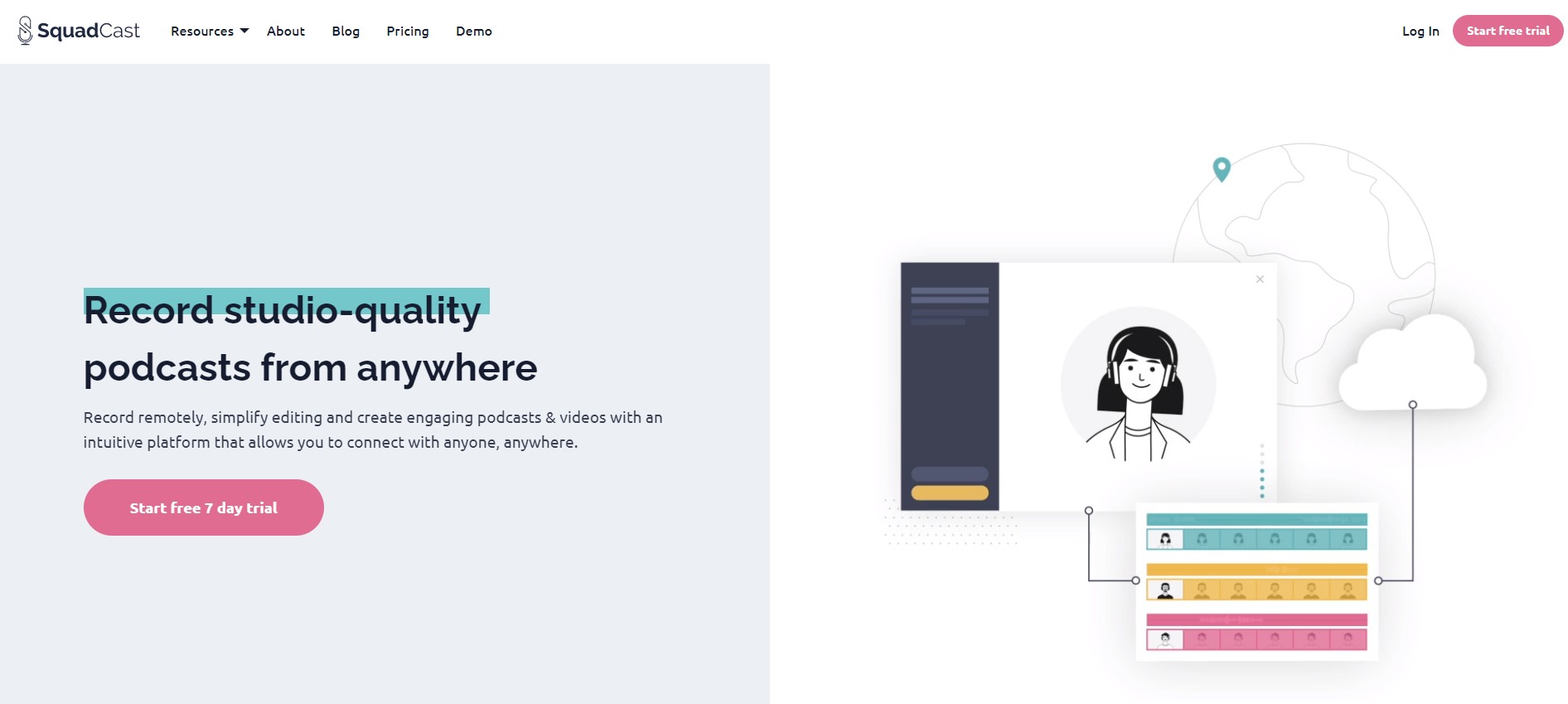 This recording software works well for podcasters who have plenty of guests. SquadCast helps provide support for up to three interviewees at the same time - and lets you schedule sessions in advance inside the program.
The program does not offer support for video podcast recordings, but it does give you a video player to let you see others while recording. It's best to create a more real-life experience where you can see visual cues during the conversations.
Cost: Free 7-day trial, and pricing afterwards will depend on the number of hours you need
---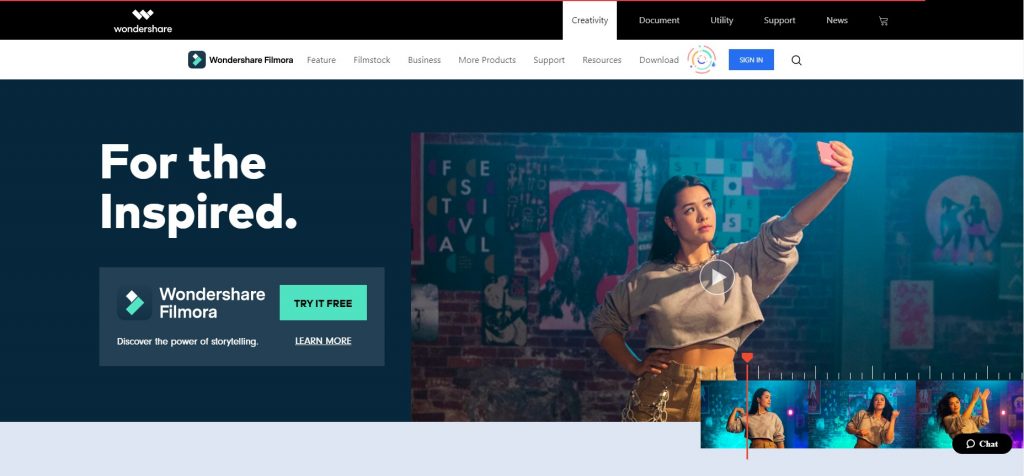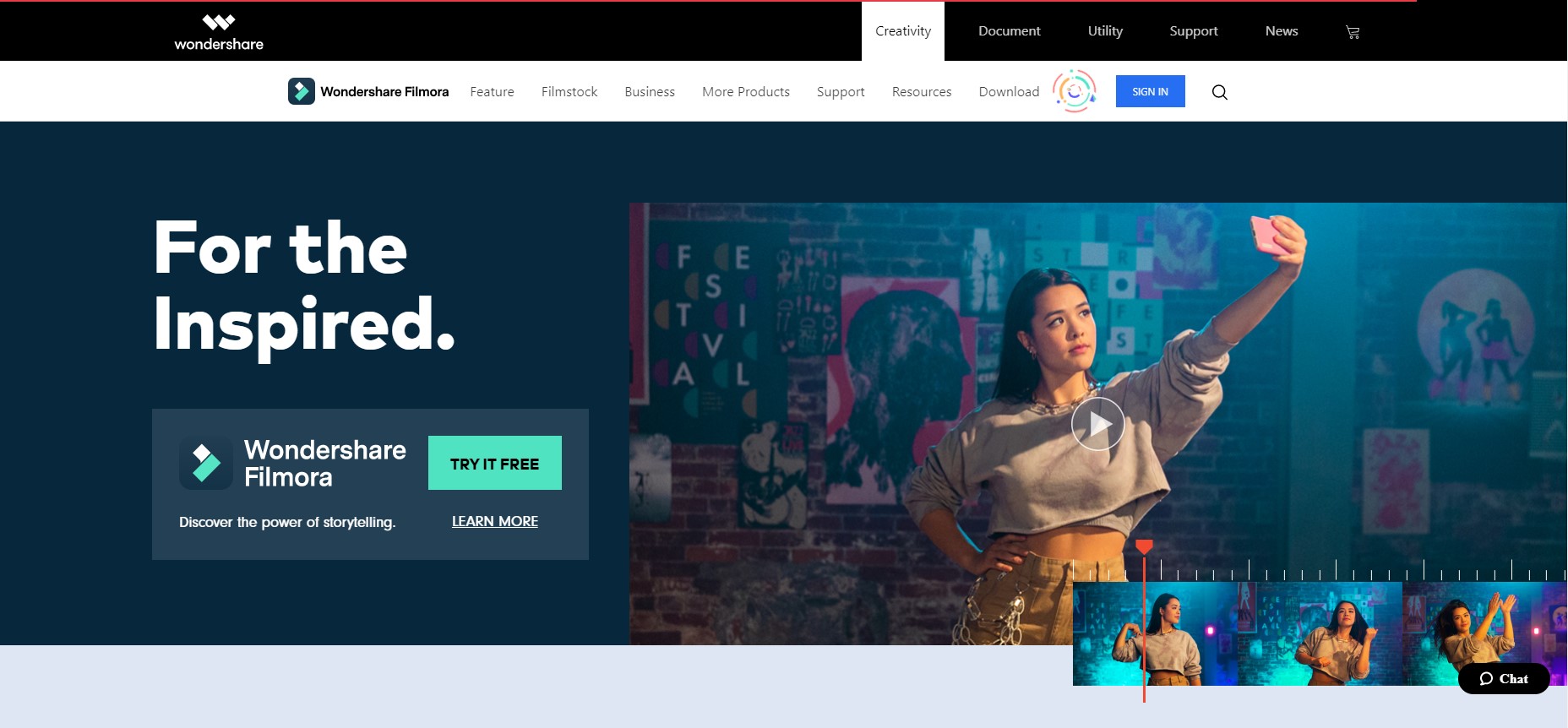 This PC and Mac video editor comes with an intuitive interface that makes it easy to use for both beginners and more advanced users alike. Create and edit your podcast on the app's timeline with ease and edit the audio by converting, cutting, changing the sampling rate, applying effects, and more.Wondershare Filmore is easy to use and supports most positive formats for audio and video. On the downside, the program does not offer storyboard editing.
Cost: The Mac version costs $44.99 per year or $59.99 for an outright purchase, while the Windows version is $39.99 and also $59.99 outright.
---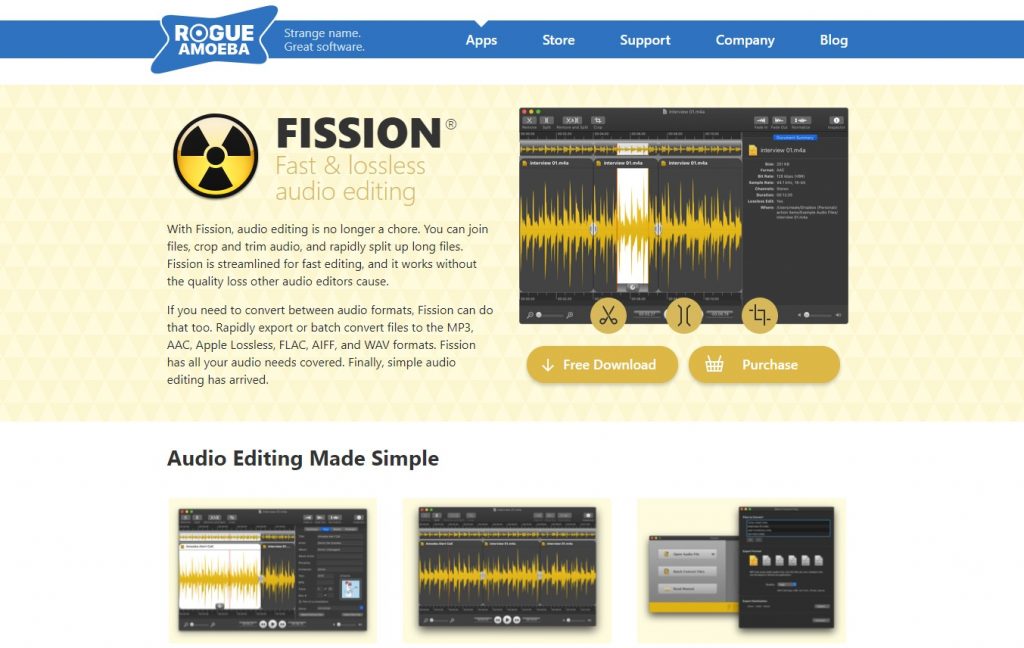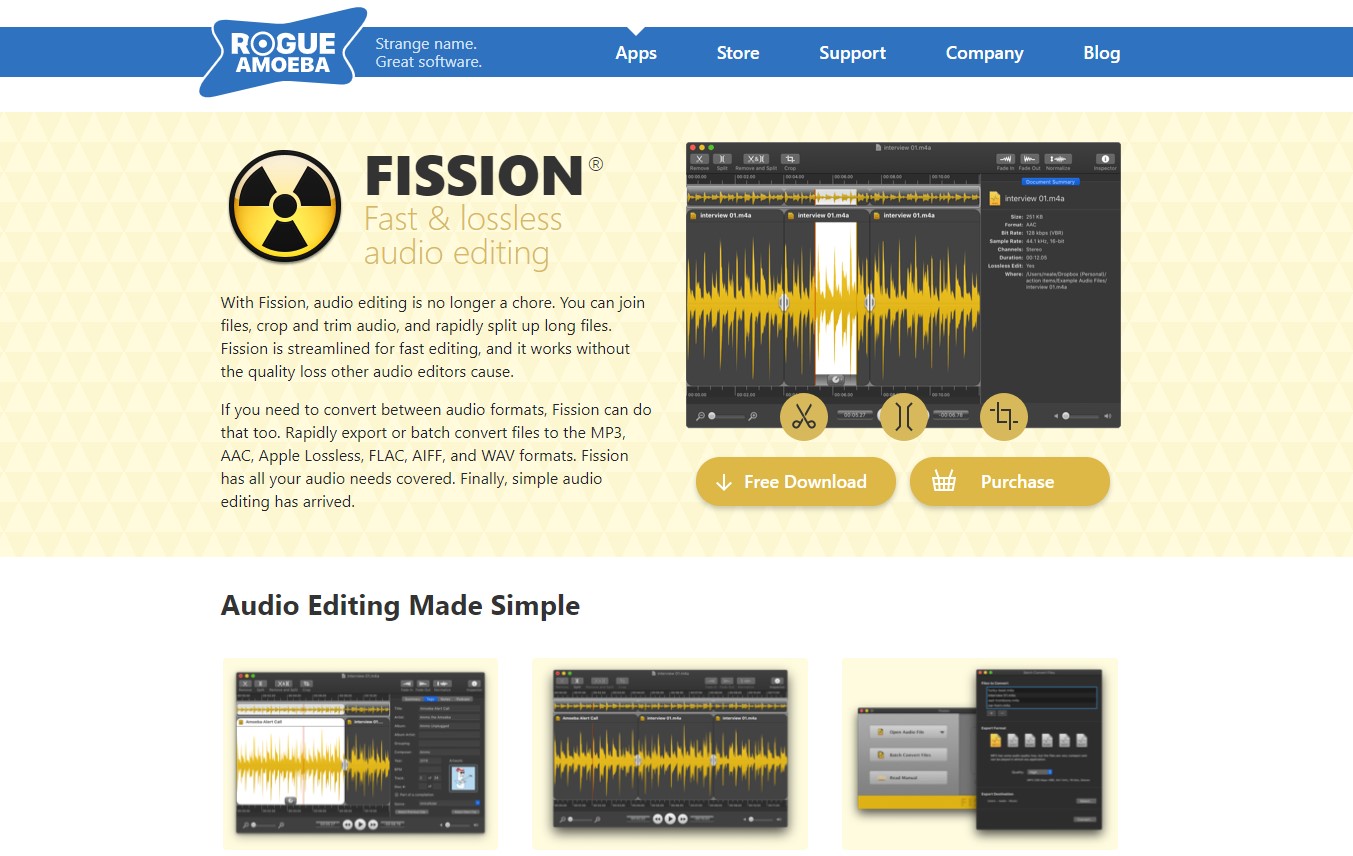 This Mac-exclusive editing program has a simple and elegant interface with excellent podcast editing features. The program can transcode most audio formats and will split them up, change your sound volume and much more. In addition, the program will upload your podcast to iTunes once you are done. You can export the audio to MP3, AAC, FLAC, AIFF, or WAV formats.
Cost: $28.99 purchase
---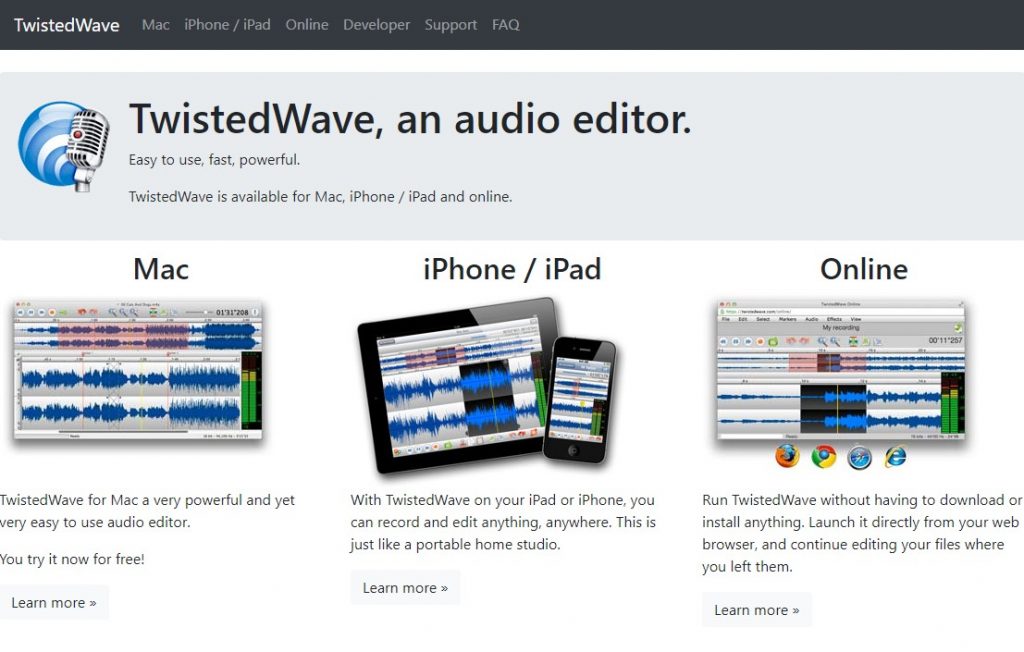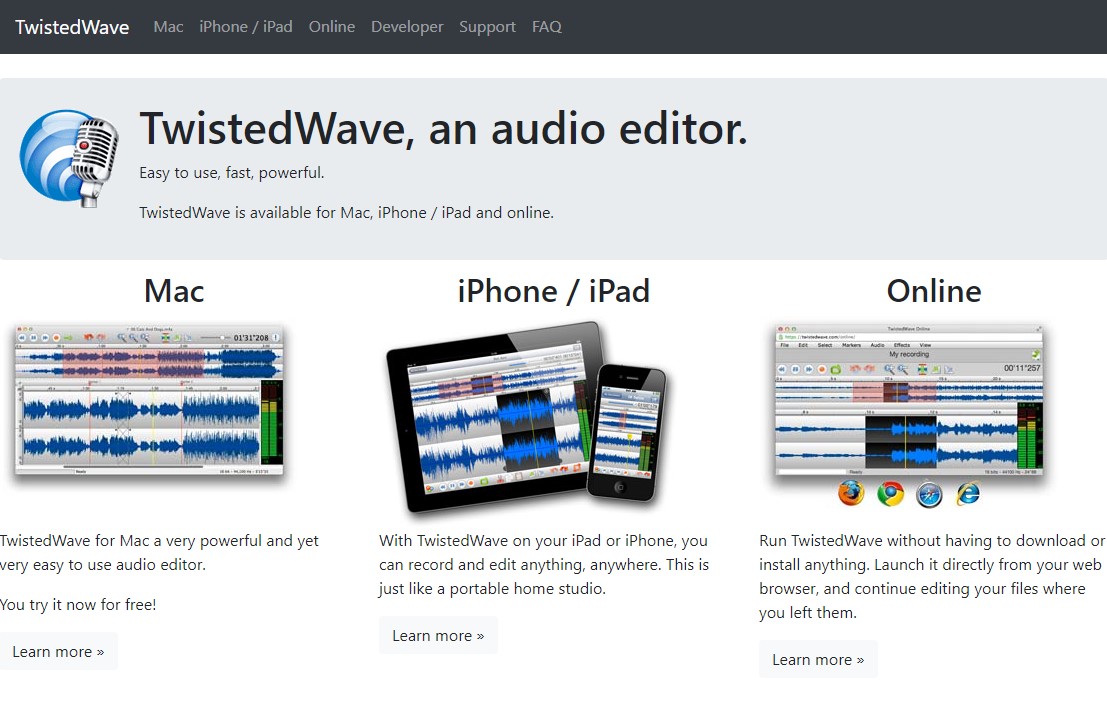 TwistedWave is a complete sound editing software option for podcasts. The app, even without multitrack capabilities, has a whole list of useful features, including the ability to undo and redo instantly, apply crossfade effects, filter audio frequencies, and more. The program supports common file formats like CAF, AAC, MP3, AIFF, and WAV. However, on the downside, TwistedWave does not offer Windows or Android apps and no multitrack recording options - a common desired feature.
Cost: $10 a month subscription fee
---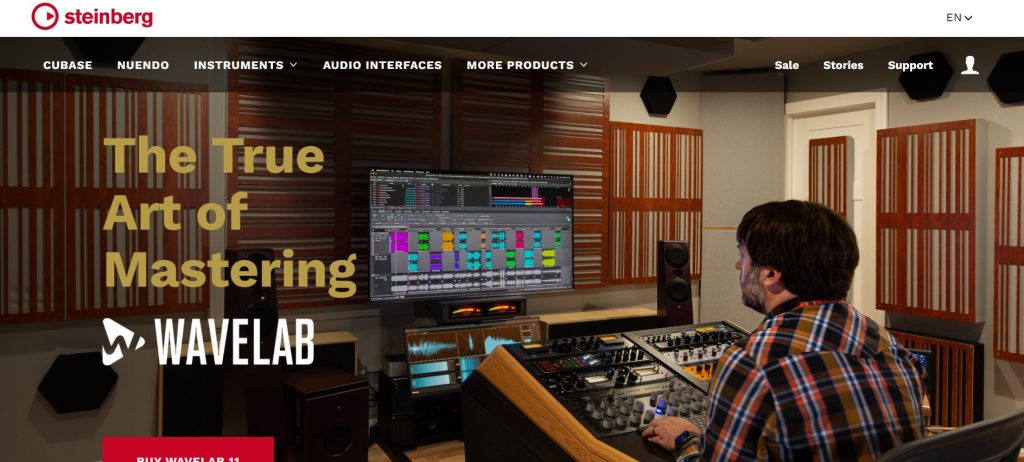 This neat editing program and mastering program offers a number of different ways to manipulate your audio files. You can record up to three audio tracks at a time and edit the tracks with quite sophisticated software. You can create your podcast right in the app and can add podcast information like a title, photos and the URL address. In addition, you can add two EQ effects per podcast. Unfortunately, the Pro version of this program has a huge price tag.
Cost: The download is free, but the pro version is more than $500.
---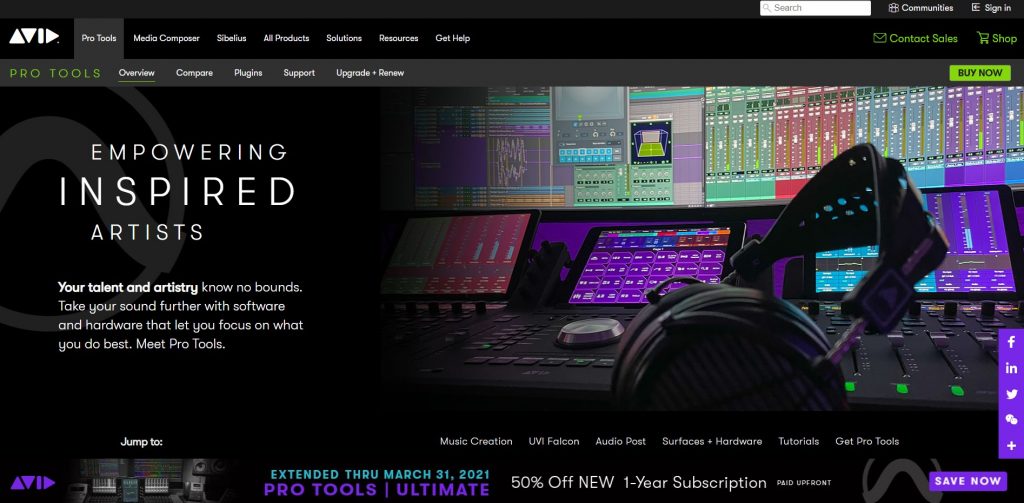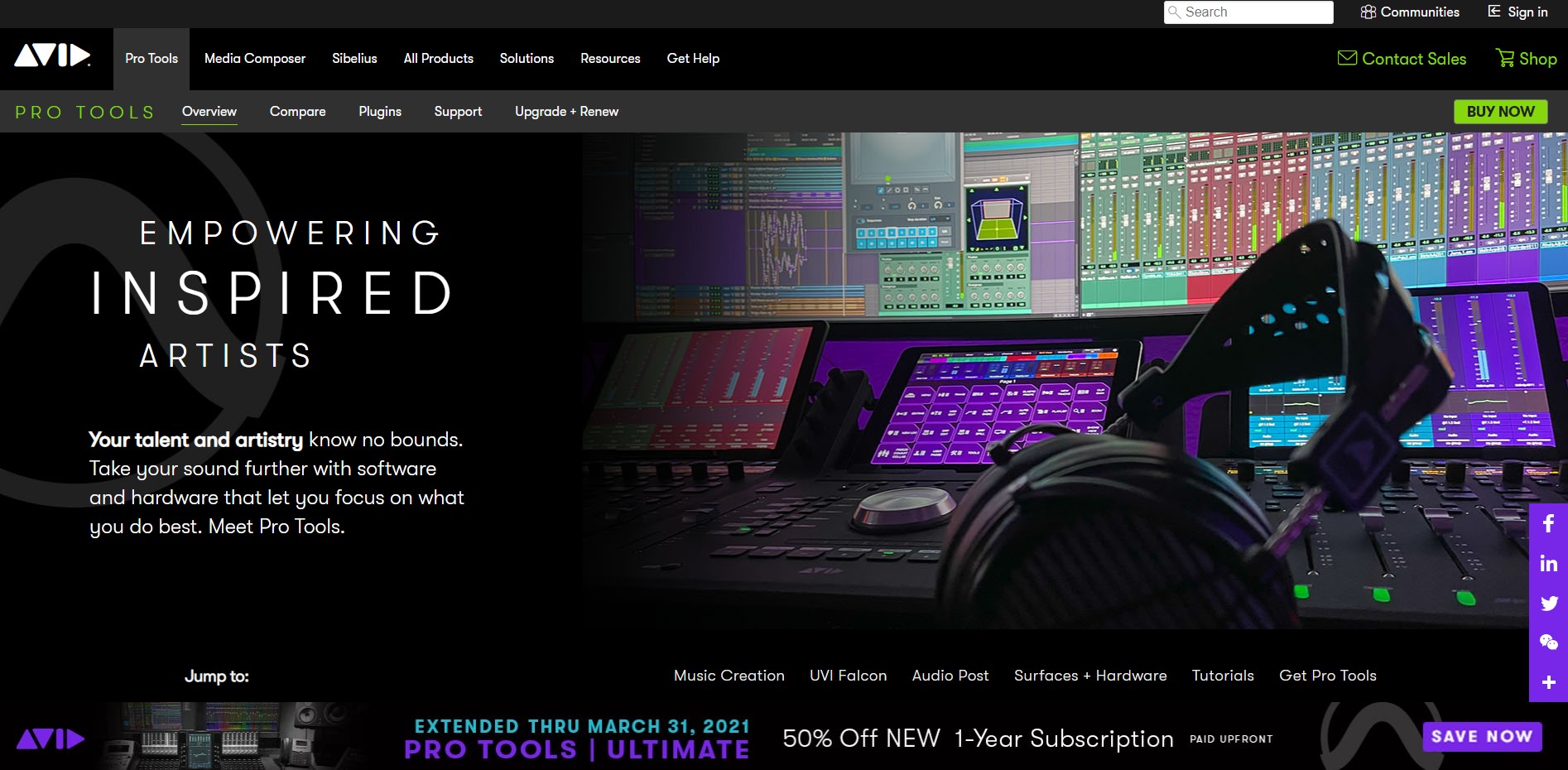 Pro Tool is one of the nicest options for podcast editing programs. It's probably the program that most radio stations are using to edit their podcasts and programs - and for a good reason. Pro Tools is an industry standard for thousands of people, but it comes with quite a price tag. However, that being said, Pro Tools has pretty much every tool imaginable for editing your audio. All the bells and whistles are bundled up in a tough-to-navigate interface, but once you get the hang of it, you can craft anything you want on your audio file.
Cost: Pricing will vary depending on the tier you pick; the standard Pro Tools costs $29.99 per month on a subscription basis. Pro Tools has a free trial.
---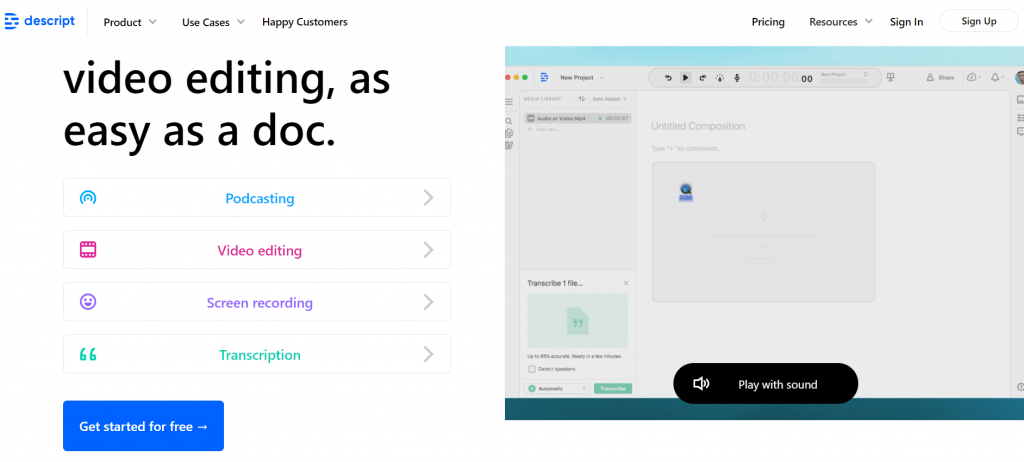 Descript started off as a software that simply transcribed audio but has grown into a podcast editing software that works best for those with little experience. The Descript program is all about editing text in your audio file, not audio. You can record your audio directly in the program as well as import a recording. The program will transcribe the audio and you will edit the audio by editing the text. It's not the best option for those that are used to traditional programs. In addition, there are a number of tools available to edit your audio - a good idea for starters.
Cost: Descript offers a free version with limited options, and a number of paid versions starting at $12 a month.
---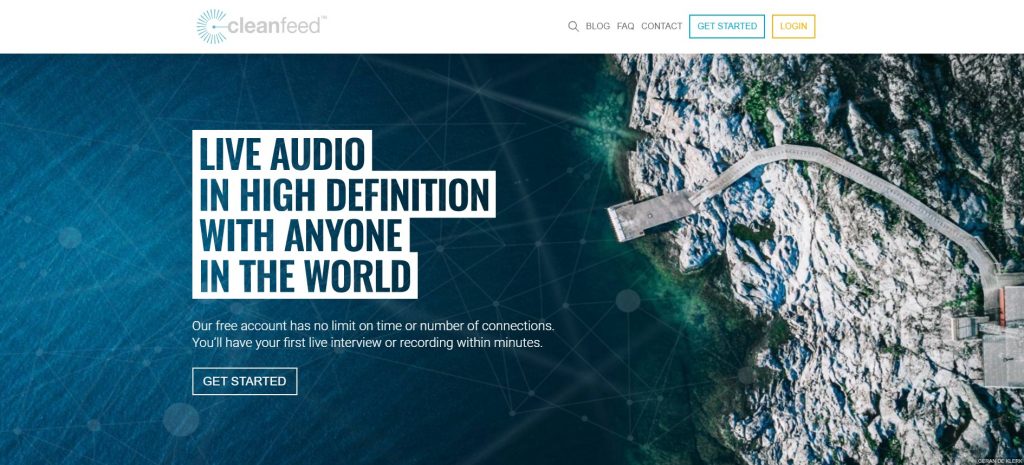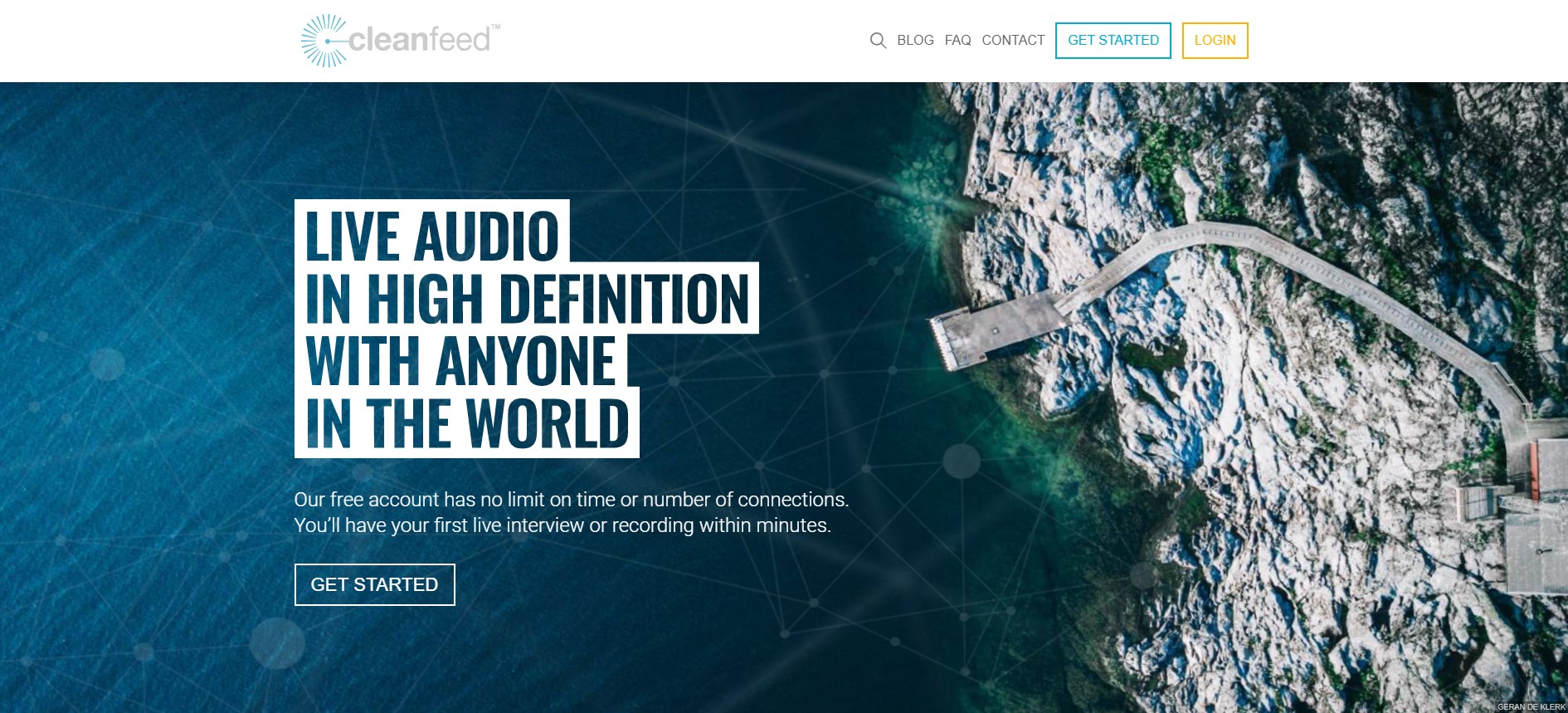 Cleanfeed is an editing software meant to help solve long-distance audio recording for podcasters. It's a great option for people who work on podcasts with remote guests. Other, similar programs do offer the same services for less. Cleanfeed offers a free program, but the free version does not have multitrack recording options. That's a problem, especially if you need to adjust your levels of edit more down the line. However, the free version does work if you need immediate help.
Cost: $22 a month subscription fee
---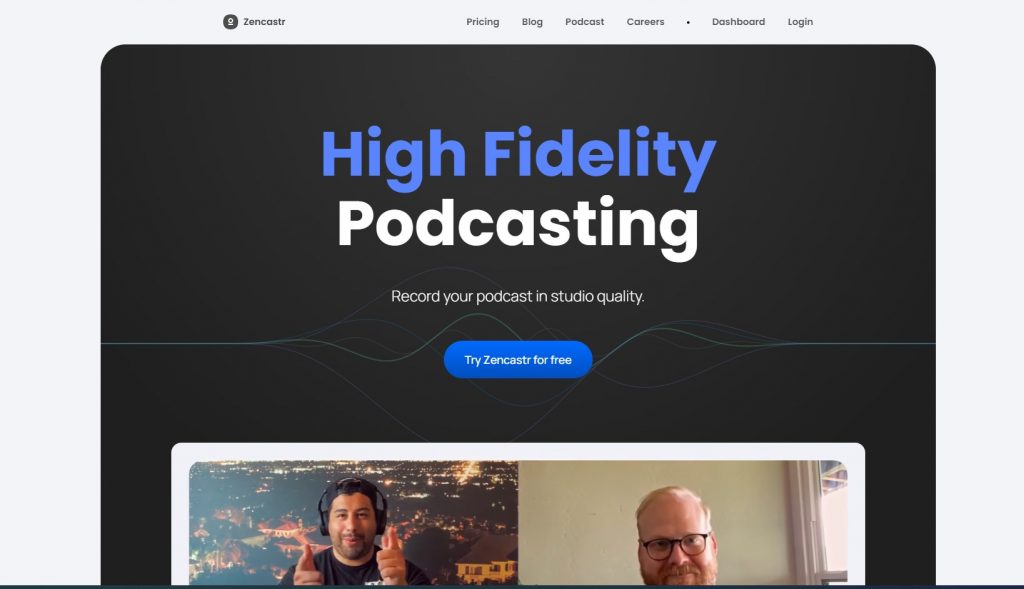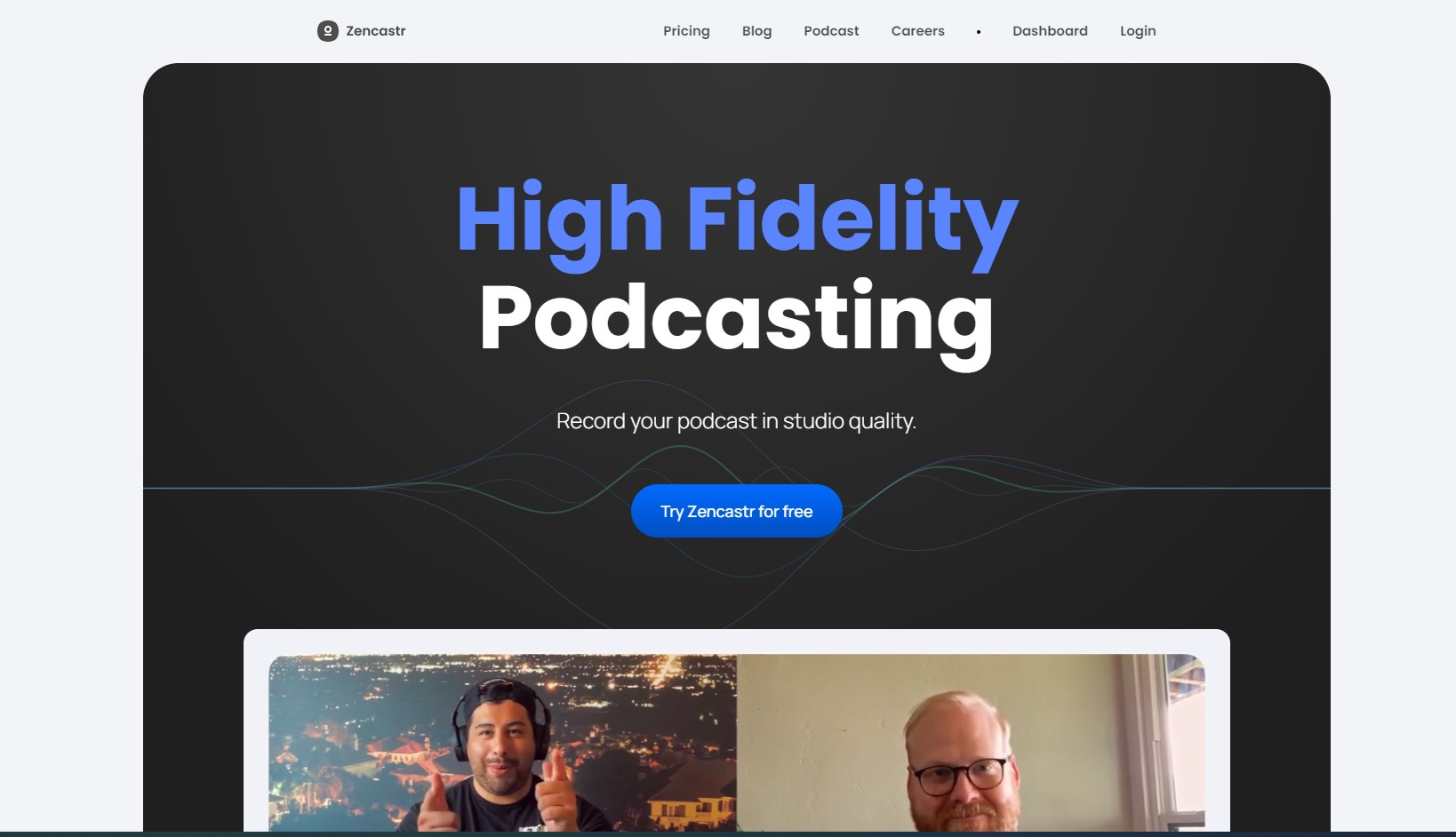 Zencastr provides a number of excellent features for podcast editing, particularly for those with remote guests in their program. Each guest will be recorded in a separate lossless WAV track, and Zencastr will save the files on your local drive in addition to a cloud service.
While you are recording your tracks, you can watch on the soundboard and edit while recording, to save work down the line. Your finished podcast track will be processed and edited into a single mixed track, complete with correct levels and more. Zencastr is one of the most powerful options for podcasts with remote guests.
Cost: There's a free version and an upgraded version that costs $20-a-month on a subscription fee.
---
Picking the Best Option
When you pick an editing software, the most important thing to remember is that no editing software or podcast software will determine how fast your podcast grows. You should pick something that works best for your needs - and your budget.
The Best Free Option

: Audacity offers excellent options for mid-tier editing needs - completely free.

The Best Advanced Option

: If you need advanced software, Adobe Audition offers the most customizable control over your audio.

The Best Low Cost Option

: GarageBand offers a great blend of low cost tools and high quality performance.
That being said - nothing can hold you back from growing your podcast, either. Use these powerful tools to your advantage and create your best content possible!