Advertising Disclosure
Advertising disclosure:
Our partners compensate us. This may influence which products or services we review (also where and how those products appear on the site), this in no way affects our recommendations or the advice we offer. Our reviews are based on years of experience and countless hours of research. Our partners cannot pay us to guarantee favorable reviews of their products or services.
For many brands, it can be quite challenging to run different digital marketing campaigns. For starters, they can hold several campaigns with different objectives, while not all marketing campaigns have sales as a target. There are campaigns that focus on increasing brand awareness, generating new leads, and attracting new customers. There are also campaigns that are designed to increase sales and revenue. Finally, there are campaigns that are specifically created to engage their audience base, through online (and offline) communities that can promote and share anecdotes about the brand and its products.
In addition, each campaign typically utilizes a different strategy, such as email marketing, SEO marketing, content marketing, PR marketing, among others. With so many factors to track and consider, businesses will gain a competitive advantage by using campaign management software solutions.
---
Campaign Management Software: What is it and Should You Use It? With 12 Popular Tools to Check Out
---
What is Campaign Management Software?
Campaign management is the process of organizing and handling the different aspects of a marketing campaign. A campaign entails many elements such as content creation, market analysis, performance analytics, and others. Software for campaign management ensures marketing managers that they stay on top of all these components for optimum efficiency and productivity.
---
What are the Benefits of Using Campaign Management Software?
The marketing industry today is no longer limited to advertising, onsite marketing, and email campaigns. Given the vast number of ways that brands can reach their customers today through social media, videos, and influencer marketing, marketing managers will benefit from software tools that enable them to easily control all components of their campaigns in whatever form or channel they use. This is especially useful for big companies that run multiple campaigns at any given time.
More specific benefits of software for campaign management include: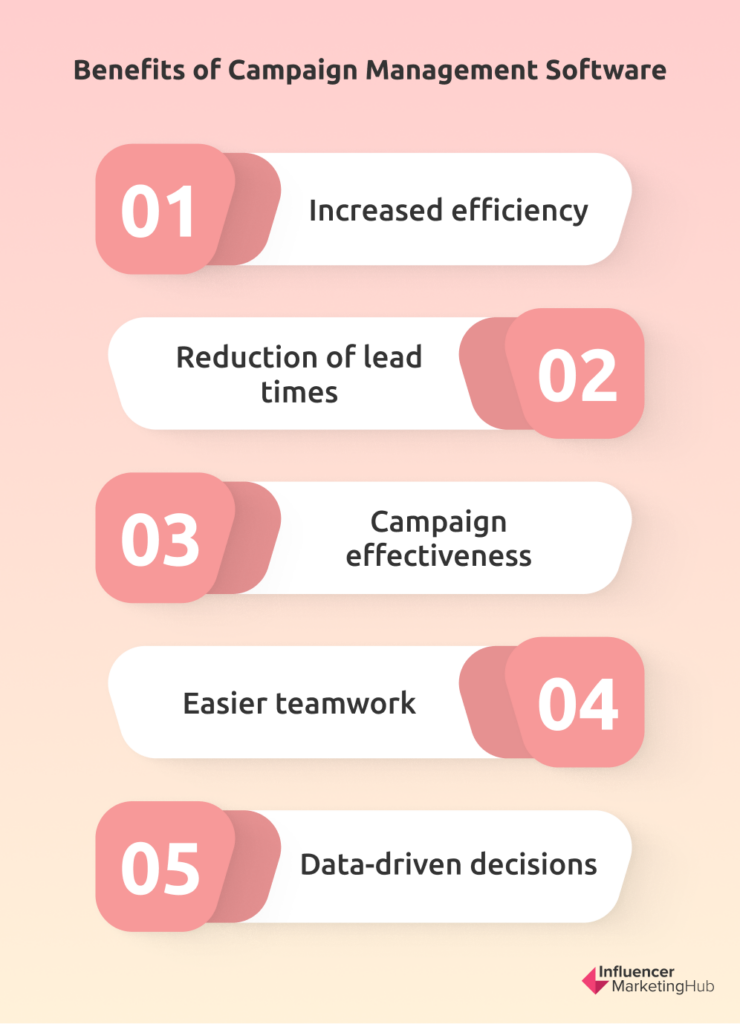 Increased efficiency
Automation is a friend of marketing. Campaign management tools that automate tedious and repetitive tasks give the marketing team more time to focus on more strategy-driven work.
Reduction of lead times
Campaign management software can also automate many aspects of a campaign, such as launching and scheduling. This helps streamline the process and significantly reduce lead time. This also ensures that branding strategies are consistent across multiple campaigns.
Campaign effectiveness
Campaign management software solutions can also provide testing tools to optimize campaigns. Marketers can utilize tools like A/B testing to identify the most high-performing campaigns and campaign elements while a campaign is running.
Easier teamwork
Using campaign management software can make it easier to work with others on your team and with external collaborators like influencers. Usually, campaign management software programs includes dashboards that are accessible to everyone involved, across different departments. There's no need to email back and forth about critical decisions and approvals, which can get overwhelming and harder to track with increased volume.
Data-driven decisions
Perhaps the most important aspect of marketing is taking action based on numbers and evidence. Marketing involves a lot of data, and the best marketers rely on these to make decisions on how to move forward with a campaign. Tools and software that generate reports based on campaign data help teams respond quickly to irregularities, low-performing elements, and other factors that can improve the campaign.
---
Types of Campaign Management Tools and Software
There are several campaign management software options available in the market today. Some are all-in-one tools that provide you with everything you need, while some offer tools in one or more specific aspects of marketing.
Some of the types of tools that campaign management software programs can include are: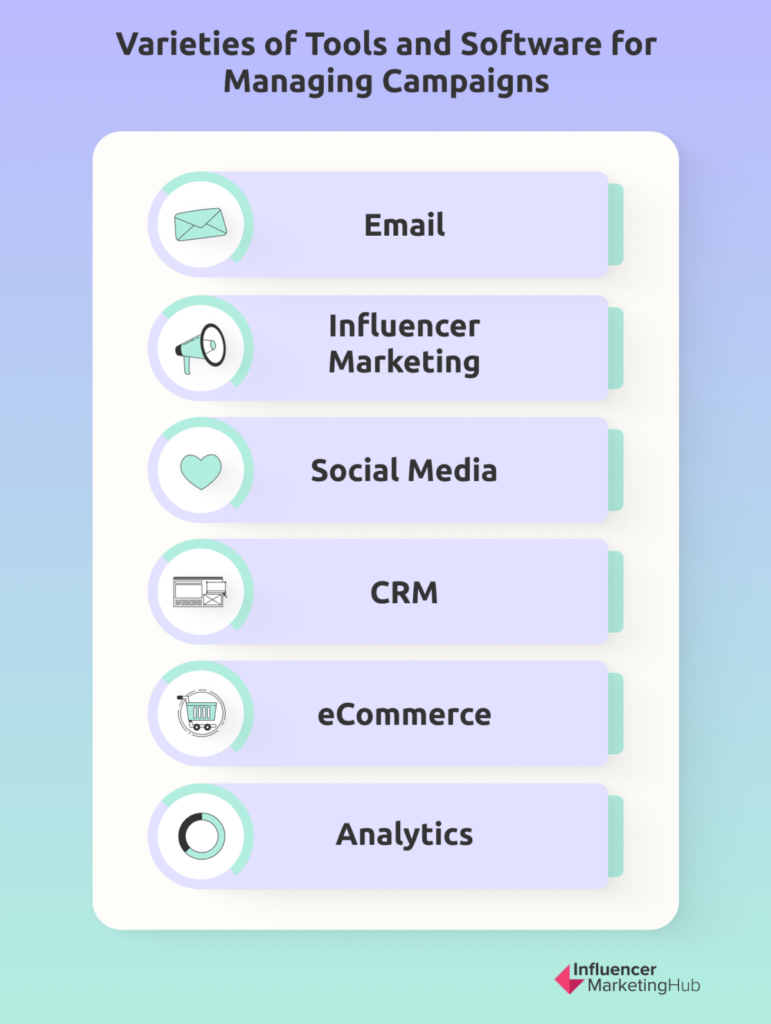 Email
Email marketing is a likely constant in all digital marketing campaigns. It's one of the most convenient ways to reach new customers, it's easy to personalize, it has relatively easy metrics to keep track of, and it provides a high ROI. However, it can be harder to manage if you have a long mailing list. Email marketing automation and monitoring tools can relieve you of some of the more tedious tasks of this particular type of campaign, so you can focus on your messaging and other key performance indicators (KPIs) instead.
---
Influencer Marketing
Influencer marketing is steadily gaining popularity, and with good reason. It's lucrative for influencers and effective for brand marketing, so much so that 93% of marketers have reported using it in a campaign. Being a relatively new type of marketing, some businesses may not be as adept at launching and running an influencer marketing campaign as they are at traditional campaigns. Campaign management software that focuses on influencer campaigns take the guesswork out of this type of marketing strategy. It can connect businesses to the appropriate influencer for proper branding and can propel your brand awareness to new heights, driving sales and acquiring new leads.
---
Social Media
By 2026, the social media advertising market is estimated to hit $358 billion from a projected $270 billion worth this 2023. This growth makes it important to have a robust social media marketing strategy. Social media marketing involves the use of apps like Facebook and Instagram for ads, organic reach, and creating communities for your brand. Social media tools on campaign management software allows you to create and schedule posts ahead, monitor engagement statistics for each post, and partner with influencers for more reach.
---
CRM
CRM, or customer relationship management, refers to the process of managing your business' interactions and relationships with your market—your customers and prospective customers. This is important for marketing because it involves nurturing your target market to increase sales. CRM tools can help companies obtain customer information to create better marketing strategies and to help identify potential steps of the customer lifecycle that need improvement.
---
eCommerce
eCommerce businesses may have specific goals and marketing needs that differ from other brands. Campaign management software for eCommerce also need to consider the digital shelf and omnichannel marketing opportunities for the best performance.
---
Analytics
A good campaign management software program worth its salt should include extensive tools for analytics. This includes in-depth reporting tools that include actionable data that's easy to read and understand. It should have the ability to monitor the KPIs that you are most concerned with, and provide enough information for marketing teams to make sound decisions regarding their campaigns.
---
Most Popular Campaign Management Software and Tools
Now that we've discussed what campaign management software is and what it can do for your business, let's look at the most popular software solutions today.
Top
campaign management software
2024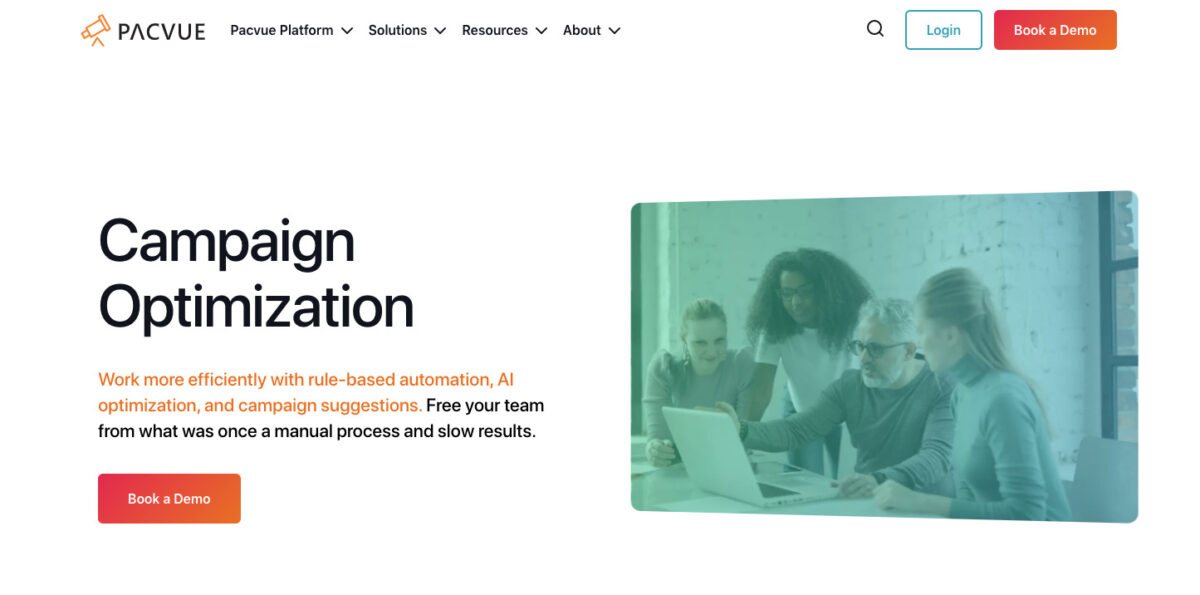 A leader in the eCommerce marketing industry, Pacvue's platform provides total eCommerce management. They specialize in retail media advertising across the biggest eCommerce marketplaces, including Amazon, Walmart, and Instacart. Ecommerce businesses that operate on multiple marketplaces will benefit from the Pacvue platform as it incorporates all the major marketplaces into one dashboard. This lets you easily monitor and manage all your campaigns on all your channels.
Pacvue aims to optimize campaigns for more sales while decreasing the costs of each campaign. It uses artificial intelligence (AI) to run analytics for retail media campaign management, so users can make informed decisions backed by data. It also uses AI to automate daily actions for more efficiency.
---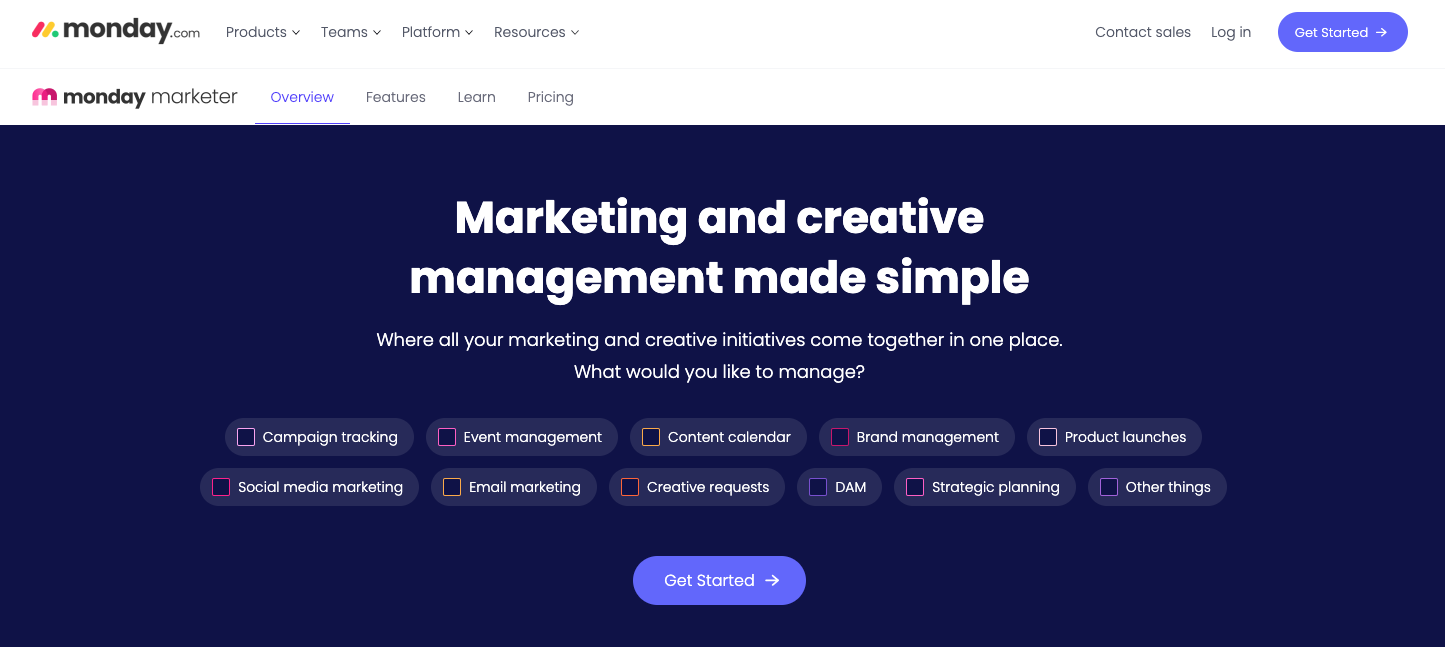 Monday.com is primarily a project management software, but marketers can use this to manage their campaigns as individual projects. Because the platform is flexible and customizable, you can build your own "boards"—customized tables that serve as your project dashboard, where you can manage all the aspects of each campaign.
Experienced users can build boards from scratch, but there are also templates you can use. Monday Marketer is a template category that features several boards for marketing activities, including campaign management. From high-level marketing strategy to content calendars and A/B testing, Monday.com's campaign management tools are worthy of consideration.
---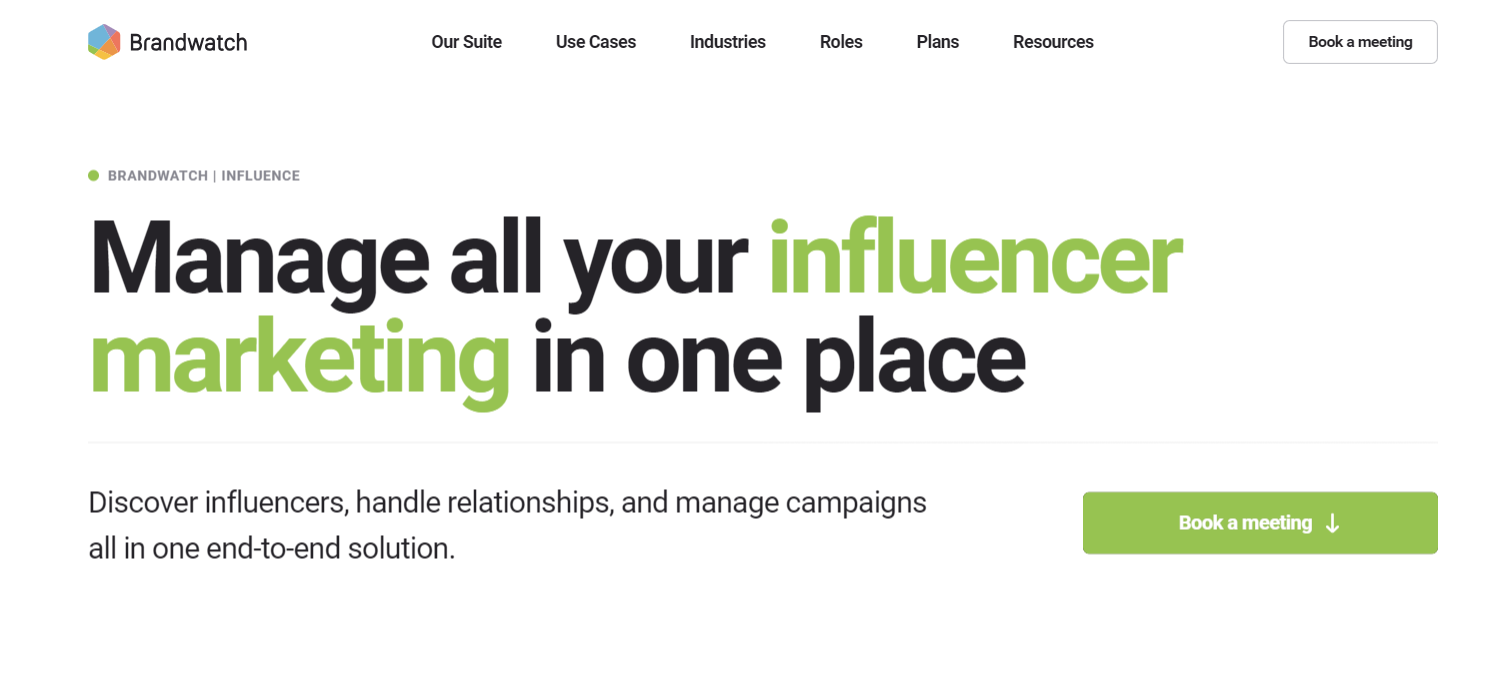 Brandwatch is a frontrunner in influencer campaign management, offering a holistic solution for influencer discovery, engagement, and analytics. Its standout feature is the influencer CRM, which consolidates contacts, contracts, and communication, complete with automated email tracking.
A hallmark of Brandwatch is its commitment to streamlining. Quickly onboard influencers, access mobile-friendly dashboards, and share data through exportable sheets and live links. Oversight is uncomplicated with features for content approvals, deliverable tracking, and automated reporting.
Further enhancing its appeal is the integrated content calendar, displaying both organic and paid content. Approval flows, designated user roles, and a centralized content pool streamline campaign processes. With an intuitive user experience and data-backed analytics, Brandwatch positions itself as an essential tool for influencer-centric campaigns.

Key Features: Influencer Discovery, Influencer directory management, Creation of private influencer network, Campaign management and reporting, Broad platform coverage, Automated reporting,
Channels: YouTube, Facebook, Instagram, Twitter, Twitch, TikTok, Shopify
---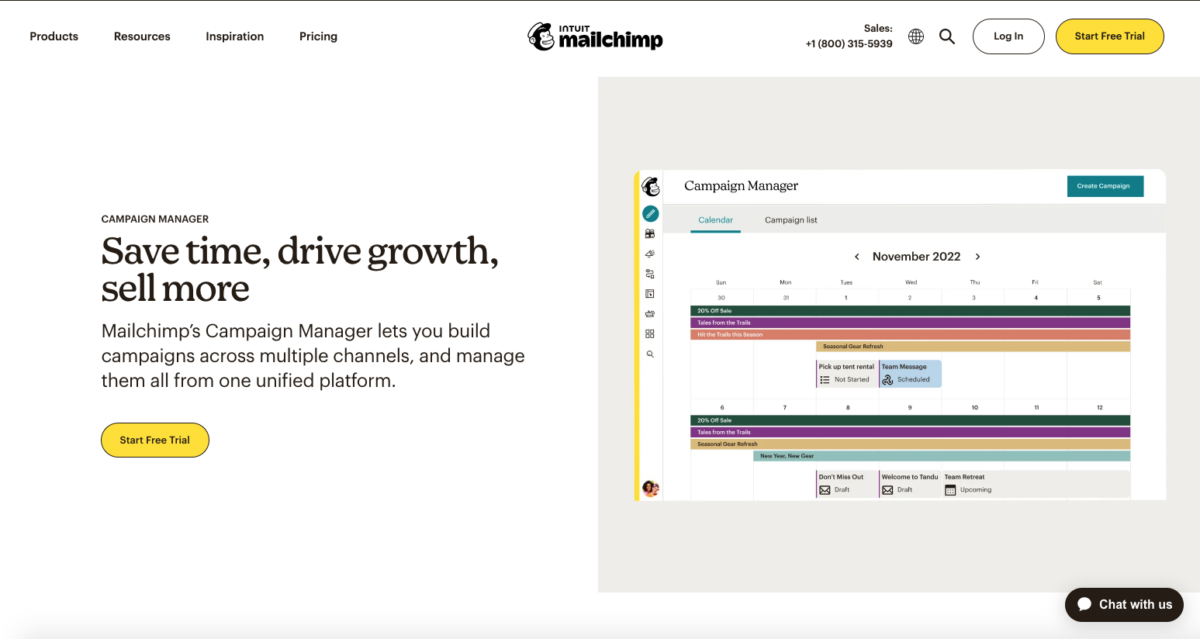 As one of the pioneers of email marketing, MailChimp is one of the more familiar names on this list. MailChimp is well known for email campaign management, but their suite of tools also includes a full campaign manager software program, landing page designer, social media campaign manager, digital ads, and even website and online store creation and appointment scheduling.
Their campaign management tools includes email, data-backed insights, and targeted messaging. They also use webhooks for integration with third-party apps to automate tasks, to-do-lists, and other tools for expanded functionality.
---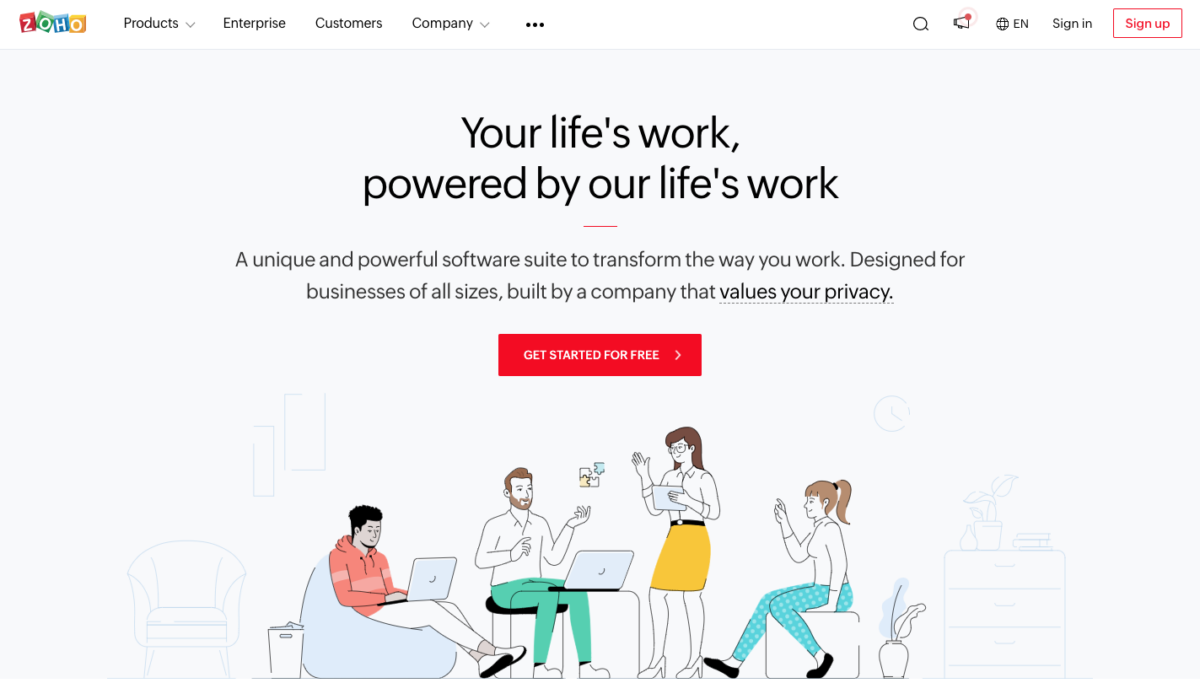 Zoho is a full-feature software for businesses. Known for their powerful yet simple CRM tool, the India-based company has made a name for itself within the CRM software industry. Zoho CRM works with multiple channels, with features like audience segmentation and predictive analytics that lets you deliver excellent customer experiences.
Aside from Zoho CRM, they also have an effective email marketing management tool. You can use Zoho Campaigns on a "forever free account" using your LinkedIn, Google, or Microsoft Office account. This toolkit has plenty of features to make email marketing easy, such as automation, personalization, autoresponders, and A/B testing.
If you need more, you can try their full-feature marketing platform, Zoho Marketing Plus. This lets you unify all your marketing activities on Zoho, including campaign management, on one platform.
---
Hive is a popular project management tool among businesses. Its comprehensive suite of tools offers a full range of functionalities, including more than 1000 integrations and customizable workflows. Its interface is also very user-friendly. You can choose to view project timelines on a variety of options, like Gantt, Table, or Calendar View.
Hive now also has an AI-powered content generator called HiveMind. It aims to assist teams in generating effective content that converts, such as email subject lines, press releases, and blog posts.
---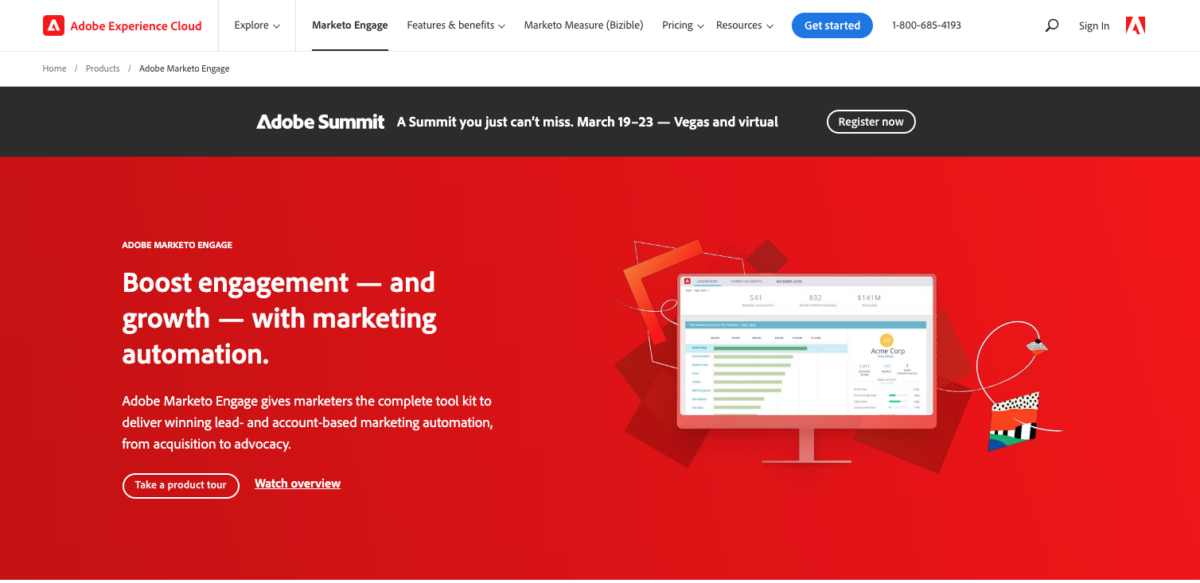 Marketo Engage and Campaign are two distinct products under the Adobe Experience Cloud that offer campaign management capabilities. Marketo is a marketing automation software program acquired by Adobe in 2018, and it's popular mainly among B2B companies. As a campaign management tool, its more popular features are lead generation, landing pages, email marketing, and analytics.
On the other hand, Adobe Campaign is a campaign management software that better fits B2C companies and marketing teams. It's equipped with cross-channel capabilities that allow you to plan, create, monitor, and measure campaigns. Like Marketo, it uses AI to obtain customer data and performance analytics for unbiased reporting.
---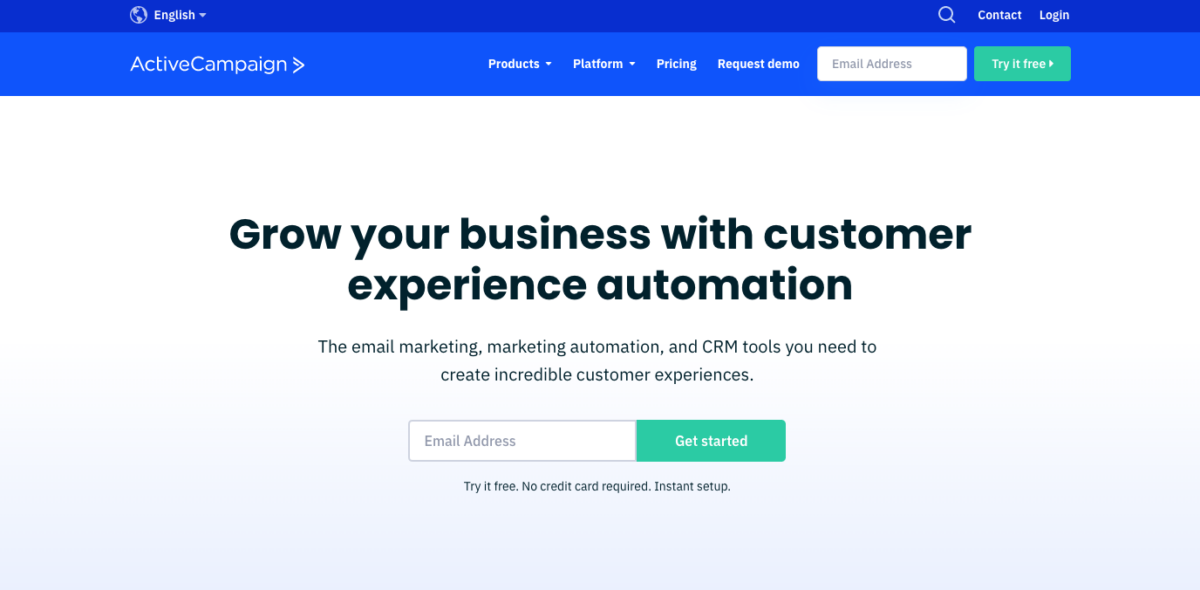 ActiveCampaign is a campaign management software with email marketing, CRM, marketing campaign automation, and eCommerce integration. Their Postmark tool makes email marketing a breeze, from migration from another service to email delivery and analytics. Their focus on CRM ensures that your customers receive what they want to receive, when they need it.
ActiveCampaign also utilizes automation to obtain customer data for analytics, as well as increases efficiency and organization for their customers.
---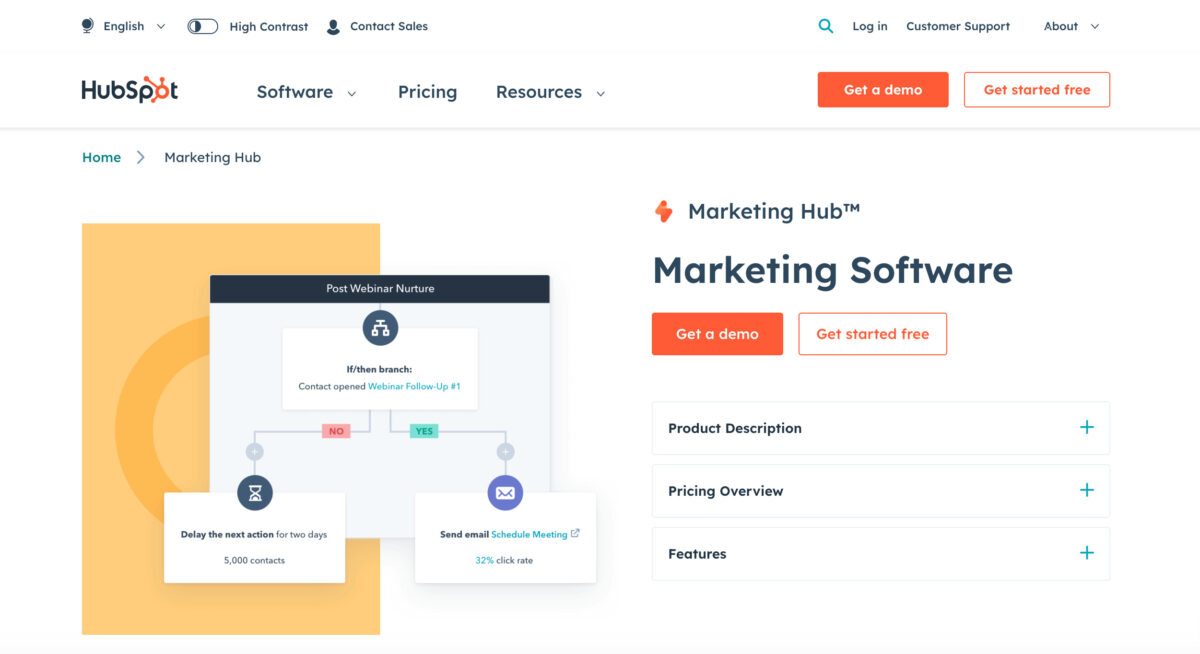 HubSpot is one of the more popular names in the world of digital marketing tools. Their comprehensive marketing software includes everything you need from automation, SEO, email marketing, social media, lead generation, data analytics, and landing pages.
On the flipside, HubSpot's powerful tools make for easier campaign management. However, all that power and technology comes with a hefty price. While many features are available with the Free and Starter plans, including email marketing, basic SEO, limited automation, and ad management, you really get the best tools with the much pricier Professional and Enterprise plans. For instance, the HubSpot Campaigns feature, a comprehensive, dedicated tool for campaign management, is only available for Professional and Enterprise plans.
You can still get some great features on the basic plans, but they are better suited for individuals and small companies who don't need a lot.
---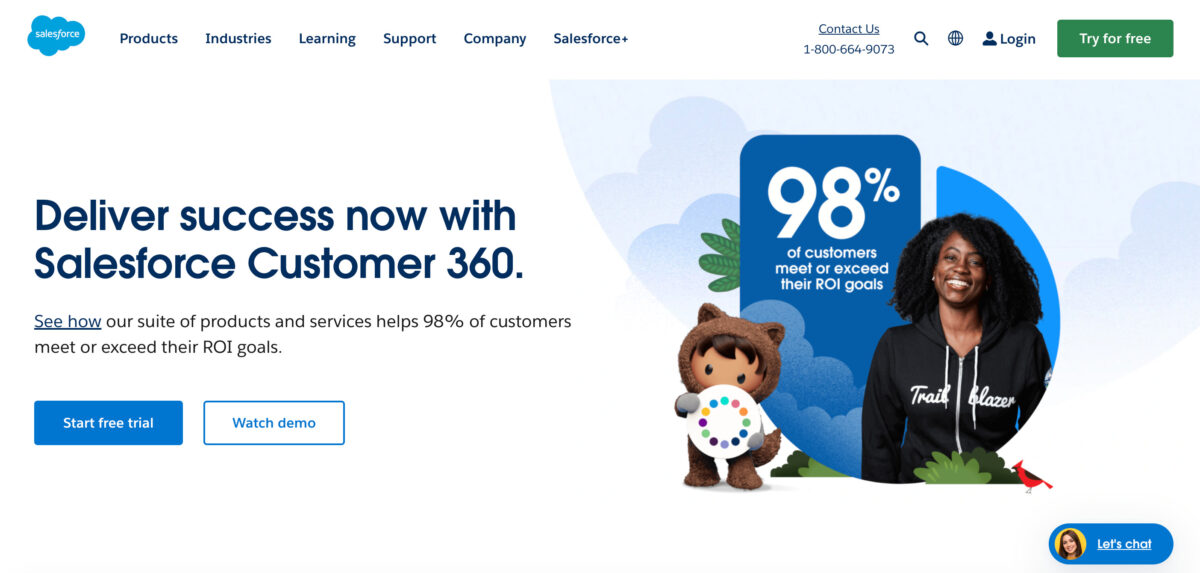 When it comes to CRM, Salesforce is at the top of many lists. Their Marketing Cloud software is targeted to customers who value customer relationships in their marketing campaigns. They offer personalization, engagement, marketing intelligence, and account-based marketing for effective campaign management. One downside, however, is that Salesforce packages these as separate, standalone products and not as features of a single platform.
---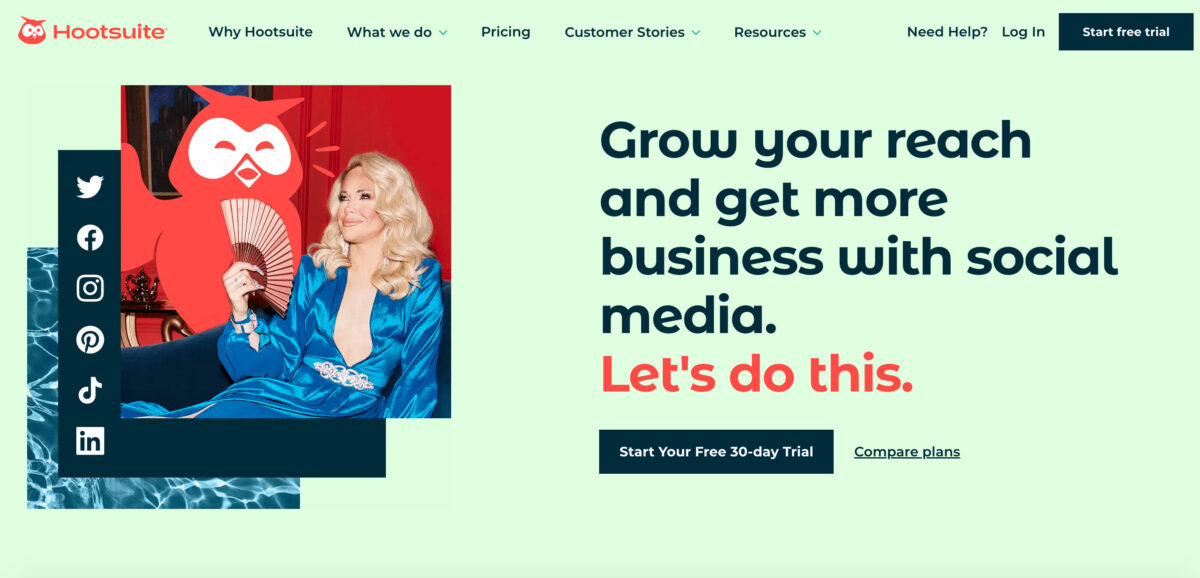 Hootsuite is one of the most used platforms for social media today. The company made a name for itself in social media marketing, and it's easy to see why. Their social media campaign management tools are designed to help creators and marketing managers plan, organize, and schedule posts while optimizing these steps along the way.
You can manage all your social networks—Twitter, Facebook, Instagram, Pinterest, TikTok, and LinkedIn—in one dashboard. Monitor each post's performance across multiple platforms, and even stay on top of online trends and competitor activity.
---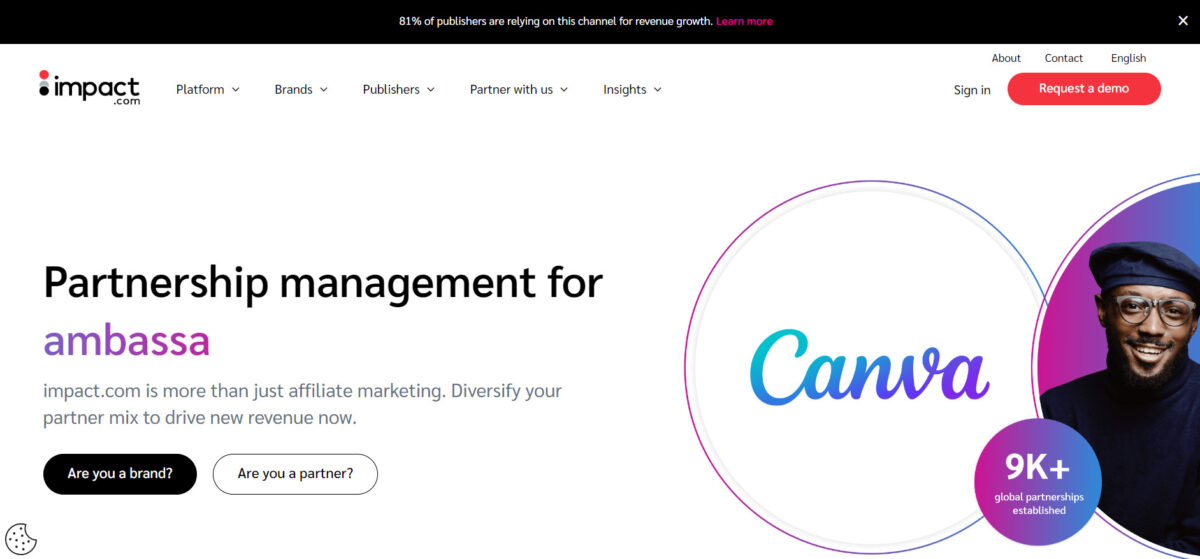 Impact.com's campaign management software is an all-in-one Partnership Management Platform, adept at managing influencer campaigns throughout their entire lifecycle. It stands out for its ability to assist businesses in finding, recruiting, and engaging the ideal creators, and it goes a step further by tracking their efforts and ensuring they are compensated according to their contributions. The platform prides itself on its versatility and adaptability, supporting a diverse array of referral partnerships, such as affiliates, ambassadors, sponsorships, mobile partners, social influencers, and more. This breadth of scope makes it a suitable choice for a variety of business needs.
A standout feature of the platform is the Partnership Automation™, which automates the management of partnerships from inception to completion. This automation fosters efficient orchestration of partnerships and enables strategic planning and execution, thereby boosting productivity and facilitating growth. The platform also features managing multiple campaigns across different brands, offering step-by-step workflows. It allows users to easily switch between their managed brands to review applications, hire talent, communicate with partners, and review creative content. The software streamlines these tasks into staged workflows, ensuring that influencer campaigns stay on track.

Key Features: Influencer Content Amplification, Search/Discovery, Automated Recruiting, Influencer Relationship Management, Influencer Marketplace, Team Collaboration Tools, Content Review, Content Library, Campaign Management, Campaign Reporting, Influencer Analysis, E-commerce Tools, Product/Gifting Tools, Forms and Compliance, Payment Processing,
---