Advertising Disclosure
Advertising disclosure:
Our partners compensate us. This may influence which products or services we review (also where and how those products appear on the site), this in no way affects our recommendations or the advice we offer. Our reviews are based on years of experience and countless hours of research. Our partners cannot pay us to guarantee favorable reviews of their products or services.
Social media isn't just for sharing photos of all those sweet treats and Instagram-worthy coffees, dentists can also use it to market their services. And, no, this doesn't involve commenting on photos of sugar-loaded snacks to induce a state of guilt along with that sugar rush.
Instead, it's about using social media to connect with your potential patients. Scare tactics will likely just have the opposite effect.
With the right social media marketing strategy, you can show off your credentials as well as your compassionate side. Your time is best spent using the different social channels to emphasize the importance of oral health. It's this type of positive approach that will encourage proactive behavior and get people to make appointment bookings.
From a free Facebook page to paid social media ads, here's a drill down into the key elements of social media marketing for dentists.
---
How Dentists Can Use Social Media Marketing for Sweet Results:
---
Benefits of Using Social Media to Market a Dental Practice
There are two main advantages that stand out: lead generation and engagement. Here's why social media makes sense for dentists.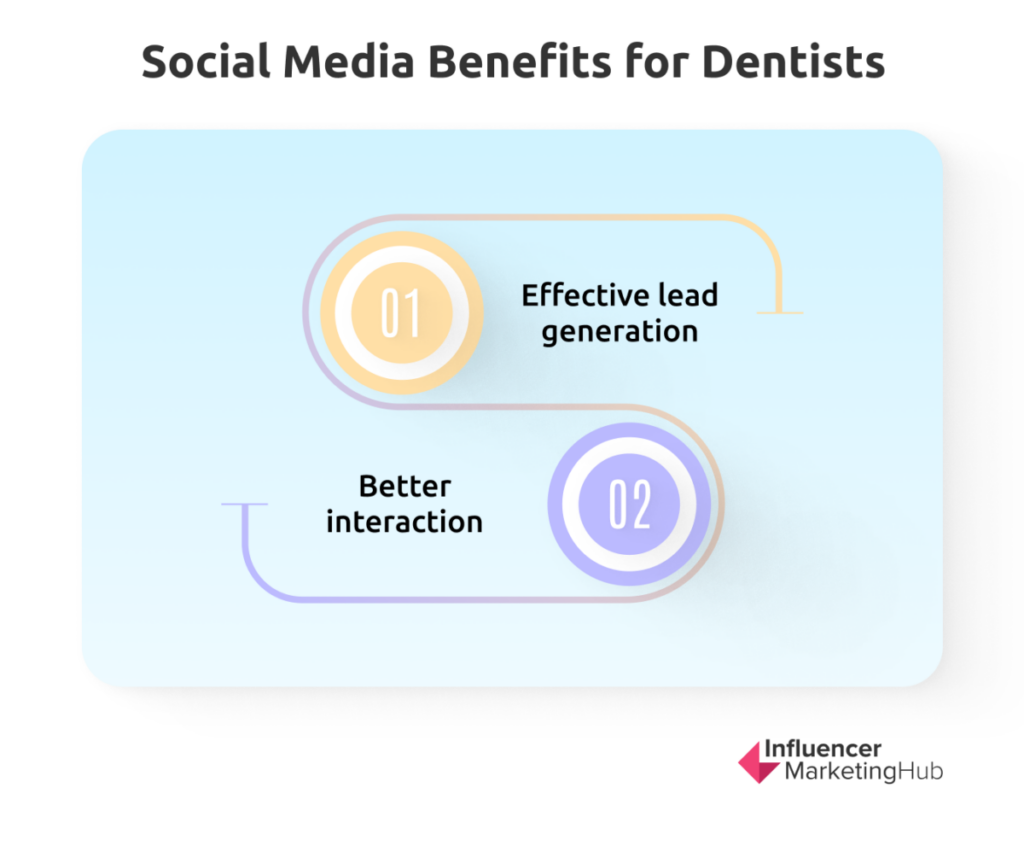 Effective lead generation
Here's the rub about working in healthcare – your goal is to keep your patients healthy, but, at the same time, much of your business success is built upon your current patients needing you.
Younger patients will typically only need to go to the dentist once a year for an annual checkup, aside from the infrequent dental emergency. It's not like eCommerce marketing where consumers can make multiple purchases without needing a pressing reason.
As such, lead generation is crucial for a dental practice. Social media, in particular paid ads, can be very effective for reaching new patients. What makes it so useful is that you can use factors like demographics to target ideal patients, making it easier to reach local patients.
Better interaction
Using social media, you can engage with both previous patients as well as potential ones. You can do that by means of sharing various types of content like a link to a long-form blog post, a short social media post sharing helpful oral health tips, or a bite-sized video giving a sneak peek of your facilities.
---
Planning Your Dental Social Media Content
Each social media channel has its own set of best practices which you'll need to keep in mind when you create content. Also, you'll probably won't need to create an account for every single platform. The channels you'll find most useful for dental marketing will probably be Facebook, Instagram, YouTube, and LinkedIn.
With this in mind, here are some practical guidelines for how you can go about creating relevant social media content for these channels.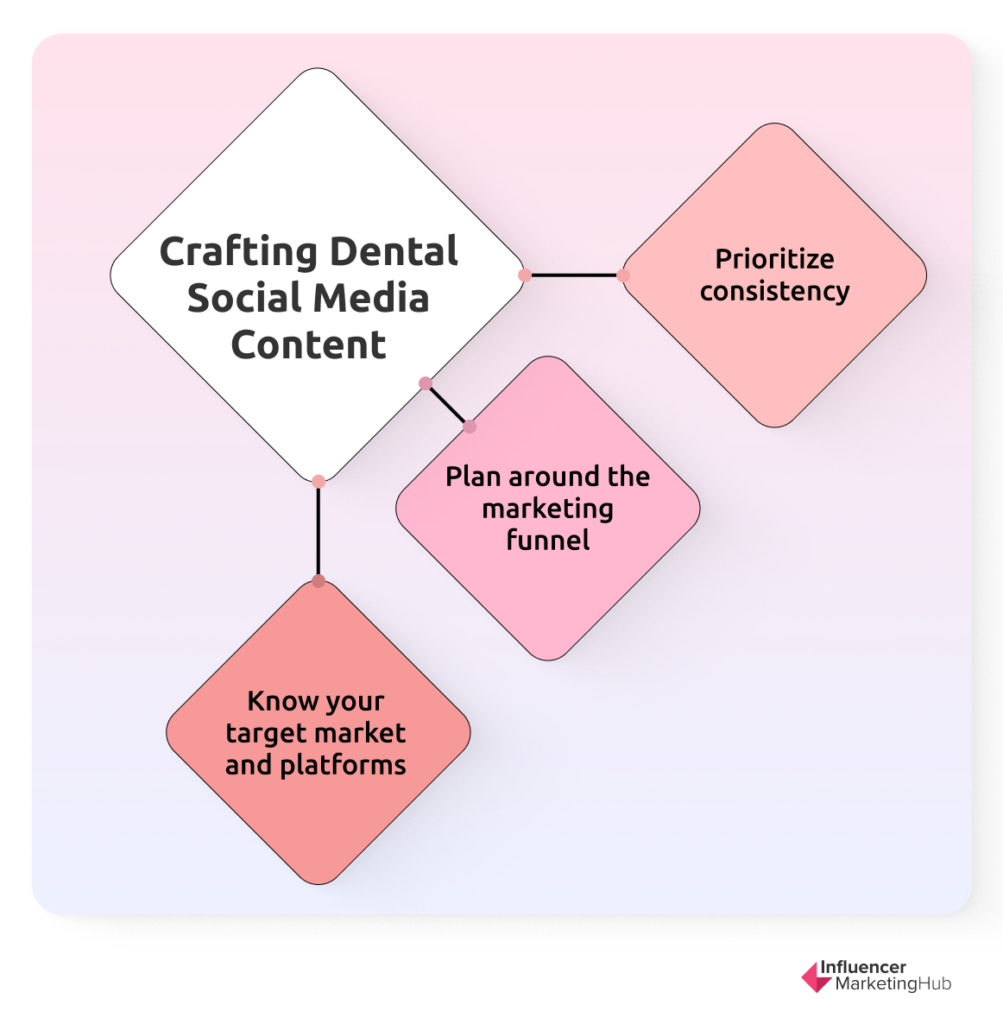 1. Know your target market and platforms
If you focus on general dentistry, you'll find that your target audience is much broader. In this case, you'll need to create a variety of types of posts exploring multiple topics. Though, if you specialize in a specific field of dentistry, you'll need to spend more time on getting to know your ideal patient.
For example, if dentures is your field, your content will need to resonate with older patients. On the other hand, if your area of expertise is braces, your target market will be much younger. While your patients will mostly be teens, you'll also need to appeal to their parents. After all, they'll be the ones suggesting the treatment and paying for it.
To help you get to know your target patients better, it's a good idea to take the time to create personas. This will help you to create content with high engagement rates which will in return make it easier to gain followers.
You'll also need to know which social media platforms are more popular among which prospective patients. For example, Facebook is very popular among female adults. Instagram attracts more or less a similar crowd, but you might have more luck finding a younger audience here.
LinkedIn, on the other hand, is more popular among businesses and professionals. If you offer specialized services, being active on LinkedIn can help you to land referrals.
Not only are certain social platforms more suited for specific segments, but also geared better for certain post ideas. For example, Instagram is more visual than Facebook. As such, you'll find better results when you use it for sharing videos than photos.
Here's an example of how you'll adjust your content:
Let's say you want to market cosmetic dentistry. You'll have better results if you share a short post with a link to a blog post discussing the different options on Facebook. Then, on Instagram, you can share a quick video that possibly features micro influencers who've tried a related service.
---
2. Plan around the marketing funnel
While you're not selling a product, you also need to consider the marketing funnel when creating social media content. Sure, some patients will have a dental emergency in which case they'll need little convincing. However, for cosmetic procedures like bleaching, you'll need to guide them through the different stages.
Basically, not all patients are ready to book an appointment and, as such, not all your social media posts should focus on self-promotion. Some patients will first need more information about a procedure and the benefits.
---
3. Prioritize consistency
You should be consistent in both your frequency and tone.
The more often you can post, the better. That said, it shouldn't be at the expense of quality and relevancy.
Also, if this means that you post every single day of the week only for there to be no posts the following week, rather spread out your posts evenly. Basically, your followers should know more or less when they can expect new content.
If you struggle with posting frequency, you can use a social media scheduler. This way, you can add those "extra" posts to a queue and the tool will automatically post them according to your schedule. You can even set a specific time, helping you to leverage the optimal post timing for the different channels.
As for consistency in terms of content, whatever you post should fit in with your branding. It can be a good idea to create a template using a tool like Canva. This way, you'll have the color palette and font ready. The only thing that you'll need to change is the wording and visuals.
---
Top 3 Tips for Reaching More Dental Patients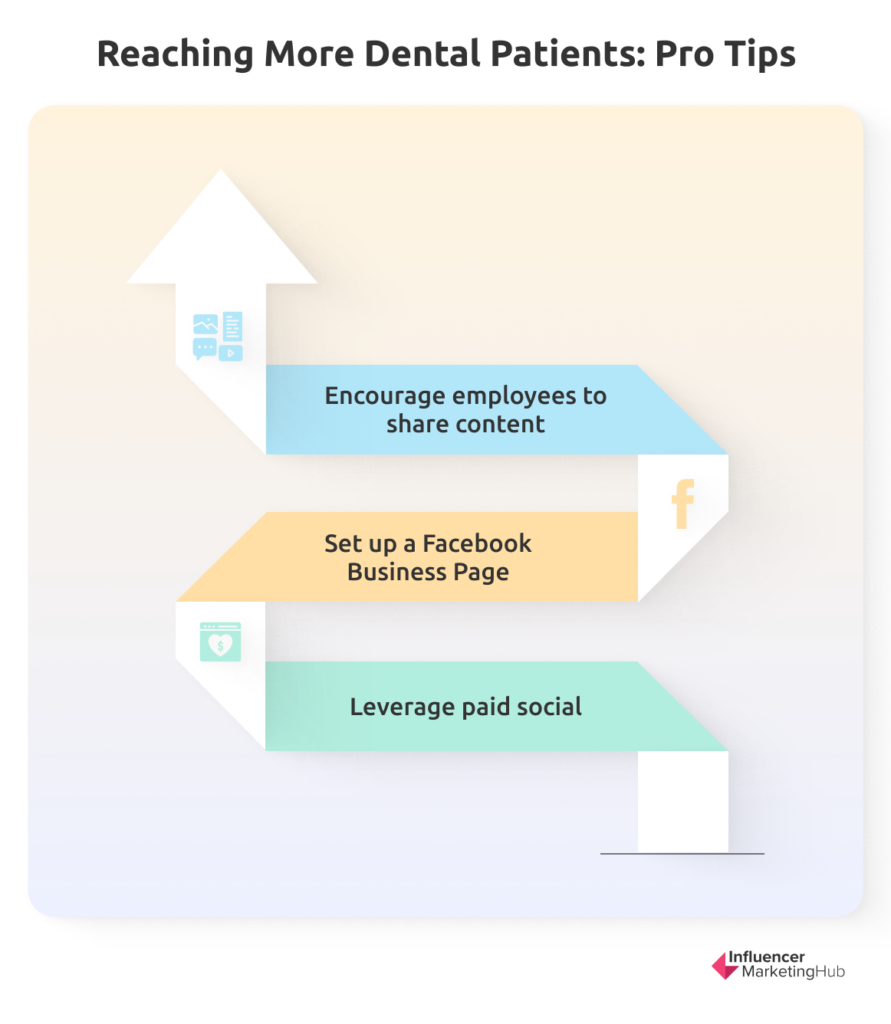 1. Encourage employees to share content
Depending on the size of the dental practice, it can also be a good idea to ask employees to share social media posts on their accounts. This way, your dental practice can reach a bigger audience. Not only will it help you to attract more patients, but also the right employees, should you need to expand your team.
In fact, according to employee advocacy statistics, employees with higher education levels are more likely to participate in employee advocacy. Nearly a quarter of employees with a doctorate degree contribute to employee advocacy on a daily basis, making it an excellent avenue for dental practices to explore.
One way that you can encourage employees to share posts is by featuring them in the content.
Smaller practices with only a few employees can, for instance, create short videos in which each team member gets a turn to share tips.
Bigger practices can create a monthly employee spotlight post, for example. This post can include a few fun facts about the employee and introduce the face behind that mask. Aside from the marketing benefits, it can also reduce dental phobia among patients. If they've been delaying going to the dentist because of a fear of needles, this type of authentic content might be the reassurance they need.
---
2. Set up a Facebook Business Page
Your social media marketing strategy should also include a plan for gathering social proof. A Facebook Business Page can be a great marketing tool for attracting online reviews.
Here, you'll also be able to share important details about your practice such as business address, contact number, and opening hours. You'll also need it if you want to use Facebook Ads — the next tip.
---
3. Leverage paid social
Employee advocacy is effective for reaching people within your organic network. Though, to help you reach potential patients that fall outside of these networks, you'll need to consider going the social media ads route.
Sure, you'll have to pay for this exposure, but it features great targeting. This way, you can refine your target marketing using criteria like demographics, making it easier to reach qualified leads.
---
Best Social Media Marketing Agencies for Dentists
While patients can pull out a decaying tooth on their own, it's a painful experience. Also, there could be bigger problems lurking below the surface.
Basically, the same applies to going the DIY route for social media marketing. Sure, you can do it, but your expertise is to find holes in patients' teeth and not gaps in your marketing strategy.
Here are five of the best dental marketing agencies that help you fill gaps in your content calendar:
Top
dentist social media marketing
2024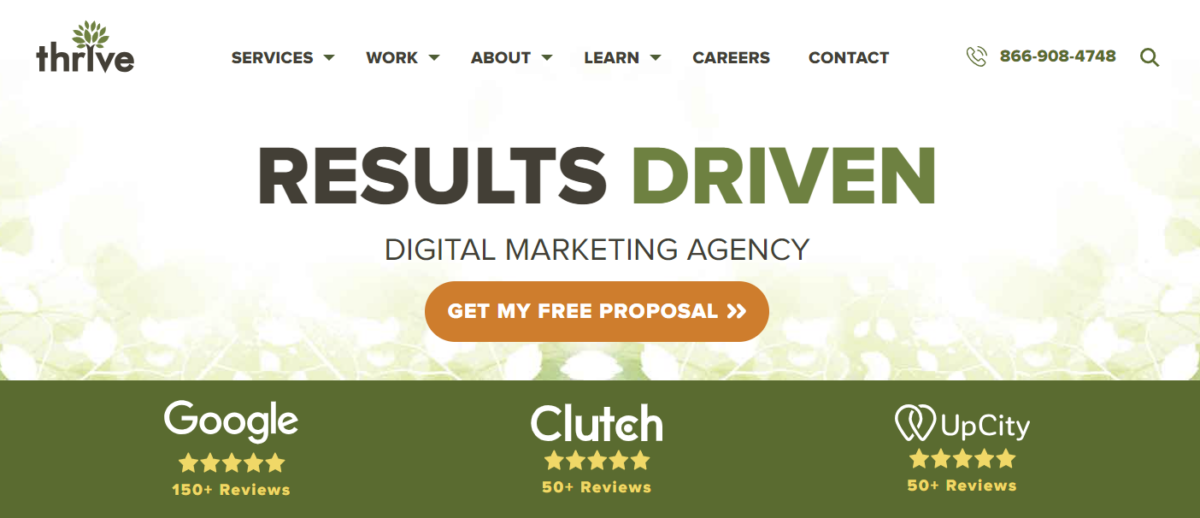 Rated as one of the top 10 dental marketing agencies, Thrive Internet Marketing Agency has worked with several dental practitioners to market their services on digital marketing platforms. Their team uses data-driven strategies to grow their clients' online presence and can either improve existing social media campaigns or create new brand pages from scratch.
Aside from social media marketing, they also help dental practices with the following marketing services:
Search engine optimization (SEO), which includes local SEO – key for dentists
Web design and development
Pay-per-click (PPC) marketing
Online reputation management
Content writing
Video production
Conversion rate optimization (CRO)
By leveraging a combination of these services, they've increased the monthly leads for a multiple-location orthodontic practice group by over 120%. Not only did they create more leads for the practice, but the conversion rate also skyrocketed and the practice received more than double the number of phone calls.
---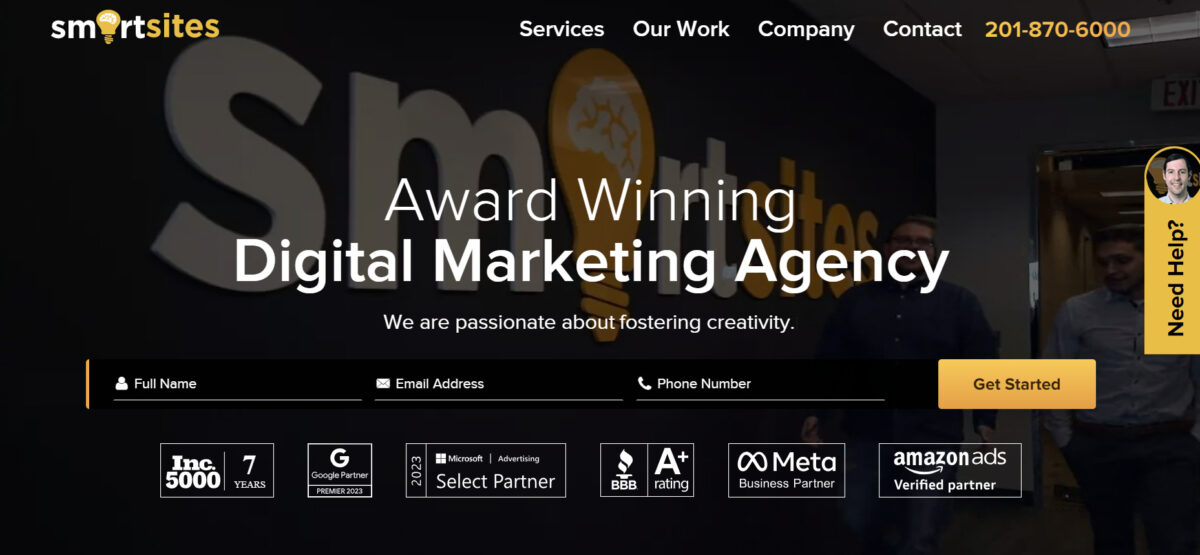 If you specifically want to leverage paid social, be sure to check out SmartSites. Along with Thrive, SmartSites is also recognized as one of the best dental marketing agencies.
Their team of certified PPC specialists offers a free audit if you first want to review your current paid efforts. For those practices new to paid marketing, they're also versed in keyword research and can create a new PPC campaign.
They offer a full range of marketing services that include:
Graphic design (including logo design)
Branding
Website design and development
Site analytics
Google Ads
Facebook Ads
SEO
Call tracking
Their marketing efforts have helped a dental practice like Real Smile create a more professional and trustworthy image. The result — a 439% increase in organic search traffic.
---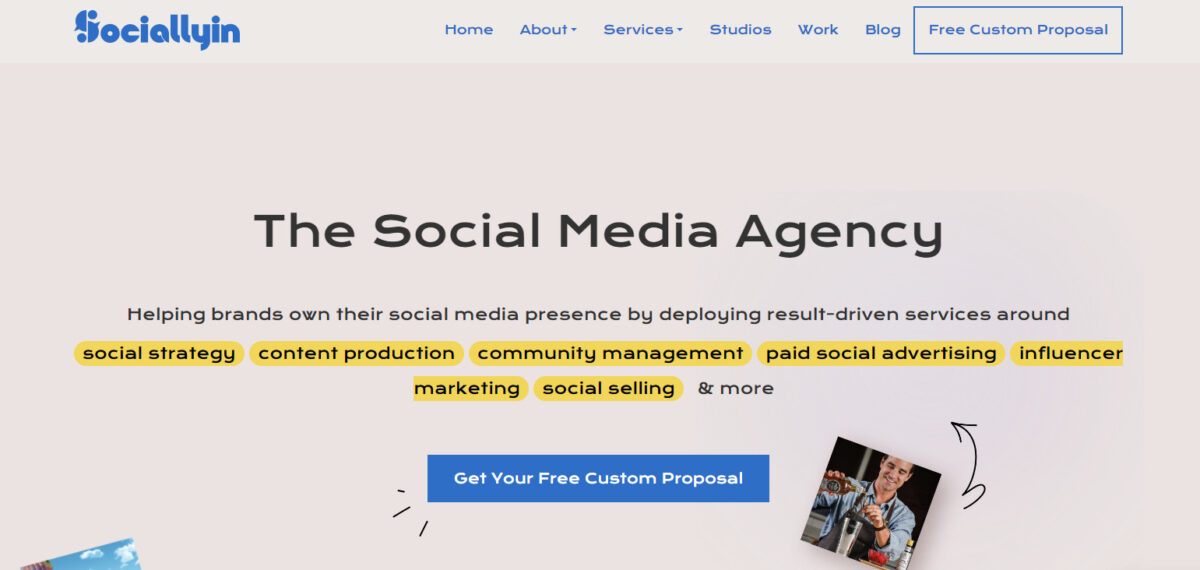 While dentistry might not be associated with creativity, social media content is. You'll need to incorporate a degree of creativity and flair if you want your posts to standout on channels like Facebook, LinkedIn, and Instagram. Enter Sociallyin — one of the top creative agencies that also work with the dental industry.
Unlike SmartSites and Thrive Internet Marketing Agency that cover various marketing strategies and platforms, Sociallyin focuses solely on social media. Their niche focus makes them a great choice if your main need is social media.
Their team of social media analyzers can optimize your presence and create high-quality content that will generate many likes, comments, and shares. From content production to community management, they can help with various aspects involved in being successful on social media.
Some of the other services that they offer include:
Social media strategy
Social paid advertising
Social selling
---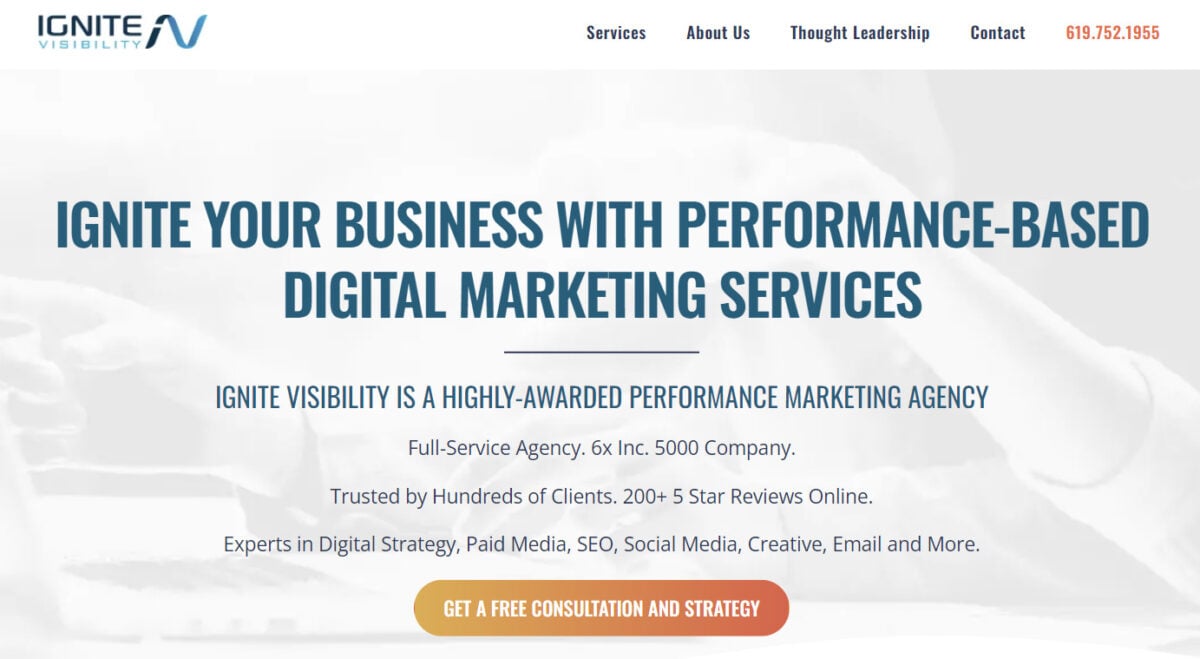 Ignite Visibility is a full-service digital marketing agency that specializes in multichannel digital strategy, social media, and paid media among other things. On Clutch, they've received over a hundred reviews, making them one of the most-reviewed social media marketing companies for dentists.
During the 10+ years that they've been in business, they've worked with dentists, oral surgeons, and periodontists to reach new patients. To do this, they use a six-step dental marketing process.
First, they'll audit any existing strategies and programs. After this, their first focus is creating a local SEO strategy. Once this area is sorted out, they can move on to content creation, paid advertising, and reputation management.
To keep you in the loop about the progress, you can look forward to quarterly and monthly reports. These reports are tailored to include your specific objectives and relevant metrics.
Aside from social media, they also offer:
SEO
PPC
Email marketing
CRO
---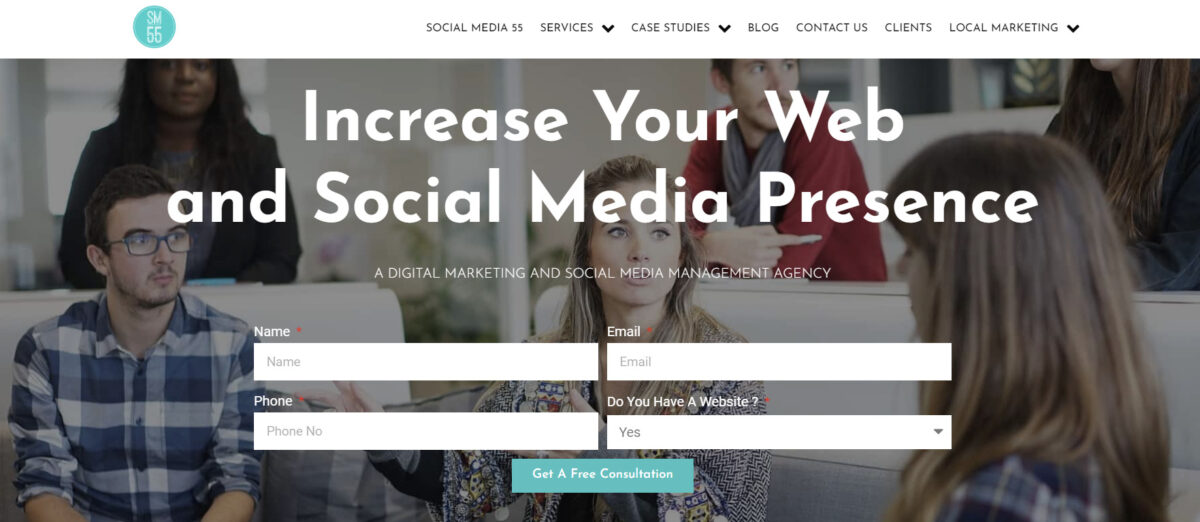 Social Media 55 has been helping dentists to improve their brand awareness and grow their online presence since 2014. From creating a strategy for social media to content creation to paid social, their services cover various crucial aspects.
When you partner with them, you'll also get assigned a dedicated team of managers that will take care of all aspects. As for the content creation process, they have a team of content creators and copywriters at hand that will ensure your messages are conveyed using the right brand voice.
In addition to their social media services, they also provide:
Email marketing
SEO
PPC management
Content marketing
Branding
Web design and development
---
Measuring the Success of Your Dental Posts
In addition to creating content, you'll also want to set time aside to monitor and analyze metrics. The success of a social media marketing campaign isn't only measured in terms of the number of users it has reached. Reach is important, but so too is engagement.
When you measure engagement rates, look at how many reactions, comments, and shares a specific post has received. Needless to say, you want your posts to receive only positive reactions such as a like, love, or wow. If a post received many angry emojis, best not to post that type of content again.
Does video content generally get shared more often than links to educational posts? In that case, you'll want to create more videos and share fewer blog posts.
You get the idea. Basically, you want to identify what works and create more of that.
If you're outsourcing your social media marketing efforts to an agency, you'll most likely get regular reports that will break down these different metrics. This is just one more reason why working with a dental marketing agency can be more cost-effective.
Frequently Asked Questions
How do you choose a social media marketing agency for your dental practice?
There are several social media marketing agencies that include dental professionals in their list of industries served. As it's a more specialized field, it's best to work only with an agency that has done marketing for dentists before. Double-check that they're experienced in engaging with patients and know about the privacy rules involved. It's also best to work with an agency that can visit your dental offices a few times throughout the year. This way, your visual content will be more authentic.
Which are some of the best dental marketing agencies?
There are several reputable digital marketing agencies that you can check out. The following are a few ones that also serve the dental industry:
Thrive Internet Marketing Agency

SmartSites

Pain-Free Dental Marketing

Identity Dental Marketing

Social Media 55

Ignite Visibility

Sociallyin

Cardinal Digital Marketing
What are some tips for designing a dental practice website?
In addition to having a solid presence on social media, it's equally important that a dental practice has a user-friendly website. Here are some best practices to guide your website design:
It should be easy for potential patients to find their way about the website (including a search feature can help with that).

The content should be reliable, accurate, and relevant. You can, for example, include data visualization like an infographic to help explain difficult concepts.

The photos that you include should represent your target market.
Are there any good AI tools that can help healthcare providers?
There are a number of AI tools that healthcare providers can use to reduce errors and improve patient care. Here are a few examples of tools to check out:
Merative (formerly called IBM Watson Health) and Regard can be used for daily task automation

Viz.ai can be used for sharing information and analytics

Enlitic can be used for diagnosis

Twill can be used for tracking patient progress
How do you create an effective social media marketing strategy?
If you want to use social media to land more leads and patient appointments, you'll need to complete the following essential steps:
Audit your social media presence

Research competitors

Identify goals and your target market

Select the social media platforms that your target audience uses most often

Optimize your social media profiles

Identify your brand voice

Create a posting strategy and social media content calendar

Engage with your followers

Track your performance