Advertising Disclosure
Advertising disclosure:
Our partners compensate us. This may influence which products or services we review (also where and how those products appear on the site), this in no way affects our recommendations or the advice we offer. Our reviews are based on years of experience and countless hours of research. Our partners cannot pay us to guarantee favorable reviews of their products or services.
Branding services have become indispensable for businesses aiming to establish a robust online presence. A study reveals that consistent branding can increase revenue by as much as 23%. This shows a need for businesses to formulate an exceptional brand identity. One way to achieve that is through specialized branding services.
But as the demand for such services surges, identifying the right agency is crucial. In this article, we have curated a list of the top 10 digital branding services that have demonstrated excellence in crafting identities and ensuring businesses not only stand out in the crowded digital space but also foster a lasting connection with their audience.
---
Top Digital Branding Services
Top
digital branding services
2024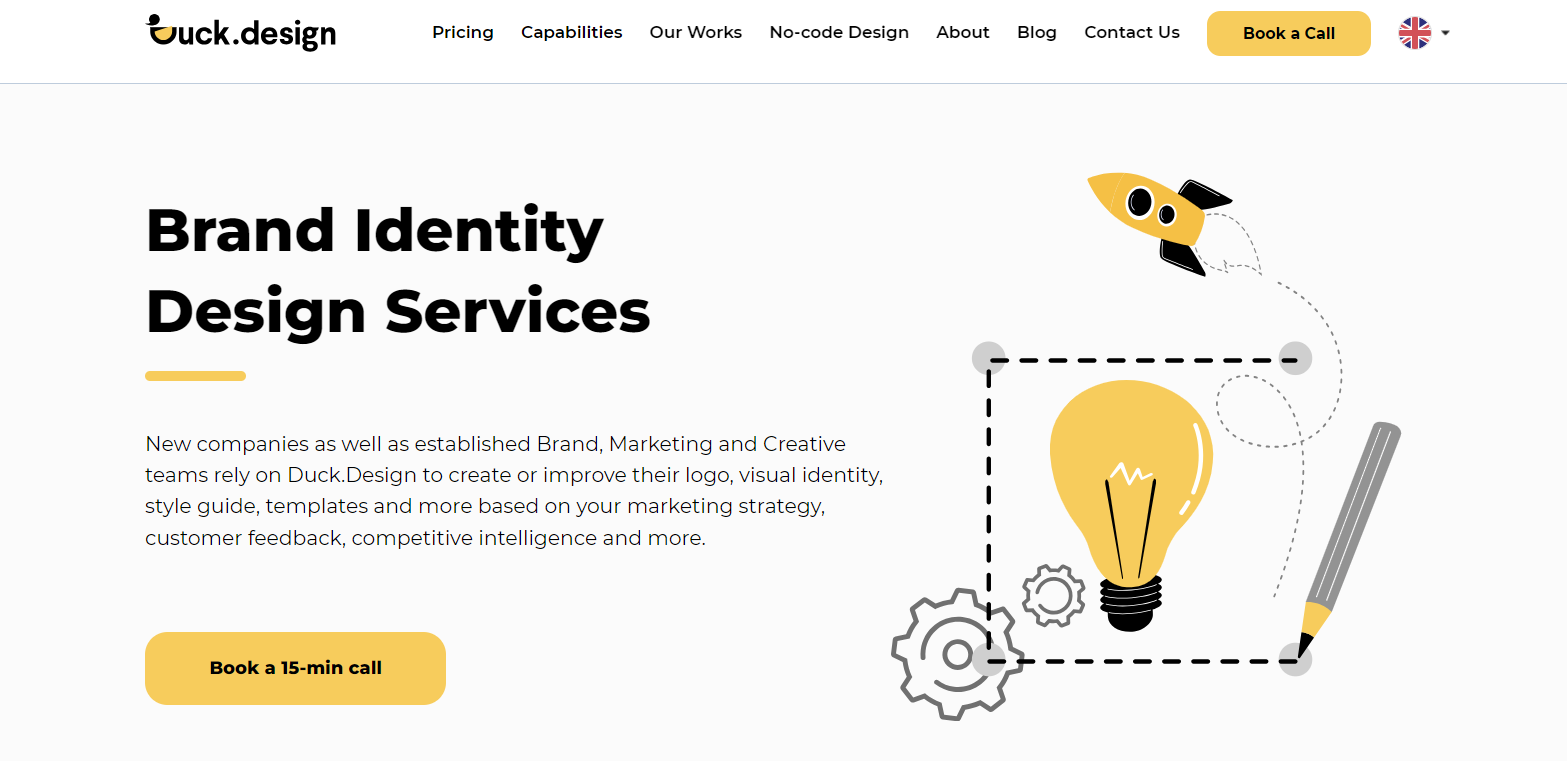 Minimum project price: $1,000+
Avg. hourly rate: N/A
Founded: 2017
Headquarters: London, United Kingdom
DuckDesign is highly regarded for its comprehensive array of digital branding services catering to both budding and well-established brands. The agency's forte lies in crafting resonant visual identities that encapsulate the essence of a brand. Their offerings span logo creation, style guides, and templates tailored to align with a brand's marketing strategy and consumer insights. With global recruitment of top-tier designers, DuckDesign ensures consistent delivery of quality work, further enriched by their transparent subscription models that provide graphic design solutions for day-to-day marketing needs at competitive prices.
DuckDesign's service packages are segmented into three tiers: basic graphic design, a combination of graphic and web/UI design, and a holistic package that includes motion graphics and video design, each with its respective pricing structure. This tiered approach allows businesses of varying scales and needs to find a service package that resonates with their digital branding requisites. DuckDesign extends an invitation to an "always-on" service ethos, ensuring clients receive the design deliverables per their timelines, thereby positioning itself as a reliable digital branding partner.
---

Minimum project price: $50,000+
Avg. hourly rate: $150 – $199
Founded: 2009
Headquarters: San Francisco, CA
Clay Agency, stationed in San Francisco, is renowned for its meticulous approach to crafting brand identities and digital experiences that resonate profoundly with the audience. The agency excels in developing a cohesive visual and verbal identity, ensuring brand consistency across various digital touchpoints. Their expertise extends to creating digital products that amalgamate aesthetics and behavioral science, thus fostering authentic connections between brands and their audience.
The agency's prowess is not just confined to branding and UX/UI design; they also excel in web development, delivering modern digital presences that effectively embody a brand's ethos. Their content production studio further enriches their service offerings, providing a range of creative assets from SEO copywriting to 2D/3D design and video production. With a global reach and a notable portfolio, Clay Agency has established itself as a reliable digital branding partner for both startups and Fortune 100 enterprises, showcasing an adeptness in handling diverse projects that drive meaningful engagement and brand recognition.
---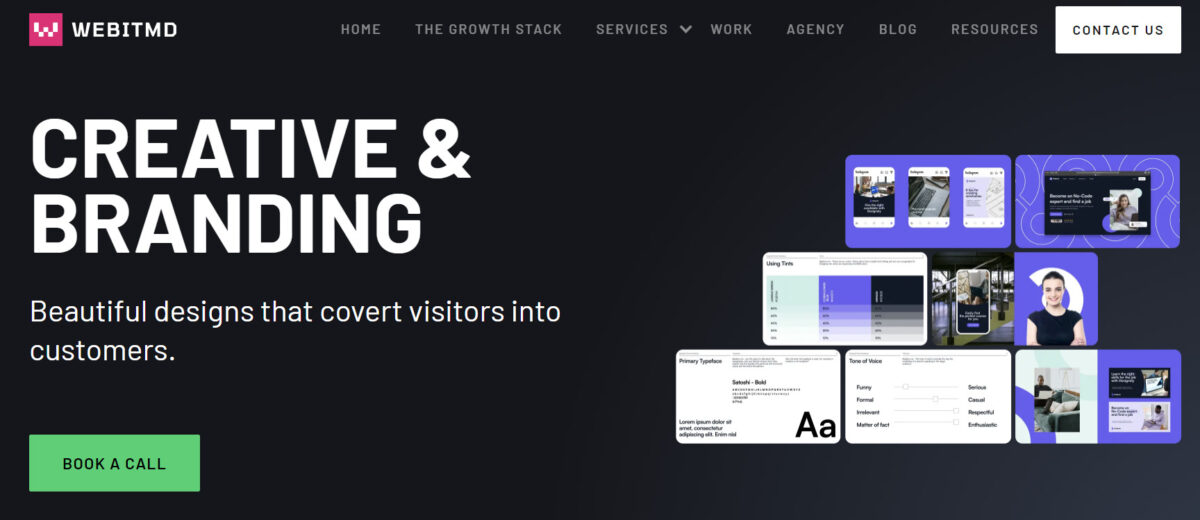 Minimum project price: $1,000+
Avg. hourly rate: $150 – $199
Founded: 2008
Headquarters: Los Angeles, USA
WEBITMD stands as a distinguished growth marketing agency that extends a well-rounded suite of services aiming at bolstering brand awareness and lead generation. Their Creative and Branding service palette includes logos and colors, fonts and iconography, and brand guideline services. WEBITMD tailors these services to make small and medium-sized businesses stand out, reflecting a client-centric ethos grounded in delivering bespoke solutions that cater to distinct business needs.
Notably, the agency's partnership with HubSpot as a Platinum Partner accentuates its capability to deliver services precisely engineered to foster brand recognition. The agency's multi-location presence in Los Angeles, Dallas, and New York further amplifies their reach to cater to a diverse clientele across different geographies. Their ability to create visual identities that matter is a testament to WEBITMD's professionalism and expertise to help businesses compete in a highly competitive marketplace. Furthermore, their dedication and commitment to driving sustainable growth for its clientele positions them as a reliable partner in the digital branding landscape.
---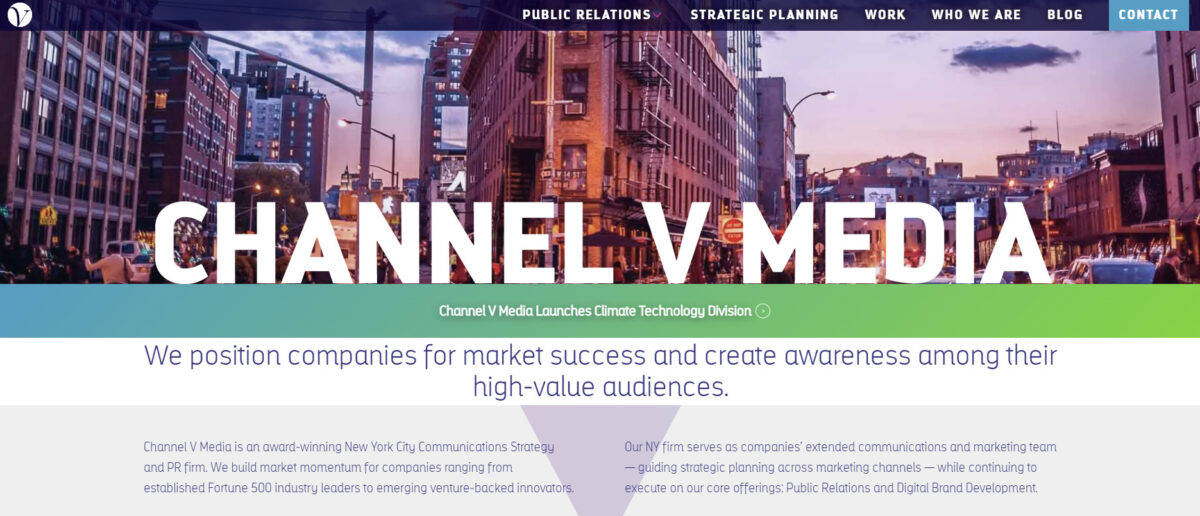 Minimum project price: $10,000+
Avg. hourly rate: $150 – $199
Founded: 2008
Headquarters: New York, NY
Channel V Media is recognized for its comprehensive offerings that endeavor to propel visionary companies into the mainstream consciousness. Initially founded as a PR agency, it has honed its practice to deliver an array of services encompassing Public Relations, Strategic Planning, and Digital Marketing, with a particular emphasis on brand positioning, messaging, and narrative crafting across both traditional and digital media. The agency's expertise lies in tailoring communications and content marketing strategies that aid in launching and building market momentum for fast-growing technology, media, and consumer companies, thereby fostering a robust brand presence and consumer engagement.
Channel V Media's strategic location enhances its capability to serve a broad spectrum of clients. The agency pivots on understanding how narrative and brand positioning influence audiences, extending beyond mere media coverage to generating leads and building direct consumer relationships. Their services are well-rounded, aiming to drive brand awareness and showcasing their holistic approach toward digital branding and marketing. Through its strategic and tailored services, Channel V Media positions itself as a reliable partner for organizations aiming to thrive in the competitive market landscape.
---

Minimum project price: $10,000+
Avg. hourly rate: $150 – $199
Founded: 2015
Headquarters: New York, NY
DigitalDesign.NYC is an award-winning international agency that prides itself on its ability to concoct digital products and experiences that leave a lasting imprint. With a gamut of services, including UI/UX and App Development, Branding, Packaging, and Web Design, DigitalDesign.NYC showcases a profound competence in executing projects of varying complexities. Their service offerings, honed through a blend of agile processes and top-tier systems like Figma, Adobe, and Sketch, demonstrate a strong aptitude for traversing through different design specializations.
The agency's structure, which encompasses a range of specialty affiliate agencies, allows it to craft a clear scope of work from conception to design and development, thereby transforming ideas into tangible products. The ensemble of a diverse team, coupled with a woman-owned and operated business certification in NYC, amplifies their commitment to fostering unique partnerships in the market. Their approach is not just about delivering design solutions but about creating impactful digital narratives that resonate with their clientele across various industries. This holistic approach, grounded in a blend of forward-thinking strategies and emerging technologies, encapsulates the essence of what makes DigitalDesign.NYC a reliable partner in the digital branding realm.
---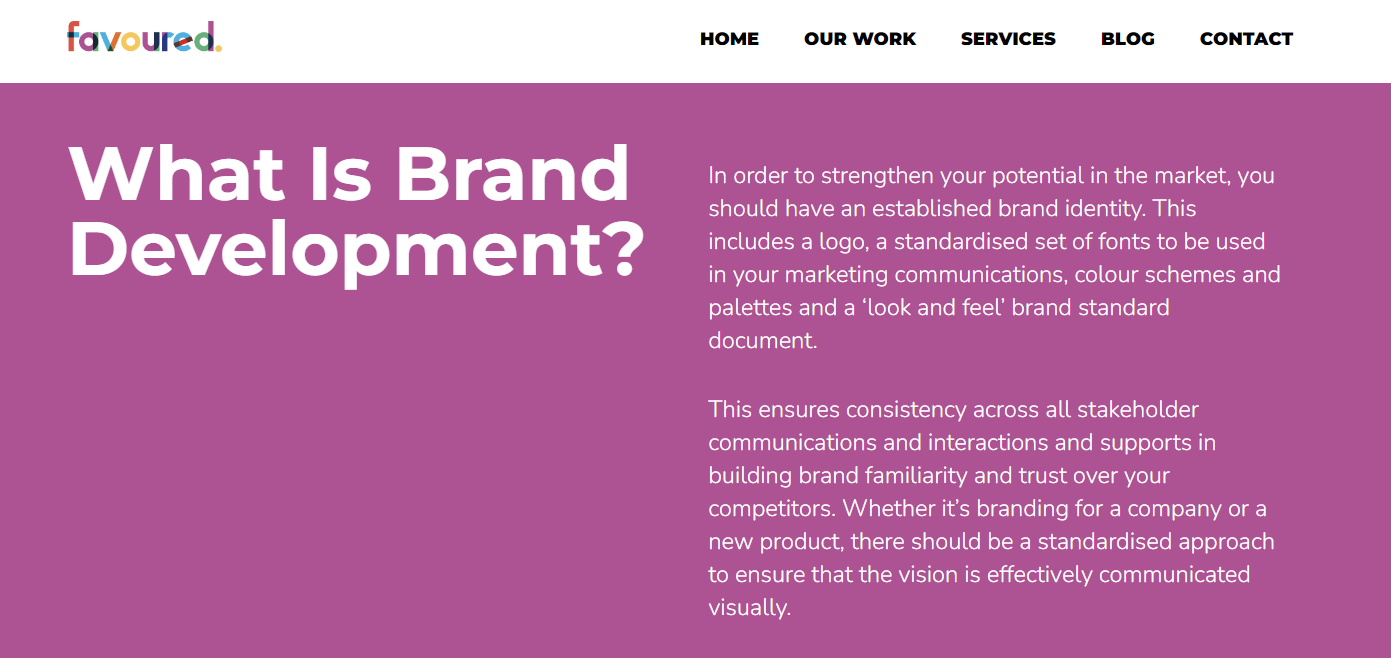 Minimum project price: $1,000+
Avg. hourly rate: $100 – $149
Founded: 2017
Headquarters: London, United Kingdom
Favoured agency strides a step further by strengthening a client's position in the market through strategic brand development. Their array of branding services spans logo design, color palettes, fonts and typography, and imagery. Their philosophy underscores the importance of looking beyond mere initial impressions and delving deeper into creating lasting customer relationships. This approach, rooted in accountability for the entire funnel, forms the cornerstone of their branding and marketing strategies.
The agency's promise pivots on five pillars – fantastic and reliable performance, great communication, fulfilling commitments, forward planning and proactivity, and a best-in-class reporting framework. Their branding approach extends to full video production, including TikTok content creation, showcasing their adaptability to contemporary marketing channels. Furthermore, their roots as a venture initiated by a former Marketing Lead at Apple bring a rich vein of marketing expertise to the table. This, coupled with their results-driven approach, positions Favoured as a formidable choice for businesses aiming to bolster their digital footprint and foster enduring customer relationships.
---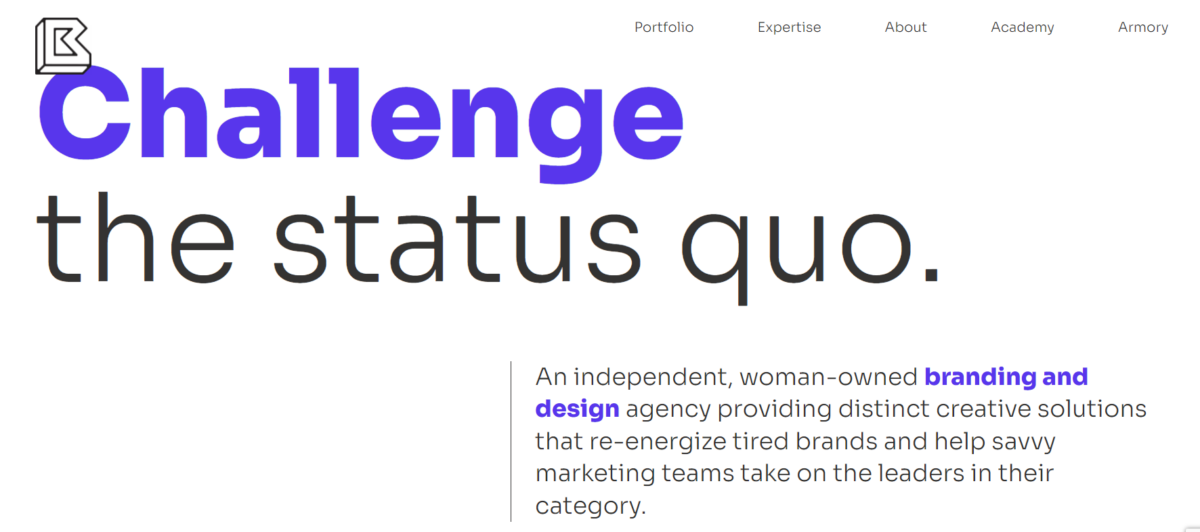 Minimum project price: $50,000+
Avg. hourly rate: $150 – $199
Founded: 2005
Headquarters: Northampton, MA
BRIGADE is a woman-owned, independent branding, design, and entertainment marketing agency. The agency has been dedicated to providing distinct creative solutions that rejuvenate weary brands and assist forward-thinking marketing teams in challenging the status quo. BRIGADE's modus operandi is to empower brands through a blend of profound comprehension of business objectives and a refined artistic skill set. Their Massachusetts-based team is driven to compete and deliver impactful outcomes, solidifying BRIGADE's reputation as a trusted "secret weapon" for brands in pursuit of tangible recognition.
BRIGADE aims to form enduring partnerships with clients. By aligning their approach with their client's business objectives, they ensure consistency in the branding journey, thereby aiding brands in carving a distinct identity in the market. The agency's notable clientele and projects reflect a legacy of proven impact, helping them make significant marks in their respective domains. The minimum budget requirement for engaging with BRIGADE reflects the agency's focus on undertaking substantial projects that promise a transformative impact on the brand's market presence and customer engagement.
---

Minimum project price: $5,000+
Avg. hourly rate: $25 – $49
Founded: 2009
Headquarters: San Pedro Garza García, Mexico
Anagrama, a distinguished Brand Intelligence Group, is headquartered in Mexico. The agency has carved a niche for itself in the realm of international branding, interactive projects, and brand positioning. As a well-versed entity in the industry, Anagrama showcases its prowess across various domains, including commercial spaces​​. But what separates them is their approach, which emphasizes creating a unique and warm personality for their clients.
Their work has been recognized and appreciated, notably their branding and packaging work for Theurel & Thomas, a Mexican bakery specializing in French macarons, which brought them into the spotlight initially​​. For a FinTech startup, they used fun and colorful elements to craft a welcoming visual identity, aligning technology and societal values through playful colors and organic shapes, reflecting the hard work and growth of the community the startup aimed to serve.​ Anagrama's international clientele and a wide array of projects across different industries underline its capability to provide creative solutions that not only resonate with the brand's identity but also contribute significantly towards brand enhancement and market positioning.
---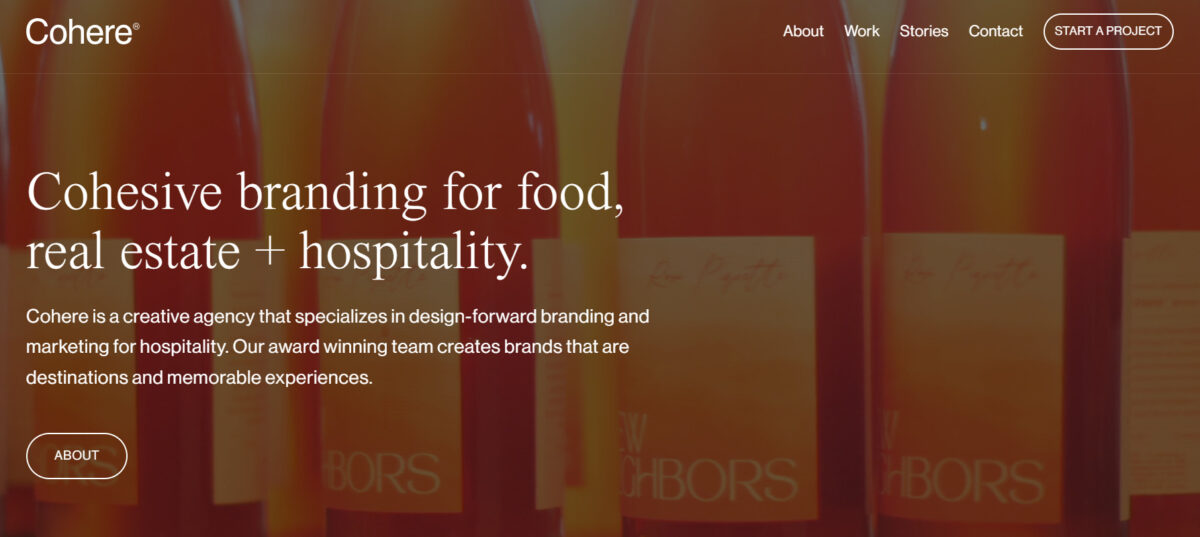 Minimum project price: $25,000+
Avg. hourly rate: $150 – $199
Founded: 2006
Headquarters: Philadelphia, PA
Cohere is a creative agency that has meticulously curated a brand-centric approach focusing on the real estate, hospitality, and food sectors. The agency has been on a mission to revitalize clients through the transformative power of design. Their diverse service portfolio includes branding, web development, environmental design, and marketing.​​
The agency is driven to transform brands beyond mere visual identities into memorable experiences and destinations in their own right. By fostering this design-forward methodology, Cohere has managed to carve a distinctive niche in the industry. The agency's work goes beyond traditional branding, aiming to create cohesive brand narratives that resonate with the target audiences, making a palpable difference in their communities. This unique approach, coupled with its reasonable pricing structure, positions Cohere as a reliable choice for businesses seeking to make a substantial impact through innovative design and effective branding strategies.
---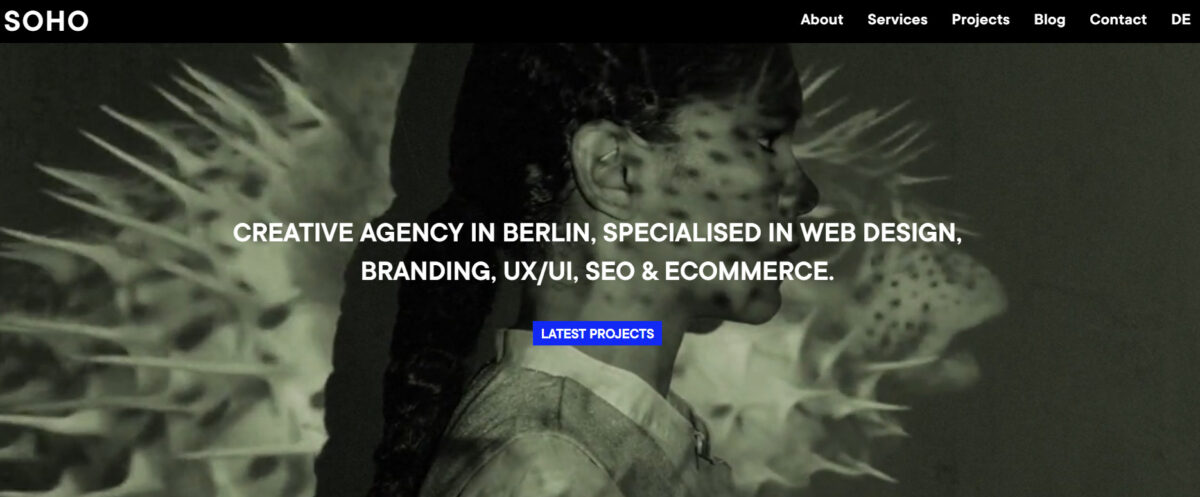 Minimum project price: $10,000+
Avg. hourly rate: $100 – $149
Founded: 2014
Headquarters: Berlin, Germany
SOHO Creative Group has established itself as a robust agency specializing in Branding, UX/UI, and Web Design and Development. They have extended their expertise to a myriad of clients not only in Germany but also in Switzerland, Belgium, and Ireland, highlighting their ability to transcend geographical barriers. The agency places a significant emphasis on cultivating unique brand and corporate identities organically for every project they undertake. Their strategy pivots on a thorough analysis, listening to client needs, and holding workshops to align their creative pursuits precisely with client business objectives​​.
SOHO Creative Group prides itself on a friendly, down-to-earth approach, coupled with a high standard of professionalism and quality in delivering responsive websites. But they are not just confined to web design; their service spectrum also encompasses Graphic Design, eCommerce, and WordPress expertise, showcasing a well-rounded digital service portfolio. The multicultural and bilingual (English & German) team at SOHO reflects a client-centric ethos, ensuring clear communication and understanding of client needs, which in turn fosters the creation of compelling websites that resonate with the client's disting digital branding needs.
---
How Do Digital Branding Services Contribute to a Company's Online Reputation?
A robust digital branding strategy can significantly enhance a company's online reputation through the following channels:
Digital branding services ensure a coherent brand message and visual identity across all digital platforms. This consistency fortifies brand recognition and trust among the online audience. In fact, a report from Fit Small Business stated that consistent branding can lead to a revenue increase of up to 23%. Moreover, a survey found that 82% of investors want companies they invest in to have a strong digital brand.
Engagement and Interaction
They foster engagement by crafting compelling content and interactive experiences, thus building a positive reputation and customer loyalty. Engagement metrics are a crucial part of customer satisfaction; a study by Gallup revealed that fully engaged customers bring in 23% more revenue than average.
SEO and Online Visibility
By optimizing a brand's online content for search engines, digital branding services boost online visibility, thereby improving the brand's reputation. HubSpot statistics show that 75% of users never scroll past the first page of search results.
Online reviews are a critical aspect of a company's digital reputation. Statistics show that over 95% of people go online to learn more about businesses. Furthermore, a single negative review can significantly tarnish a company's online reputation, as it roughly takes 40 positive encounters to offset the impact of a single bad review. Digital branding agencies manage and respond to reviews in a manner that portrays the company in a positive light.
Through strategic social media management, digital branding services can control the narrative around a brand, promoting positive discussions and mitigating negative chatter. An effective social media reputation management strategy can attract new customers while bolstering brand loyalty.
Content Creation and Distribution
High-quality, relevant content showcases a brand's expertise and values, which in turn improves its online reputation. As of 2023, 69% of businesses plan to increase their content marketing budgets.
Through these multifaceted approaches, digital branding services not only create a strong digital identity but also significantly contribute to building and maintaining a company's positive online reputation.
---
Are There Specific Industries That Benefit More From Digital Branding Services?
Digital branding services are invaluable to businesses across a plethora of industries. However, some sectors might derive more pronounced benefits due to the nature of their operations and customer interactions. These industries include:
With the entire business model based online, robust digital branding is crucial for eCommerce platforms to build trust and drive conversions. eCommerce businesses thrive on the user experience and the reliability of the platform, which means their brand image plays a significant role in determining customer loyalty and repeat purchases.
In a sector where competition is fierce, digital branding helps tech companies differentiate themselves and highlight their unique value propositions. A consistent and strong brand image also assists in fostering user loyalty, as consumers often return to brands they feel understand their tech needs and preferences.
Digital branding can significantly influence consumer choices by showcasing positive reviews, attractive visuals, and engaging content. Given the intangible nature of the experience before purchase, prospective travelers rely heavily on the branding messages and online reputation of hospitality providers.
Establishing trust is paramount in healthcare, and digital branding services help in portraying a professional and caring image. In an industry where patients' lives and well-being are at stake, having a strong and trustworthy online presence can greatly affect a patient's choice of healthcare provider.
Educational institutions can leverage digital branding to showcase their achievements, faculty expertise, and student success stories, thereby attracting prospective students. In a world where remote and online education is growing, a strong digital brand can set an institution apart, offering a competitive edge in the educational landscape.
With virtual tours and online listings, digital branding is crucial for real estate firms to attract buyers and renters. The right branding can position a real estate firm as the go-to choice for potential clients, emphasizing properties' best features and the trustworthiness of the firm itself.
Building trust and demonstrating expertise through digital branding can significantly impact a financial firm's ability to attract and retain clients. In an industry that manages people's hard-earned money, a strong digital brand can assure clients of the firm's expertise and security measures.
Digital branding helps nonprofits in storytelling and mobilizing support for their causes. A compelling online narrative can resonate with potential donors, volunteers, and beneficiaries, making them more likely to engage and support the nonprofit's mission.
Although the benefits of digital branding are universal, the impact may be more pronounced in industries where online interaction and perception heavily influence consumer decisions.
---
Conclusion
Navigating through the top digital branding agencies revealed the vast potential of these services in enhancing online brand reputation and engagement, especially for certain industries. The importance of digital branding in crisis management and online reputation is clear.
As the digital domain continues to grow, having a well-crafted digital branding strategy is paramount. It not only helps in resonating with the target audience but also in carving a distinct identity in a crowded marketplace, promising substantial returns for businesses aiming for a lasting digital legacy.
Frequently Asked Questions
What is the difference between digital branding and digital marketing?
Digital branding focuses on creating a lasting brand identity online, while digital marketing aims at promoting products or services to drive sales.
How do digital branding agencies measure the success of a branding campaign?
Success is measured using metrics like brand awareness, engagement rates, online reputation, website traffic, and customer loyalty.
What are some common tools and technologies used in digital branding?
Common tools include graphic design software, social media management platforms, SEO tools, analytics platforms, and content management systems.
How does a digital branding agency collaborate with a company's in-house team?
Agencies collaborate by aligning on goals, sharing insights, coordinating on content creation, and integrating strategies for a cohesive digital brand presence.
Can digital branding services help in crisis management online?
Yes, they manage communications, monitor online sentiment, and strategize to mitigate negative impacts during a crisis.
How often should a company re-evaluate or update its digital branding strategy?
Regular evaluation, at least annually or during significant company changes, ensures the digital branding strategy remains effective and relevant.