If you have thought about creating an online shopping website, you will probably have noticed the vast number of options you have to build your site. For a start, there are now multiple platforms that specialize in helping you build your ideal online shopping experience.
Most of the platforms have made it even easier to supercharge your eCommerce Store by including the ability to use apps or plug-ins to improve your store capabilities. In most cases, they open up their platforms to third parties to make apps or plug-ins that add additional tools to the core platform capabilities. If you judiciously pick the best apps/plug-ins for your platform, you will have the opportunity to increase sales and improve the efficiency of your store.
Obviously, we can only touch the surface of the app markets in a single post. Shopify alone has more than 4,200 apps in its App Store, and many other platforms also have sizable app stores. Therefore, we have selected five common shopping platforms and picked three apps from each app store. These cover a wide range of categories.
Some companies have made apps available for multiple shopping platforms, so you may find an app or plug-in for one platform in this list also available on other platforms. That makes sense. For example, although we review the SellerCard app for Miva here, owners of other platforms will also find a version of the app in their App Stores.
If you can't find an app that meets your needs, keep searching in your platform's app store to see what they have available that will meet your needs. You might be surprised by the breadth of apps available.
---
16 Apps to Supercharge Your eCommerce Store:
---
Shopify Apps
1. Candy Rack

Candy Rack helps you upsell and cross-sell your customers by offering extra services, free gifts, and/or related product bundles (frequently bought together). You can create effective product upsells, service cross-sells, and bundles to boost your sales. Use their predefined upsells or design your own.
Using Candy Rack, you can one-click upsell related services like gift wrap, premium support, and others, to increase your order value. You set the price for each service. You can upsell related products as a bundle (frequently bought together). For example, upsell batteries which are a related product to any electronic gadget.
---
2. SEO Optimizer
SEO Optimizer runs SEO improvements automatically for you. It has a one-click install, so you can get set up in a few minutes and have peace of mind that your SEO is being continuously monitored and optimized.
It comes with both a Free and a Pro Plan. The Pro Plan is for any Shopify store dedicated to making Google a source of free, highly qualified traffic. The app will ensure that you are set up for On-Page SEO success. They will continuously monitor and automatically optimize your store to ensure you meet Google's best practices when it comes to Technical SEO. However, the developers of SEO Optimizer stress it doesn't build backlinks for your store, as building backlinks is a manual process that can take months, if not years, of dedication to achieve a highly ranked site. What the app does do, however, is automatically optimize your store every day, as opposed to manually logging in and tinkering with SEO settings.
---
3. Social Proof & Sales Pop Nudge (formerly Nudgify)
Social Proof & Sales Pop Nudge is still referred to as Nudgify throughout its sales page, so we will also refer to it like that here for brevity. Nudgify increases your sales and sign-ups with powerful notifications, i.e., "Nudges." You can pick from a library of Nudges to display recent sales ("sales pops"), show which products are selling out, and install a free delivery pop-up.
You simply choose from the Nudge Library and place your Nudges on any page. Nudgify shows live data, so customers can see how busy your store is or how much of a product remains in stock. You can also create your own custom Nudges.
---
4. Rewind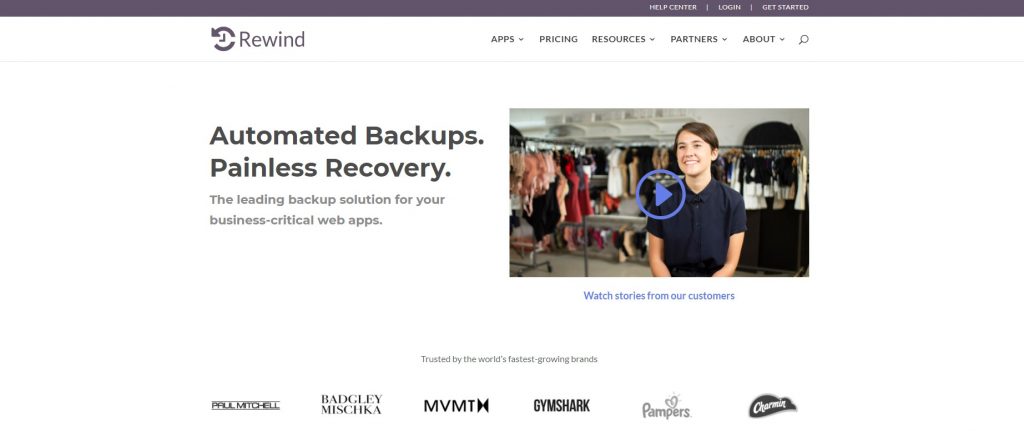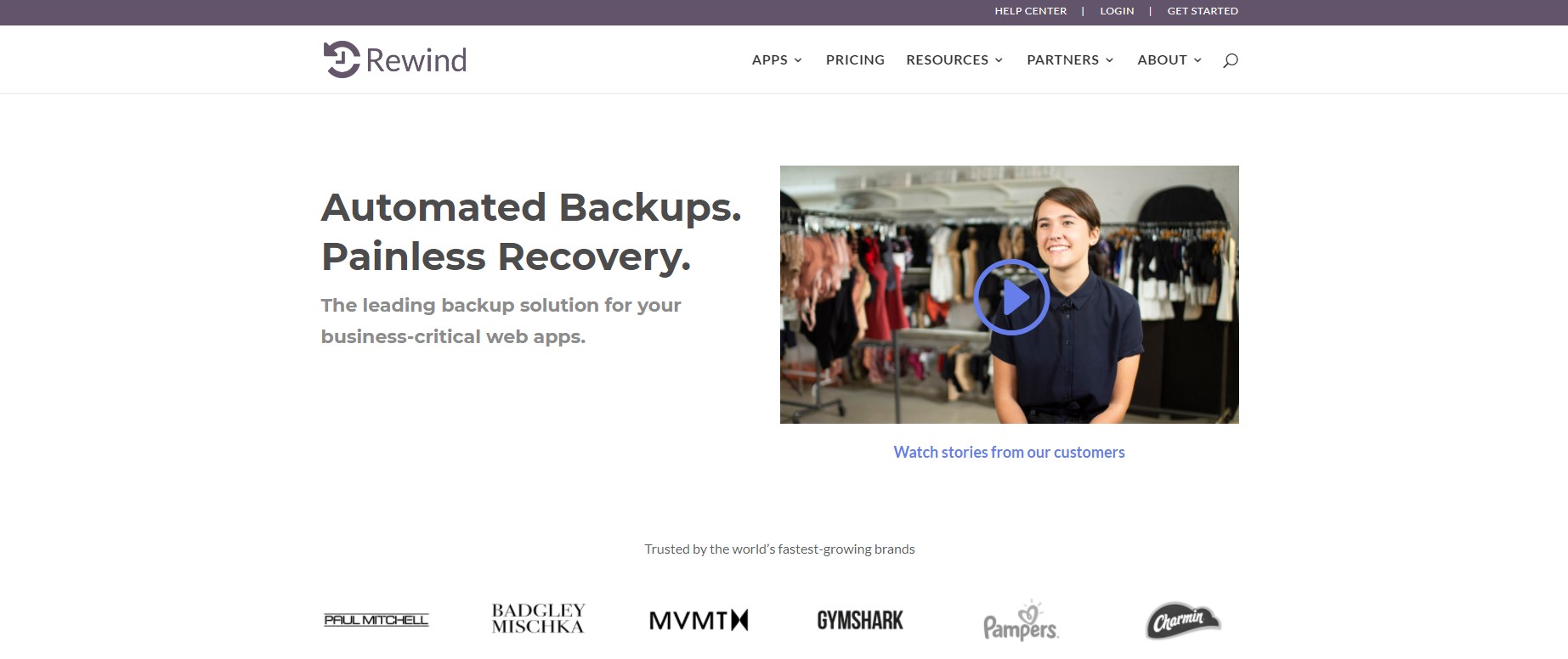 There are several things that can go wrong with an online store. A misconfigured app or theme could make unintended changes that bring down your store. You may unintentionally delete an entire category instead of just an item. Or, a malicious hacker or a disgruntled employee may wipe out all your product listings.Rewind is a Shopify app that helps you automatically capture a backup of all your store every day so that all it takes is a couple of clicks to bring your store back up. As the store owner, you may choose to restore just an individual item, a product category, or the entire store to retrieve.Rewind is used by over 65,000 Shopify stores including the likes of GymShark, Pampers, Charmin, and MVMT. Pricing starts at $3/month and goes up based on your store's monthly order volume.
---
WooCommerce Apps
5. WooCommerce Multi-Currency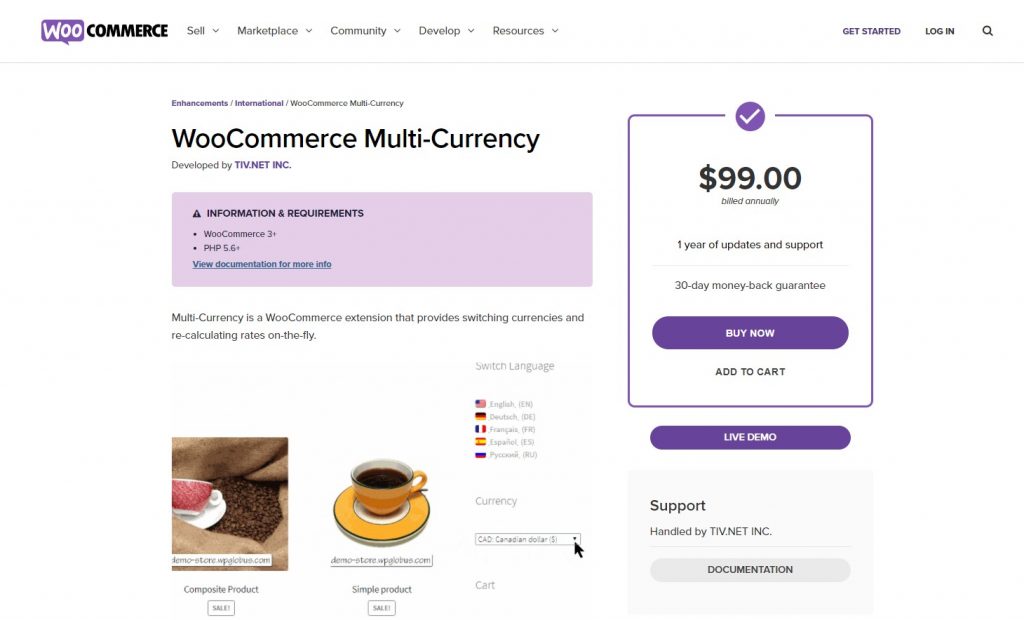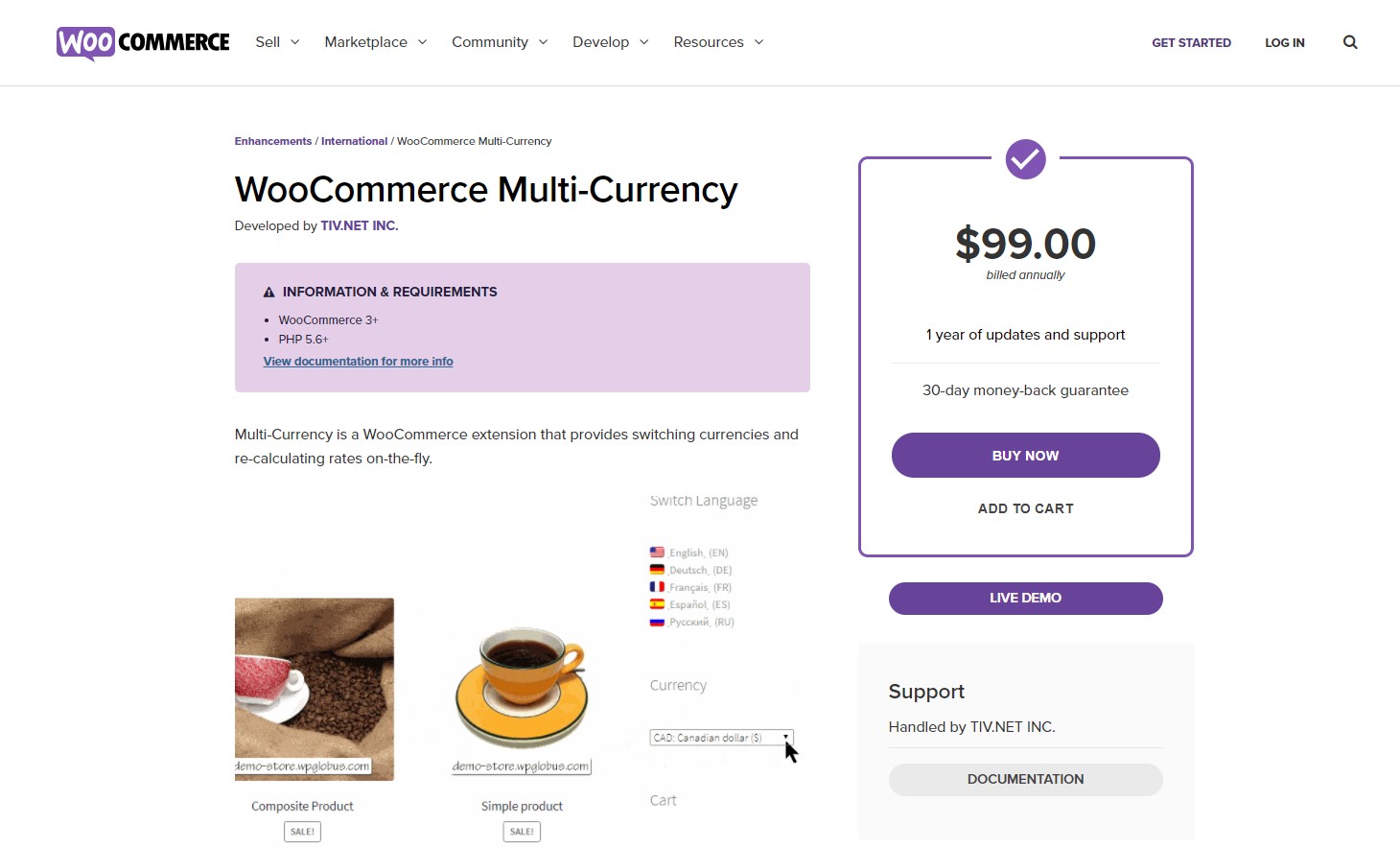 WooCommerce Multi-Currency is a WooCommerce extension that provides switching currencies and recalculating rates on-the-fly. It uses the converted prices during checkout, so customers pay in the currency of their choice
Your site's users can choose a currency using a sidebar widget, see the prices recalculated automatically, and pay in the selected currency.
If you are the site administrator, you can add additional currencies, keeping the base prices in the default currency of the Store, round the prices after conversion, add the conversion commission, and use "price charming."
---
6. WooCommerce Side Cart
WooCommerce Side Cart is an open-source WooCommerce plug-in that allows users to access cart items from anywhere on your site. The plug-in is entirely Ajax based.
It is fully customizable. You can choose what you want to show in the cart, hide the cart on specific pages, and set the cart width, height, colors, and indeed almost everything in its layout.
Everything is already set up. Just activate the plug-in, and you are done. If you need to translate the cart, you can use any third-party plug-in such as Loco Translate for hassle-free translations.
---
7. Enhanced Ecommerce Google Analytics Plugin for WooCommerce
Enhanced Ecommerce Google Analytics Plugin for WooCommerce allows businesses to make the most of the Google Analytics – Enhanced Ecommerce feature. This plug-in helps you in integrating Google Analytics with your WooCommerce stores effortlessly.
No coding is required, and you don't need to hire a developer for the setup. You can configure the plug-in in under five minutes and with a single click from your WordPress backend.
Enhanced eCommerce Google Analytics Plugin tracks the entire user journey on your eCommerce store. You can track the performance of your merchandising efforts by monitoring how certain products are performing on your Home Page or Product Listing Page and make informed merchandising decisions.
---
Ecwid Apps
8. Social Proof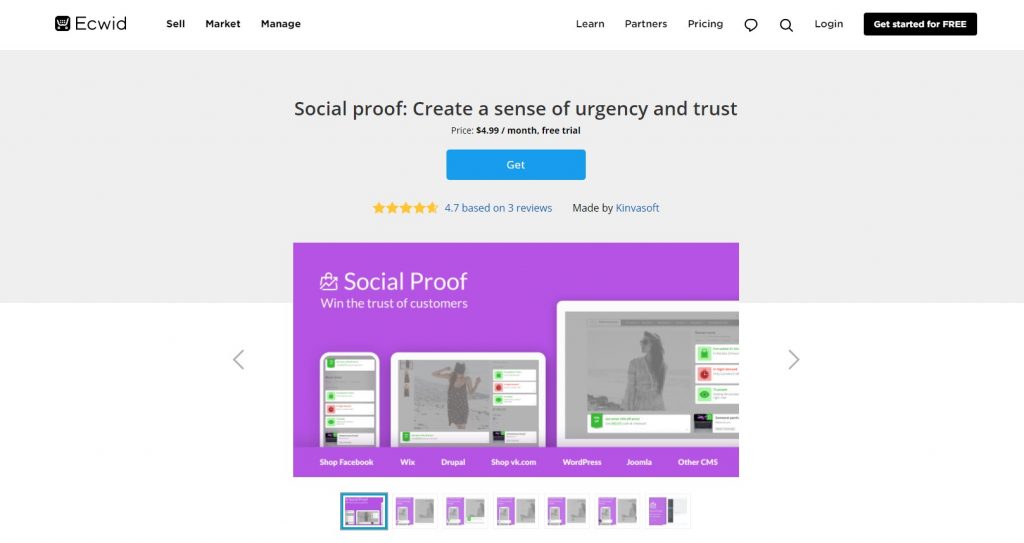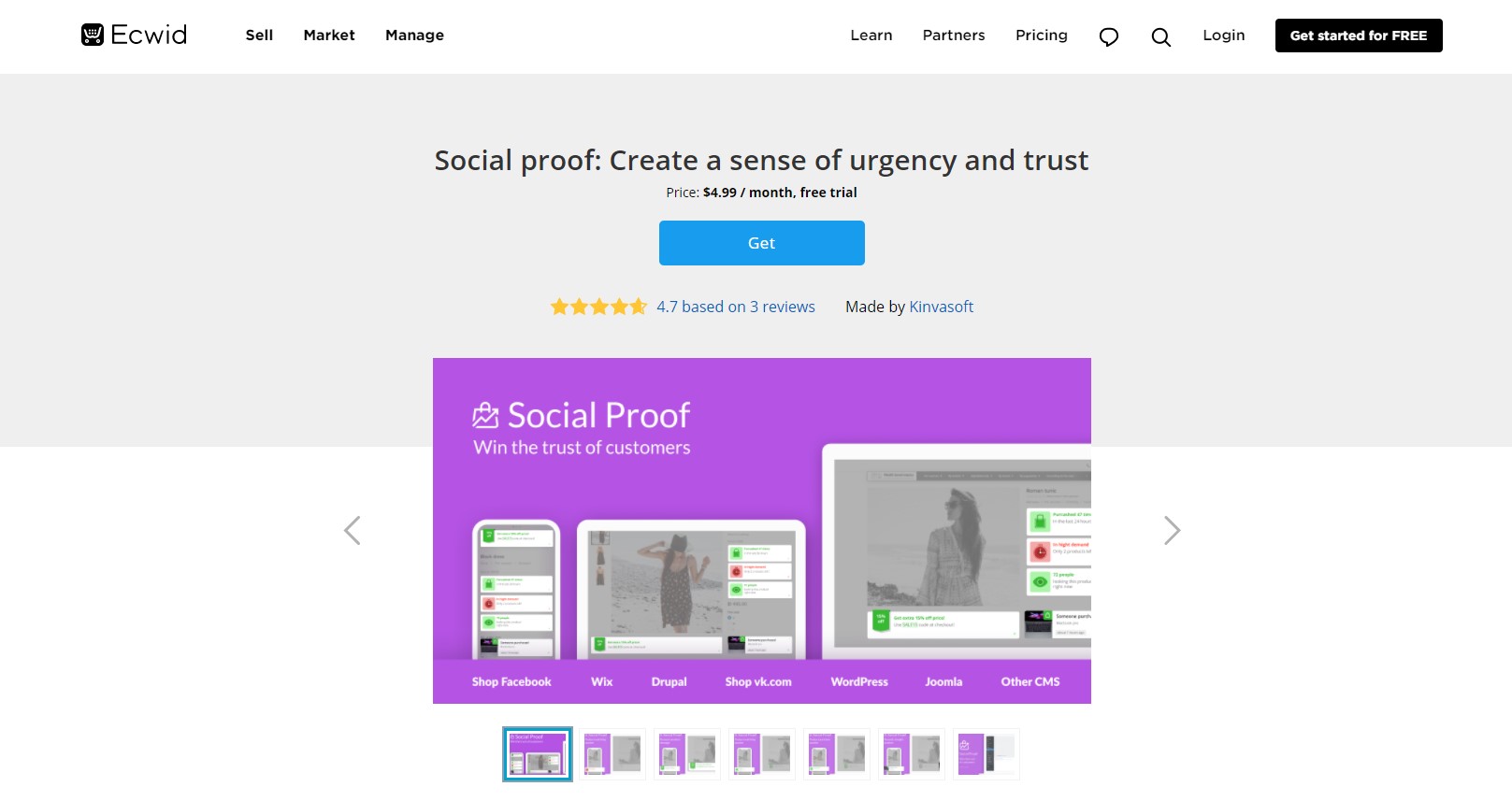 Social Proof helps owners of online stores increase conversions and sales by displaying current and recent customer actions in the form of messages. It shows you real-time statistics like a counter for purchasing goods, a counter for viewing goods, a counter detailing the balance of goods, and a product discount message.
You can use it to generate a pop-up message showing who bought what. Buyers see the message and subconsciously begin to trust the store more because they see others buying items.
---
9. New Products and Bestsellers
New Products and Bestsellers offers you an enhanced way to display your new and best-selling products to customers. You can display any products you want. It comes with sliders with bestsellers and new products for the entire shop or individual categories.
The app features automatic filling-in and regular updating of the sliders based on the statistics of your store. It enables independent placement of the sliders on third-party websites to promote your products on the internet.
New Products and Bestsellers is fully customizable, from the simple appearance and content selection of your sliders, up to the development of intricate styles and changes in the mechanics of the sliders' operation.
---
10. Tabber
Tabber has a relatively simple task that could be of great benefit to some eCommerce sites. It adds tabs to product descriptions. It lets you quickly add tabs using simple shortcodes using several customizable tab themes. You can use optional icons from Font Awesome.
You start a new tab in your product description by adding a special 'shortcode,' for example, [tab name='Features']. You then choose your tab theme and customize it in your Store Control Panel. This will be the default tab theme applied to all tabs you add to your product descriptions. Tab icons, names, and colors may be changed for each product using shortcode options.
---
Miva Apps
11. ShipBob
ShipBob is a technology-enabled 3PL that brings 2-day shipping to eCommerce brands selling through a website and across third-party marketplaces while maintaining full control of their brand and customer information. With ShipBob's fulfillment network across the United States, they ship millions of orders every month for fast-growing eCommerce brands. Currently, merchants must use Shipstation or their API with ShipBob, to connect directly to Miva.
ShipBob works in three steps:
Connect your store, import your products, then send them your inventory

ShipBob stores your inventory in any combination of their fulfillment centers

As soon as a customer places an order, they ship it from the nearest fulfillment center
---
12. SellerCloud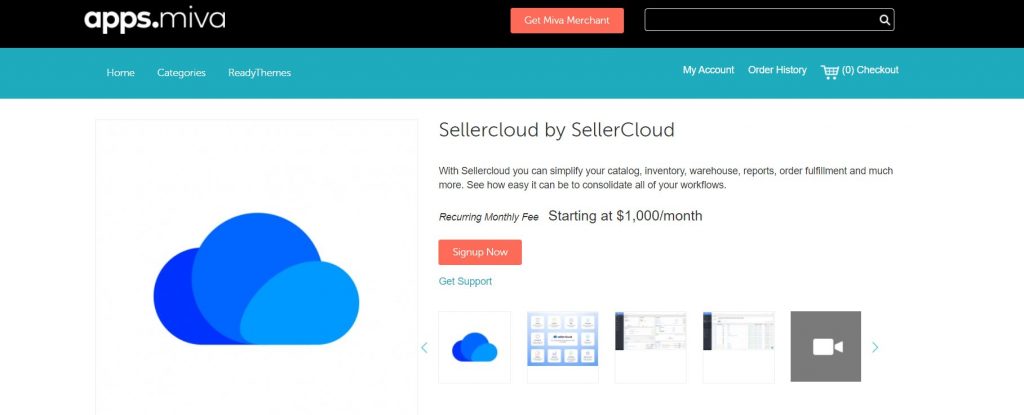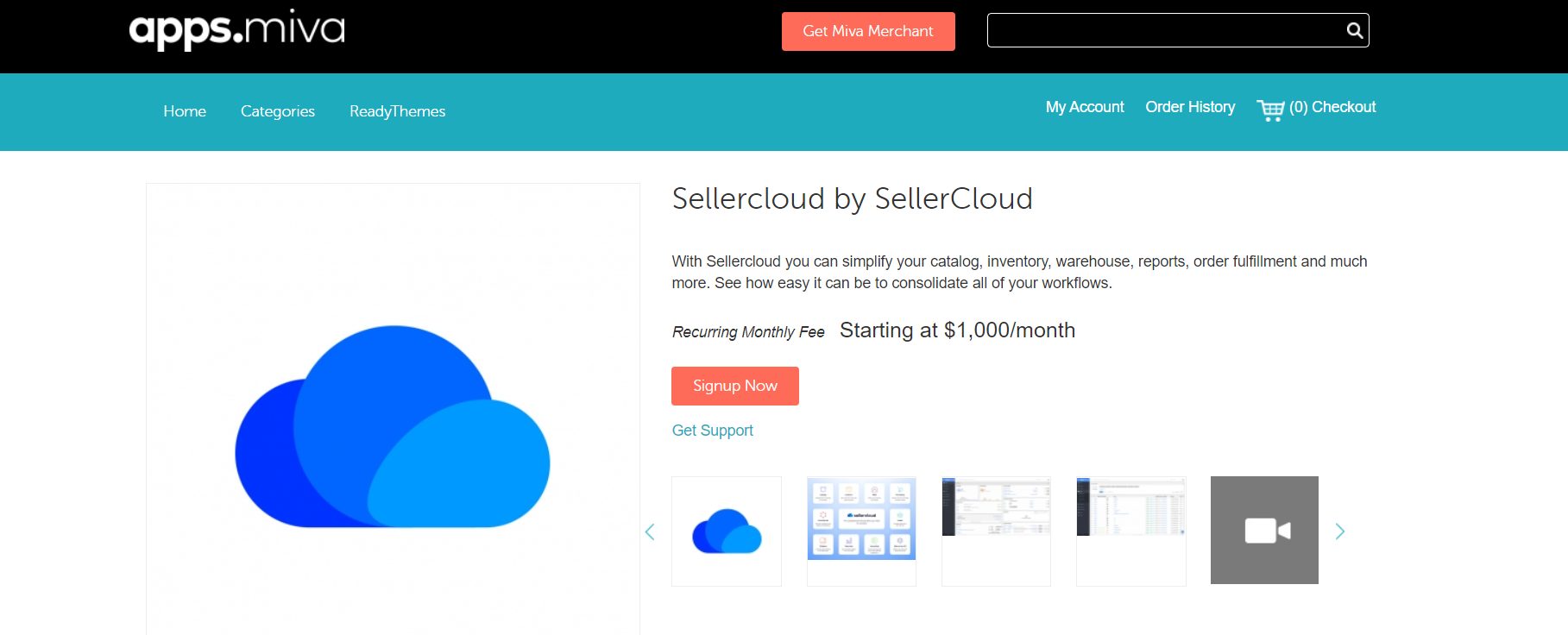 With SellerCloud, you can simplify your catalog, inventory, warehouse, reports, order fulfillment, and much more. It streamlines every part of your e-commerce workflow. It's omnichannel and available in all of the main shopping platforms, so if you don't have Miva, you should still find SellerCloud in your app store.
You can use it to manage all your inventory and fulfillment from a single platform. It offers a single entry point for all your product specs. It provides too many features to list in full here, but they include:
Managing your catalog

Syncing your inventory across all your sales channels

Knowing the exact location of your products

Managing your purchase orders and keeping track of the products you buy

Publishing your products to multiple sales channels

Order management from start to finish

Managing your shipping
---
13. DesktopShipper
DesktopShipper makes multi-carrier rate-shopping effortless. It is a web-based and on-premise shipping solution that imports your Miva Store orders, compares discounted rates, and generates labels.
It is designed for any business model, from start-ups to enterprise businesses to fulfillment companies. It helps automate how you ship. You can sync orders from all marketplaces into one centralized view, filter orders, create batches, and print custom packing slips. You can print and ship in seconds
---
nopCommerce Apps
14. Payment Director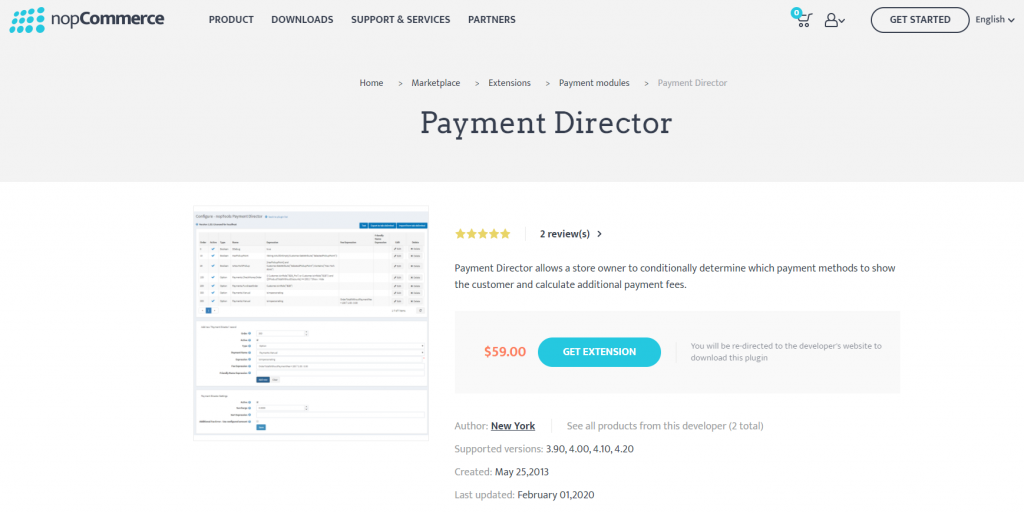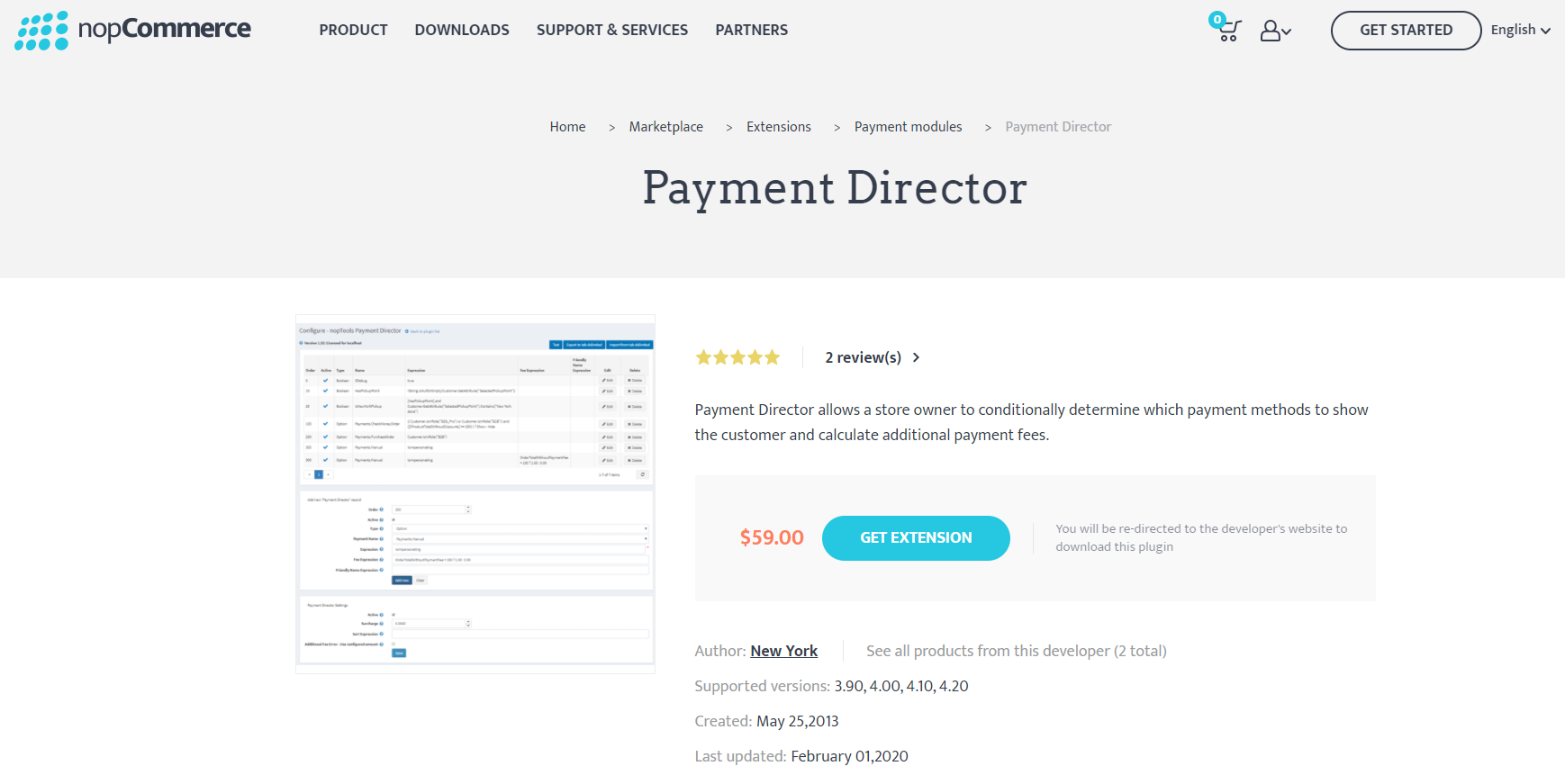 Payment Director allows a store owner to conditionally determine which payment methods to show the customer and calculate additional payment fees. It lets you display different methods for different types of customers, or based on items in the cart, order total, selected shipping option, impersonation, credit card type, etc.
You can create variables for use in complex expressions, including Reference type variables as NopCommerce object shortcuts. You can show the customer a disabled payment option with text describing why.
---
15. Stripe Card Payment
Stripe Card Payment allows you to work with the Stripe payment gateway to accept payment using cards. They support most cards such as Visa, MasterCard, American Express, Union Pay credit and debit cards, etc. The plug-in features a straightforward user interface and syncs with all modern browsers and devices. Stripe protects customer card information with PCI compliance.
You can collect your customers' payment information quickly and securely on web or mobile and create charges server-side in 135+ currencies.
---
16. Feed Manager
Feed Manager helps you export your products from your store into CSV, txt, and XML data feeds. It comes with 62 pre-configured templates, such as Google Shopping (XML and CSV), Google product inventory, eBay, Facebook (Ads and Catalog for Multiple Languages), Google Product Review Feeds, Bing, Amazon Ads, and more.
As a store owner, you can create your own feed templates (in CSV, XML, JSON, and XLSX formats) too.
Feed Manager includes product attribute filtering, product and category filtering, feed attribute mapping per product (or category), multiple feed files per store, along with other features. Exports of 50000 products will take about 15 minutes if your image files are stored on disk.