Advertising Disclosure
Advertising disclosure:
Our partners compensate us. This may influence which products or services we review (also where and how those products appear on the site), this in no way affects our recommendations or the advice we offer. Our reviews are based on years of experience and countless hours of research. Our partners cannot pay us to guarantee favorable reviews of their products or services.
While the average email sender may not think much about their email signature, it's an area of email marketing that's crucial for brands. Whether you're a small startup or looking to expand your B2B email marketing campaigns, your email signature is a great opportunity to represent your brand, engage with your audience, and make your email marketing more than just text and images on a page.
Email signature software can drastically simplify this process, allowing you to generate personalized, brand-consistent email signatures without having to manually create and attach them to your emails. With the right software, you can transform your simple email signatures into memorable, visually appealing, and informative blocks that those on your email list are more likely to interact with.
Here's a guide to the best tools and software for creating your email signatures.
---
Improve Your Branding with These 5 Email Signature Software and Tools
Email signature software solutions are a perfect fit for many brands just looking to make their email messaging more consistent. Here are our top 5 picks.
---
---
---
---
---
Why Invest in Email Signatures?
On the surface, email signatures don't seem that valuable; they're simply a sign-off for emails that let the receiver know who the sender is. This is true—if you don't invest more time and effort into them. Email signatures are often your last chance to make an impression on your audience through email marketing and can be a goldmine of information and engagement for your brand.
Here are the benefits of optimizing your email signatures: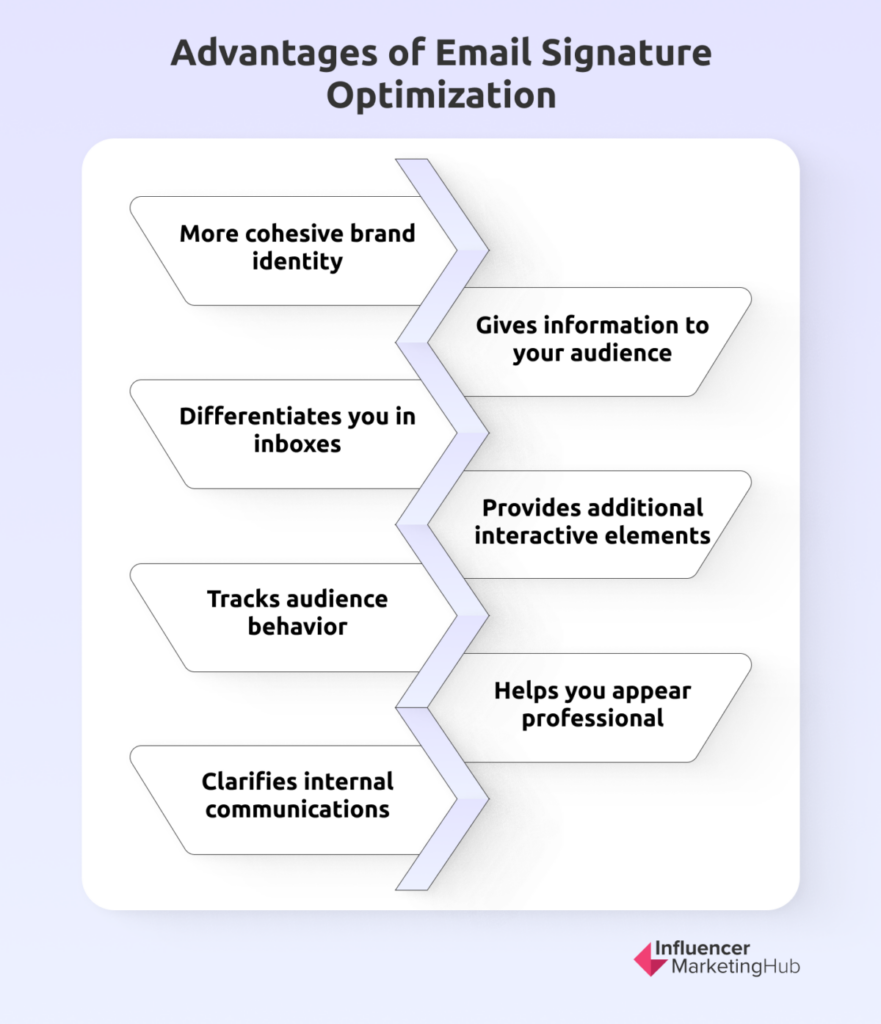 More cohesive brand identity
Email signatures are exactly that: signatures. They're sign-offs that are supposed to be more reflective of your brand, and it's difficult to get that across if you simply end your email with text or copy. Think of them as your last chance to make an impression on your audience with the limited time that you have while they read your email. So at the very least, you should make it count.
Gives information to your audience
One of the primary uses of email signatures is to give the receiver more information about the sender, and this is especially crucial for brands that want to market themselves. You want to give your audience a quick and easy way to understand who you are, what you can offer them, and (most importantly) a way to reach you if they're interested in what you can do for them.
Differentiates you in inboxes
According to Statista, around 347 billion emails are sent and received per day around the world. That means your audience won't have time (or the inclination) to go through too many emails, which translates to limited attention and retention. Having a well-crafted and visually appealing email signature can often be the deciding factor for making them remember you even after they've closed your email.
Provides additional interactive elements
Many businesses have gone beyond inserting information about their company in their email signatures. With email signature generators, it's easy to insert anything from videos, images, and surveys to CTAs and plenty of other content that your audience can interact with. This transforms your email signatures from simple calling cards to additional space for audience engagement.
Once you've added interactive elements to your email signature, you also get the capability to track how your audience responds to those elements—and by extension, how they respond to your emails overall. Email signature software often contains features that allow you to track and analyze how your audience interacts with your email signatures, especially if they lead to pages within your website.
Helps you appear professional
Above all else, establishing trust is the most crucial part of email marketing—and email signatures can give your emails that air of professionalism and quality that makes your audience more likely to have confidence in you. Even having the simplest email signature design shows that you put thought into how your company is represented and brings that same attention to detail with how you treat your customers.
Clarifies internal communications
While email marketing is a huge part of what makes email signatures so useful, they can also be helpful for your company's own internal communications. Email signature software can help you differentiate between the different departments and positions in your company, which can help make email communications more concise between your employees.
---
One question that many companies may have when looking at ways to optimize their email signature is whether this software is needed to begin with. The fact that there are email management (or customer relationship management) tools and platforms that have the option to customize email signatures makes it somewhat of a tough ask.
What Are the Different Email Software Tools You Can Use?
Before answering this question, it's important to clarify a few differences:
Email signature software

: tools and platforms that allow you to customize your email signatures

Email signature generators

: the barest version of email signature software, with limited features

Email signature managers

: typically the most feature-heavy email signature software

E-signature software

: tools and platforms that help you gather signatures on documents sent online
Knowing these differences can help you choose which email signature software to get that best meets your needs. But do you really need any of the software above, to begin with?
Strictly speaking, no. There are other ways you can work on your email signatures, but the one thing that makes email signature software a necessity is how easily you can do this, alongside the other features that make tracking your email signatures more precise.
Without email signature software, you'll have to create and deploy your email signatures manually. This may be fine if you're a one-man team that's sending a few emails every day, but this quickly becomes untenable even with a few people sending emails. If you're thinking about long-term growth and operations, investing in email signature software is a good call to make.
---
How About Just Getting a CRM Tool?
Customer relationship management platforms will often include options to customize emails, which might make them more attractive for large or enterprise-level businesses that need other features aside from just customizing email signatures. However, while you may be technically getting more features for the cost, it often comes at the expense of diminished support for the email signature feature.
Why is this? Usually, CRM software will focus on its core features and functionalities. Email signature customization, while useful, is often included as just part of the software's overall comprehensive approach to marketing. It's unlikely that the templates, features, or tracking will be as advanced as they are with software that's strictly about email management.
Overall, email signature software is just the superior choice if you're really focused on improving your email signatures and nothing else. But if you think that you can benefit from the other features of a CRM platform (even at the expense of decreased support for the email signature customization capability), then investing in CRM software is perfectly valid as well.
---
Wrapping Up
For brands, consistency across marketing channels can be the strongest foundation for setting up their identity. Email signature software helps make sure your email signatures reflect your identity while also serving as a vehicle for additional audience engagement beyond just the main content of your email.
Frequently Asked Questions
Is email signature software worth it?
Absolutely. The tools we've discussed all start at very low prices per month, and some companies can take advantage of discounts and special plans depending on their size and overall needs.
Can I create email signatures without email signature software?
Most email clients allow some degree of customization for your email signature, so it's entirely possible for you to still make some adjustments to your email sign-offs without specialized software. However, keep in mind that your options will be limited and may not always include the elements that you want to add.
Are email signatures responsive across all platforms?
Typically, email signature software will include ways to make your email signature appear consistent across different email clients and devices, especially those that offer integrations. A possible exception to this is HTML email signatures, as they may not always display consistently.
Are email signatures subject to regulatory compliance?
Yes. Companies must always include necessary information like legal disclaimers or company information in their email signatures. Keep in mind that these regulations can differ by country or organization—but fortunately, email signature software can account for these needs and insert the needed information when they generate your signature.
Can I just use an image for my email signature?
You can—but it's not recommended. Depending on the email client, images may not always display well, and this can be troublesome for those who rely on text-to-speech or other accessibility tools to read emails. You'll also be missing out on the ability to insert interactive elements into your email signatures.