Do you have an email signature set up to automatically attach to your outgoing emails? Email signatures give your recipients information about your brand, how to contact you, and can even act as a promotional or marketing tool. But a bad email signature can cause problems like making you look unprofessional or making it hard for people to get in contact with you or find your business online. That's why we've put together this list of the best email signature generators so you can get a professional email signature that looks great and makes an excellent first impression and drive traffic to your online presence like your website and social media profiles.
---
Try the Worlds Best FREE EMAIL SIGNATURE GENERATOR
---
12 Best Email Signature Generators:
---
What Is an Email Signature?
An email signature is a block of information, sometimes including an image, that goes at the end of your outgoing emails. Often, email signatures include your name, company, and contact information like website, address, phone number, and more.
---
What Is an Email Signature Generator?
An email signature generator is a software tool that lets you build a customized signature to use in your emails. There are quite a few email signature generators available — some of them are even free. You can use them to build beautiful and professional email signatures that will not only convey the information your email recipients need to stay in touch but look fabulous.
---
Benefits of Having an Email Signature
We've already touched on a few benefits of having a great-looking email signature, but here are some of the benefits in a handy list!
A well-crafted and well-designed email signature can:
Show your professionalism

Build trust with your audience

Improve

brand awareness

Increase the legitimacy and credibility of your business

Bring attention to your latest promotional offers

Give recipients an easy way to connect with you

Help your email stand out
---
How to Create a Professional Email Signature
Before we dive into our list of the best email signature generators, let's talk about how you can create your own. Regardless of whether you use an email signature generator or not, it's important to include a signature in your communications.
To create a professional email signature:
Include your name, company, job title, and contact information

Choose simple fonts and just a couple of colors (consistent with your branding) to help certain aspects of your signature stand out

Add links to make certain elements in your signature clickable (your website, any social media icons, links to your calendar, etc) and use UTM codes so you can track the use of the links

Make sure your email signature looks good on both mobile and non-mobile devices
---
12 Best Email Signature Generators
For a professional and well-designed email signature, many influencers, marketers, and creators turn to the best email signature generators. Here are the ones we're digging these days.
1. Influencer Marketing Hub Email Generator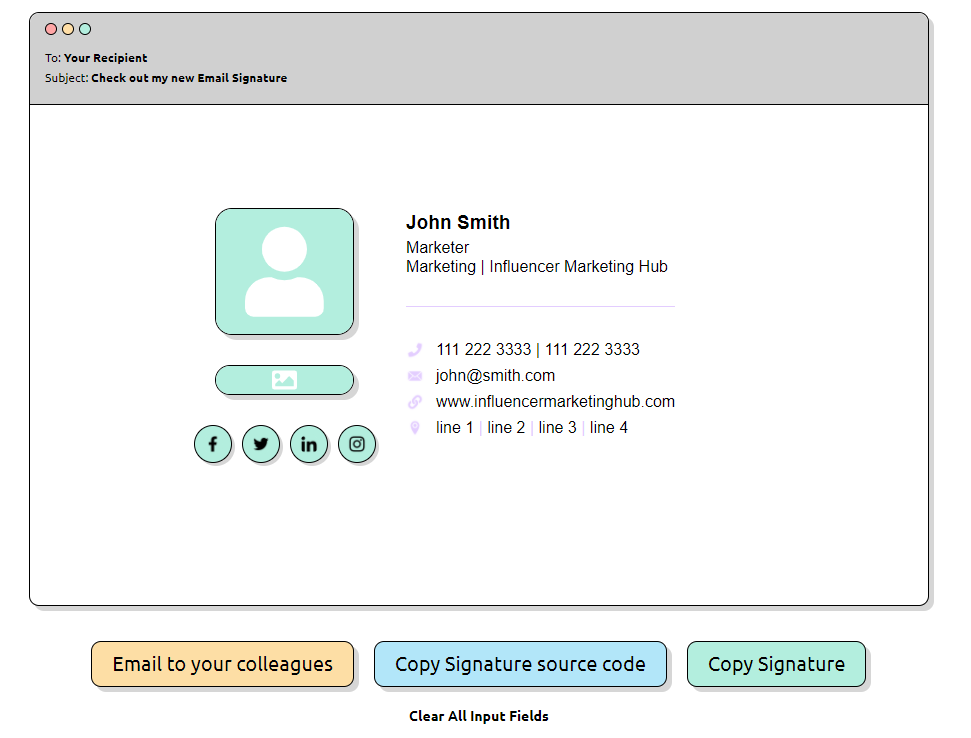 Our own email signature generator is a free and easy-to-use tool that allows you to create polished signatures in just minutes. Choose a template to get started, then add your information such as your name, website, contact information, and social media links. You can also upload your own profile picture and company logo as well as change colors and fonts for an even more customized look. We also included a custom field, so you can put any information you want, like your work hours. Once done, you have the option to copy your new signature or email it to your colleagues.
Pricing:
Free!
---
2. HubSpot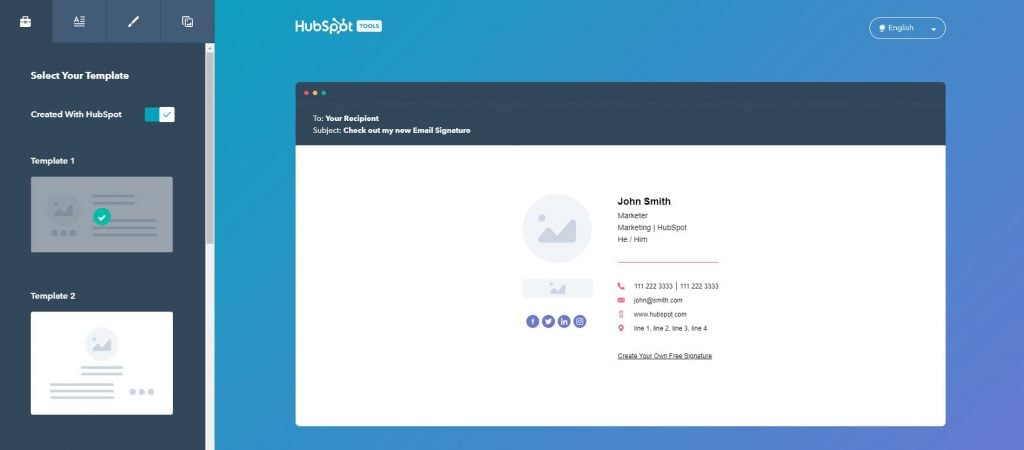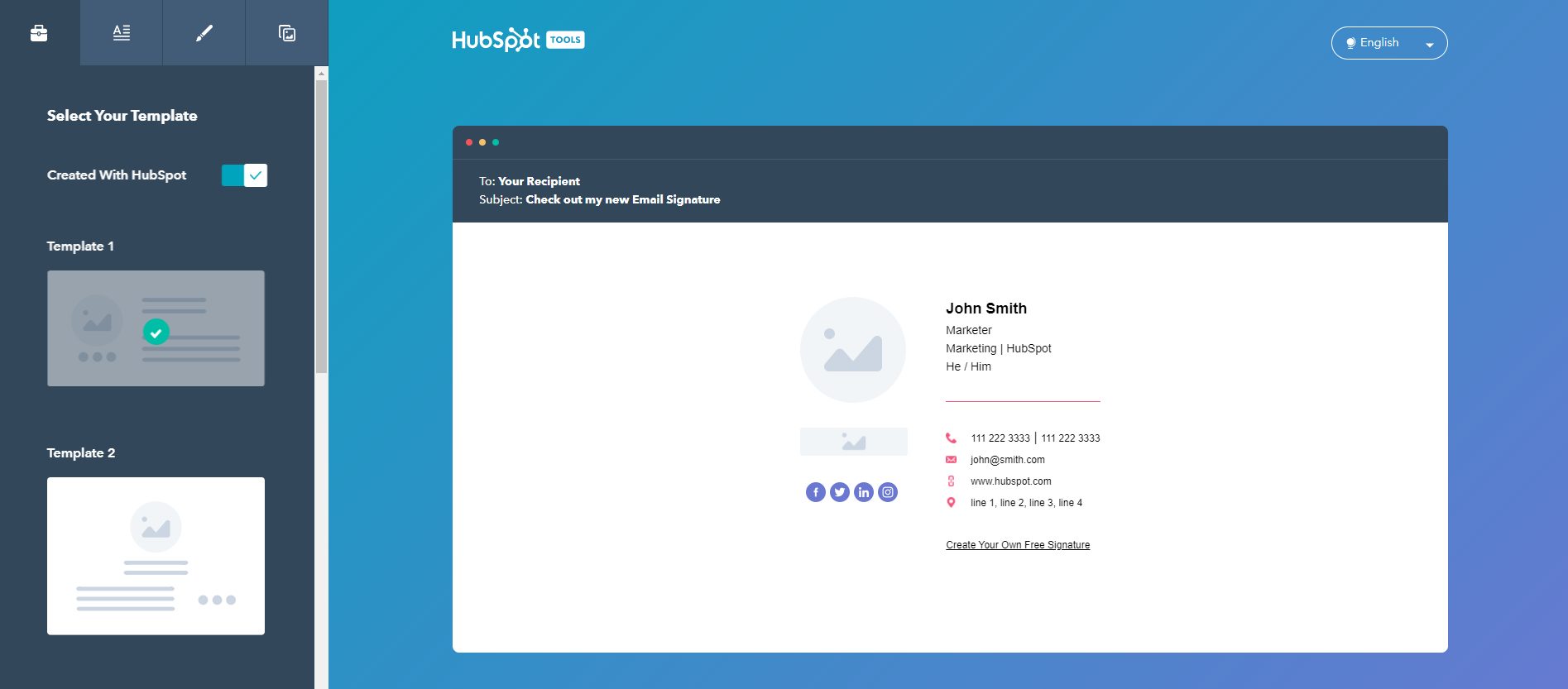 HubSpot's email signature generator is just one of many tools offered up by the marketing platform. This free email signature generator includes various templates to get you started. From there, add in your information, change the colors and fonts, add a photo, and even include the social media platforms you want to link to. You can get a great-looking, professional email signature in under five minutes that you then copy and paste into your email client.
Pricing:
Free!
---
3. MySignature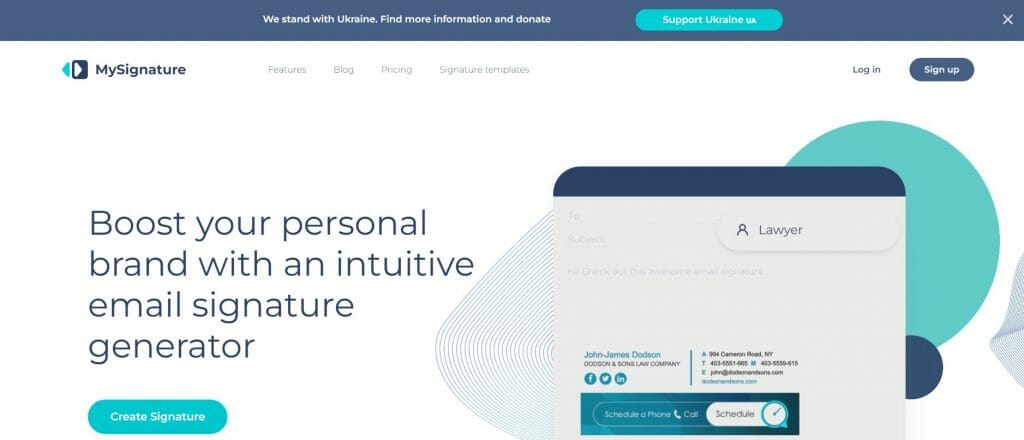 MySignature is an email signature generator that lets users create branded email signatures starting from a variety of templates. There's sure to be a design that works for your branding. Once you choose your template, you can customize it to create a mobile-friendly email signature that's compatible with Gmail, Apple Mail, Outlook, and other popular email clients.
Pricing:
Pricing starts at $4/month ($48/year) or a one-time fee of $29 for a single user. For more than one user, you have the option of paying quarterly or yearly.
---
4. Gimm.io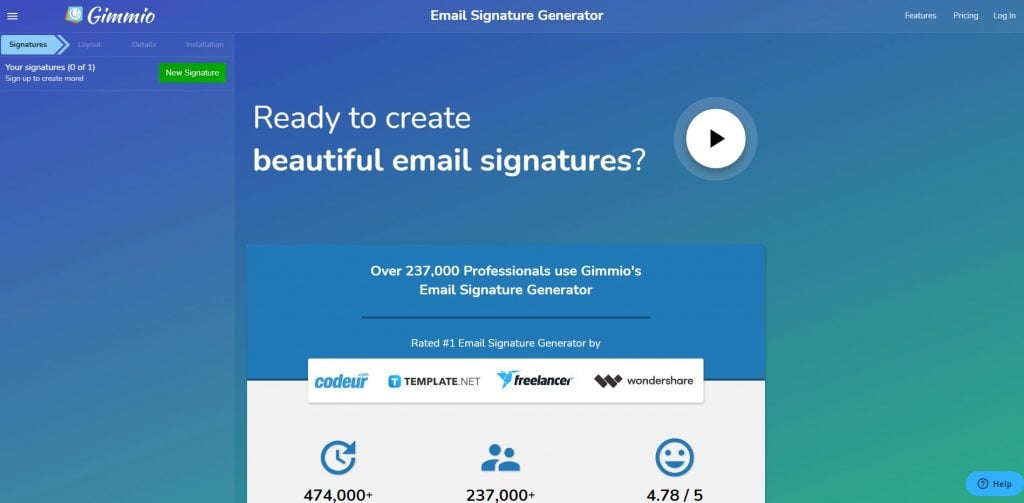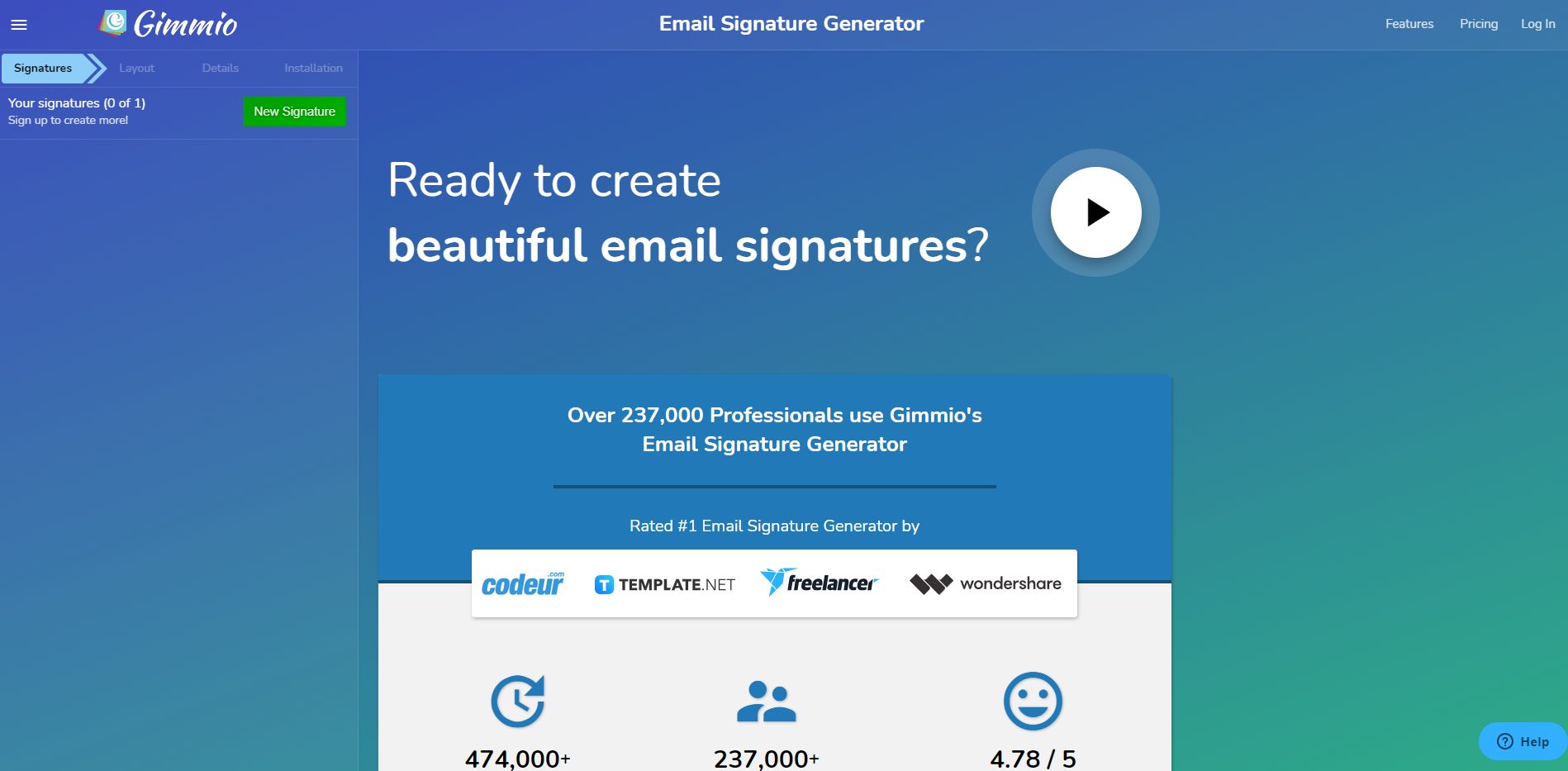 Gimm.io (formerly ZippySig) is one of the best email signature generators in large part thanks to the number of professional templates they have available to use for free (40+). According to their website, many web design agencies use Gimm.io to provide email signature design services for their own customers through white-labeled Gimm.io use.
Pricing:
Email signatures start at $4/month ($28/year) for one user.
---
5. Designhill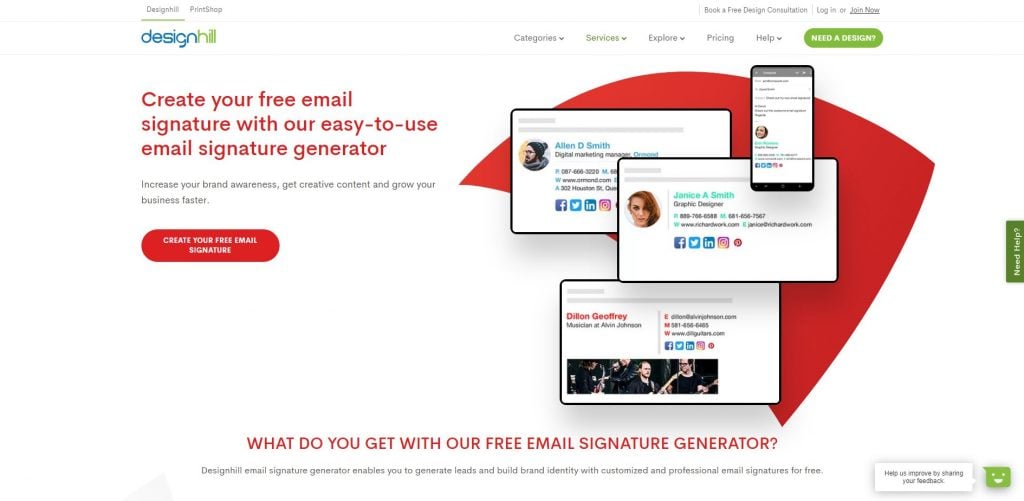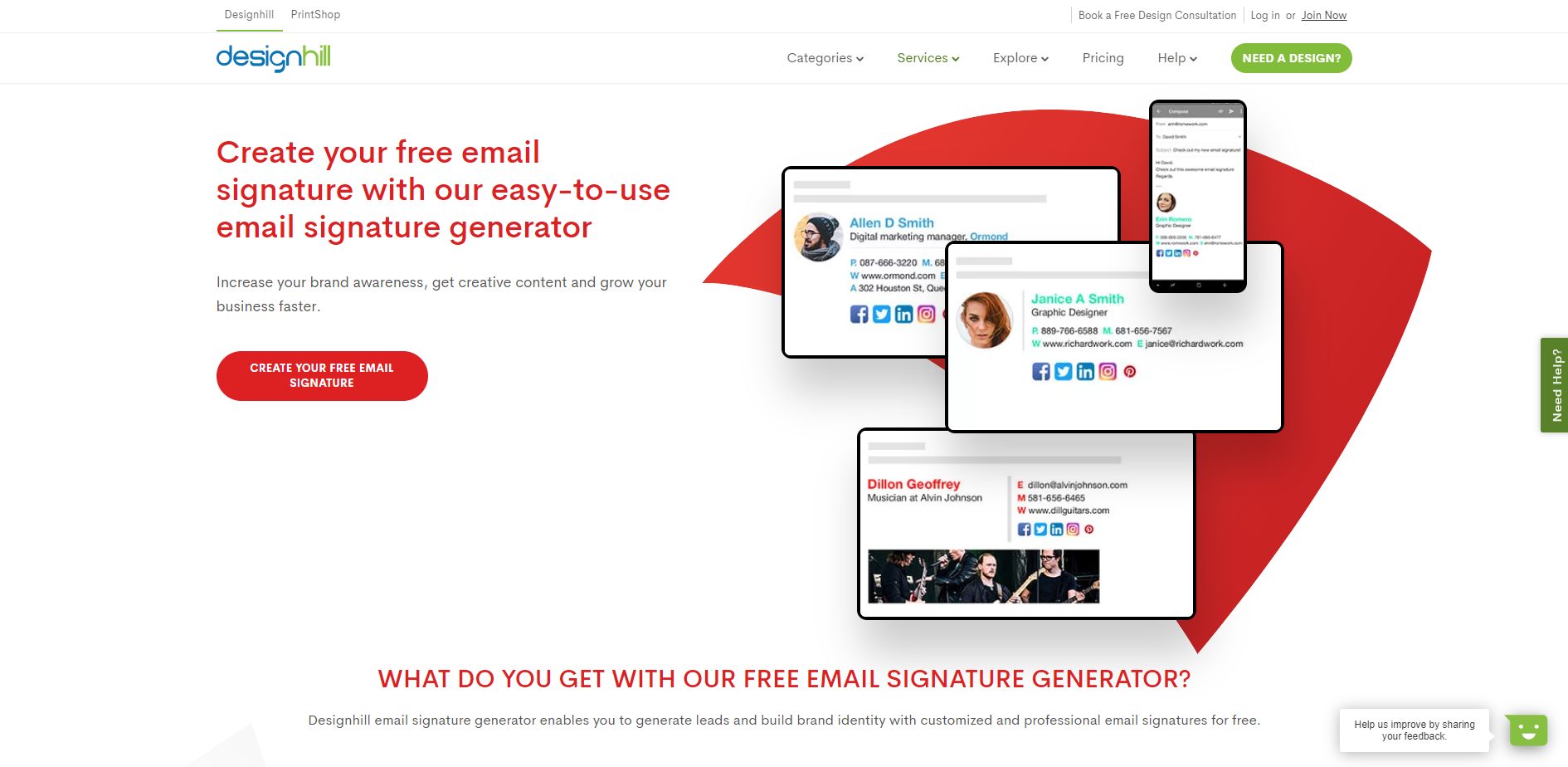 Designhill is a creative marketplace that offers a free email signature generator and it's one of the more popular tools on our list. You just put in your info, choose a theme, and you're ready to embed your new signature into your email account.
Pricing:
Free! A couple of the themes are only available for Pro accounts (requires registration).
---
6. Newoldstamp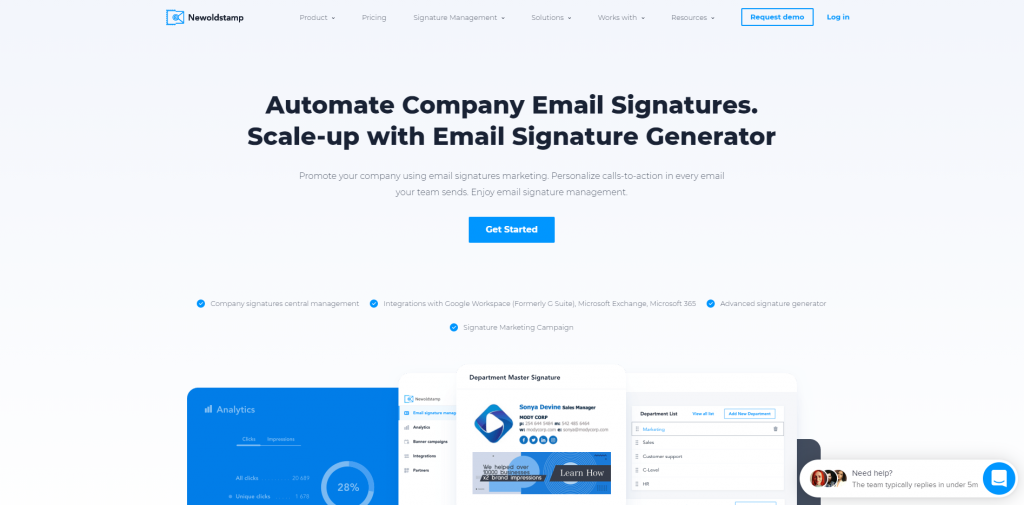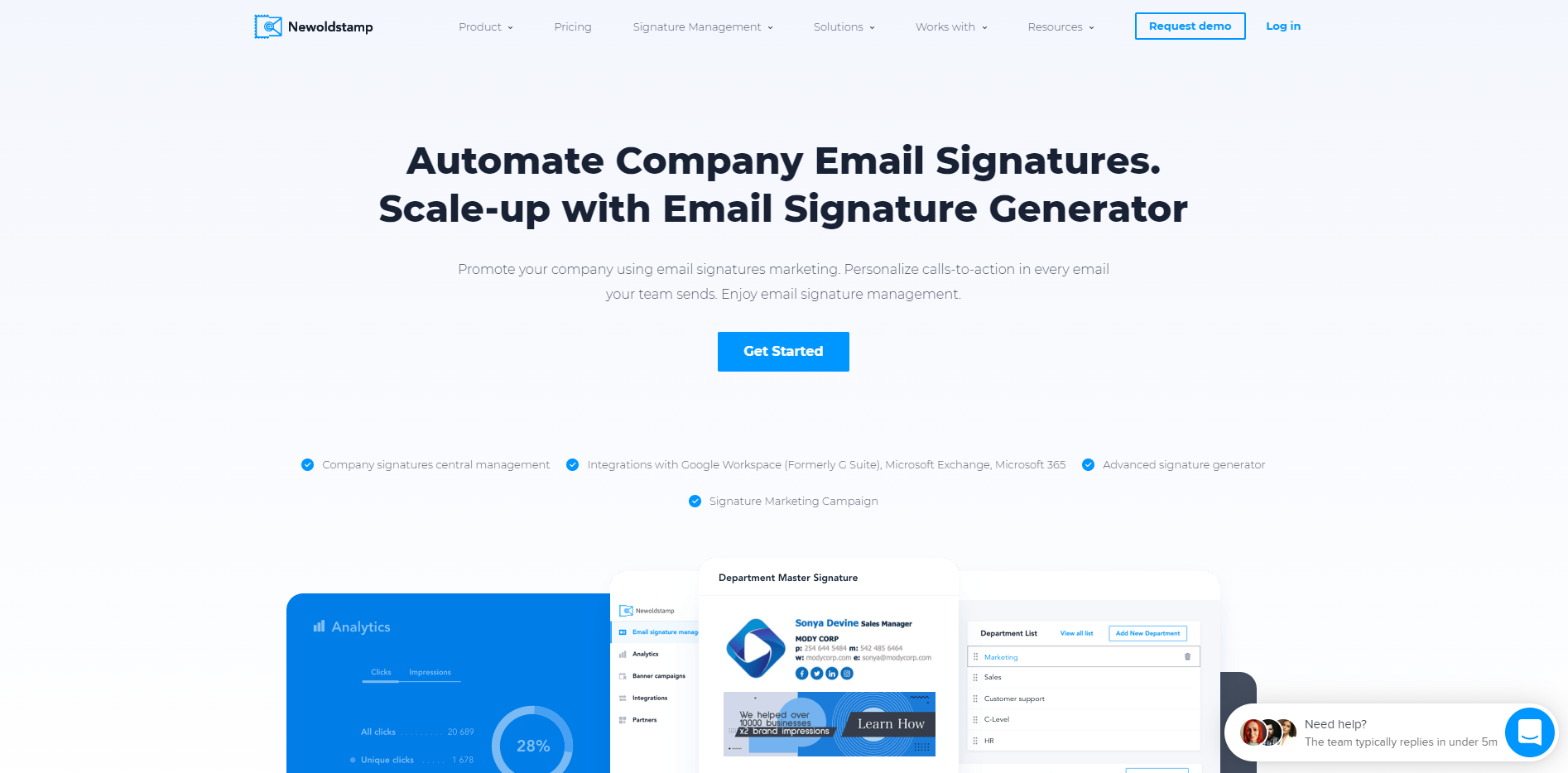 Newoldstamp is an email signature generator that lets you add apps and social icons as well as your name and contact info. You can add promotional banners to your signature as well as a CTA or links to important pages you want to bring to your recipients' attention. If you have a team, you'll be able to access and control them all from a single place. This makes it easier to maintain control over your branding.
Pricing:
Email Signatures Starter:

$19/quarter ($59/year) for up to 5 employees

Email Signatures Branding:

$23/quarter ($79/year) for up to 5 employees
---
7. Si.gnatu.re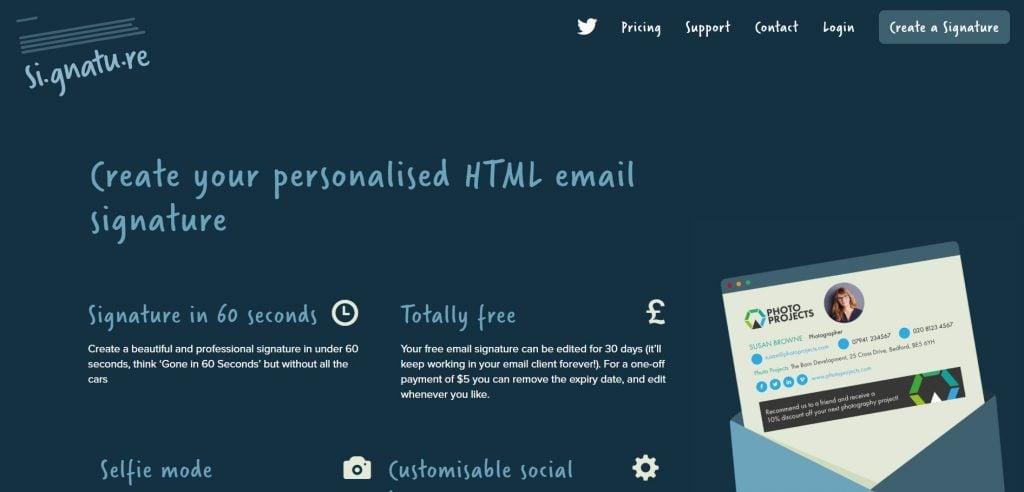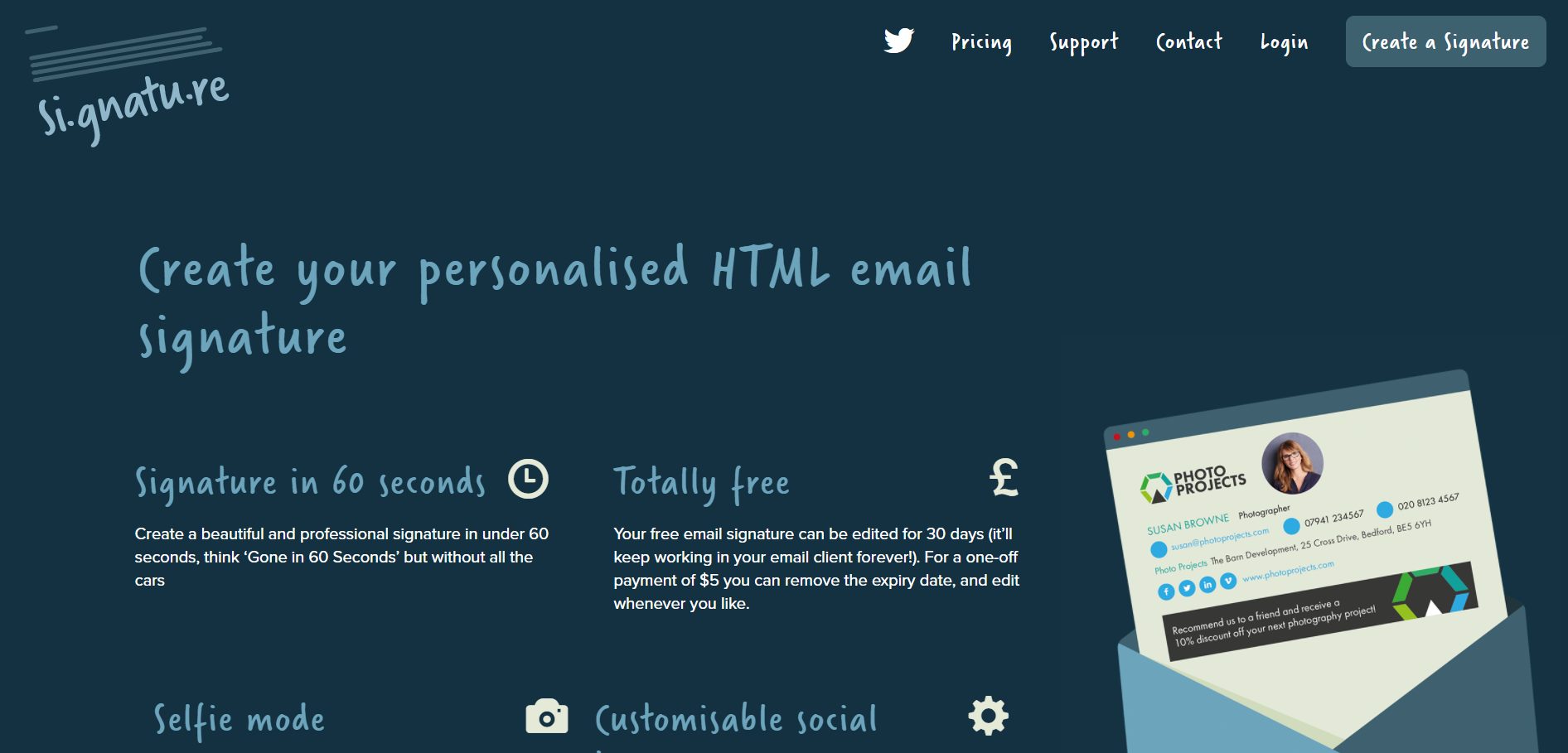 Si.gnatu.re is an easy-to-use email signature generator that offers some great customization and design options. You can change fonts, font sizes, add your logo, include social icons, and even change the background, width of the signature, and more. The free plan is a bit limited and you'll only be able to edit it for up to 30 days.
Pricing:
Free plan editable up to 30 days and usable forever

Paid Si.gnatu.re:

one-time cost of $5

Si.gnatu.re for Business:

one-time cost of $35 for a bundle of 10 signatures
---
8. WiseStamp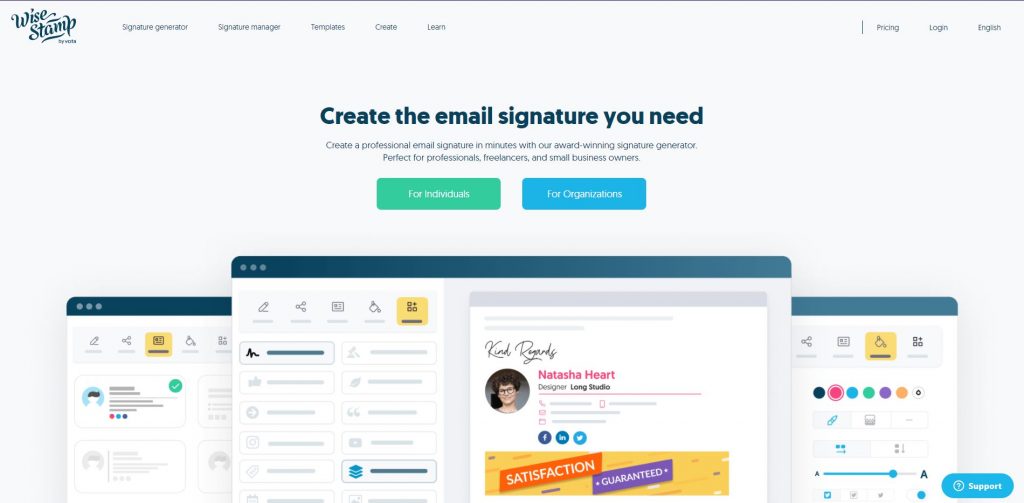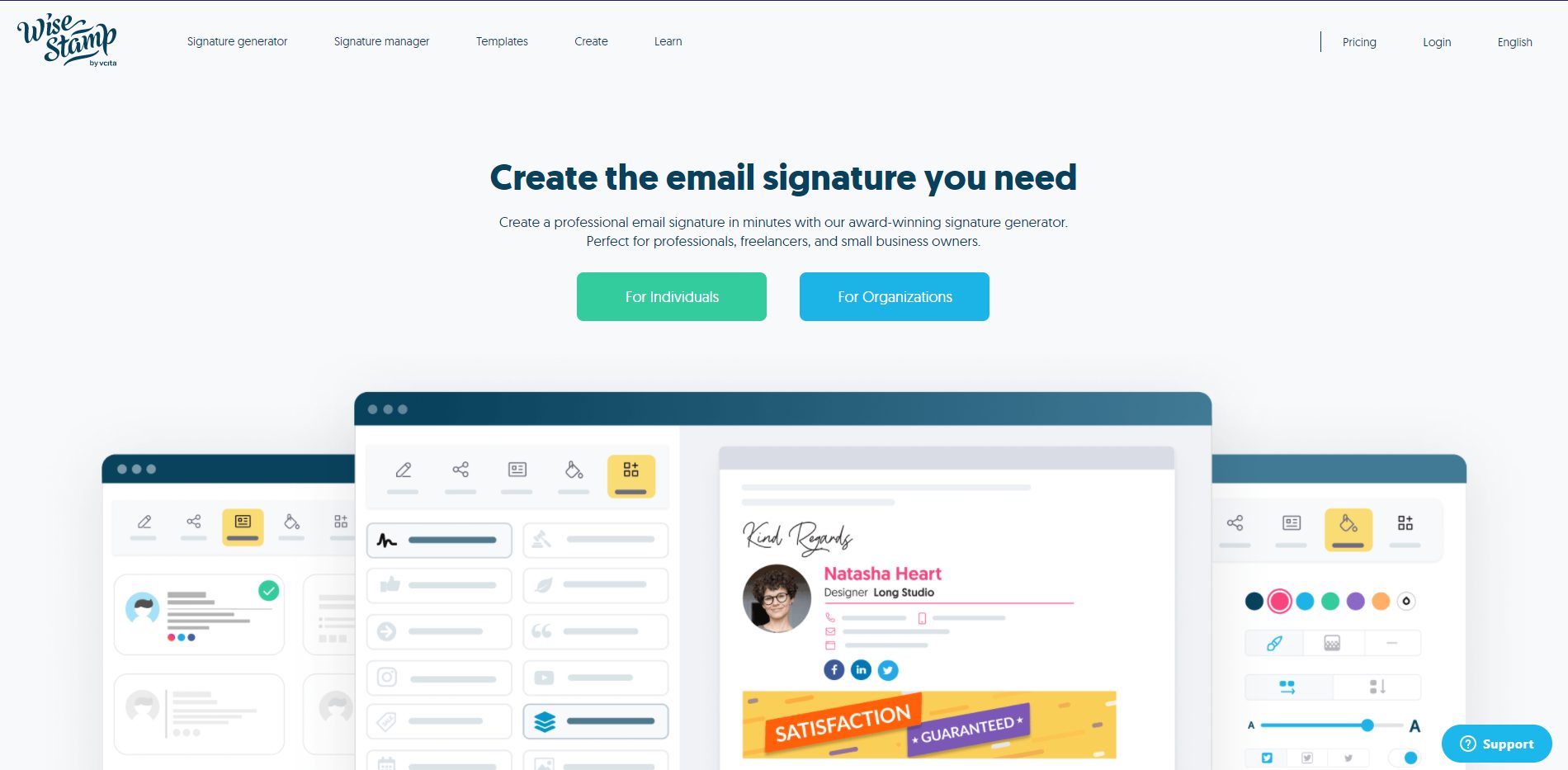 WiseStamp is another of the more popular email signature generators on our list. It's a great option for solopreneurs through enterprise organizations and includes a selection of templates that you can customize to match your branding, add images, social media links, and more. The free plan is limited to just a couple of templates. WiseStamp will also guide you through adding your new signature to your email client (Gmail, Apple Mail, or Outlook).
Pricing:
Free option

WiseStamp Pro:

$5.80/month
---
9. Signature Creator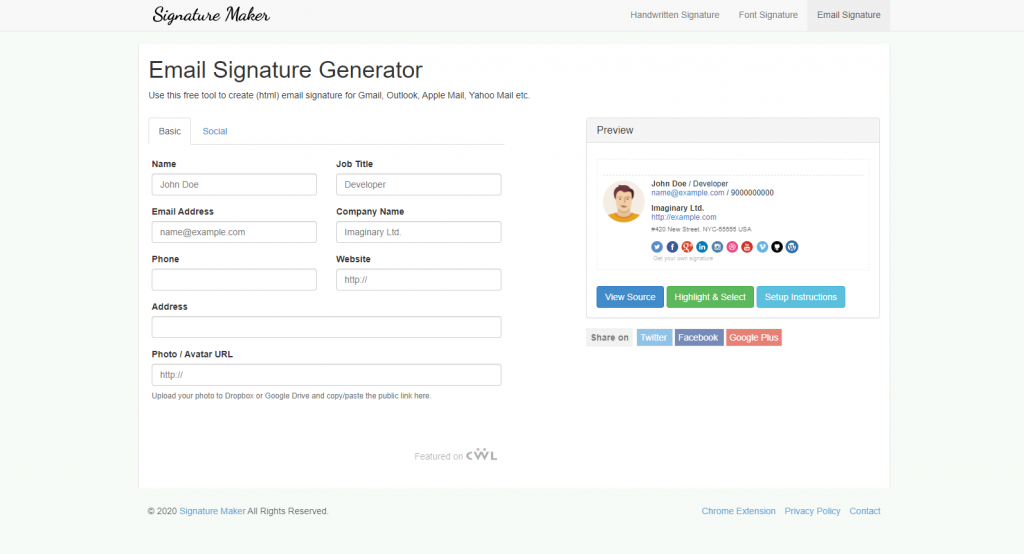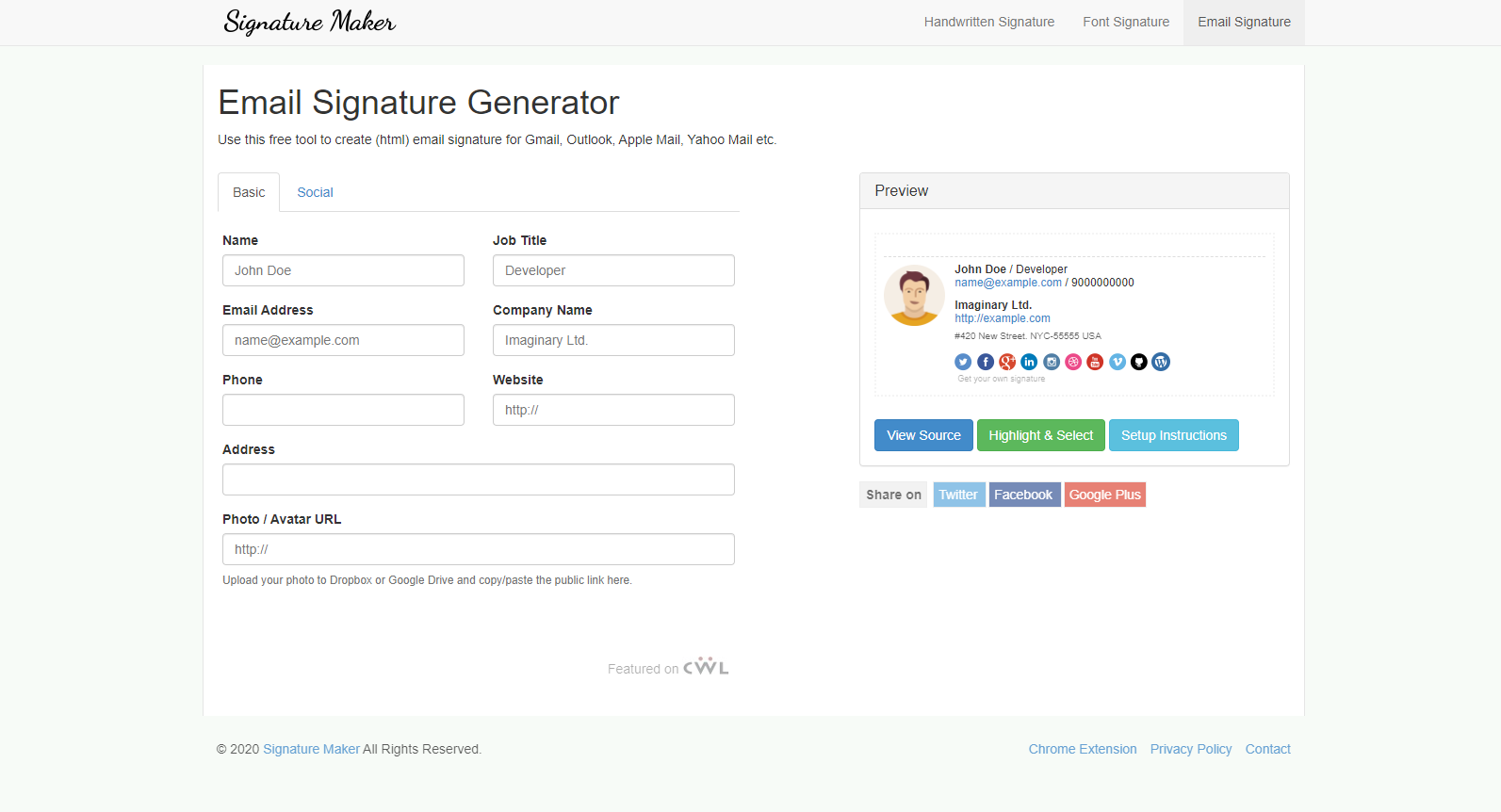 Signature Creator is one of the simpler email signature generators on our list, but it's perfect for creating an HTML5 email signature that will work on modern browsers. It is a pretty basic tool but works well for creating a quick and easy email signature that still looks good. Heads up: the signatures are only available on the server for 15 minutes, so be sure to grab it while you can!
Pricing:
Free!
---
10. signature.email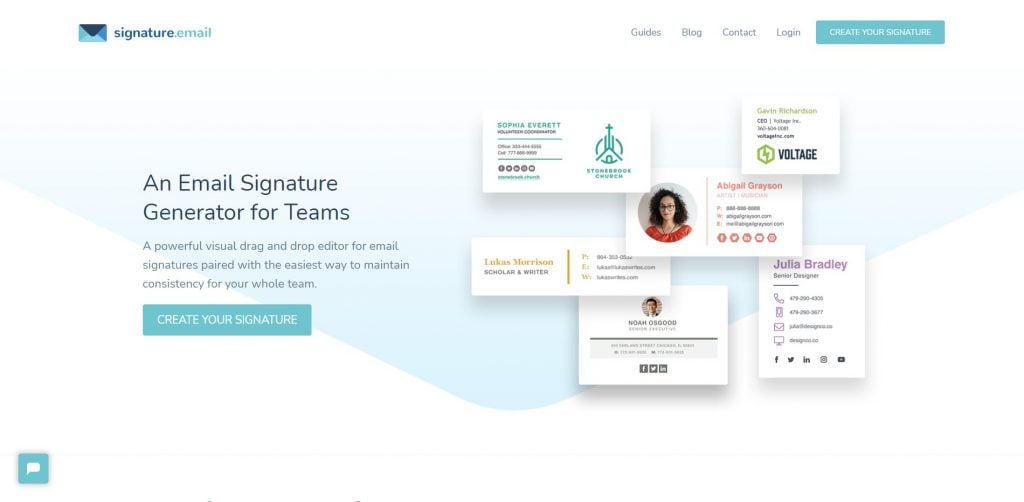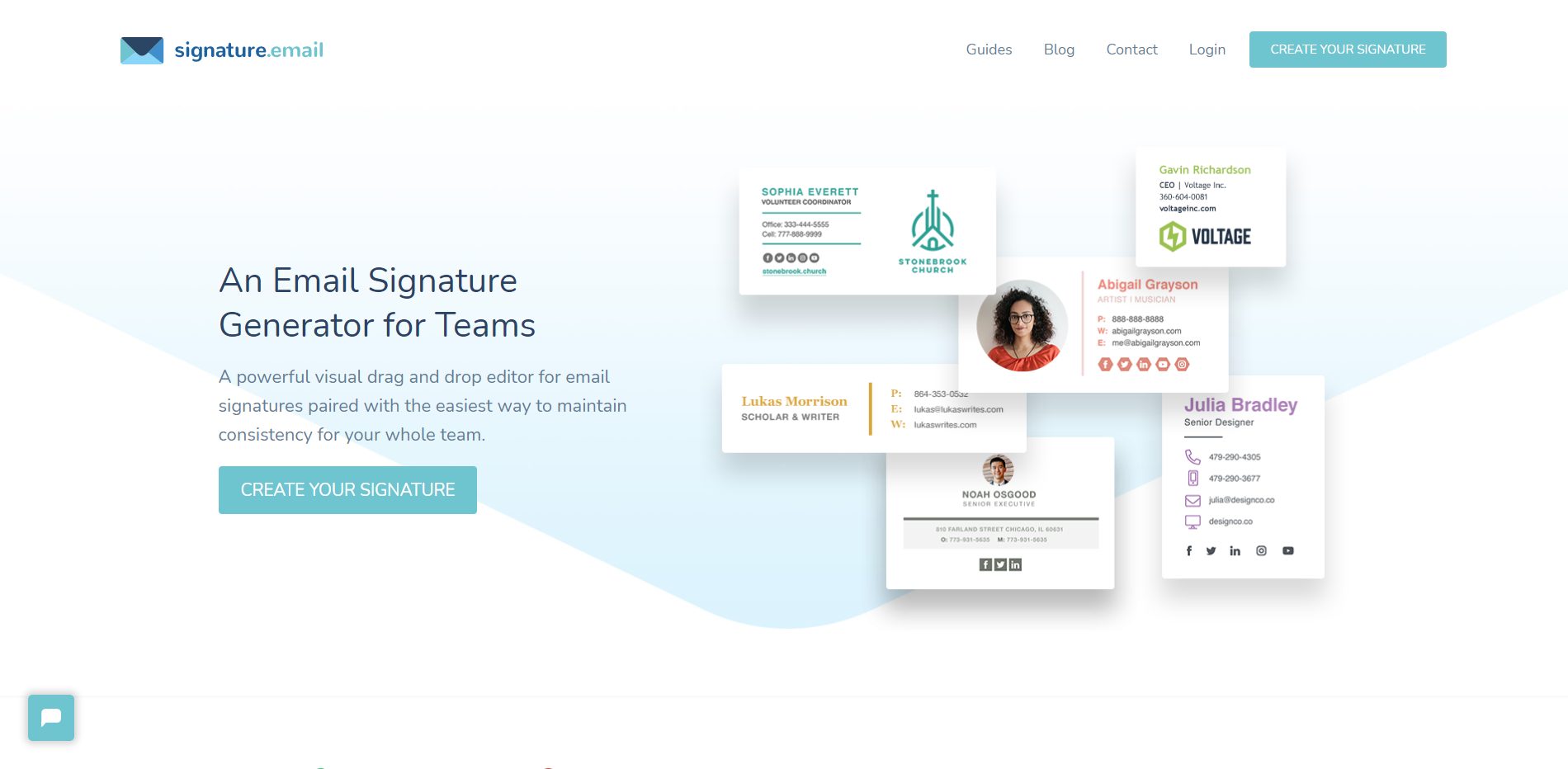 Signature.email is a flexible, easy-to-use email signature generator that everyone from designers to agencies to solopreneurs will find useful. Just start with a template, change the fonts and colors, arrange the information the way you want, and add additional sections and fields based on the look you want. The free plan has a limited editor.
Pricing:
Free plan available with limited editor

Solo:

one-time $19 fee

Starter:

$19/month ($199/year)

Pro:

$39/month ($399/year)
---
11. Email Signature Rescue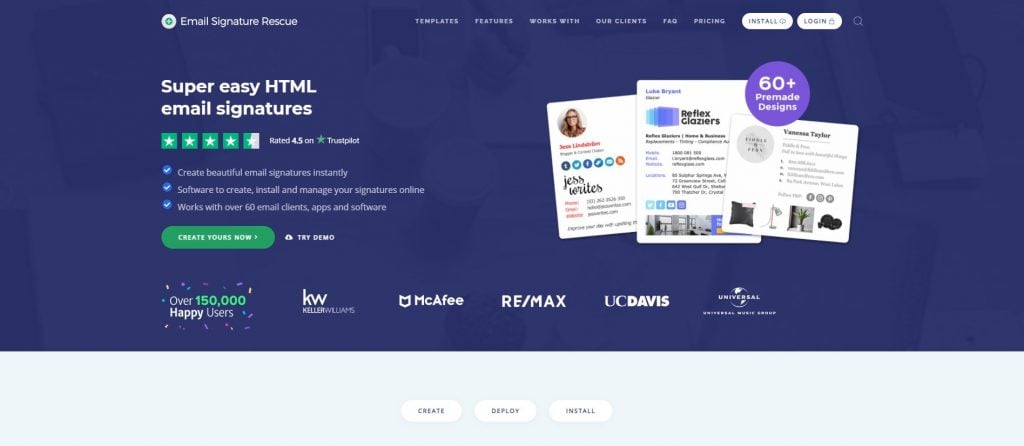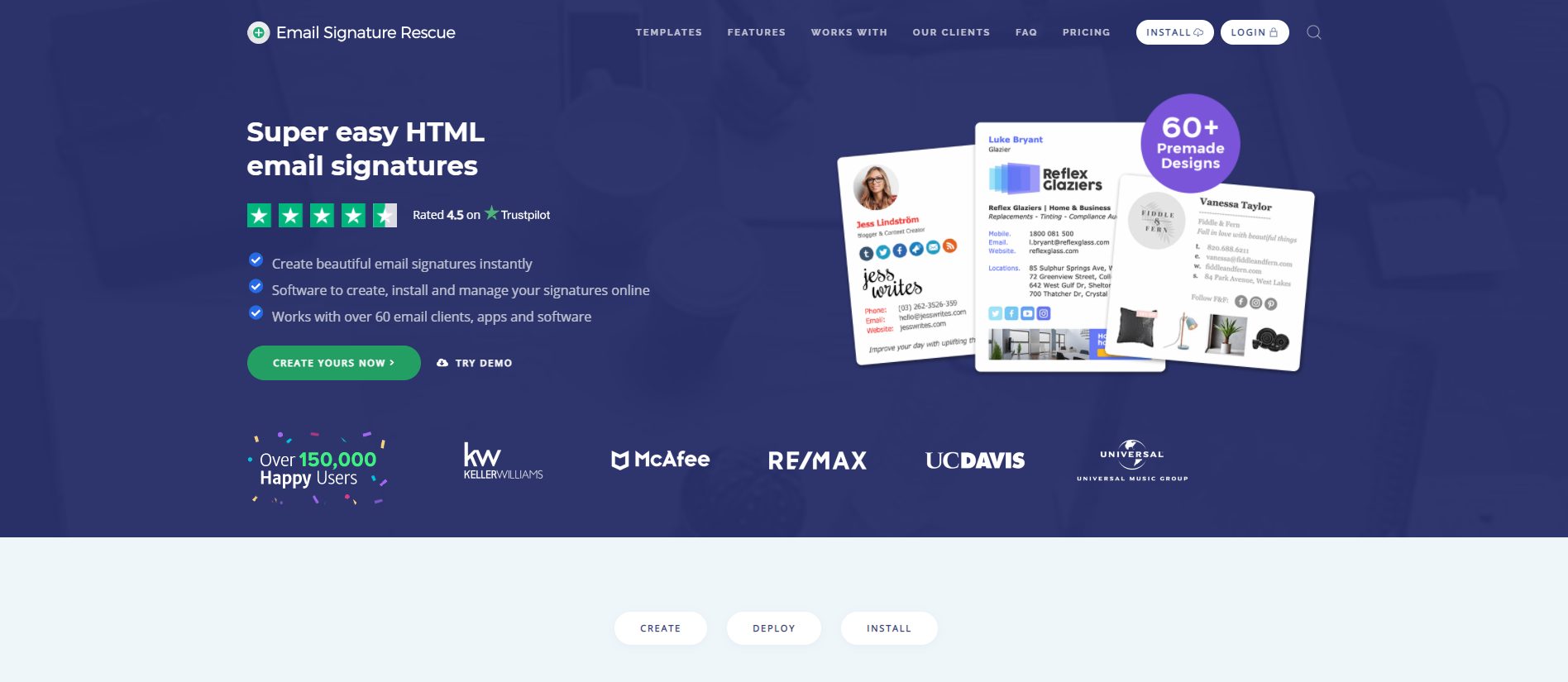 Email Signature Rescue is one of the more powerful email signature generators on our list with more than 60 customizable templates. It's one of the better options for small businesses and works with more than 60 email clients, includes 120,000+ social media icons, and even includes support. Plus, you can automatically update signatures from your account dashboard!
Pricing:
Starter 3:

$60/year for up to three users

Small Biz 10:

$120/year for up to 10 users

Small Biz 20:

$240/year for up to 20 users
---
12. MailSignatures by CodeTwo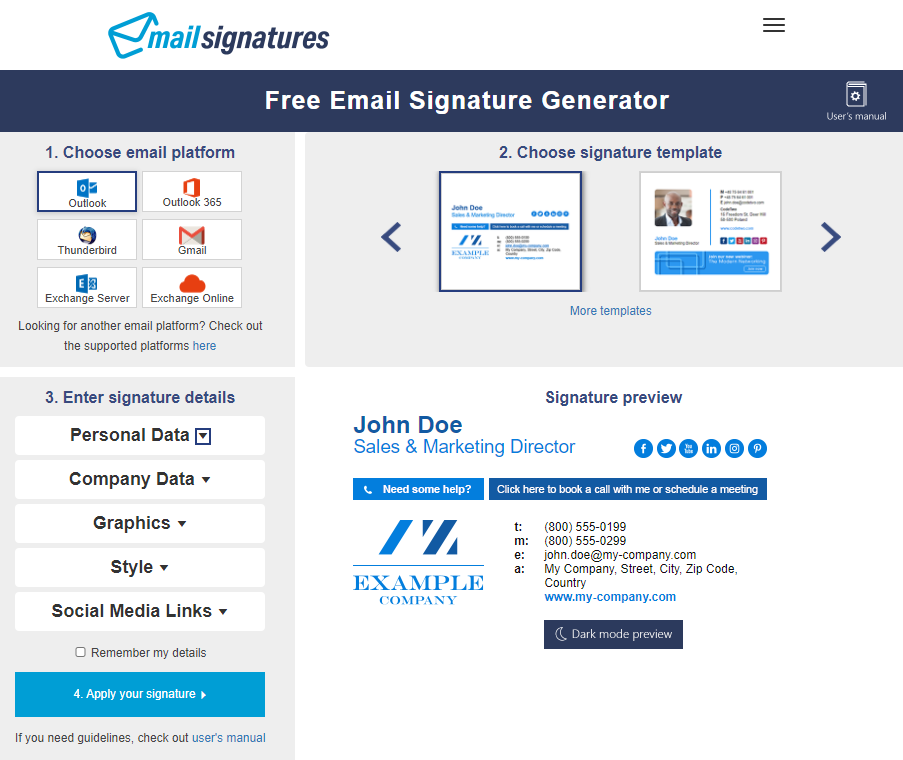 MailSignatures by CodeTwo is a simple HTML signature generator. It allows you to populate fields like your first and last names, job title, email address, work desk number, and mobile contact number. You can also add company data, include URLs to custom graphics, choose font types and colors, and add social media profile links.
Data in place, you're then able to cycle through a collection of templates to find the perfect look and feel for your new signature. There are currently 42 templates to choose from, with some including the option of inserting a profile image for a more personalized look. You'll also love the fact that your new signature is compatible with Outlook, Outlook365, Thunderbird, Gmail, Exchange Server, and Exchange Online.
Pricing:
Free!
---
Email Signature Best Practices
Your email signature is important. It conveys professionalism, builds trust, makes it easier for recipients to contact you, and increases brand awareness. That's why it's important to build an email signature that looks good and provides all the vital information you want to convey. But how can you be sure you're creating the best email signature? Here we're going to share email signature best practices and tips to keep your email signatures attractive, informational, and useful.
Create Two Email Signatures
We recommend creating two email signatures. The first one you'll want to create is for your outgoing messages. This is the fancier one that includes images, branding, all of your contact information, a call-to-action, etc. The second email signature you'll want to have is one for replies and forwards. This one will be simple, usually just your name or your name and general contact information. Here's an example of what this might look like (though you may want to go even simpler):
---
Keep Fonts Standard
You probably have brand fonts that you use everywhere. Your email signature is a place where you don't need to bother. If the people viewing your email don't have the font you used for your email signature, they're just going to see a fallback font anyway, so it doesn't make sense to worry about it. Just use a standard font that is easy to read. And, to make certain sections of your signature stand out, change the size, color, or put the text in bold instead of setting it off with a different font.
---
Add Your Contact Details
One of the most important reasons to include an email signature in your outgoing emails is to ensure that your recipients have access to multiple ways of contacting you. That means you'll want to include contact details in your email signatures. When including things like your website, email address, or other links, you should always make those details clickable to give recipients the easiest possible access to the information. Here's an example showing the links in different colors (you'll also notice that they use a snazzy GIF to draw attention to the company logo):
---
Include an Image (But Don't Use Just an Image File)
Including a picture of yourself in your email signature is a great way to make your emails feel a bit more personal. People love knowing that they're talking to a real person. You can also choose to include your company logo or both! Whatever you choose, the images should be part of your signature, not the entire thing. This means you'll want to steer clear from including an image file with your signature information visible on it. For starters, you can only use a single link from the image. Plus, some email services block images by default. So if your entire email signature is an image, your recipients might not be able to see it. Plus, images aren't great for accessibility for people who use screen readers.
---
Make It Clickable
As we've already mentioned, you can use your email signatures to direct people to your website, a specific landing page for a promotion you're running, or just about anywhere else you want — as long as you make the content clickable. If you choose to include social media platforms in your email signature, you'll also want to make sure that those are clickable, too.
---
Add Legal Notices (If Your Industry Needs Them)
Some industries might need to add legal notices or disclaimers to their emails. This is generally the case for law, banking, finance, and healthcare industries, but the need for disclaimers varies from country to country. If you're in an industry that deals with private, confidential information, you'll probably want to include a disclaimer with a confidentiality clause. Here are a few examples:
Basic Confidentiality Disclaimer
"This email and its attachments are private, confidential, and are only for the use of the intended recipient."
"The information transmitted by this email is intended only for the person or entity to which it is addressed. This email may contain proprietary, business-confidential, and/or privileged material. If you are not the intended recipient of this message, be aware that any use, review, retransmission, distribution, reproduction, or any action taken in reliance upon this message is strictly prohibited. If you received this in error, please contact the sender and delete the material from all computers."
Attorney-Client Privilege Disclaimer
"CONFIDENTIAL: ATTORNEY-CLIENT PRIVILEGED; ATTORNEY WORK PRODUCT: Emails and attachments received from us may be protected by the attorney-client privilege, as attorney work-product or based on other privileges or provisions of law. If you are not an intended recipient of this email, do not read, copy, use, forward or disclose the email or any of its attachments to others. Instead, immediately notify the sender by replying to this email and then delete it from your system. We strictly prohibit any unauthorized disclosure, copying, distribution, or use of emails or attachments sent by us."
Formation of Contract Disclaimer
"This email may contain a price or other contract term for the sale of [describe product]. The price or other contract terms contained in this email is subject to approval by [XYZ Company's executive management committee or its designee] and is not binding until [XYZ Company's executive management committee or its designee] provides such approval in writing."
Copyright Law Disclaimer
"The contents of this email may be protected by copyright law. Any authorized use or disclosure of its contents is strictly prohibited."
Computer Virus Disclaimer
"WARNING: Computer viruses may be transmitted via email. You should check this email and any attachments for the presence of viruses. Our company accepts no liability for any damage caused by any virus transmitted by this email. Email transmission cannot be guaranteed to be secure or error-free. Information could be intercepted, corrupted, lost, destroyed, arrive late or incomplete, or contain viruses. Accordingly, the sender does not accept liability for any errors or omissions in the contents of this message that arise as a result of email transmission."
Negligent Misstatement Disclaimer
"Our company accepts no liability for the content of this email, or for the consequences of any actions taken on the basis of the information provided unless that information is separately confirmed in writing. If you are not the intended recipient, be aware that disclosing, copying, distributing, or taking any action in reliance on the contents of this information is prohibited."
---
Include a Call-to-Action
We recommend including a call-to-action in your email signature. This will let recipients know what you want them to do and could be anything from scheduling an appointment, booking a call, checking out your latest promotions and sales, or something else entirely. Here's an example of an email signature with a call-to-action:
---
Use an Email Signature Generator for a Professional Touch
As you can tell, your email signature does a lot more than share your name and contact information, though those are important reasons to include one. We've included the best email signature generators on our list so you can create a brilliant email signature of your own that will inspire your recipients to take action, or at least trust you a bit more.
Frequently Asked Questions
What are the best email signature generators?
Any of the email signature generators on our list will help you create a beautiful email signature:
- HubSpot
- MySignature
- Gimm.io
- Designhill
- Newoldstamp
- Si.gnatu.re
- WiseStamp
- Signature Creator
- signature.email
- Email Signature Rescue
How big should my email signature be?
There's no rule on the size your email signature should be. Generally, email signatures of 300 x 600 pixels are most common. However, if your audience largely uses mobile, you'll want to keep your email signature at a size that looks good on mobile devices. We recommend staying within 300 x 700 pixels and not going larger than 320 px wide for mobile devices.
What format should my email signature be?
Use common image formats like PNG or JPG. You can get a little fancy and add a GIF, but remember that GIFs do take longer to load. For the remainder of your email signature, HTML and plain text or the best options.