Are you looking for creative handmade, personalized, or vintage items? Look no further because Etsy has got you covered. Etsy is among the largest online marketplace to sell your creations. It's the favorite platform for creative sellers who excel in making unique pieces. In 2020, Etsy sold $10.28 billion of products mostly in the home & living, arts & collections, and jewelry categories.
Joining Etsy is easy and quick. Anyone can sign up for free and start selling their products for only $0.20 per listing. It's no surprise that there are 4.4 million active sellers on Etsy as of 2020. If you think that's a lot of competition and it would be tough to stand out, then you'd be glad to know that there are 81.9 million active Etsy buyers worldwide. This means there's a lot of room for new Etsy sellers to make it big on the platform.
It's not too late to start an Etsy store and show the world your creativity. This guide will show you the tools you need to become a successful Etsy seller.
---
25 Best Etsy Tools to Grow Your Business in 2022:
---
What Is Etsy?
Etsy is an online marketplace composed of independent sellers who are mostly crafters, artists, and collectors. This e-commerce platform is known for vintage, handmade, personalized, or custom-made jewelry, home décor, clothing, toys, art, and more.
The platform was established in 2005 to allow small indie artists a chance to connect with customers looking for items with a personalized touch. Within two years since it launched, Etsy's popularity skyrocketed with around $26 million in total sales and almost half a million users.
In contrast to Amazon, Etsy sellers manage their own warehouse and inventory. There's no common warehouse where sellers can send their products and enjoy centralized fulfillment and shipping. Buyers deal directly with sellers, and Etsy only acts as a middleman who provides the selling platform.
---
How to Sell on Etsy
Influencers who want to reach a wider audience with their merchandise can create an Etsy store. It's free to sign up on the platform. However, Etsy collects a listing fee, transaction fee, payment processing fee, and an optional advertising fee.
Listing Fee: $0.20 per item with a four-month shelf life

Transaction Fee: 6.5% of the sale price per item

Payment Processing Fee: 3% + $0.25 per order

Advertising Fee: 15% Offsite Ads Fee paid only if you make a sale from the ads
Etsy shop owners are also responsible for handling the shipping of their products. A lot of sellers ship globally, with some even offering free shipping. In case there are shipping issues, Etsy steps in and helps both parties resolve them. If you're interested in selling vintage items, Etsy has a process where they verify if your piece is 20 years or older.
In building an Etsy shop, digital design and product pricing are critical factors to consider. For your store to last, you'd want to build a brand that's memorable and trustworthy. Successful Etsy sellers create themes around their stores, use creative shop names, and invest in SEO strategies to gain more customers.
---
25 Best Tools to Grow Your Etsy Business
More than a million Etsy stores sell a wide variety of products. It's easy to get lost in the crowd, especially when you're just starting. Expert shop owners know that to gain customers and remain top-of-mind, they need to invest in tools that will help their store grow.
We listed 25 of the best Etsy tools useful for beginner and advanced sellers. We've categorized them based on the five main functions critical to running an Etsy store.
Product Creation & Pricing

Marketing

SEO

Analytics & Research

System Maintenance
Product Creation & Pricing
Most Etsy sellers established their stores because they wanted to share their passion with the world. They already had an idea for a product and did a trial run with friends and family. Their Etsy store is a channel for them to sell to a wider audience.
However, for some aspiring sellers, all they have is a product or store idea. For others, they need to sustain their store by expanding their product lines. If you fall in these categories, don't fret. There are tools to help you execute your ideas or find new products to sell.
---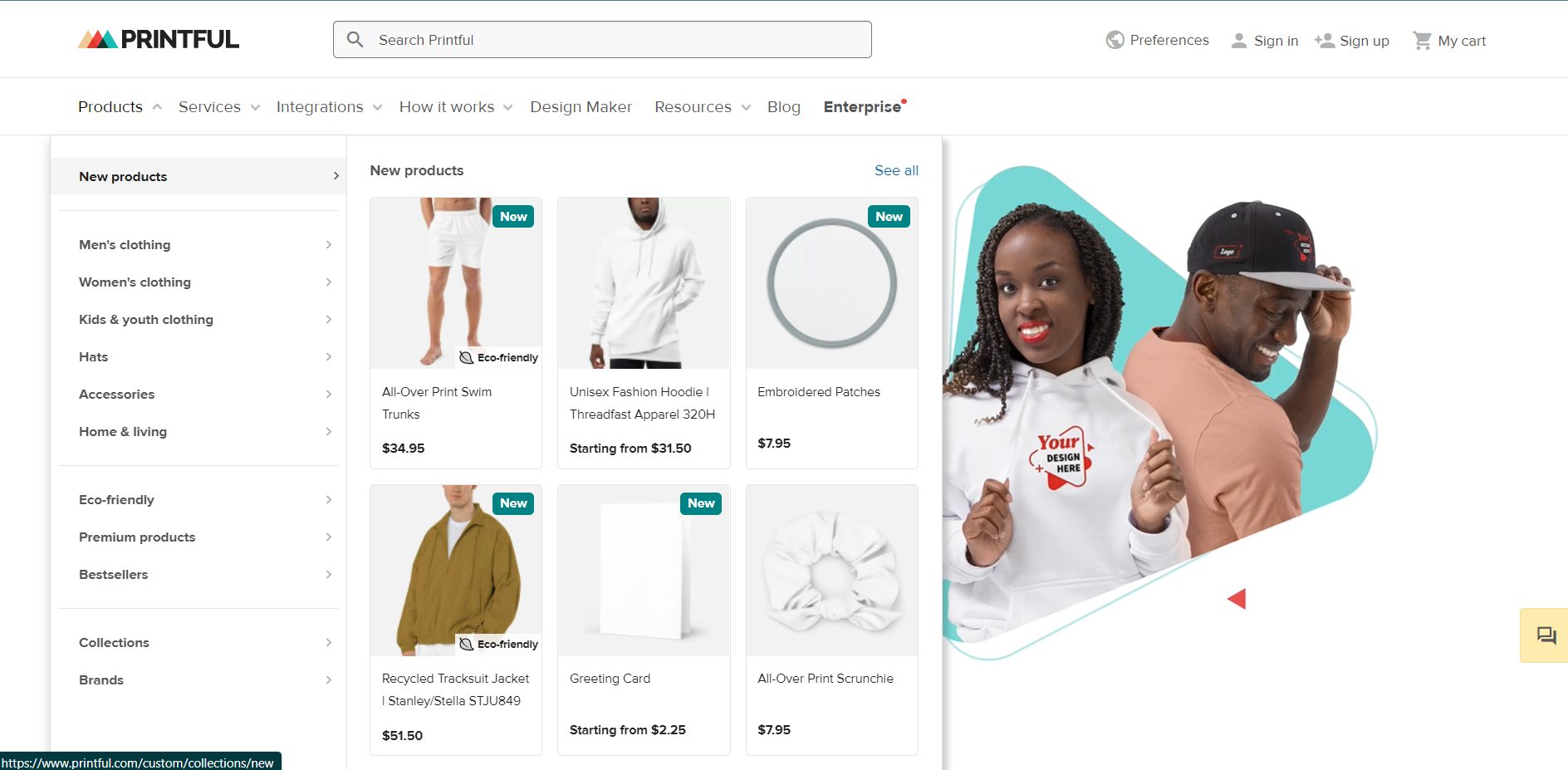 Printful is a print-on-demand and fulfillment company that helps creators turn their designs into merchandise. It has a wide range of products, from t-shirts to home decors, waiting to be designed.
It's easy to use Printful. You simply connect your Etsy shop and use the built-in Design Maker to incorporate your designs into any product. Once you're done, populate your stores with the finished products. Promote your Etsy store, and watch orders come in.
Printful will only print your design to their products when there's an order. That way, you don't worry about extra inventory. Printful also takes care of shipping directly to your customer from one of its global hubs.
By signing up on the platform, you only have to focus on product design and store promotion. Printful will do the rest for you.
---
Etsy is famous for carrying vintage and collectible items. Most of these items are found in someone else's "trash". One way to build a thriving Etsy store is to become a bargain hunter.
EstateSales.net is a site that lists upcoming estate liquidation sales and auctions. You can find individuals and companies showcasing items they no longer need and would gladly sell for a bargain.
Use the site to find a liquidation sale or auction near you, and score some bargain treasure finds. You can refurbish or simply clean them and put them up for sale at your Etsy store.
---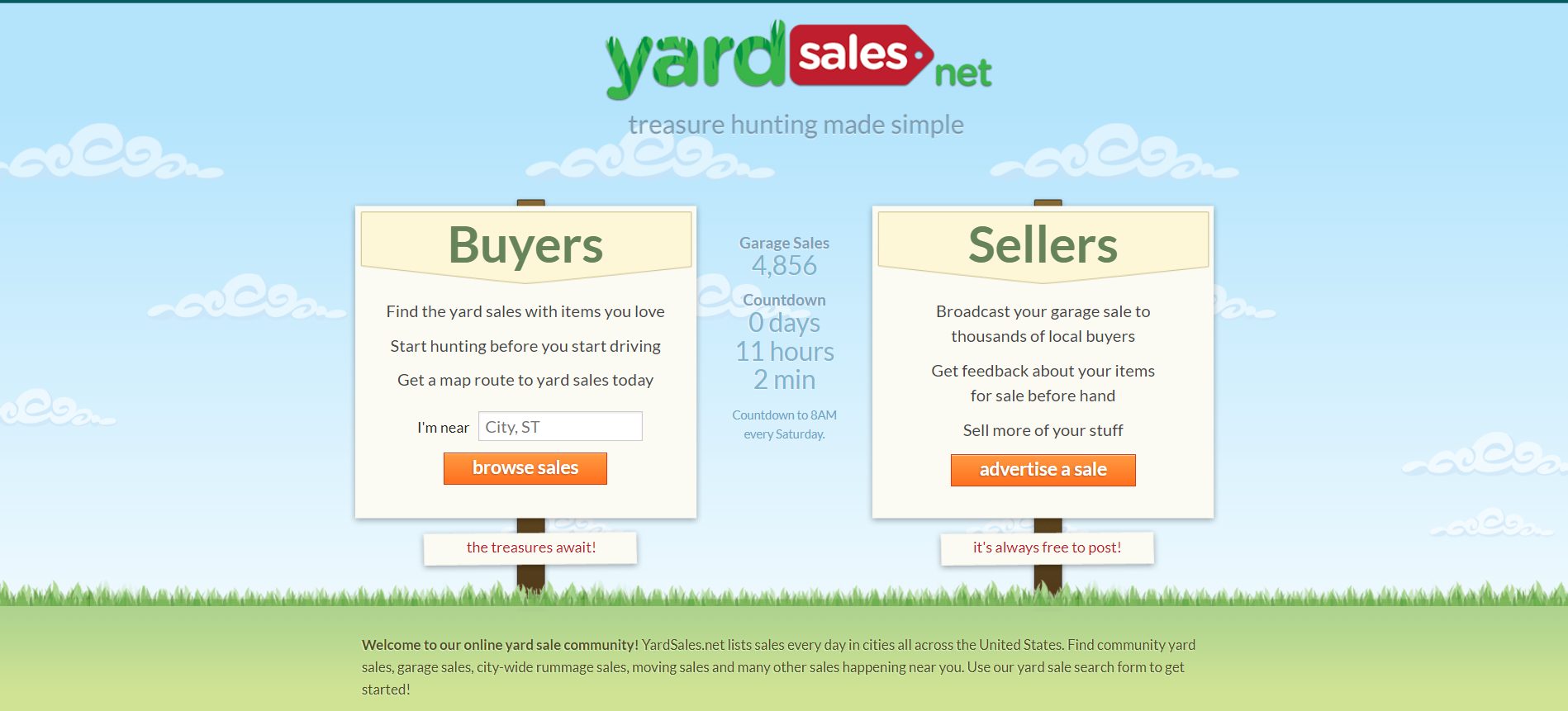 Sometimes estate liquidation sales and auctions may be hard to find. There may not be enough estates being liquidated in your area.
YardSales.net has a wider list of potential treasure sites. It lists community yard sales, garage sales, moving sales, city-wide rummage sales, and many more. You're sure to find a garage sale near your location where you can dig for items to sell on Etsy.
---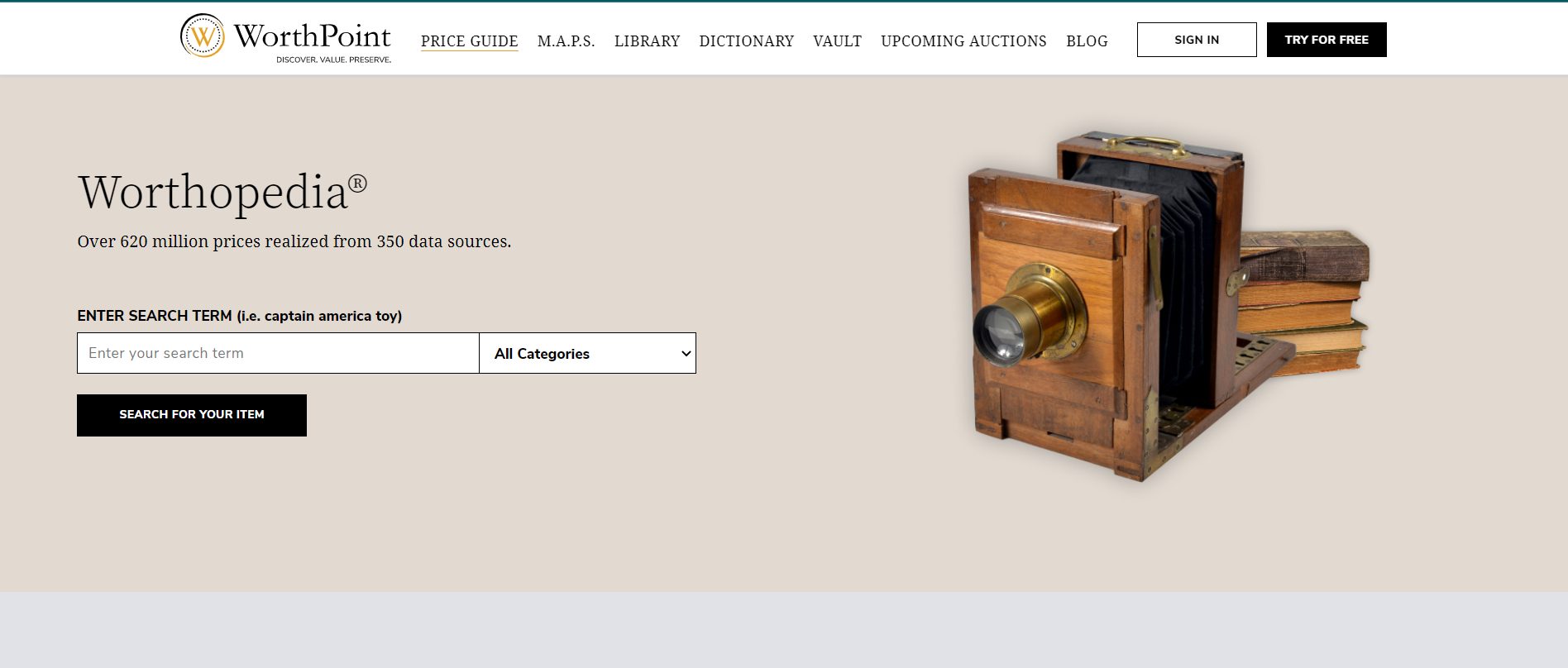 Finding a valuable piece of antique or a nice vintage item is half the battle. The other half is knowing how to price them properly for what they're worth.
WorthPoint is the number one resource guide for identifying the true value of an antique item. With more than 620 million items in its database, its price guide will help you determine the right price to sell your valuable finds.
---
Creating a product from scratch can be tough. It takes a great amount of creativity to come up with unique pieces of pottery, needlework, or jewelry. It can also sometimes be tough to know the right prices to sell them on Etsy.
With fierce competition, it can be daunting to know the right price for your unique craft. Craft Maker Pro helps you take the guesswork out of pricing. It also helps with inventory, tax calculations, and invoicing. Using this tool, you can focus on the creative side of the business and automate the rest.
Etsy Marketing Tools
Now that you have products to sell on Etsy and have set up your store, it's time to promote it. Like any e-commerce store, marketing and promotion are important to let your customers know your store exists.
Social media marketing, email marketing, and PPC campaign marketing are just some of the digital marketing strategies you can explore for your Etsy business. Here are marketing tools that have helped Etsy sellers become successful.
---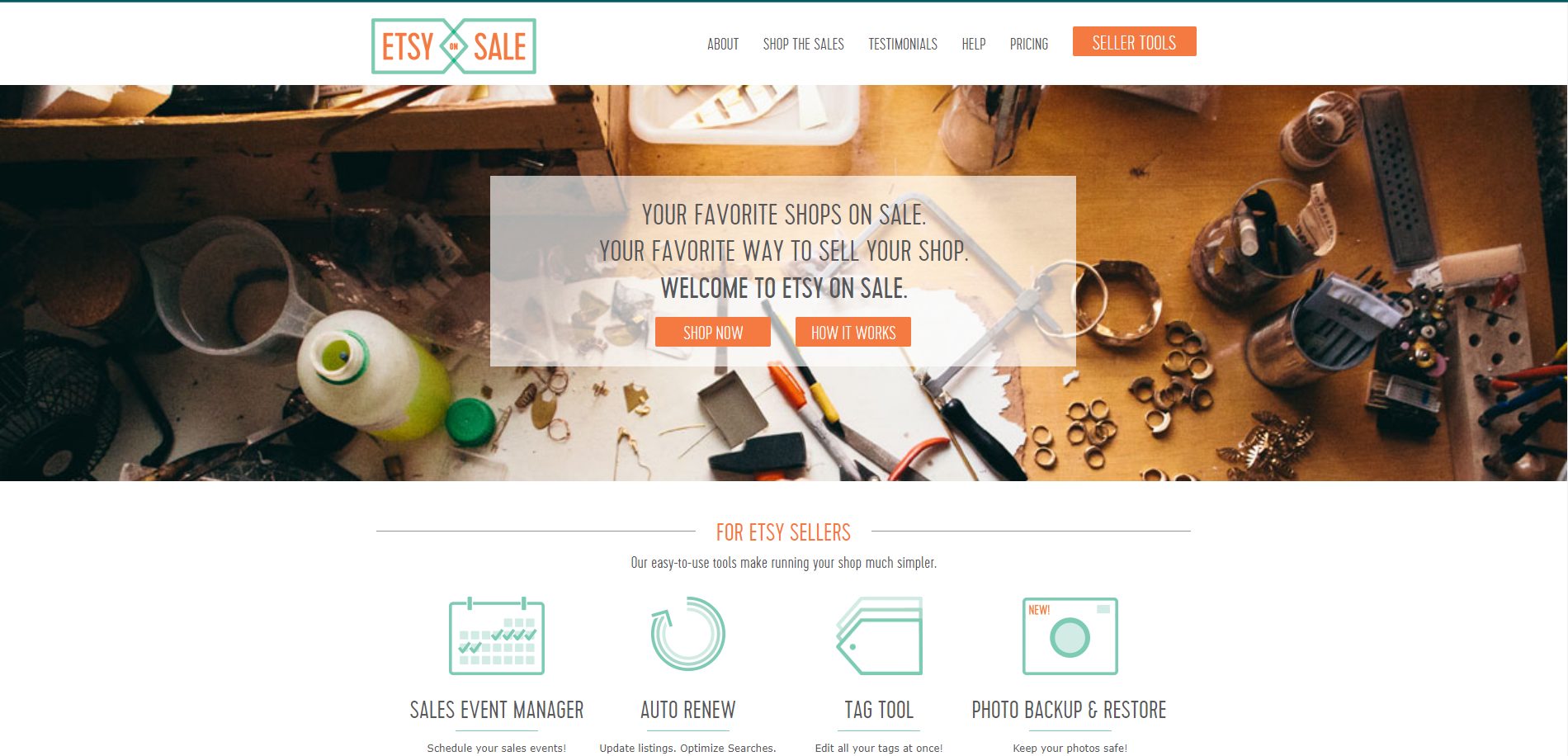 Everyone loves a sale. Etsy buyers are no different, and they're always on the lookout for the best prices. However, it can be time-consuming to run sales on your Etsy store and keep track of them.
Etsy on Sale helps shop owners automate their sale events. It lets you auto-renew sale listings, bulk edit tags, and even back up product photos. It even lists Etsy Shops running sale events on its website, providing additional exposure for its clients.
---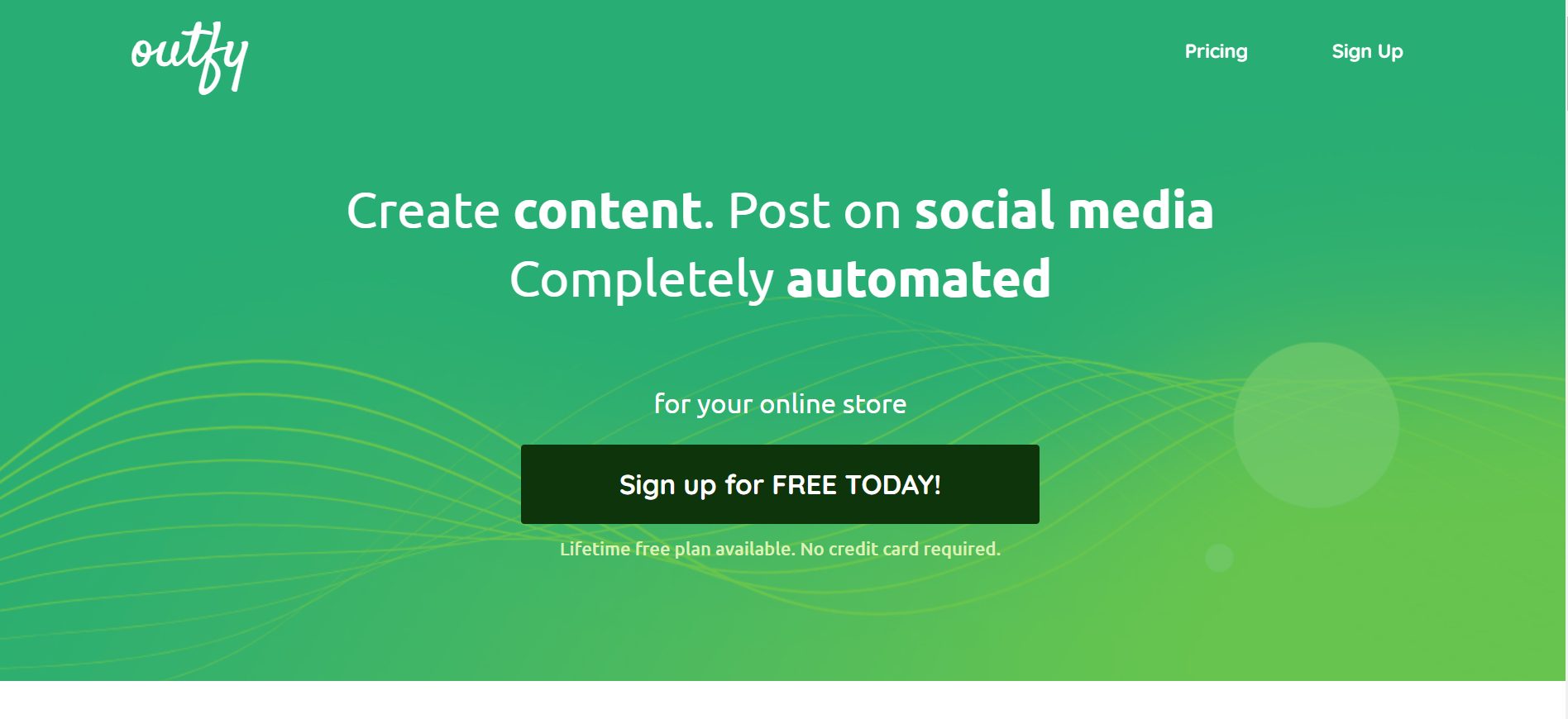 Outfy is a favorite tool among Etsy sellers for managing social media content and channels. Social media marketing remains the best way to reach your target audience. Using Outfy, you can automate the creation and sharing of different types of content.
Outfy allows you to create collages, product photos, GIFs, videos, and promotional material. It conveniently lets you share these content types across social media channels like Facebook, Instagram, YouTube, Pinterest, and Twitter.
Outfy also features a smart automated system that allows you to auto-select products for promotions. It's like having your store promotions on autopilot. Outfy comes with a free forever plan as well as paid plans starting at $15/month.
---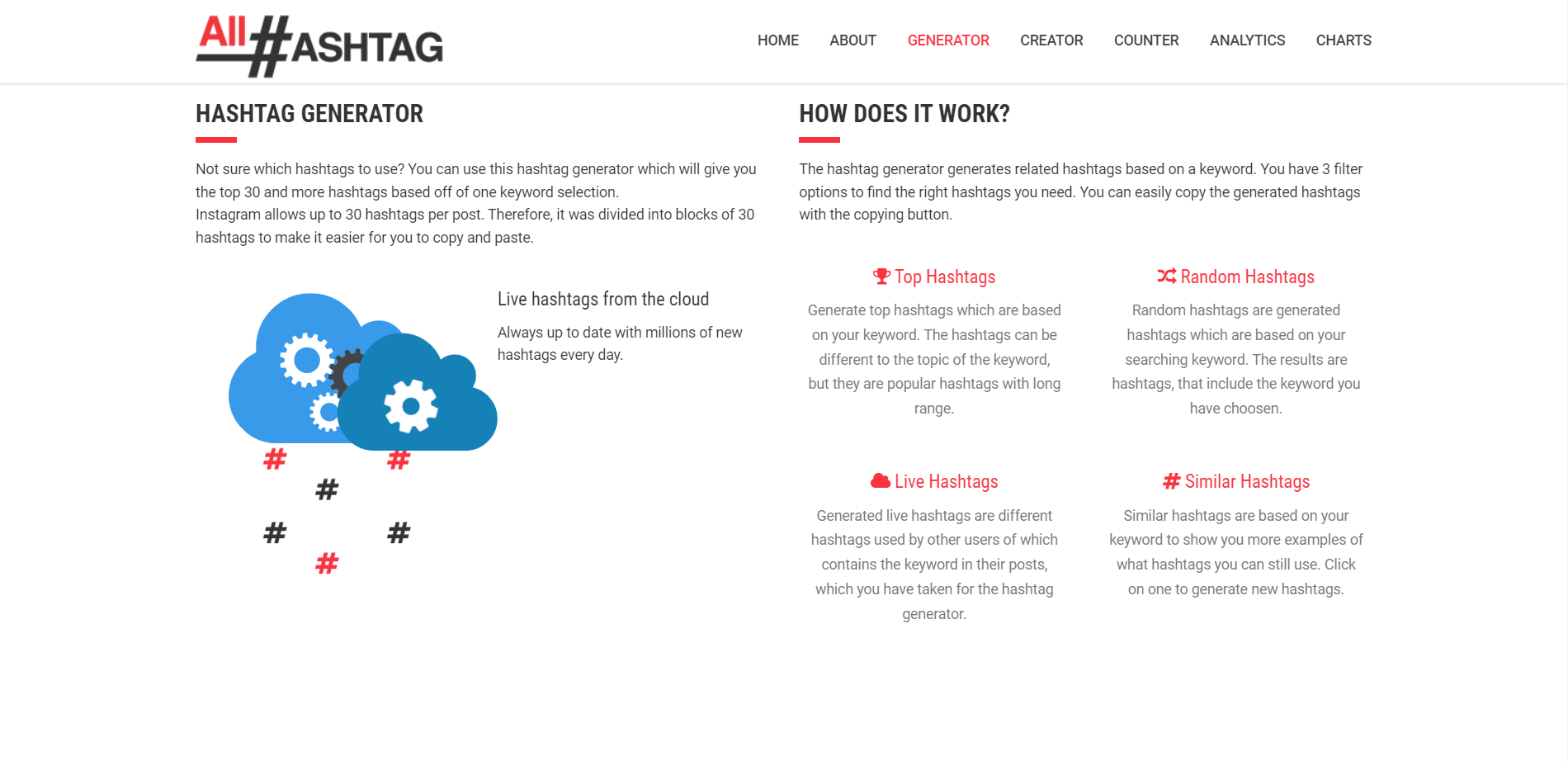 Hashtags are important for your social media posts to gain visibility, but overdoing it may turn off audiences. A hashtag generator helps you find the right hashtags that are popular and relevant to your posts.
All Hashtag offers a hashtag generator as well as other hashtag tools to help improve your social media posts. Based on your target word, its hashtag generator will let you know the top, similar, live and random hashtags.
---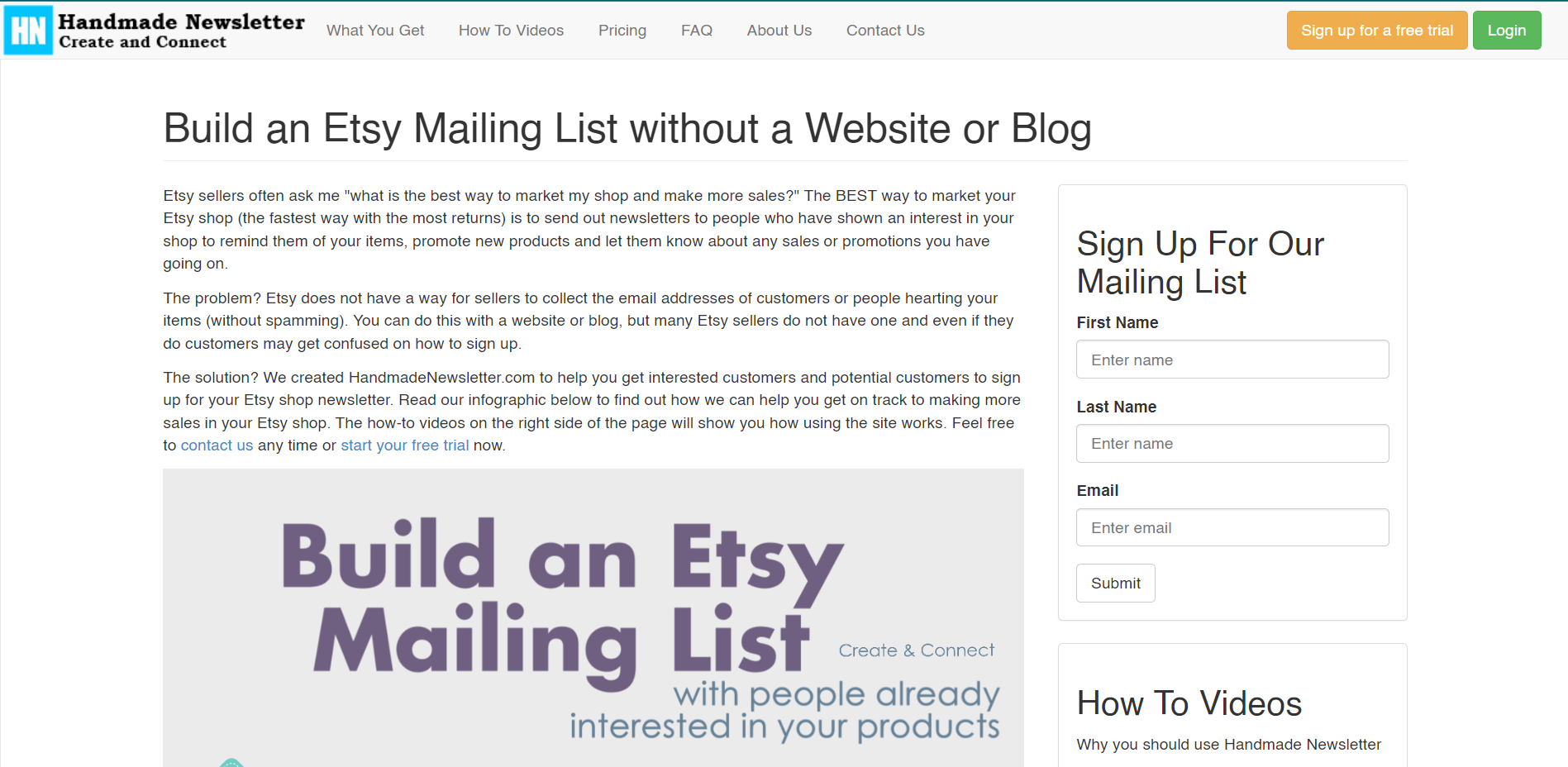 Email marketing is a great way to reach out to existing customers and tell them about new products and upcoming promotions. This is one way to build a loyal audience who repeatedly purchases from your Etsy store.
Creating an email subscription list is the first step toward a successful email marketing campaign. However, Etsy doesn't provide a way for you to collect the email addresses of customers who bought from or showed interest in your store. A solution is to use your own website or blog to collect email addresses.
But what if you don't have either? The solution: Handmade Newsletter.
Handmade Newsletter helps Etsy store owners get their customers to sign up for an email newsletter. Etsy sellers can ask customers to visit a personalized page and opt in to their newsletter. They can then use an email marketing service to create and send the newsletter to their customers.
---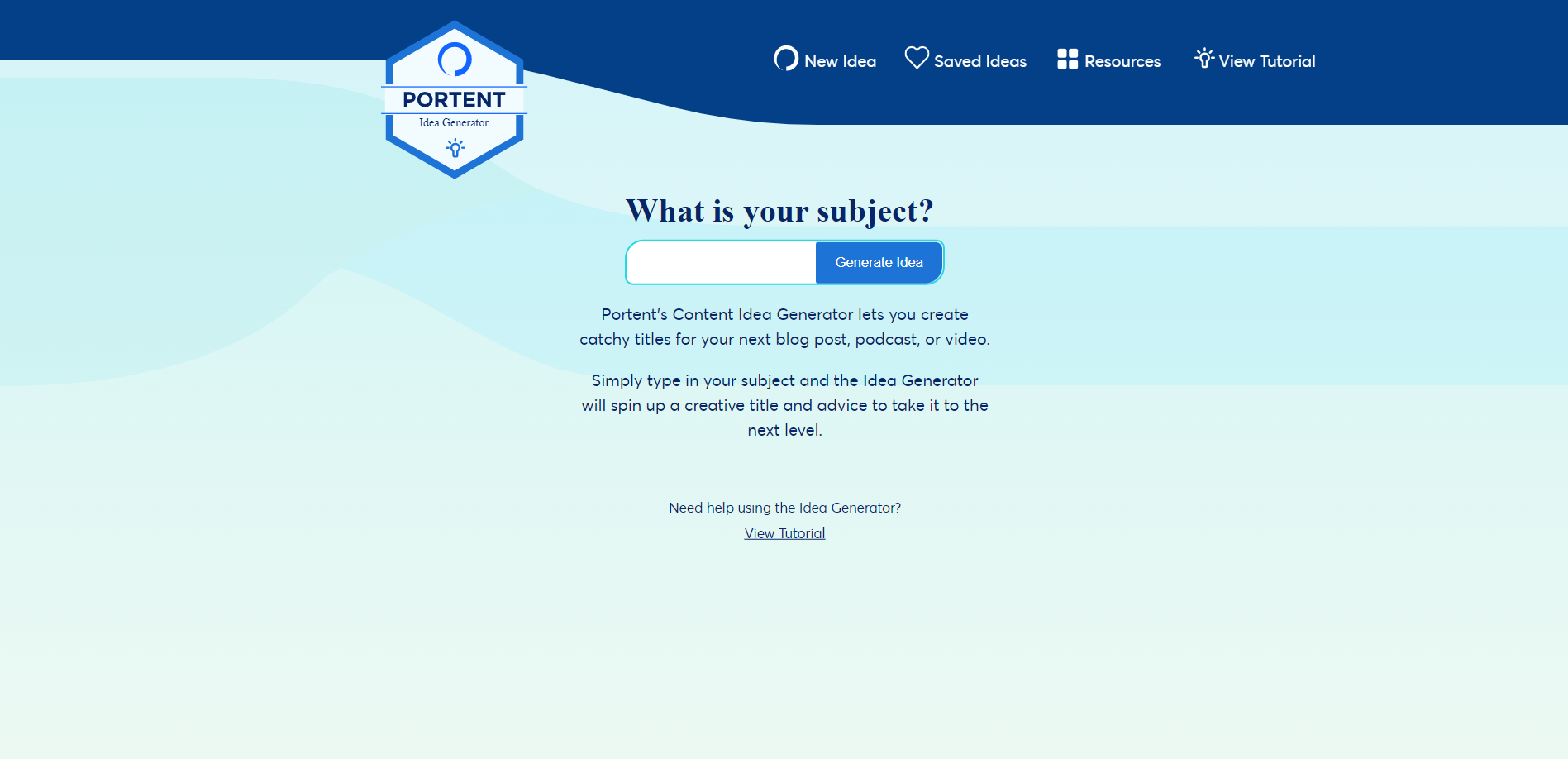 We all hit a brick wall sometimes. One of the pillars of digital marketing is creativity. You have to be creative with your titles to grab your audience's attention.
If you're struggling to find the right words to say (or write), then you should use the Portent Idea Generator. This tool will help you come up with catchy titles you can use for your social media posts, blog posts, videos, or podcasts. It also provides insights and advice on why certain words make for catchy titles.
Other Social Media Marketing Tools
Explore some of the other social media marketing tools you can use to improve and automate your marketing campaigns. We have a dedicated page where we list some of the top tools and provide a thorough review of each. Check them out here.
SEO Tools
Search Engine Optimization (SEO) is critical for your product listings to appear in search results. Buyers frequently search for the things they need via Google and the Etsy homepage. Your listing needs to be at the top of search results for customers to click on it. Using the SEO tools listed below, you can be sure your listings will have a fighting chance of being seen.
---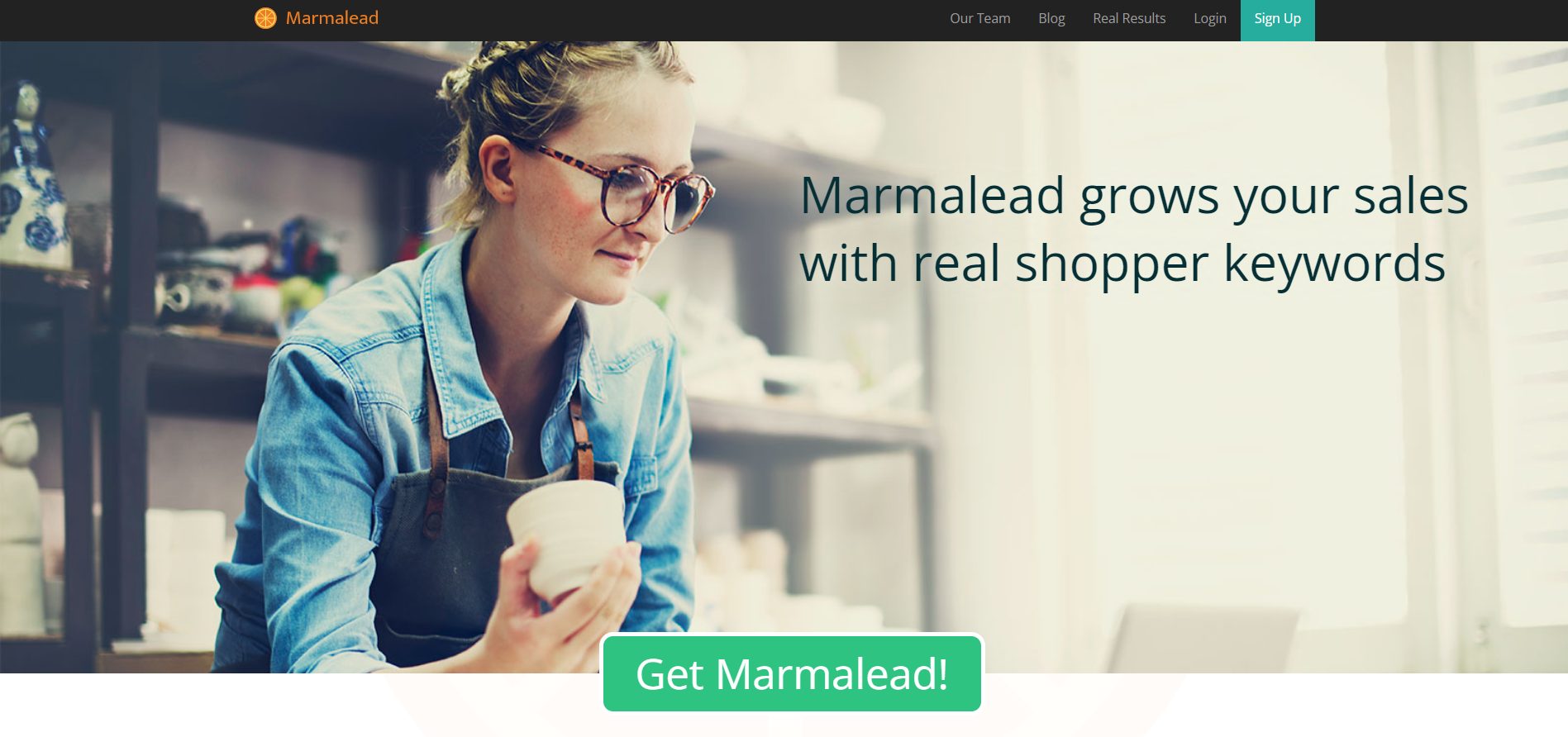 Marmalead promises to grow your sales using real shopper keywords. Keywords are the core of any SEO campaign and strategy. You need to find the words that your target market is using to search for your products. Once you know the right keywords to use, you should incorporate them naturally into your listings and wait for your products to show in search results.
But analyzing and searching for the right keywords is no easy feat. There are thousands of words a shopper can use. Marmalead helps Etsy sellers find the right keywords by providing powerful tools to brainstorm, analyze, track, and apply winning keywords.
The tool costs $19/month, and there's a 14-day free trial. You can save some dollars if you get a quarterly or annual plan. According to its 2021 study, 50% of Marmalead users get 7x more annual revenue than non-Marmalead users. On average, Marmalead users make 4x more than non-users.
---
If you're not keen on investing in a keyword tool right away, then you can use Keyword.io. It's a free keyword research tool that helps you find highly relevant keywords based on a search query. The tool even helps you find long-tail keywords, which are longer phrases that more accurately match how users search for products on the internet.
---
In Esty, tags help your product listings gain wider visibility. They're like hashtags in social media posts. The owner of an Etsy shop, Spacefem, developed a tag analyzer to help Etsy sellers know which tags are working and which aren't.
With hundreds of listings, it may be tough to keep track of all your tags. Spacefem's Etsy Tag Analyzer helps you with this by allowing you to analyze if there are repeating tags in your listings. It uses publicly available data, so even if you're not logged in to Etsy, you can check the status of your store. In the same way, you can also check the tags of competitor stores.
---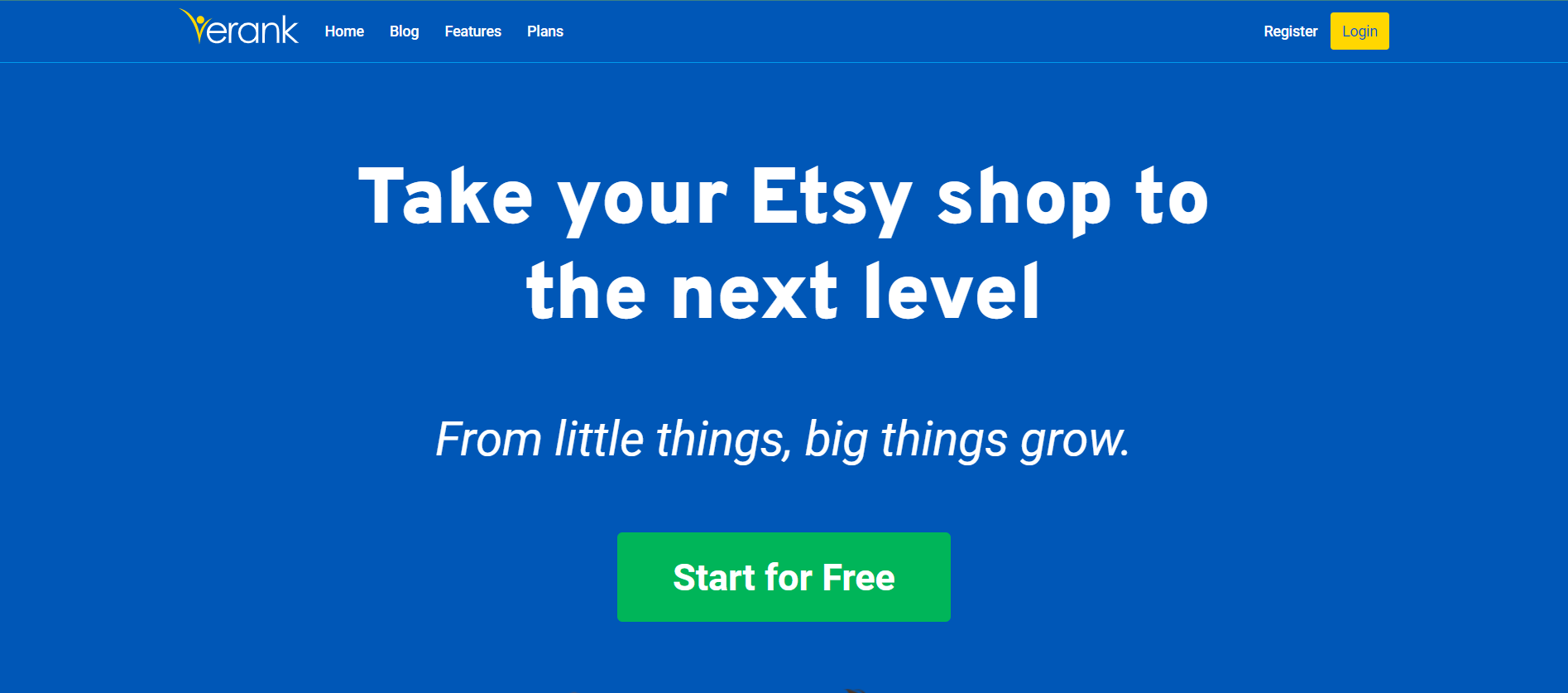 If you're looking for a more robust Etsy SEO tool, then check out eRank. It has a keyword explorer tool, a listing analytics tool, a bulk rank checker, a missing image audit tool, a sales map, and many more. Check out its comprehensive list of features here.
eRank offers free and paid plans, with the free tool being enough for a beginner Etsy seller to run their store smoothly. Advanced sellers would benefit from the Basic plan ($5.99/month) or the Pro plan ($9.99/month).
---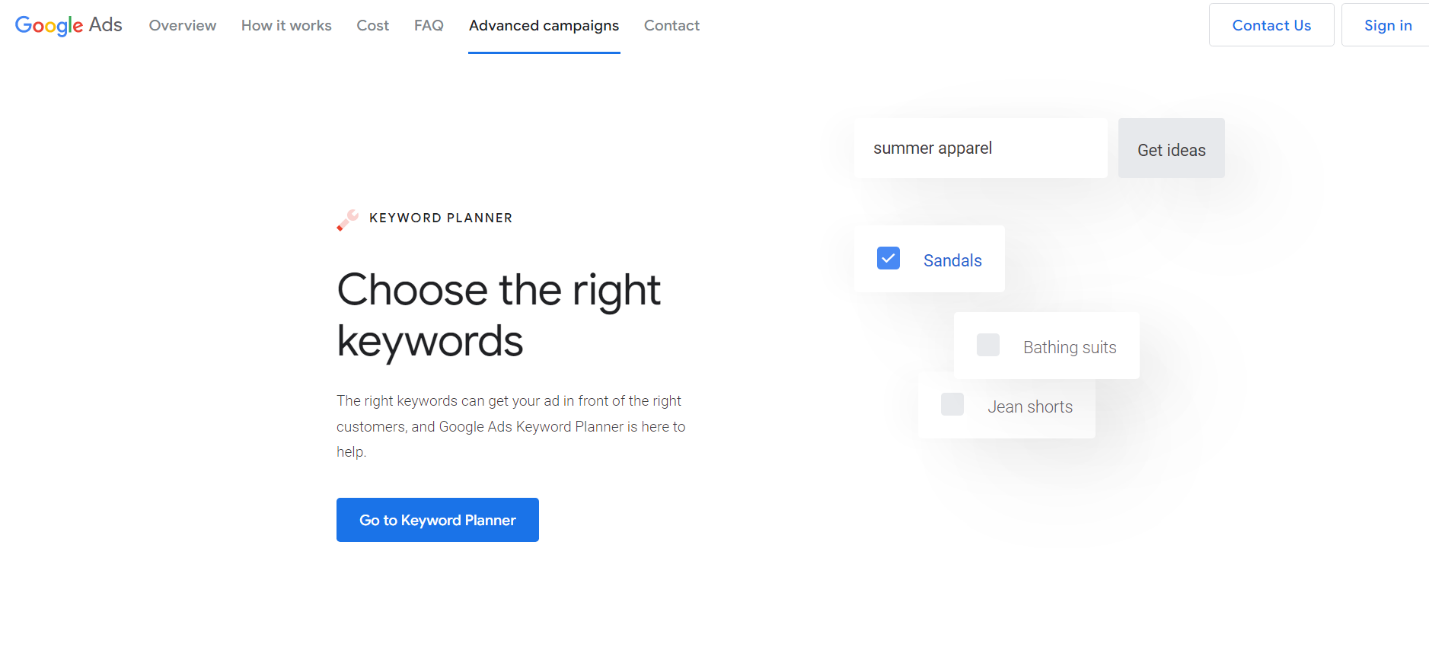 Google is the number one search engine, and it's no surprise that it has its own robust keyword planning tool. It can be more complicated than other SEO keyword tools available, but it's quite comprehensive.
If you're planning on running Google PPC campaigns or search ads for your Etsy products, then you should use this tool. It helps you plan for your Google Ads campaign and ensures you optimize your keyword bids.
Research & Analytics Tools
Suppose your Etsy store is now up and running. Customers are coming in because of your marketing and SEO efforts. It's then time to analyze your performance. It's also important to check your competitors and see how your store compares. The tools below will help you measure the performance of your Etsy store.
---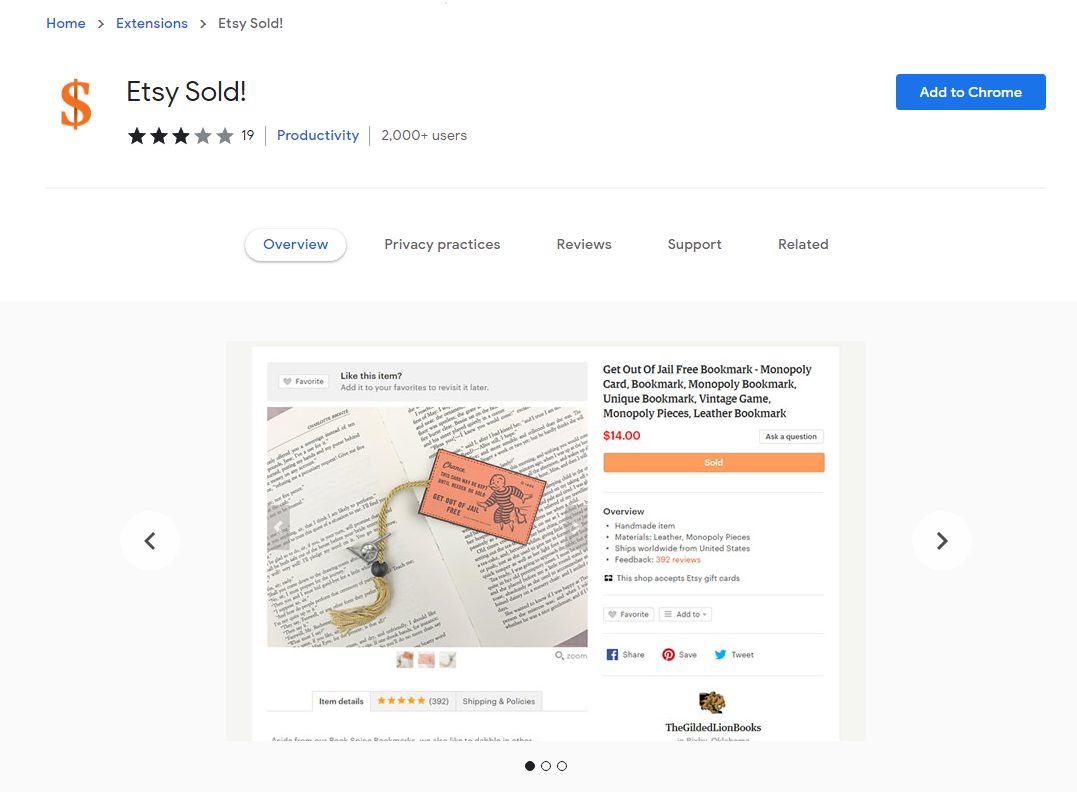 Etsy Sold is a Chrome extension that reveals the sale price of out-of-stock Etsy listings. If you've wondered whether you're pricing your products right, then check out your competitors. Look at sold-out items similar to yours, and use this tool to check their prices.
---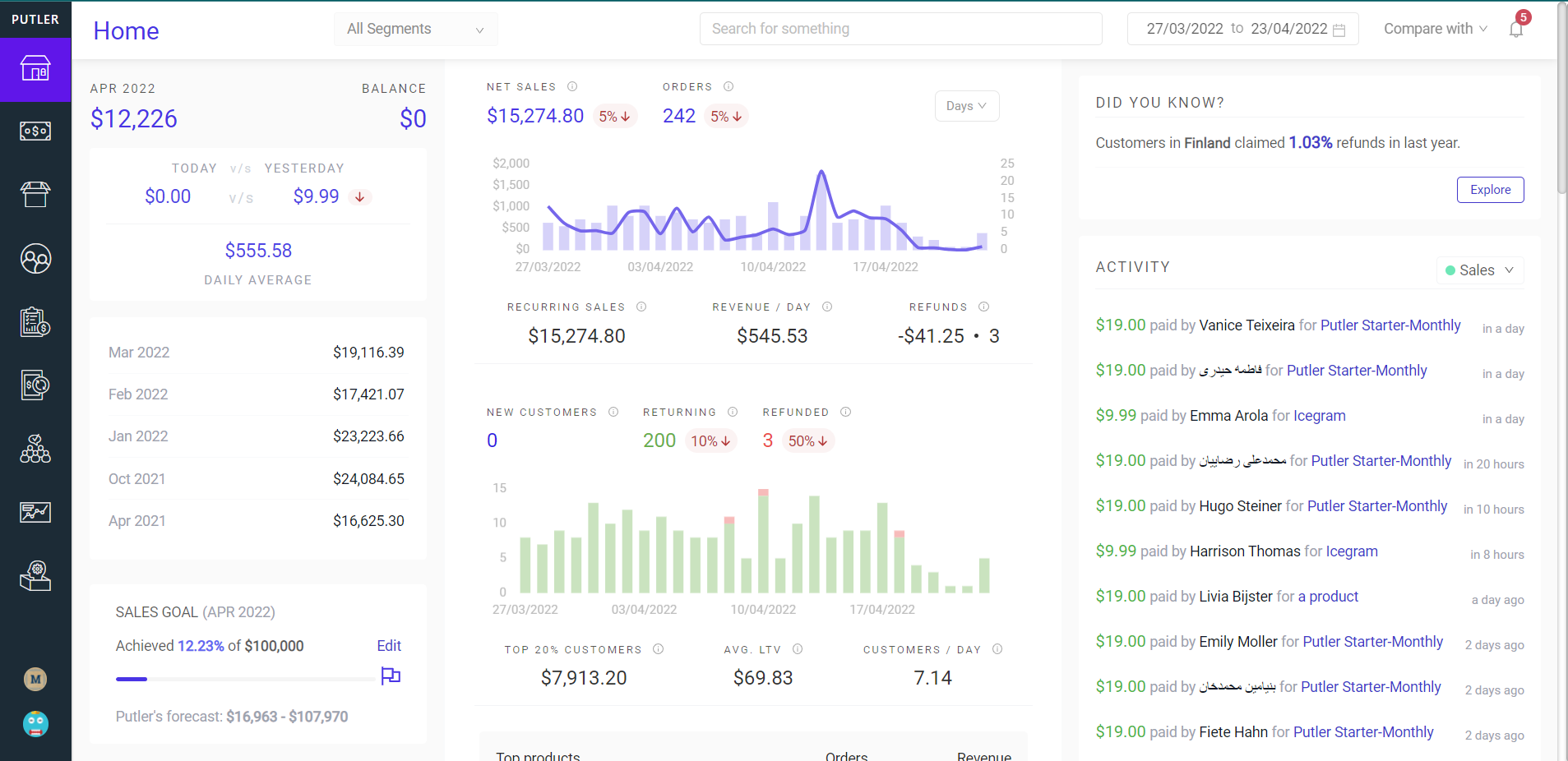 Etsy doesn't have a built-in robust analytics tool that can help you instantly measure and analyze important metrics, such as net sales, top products, refund percentages, traffic analysis, and more.
Putler is a comprehensive monitoring and analytics tool that works not just for Etsy but for other e-commerce platforms too. It replaces spreadsheets and manual data tracking, which can be very time-consuming.
It provides helpful graphs as well as comparison data that increase your understanding of your e-commerce business. Its plans start at $20/month with a free 14-day trial.
---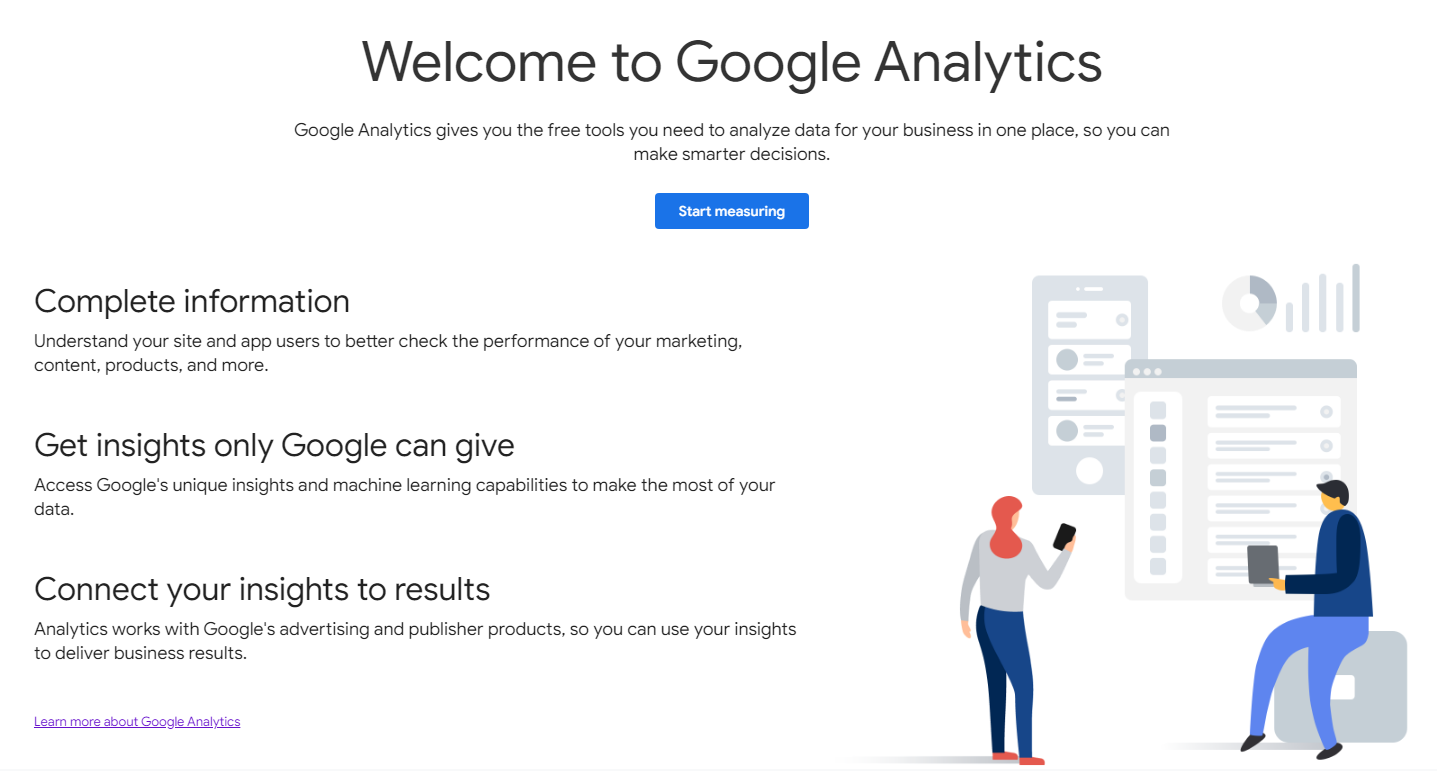 For those just starting out, you may prefer an analytics tool that's more beginner-friendly, such as Google Analytics. Google Analytics is Google's free tool that measures various data such as traffic, bounce rate, product performance, conversion, and total revenues straight from your website. If you've built your website and connected it to your Etsy store, then Google Analytics is a great and comprehensive tool for you.
---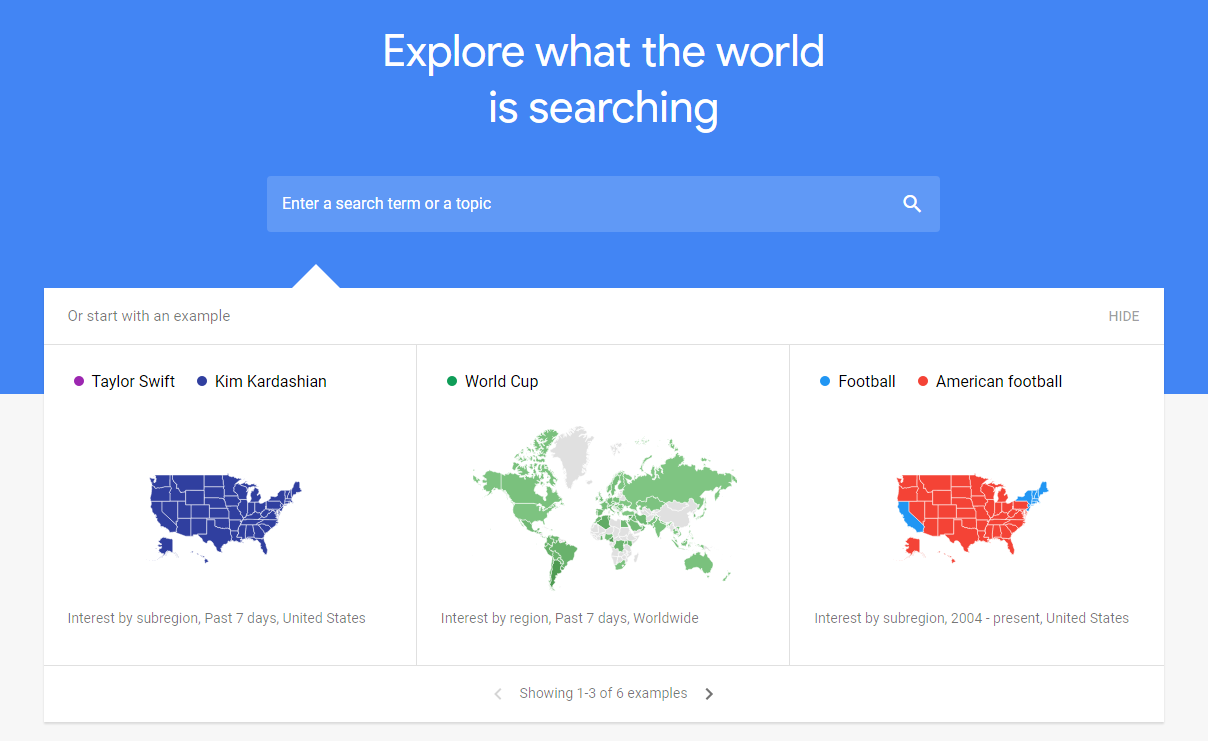 Successful online entrepreneurs keep tabs on trends and grab opportunities as soon as they present themselves. Google Trends is a great tool for seeing which products will potentially be on-demand, so you can stay ahead of the competition.
Google Trends works by evaluating search terms and phrases that users ask via Google. You can use it to see your product search terms' popularity compared to current trends. In essence, Google Trends tells you if users are interested in your products.
---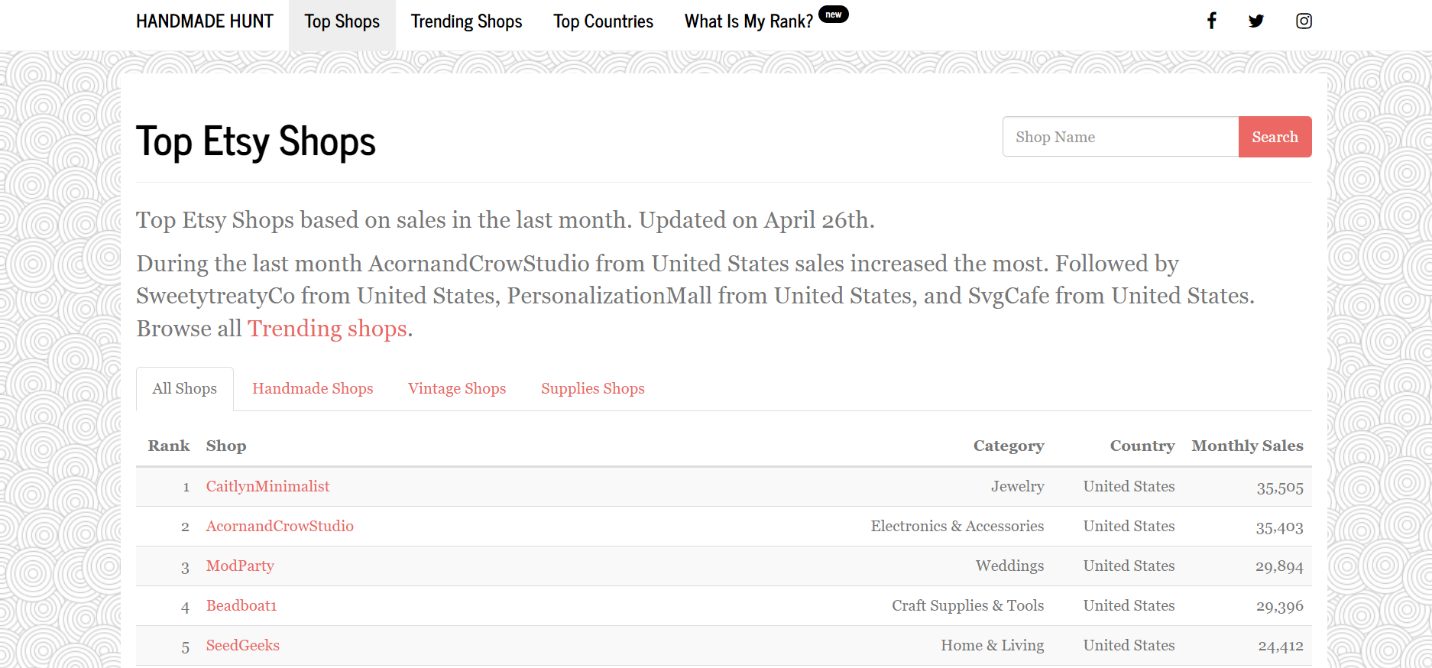 Ever wondered what the top-selling Etsy Shops are? Handmade Hunt ranks and lists all active Etsy shops on their site, so Etsy sellers can compare their performance with top-selling stores. This is a great way to gauge your store versus your competitors in the same category and country.
The site also provides a list of trending stores. Moreover, it allows you to check the rank of your store.
System Maintenance Tools
Once your Etsy store has been up and running for some time, you'd want to make sure it runs smoothly without any hiccups. After all, it's already revenue-generating, and you wouldn't want to experience any downtime, which could lead to lost sales. The tools below will help ensure that you can run your Etsy store smoothly.
---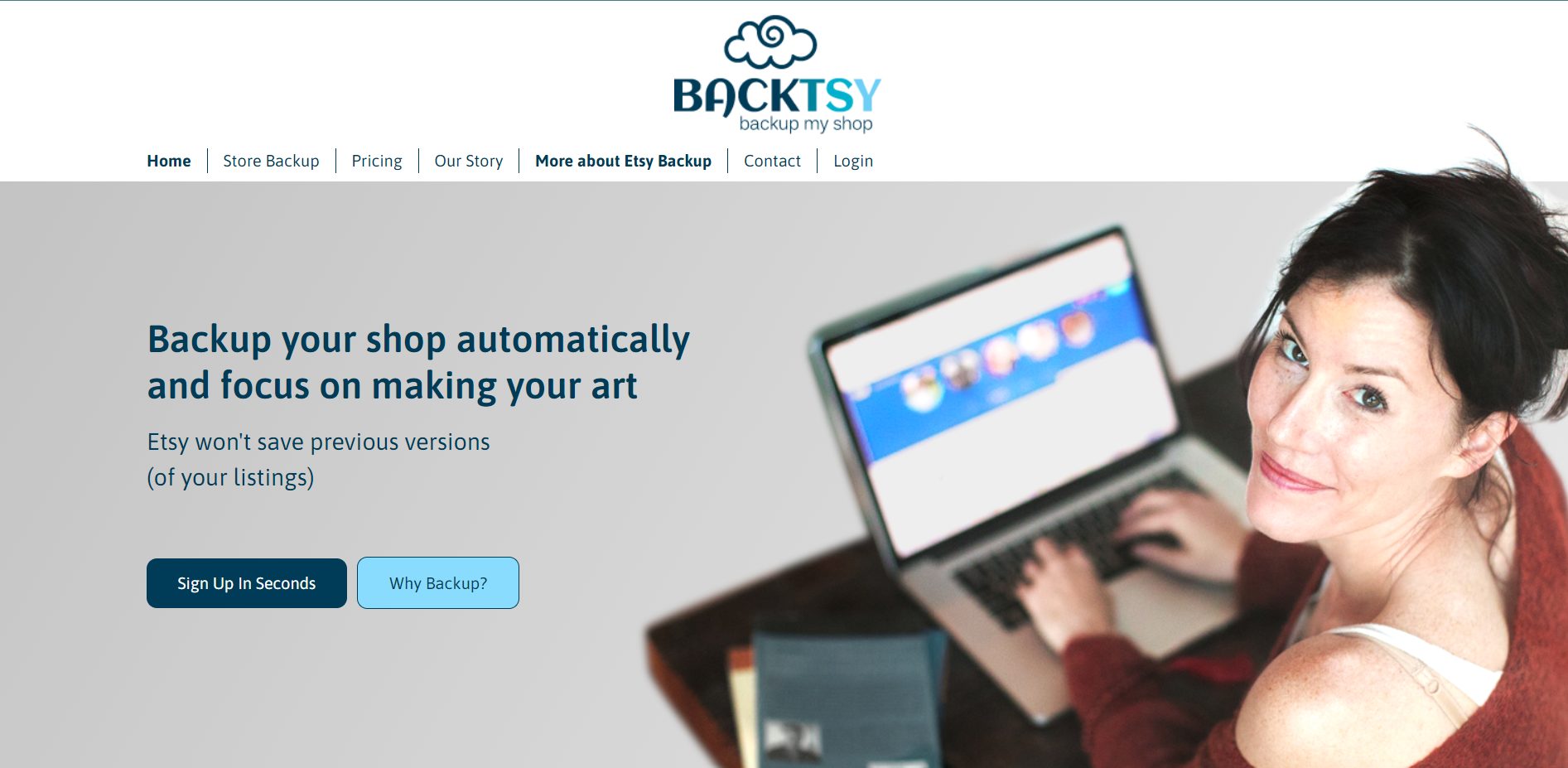 Etsy doesn't save previous versions of your listings. After four months, they're deleted if not renewed. In case you make an error and deleted something from your listings, retrieving and restoring it can be a troublesome process.
With Backtsy, you can store backups of your Etsy shop in a secure Amazon S3 storage server. You can back up your entire shop, including your digital shop listings and shop information.
At first, sellers may not understand the importance of having backups. However, backups are essential and come in handy in case the worst-case scenario happens. For example, you made changes to your site, and these reduced your store's traffic. In this situation, having an automated backup would save you time and effort in redoing the previous state of your store. Backtsy starts at $3.7 per month for three saved copies.
---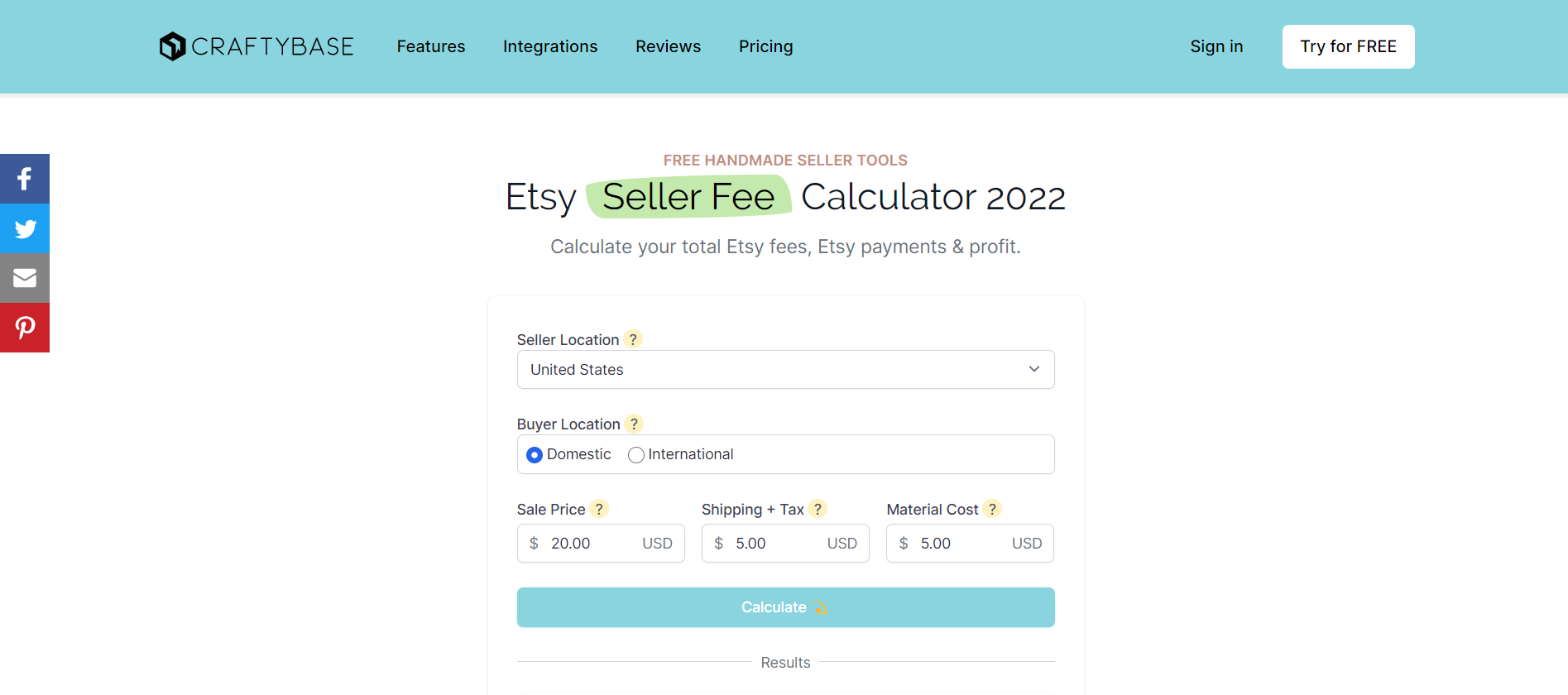 Etsy charges sellers several kinds of fees. When you're pricing your products, calculating these fees can get confusing.
With Craftybase's Etsy Seller Fee Calculator, you can simply state your sale price, and the tool will calculate the Etsy fees automatically. The tool shows you your profits after fees, so you can adjust your sale price as necessary. Craftybase also has other tools available for Etsy sellers.
---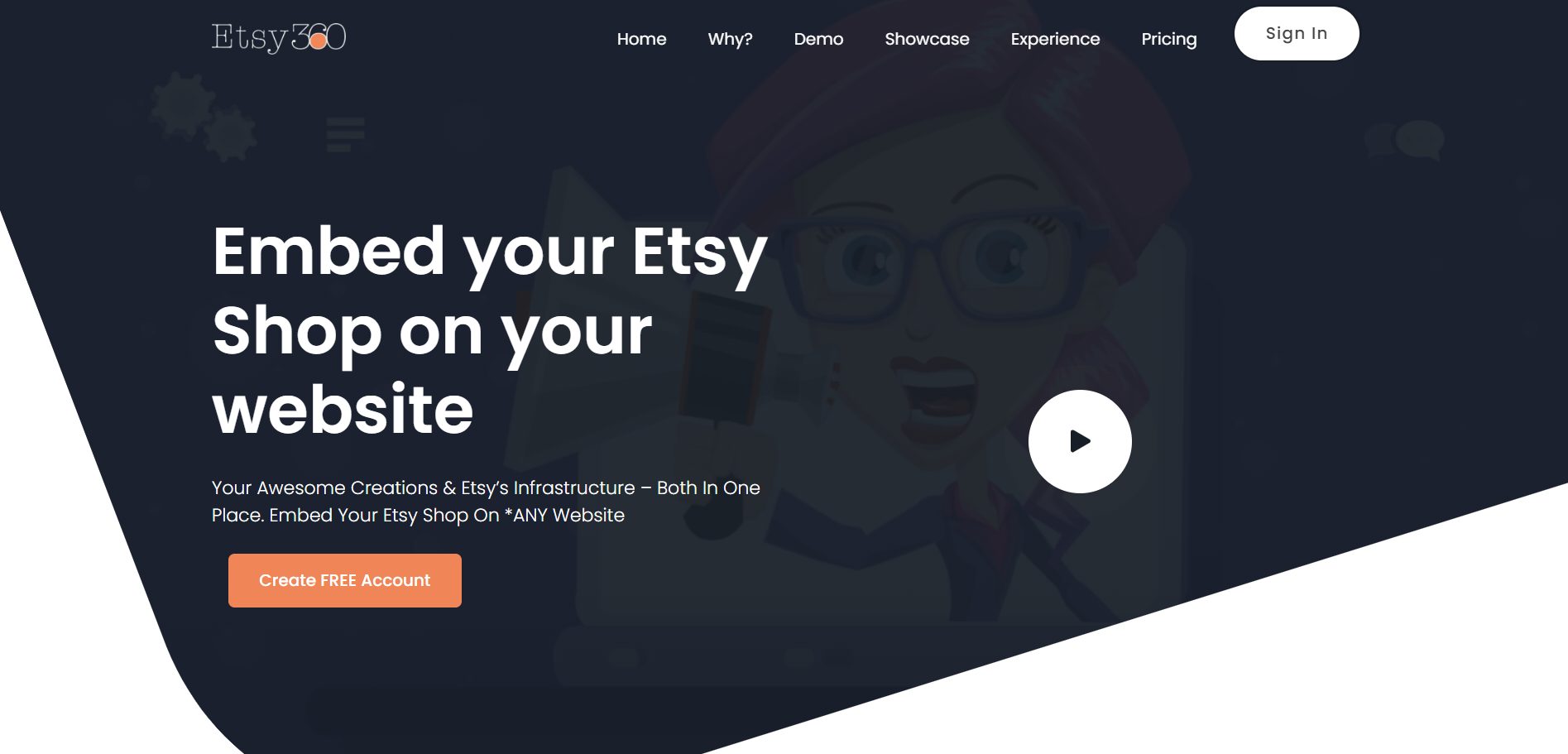 Etsy360 allows you to embed your Etsy store in any website or platform within minutes. Having your own website affords you more control over how your products are seen by customers. With Etsy360, you're guaranteed that Etsy Suggested Products would no longer take the limelight away from your products.
---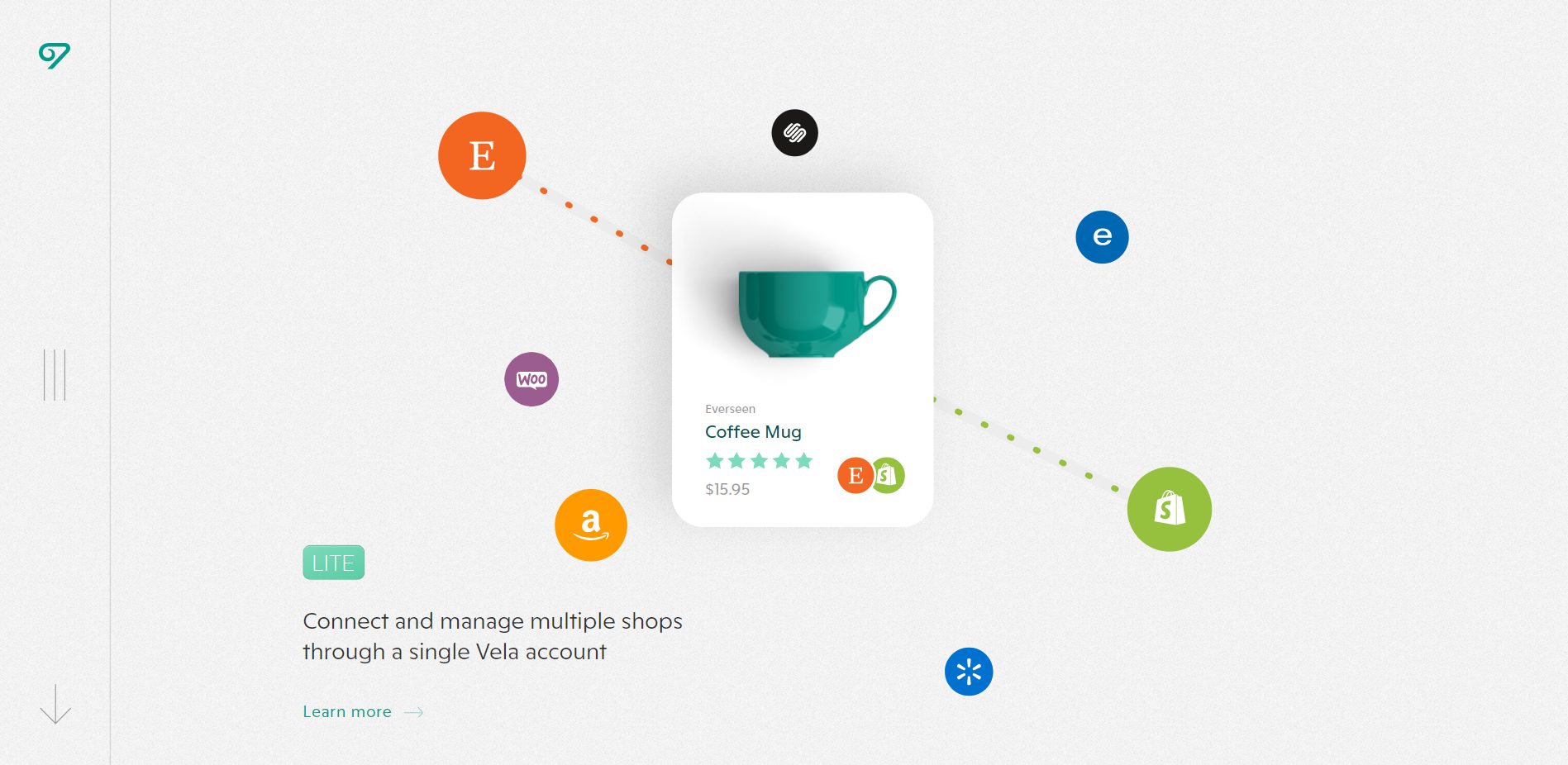 Vela is a robust tool that helps you optimize your e-commerce business. It allows you to connect and manage multiple shops in one place. It has multi-shop management, bulk edit, cross-channel copy editing, and listing creation. If you run multiple e-commerce stores, then consider getting a tool like Vela to save precious time.
---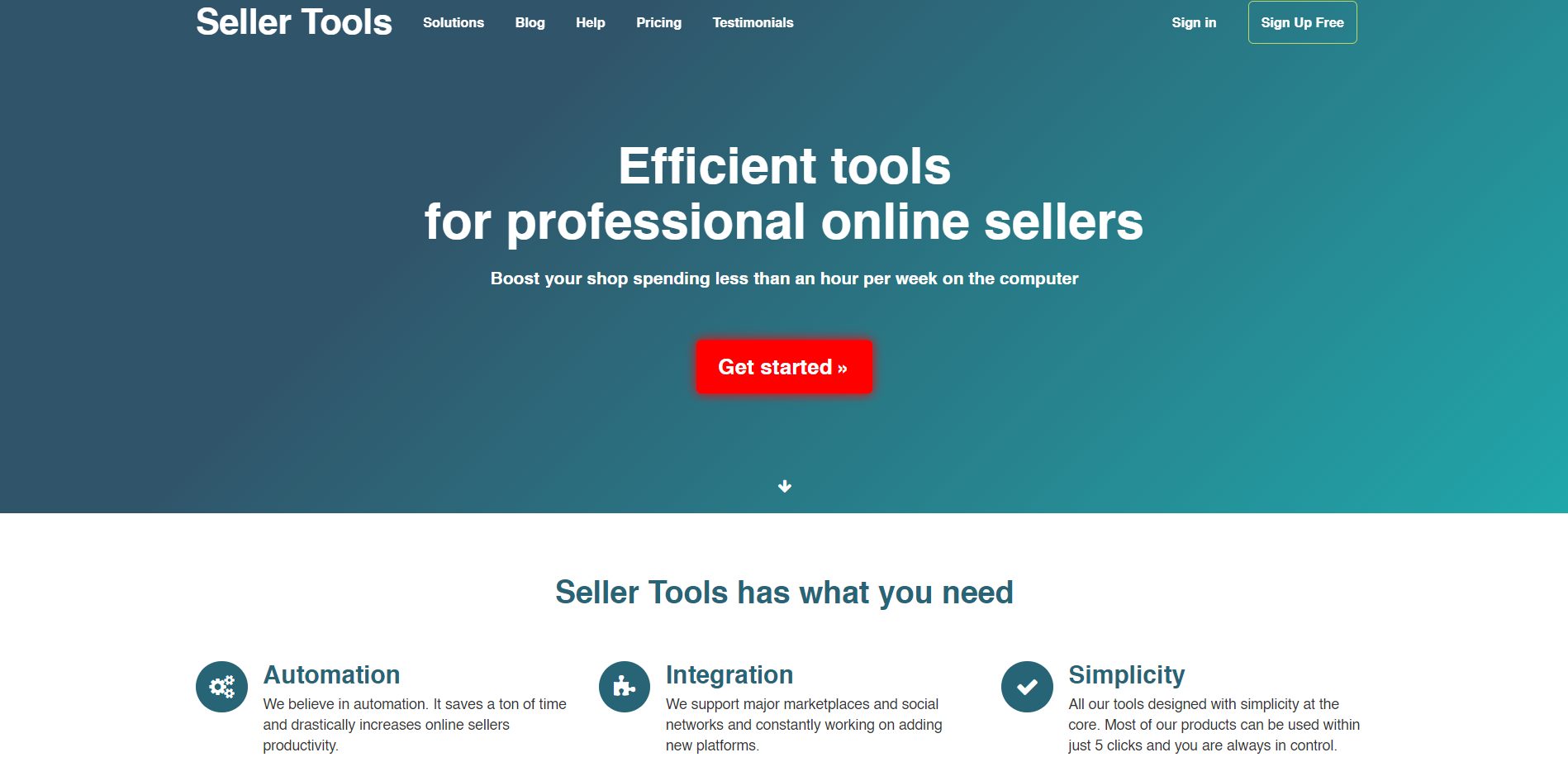 Professional online sellers will love what Seller Tools offers. Its solutions include a social media marketing toolkit, keyword research, sales event manager, trends, and analytics. For serious Etsy sellers looking to scale their business, this is the tool for you.
There are different packages, with prices starting at $9.95/month. There's also a forever-free plan with limited functionalities.
---
Final Thoughts
Selling on Etsy is a great way to profit from one's creativity. With the tools presented in this article, even creators who have little knowledge of running an online store can become successful Etsy store owners.
Frequently Asked Questions
Which tool is best for Etsy?
For newbie Etsy sellers, we recommend using:
Keyword.io

Google Trends

Craftybase

Outfly

Etsy on Sale
For seasoned Etsy sellers, you can take your shop to the next level with:
Marmalead

Craft Maker Pro

Vela

Backtsy

Putler
What app do I need to sell on Etsy?
You can download the Etsy Seller Preview App available for iOS and Android.