Etsy is a popular eCommerce choice for crafters, entrepreneurs, and artists to sell their products on the platform. You can find almost everything there, from bath bombs, diamond jewelry pieces, personalized trinkets, and so much more.
If you're an Etsy seller, then you know how important it is to have a well-designed banner. A well-thought-out banner can help you improve your brand visibility, attract new customers, and boost your sales.
In this article, we will discuss the best Etsy banner size for 2022. We will also provide tips on how to create an effective banner that will help you boost your eCommerce sales.
---
The Ultimate Guide to Etsy Banner Sizes:
---
What are Etsy shop site banners?
Etsy shop banners are images that appear at the top of your online store page. These pictures represent who and what makes up your business. You could also include your business information, such as your shop name, email address, store hours, or website.
As a shop owner, your shop banner should be high quality and act as a mini-billboard for your business. This is one of the first things potential customers will see when they visit your store, so you want to make sure it makes a good impression.
---
Etsy Shop Banner Sizes in 2022
Putting up an Etsy store under the Standard account allows you to use two types of banners: the Etsy mini-banner and the Etsy big banner. Choosing which banner is best for you will depend on the type of products or services you are selling.
Etsy mini banner size
If you choose to use the mini banner for your shop, you will be allowed to use one small image. The minimum size of your chosen photo is 1200 x 160 pixels (px), with a recommended size of 1600 x 213 px.
Opting for the mini banner is a great choice if your shop has a specific focus on a product or service. It is also a good choice if you are just starting on Etsy and the resolution of your photos is not that great. As long as it represents what your shop and products are all about, a mini banner can do the job just fine.
Etsy big banner size
The Etsy big banner or cover photo allows for bigger image sizes and is a good choice if you have a bigger file size with high-resolution photos of your products. The minimum size for the big banner is 1200 x 300 px, and the recommended size is 3360 x 840 px.
The big banner option is ideal for shops that sell multiple products or services. Aside from making your photo stand out and make a statement, this banner size will give you more space to show off your shop's range.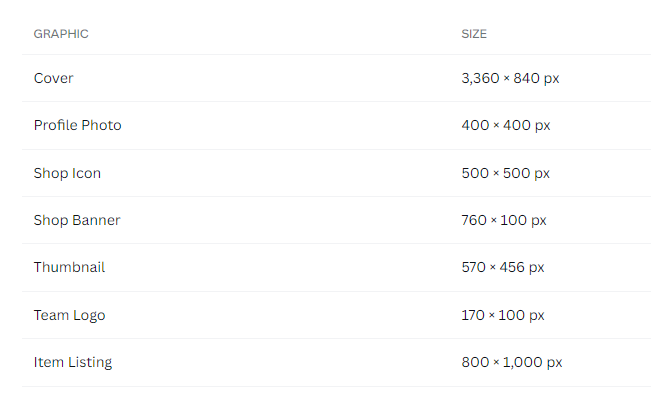 Big or small: which one?
While Etsy's two banners both show up on your account homepage, they are not exactly alike. The big banner cover photo is perfect for mobile users, while the mini banner only appears when viewed through desktop or laptop computers.
Whichever you choose for your shop, always remember that there's more to your banners than the size. You also need to consider the quality of your photo, the colors, and how it represents what you are selling.
---
Additional Etsy Banner sizes
Sellers who subscribe to Etsy Plus can take advantage of more features that give them more control over their shops. If you want to level up your Etsy shop, you could subscribe for $10 a month and get access to use two more banners to create and customize your eCommerce shop banners.
Carousel banner
The carousel banner allows you to showcase up to four images that can be linked directly to your product listing. The minimum size for each image should be 1200 x 300 px.
Collage banner
Another banner option as a subscriber to Etsy plus is the collage banner. You can choose 2, 3, or 4 graphics with the following recommended sizes:
600 x 300 pixels for 2 images

400 x 300 pixels for 3 images

300 x 300 pixels for 4 images
---
How Do You Manage Your Etsy Shop Banners?
Managing your shop banners is quite easy. If your shop is new, simply go to your homepage and click on the plus icon at the top to choose the banner style you want.

If you want to change the banner image of your active Etsy shop, proceed to the Shop Manager area, then click on the pencil icon next to your store name under Sales Channels. You will find another pencil icon to click found at the bottom right of your existing banner. Once you click on Change Layout, you can now select and update your preferred shop banner.

In case you still need help navigating through the Etsy site, you can always check out their help area or even contact their customer support.
---
How do I make my Etsy shop banner?
There are a few different ways to make an Etsy banner. A lot of these will depend on your level of design skills and whether you want to use a pre-made banner template or not.
If you do not have any design skills, a popular choice is using a program like Canva. Creating a free account gets you access to built-in banner templates that you can use and edit to your liking.
If you want to get a little more creative, you can try using PicMonkey or Ribbet. These online photo editors have a wide range of tools that will help you create the perfect Etsy banner for your shop.
If you have some experience with graphic design software like Photoshop, then you can create a custom Etsy banner from scratch. You can also find free Etsy banner templates online that you can download and edit to suit your needs.
The last option for you to consider is to buy ready-made banners online. If you do not have the time or skills to make your own, many professional graphic designers sell their banner designs on Etsy itself. What is important is that you take the time to browse through and find something that fits both your shop's brand identity, style, and products.
Remember, your store banner on Etsy should be compelling enough to attract customers with a personal touch. It should also include all necessary information like the title, tags, etc. You want to make sure the text is large and easy to read, so customers don't have to strain their eyes looking for important details.
To ensure you comply with Etsy's requirements, check out their guidelines for shop banners and other images.
---
The Importance of Having an Etsy Shop Banner
An Etsy shop banner is not just an image for your shop. It's a way to show off your products, services, and what you're all about as a business.
Here are a few reasons why having an Etsy shop banner is important: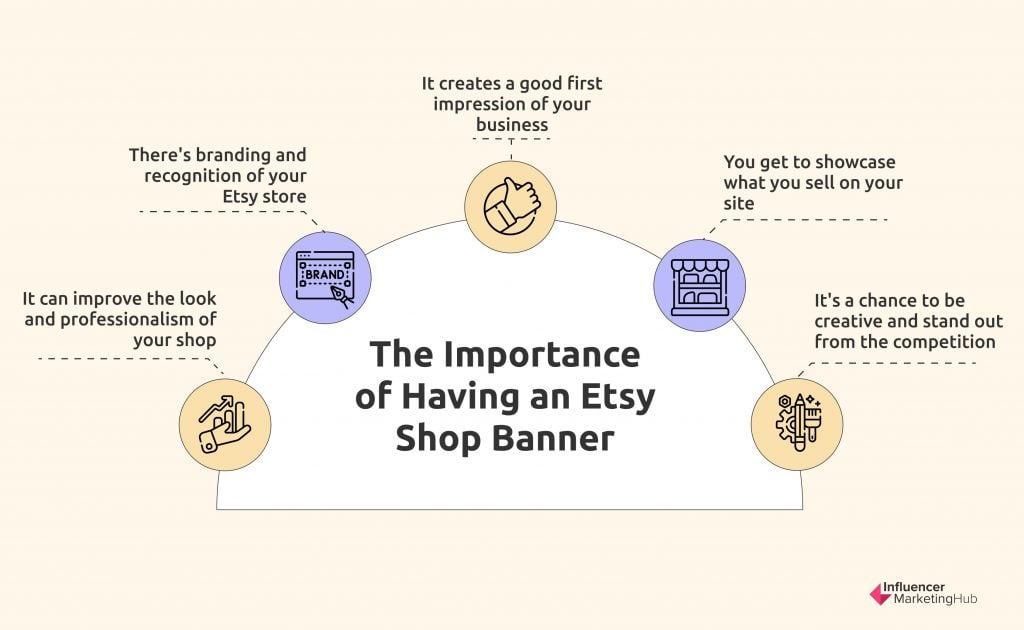 It can improve the look and professionalism of your shop
Whether it's a side hustle or a small business, it's important to have a banner that looks professional. This can be the difference between a shopper taking you seriously as a business or not.
There's branding and recognition of your Etsy store
Your Etsy shop banner is one of the first things visitors see when they come to your shop, so it should be immediately recognizable as yours. It is important to make sure that your banner reflects your brand and style. You can do this by including your Etsy logo and a cover photo that represents your business.
It creates a good first impression of your business
A good banner can help create a great first impression for potential buyers, showcase your Etsy listing, and share your story with customers. Think about what banner size and design will be most helpful for achieving your shop's goals.
You get to showcase what you sell on your site
Choosing to use a banner for your Etsy shop is a great way to showcase what you're selling. You can use your banner to highlight your best-selling items or to show off a new product. If you have a lot of products, you can even use your banner to create a collage or carousel of all the things you sell.
It's a chance to be creative and stand out from the competition
There are millions of Etsy shops out there, so it's important to make yours stand out from the rest. One way to do this is to be creative with your banner. Think outside the box and use your banner as a chance to show off your personality and style.
---
Do You Need to Update Your Etsy Shop Banner Regularly?
It's important to update your Etsy shop banner regularly to give existing and new shoppers a reason to visit your store again. You can use this opportunity to promote new product lines, highlight seasonal items, or even offer discounts and promos.
If you have a blog outside of Etsy, you can also link back to your website or social media accounts to drive traffic to those platforms. This will help you increase your reach and grow your business.
---
Etsy Shop Banners: Tips for Success
Now that you know the importance of having an Etsy shop banner, here are a few tips to help you make the most of yours: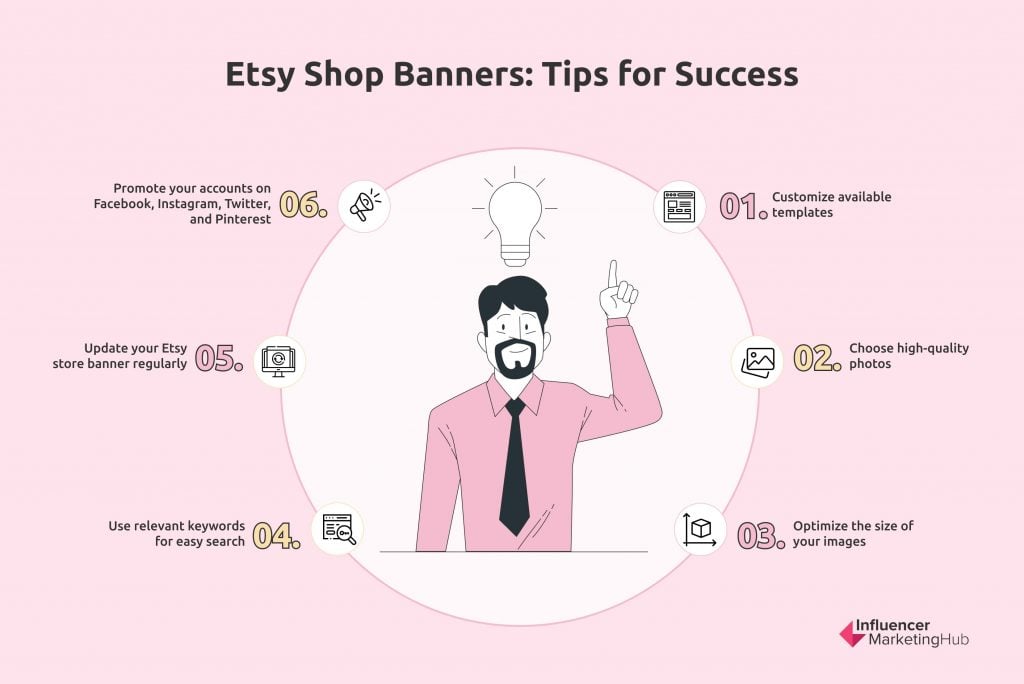 Customize available templates
While you can use templates available on Google or Canva, an original Etsy banner is still more beneficial. This is your chance to show off your unique style, so make sure that your banner reflects that.
Choose high-quality photos
It's important to choose a high-quality photo for your banner. You don't want your banner to look like it was thrown together last minute, be pixelated, or even blurry.
Optimize the size of your images
Make sure that your images are the right size for Etsy's guidelines. If it's too small, it will appear stretched and distorted. If it's too large, it will take up too much space on the page and may be cut off.
Use relevant keywords for easy search
When choosing a photo for your banner, be sure to include relevant keywords that describe your business and products. This will help shoppers find your store when they're searching for specific items.
Update your Etsy store banner regularly
As previously said, it's important to update your Etsy shop banner regularly. This will keep shoppers coming back to see what's new and also help you promote any sales or promotions you may be running.
Promote your accounts on Facebook, Instagram, Twitter, and Pinterest
When you promote your social media accounts on your banner, you're giving shoppers a way to connect with you outside Etsy. This is a great way to build relationships and widen your network with potential and existing customers.
---
Final Thoughts
2022 seems to be a good year for putting up eCommerce shops, especially with the rise of side-hustle gigs. Etsy provides that opportunity for new and seasoned entrepreneurs to start and grow their businesses.
Your Etsy shop's banner can make or break your store's success. Banner design is an important part of creating a positive visual effect on visitors to your Etsy store. That's the connection you want to foster with your customers.
A well-designed banner can help connect potential buyers with your business in a clear and visually appealing way. It allows you to showcase your products, services, and overall brand in a way that's easy for visitors to understand.
When it comes to Etsy banner size, the most important thing is to make sure that your images are high-quality and meet Etsy's guidelines. Once you have those two things down, you can get creative and design a banner that represents your business in the best way possible.
At the end of the day, your Etsy shop banner is an important part of your store's branding and marketing efforts. By following the tips in this ultimate guide, you can create a banner that will help you stand out from the competition and attract more shoppers to your store.