Facebook Marketplace boasts 1 billion monthly active users, making it one of the most active online shopping platforms out there. And while it can be used by both individuals and businesses, it can still be a profitable avenue for selling products.
However, as with most ecommerce platforms, there are fees associated with selling products. To determine whether a platform is going to be profitable for your business, it's important to understand what fees you might encounter so you can incorporate them into your expenses.
Throughout this guide, we'll talk more about using Facebook Marketplace for selling products as well as what fees you need to keep in mind.
---
Your Guide to Facebook Marketplace Selling Fees:
---
What is Facebook Marketplace?
Facebook Marketplace is a buying and selling marketplace available for Facebook users. It launched back in 2016 as a Craigslist and eBay alternative for buying and selling used goods.
However, many businesses, especially those selling handmade goods, take advantage of Facebook Marketplace as yet another avenue for promoting and selling their products.
Any Facebook user can get access to the Marketplace. Simply log into your Facebook account and find Marketplace from the left-hand sidebar on desktop or the hamburger menu on mobile. You can also just type facebook.com/marketplace into your browser.
---
How Does Facebook Marketplace Work?
Facebook Marketplace is an extremely simple online selling platform—but it does require the seller to be quite hands-on.
You need to monitor your listings, especially if you only offer local pickup/delivery, so that you can be available to message interested buyers. If you do set up shipping, you'll simply need to keep an eye out for when you receive an order so you can get it in the mail.
But let's get back to the basics of how Facebook Marketplace works. First, you need to create a listing. You can list a single product or choose to create multiple listings at once. Just head to Marketplace, then click the Create new listing button.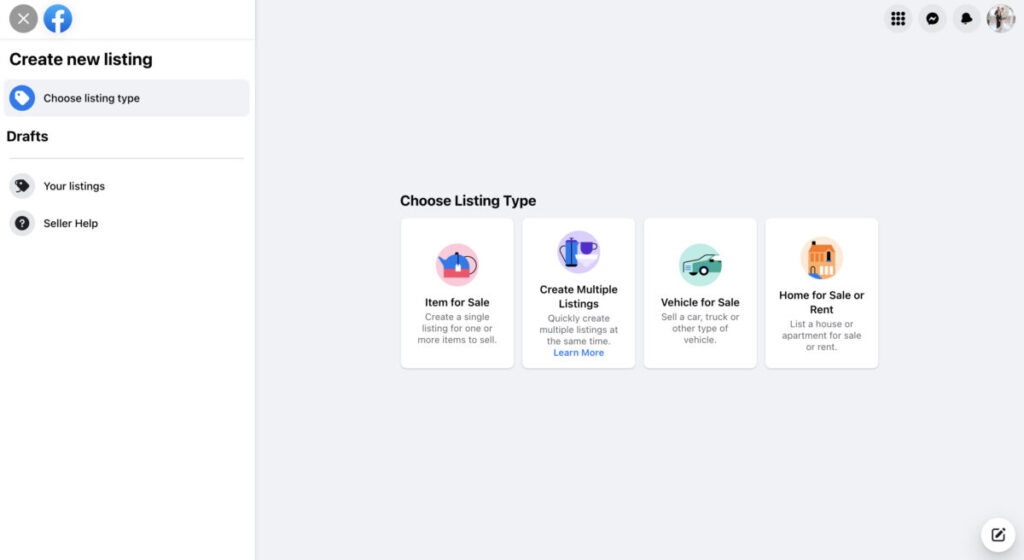 If you choose to create multiple listings at once, you can do so manually or by uploading a spreadsheet. They'll make it easy for you by providing a spreadsheet template for you to upload.
The fields supported are:
Title:

This is required. Must be plain text up to 150 characters.
Price:

This is required. Must be a number.
Condition:

This is required. Must be one of four options—New, Used - Like New, Used - Good, or Used - Fair.
Description:

This is optional. Must be plain text up to 5000 characters.
Category:

This is optional. Include what type of listing you're creating.
Once you've created your listing(s), you can decide on the delivery method. Some categories only allow local pickup, while with others you can enable shipping.
Items that are between $1-500 in the following categories are eligible for shipping: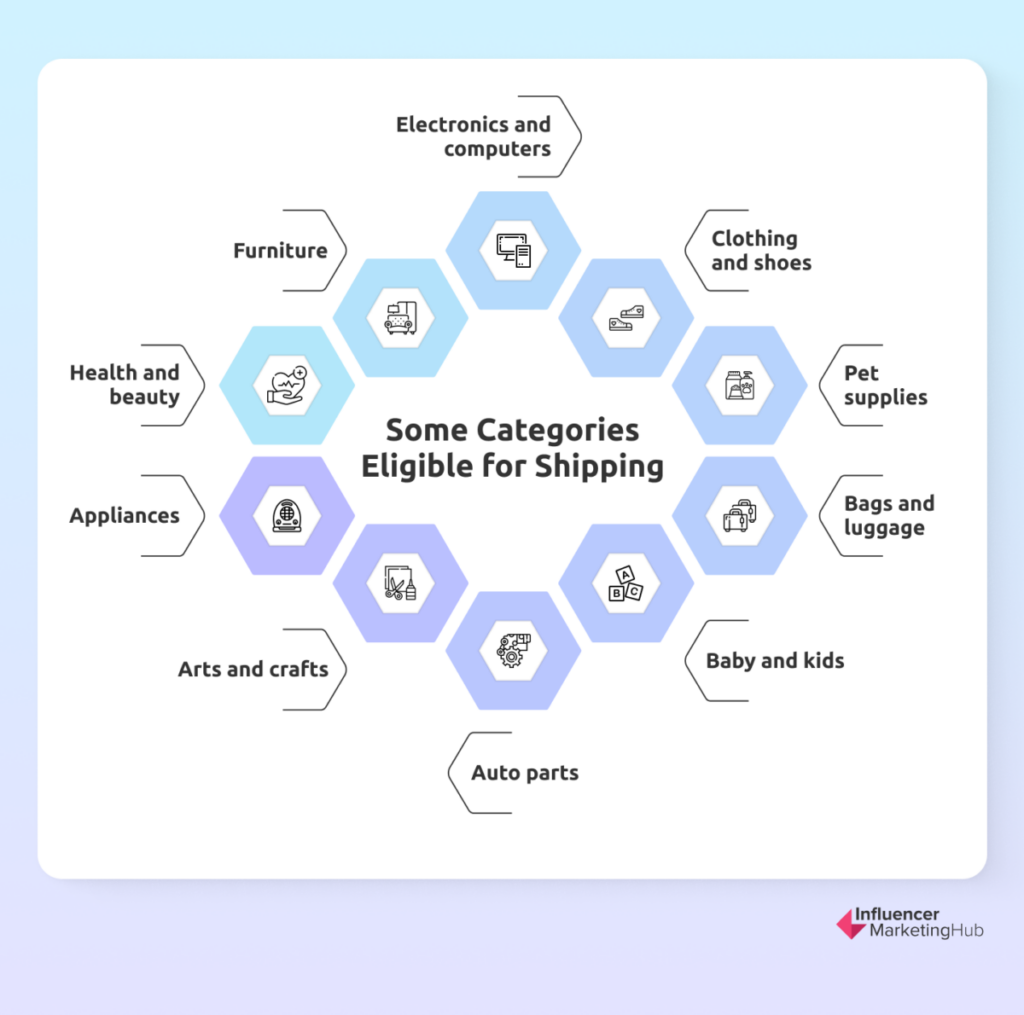 Antiques and collectibles (not covered by Purchase Protection)

Appliances

Arts and crafts

Auto parts

Baby and kids

Bags and luggage

Books, movies, and music (no digital sales allowed)

Clothing and shoes

Electronics and computers

Furniture

Garden

Health and beauty

Household

Jewelry and accessories

Mobile phones

Musical instruments

Pet supplies

Sports and outdoors

Tools

Toys and games

Video games
If you manually create listings, you will be able to see a "Shipping available" note next to applicable categories.
Any products that can be shipped will appear in marketplace results with a "Buy now" call-to-action, rather than the typical "Message seller" option. However, if you cannot ship your item or want to focus on local sales (sans fees) only, you'll need to be available to communicate with interested buyers.
However, you can also offer select products from your Facebook Shop on Facebook Marketplace as well. Keep in mind that Marketplace products only show up in a user's set range (1 to 500 miles) from your shop's physical location. So your products won't show up worldwide—but that also can mean lower shipping rates.
---
Guide to Facebook Marketplace Selling Fees
Looking to sell on Facebook? There are different types of fees often associated with selling products through online marketplaces. Let's talk about what some of those fees are, if they're incorporated into Facebook Marketplace purchases, and how much they might be.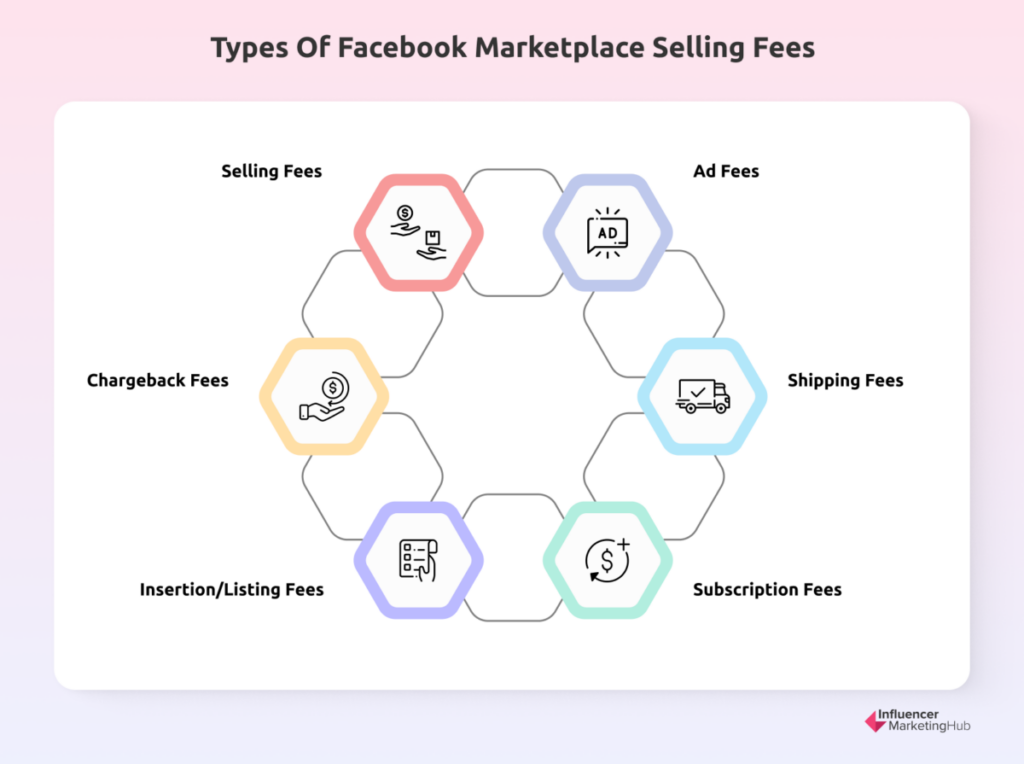 Selling Fees
A selling fee is a fee often charged by marketplaces for using their platform to make a sale. These are typically a percentage of the purchase cost. In Facebook Marketplace's case, the selling fee is 5%, or a minimum of $0.40.
This means that the fee is a flat rate of $0.40 for any products priced at $8 or less—but 5% of the product's price for anything more than $8. So for a $20 product, you'll pay a $1 selling fee, for a $50 product you'll pay a $2.50 selling fee, and so on.
Keep in mind that selling fees are only applicable on any Facebook Marketplace listings that are sold via shipping. So products you choose local pickup for are exempt from any selling fees. The fees are also made on each individual shipment, so shipping items together can potentially decrease your selling fees.
Chargeback Fees
A chargeback occurs if a buyer disputes a payment with their bank or credit card company. This can happen for a number of reasons, a few of which are:
A fraudulent charge due to their account being hacked or card being stolen

The buyer never received the items

The buyer was unsatisfied with the item and the seller was unable to help

The buyer was charged multiple times

The product is significantly different from how it was described
If a chargeback occurs on a product sold through Facebook Marketplace, you will be charged a $20 chargeback fee alongside the original price of the product. You will not be refunded your initial selling fee, either.
Facebook will contact you to let you know there has been a chargeback while also pulling the fees from your account. You have 10 calendar days to respond to the chargeback and offer evidence that it is unfounded.
The card issuer will then look at both sides and decide whether to move in favor of the buyer or seller. If the issuer decides in favor of you, the buyer, the cost of the product and any fees associated will be returned to your account. However, if the issue decides in favor of the customer, you will be stuck with those fees.
Insertion/Listing Fees
Insertion or listing fees occur when you have to pay a fee in order to list a product. Several online platforms also charge fees per listing or product, which can add up quickly, especially for businesses with a wide range of products. This can sometimes deter small businesses or individual sellers from listing multiple items. For example, Etsy charges a $0.20 listing fee for each product a seller lists in their Etsy shop.
However, Facebook Marketplace does not charge any insertion or listing fees at all. Sellers can list as many products (one by one or even on a bulk scale) as they wish, without incurring any fees at all—unless they sell a product they plan to ship to the buyer.
Subscription Fees
Many online marketplaces have subscription fees that sellers are required to pay to even open a store. These are typically monthly fees that businesses incur in order to keep their shop online on these platforms.
Facebook Marketplace, however, has no subscription fees. Businesses can choose to list products on Marketplace whenever they choose, as well as take breaks from using Marketplace, without having to pause a subscription or pay any fees in order to start their store back up.
Shipping Fees
Shipping fees are often charged by marketplaces if you take advantage of the fulfillment centers they offer. You, as the merchant, would then be responsible for paying the shipping fees associated with sending out your products to the customer.
However, Facebook does not have its own fulfillment center, and the responsibility of preparing and shipping out any orders lies fully on you, the seller. So with that in mind, there are no set shipping fees you'll have to pay in order to sell and ship products through Facebook Marketplace—unless you choose to use a prepaid shipping label.
However, prepaid labels are only available for certain merchants. Instead, you'll set your own shipping rates and decide whether you plan to cover these costs (if so, they'll be deducted from the price your buyer pays) or if the customer must pay additional fees for shipping.
Ad Fees
Finally, let's look at ad fees. Ad fees are fully optional, but they're an important part of selling. You can promote sponsored products to appear in Facebook Marketplace so that buyers who are searching for a specific type of product might also discover your business.
There are, as you might imagine, costs associated with this. However, Facebook Marketplace ads can still be a fantastic way to make more sales, creating a positive ROI anyways.
To access Marketplace ads, you'll need to opt into Meta Advantage+ placements. This ad type is the only option for getting placements in Marketplace.
Then, you can choose to create ads for your products that will appear with the "Sponsored" notation in Facebook Marketplace. Take a look at this example of how your ad could look below: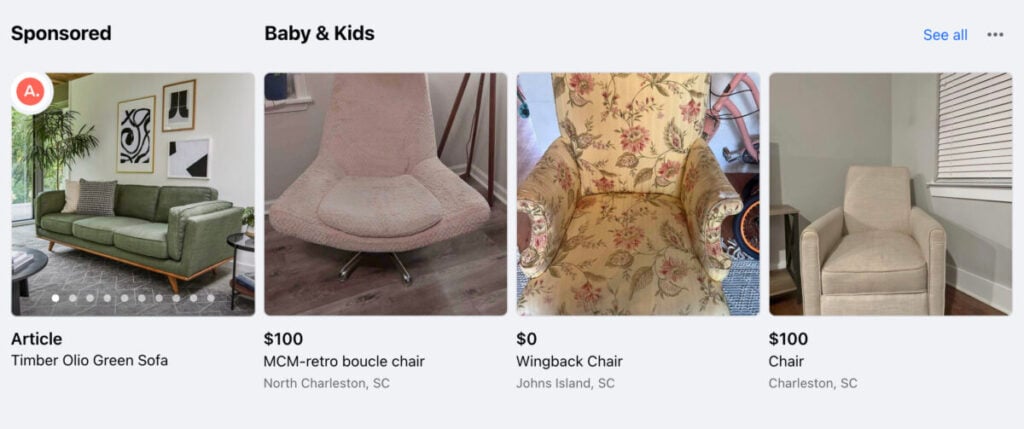 As shoppers scroll through Marketplace results, the first product in each row will often be reserved for sponsored products. This is where you can try to get your own product pages placed as ads.
If you go this route, you can have the ads link to the product pages on your actual website, without having to deal with Marketplace and any other Facebook Marketplace fees associated with selling products through this online platform. Instead, all you have to focus on is the ad costs due to your sponsored products.
You can choose to go both routes—offer some products exclusively on Marketplace, while also promoting products in Marketplace. Or, you can decide to put your budget fully towards ads so that the only fees incurred are those on your own website or sales marketplace.
This type of ad is a simple placement, without the need of additional copy. Simply get high-quality product photos and include the name of the product, and you can help your own items stand out amongst those offered directly from Facebook Marketplace.
---
Start Selling on Facebook Marketplace
Want to start selling your own products on Facebook Marketplace? Set up your first listing and give it a try. Become an expert by checking out our post with nine tactics for selling on Facebook Marketplace.
Frequently Asked Questions
Does Facebook Marketplace charge a fee to sell?
If you choose to offer shipping and accept payments online, Facebook Marketplace does take a 5% selling fee (or a minimum of $0.40) to cover the cost of payment processing.
How can you avoid Facebook Marketplace selling fees?
You can avoid Facebook Marketplace selling fees by only selling your items locally. By choosing local pickup as your delivery method, you can easily sell products without having to fork over any fees to the platform.
How should you accept payment on Facebook Marketplace?
The most secure way to accept payment for your Facebook Marketplace sales would be to turn on shipping, take payments through Facebook (even with the 5% selling fee), and get access to Purchase Protection.
However, if you prefer not to take that route, you can accept cash upon pickup, Zelle or Venmo payments, or even use Meta Pay that's available within Facebook Messenger.
How do you sell things on Facebook Marketplace?
Simply create a listing and upload photos of your product, insert a title and description, set a price, and list your item! It's extremely easy.
Does Facebook Marketplace charge tax?
Facebook Marketplace does not charge tax for items sold on its platform.