Advertising Disclosure
Advertising disclosure:
Our partners compensate us. This may influence which products or services we review (also where and how those products appear on the site), this in no way affects our recommendations or the advice we offer. Our reviews are based on years of experience and countless hours of research. Our partners cannot pay us to guarantee favorable reviews of their products or services.
Digital retail media, or marketplace advertising, is gaining traction with the increase of digital activity spurred by the pandemic. In fact, retail media accounts for 11% of global ad spend and it's projected to grow by as much as 60% by 2027. The same report shares that, in the US, Amazon remains one of the largest advertising platforms, taking a 13% share in digital ad spend in 2021 alone.
One of the reasons for the growing popularity of digital retail media is its capacity to precisely target an audience. Furthermore, retail media networks, such as Amazon Advertising, Walmart Connect, and Target Roundel, offer a number of significant benefits to retailers and brands. These include building better relationships with retailers, access to first-party sales data, personalization opportunities, and better shopping experiences.
Leveraging eCommerce marketplace advertising allows you to take advantage of its growth. It can give you the opportunity to connect with customers, bank on the rise of consumer demand for digital shopping (digital grocery), and enjoy a significant boost to retail eCommerce sales.
How can brands and marketing agencies take advantage of digital retail media's growth? Using eCommerce marketplace advertising tools lets you craft and launch optimized advertising campaigns in major marketplaces. Discover some of the best eCommerce marketplace tools that will help step up your retail advertising game.
---
10 Best eCommerce Marketplace Advertising Tools to Step Up Your Retail Advertising Game:
---
10 eCommerce Marketplace Advertising Tools
Top
ecommerce marketplace advertising tools
2024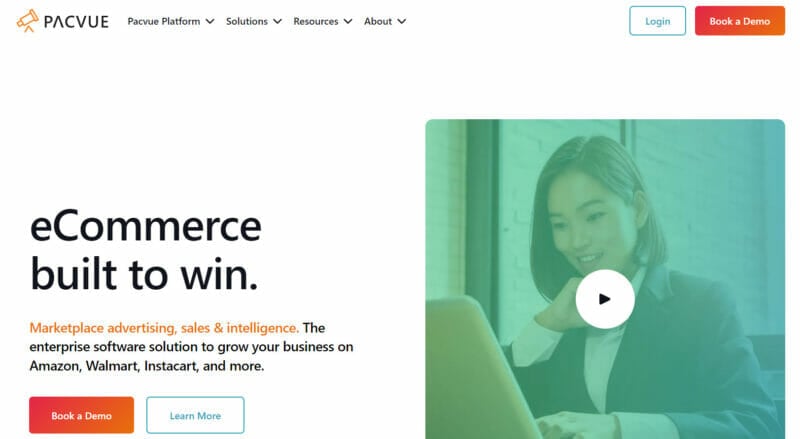 Pacvue is an eCommerce marketplace advertising solution that lets you run retail media on some of the world's largest marketplaces such as Amazon, Walmart, and Instacart.
The Pacvue platform is an end-to-end marketplace management tool that's also designed to optimize ad campaigns, sales, and digital shelves. Its Pacvue Advertising solution employs retail analytics intelligence to enable enhanced retail media campaign management across various marketplaces. Pacvue lets you create a full-funnel ad strategy for every marketplace, create cross-channel optimizations, and target ads based on data, allowing you to manage your advertising campaigns at scale.
It offers marketplace advertising solutions for Amazon, Walmart, Instacart, Criteo, CitrusAd, and Kroger. Features for advertising and marketing campaigns include:
Paid and organic share of voice

Budget management

AI automation and optimization

Campaign automation

Bulk campaign changes

Keyword research

Bid modifiers
---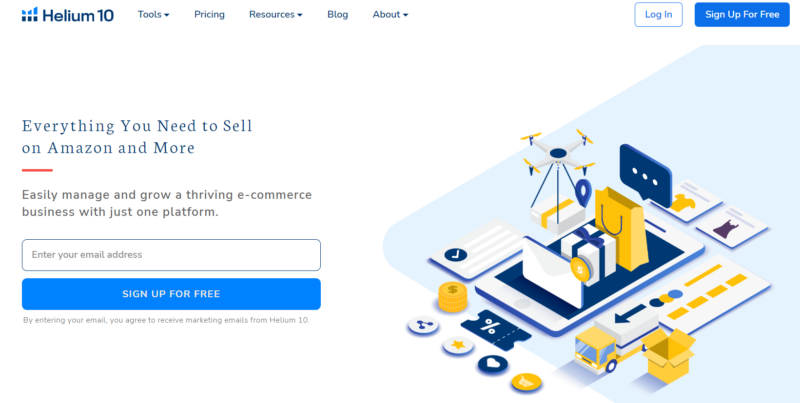 A powerful tool for managing and growing your eCommerce business, Helium 10 is an all-in-one software for Amazon. With it, you can conduct robust product searches, uncover keywords, optimize your listings, and more. Plus, it leverages smart metrics, allowing you to view your profits, competitor rankings, and market share.
One of its features is the AI-powered Amazon PPC solution called Adtomic, which has the following features that let you optimize the way you create and manage PPC campaigns:
Advanced optimization and automation capabilities

Clear and actionable analytics

Streamlined Amazon Advertising processes
Another feature that can help you optimize your eCommerce marketplace advertising is its Amazon landing page builder, Portals. With it, you can create customized landing pages to help drive traffic from marketing channels like email and social media. Aside from helping you build custom landing pages, Portals also lets you collect data and analyze it so you can improve your campaigns. Furthermore, Portals also lets you access ready-to-use sales, email opt-in, and thank you pages to encourage repeat purchases, as well as create custom product inserts.
---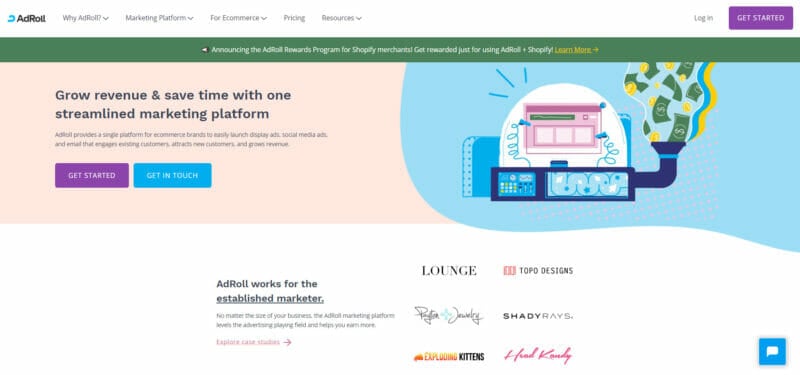 AdRoll is a marketing platform for businesses of all sizes. It's an all-in-one platform that lets you launch display ads, social media ads, and emails to increase engagement and attract new customers. Having been around for over 15 years, AdRoll is trusted by more than 100,000 brands in industries like food and beverage, health and wellness, finance, beauty, and education.
Its marketing platform helps you generate brand awareness ads, retargeting ads, and abandoned cart recovery. Use AdRoll to intelligently build your list based on contact attributes and behaviors. Plus, it lets you access cross-channel measurement and attribution, which essentially allows you to connect all customer activity across multiple channels. Aside from being a tool for brand awareness, retargeting, and abandoned cart recovery, AdRoll also lets you create digital ads that you can advertise on over 500 online ad networks. Furthermore, it lets you use one platform to manage, monitor, and analyze ads across multiple web and social channels, allowing you to enjoy seamless and connected social ads.
What's more, it has a unique Consent Management Solution that lets you protect your customers while helping you meet global data privacy regulations. Best of all, you can still run powerful eCommerce marketplace advertising campaigns even with limited resources. AdRoll also offers AdRoll Managed Services, which essentially acts as an extension of your marketing team.
AdRoll for eCommerce can be used for the following marketplaces:
Shopify

Shopify Plus

WooCommerce

Wix

BigCommerce

Magento
---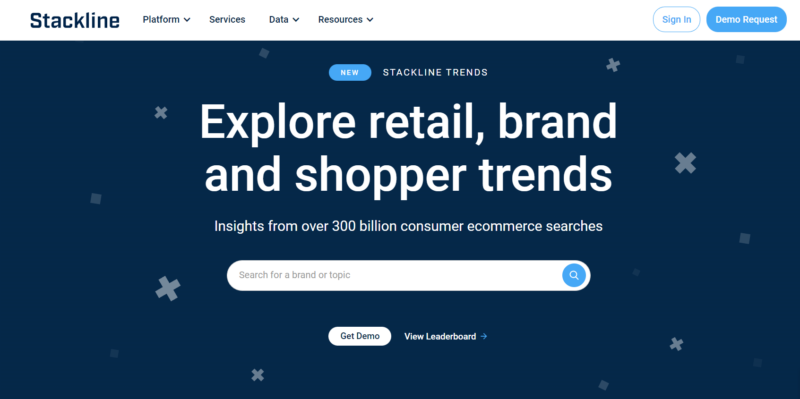 Use Stackline to uncover trends, leverage market intelligence, build customer loyalty, and enhance your retail media performance. Stackline is a full funnel connected commerce platform that offers a range of intelligence, operations, advertising, and loyalty platforms for growth.
Let's look at its two advertising platforms, Drive and Pulse, in more detail.
Drive is a retail media optimization solution that you can use to build campaigns and create high-performance advertising for your eCommerce channels. With Drive, you can access features like automated optimizations, data and projections, campaign targets, forecasting and budget pacing, and scheduled actions.

Pulse is a tool for retail media insights. The tool lets you access the platform's proprietary RAND data for incrementality metrics. Other features you can access in Pulse include targeting recommendations and Pulse-check performance that helps you identify real-time bids and budget and targeting optimizations for your campaigns.
Additionally, its Atlas platform is designed to enhance your market intelligence. With Atlas, you can view eCommerce market trends, identify search trends and measure traffic sources, and monitor your advertising campaigns, allowing you to access advertising insights and do a deeper dive into your campaign strategies.
---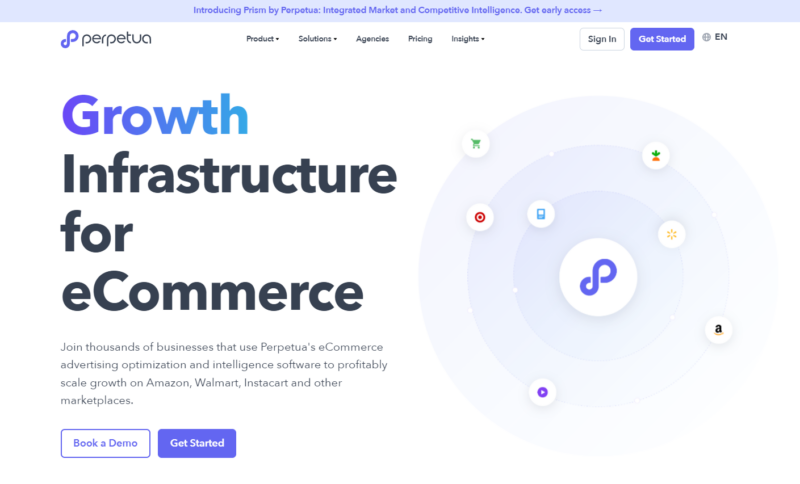 Change the way you approach eCommerce marketplace advertising with Perpetua. Leverage its eCommerce advertising optimization and intelligence software so you can grow your business on major marketplaces like Amazon, Walmart, and Instacart.
It offers four main products:
Amazon Advertising – Perpetua's Amazon Advertising solution lets you create, launch, and optimize sponsored ads for Amazon.
Instacart Advertising – Uses Perpetua to create optimized Featured Ads for Instacart. Aside from letting you create Featured Ads, you can also use Perpetua to make effective bids and monitor your Instacart advertising performance.
Walmart Advertising – Create and launch Sponsored Ads for Walmart with Perpetua's Walmart advertising software. It doubles as a central hub that also lets you analyze the performance of your keywords, campaigns, and products, as well as monitor Share of Voice.
Target Advertising – To access Perpetua's Target Advertising features, you need to get in touch with a representative to request access.
Perpetua also lets you create sponsored Brands video campaigns that you can optimize using Perpetua's always-on optimization and powerful ad engine. It also offers a free benchmarker that you can use to identify growth opportunities.
---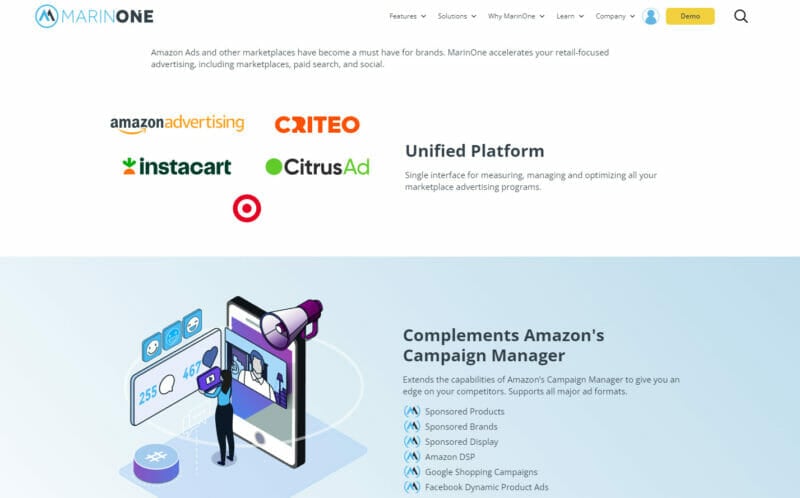 MarinOne helps businesses accelerate and optimize their retail-focused advertising campaigns. Furthermore, it lets you take Amazon's Campaign Manager a step further by making use of tools and capabilities like automated bidding, promotional calendar, and marketplace signals. One of MarinOne's best features is it supports multiple major ad formats, including the following:
Sponsored products

Sponsored brands

Sponsored display

Amazon DSP

Google Shopping Campaigns

Facebook Dynamic Product Ads
Plus, it doubles as a unified platform that gives you a single interface for measuring, tracking, and optimizing all of your marketplace advertising programs, whether it's Amazon Advertising, CitrusAd, or Instacart. It also has MarinOne Insights, which automatically identifies revenue growth opportunities while helping you cut costs. Other notable features include:
Comparative analytics

Unlimited data retention

Shareable dashboards

Platform for paid social advertising for social media networks like Facebook, Twitter, and TikTok
---

Facebook Ads make it easy for brands and advertisers to create and launch campaigns. It provides you with easy-to-use self-serve tools and comprehensive reports. Plus, by using Facebook Ads, you can reach a wider audience given Facebook's expansive reach, which is comprised of over two billion monthly users. This lets you drive traffic from the social media platform's billions of active users.
Furthermore, if you're using Facebook PPC ads, you can create customizable ads that allow you to reach your target audience—that you can also customize based on categories like location, interests, and age. Best of all, you get access to powerful analytics so you can get accurate performance data and insights. Access the Ads Manager to see performance metrics such as weekly reach, clicks and conversions, and post engagement. Best of all, if you're using Facebook Ads, you can run your ad on platforms like Instagram, Audience Network, and Messenger.
Use our Facebook Ads Mockup Generator to see how your ad will look like on Facebook.
---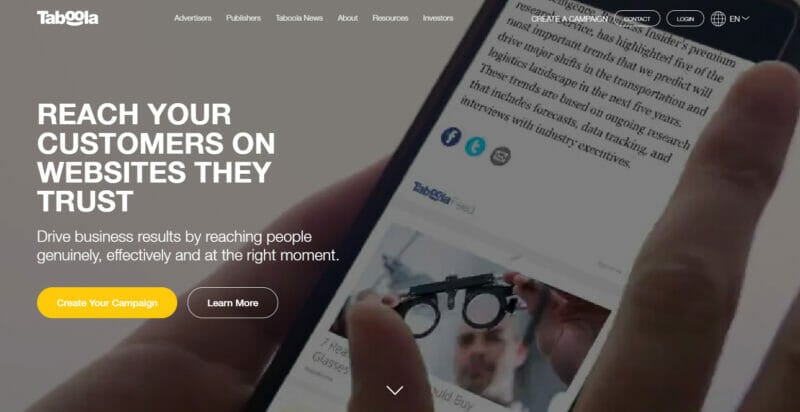 Taboola enables brands to showcase their ads on some of the world's top websites, including NBC, USA Today, and Business Insider. Aside from having your ads featured on trusted websites, you can use Taboola to create targeted sponsored campaigns for marketplace audiences. It lets you target audiences based on categories like their behavior and interests, buying intent, and demographics.
With Taboola, you have the opportunity to reach out to audiences in new channels, create relevant ad experiences, and meet your marketing goals.
---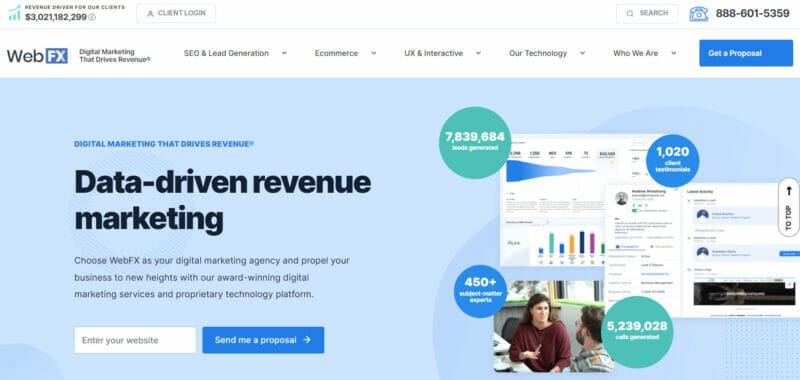 A powerful digital marketing platform, WebFX offers an array of services aside from digital advertising services, including SEO and lead generation, UX, and eCommerce solutions. Focusing on its eCommerce and advertising solutions, it offers the following:
D2C social media advertising

Video commerce

Walmart marketplace advertising

Amazon advertising management
Its online advertising services cover a range of digital advertising methods, including remarketing, programmatic advertising, PPC advertising, and social media advertising. It also offers plans for services such as online media buying, influencer marketing, and geofencing advertising.
Given the volume of online marketplace tools that cover aspects like eCommerce platforms, accounting, and analytics, it can be confusing to go with one particular product or service. WebFX helps simplify this process by giving you access to over 400 marketing experts who can help you choose the right marketplace tools.
---

Blue Moon Digital is a digital consultancy that offers Amazon and Marketplaces marketing services. Work with digital marketing experts who employ a holistic approach to level up your marketplace program for Amazon and other major marketplaces such as eBay, Walmart, and Facebook. Its marketplace service is an end-to-end solution, covering everything from marketplace strategy to marketplace reporting and analytics.
Aside from its unique approach to advertising, it also employs advanced tools like its Domo dashboard for reporting and collecting data. Plus, it has third-party partnerships with leading platforms to help brands create scalable advertising campaigns.
---
---
Why Advertise on Marketplaces?
Advertising on retail media networks opens up new opportunities for your brand. You can advertise your products in real-time, allowing them to appear as your consumers shop or even when they're on the verge of checking out. Plus, your ads can appear when a customer types in relevant search terms or if they're browsing through relevant product categories. Perhaps one of the biggest benefits of advertising on marketplaces is that you can engage customers through strategically-placed ads.
Moreover, by advertising on marketplaces, you're creating an opportunity for growth. This is because eCommerce marketplace advertising builds brand awareness, allows you to promote new products, and attracts potential customers because of the sheer scale of these marketplaces.
Working with retail media networks, such as Amazon, gives you access to comprehensive first-party data that you can use to create more impactful and effective ad campaigns. By having access to this data, you can also deliver highly targeted personalized shopping experiences through bespoke offers, for example. You even get access to a pool of individuals who are ready to shop. Think about it: they're already on a digital marketplace, looking for a product to buy. This gives you an opportunity to showcase your brand or product at just the right time.
Additionally, advertising on marketplaces allows you to stay on brand. For example, Amazon allows sellers to build their own brand page, where you can use your brand assets. Lastly, advertising on marketplaces can be a cost-effective option. Many marketplaces offer a price-per-click option, allowing you to determine the price of every click.
Frequently Asked Questions
What is digital retail media?
Digital retail media, or marketplace advertising, is an offshoot of digital advertising. It refers to real-time ads that appear at various points, including on display and product pages. These ads can take on the form of coupons or featured products and, when done well, it can help boost ad revenue gains.
What are the best eCommerce marketplace advertising tools?
Here are our top recommendations for some of the best eCommerce marketplace advertising tools:
Pacvue

Helium 10

AdRoll

Stackline

Perpetua

MarinOne

Facebook Ads

Taboola

WebFX

BlueMoon Digital
What marketplaces do these advertising tools support?
Most of these eCommerce marketplace advertising tools support major marketplaces like Amazon, Instacart, Walmart, and Target, as well as marketing services like Criteo and CitrusAd.