Advertising Disclosure
Advertising disclosure:
Our partners compensate us. This may influence which products or services we review (also where and how those products appear on the site), this in no way affects our recommendations or the advice we offer. Our reviews are based on years of experience and countless hours of research. Our partners cannot pay us to guarantee favorable reviews of their products or services.
Bol.com is one of the largest online marketplaces in the Netherlands and Belgium, with 23 million active users per month, and 34 million products available for purchase. The platform offers sellers an opportunity to reach a wide range of customers without making large investments, as well as a range of tools and services to help sellers optimize their sales. As such, it is an essential platform for e-commerce businesses to consider when expanding their reach in the Netherlands and Belgium.
---
Top 7 Bol.com Advertising Software Solutions to Boost Your Revenue:
---
7 Best Bol.com Advertising Software Solutions
For those who are looking to increase their sales on bol.com, they may want to consider using one of the best advertising software solutions available on the market today. These tools can help you optimize your product listings, create effective ad campaigns, and reach your target audience on bol.com more effectively. There are many options to choose from, but we consider these solutions as one of the best to achieve your advertising goals.
Top
bol advertising software
2024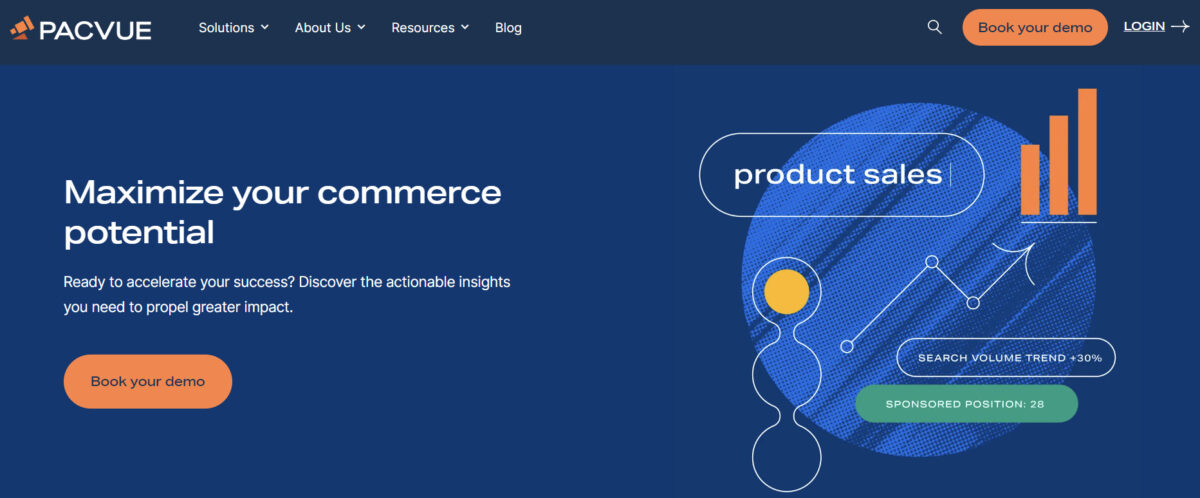 Pacvue's integration with bol.com's API allows advertisers to programmatically manage their advertising campaigns at scale, lower costs, grow share of voice, and increase sales. With Pacvue for bol.com, you get a single overview of all ongoing marketing campaigns and can optimize your ads with detailed data and insights.
Pacvue for bol.com offers a suite of features to help advertisers optimize their advertising campaigns, including Campaign Automation, Competitive Intelligence, Customized Reporting, Budget Management, and more.
With Campaign Automation, you can work more efficiently with rule-based automation, AI optimization, and campaign suggestions. Competitive Intelligence on the other side, will help you improve ad performance with share of voice data, keyword research, and category intelligence features. The tool that lets you view results at an aggregate level, use tags to break down performance by product, and schedule regular reports is Customized Reporting and it can help you make data-based decisions. Budget Management gives you more control, including daypart bidding, out-of-budget tracking, and budget pacing.
Pros
Provides comprehensive analytics and reporting for ad campaigns on bol.com
Offers automated bid management to optimize ad spend
Advanced targeting options to reach specific audiences on bol.com
Provides real-time insights and recommendations to improve ad performance
Offers customizable dashboards to track and analyze ad performance
Cons
Can be complex for junior marketers aiming to use a product with limited complexity
Higher pricing compared to some other SMB advertising software options
---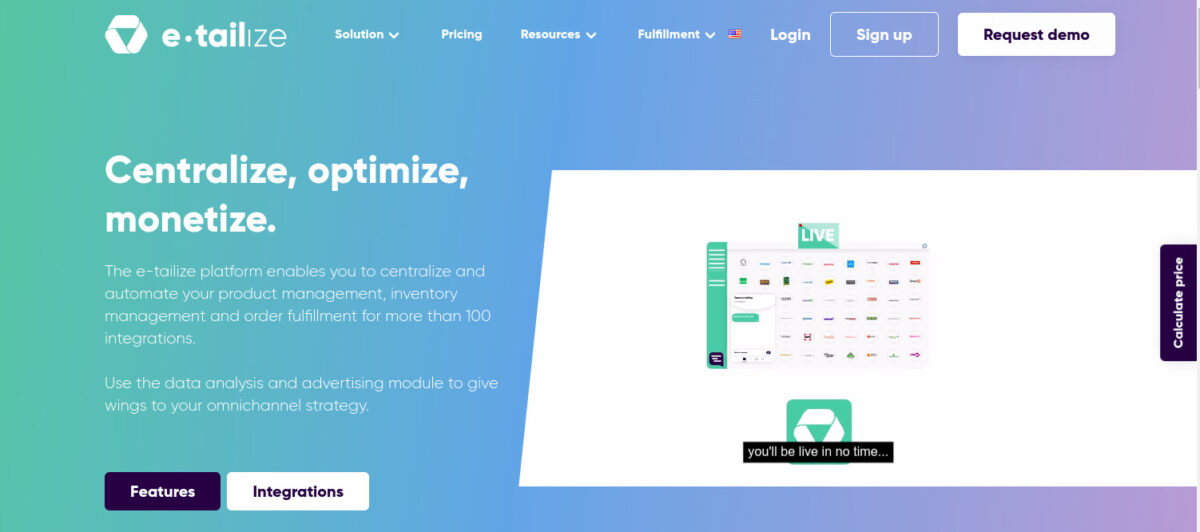 As a Bol.com advertising software, e-tailize offers several advantages to help you reach more customers and improve your visibility. With over 100 integrations across Europe, e-tailize allows you to manage your Bol.com account and other marketplaces in one place, making it easy to create and manage ads centrally.
One of the key benefits of using e-tailize for Bol.com advertising is the ability to send your ads based on keywords, which can help improve your visibility and bring you higher in the organic search results of Bol.com. Additionally, e-tailize offers data analysis tools to help you optimize your ads and improve your sales.
Before you start advertising on Bol.com, it's important to ensure that your listing quality is high. This is where e-tailize's 'Health Score' feature can be useful, allowing you to assess the health of your listing and make improvements as needed.
When it comes to costs and conditions, most advertisements on Bol.com work via CPC (cost per click), with advertisers indicating the maximum amount they're willing to pay for a click. With e-tailize, you can easily manage your ads and set your CPC to maximize your ad's visibility.
Pros
Advanced automation capabilities
Comprehensive product data management features
User-friendly interface with customizable dashboards
Advanced reporting and analytics features
Cons
Higher pricing compared to other solutions
Limited customer support hours
Limited integrations with other marketplaces and channels
Not suitable for smaller businesses with limited product range
---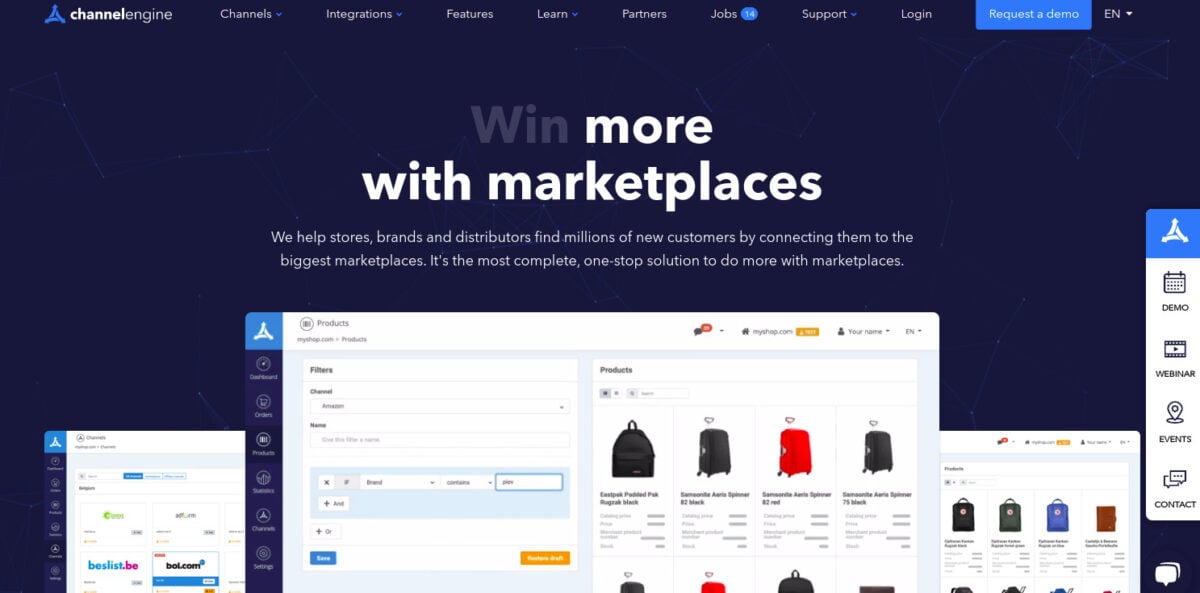 ChannelEngine serves as a reliable interface between your webshop and bol.com.
One of the key advantages of ChannelEngine is its automated translation feature, which means that there is no need for you to translate your content since bol.com matches your products on GTIN. With a valid GTIN, you can start selling your products in the Netherlands.
ChannelEngine also offers a range of features to optimize your advertising campaigns on bol.com. For instance, you can take advantage of the advanced repricing engine to stay ahead of your competition. This engine automatically adjusts your pricing based on your competitors, stock, margin, ratings, and delivery times. With real-time stock information, you can keep your pricing up-to-date and avoid backorders.
ChannelEngine provides you with a fully automated order management system. This means that product stock and pricing on bol.com is always up-to-date, and orders will appear in your own backend. This results in increased revenue and reduced backorders by automating your sales process.
With ChannelEngine, you also get access to a wide range of fulfillment possibilities, including payment in 21 days and commission-based payment. The software is available as a mobile app, making it easier for you to manage your sales on bol.com on the go.
This is also a scalable Software as a Service platform that is dedicated towards multichannel marketplace optimization sales integration and optimization. It is fully integrated with Bol.com API and your system, making it easy for you to get started with selling on bol.com from your own system. You can manage the whole process from your current system, while keeping all your regular flows in place. With over 8 million customers and 16 million products on bol.com, ChannelEngine offers you an excellent opportunity to increase your sales and reach a wider audience.
Pros
Provides real-time stock updates to prevent overselling
Offers automated order fulfillment and shipping
Integrates with various e-commerce platforms and marketplaces
Provides insights into sales and inventory performance
Offers customizable pricing rules and automatic repricing
Cons
Limited options on catalogue management and group rules
Overwhelming with the many functions
Can be expensive for smaller businesses
Slow when used with many products
May require additional integrations or software for full use
---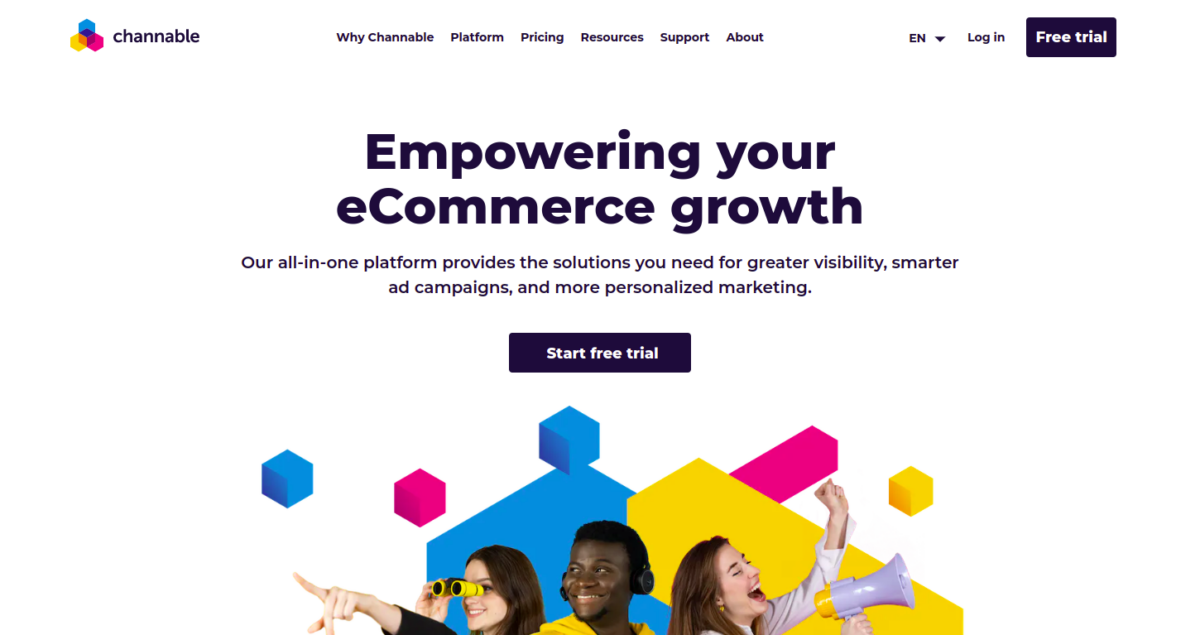 Channable is a powerful tool that helps you increase your sales on bol.com. By connecting your entire product line with bol.com, you can take advantage of the numerous benefits of selling on this platform, including the ability to reach a wider audience both domestically and internationally.
Another advantage of selling on bol.com is the clear commission model based on the type of products you sell, with fixed percentages ranging from 6% to 25%. To get started, simply create a Channable account and import your product feed in CSV, XML, Google Spreadsheets, or Text files, or use 3rd party connections to eCommerce platforms.
Once you have added bol.com as an API, you can use Channable's IF-THEN statements to optimize your API and set up actions to filter and send the products you want to advertise on bol.com. You can also fully optimize your product data prior to export to increase performance.
Building product listings with Channable is effortless, and the platform ensures that your listings are based on bol.com specifications, so there are no mistakes. Once you have built your listings, you can easily send your products to bol.com with just a few clicks.
Pros
Easy and intuitive interface for managing products
Customizable templates for product feeds
Automated product listing and optimization
Real-time inventory and pricing updates
Comprehensive analytics and reporting
Cons
Limited support for some marketplace features
Customizations require some technical skills
High pricing for advanced features
---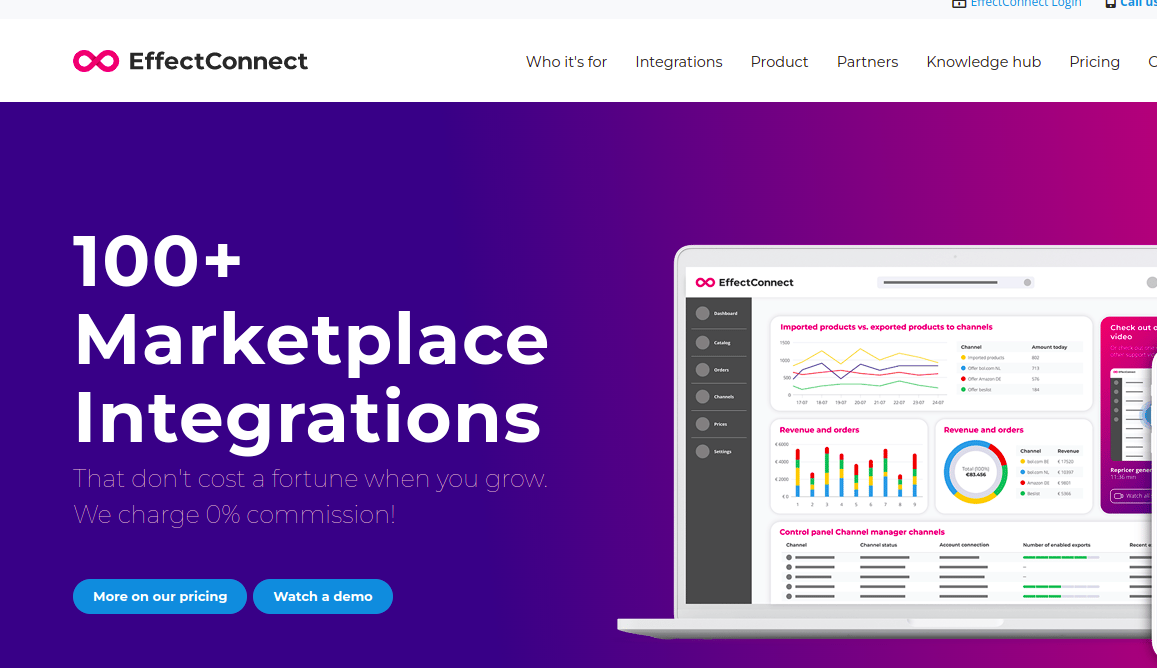 As a trusted Gold Partner of multiple marketplaces, including bol.com, EffectConnect offers a seamless integration process that saves you time and money.
EffectConnect's integration with Bol's marketplace opens up a world of opportunities for your business, allowing you to reach over 10 million monthly visitors without the need for large investments. With the platform, you can easily manage your inventory, orders, and shipping, ensuring accurate stock levels and timely deliveries.
One of the key benefits of using EffectConnect for bol.com is the dynamic repricing tool, which helps you stay competitive by adjusting your prices in real-time based on market trends and competitor prices. This ensures that you always stay ahead of the competition and maximize your sales.
In addition to the powerful repricing tool, EffectConnect also offers a Fulfillment Manager that helps you manage your inventory and orders efficiently. With the Fulfillment Manager, you can easily switch between your own warehouse and bol.com's Logistics via Bol (LVB) system, ensuring that you always have the right products in stock and ready to ship.
Pros
Easy integration with bol.com and marketplaces
Automatic product feed optimization
Ability to manage multiple marketplaces
Extensive reporting and analytics features
Customizable rule-based actions
Cons
Pricing is relatively high compared to other solutions
Limited functionality for smaller businesses
Customer support response time can be slow
Some users may find the user interface to be complex
Requires a bit of technical knowledge to set up initially
---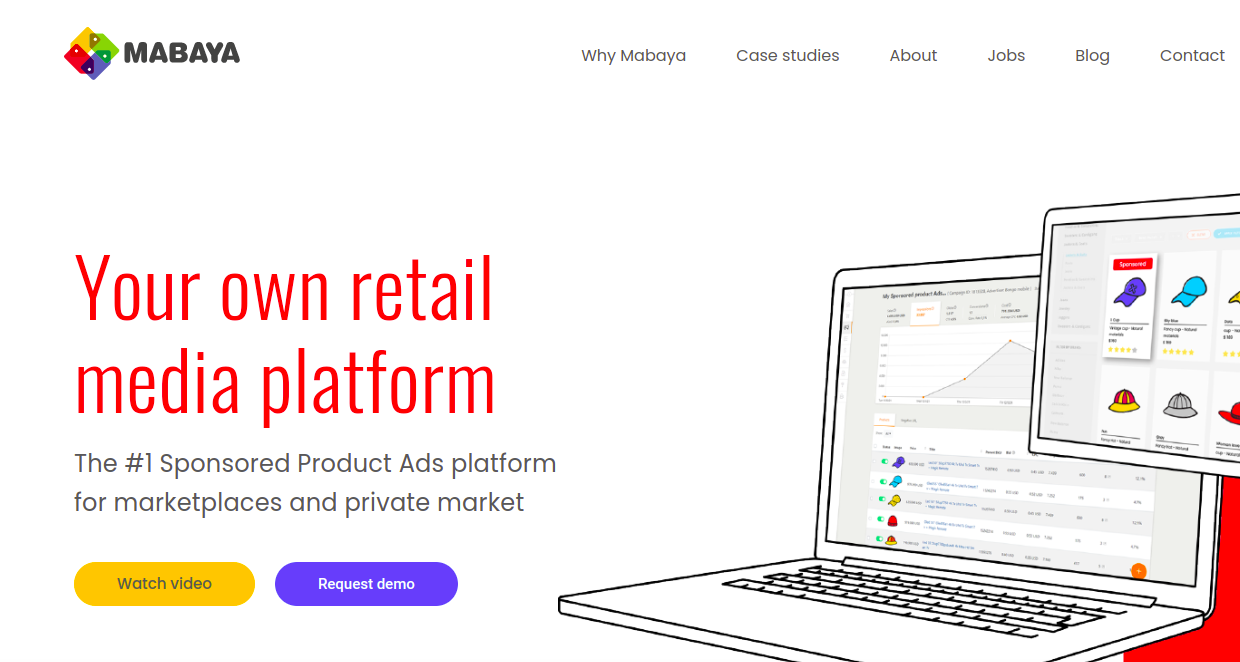 With Mabaya, sellers can create and manage their bol.com campaigns with ease. The platform uses AI algorithms to analyze shopper behavior and target ads to the most relevant audience. This ensures that sellers get maximum exposure for their products, resulting in increased sales.
One of the key features of Mabaya is its dynamic ad placement technology. This allows sellers to place their ads on bol.com in the most optimal locations, ensuring maximum visibility and engagement. Mabaya's platform also allows sellers to target specific audience segments, such as gender, age, and location, to further enhance their campaign effectiveness.
Mabaya also provides detailed performance analytics and reporting, giving sellers insights into their campaign's success. With this data, sellers can optimize their campaigns and make informed decisions about their advertising strategy.
Pros
Real-time data optimization
Advanced targeting options
Easy campaign management
Automated bidding and budget management
Cons
Customization options can be overwhelming
Limited reporting capabilities
Limited support documentation
Requires some technical knowledge for setup
---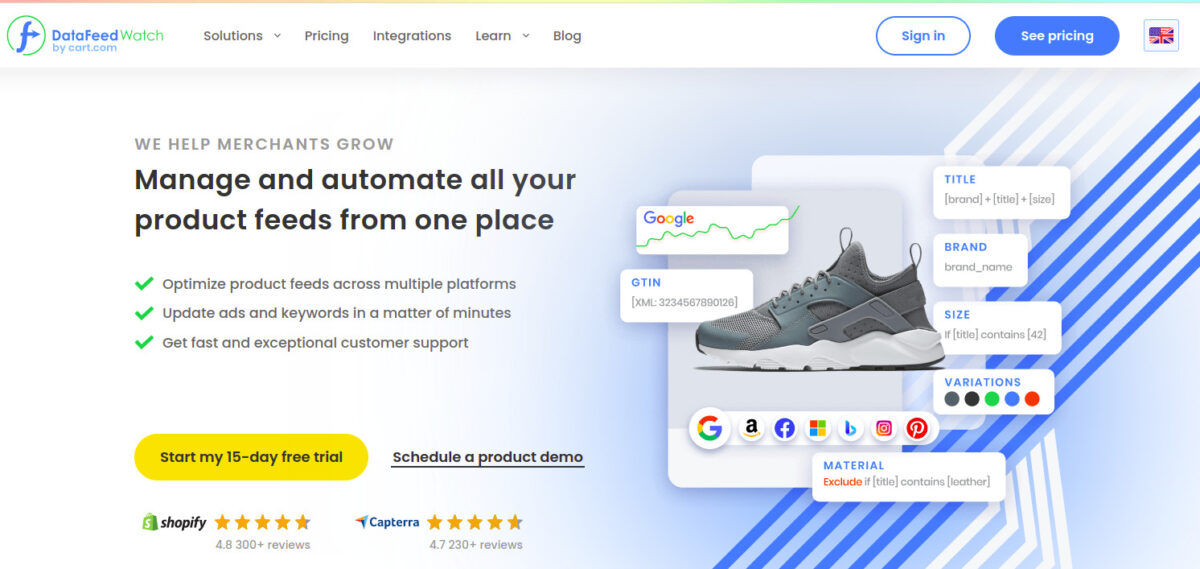 With DataFeedWatch, you can easily create and manage your bol.com product feeds, ensuring that your products are displayed accurately and effectively to potential customers.
One of the key features of DataFeedWatch is its advanced mapping functionality. This allows you to map your product data to the bol.com data feed requirements, ensuring that your products are correctly categorized and optimized for the bol.com marketplace. With this feature, you can ensure that your products are displayed in the right categories, which can significantly improve their visibility to potential customers.
In addition, DataFeedWatch also offers a range of optimization tools that can help you improve the performance of your bol.com product listings. For example, you can use the platform's powerful rules engine to automatically optimize your product titles, descriptions, and other key attributes. This can help you increase your click-through rates, drive more traffic to your product pages, and ultimately boost your sales.
DataFeedWatch also offers a range of reporting and analytics tools that can help you monitor and optimize the performance of your bol.com campaigns.
Pros
Provides an easy-to-use interface for optimizing and managing product feeds
Dynamic rule-based optimizations and customizable templates
Easy customization of product feeds to meet bol.com's requirements and optimize ad performance
Detailed analytics and reporting to track ad performance and make data-driven decisions
Cons
May not be suitable for small businesses
Customer support can be slow to respond at times
Can take some time to learn how to use effectively
Occasional issues with data syncing
---
---
But how to expand reach on bol.com?
With so many products available on the platform, it can be challenging to stand out and reach the right audience. That's where advertising on bol.com comes in, as it allows businesses to target their ideal customers and increase their visibility on the platform. By using specialized advertising software businesses can optimize their advertising strategies and gain a competitive edge on bol.com.
---
What is bol.com advertising software?
Bol.com advertising software is a type of digital marketing tool designed to help sellers and advertisers promote their products on the bol.com platform. These software solutions offer various features and functionalities, such as campaign management, data analysis, and optimization tools, that enable businesses to reach their target audience, increase their visibility, and drive sales on the bol.com marketplace. By leveraging the capabilities of bol.com advertising software, sellers and advertisers can create and execute effective advertising campaigns that help them stand out from the competition and grow their business.
Any business or individual seller who wants to advertise their products and reach more customers on bol.com can benefit from using advertising software. Advertising software can be particularly useful for those who sell in competitive categories, as it can help them stand out from the crowd and reach their target audience more effectively.
Frequently Asked Questions
What is bol.com advertising software?
Bol.com advertising software is a tool that allows sellers to promote their products on the bol.com platform through targeted advertising campaigns. It provides a variety of advertising options, including sponsored products, sponsored brands, and sponsored displays.
How does bol.com advertising software work?
Sellers can create campaigns using the bol.com advertising software by selecting their target audience, setting a budget and bid, and choosing their ad format. The software then displays the ads to shoppers who are searching for relevant products on the bol.com platform.
What are the benefits of using bol.com advertising software?
Bol.com advertising software can help sellers increase the visibility and sales of their products on the platform. By using targeted advertising campaigns, sellers can reach shoppers who are more likely to be interested in their products, which can result in higher conversion rates and revenue.
How much does it cost to use bol.com advertising software?
Bol.com advertising software operates on a cost-per-click (CPC) model, which means that sellers only pay when a shopper clicks on their ad. The cost per click varies depending on the competitiveness of the keyword and the ad format chosen, but sellers can set a daily budget to control their advertising costs.
How do I get started with bol.com advertising software?
To use bol.com advertising software, sellers must have a bol.com seller account and apply for access to the advertising program. Once approved, sellers can create campaigns using the advertising software dashboard and monitor their performance using the reporting tools provided.